It takes the right amount of failures, trial and error, bad timing, putting things off, acquiring knowledge, being inspired by others, horrible late nights and serious man hours to build the right car, finally this beast is coming together. As they would say… We're getting there…
---
It was a pretty surreal sight, with so much love these days for the AE86 all around the world, especially with the launch of the FT-86, its pretty obvious by now what kind of a status this chassis has amongst car enthusiasts. Seeing an N2 arched GT Apex left for dead in a field is something you dont come across that often. This one ended its faith with the front end colliding with something twisting the entire right chassis leg shock tower and bulkhead.
---
It's no secret that Irelands economy is down the tube, day in day out we hear a new story of something bad, someone losing a job someone forced to sell a car. The truth is, the "glory days" of what will be remembered as that chapter in the Irish car world where the port of Dublin was flooded with a car culture from the other side of the planet. All these "JDM" cars started pouring onto Irish soil, snatched up from the auctions in Japan and shipped the emerald isle. This happened for a good solid 8 years, there had always been the odd few Japanese cars which made it over before, but the major car rush which was witnessed by everyone was truly something special. Ireland immersed itself in the culture, rims, bodykits, seats, drifting, all these goodies which suddenly ended up being everywhere, suddenly Japanese cars were everywhere, it's the biggest part of the car world in Ireland and has been since they started coming across the seas in the masses back at the turn of the millennium.
---
The one thing that never gets old about Ireland, is the quality of cars that are hiding in this country. Just when you think you've seen most of them you always hear about something new and are amazed and want to know more. I'm glad we could bring you another installment of yes another shed filled with awesomeness. Heading up a back road in the middle of nowhere and then watching the door slide across to reveal an n2 arched 2 door Levin really is something. The iconic look of an 86 wearing a Dunlop sticker up front is the first thing to hit you. Its great to see true enthusiasts and the place where they pretty much spend most of their free time. Here is another peek into a shed packed with more Toyota goodness.
---
Everybody in the Honda scene pretty much knows this car, it has caused quite the stir amongst people over the last year. This Friday we will have a full feature on this amazing Honda.
---
Everybody who has been in the car scene for a long time either has some sort of place to keep stuff they have hoarded over the years or work on their cars. The first time I got a chance to go out to this shed I was amazed at how much was going on. There was just such an interesting collection of random bits and bobs and that was before you even started to look at the cars.
---
Be sure to check out Paddy's damn cool write up on Street Racing and Casey's yard up on Speedhunters if you have missed it. He presents a proper argument and tells you how it is.
Peep it here
---
Im sure you most of you remember when this happened, well Dayo has gone and got himself a gift.
---
This picture above certainly doesn't look like its in our country, the same story can be said for the car. Ireland isn't the greatest country to have your car kept in immaculate condition all the time but Dariusz was built an exception. Hes one of a few who could pull off a car like this and fool anyone into thinking it was somewhere in the U.S. This is because the attention to detail on this car was amazing.  There isn't a whole lot of Da's on our roads anymore, and on top of that there isn't too many DA6 xsi's on the road either. So it was amazing to see someone transform an average looking JDM DA6 into what was in the picture above. Now me and you could look at this photo and say wow, that car is amazing. Its good just the way it is, but Dariusz had planned to go much further.
More
---
This Hachiroku was undoubtedly one of the most well known in this country. The car just had that vibe which made it stand out. It looked so fresh for its age. Being 27 years old the car didnt look one year of it. With its fresh coat of metallic red over black and some shiny work equips with some insane dish on the rear, this car oozed everything an ae86 should carry.
---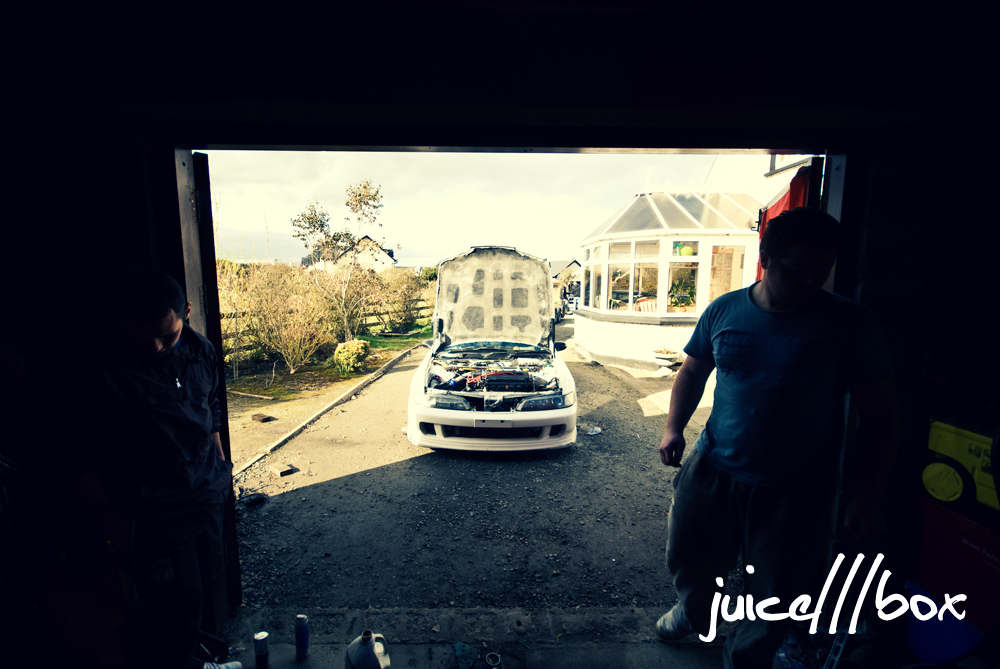 Magoo's car finally backs out from the land of the ferries. It will leave to go to the mountains to get mapped and where the final touches can be added.
---
Im trying to follow magoos build of his turbo dc2 that Magical taylor from the place of ferries is building.
Heres what i have so far.
---