What I love about Japfest is the amount of racing and activities that are on throughout the day as well as the show thats inside the paddock. It can be a somewhat overhwleming task to cover everything as you have time attack, Prodrift, drag racing and track time on all at the same time. There's something for everyone.
---
It has to be said that Japfest 2011 was such a good day, not because team need for speed came to town… which don't get me wrong was a good part of it too, the amount of people and cars that showed up was really something. It just goes to show that the scene is still holding it down regardless of this economic bullshit. Everyone should give themselves a pat on the back for effort. The car park usually has just as much interesting machines as the show your attending, that's why here at Juicebox we love lurking the car park to see what the people are driving.
---
Like we were saying in part 1 it really seemed like the standard has suddenly rose for the quality of cars in the country at shows. Looking around you had a good variety of super clean interesting builds like this IS bagged on SSR Vienna's. What an amazing car, its nice to see people go down the VIP route, something that hasn't been explored to much yet in Ireland.
---
So its that time again where we take a look at what you drive to the shows, this gives a good look into whats going on out there and usually you end up finding some cool stuff which you wouldn't see inside a show itself.
---
From even this shot, id imagine many of you may remember this gem. The car scene really did take a turn for the worst, but things seem to be coming back full circle.
We came across these the other night on an good mates computer from back in the day and were amazed at just how scary things had gotten back around 2005/2006 with some people. Dont get me wrong you have to admire the effort put into this, but once you see it your going to ask yourself why?
More>>>
---
I hadnt been to Tullow since the first day when they were trying out the track. Each time it was on I either couldnt get a lift to cover it or something else was on. I finally got the chance today and it was cool to see that the event had grown. More and more people seem to be showing up becuase of the freedom of paying and racing your face off for the day. What could be wrong with that?
More>>>
---
So I got a call about this Legal drag strip type thing that was going down in Tullow just outside of Carlow. I was instantly curious to see what exactly or how this could work. We jumped in the van and Magoo and Ann drove ahead in the Primera. It was some laugh finding the place but eventually we rang the guys from Caseys Yard and they came down in the trusty ex Eircom Transit at top speed and they lead the way. I was still wondering how on earth you could have a drag strip around the country side. We were on back roads laughing and wondering if the roads would just be closed off or what. Eventually I gave up guessing of ways in which they could have a drag track in the middle of nowhere and decided to wait till we got a look. As we were tearing along a nice country road the road suddenly turned into wide open concrete. It was crazy, no fences on the fields and a couple of houses at the start. Then the road opened into a massive field with this little concrete road in between. We then came to a digger which was blocking the road. Everything felt very mad max about the situation but it was cool. They were looking for a fiver to go up and check it out so I was down for supporting. The digger bucket lifted which was basically there as a gate and we headed on up to the sheds in the distance. It really looked like something from the America. I'm easily amused I guess.
---
---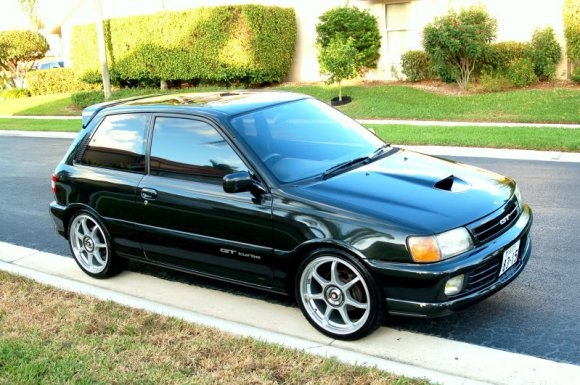 Just came across this for a cool little story, a clean JDM imported ep82. Its more than likely the only on in the US which is kind of funny as they are as common as fuck in our country. There has been so much of a buzz over this car as it has gone up for sale in florida.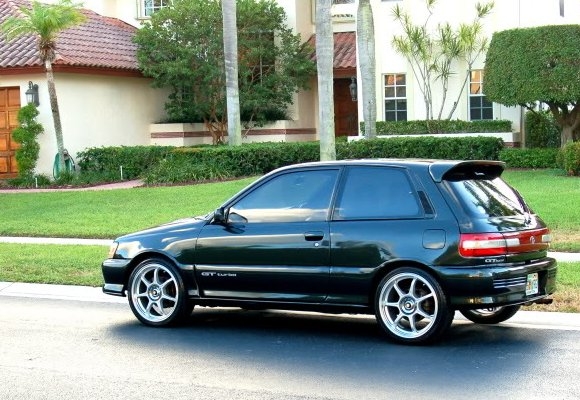 It has to be the only modern starlet at least after 83 driving around florida or maybe the US for that matter and it seems to be in very good condition.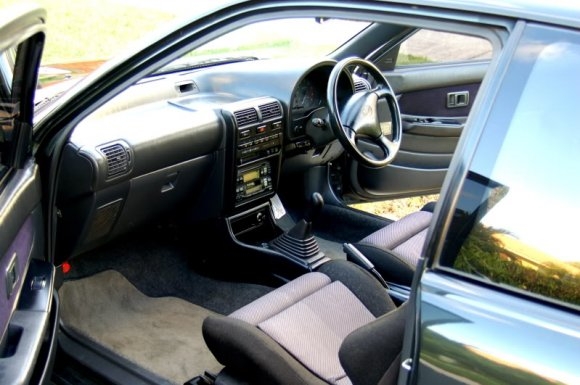 The inside looks very tidy indeed. The owner is looking for 10000+ for the car. The compomotive wheels wouldn't be the best choice in my opinion but the car itself seems very well looked after.
You would have to wonder what this car would be like now if this had been released on the us market. What kind of slammed versions of this would be all over the web, sites like Honda tech and JDM conversions, oem parts and extras from toms and trd.People obsessing and using them for drag racing. I  have a feeling they would have been just as big as the whole eg/ek scene. Interesting find I guess.
---