Juicebox in Japan: Tec Arts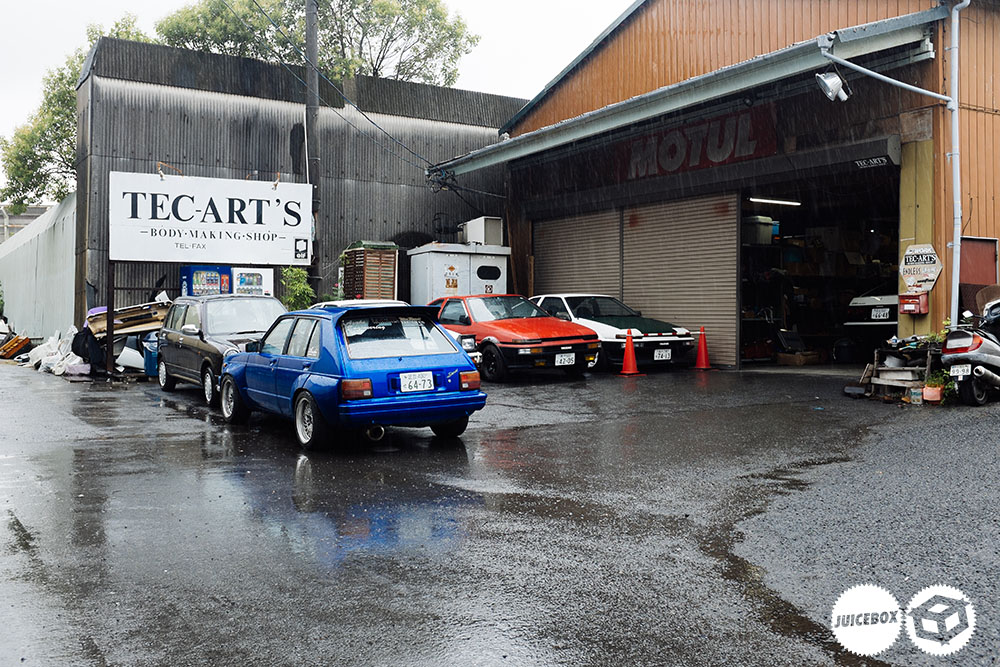 After a night of madness on the docks, we woke to a familiar Irish sight, a soggy grey morning. Regardless of the weather, there was a shop that had been on the hit list for a very long time and I was incredibly eager to check it out before our trip came to an end. Tec Arts has been around for a long time and is a very familiar name in the 86 world. They primarily deal with AE86's these days but are known to have built some very cool cars over the years.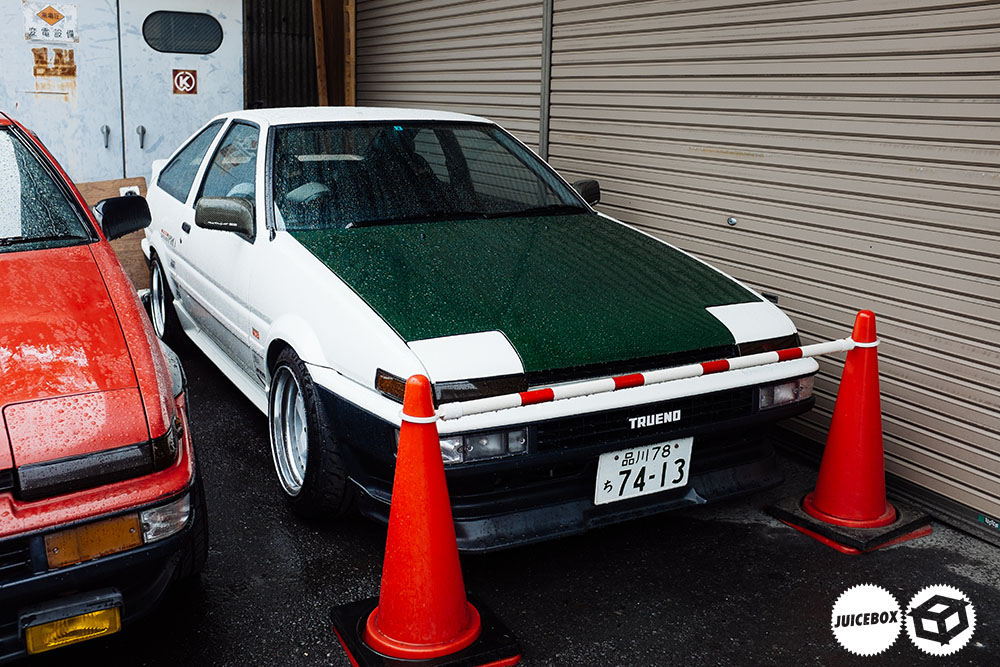 Keiichi Tsuchiya's AE86 now resides under the front porch here at Tec Arts and its one of the first things you will spot as you make your way to the front door, a dead give away is that green tinted hood, I was a little bit star struck by a car, how pathetic.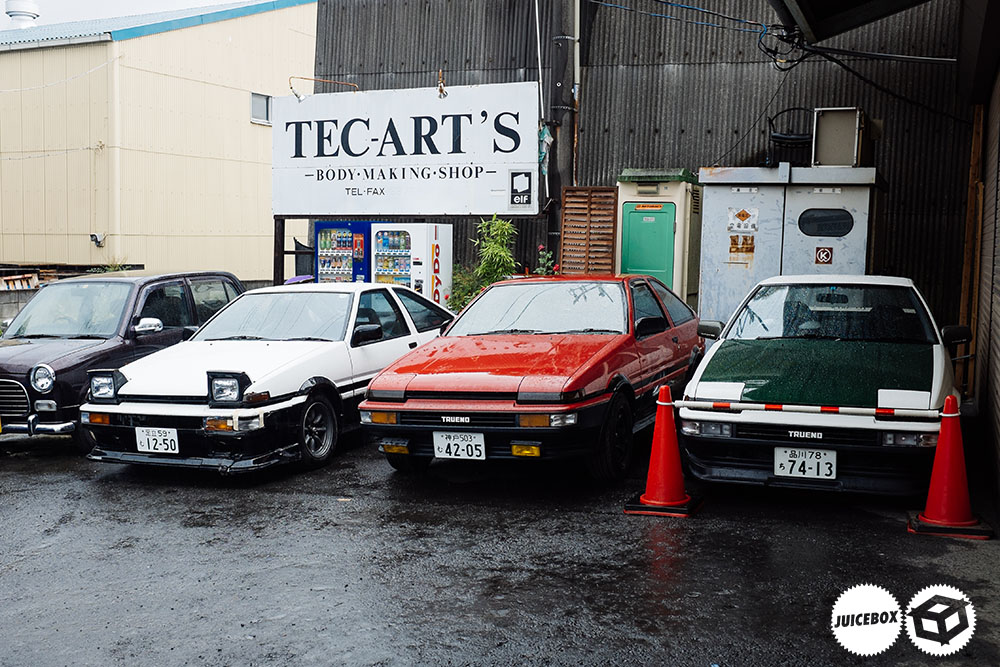 You really don't see many 86's in the wild in Japan anymore so it was a proper treat to see such an epic collection gathered down this back alley.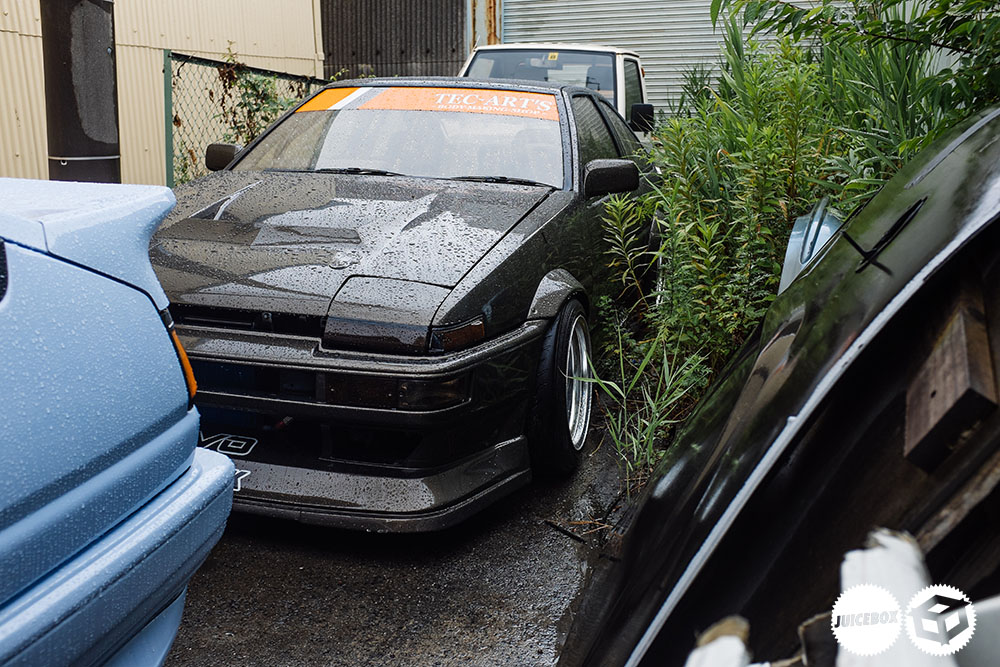 I wish this beauty was out in the open, this was by far my favorite car at the shop and probably one of the best looking 86's I had ever seen. It's used by the Kamata-San as his personal drift machine and is dressed in the signature Tec Arts body kit, arguably my favourite aero kit for these.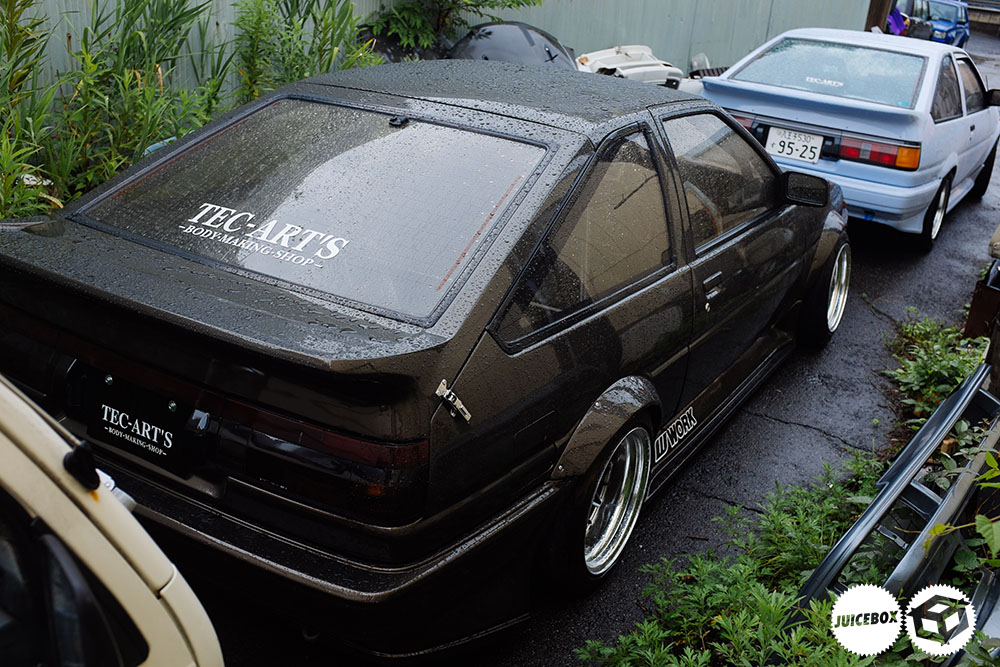 I just couldn't get enough of this, desperately trying to the get  best angle possible, but sadly it was wedged nicely up the side of this building.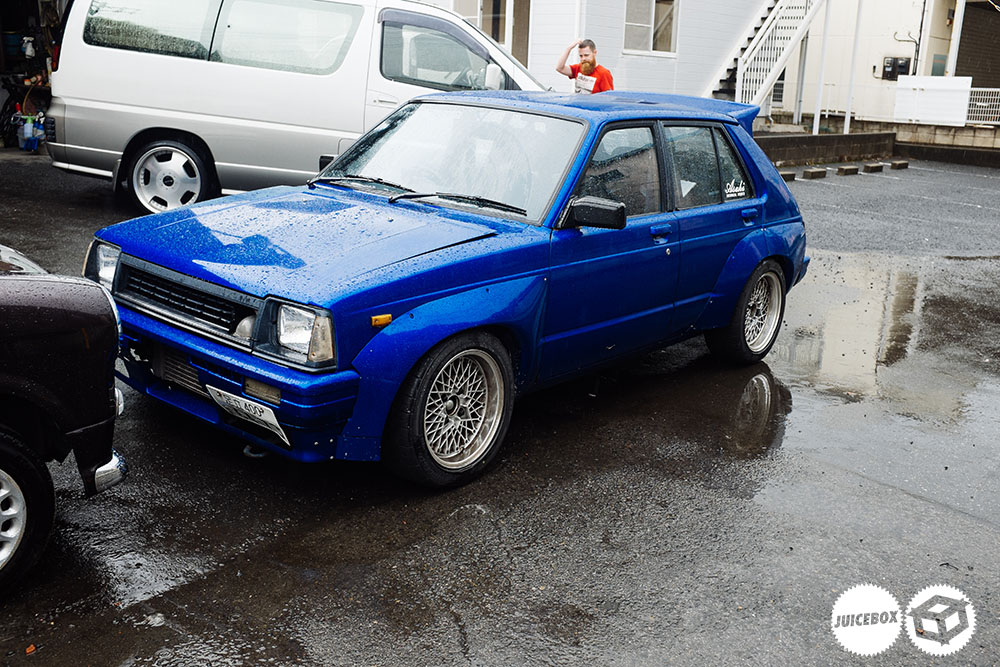 We almost forgot about this little starlet as we got distracted by Truenos. The N2 kit on the four door was something you don't see too often and I could see an intercooler peeping out the front.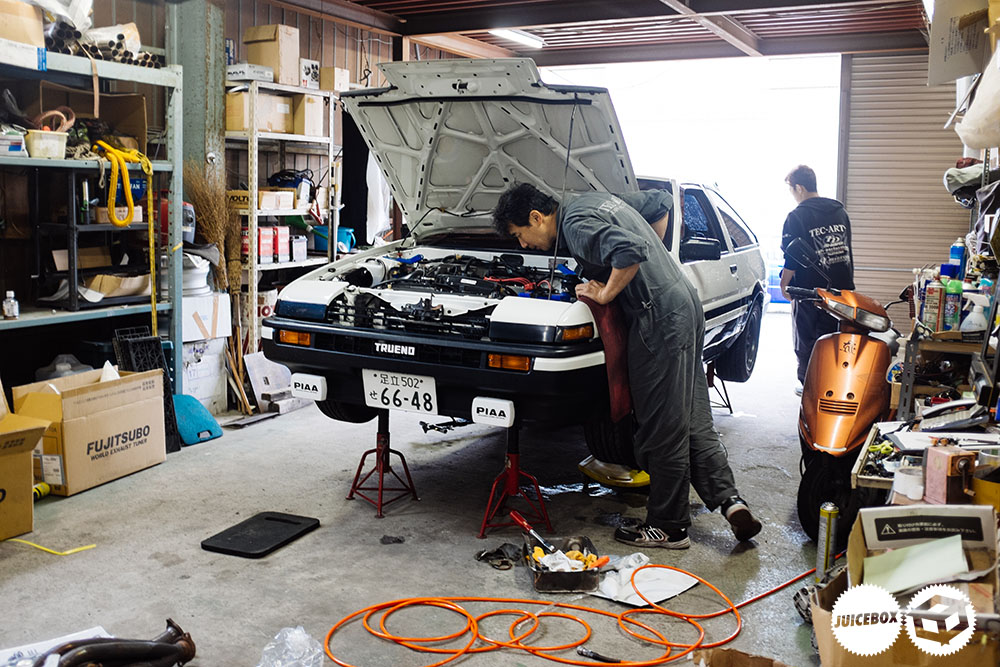 Inside the guys were working on what appeared to be a Carland restored Trueno. It was early in the morning and they were a little surprised to see us Gaijins show up just as they opened. After a small chat with owner Kamata-San, we explained we were huge fans from Ireland and exchanged a few photos of stuff from back home in our shed. We asked could we take a look around while they work and he let us loose with the cameras.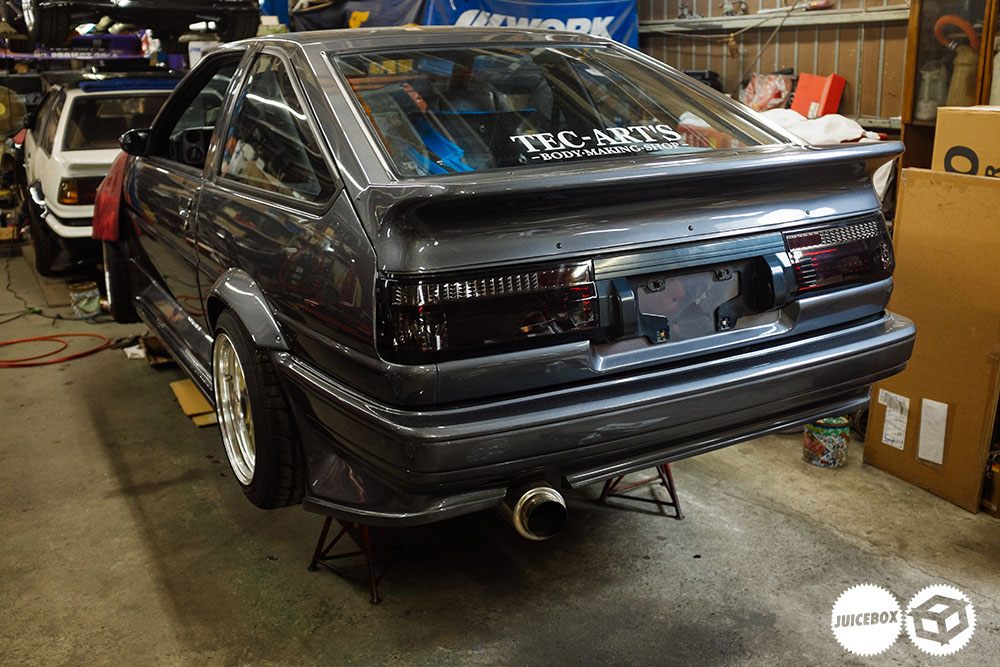 Walking in the door is a total over load of eight six, the excitement is completely over whelming. I thought after almost two weeks in Japan this feeling would have eased off by now but it was like we had just landed in Japan.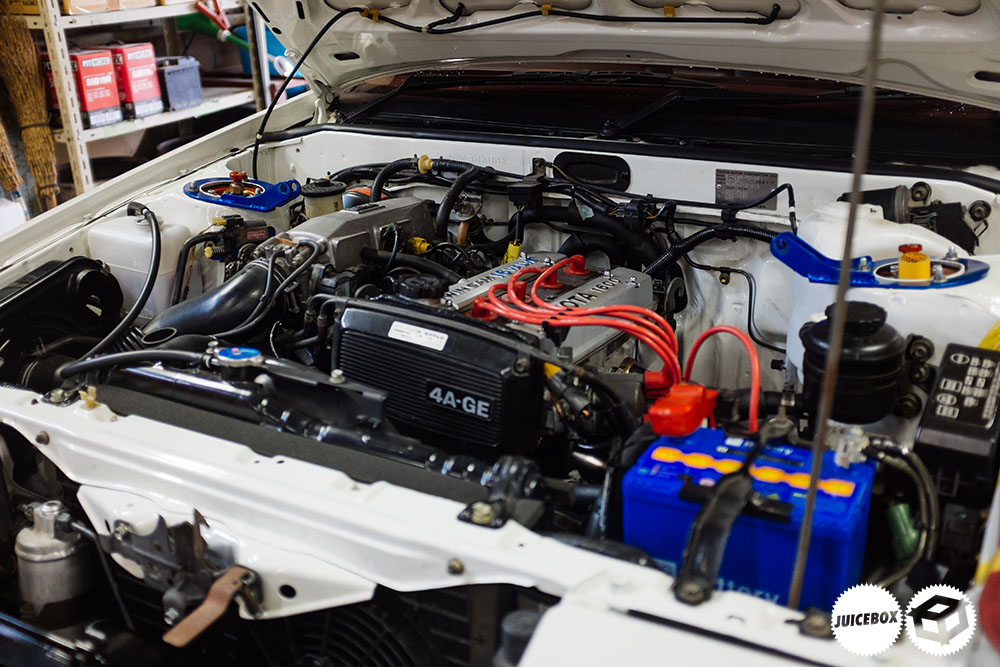 I had never seen a restored Carland 86 before, these are fetching a serious price tag in Japan these days, for anyone who is unaware, they are a company who restore the 86 back to a factory enough specification, almost like a brand new model from the factory. This particular Trueno appeared to have a couple of subtle extras mixed with OEM.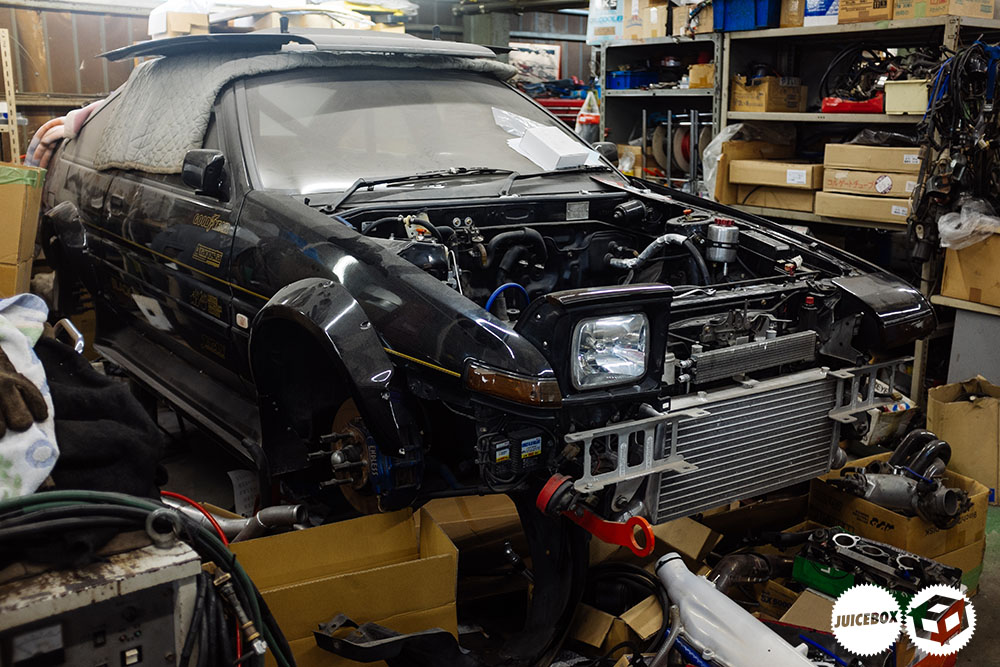 Looking a little sorry for itself was the notorious Tec Arts black limited. Many have argued about modifying a black limited due to it being such a rare machine but I always had a great deal of respect for Tec arts for building one into a Demo car, any photos of this online should help convince you.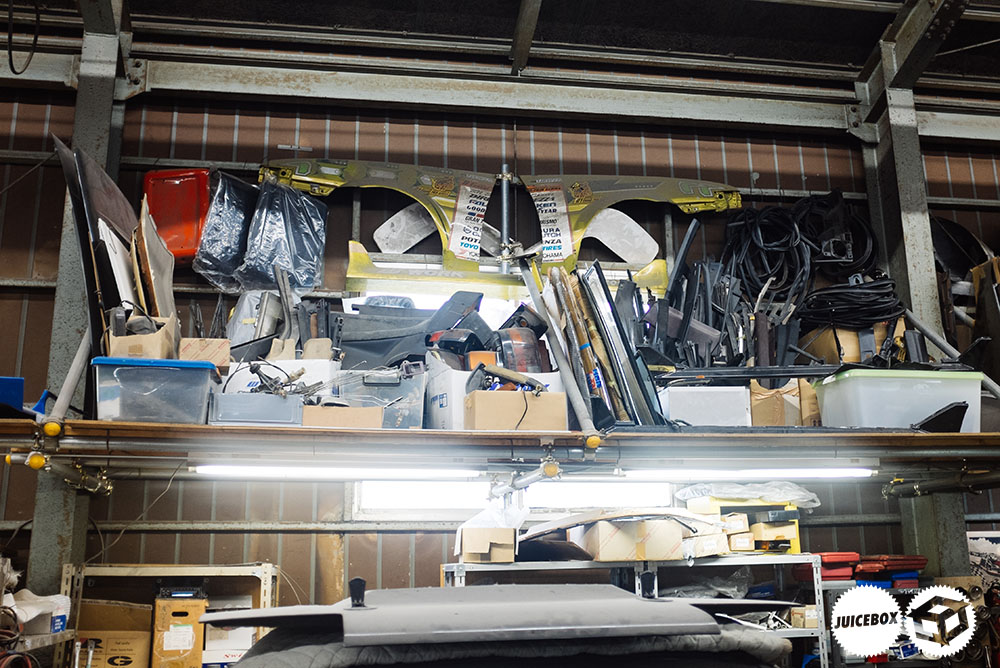 The walls are lined with history, you could spend hours rooting through this place. I noticed myself just snapping photos of everything in the workshop in case I missed anything.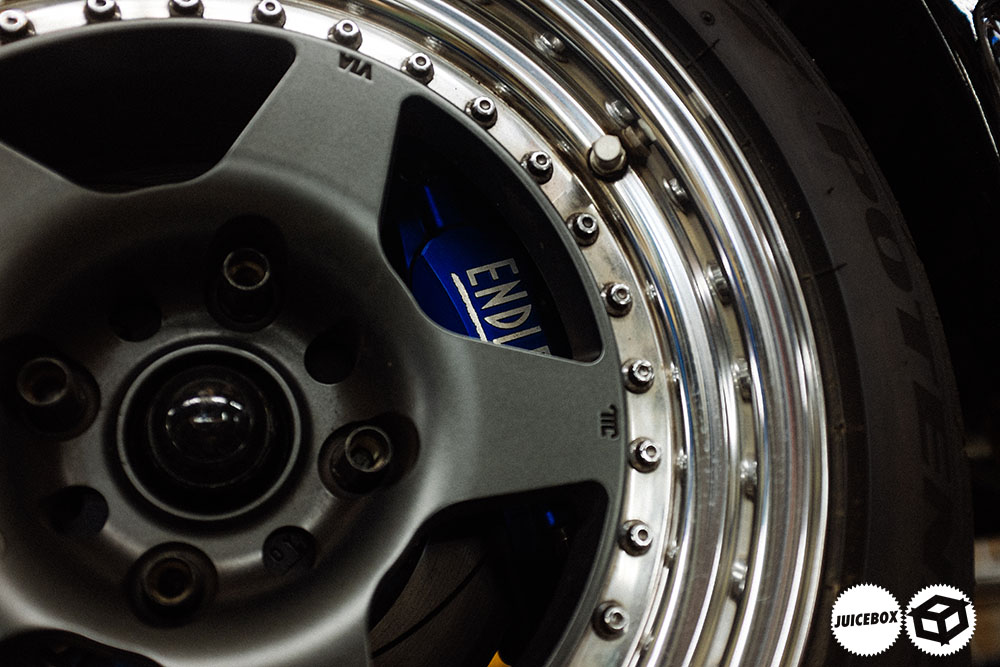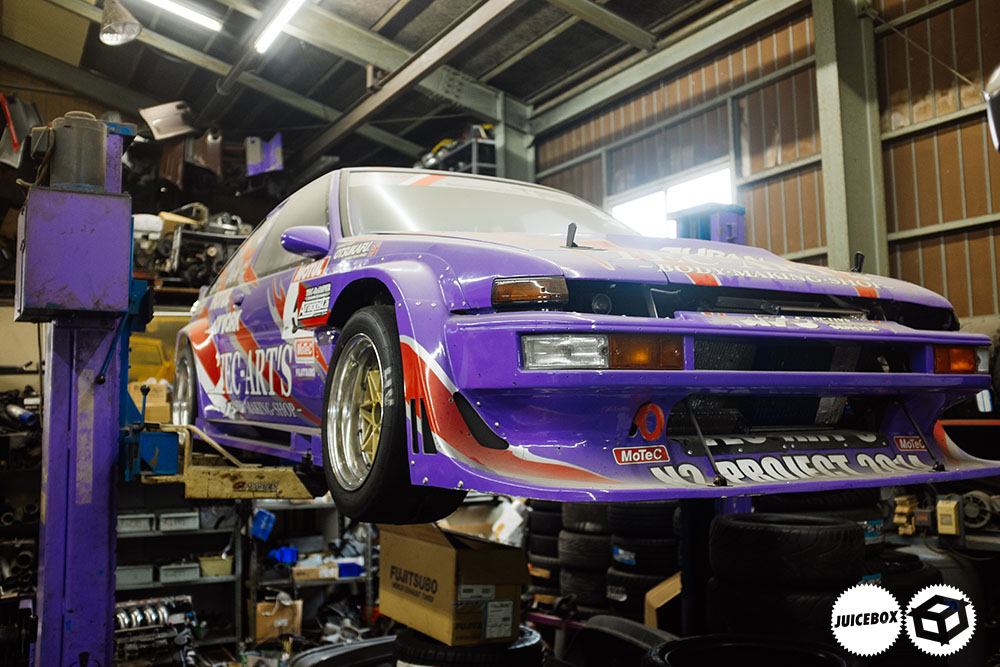 At the time of writing, it appeared the famous purple N2 machine had been sitting up for quite some time. I never thought in a million years id be able to get up close and personal with this machine, it was only very recently out for the N2 battle at 86 fest.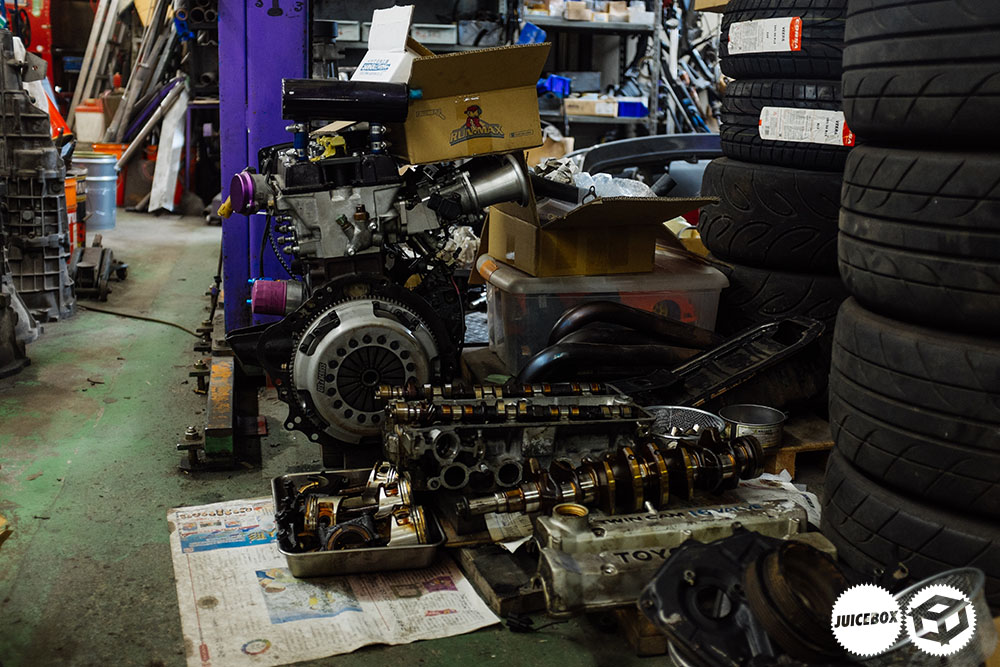 Organised chaos, there wasn't a corner of the shop that didn't have something to look at.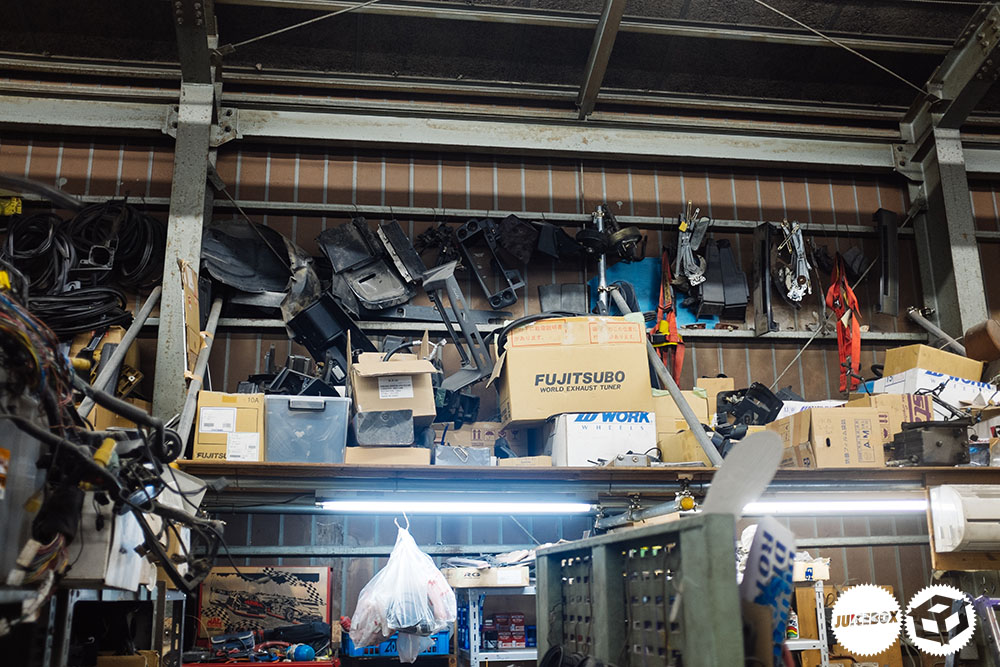 Parts paradise!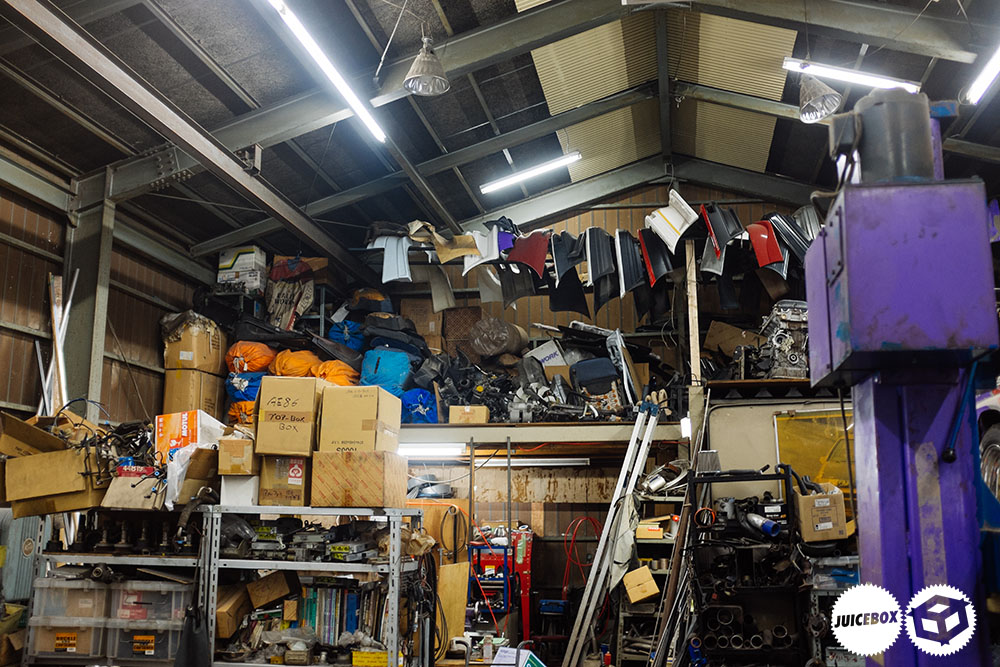 We didn't want to be too nosey, but looking into other areas only made us more curious, Tec Arts has been around for a long time and are known to modify quite a variety of cars but  are best known for the AE86.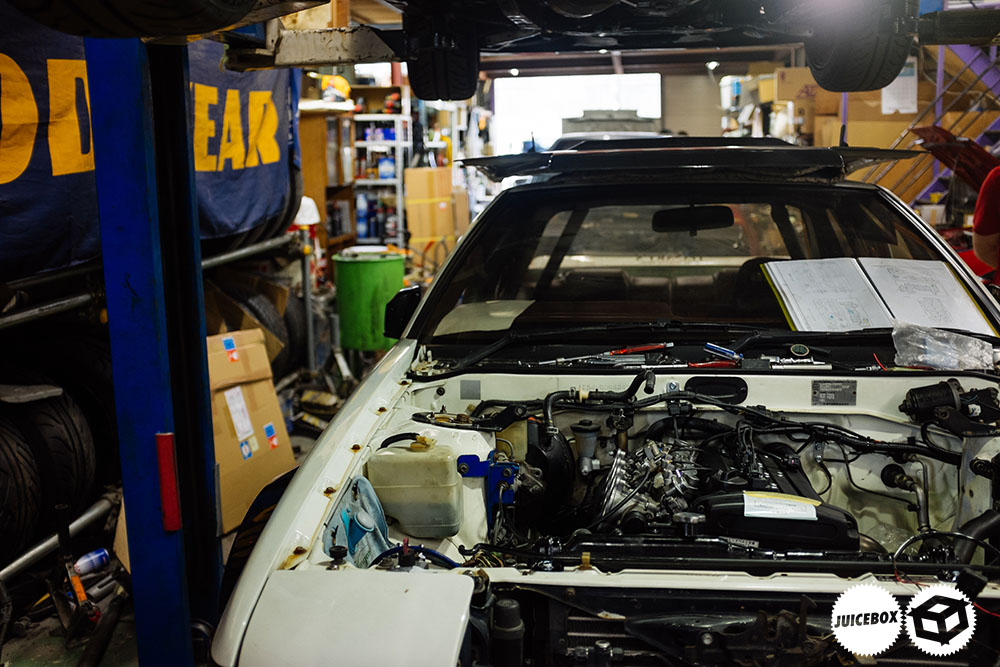 What I love about Japanese shops is their use of Limited space, we are spoiled elsewhere in the world for space and places to put stuff. This place was absolutely crammed with stuff going on, but had ab over head crane, no space seemed wasted…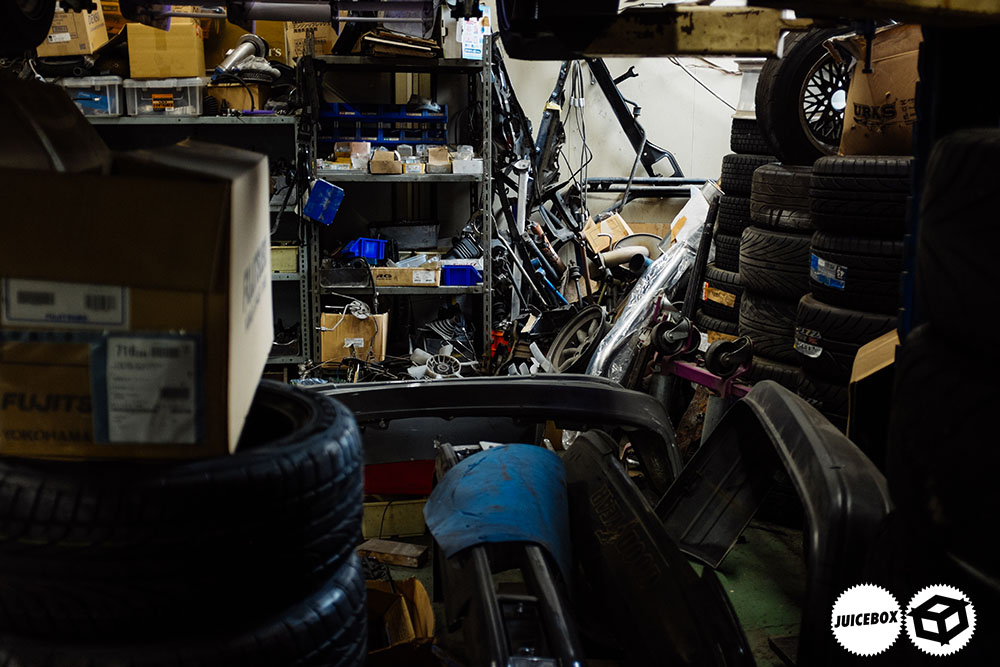 From project cars to just general bits and bobs laying everywhere, this would probably give some clean freaks a panic attack but I'm the workers know where everything is, the crazy thing is, every single part in here is worth money, that's the beauty of these Corollas, they've reached a point where even the most minuscule bit is sought after.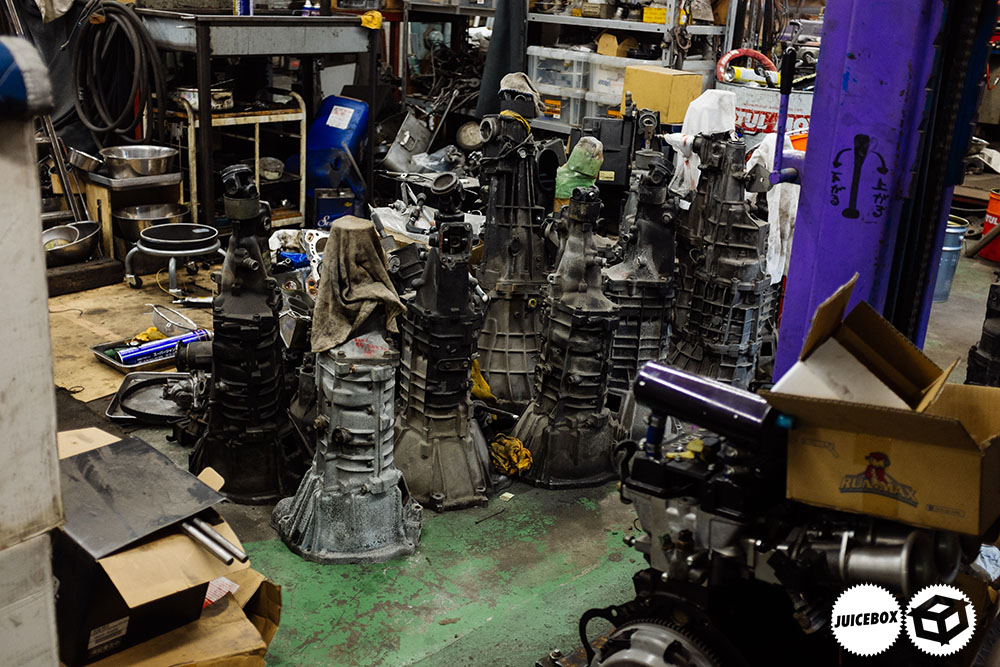 Anyone for a gearbox?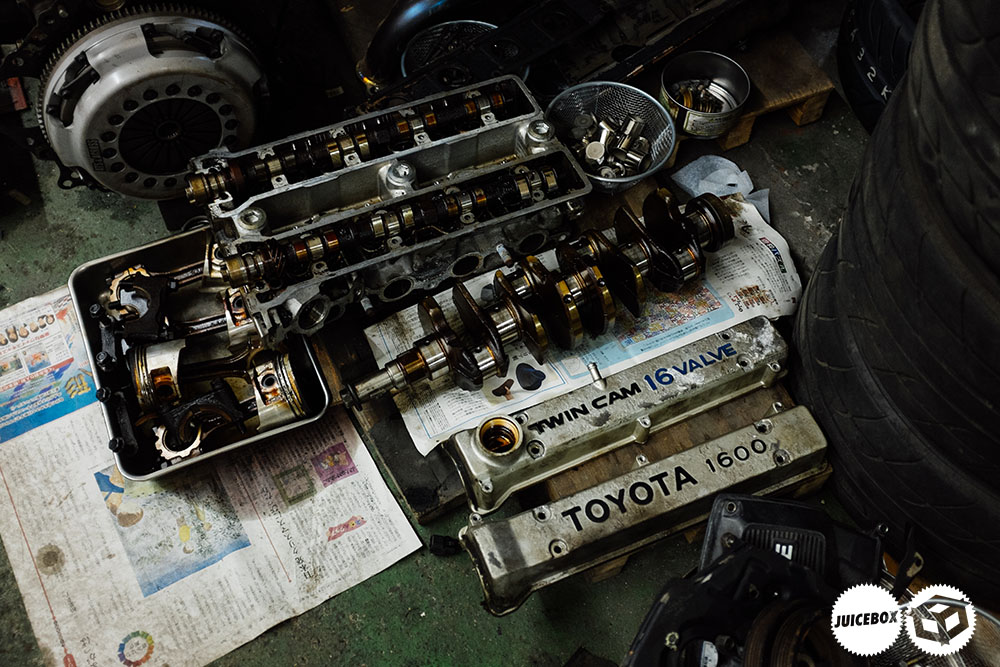 This place is paradise for any fan of the eight six chassis and id highly recommend stopping by if you visit Japan.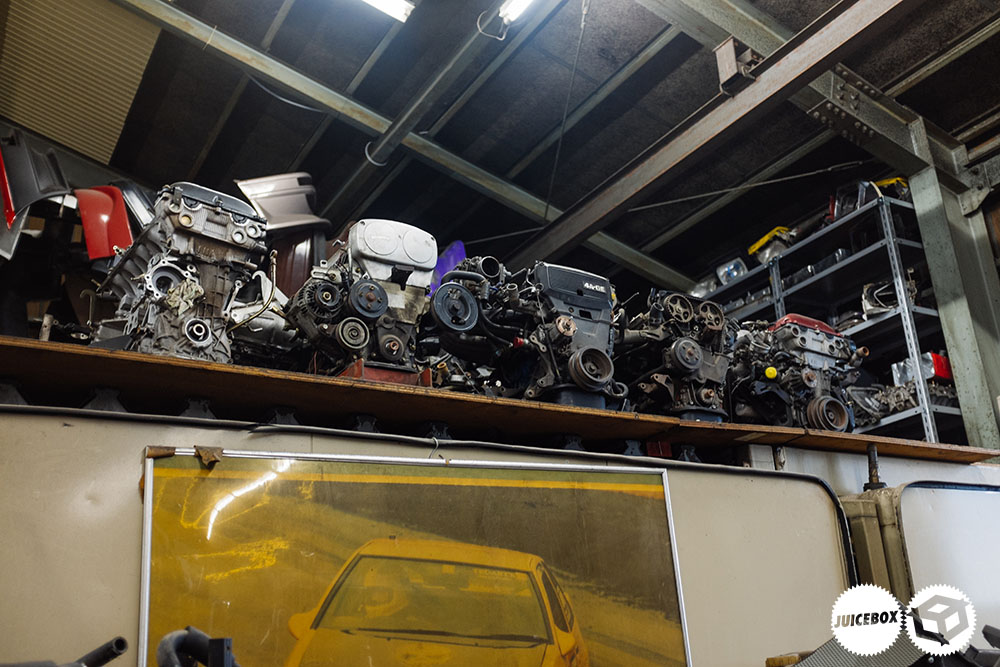 I would have loved to sit down with the guys and just hear stories from the past, this place is incredibly rich with a wild history from street drifting to racing, you name it. This was one of those moments where I wish there was no language barrier, there was so much to ask about this place but we left it at that.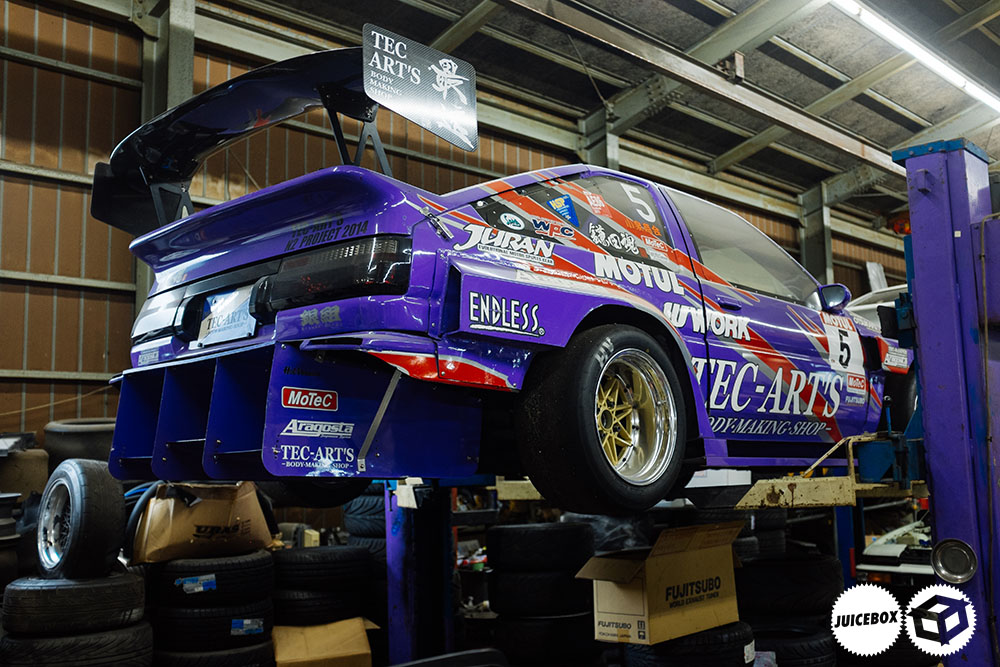 We didn't speak for about twenty-five minutes and just did laps of the small walkways, tip toeing around wheels and parts. I'd imagine for the guys working there they are so used to this stuff it must look funny to see a couple of super enthusiastic foreigners with dropped jaws snapping photos of pretty much everything in sight.
Watching this beauty evolve over the years through magazines, the internet, and the Hot Version N2 race has been pretty exciting, im a bit of a fanboy to this car and I remember just standing there, touching the canards like a weirdo for about five minutes!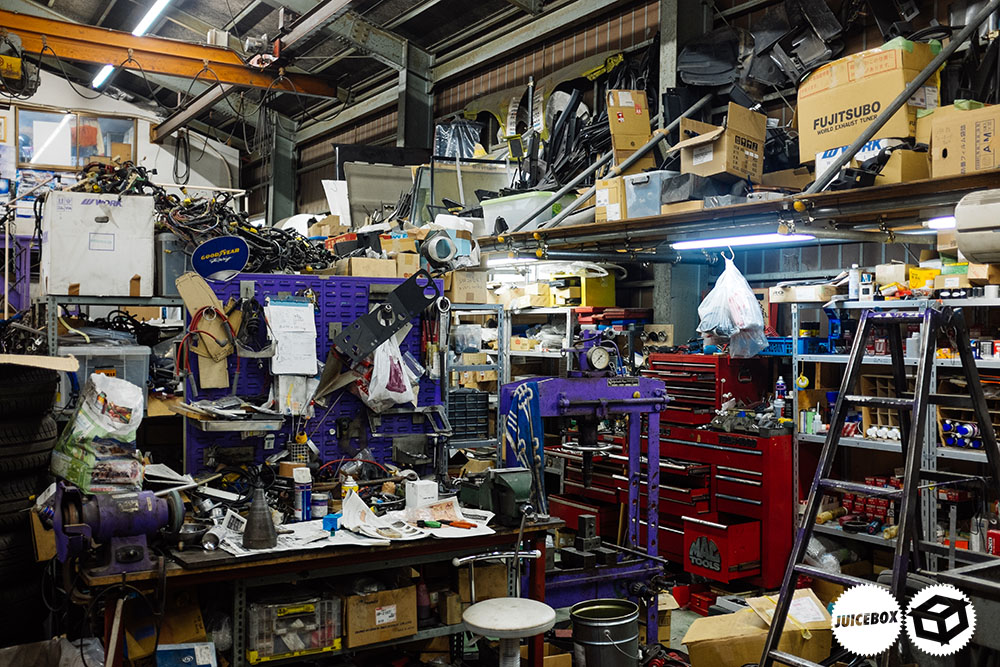 This was by far one of the best shops on the trip, you can tell a lot goes on here, and it's somewhere id love to visit again in the future, Tec Arts is exactly what you would expect from a proper back alley tuning shop. I love the fact they even coated the grinder in that signature purple.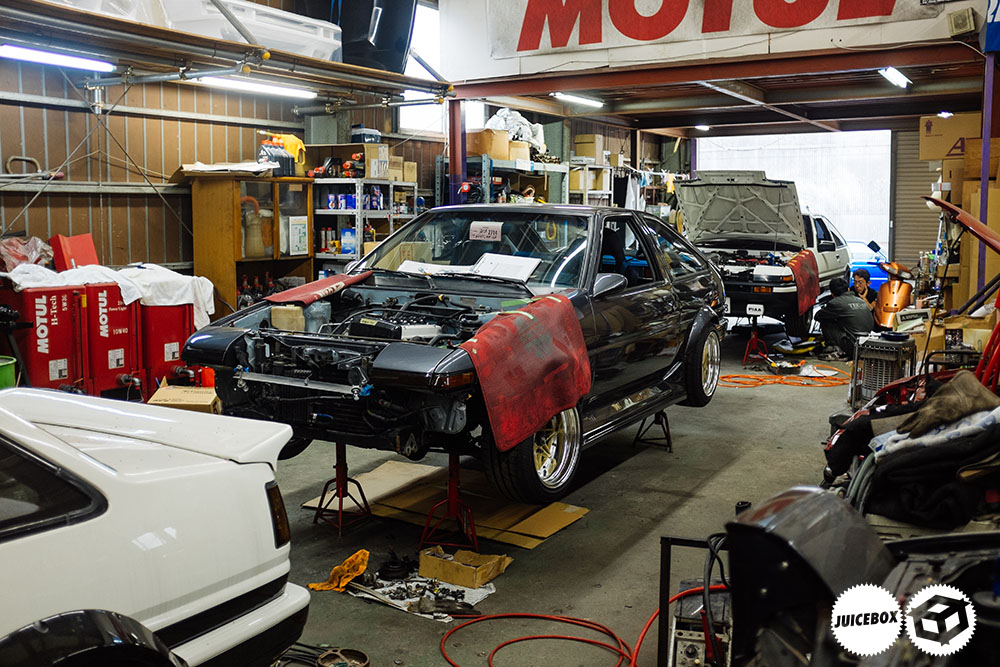 This was a very peculiar machine, imported from the USA it still had the import documents on it…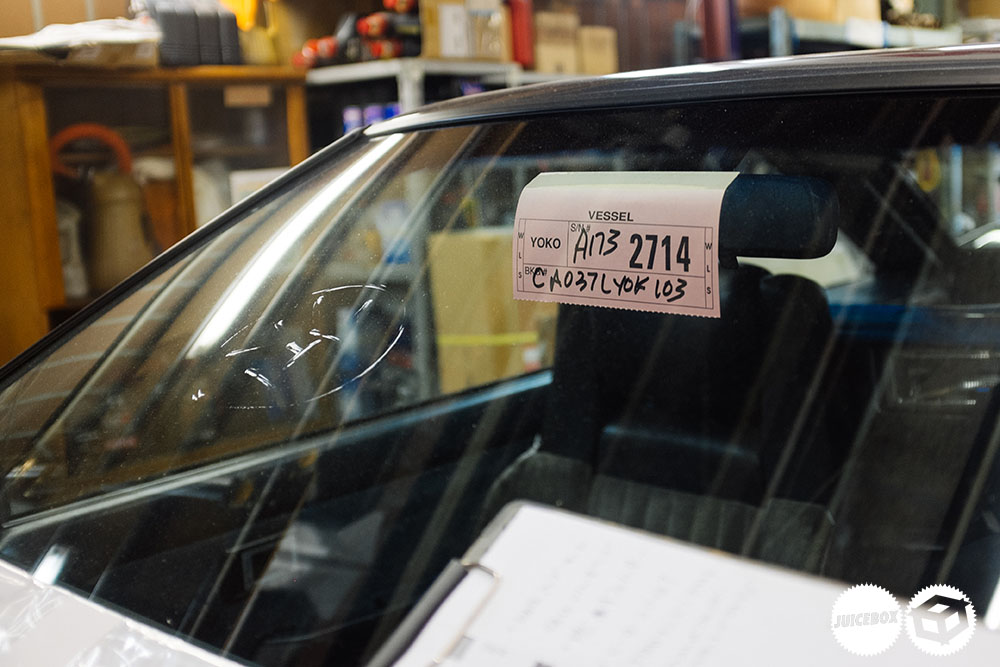 The car was receiving the full Tec Arts make over.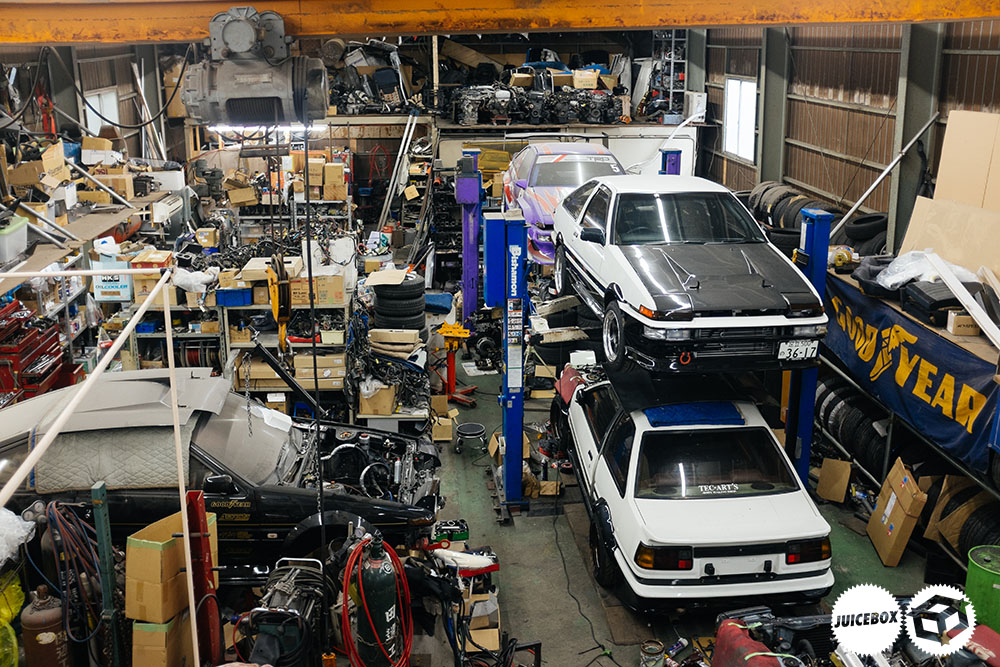 Before we left I asked Kamata-San if they had any stickers, he brought us up to show us the office, laughing at the enthusiasm as I stopped to take a photograph looking down over the workshop.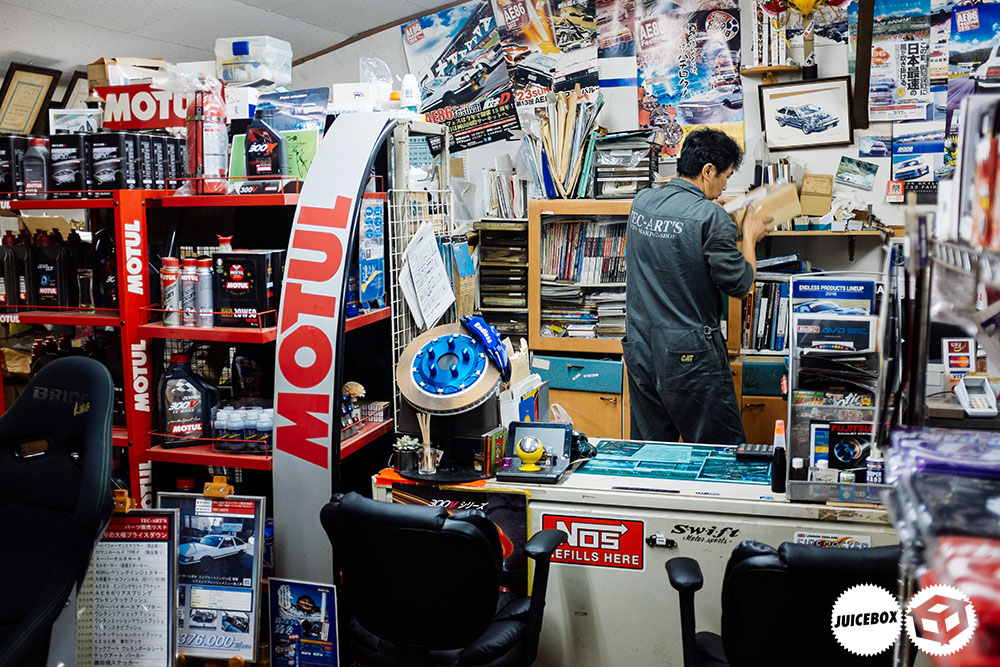 The office was just as packed with bits and bobs. You could easily spend another couple of hours just rooting through here too. These guys are as good as it gets when it comes to geeking out about the Hachi-Roku and I was very thankful they allowed us to have a nose around on our travels. We shook hands, said our goodbyes and popped back into the van, it was a working day and we had already felt a little guilty about randomly showing, but they seemed very cool about it.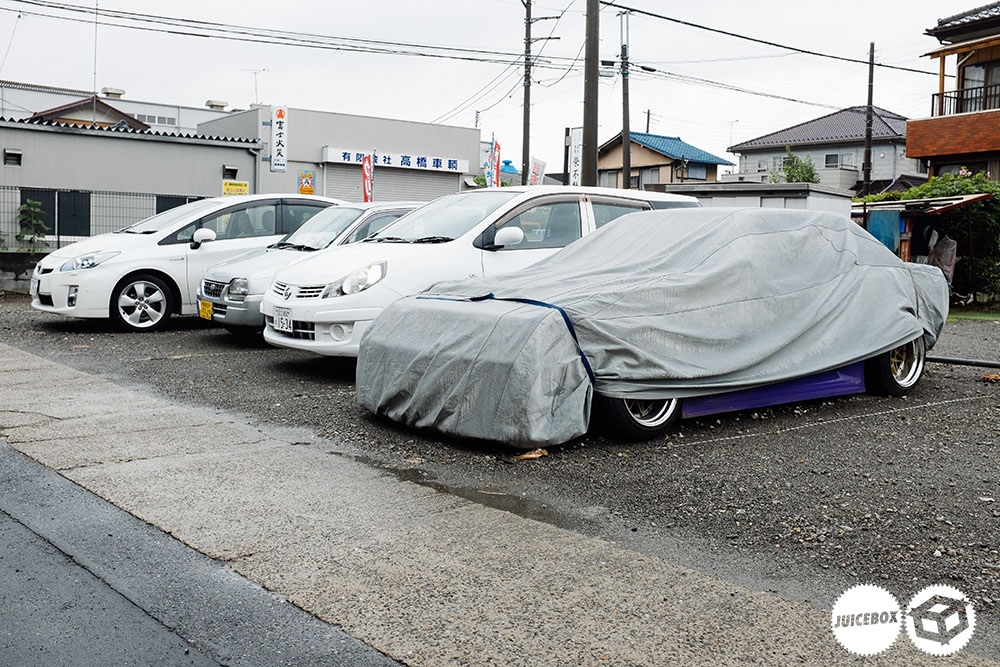 As we made our way out of the area I couldn't help but notice this down the street with the cover on it, it appeared to be the current car they use for drifting, I didn't want to lift the cover as just seeing those little details pop out from underneath was enough to make an interesting photo.
Stay tuned for the last few of these coming over the next few weeks.
Comments
comments
Powered by Facebook Comments