Juicebox in Japan: A Daikokufuto encounter PT1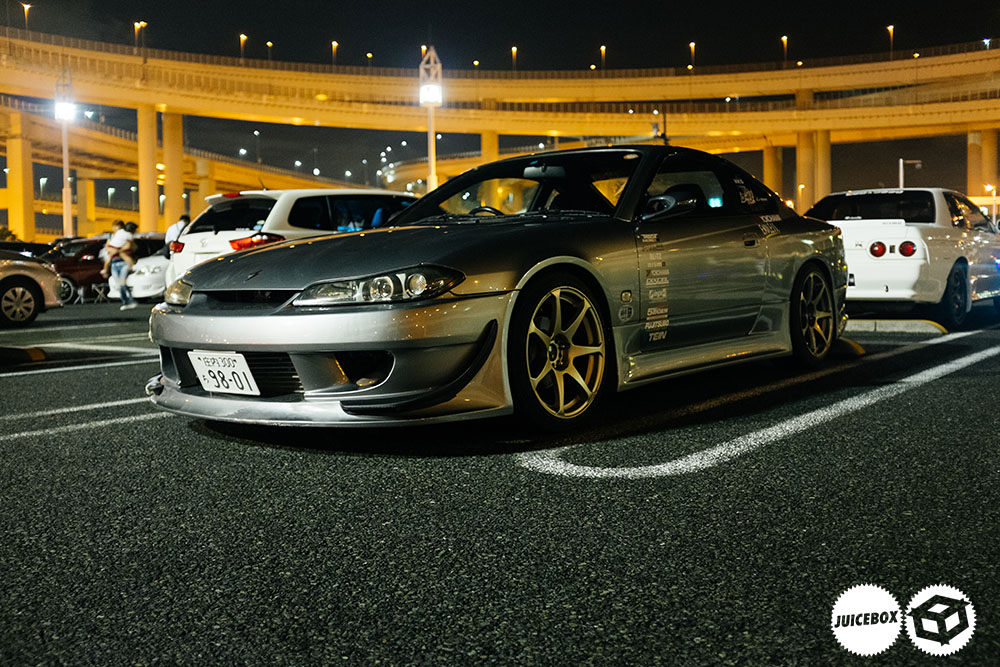 The wait was over, after a failed attempt to get into Daikoku on the previous night, we were adamant to make it here for a Saturday night no matter what. We hung around in the Up Garages close by and made our way towards Daikoku around 9 PM to get an early spot.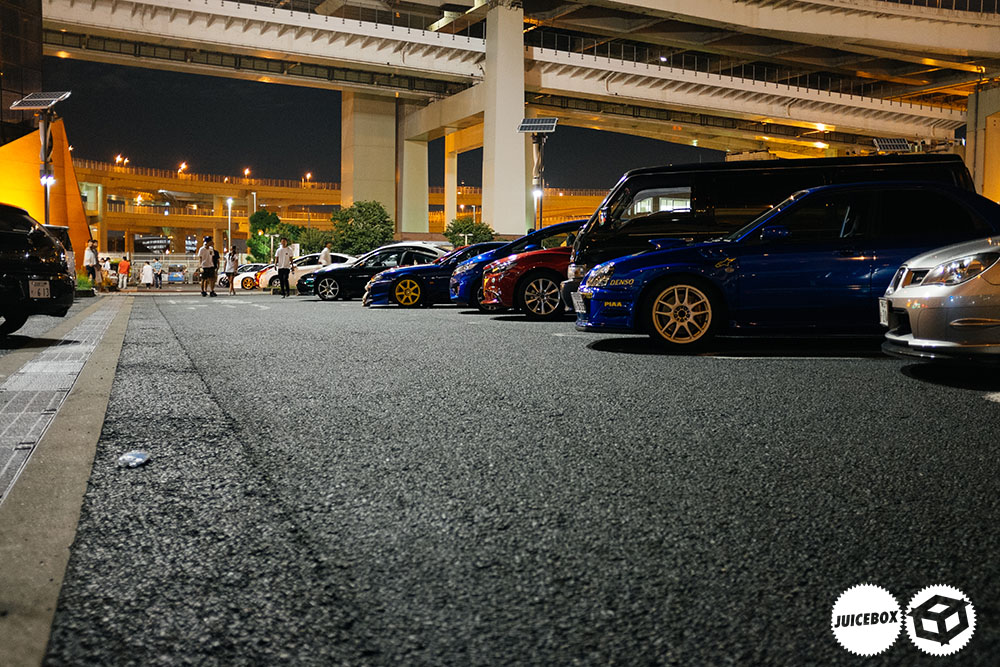 We had already been completely overwhelmed at how hard it is just to get into this Parking area the night before, something nobody appears to discuss on the internet, but this time we were cautious.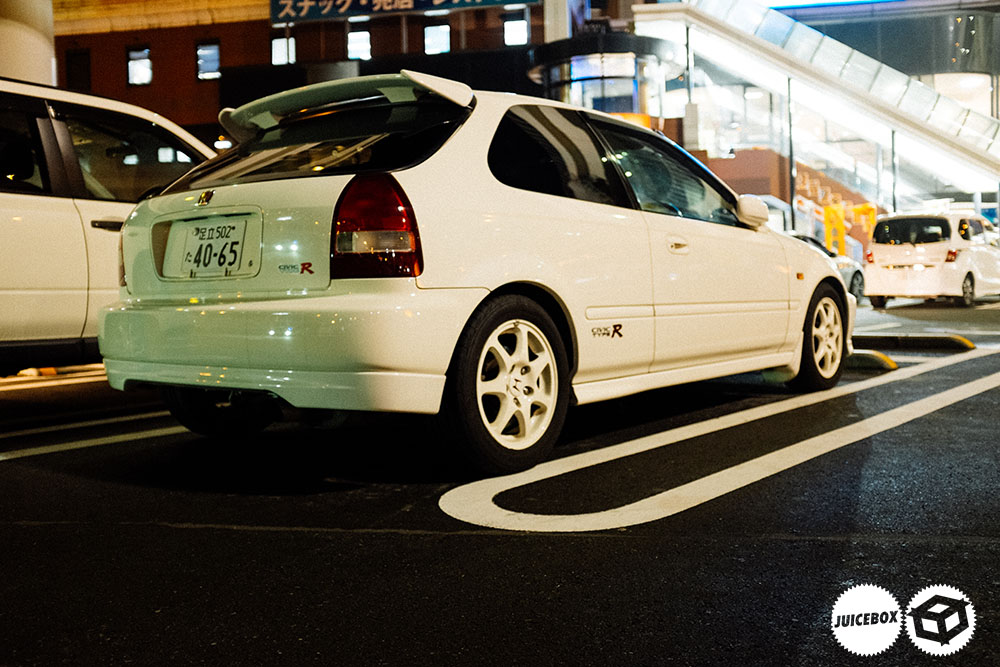 I expected this to be a casual enough spot to find, a place you could just turn right and you are good to go but I was wrong, we were all wrong.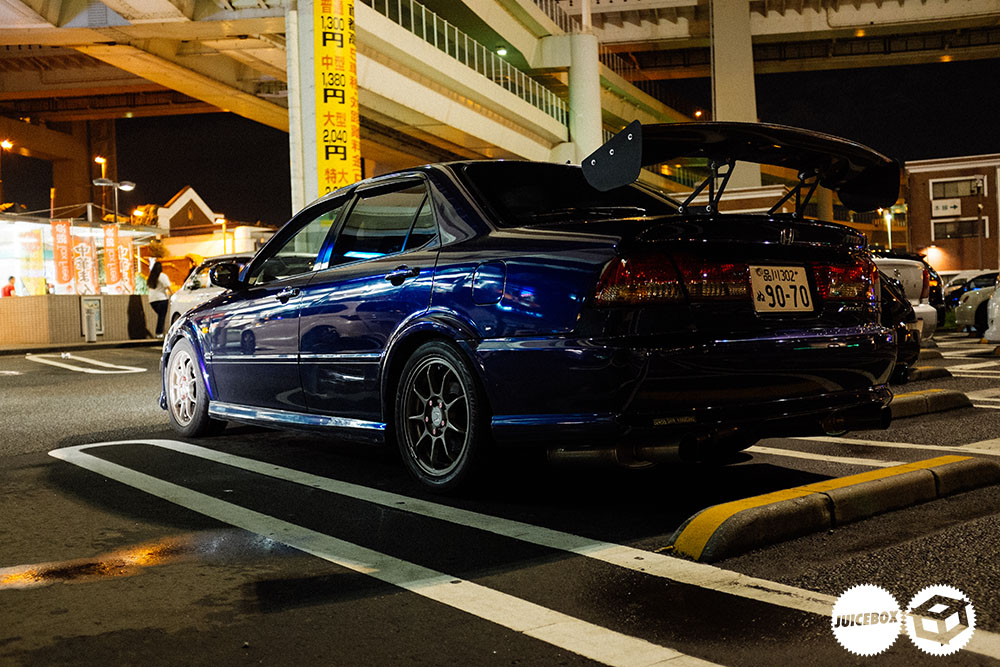 Daikoku is on its own island, ironically its where they ship cars off to the rest of the world once the auctions are complete. To get onto the Island you spend about 15 minutes crossing bridges and slowly winding down the maze of roads in the background, eventually spotting the one entrance ramp and after another few spirals you are in.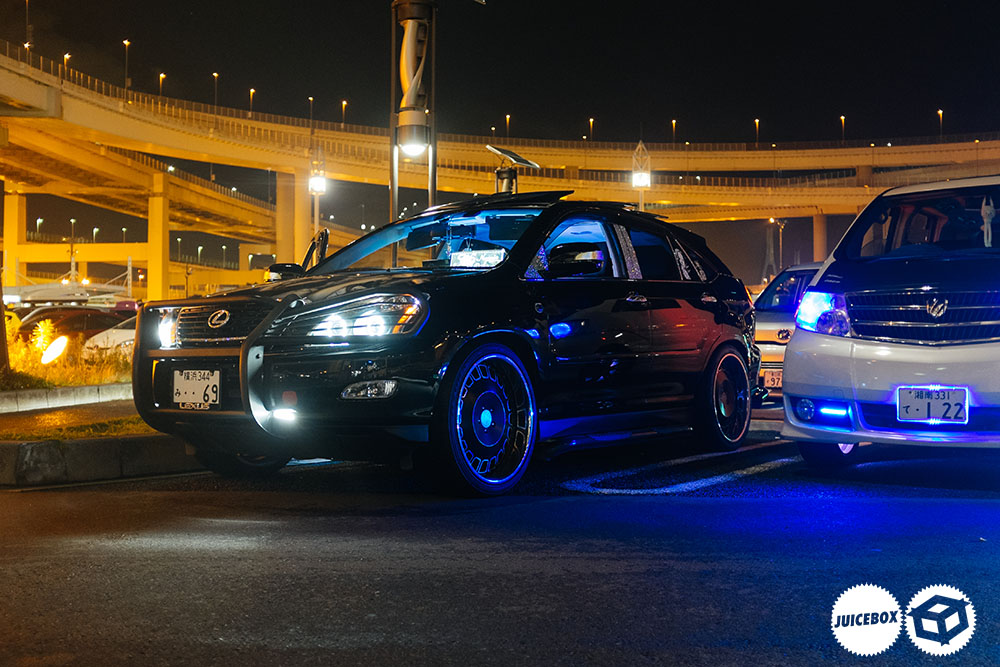 It's very easy to get it wrong as we did on Friday night, in fact, if that happens you are spat back out into the maze and have to give it a shot all over again, going back across the Bayshore bridge.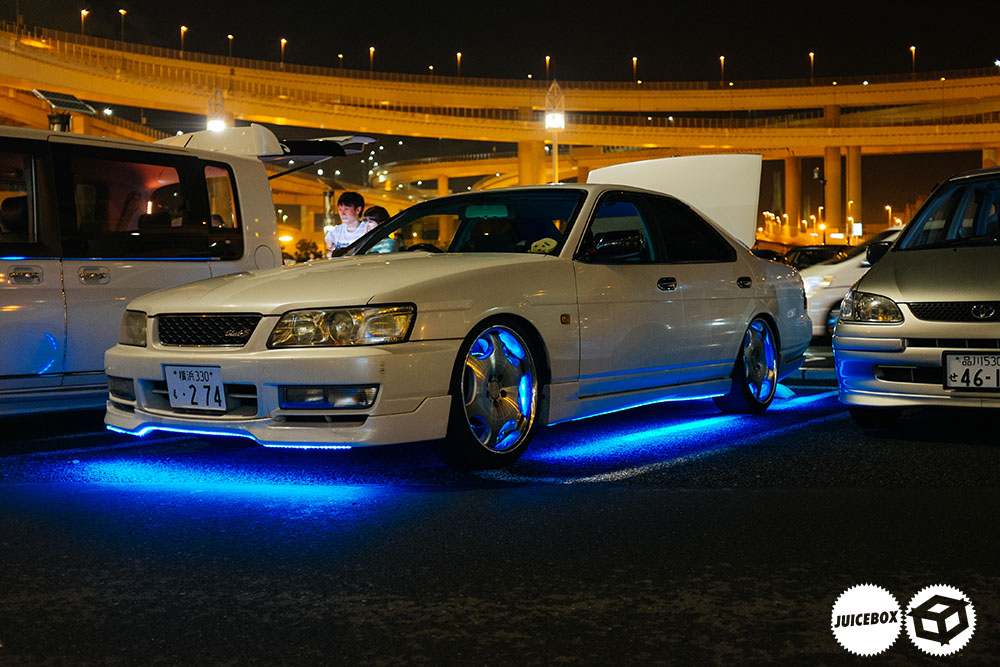 By the time we gave it a second run the cops had shut the place down, they usually show up around 11 and hunt everyone away.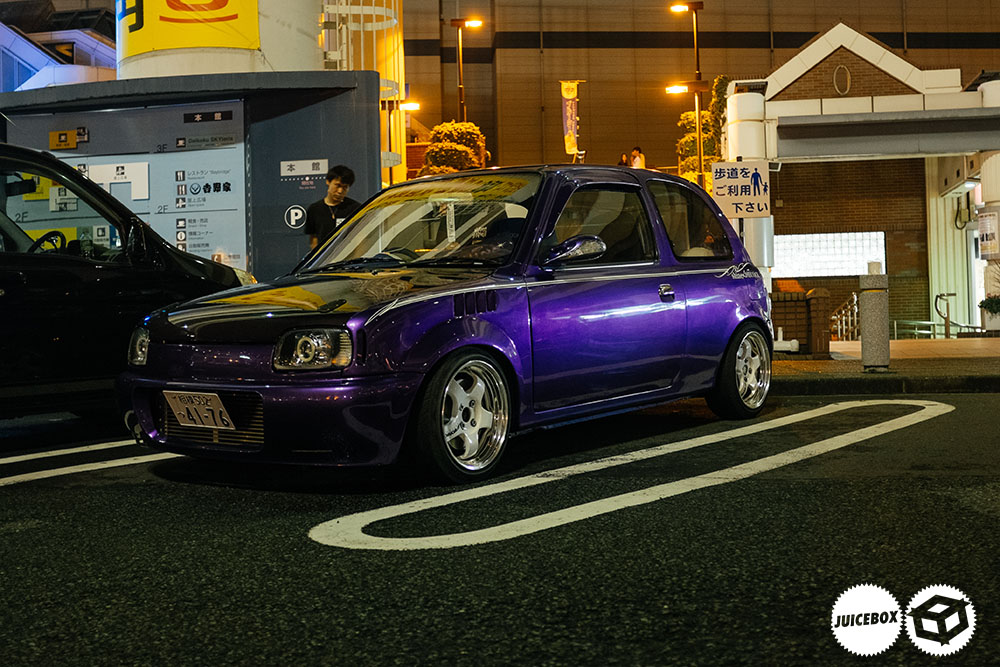 I'm going to do a very in-depth photo series on this place just to give you an idea, there is nothing quite like it in the world. It's exactly what you would imagine and much much more.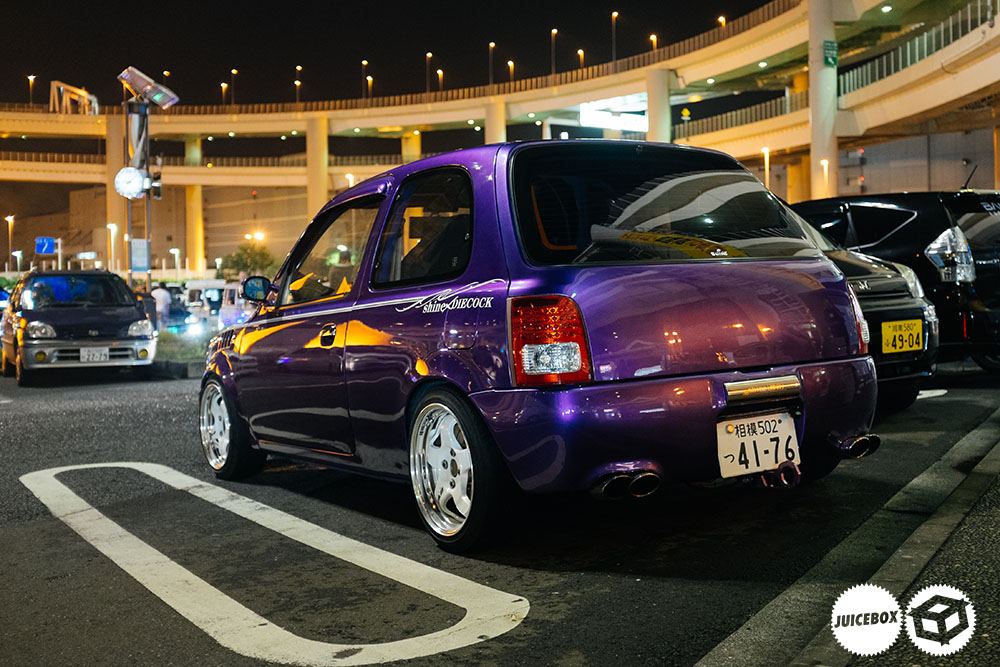 I hate saying it but Daikoku is like a real-life scene from Tokyo Drift or some sort of set for a staged car movie but this is real life. Every sort of car you could think of shows up here, be it true Japanese style skid machines which barely look road legal, or the strange in-between neon madness right down to the USDM inspired stuff. It's the perfect cross-section of Japanese car culture and my god is it spectacular.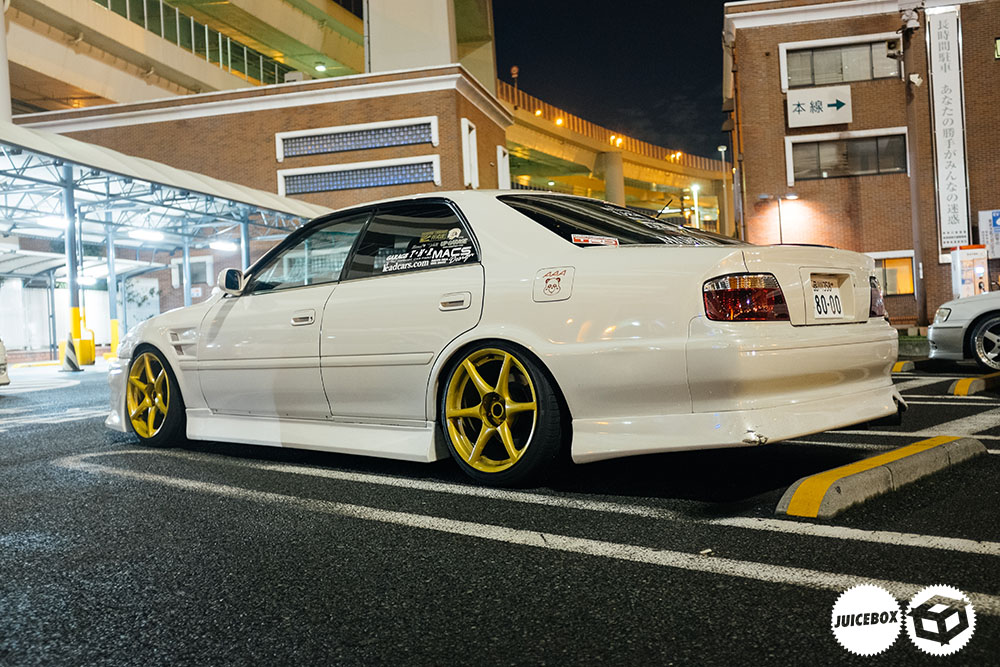 You have classic looking cars like this JZX100 on 34 GTR wheels…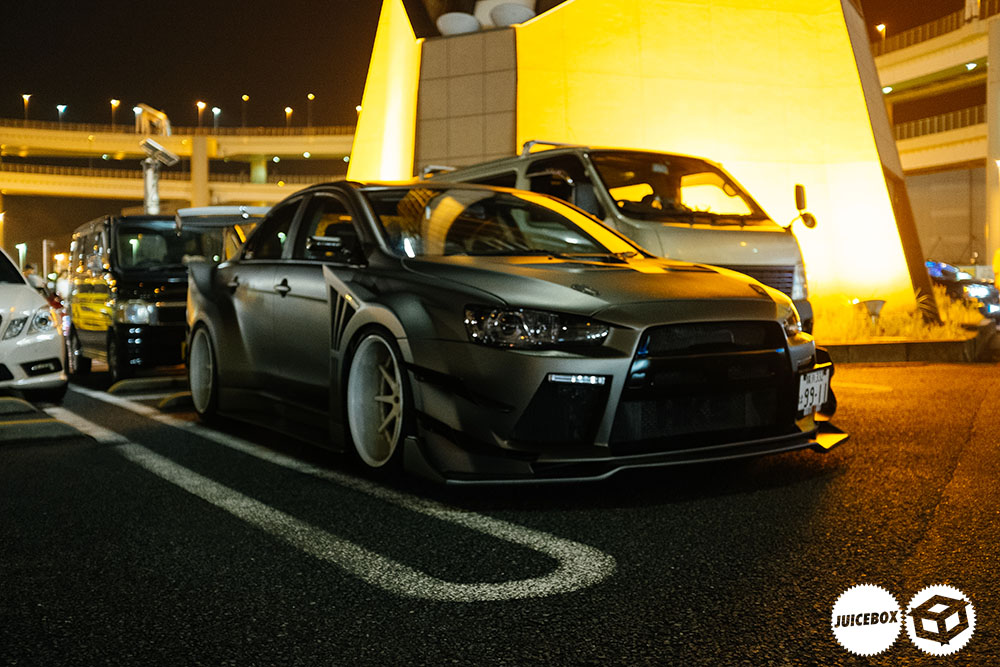 Parked across from wild machines like this Evo. Nothing is the same, and everyone is down to hang.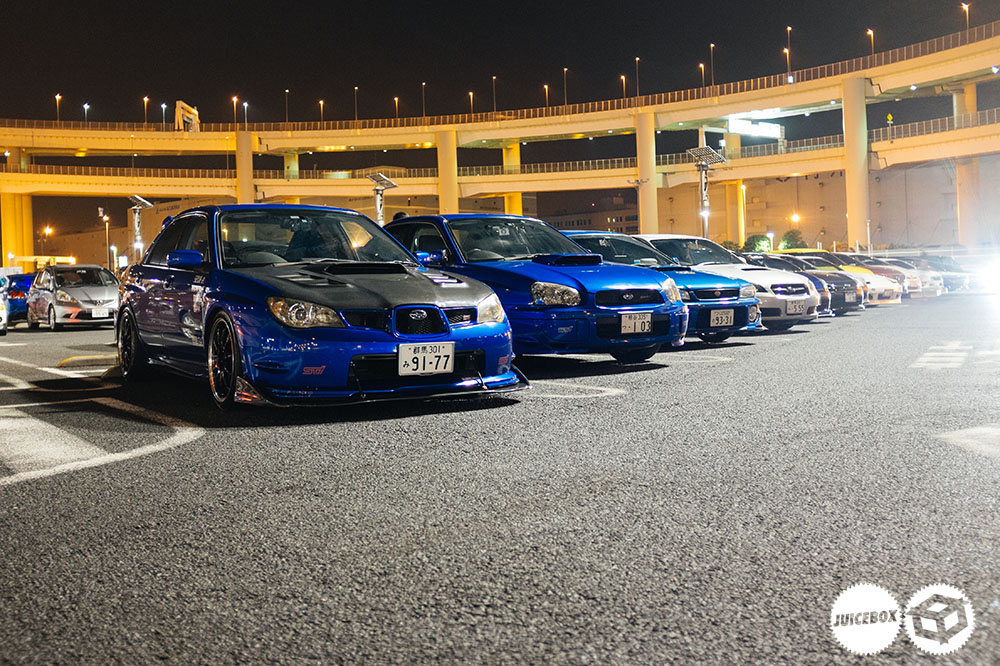 This is what I love about Japanese car culture, it's unbelievably diverse, they are always pushing the limits and it seems like everyone is welcome and opened minded.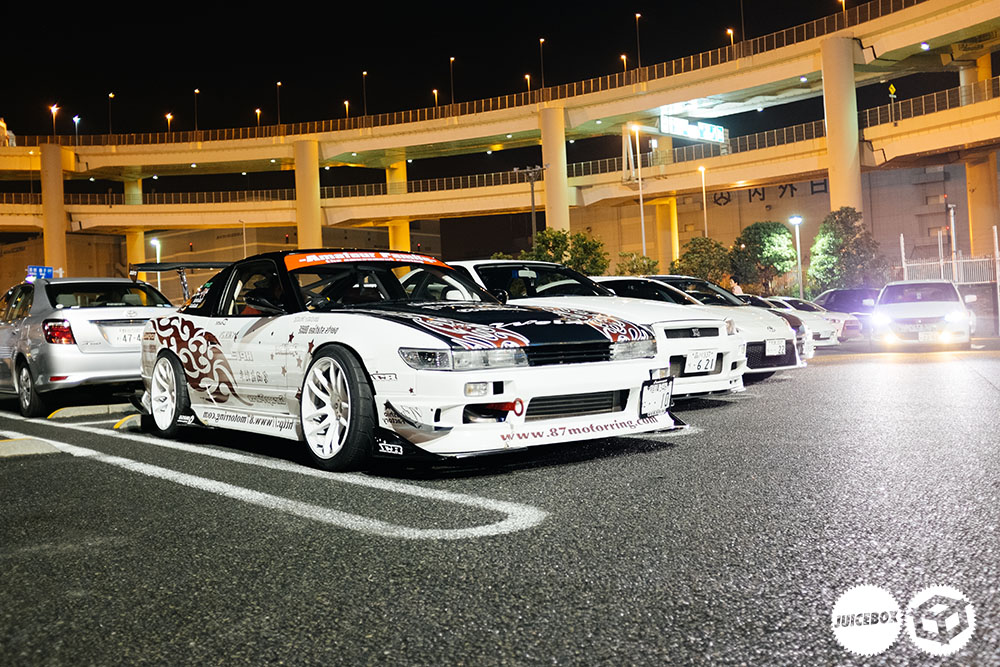 Nothing, and I repeat, nothing will prepare you for this place, especially if you catch it on a good night, which luckily this appeared to be.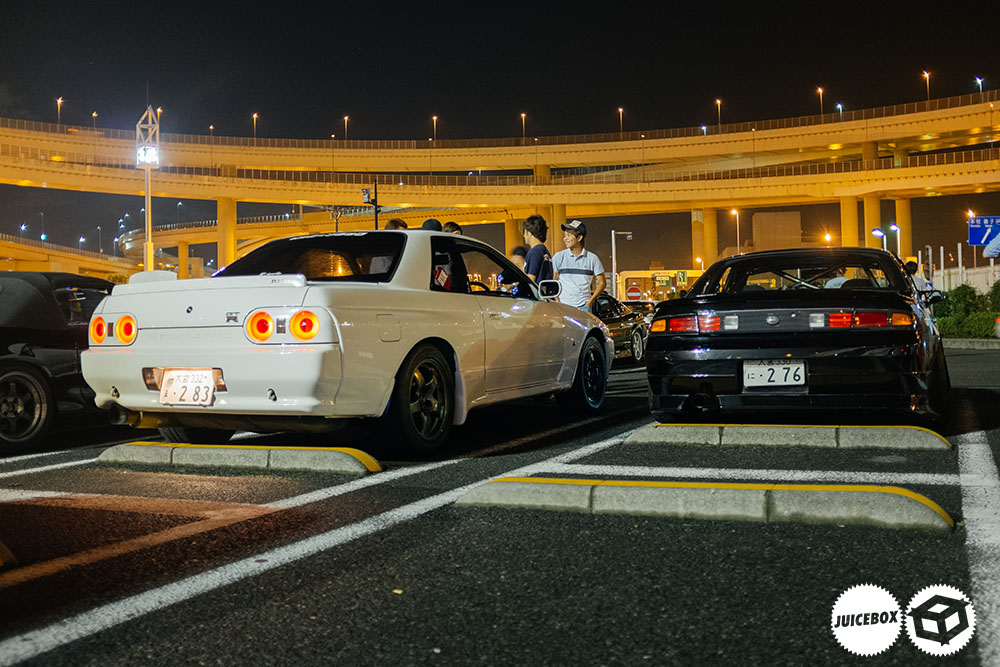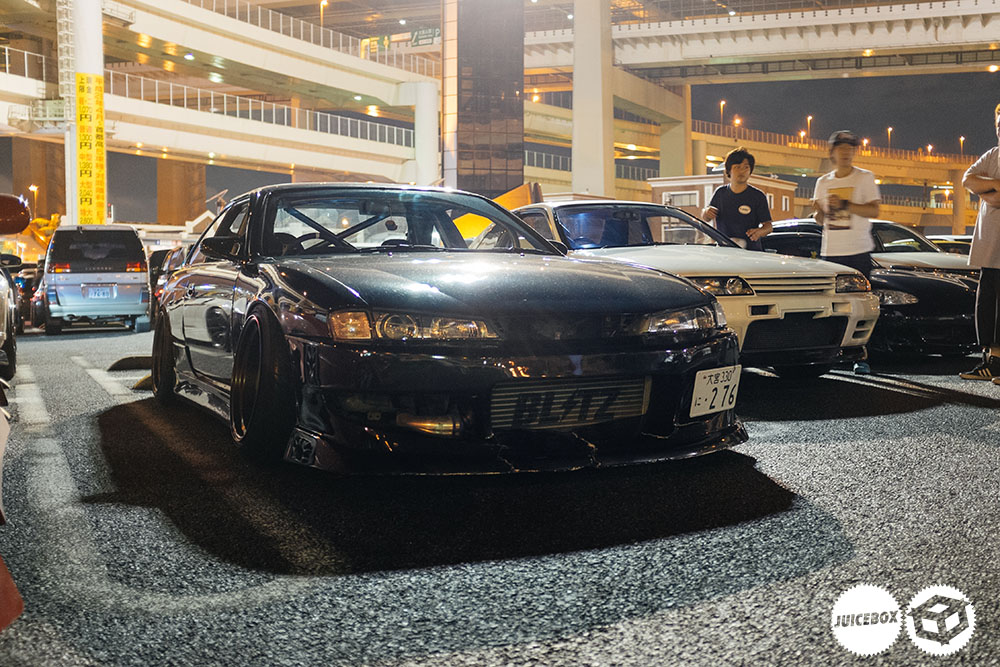 We were in complete silence as we did laps of what we were told was a casual night here.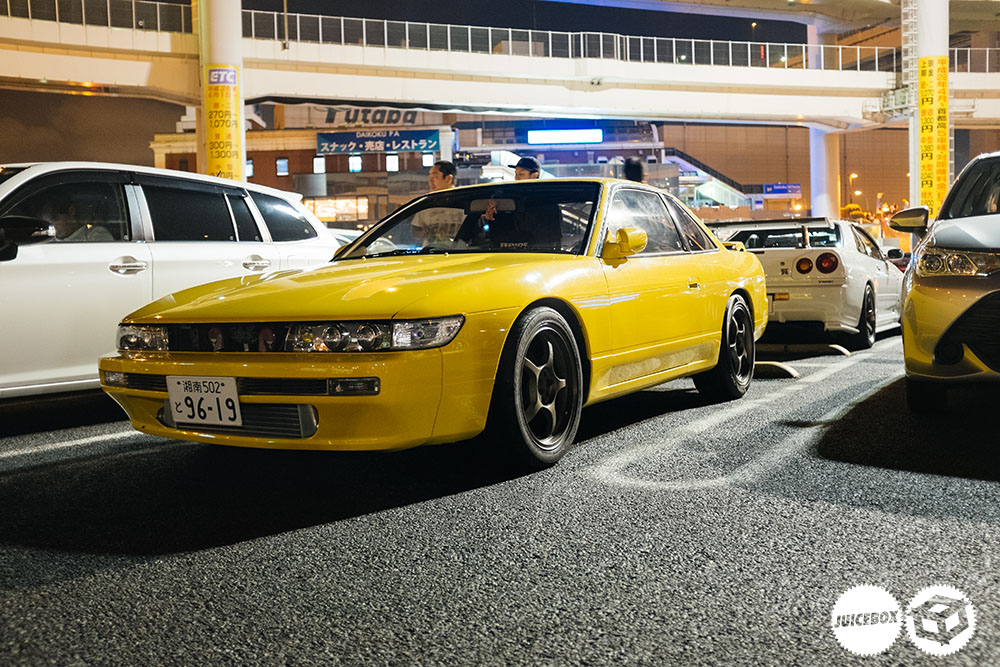 Daikoku really is ground zero for Japanese car culture, if you want to see whats going on or whats trendy, you are more than likely going to see it here.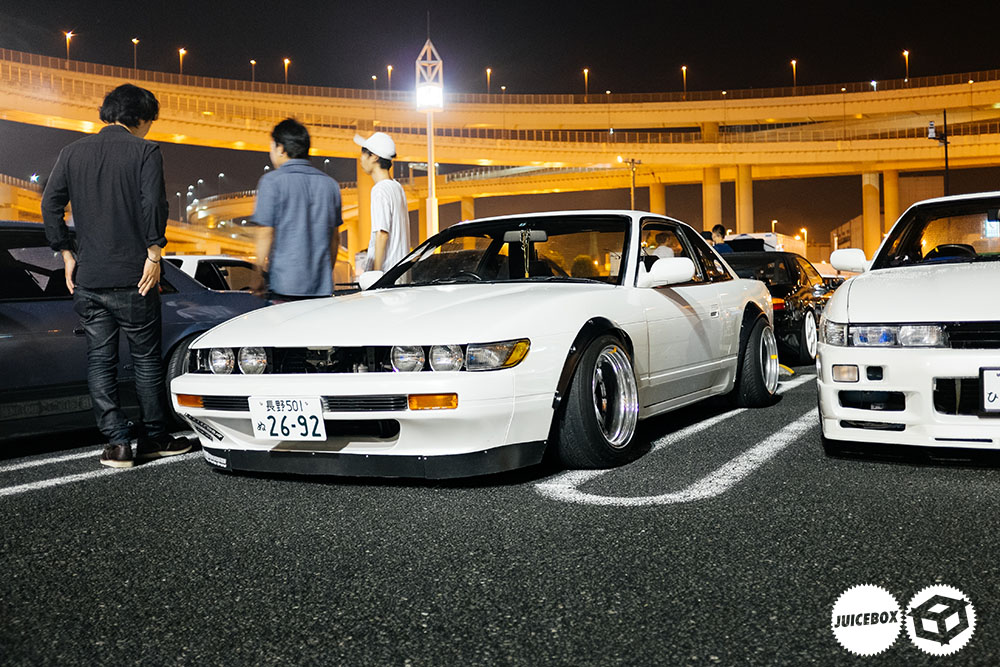 I must have taken over five hundred images on this night, cars continue to roll in. Some parked up, some did laps, some came for a quick fly by.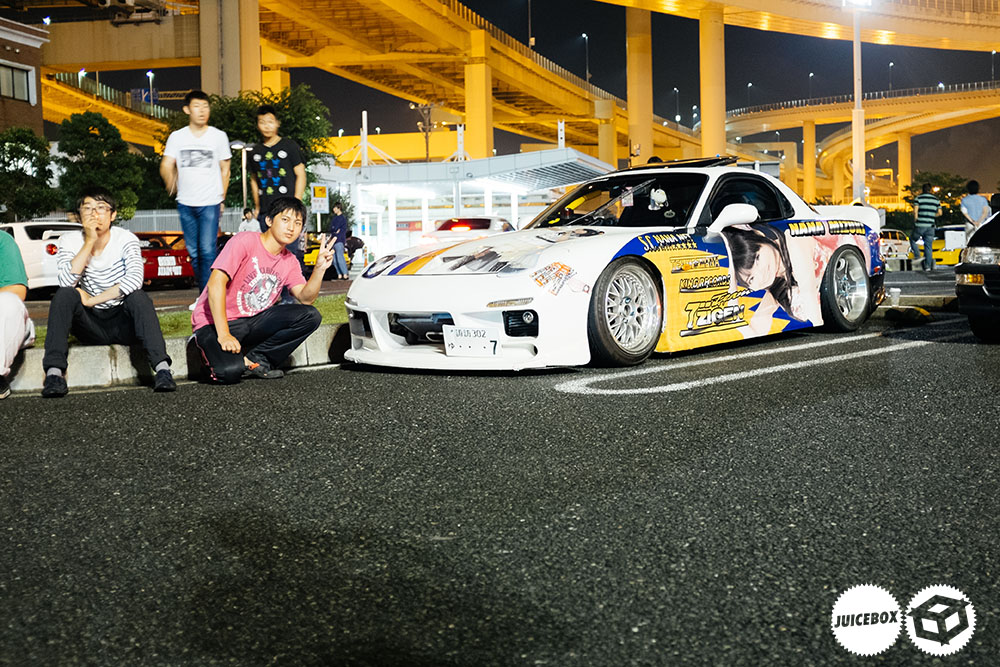 It's like scrolling an Instagram or internet blog but seeing it in real life. Even looking back at some of these photos I am in disbelief that I took them. Is been over a year and I'm still in awe.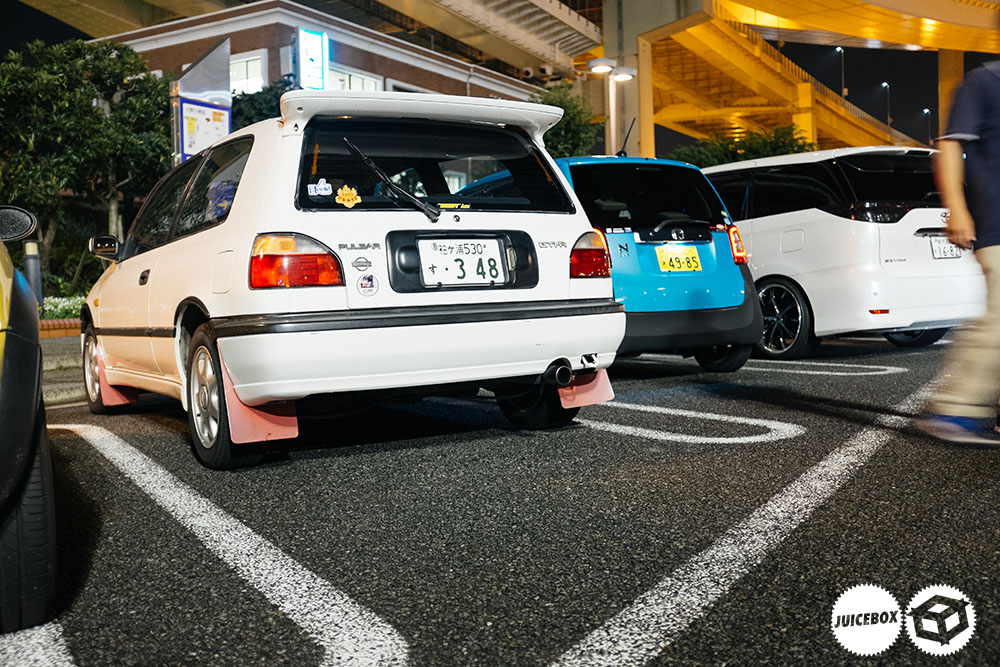 The place is a goldmine.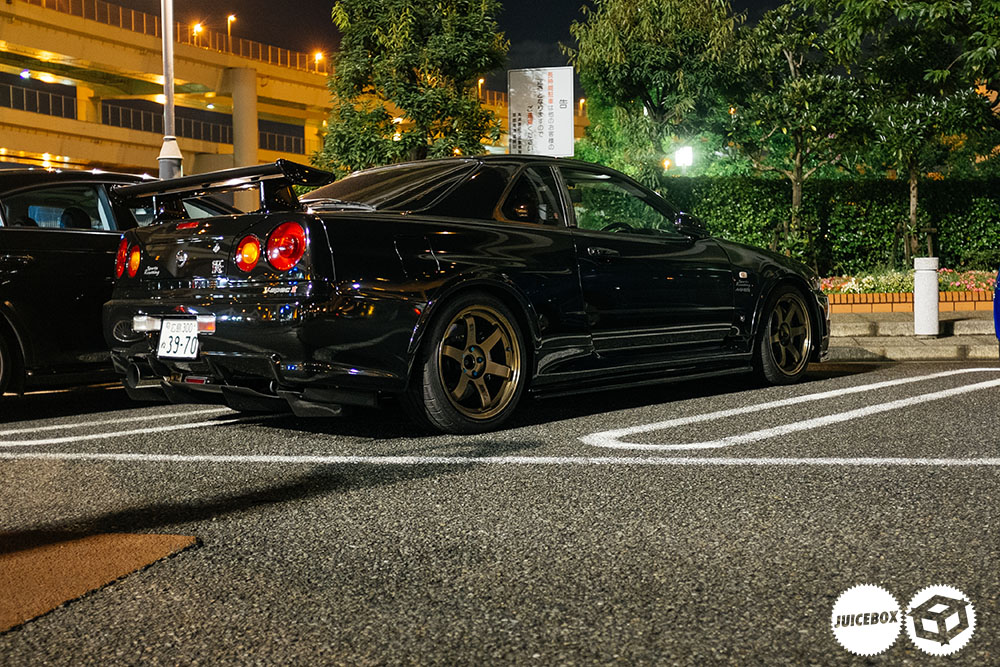 You'll come across almost anything. You can hear cars roar as they wind their way down the expressway to pop in for a coffee and a chat.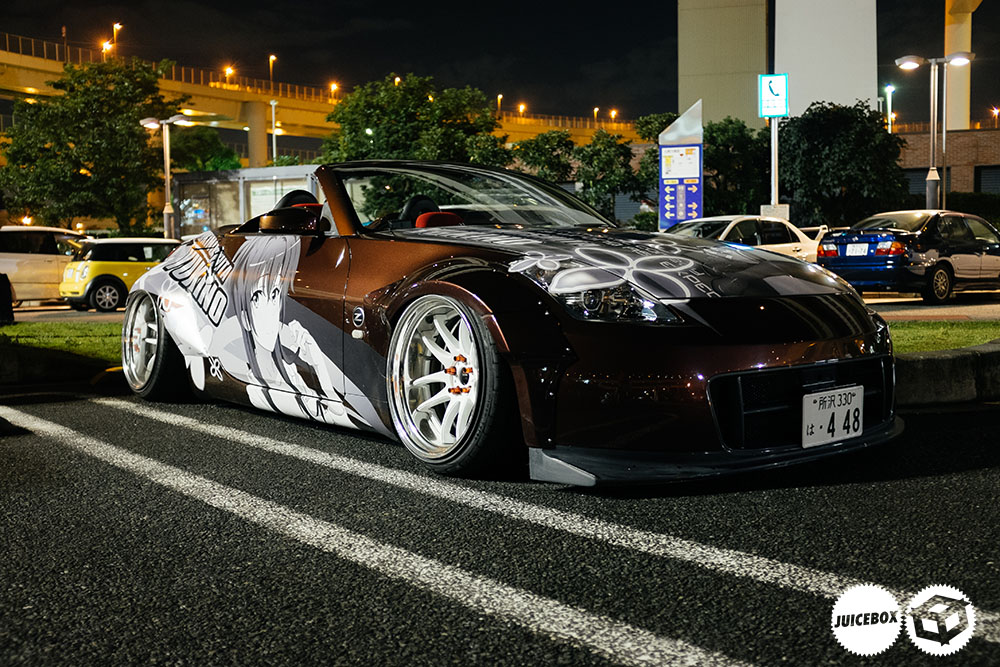 The last time I had a proper feeling like this was a good few years back when the Irish car scene was booming, and tbh I really miss those days, they compare nothing to this really but that feeling of being surrounded by so many cool cars in the night, that hasn't happened in a long time.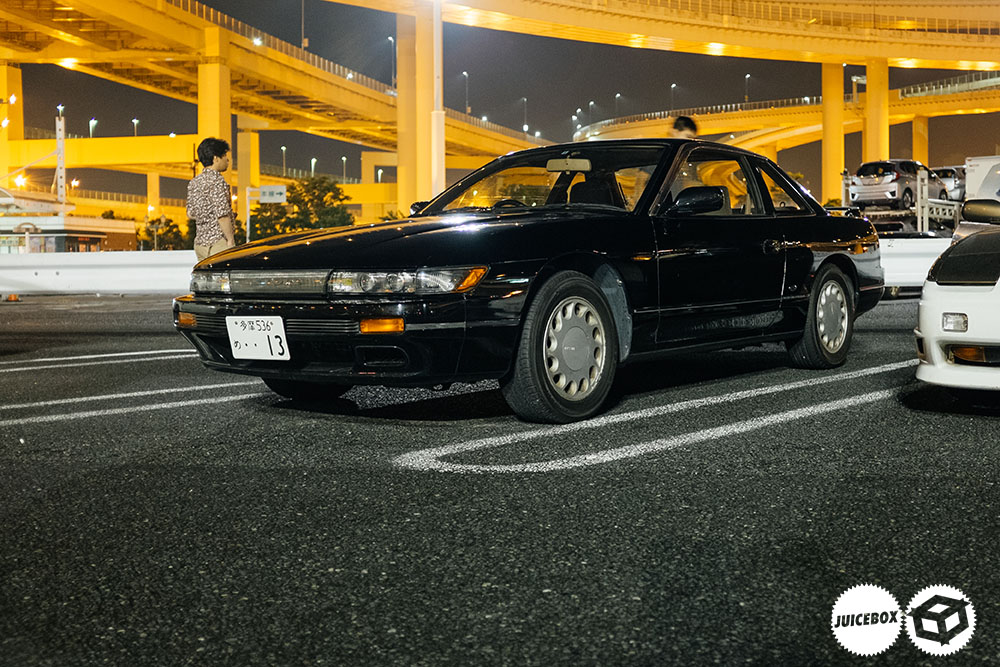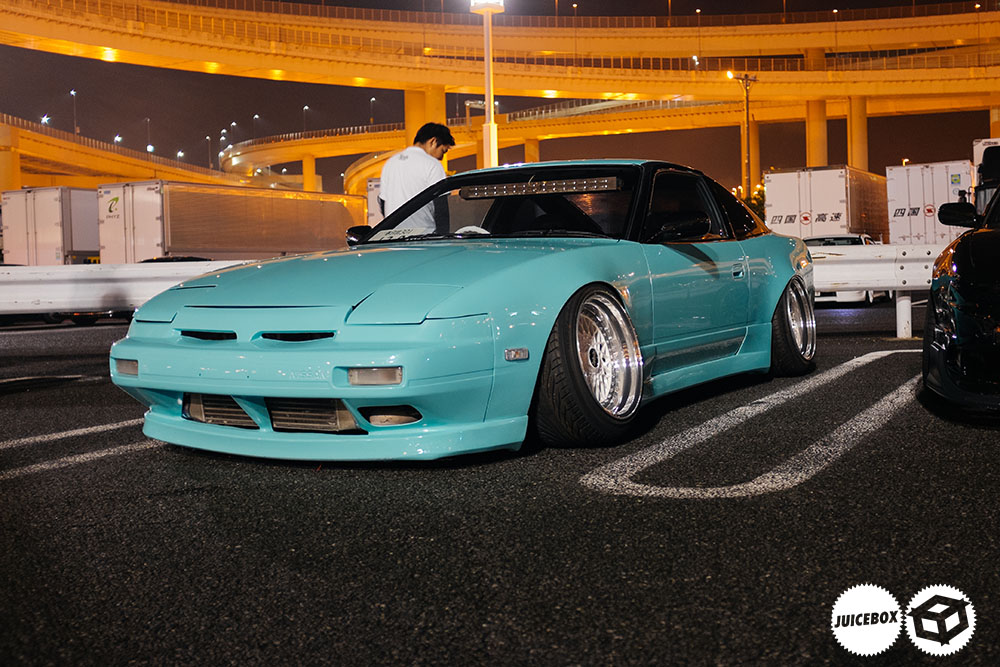 We were starting to see a few familiar faces…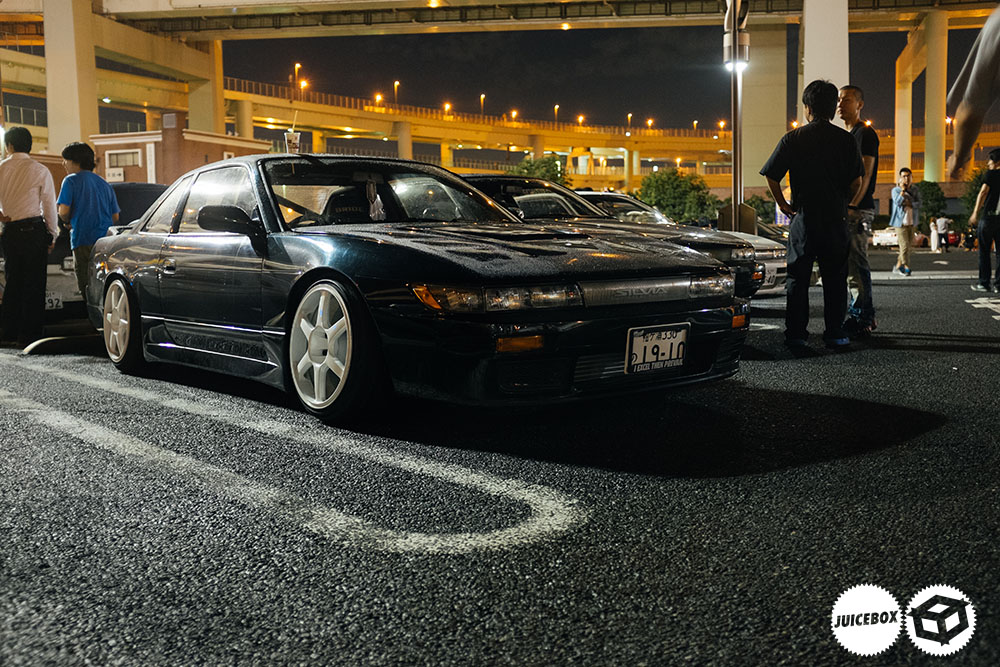 Nothing can be more authentic than some of these builds, this place was everything I had expected it to be and much much more, words cannot describe.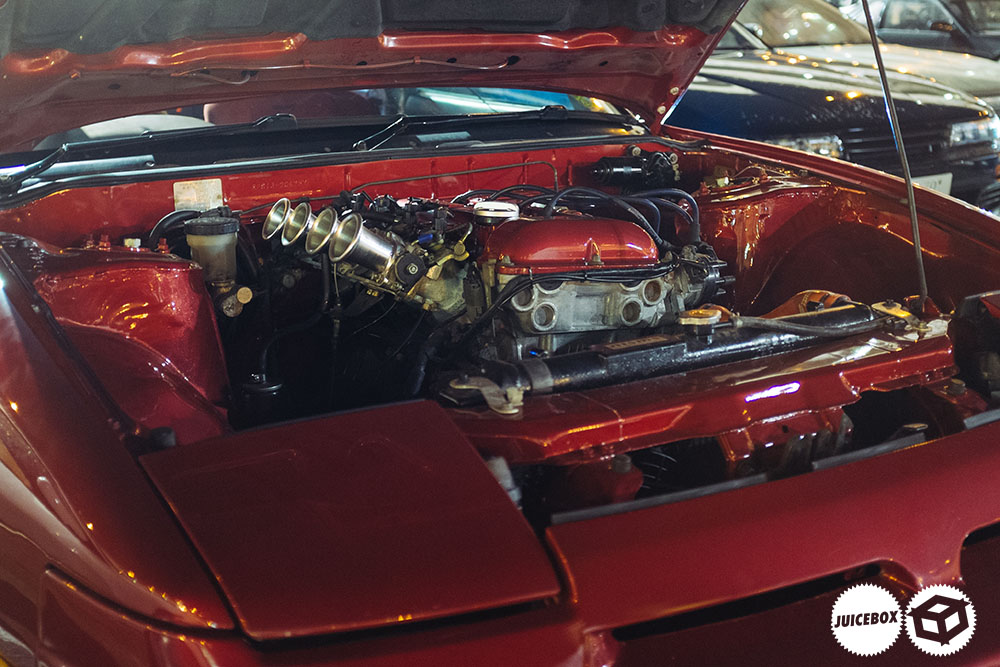 As we pondered around the parking spaces, it was cool to see certain crews or car models all parked together.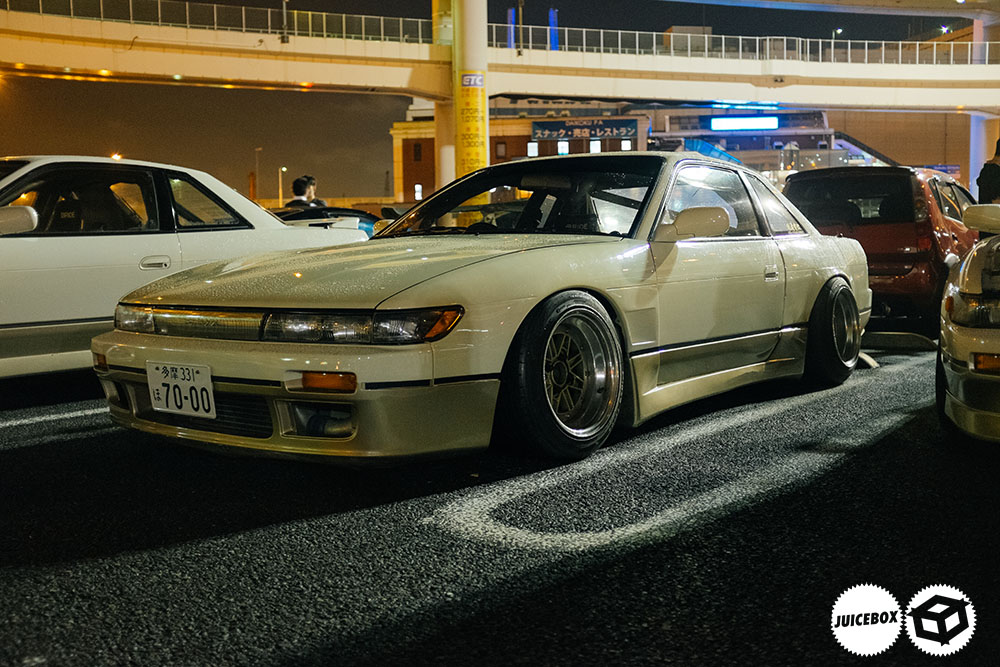 This S13, I had seen it a good few times online you are never prepared for the real thing. It's absolute perfection.
It was cool to see them lined up like this.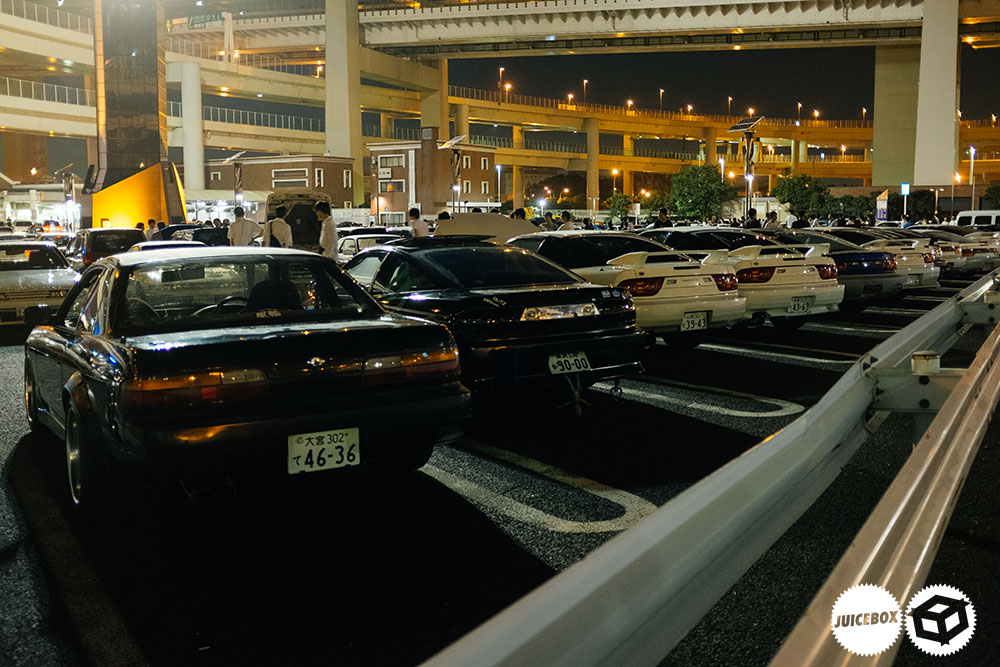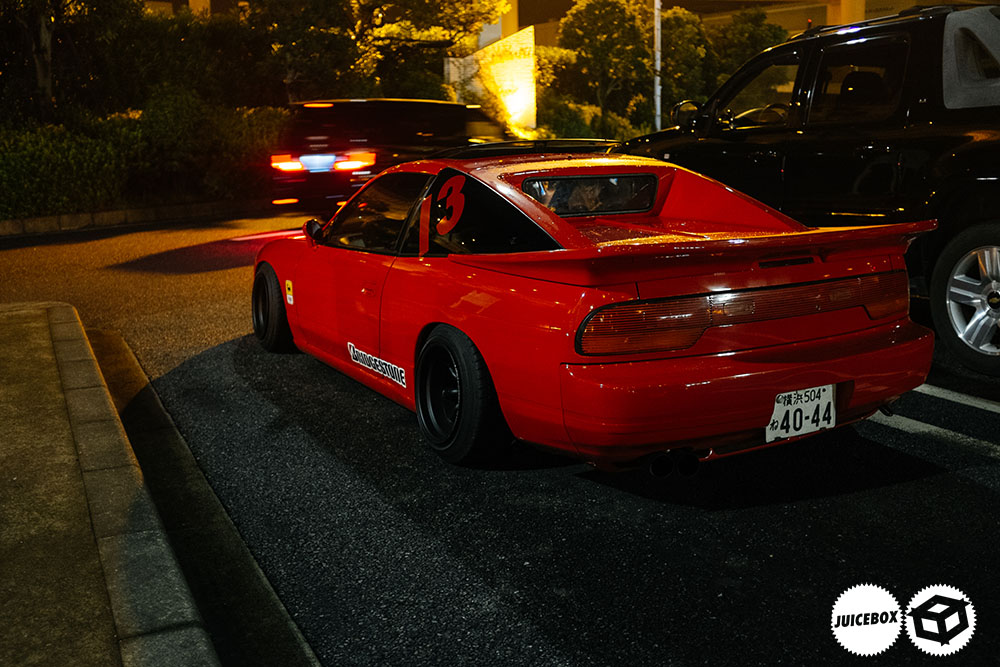 Rod from AutoNgraphic's car was out for a spin, another car I have lusted over on the net, it was nice to finally see this thing in the flesh.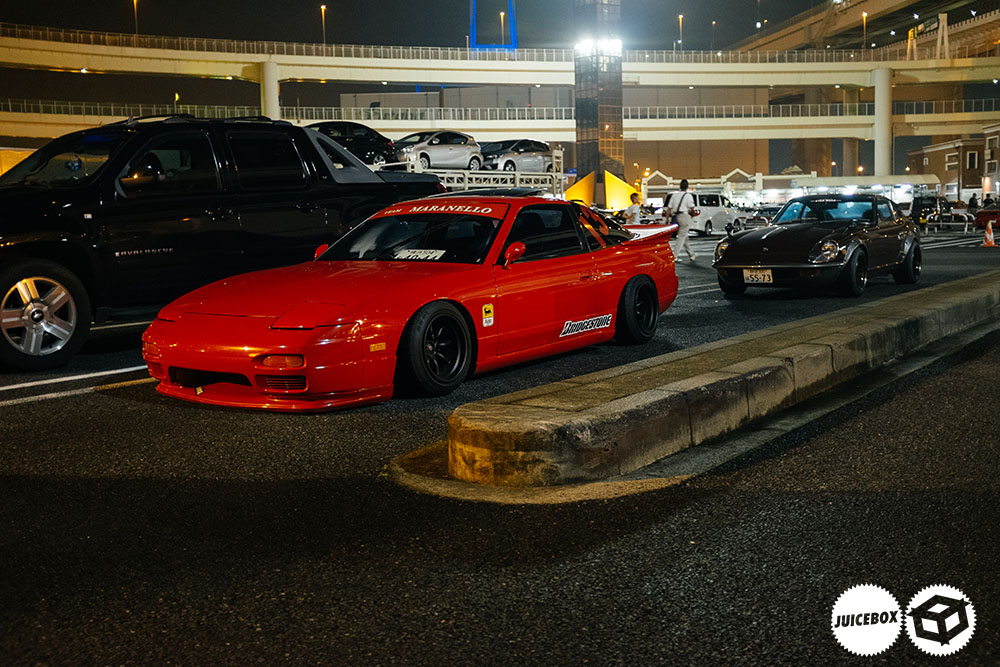 I have no idea how he could drive it this low, nuts! One of my all-time favorites.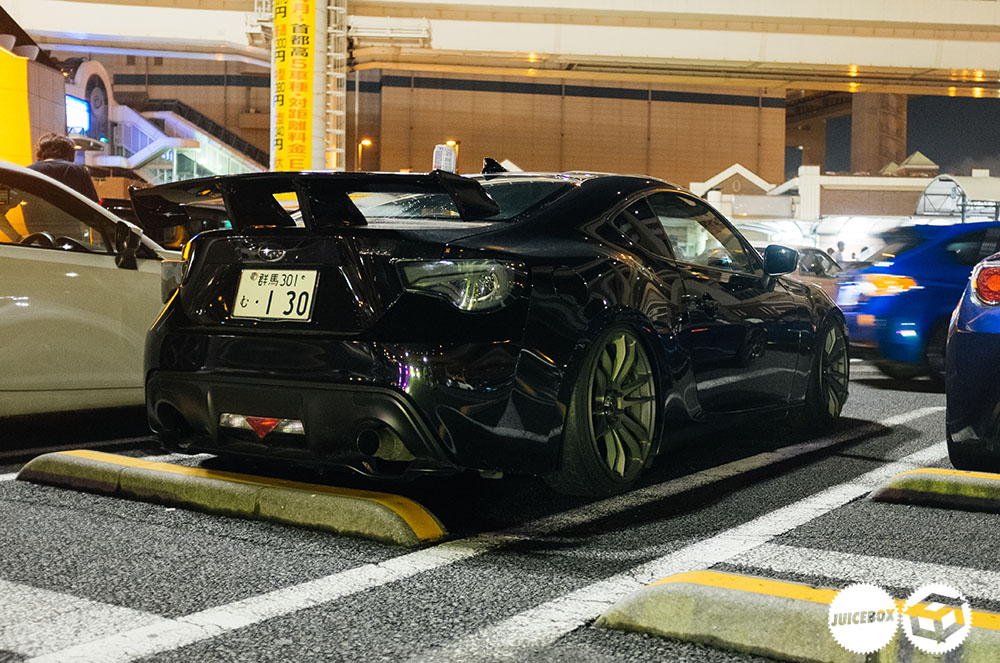 The new age stuff mingled with the old. In Japan, I've learned they tend not to dwell on older stuff as much as we would expect. The country is always chasing the latest and greatest, people appear to be modifying new stuff just as much as older models.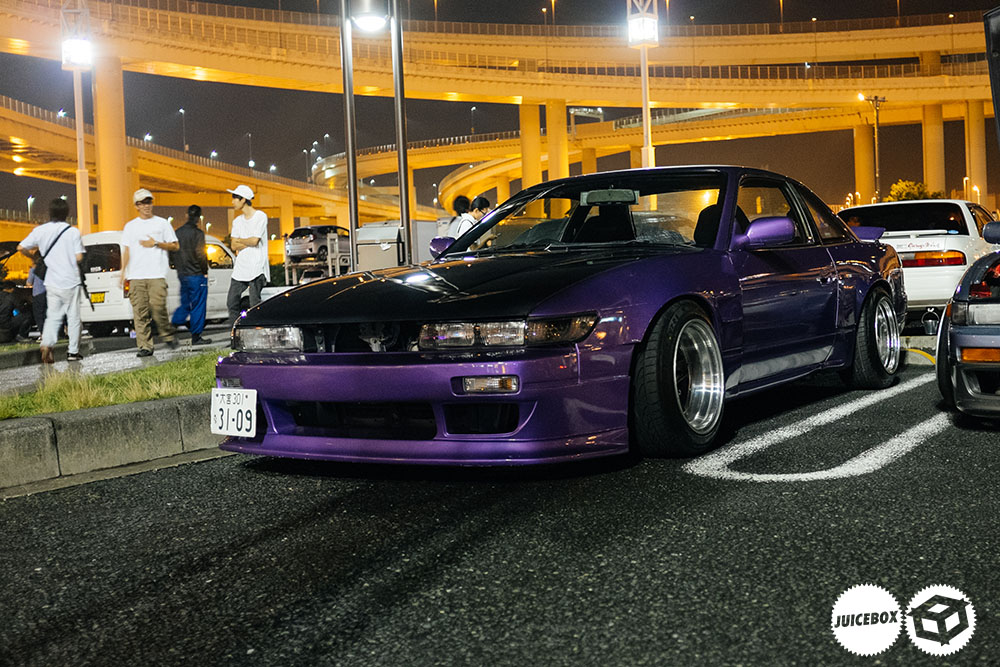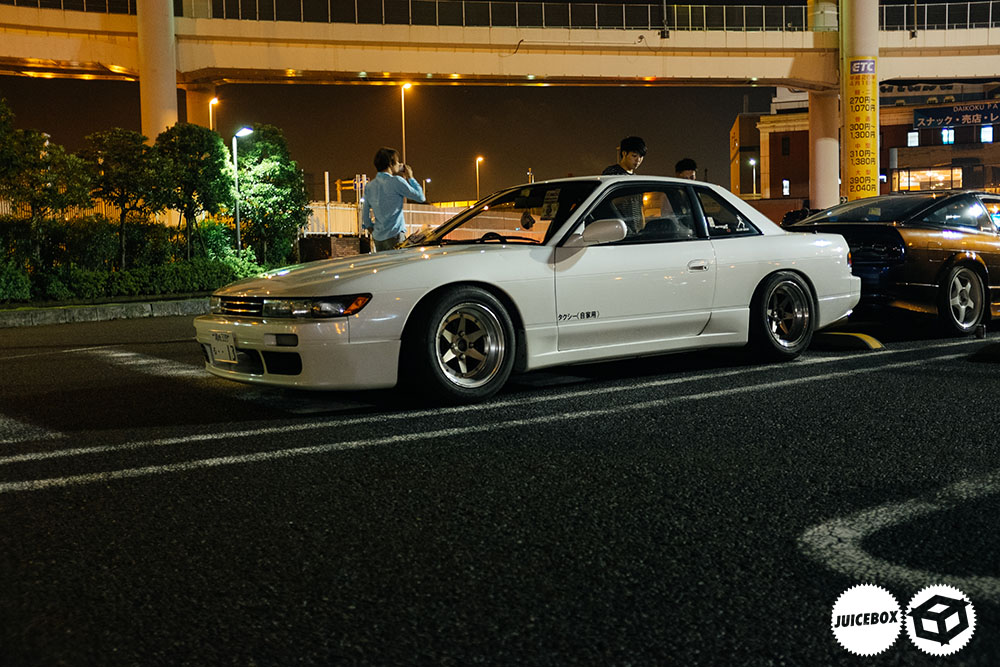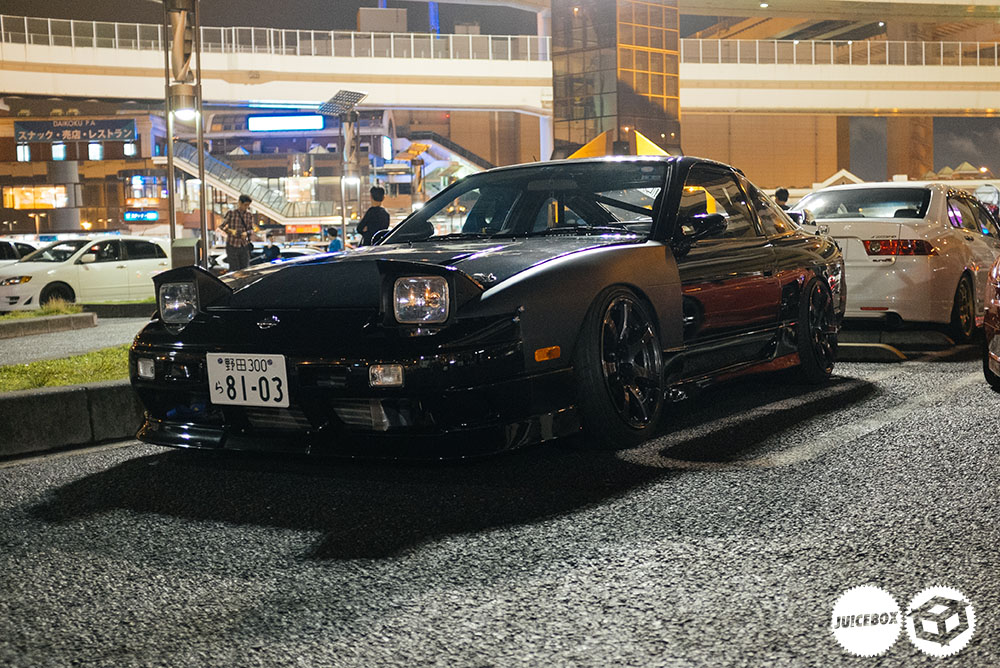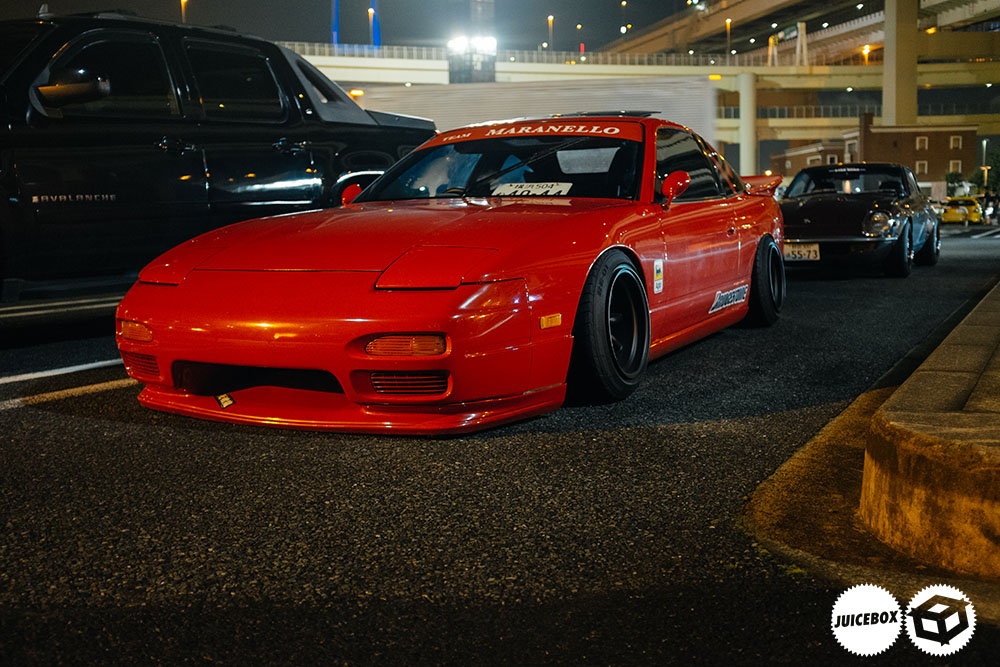 There were too many good S-chassis to comprehend.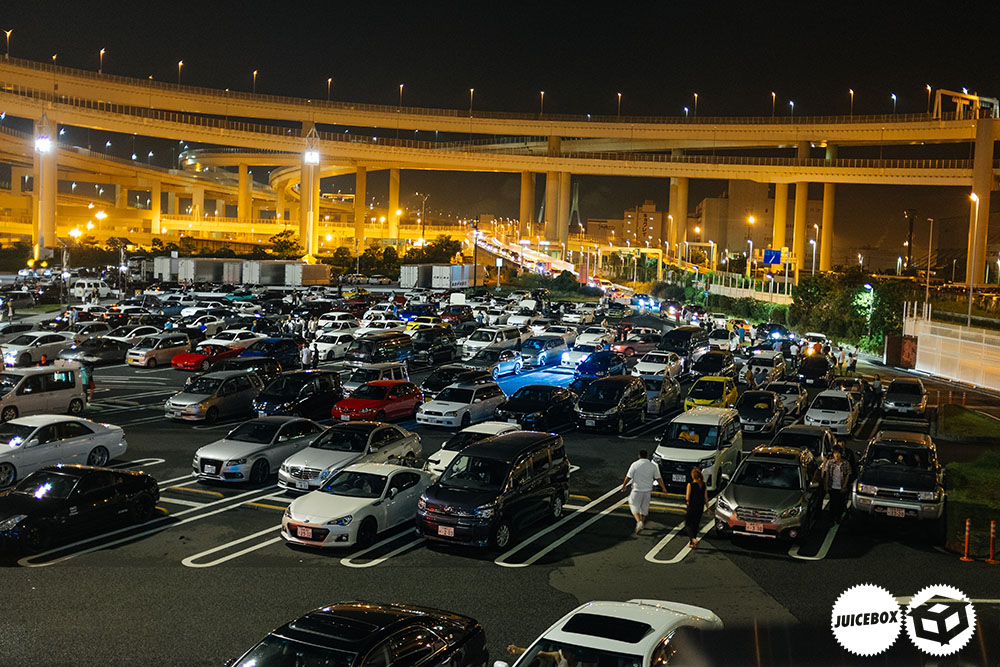 This honestly looks like a scene from a movie. I had to climb up here and take five, pinch myself.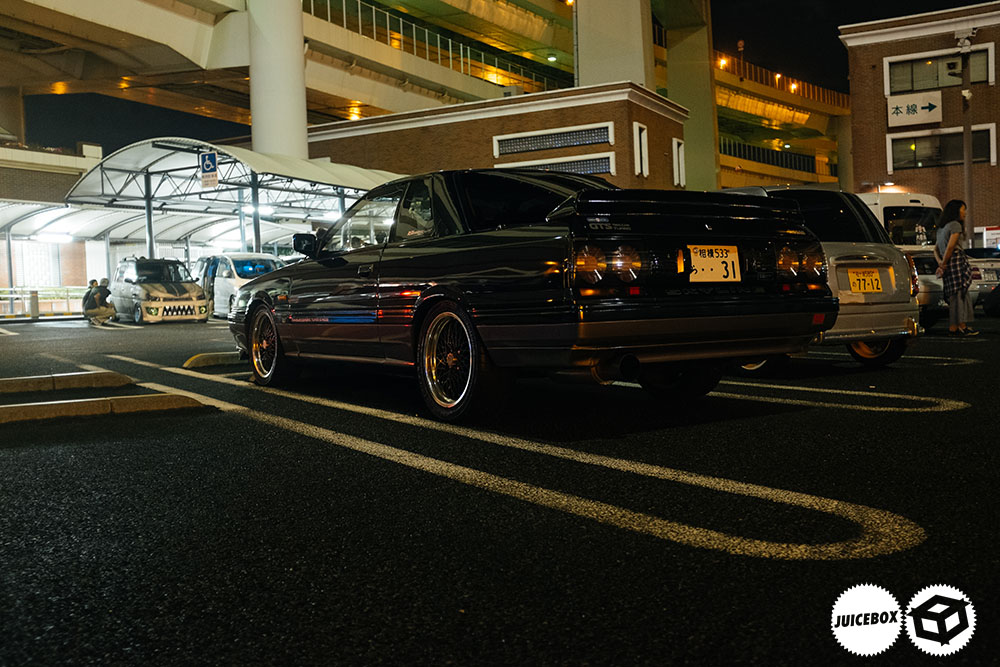 Down below another wave of gold was pouring in. There were tunes in the background being pumped out of minivans and it genuinely felt like we were at a festival.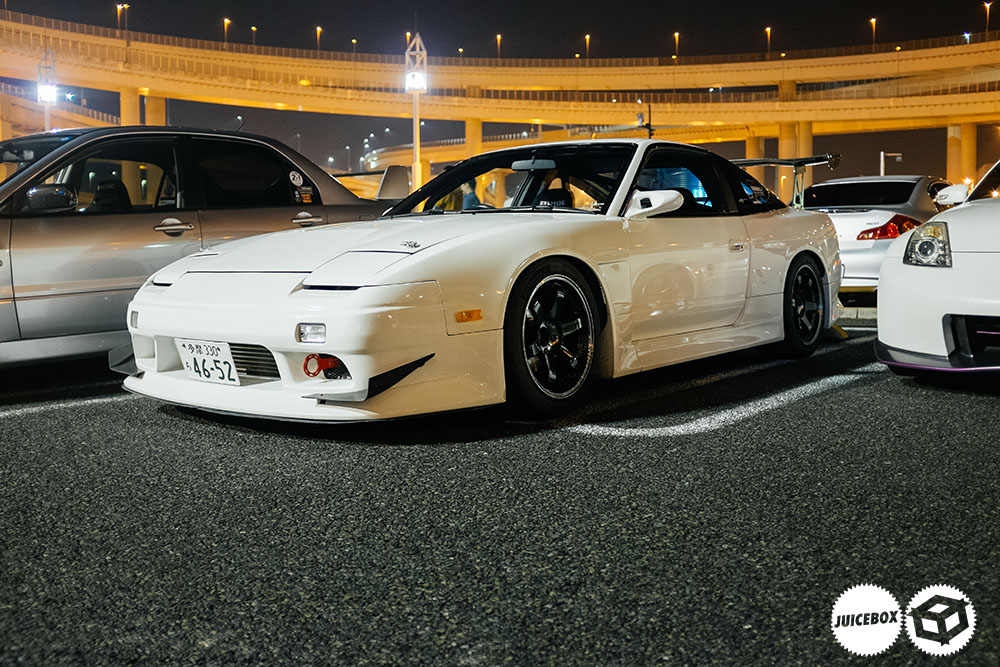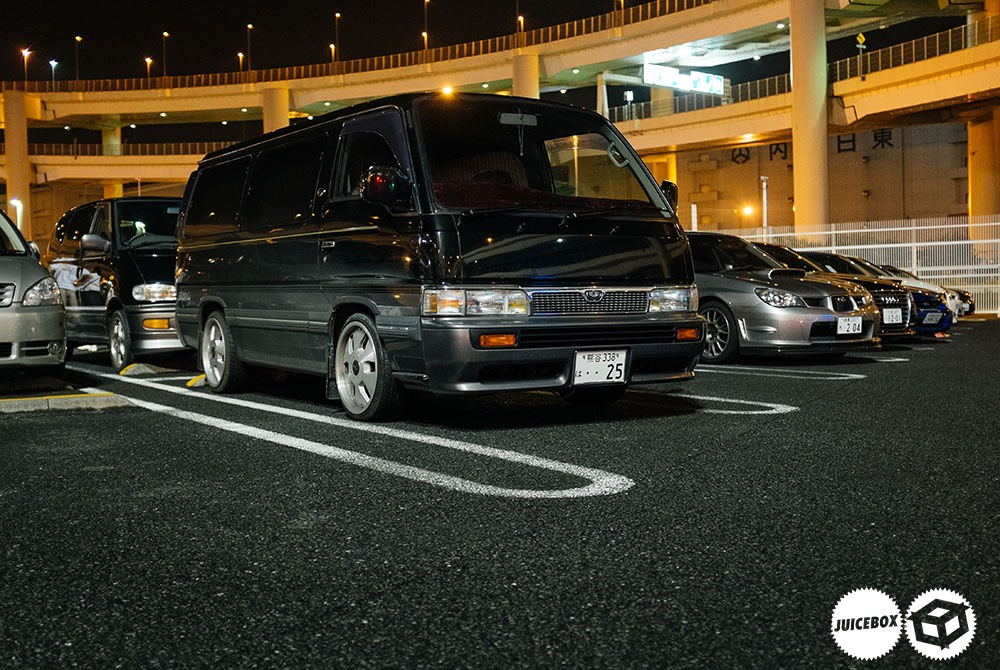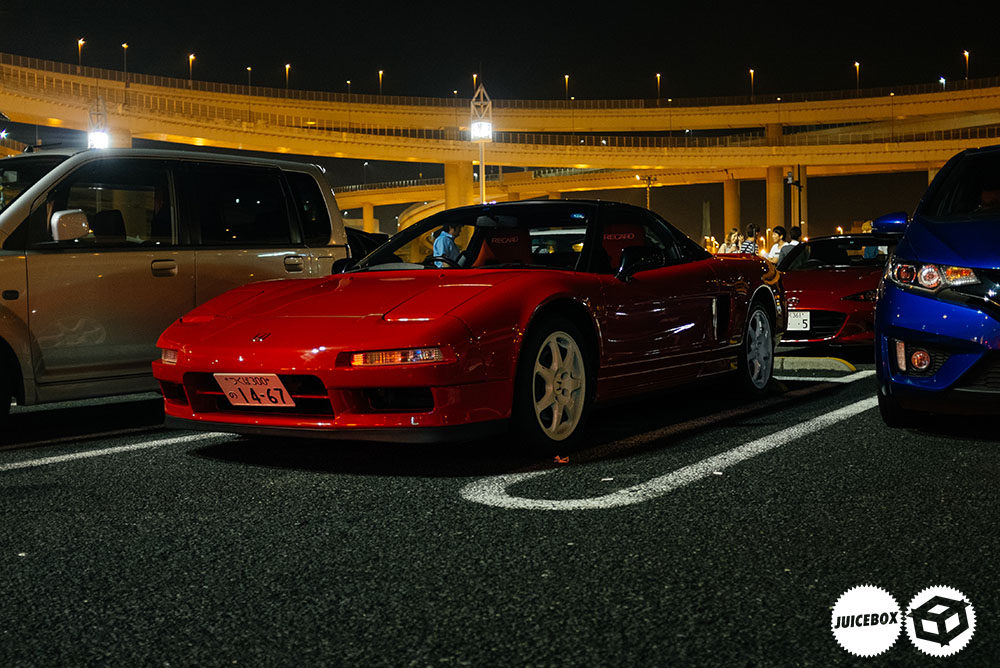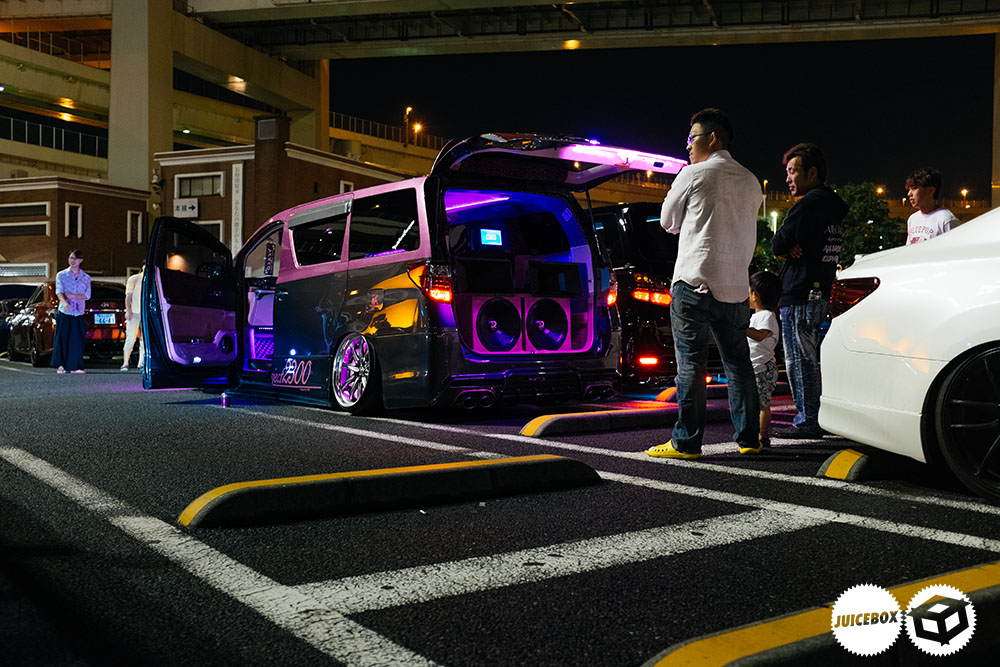 This is true Japanese style, something we all took and embraced in the fast and furious era but it gladly lives on as always in its native land. Sometimes it doesn't have to make sense, its just Japan being Japan. These guys were well in their late 40's and here they are,  standing around blaring tunes from their vans, with their kids enjoying the night.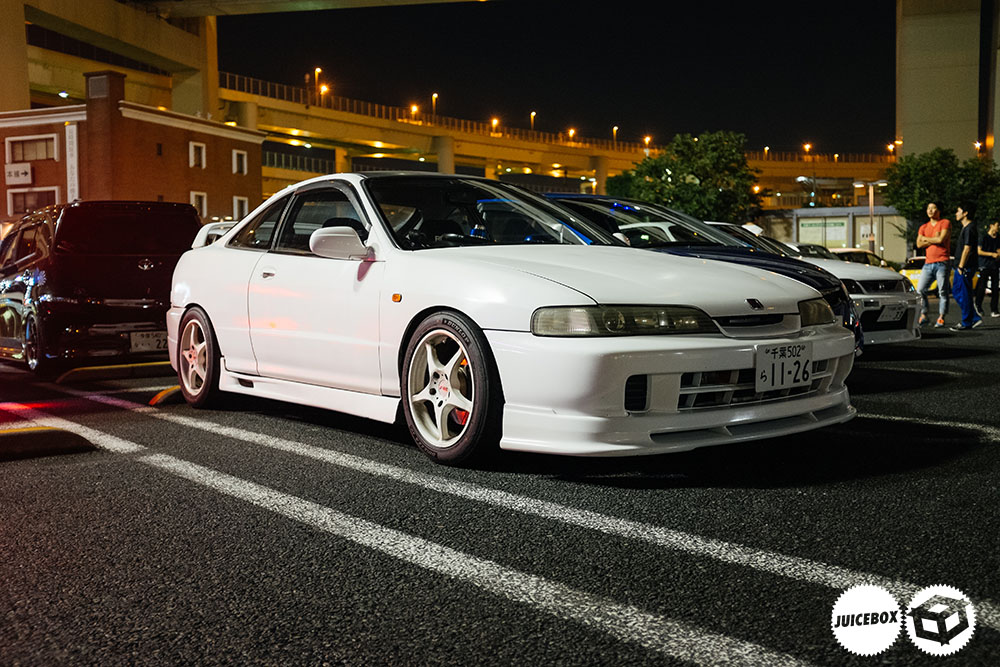 Just as much as those Vans embody Japanese car culture, seeing clean stuff like this DC2 with sticky tyres and SSR's Integrals that no one really cares about, this is as equally important. What makes this place so magical is that all this stuff coexists here the car culture appears to be very diverse and welcoming.
The variety of machinery is truly amazing. You have to love that classic "ill make do with whatever look" The 32 GTR wheels and mismatched kit, a dodgy look we love oh so much and often try to replicate. It's just the norm for people here.  Cars like this make you wonder, how do guys get away with driving stuff like this in such a strict country?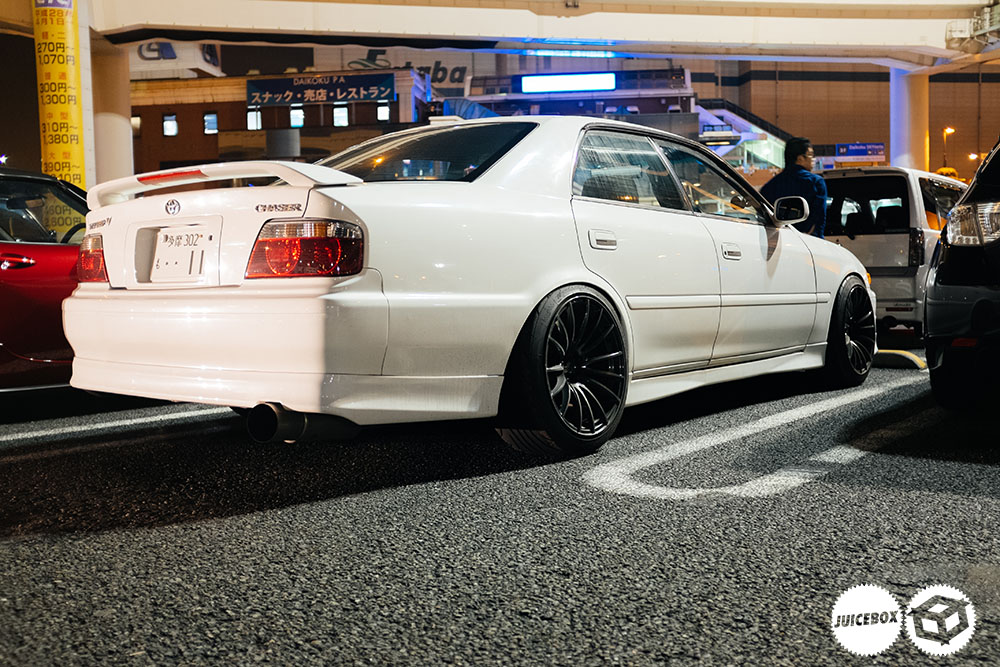 I had to laugh because I'm sure for many, this is just another Saturday night and here were the three of us, absolutely in our element.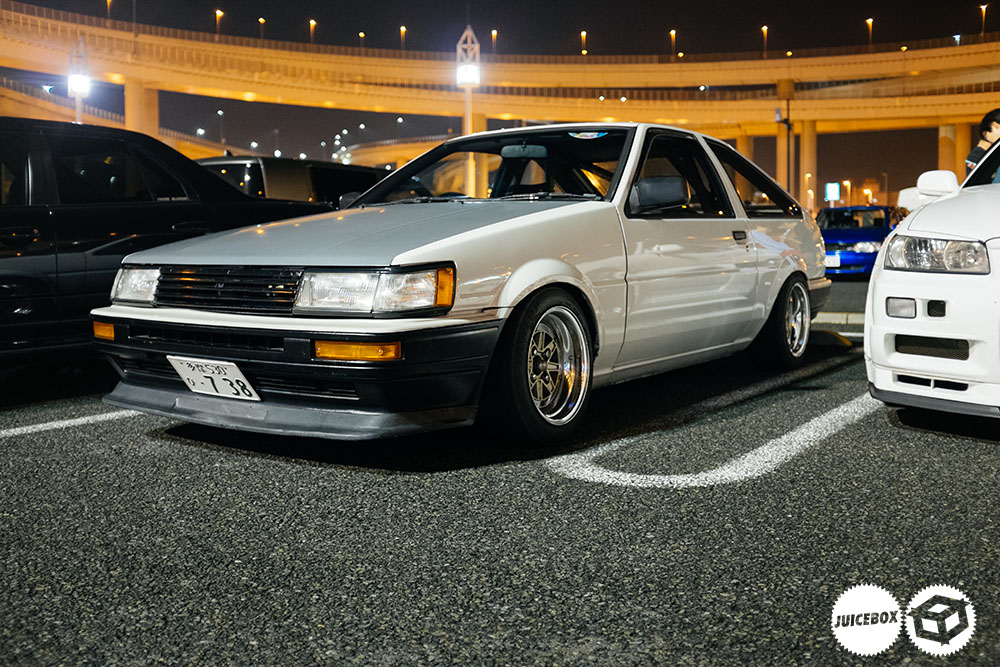 I was impressed to find an AE86, it made us wonder…  have that many of these things have been snatched that they are no longer around? Or is it that these are all owned by older people who don't partake in the antics down at Daikoku these days? Then again, this was just another random night. Tomorrow it could be filled with 86's. Either way, I wasn't complaining.
I'm going to leave it here for this week, hopefully, you can enjoy these photos as much as I did taking them.
Comments
comments
Powered by Facebook Comments