Juicebox in Japan: Cruising till night fall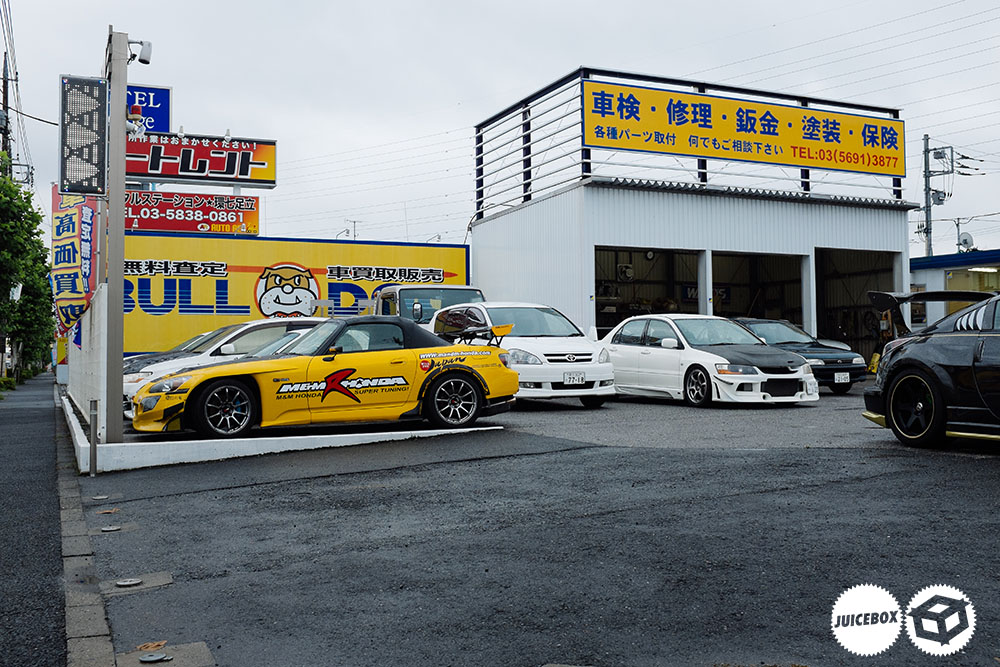 So after a trip to Tec Arts, the day was still pretty young. We decided to head towards Spoon sports, that area of Tokyo had a hub of various tuning shops, or so we were told. We set the sat Nav once again and hoped for the best.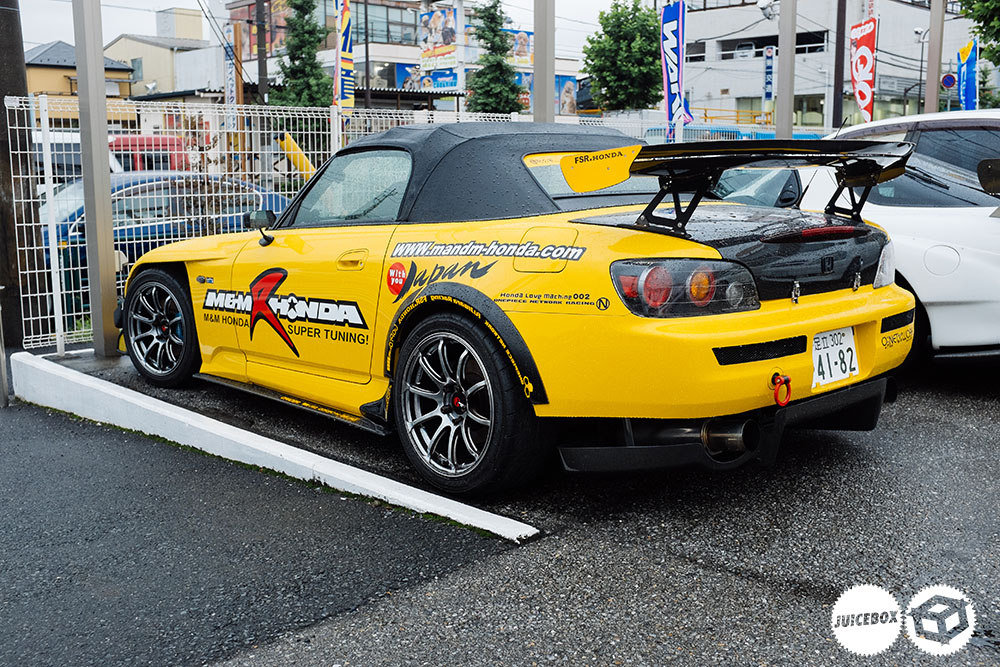 I spotted this M&M demo car and that was reason enough to pull in and check this place out.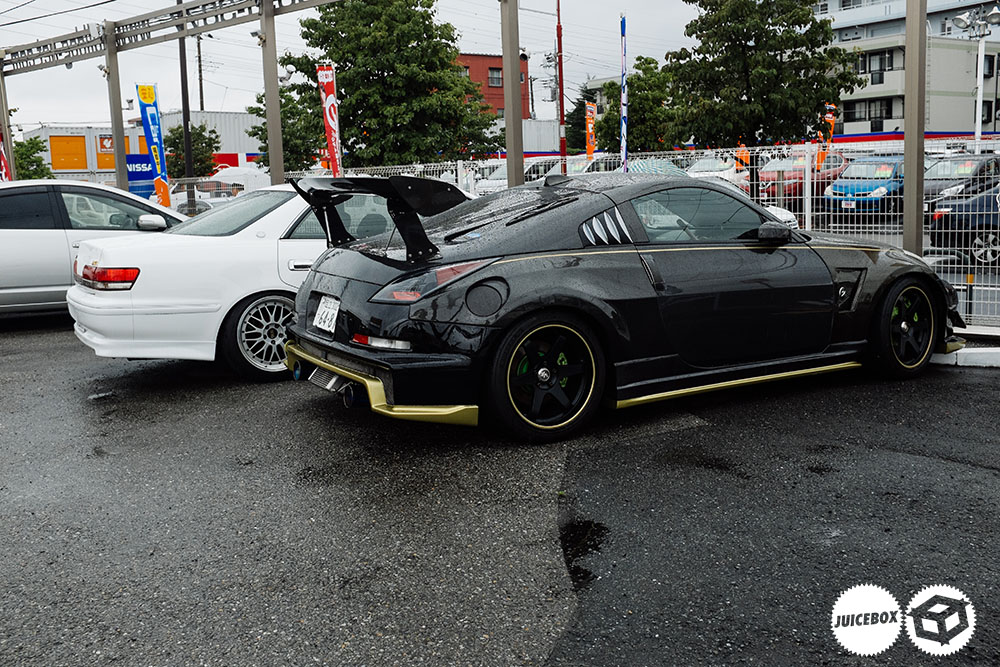 The shop was called Bull Dog and appeared to do all sorts of stuff. It was right on a main street surrounded by car sales but this particular place stood out.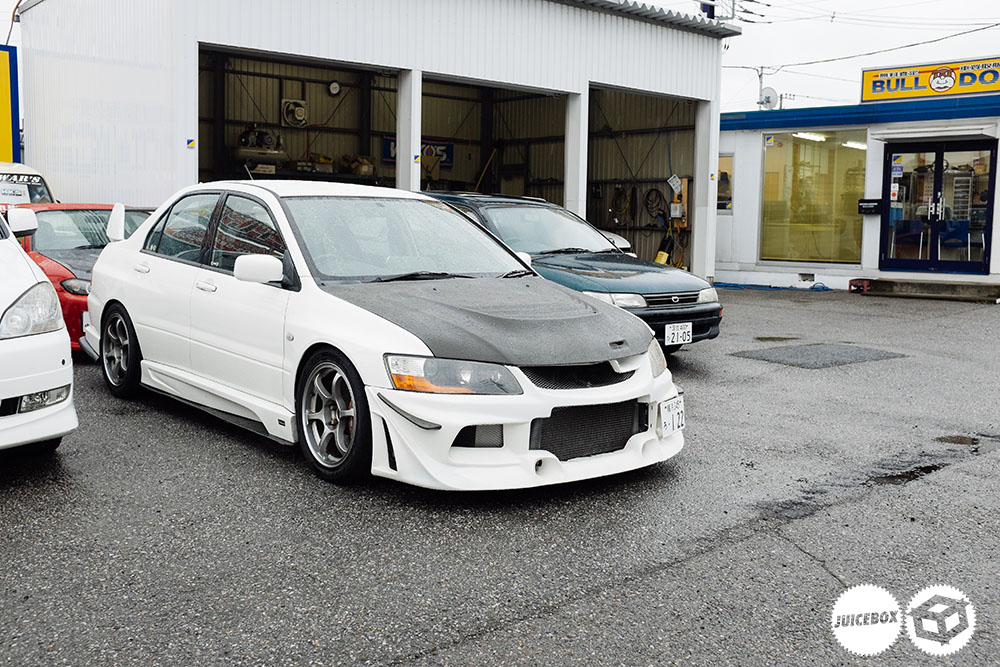 They appeared to sell high-end tuned machinery and do some work on it also. The crazy thing about Japan is, the streets are very repetitive in the cities, not necessarily in a bad way, but you do see the same style buildings over and over in the suburbs accompanied by very similar looking repetitive cars…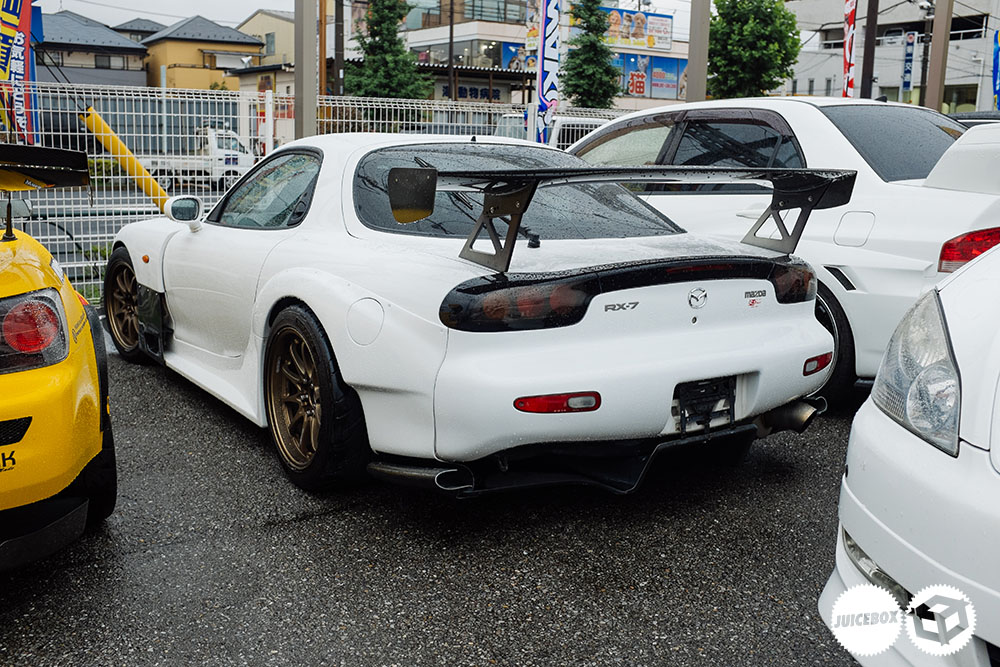 When you come across a scene like this, it gets the heart racing. The shop front was packed with the best you could ask for, usually you go from seeing nothing to a complete overload and that little spark of excitement never gets old.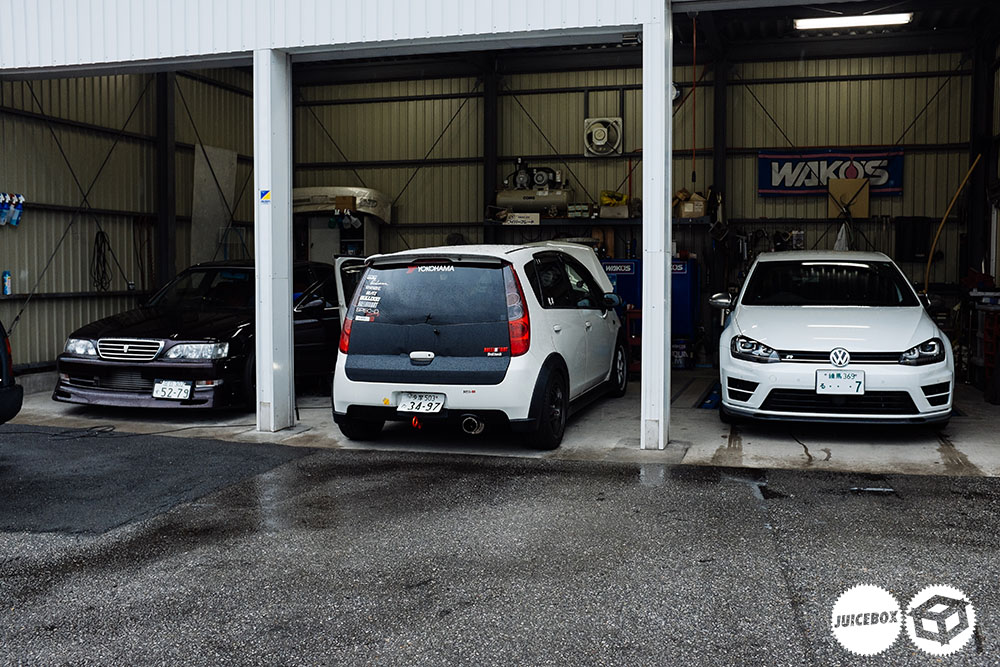 Inside there were three bays to work on cars. That's a pretty varied mix!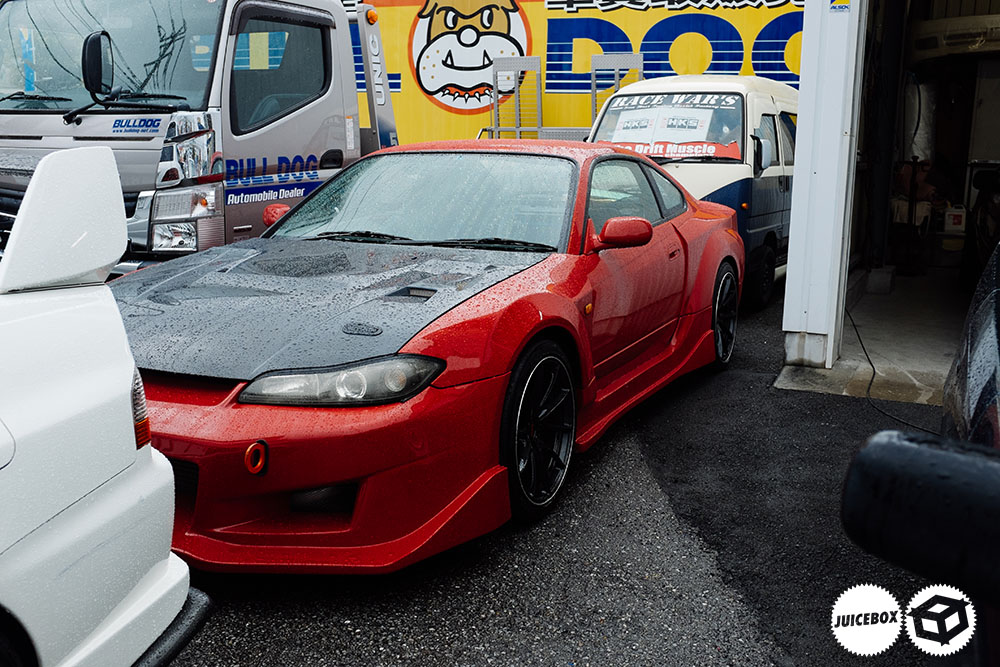 Japan never ceases to amaze when it comes to making the most of the space, any place we visited had cars wedged in where possible. This incredibly wild looking s15 was like nothing I had ever seen before, I wonder what the story was with the Kei van in the back, filled with HKS boxes and had an old drift muscle banner stuck to it!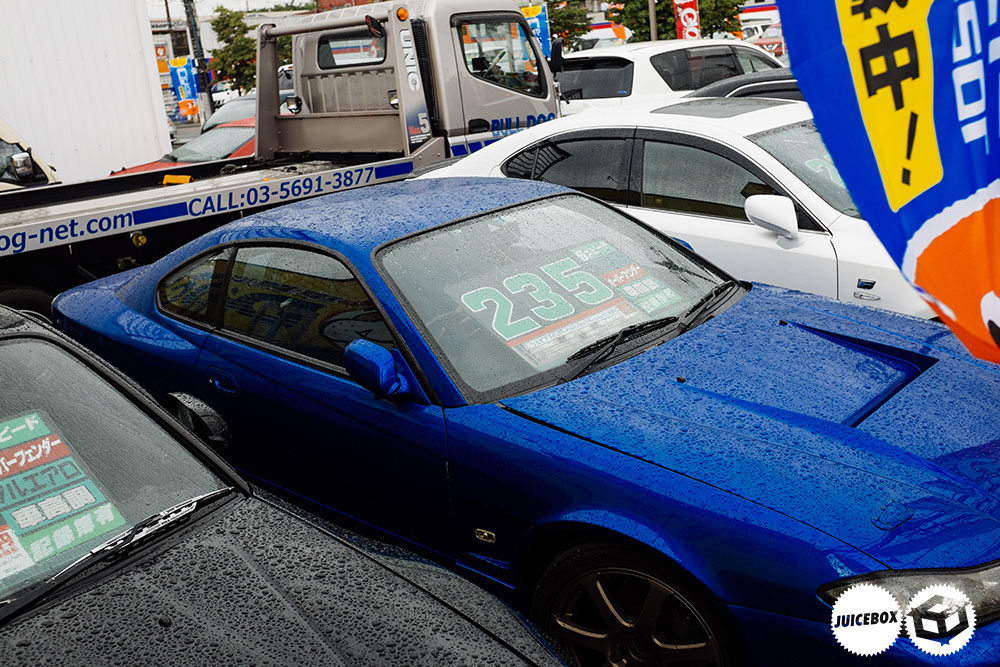 I made my way in to try to get some proper snaps of the stunning S-bodies they had for sale. Id love to know how long it takes to move everything from the Tetris parking if anyone was to buy this car.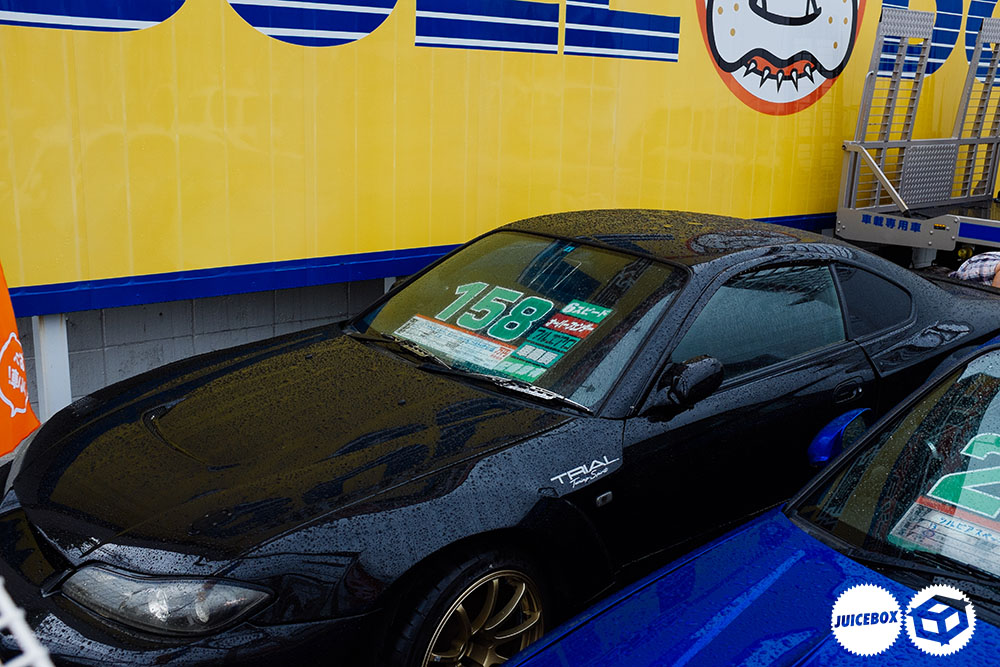 Another S15 which looked to be an old Trial car or something, it had a funky kit and big spec with some tasty Advans… I would love to have seen these out in the open.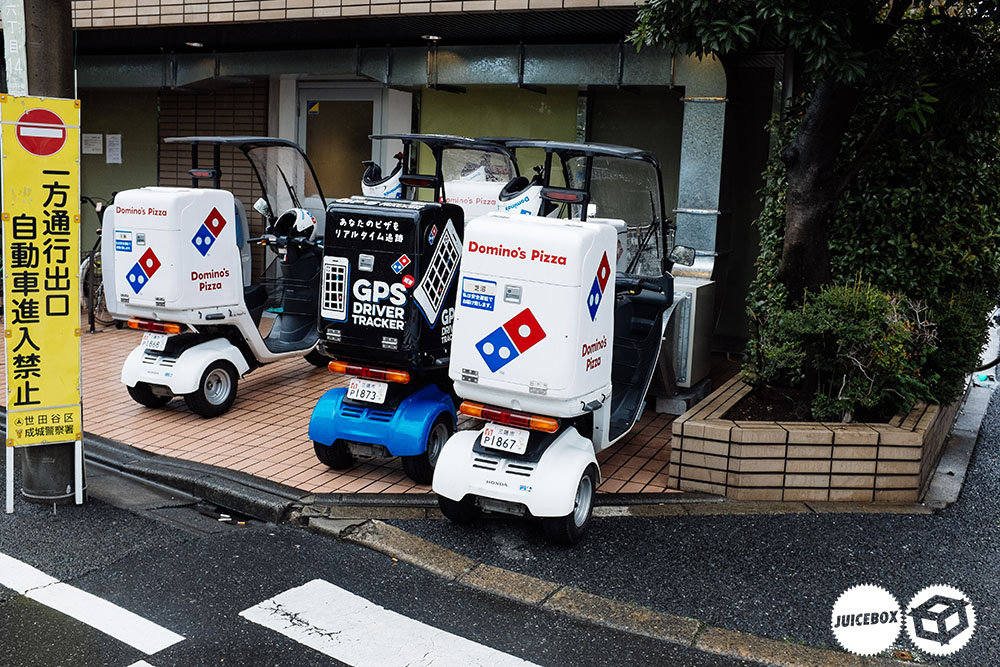 Spoon sports was closed, and we were hungry. After dabbling in all sorts of food over the last two weeks it was nice to come across a Dominos. These little delivery bikes were hilariously cool. The Pizzas themselves were super expensive, I guess Dominos is a big of a Luxury in Japan but we were so hungry we did not care.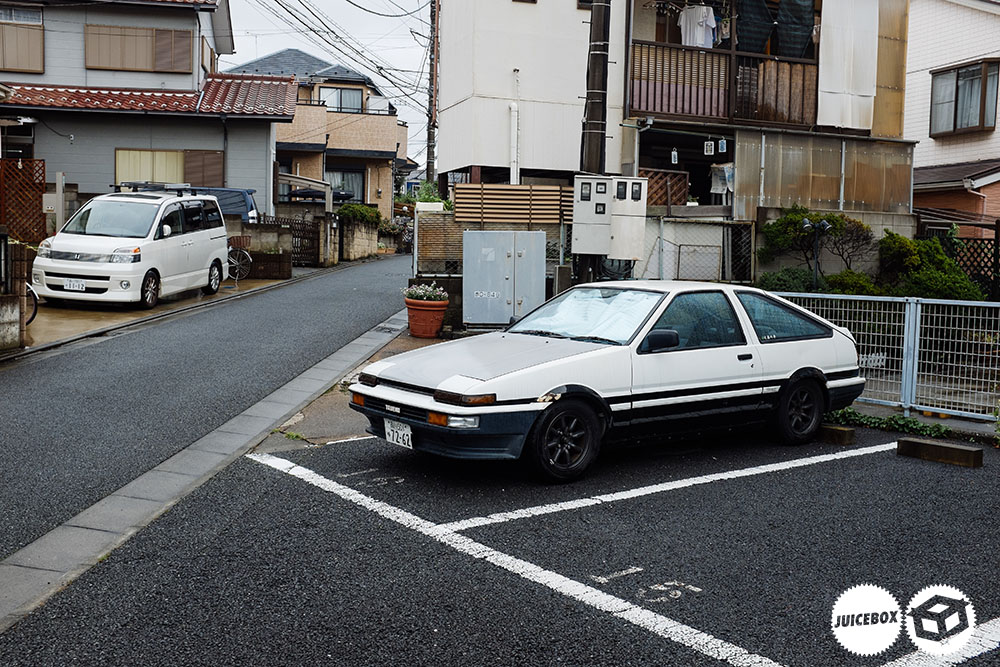 Not too far down the street was this AE86, it looked to be a bit of a daily driver and wasn't in the cleanest of shape, nonetheless spotting a Panda in the wild had me pretty excited and its cool to see one still being used as a daily.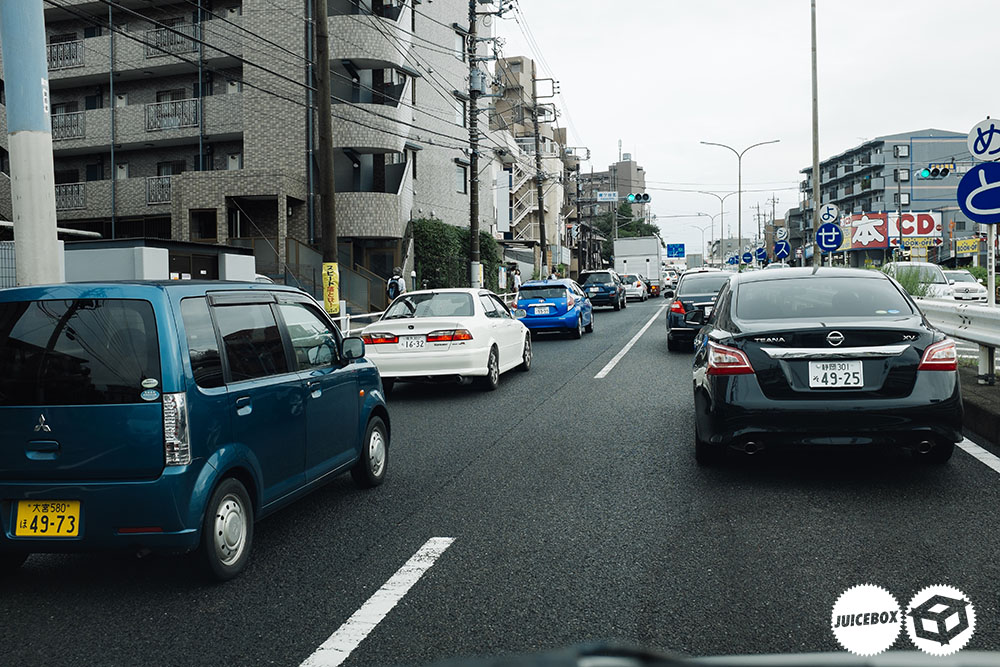 It was back on the road soon after, we were going to stay out for the entire day and make our way down towards Daikoku it got dark. The plan was to hit up a bunch of cool Up-Garages along the way.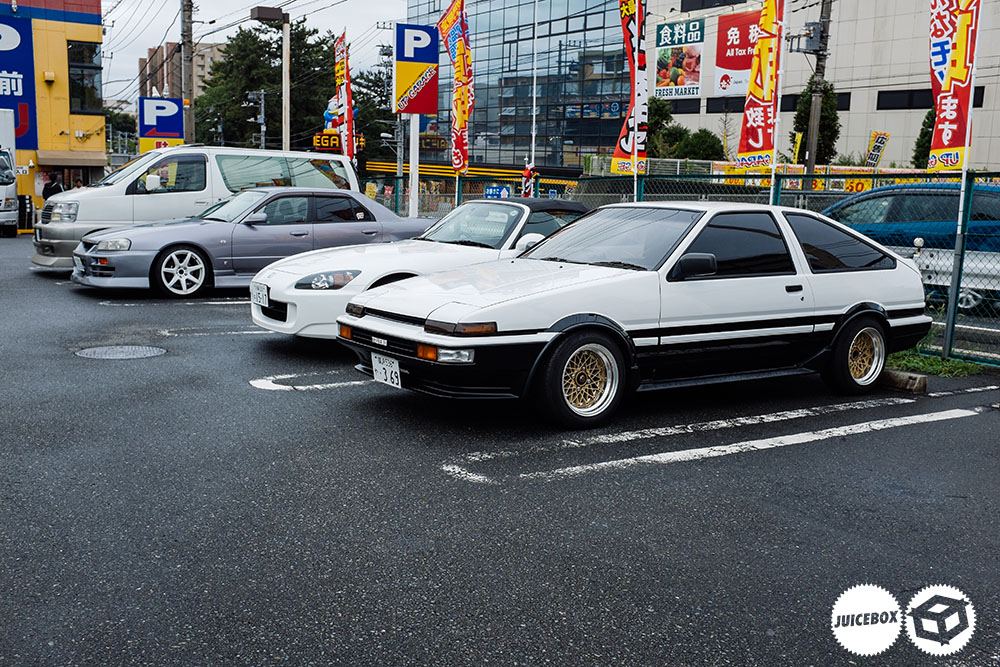 I've always noticed the car parks for a quality UpGarage will be filled with some amazing machinery. I was blown away by this Trueno which I'm fairly sure is this car which was spotted on Speedhunters.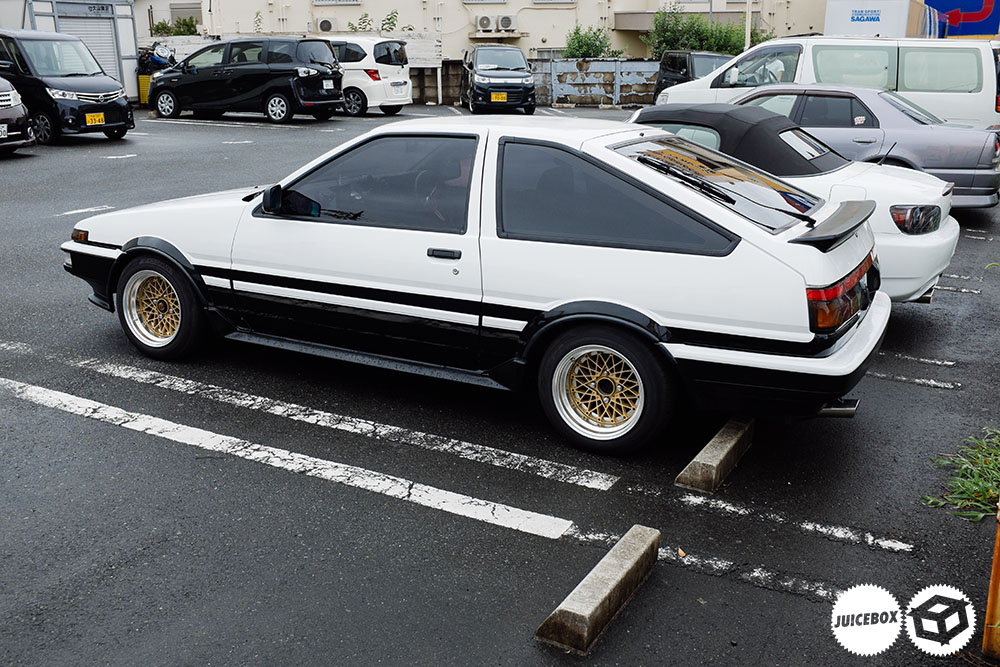 What can be said? A timeless looking machine, I'm usually not a fan of the arch liners but it looks great here.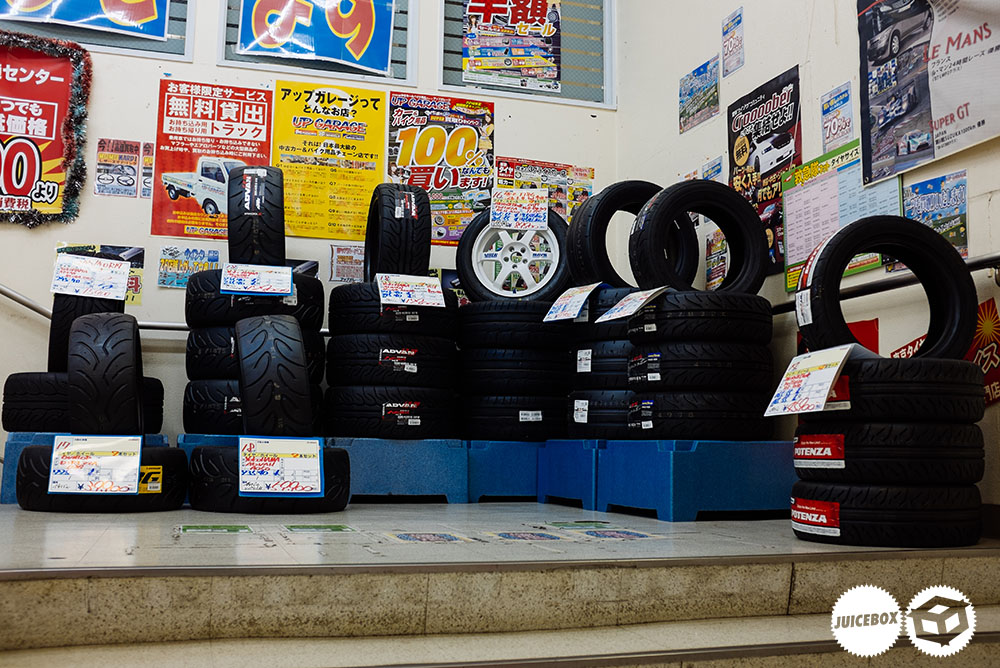 Inside this store they had quite a lot of decent stuff, it was geared more towards the hardcore enthusiast.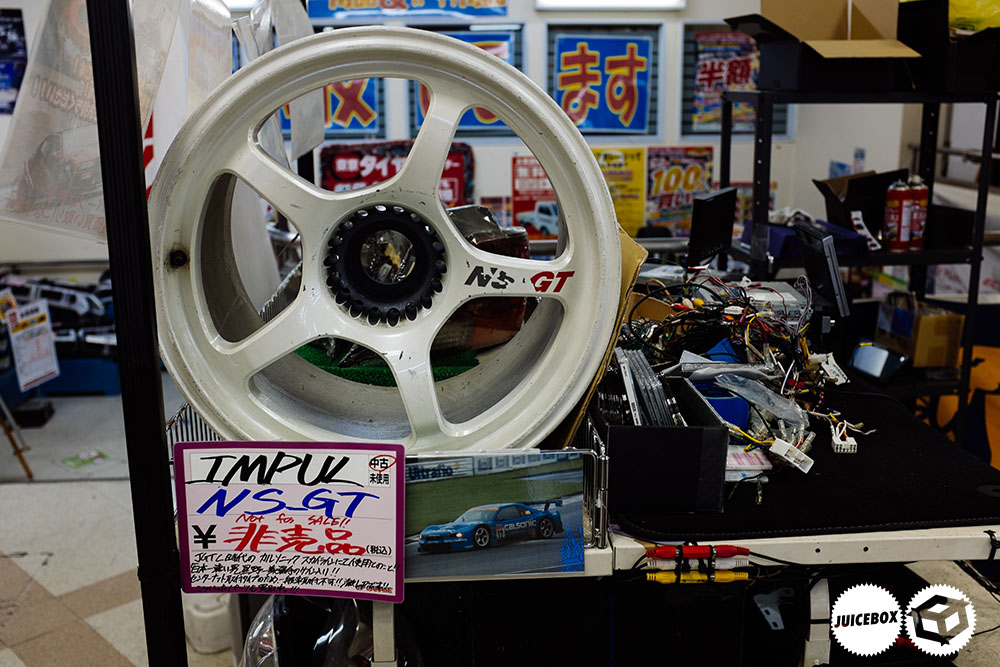 This was random, but very cool nonetheless.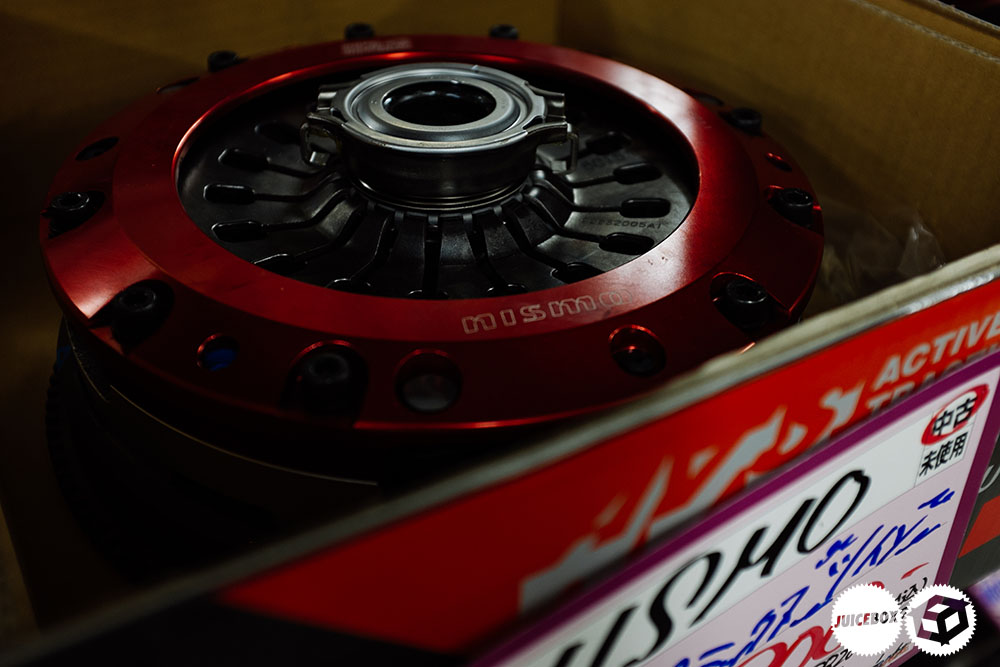 Once again there were shelves packed with the good stuff, we spent about an hour in here, teasing ourselves.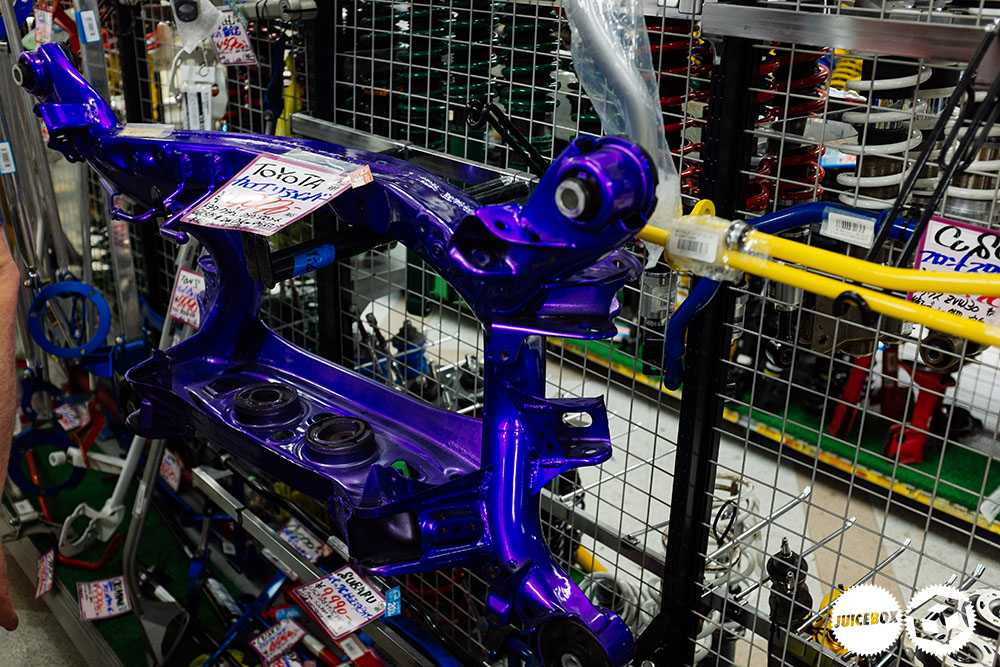 I miss these places so much, looking back on these photos only reinforces how fucking cool it is to visit an UpGarage. It's like going into a second-hand shop except being saturated with some of the coolest automotive parts in the world.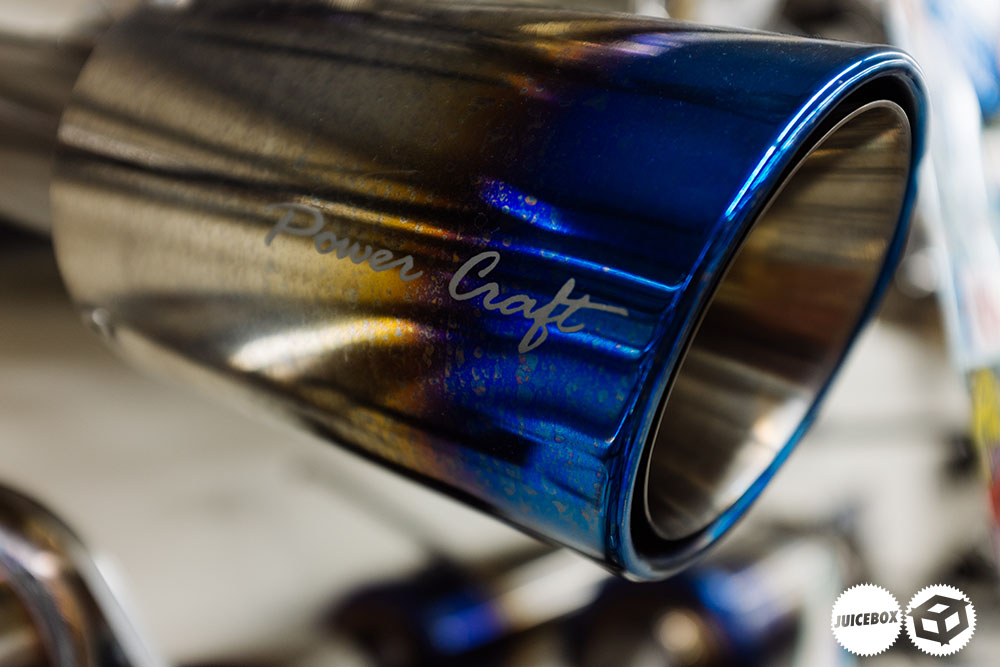 You genuinely have no idea whats hiding in these stores.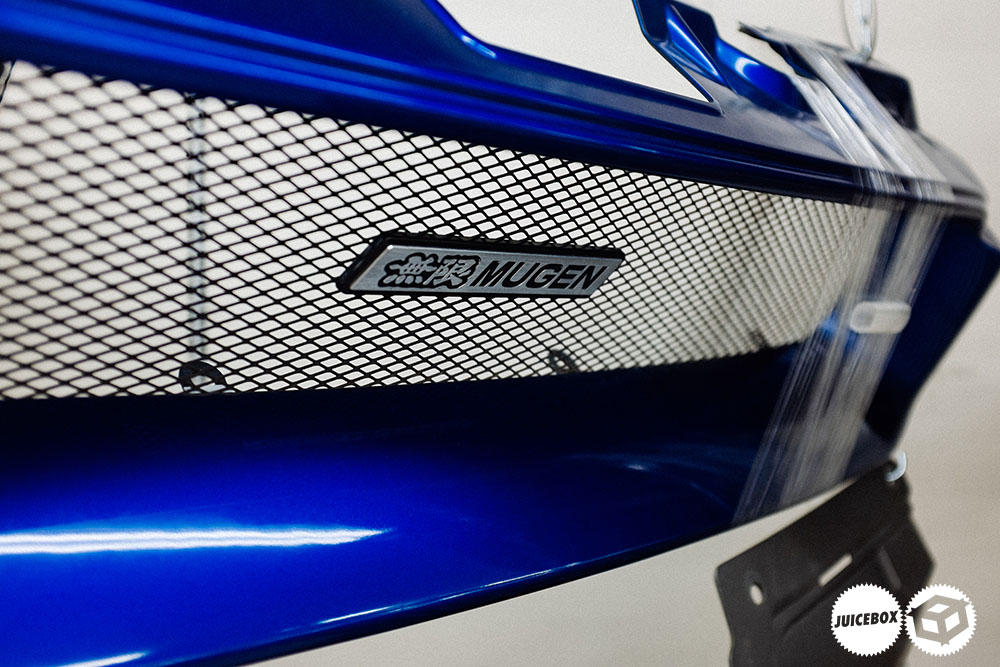 One could spend hours rooting around, and remember this was just one of thousands of UpGarages littered across Japan. We actually found this one on the way to another!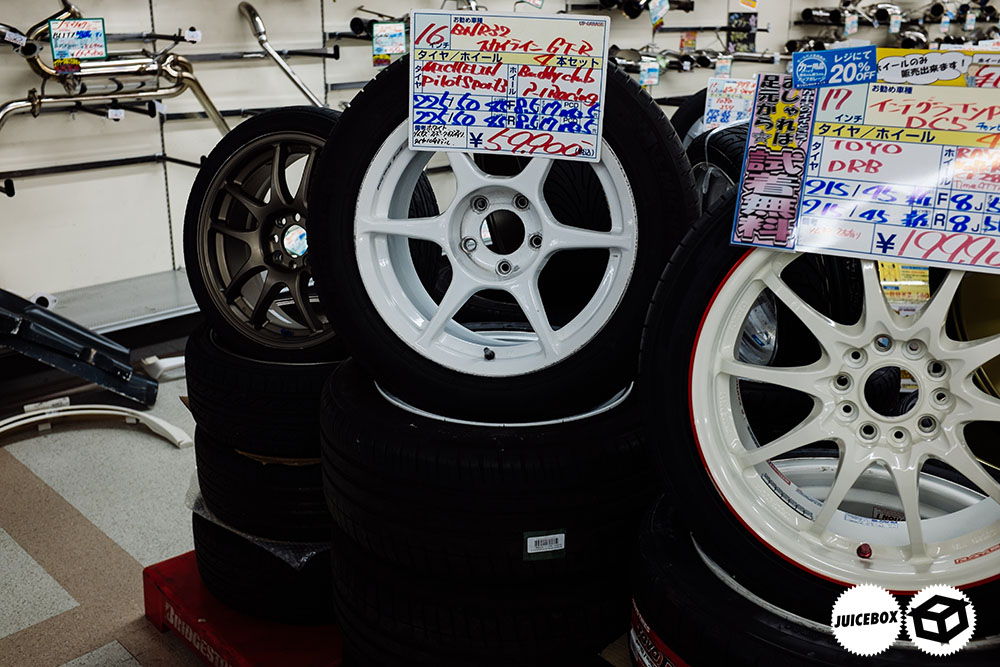 The luxury of just cruising in off of the street, only to find your favorite wheels on special! I cant imagine this happens anywhere else.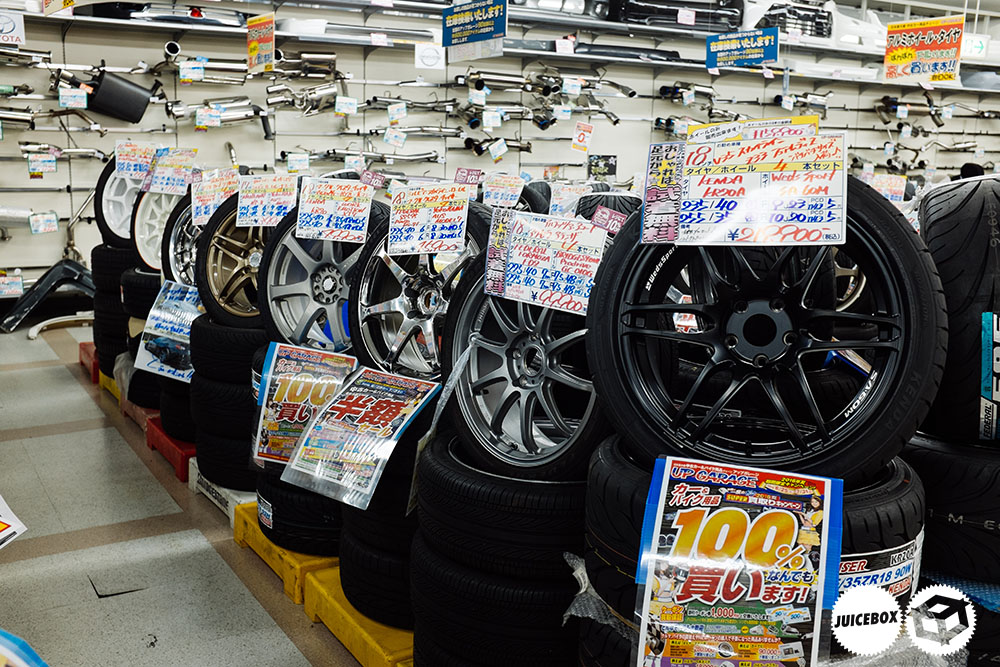 It's nice that you can look at this stuff in person, or find a completely random set of wheels you may have never known about before.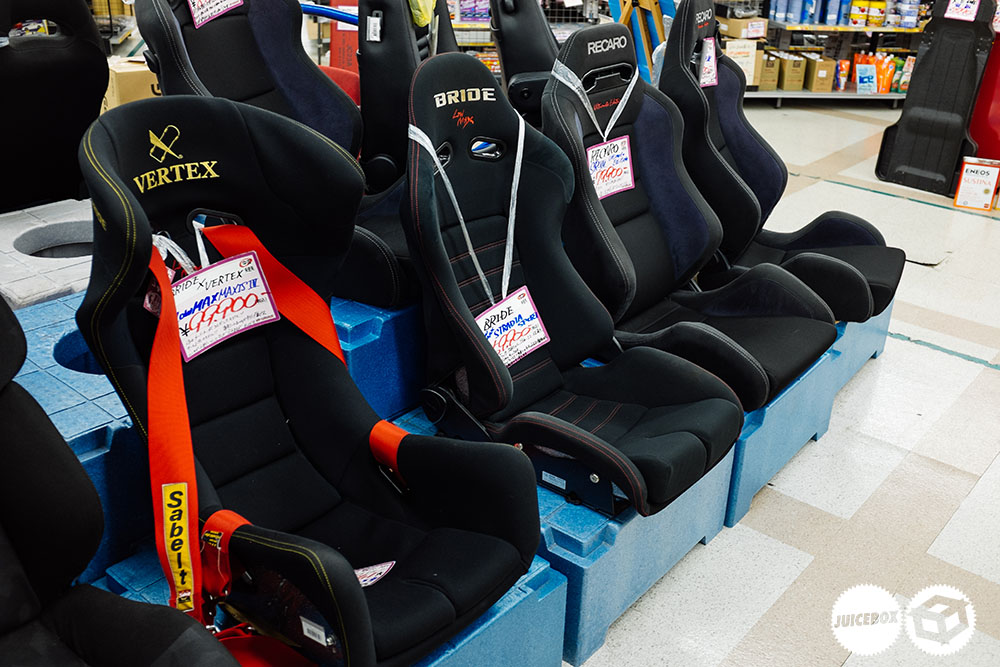 There were so many different types of seats on offer too, all kinds of cool and strange examples I had never seen before.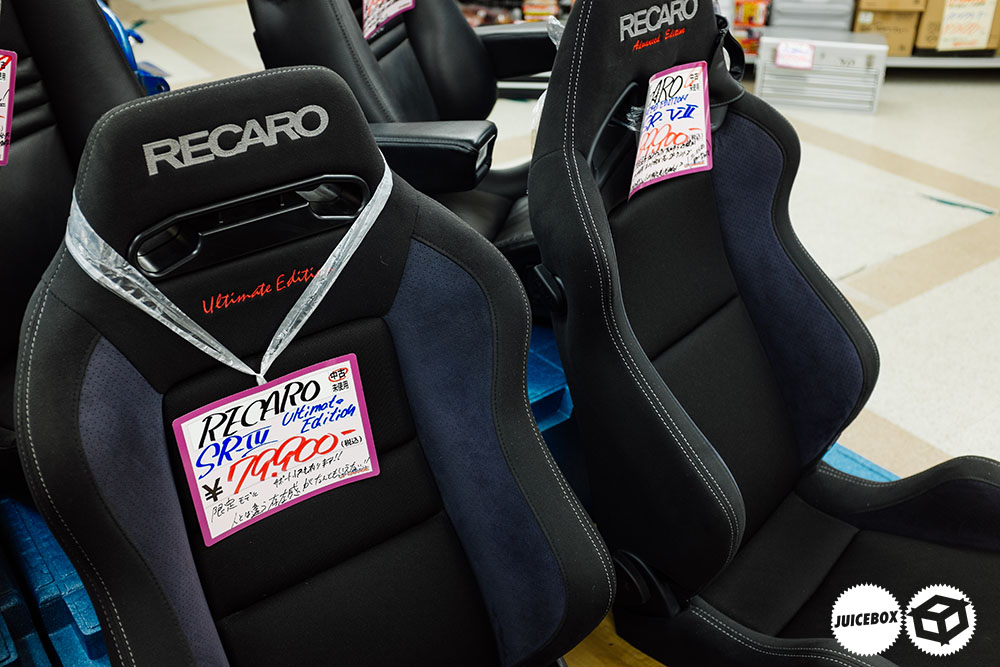 Ultimate or Advanced? Tough call…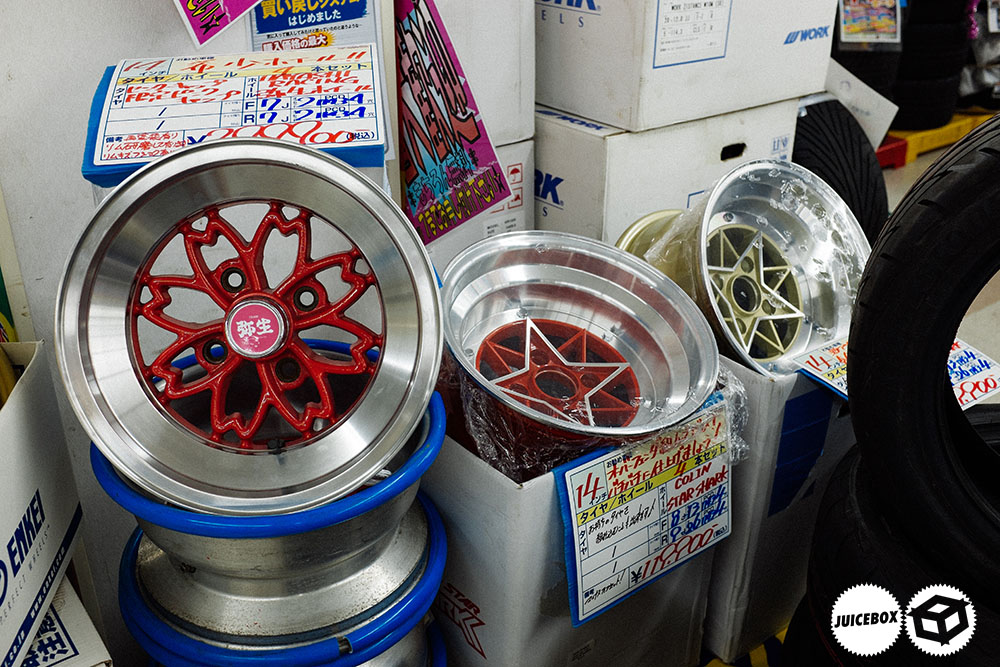 The Holy grail of Classic Japanese shoes! These were in pretty bad offsets but that didn't stop them from commanding a two grand price tag! Spot the reprinted Star sharks next to them, it's nice that they remade this wheel but its basically another Replica Rota which was a real shame.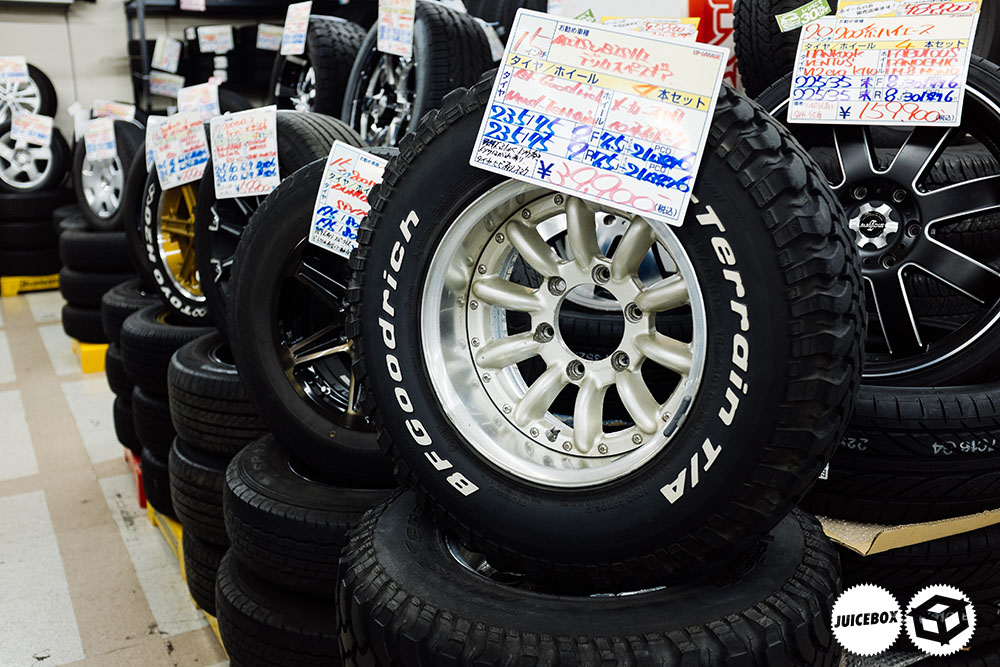 How about some Watanabe/SSR RS8's for that offroader?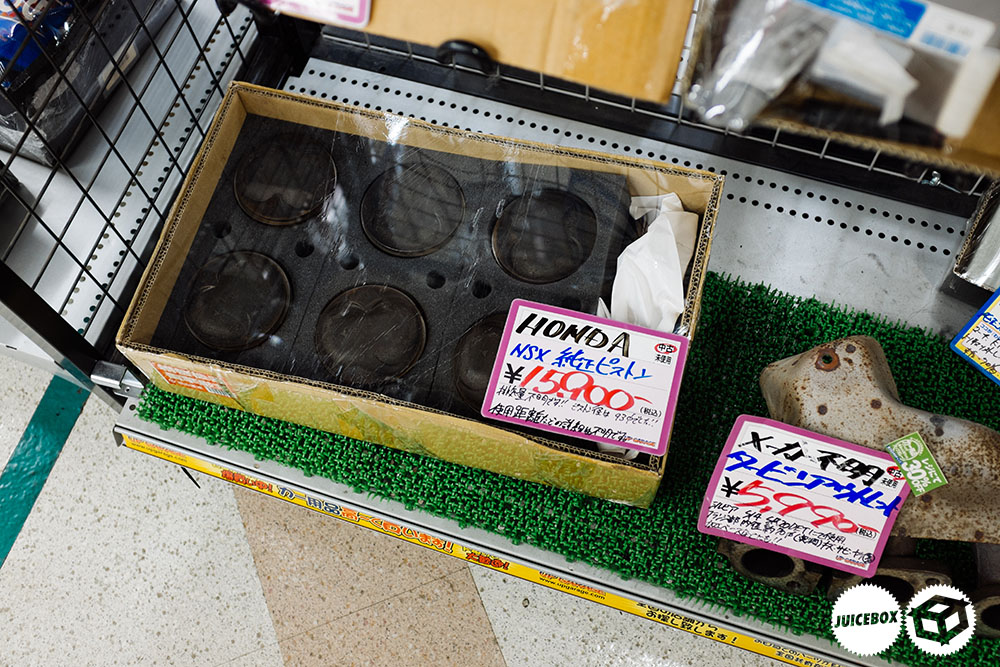 Where else in the world will you casually find a set of NSX used Pistons for sale in a retail environment? Oh Japan!, how I miss this madness.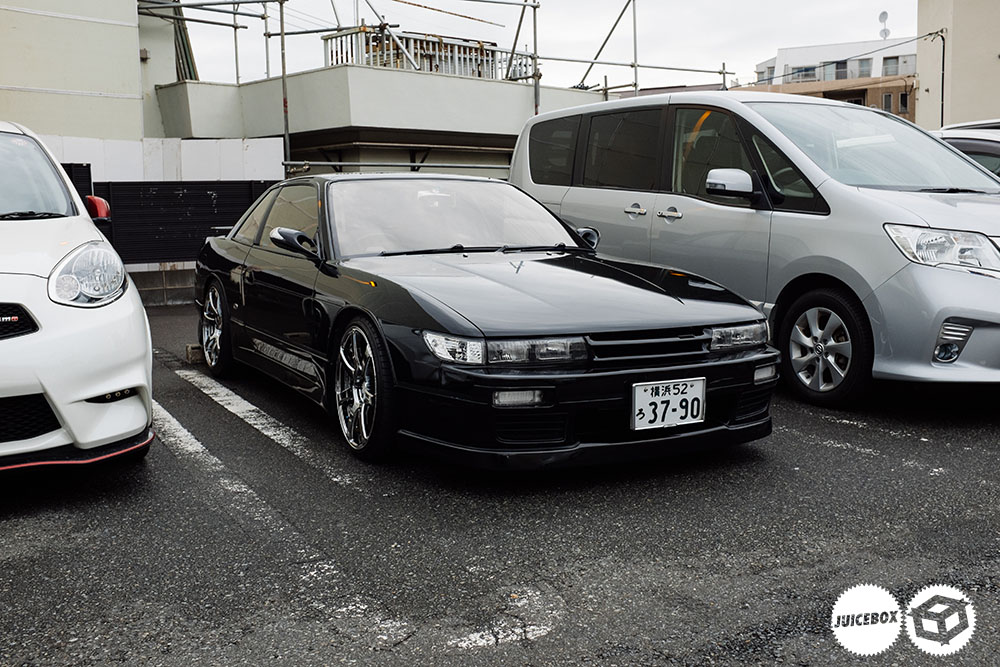 I heard a bit of noise outside so I popped out for a look, the car park is continuously changing with cars as people come and go.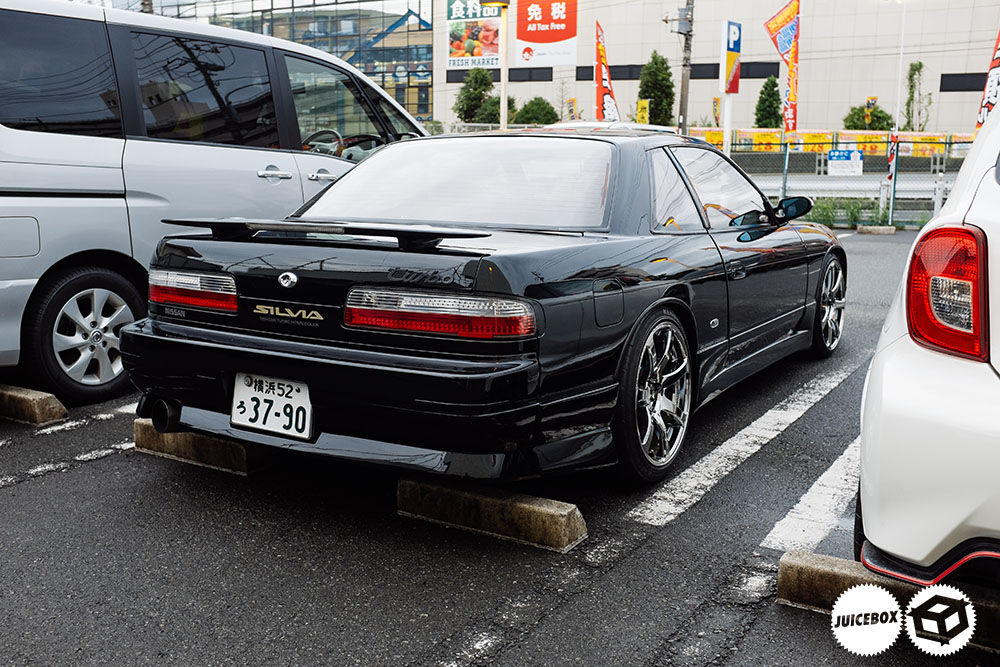 There really cant be too many s13's like this out there, an example completely avoiding the usual tatty drift look. The owner was well into his 40's. The car had every available optional extra you could think of too. The words "Classy" and "S13" rarely go together but this was one of those times where I could use nothing else to describe such an amazing example.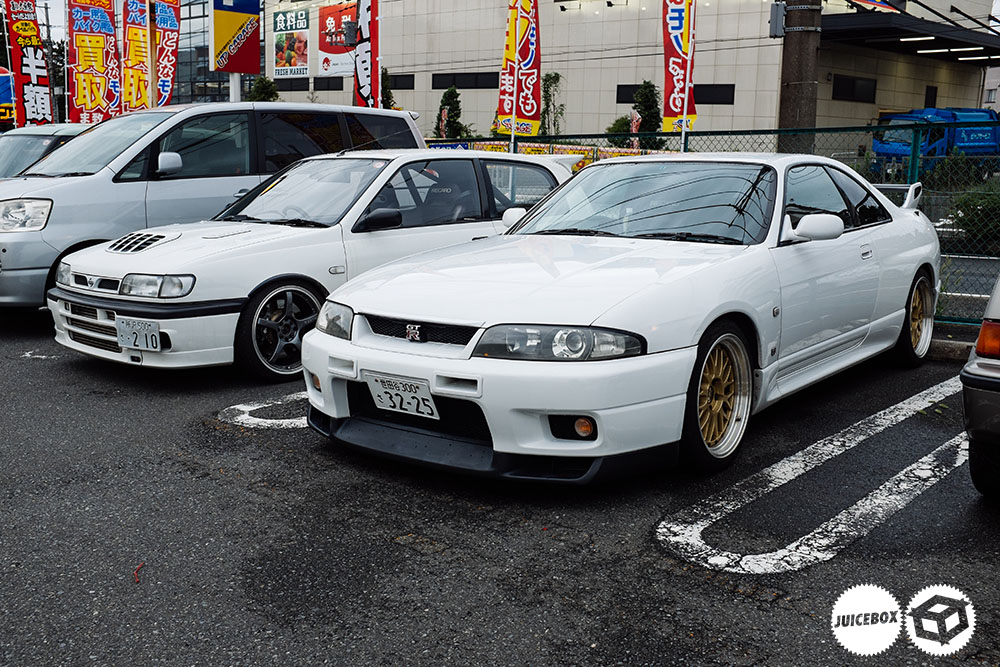 The classic BCNR33 was lurking in the corner. Some classic BBS LM's in that gold made for such a clean look on this boat. I love these things.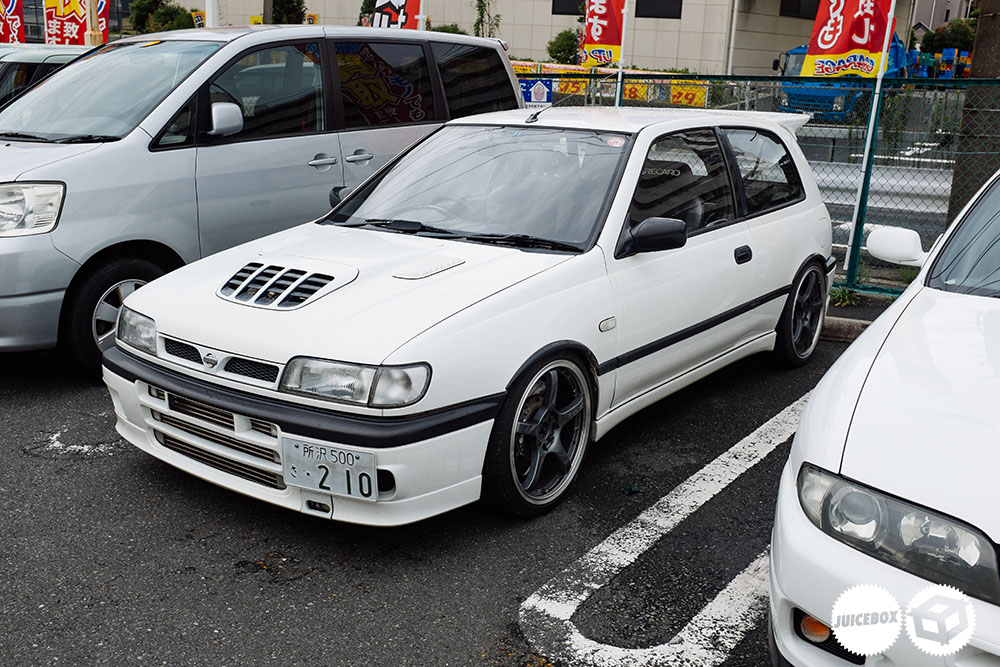 The only Pulsar GTIR we saw in Japan this was boasting a big brake and kit and a fat front mount intercooler. It was a nice surprise to see such a properly tuned example. Id bet this gets up to some wild antics out on the wangan.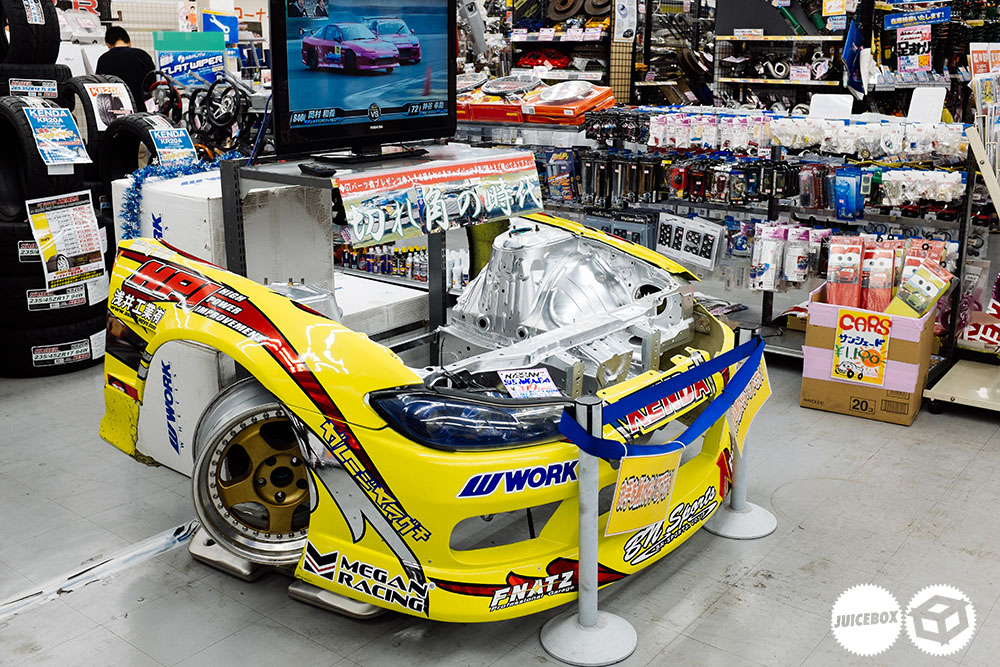 The actual Up Garage we were hunting for was this place, closer to Yokohama this was as good as it gets. Its primarily aimed at drift guys and was packed with absolute treasure.
Endless amounts of Bracing for every RWD chassis you could think of.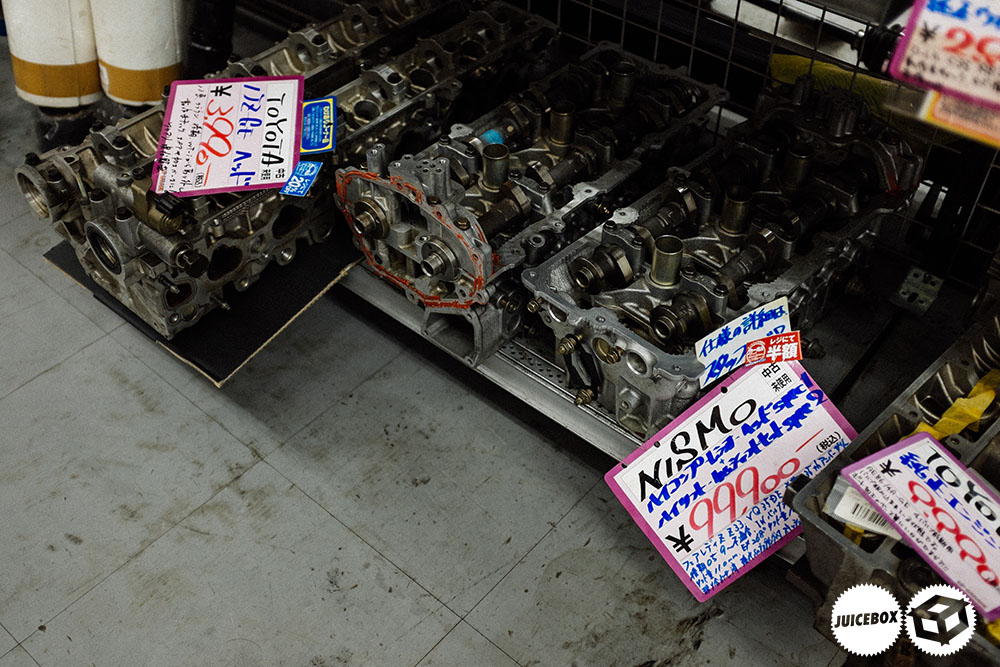 How about some head? ( Corny joke alert)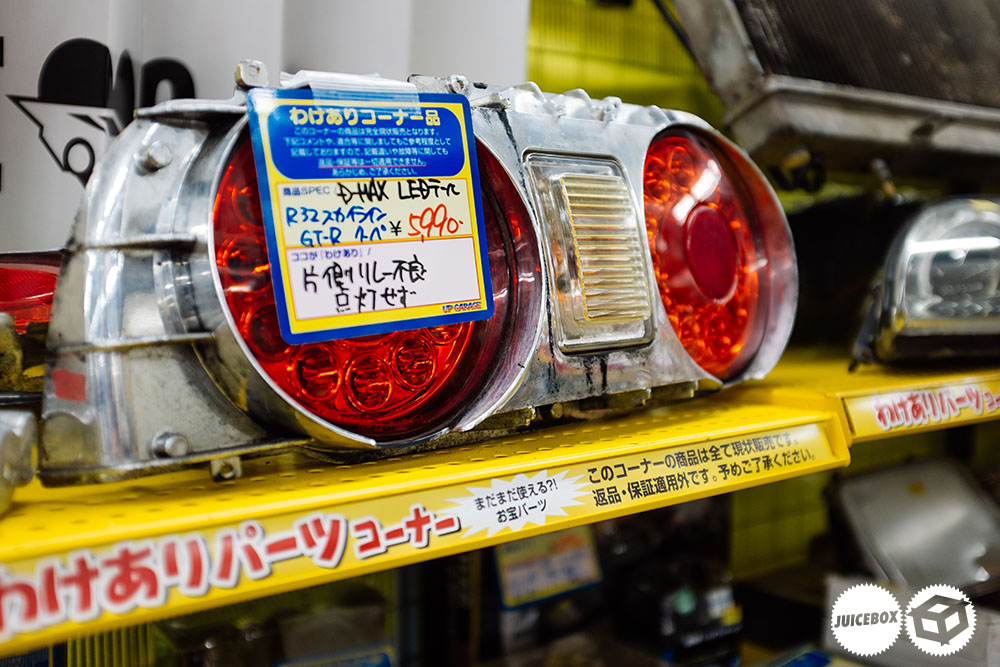 The place is pretty compact but you have to do about ten laps before you can really even process any of the stock.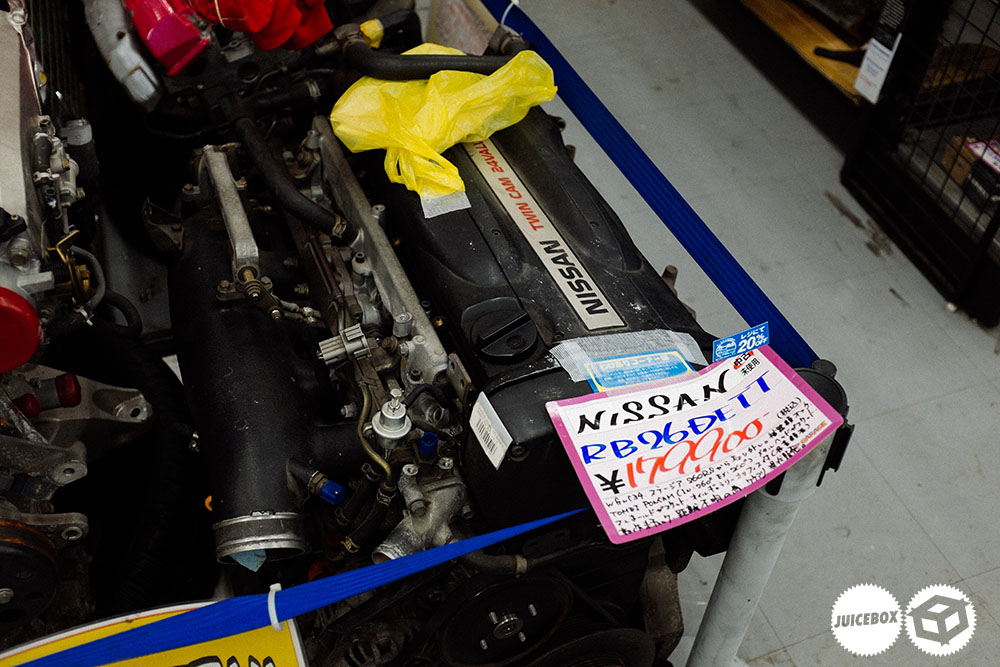 Even though I've looked at these photos a few times, I still laugh at the fact there are RB26DETT's just thrown on a traditional retail shop floor in a shop in Japan.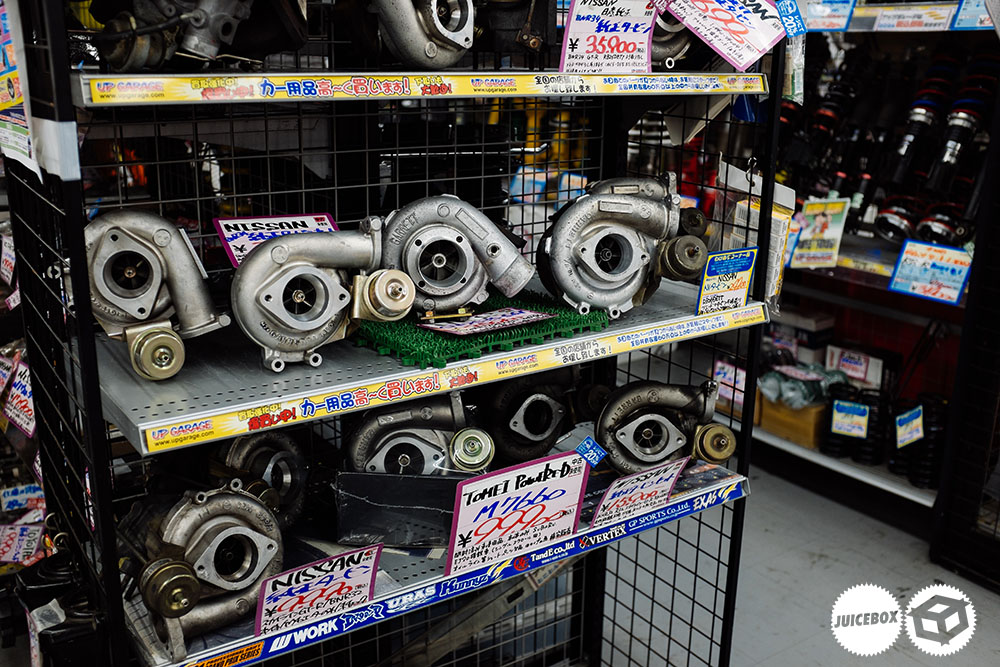 How about a turbo?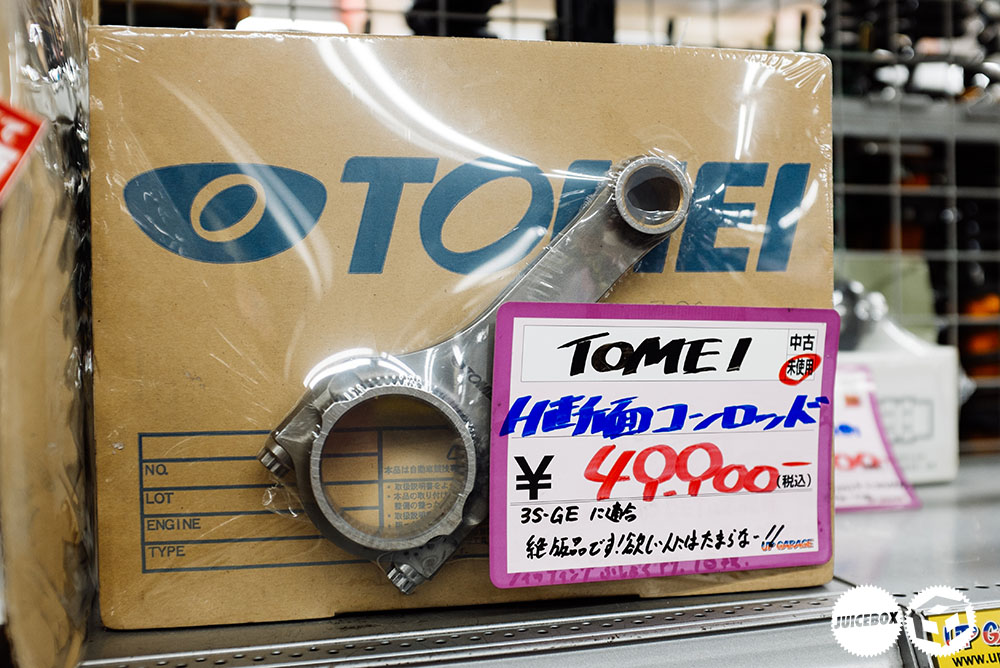 Tomei 3SGE Rods anyone?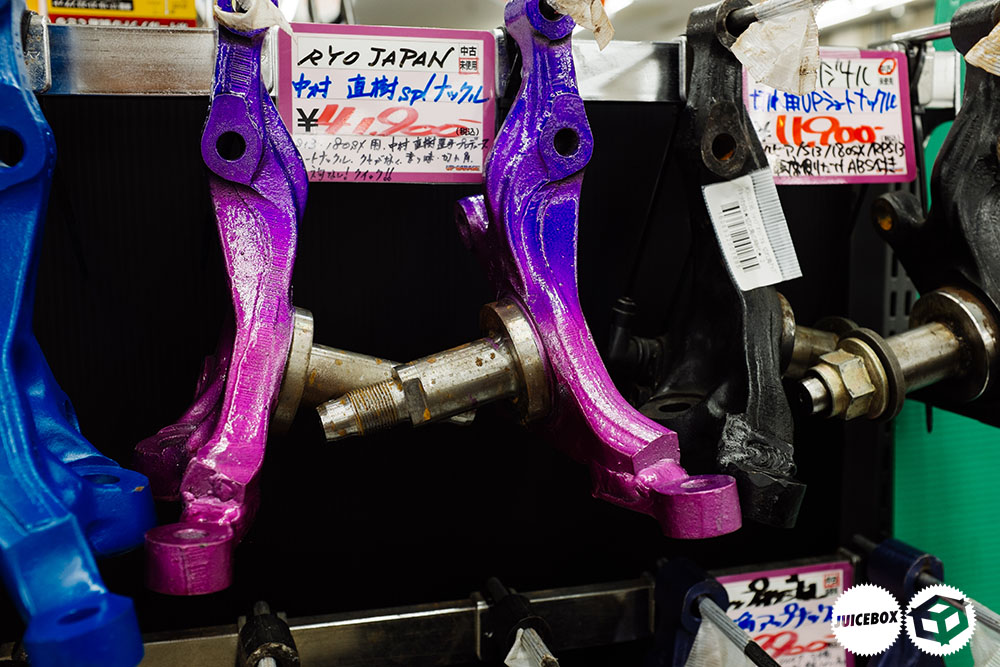 There was also a nice blend of new stuff for sale too like these Signature limited edition Nakamura Knuckles.
Every sort of proper clutch you could think of, I love how they repack everything…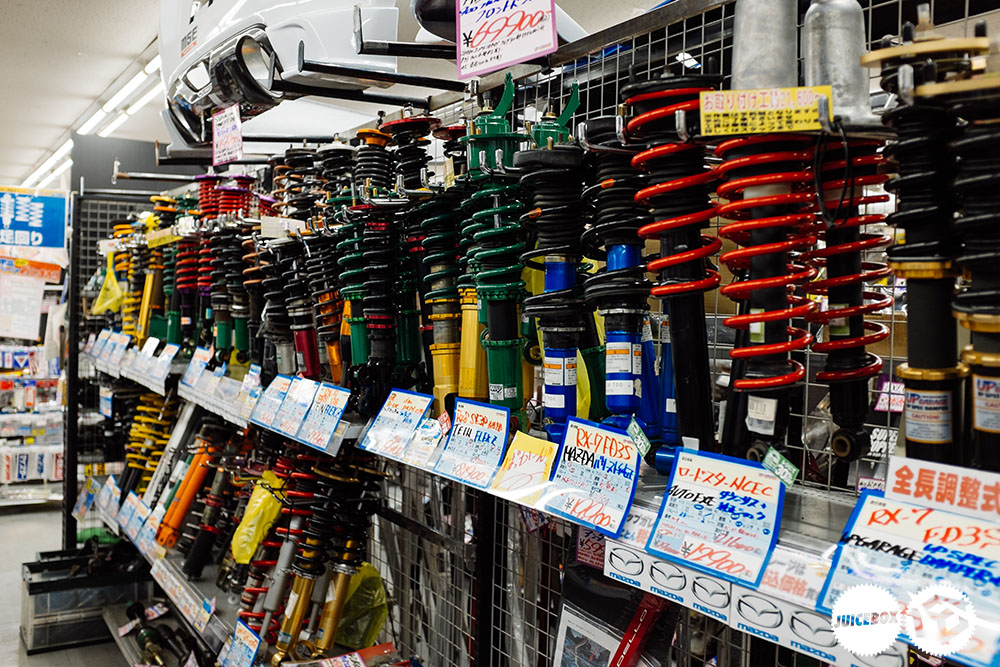 AStuff was very cheap too, a good set of used coilovers was setting you back about 180 euros.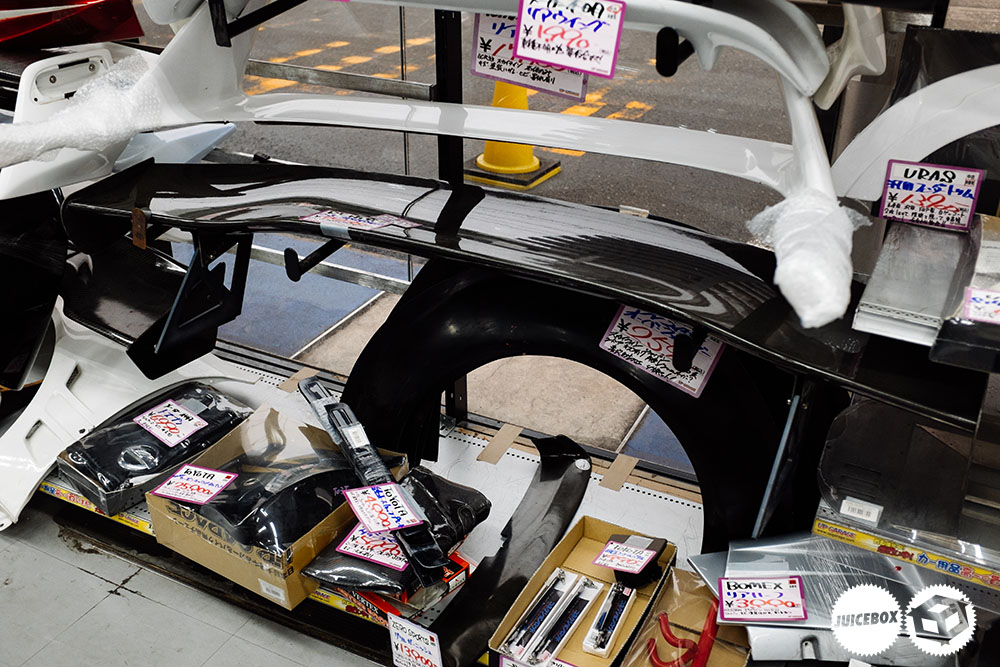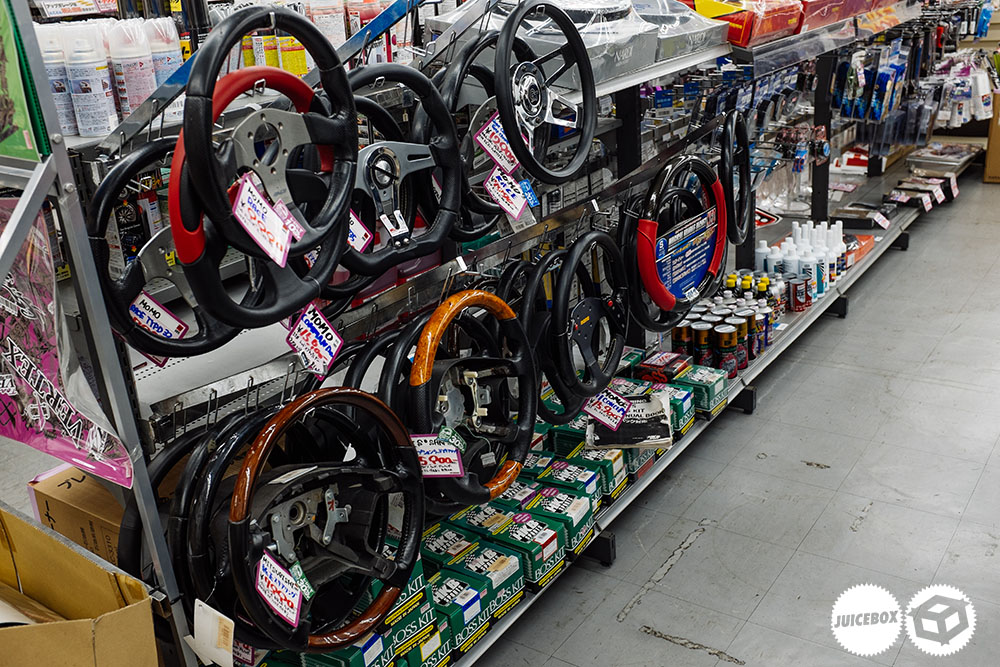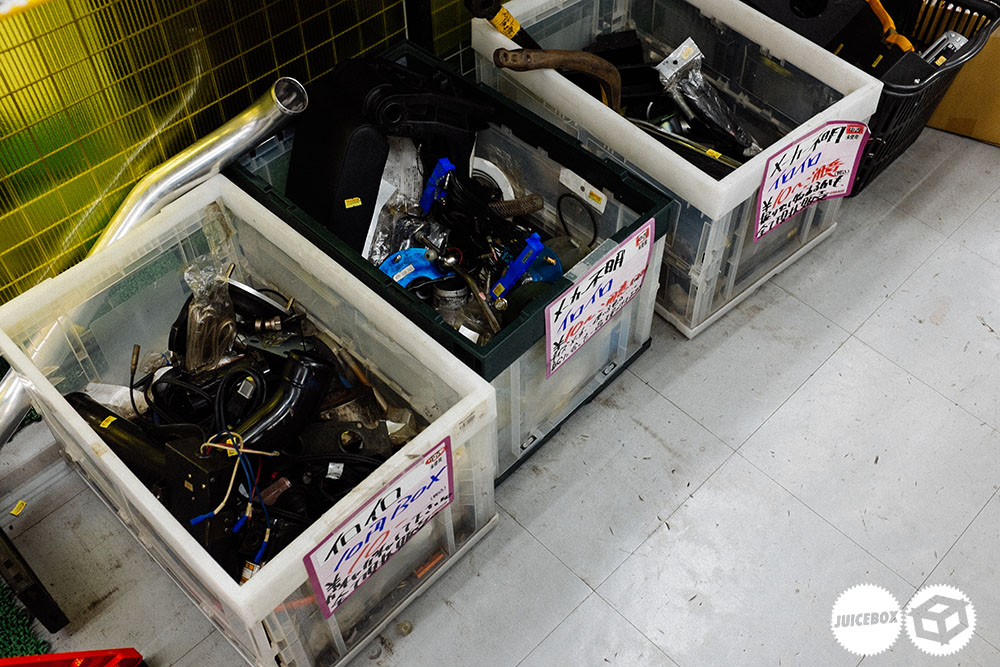 Wings wheels boxes of every little random piece you could think of, for a car nut, these shops are paradise, its actually painful to know we couldnt really buy much and bring it home.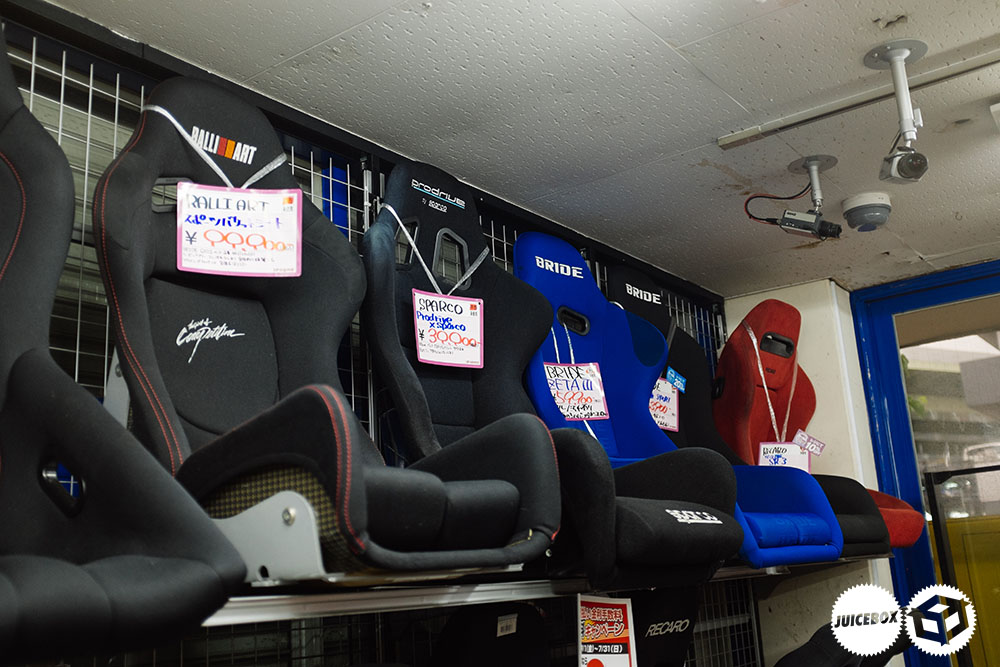 More seats, each Upgarage had an incredibly random selection, if only we had bigger suitcases.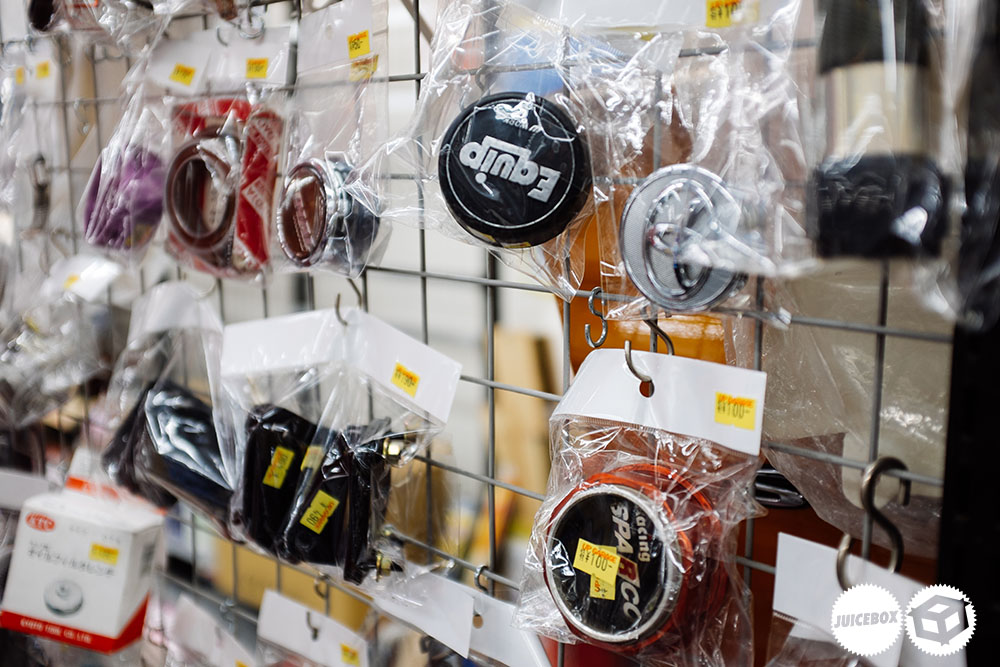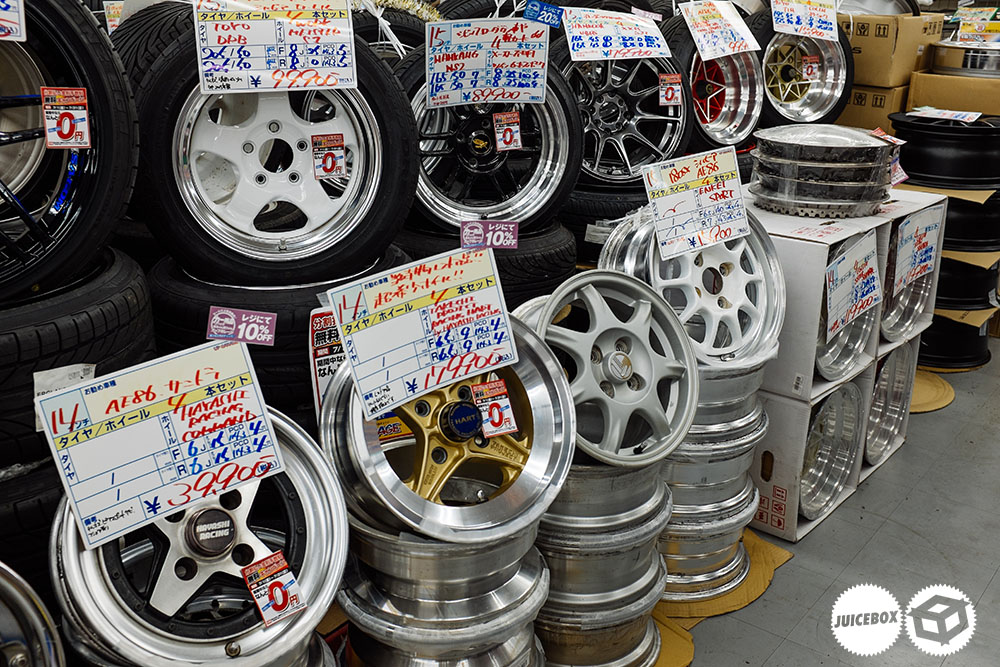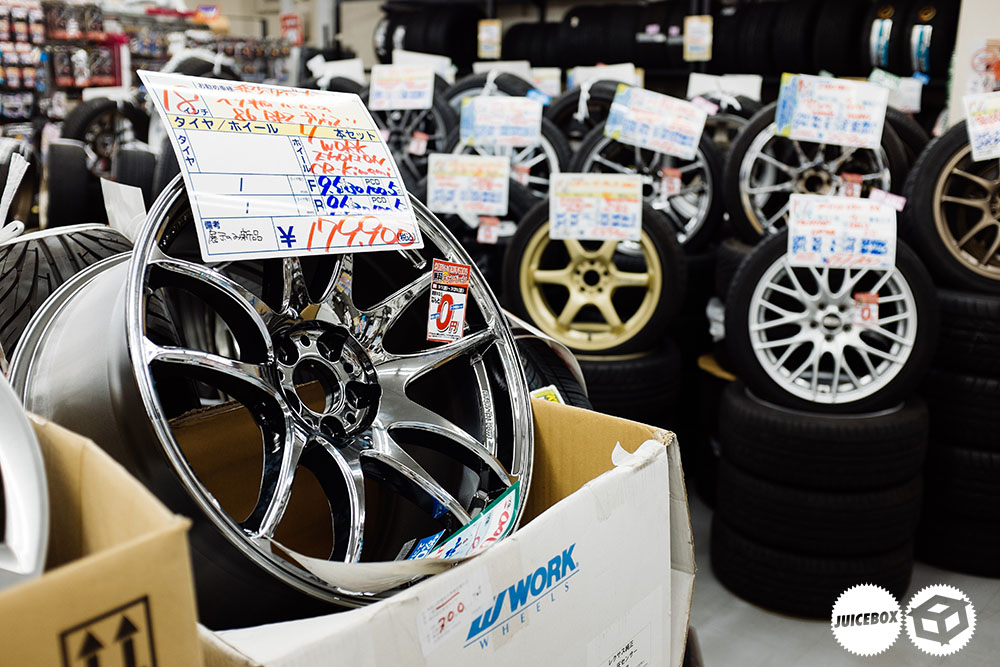 It goes on and on, I don't really need to say much more, many of the photos speak for themselves.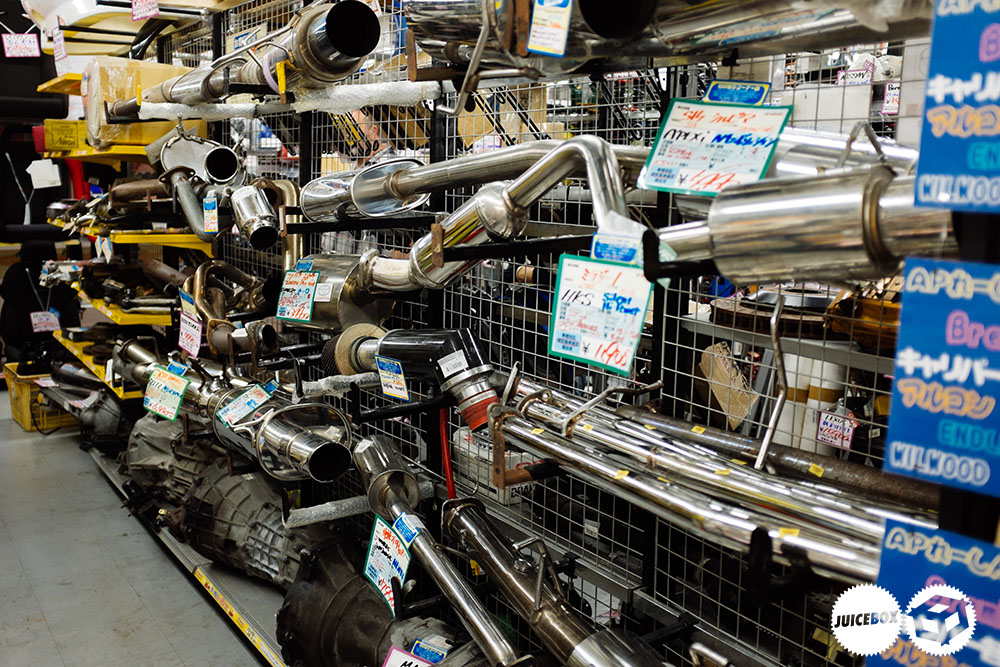 I know that it's hard to really take in through a photograph, I've often found myself finding images like this online and you almost become immune to seeing cool stuff from Japan being posted. Regardless if there is anything you should take from these posts, its that you need to make a trip to Japan a priority in your life…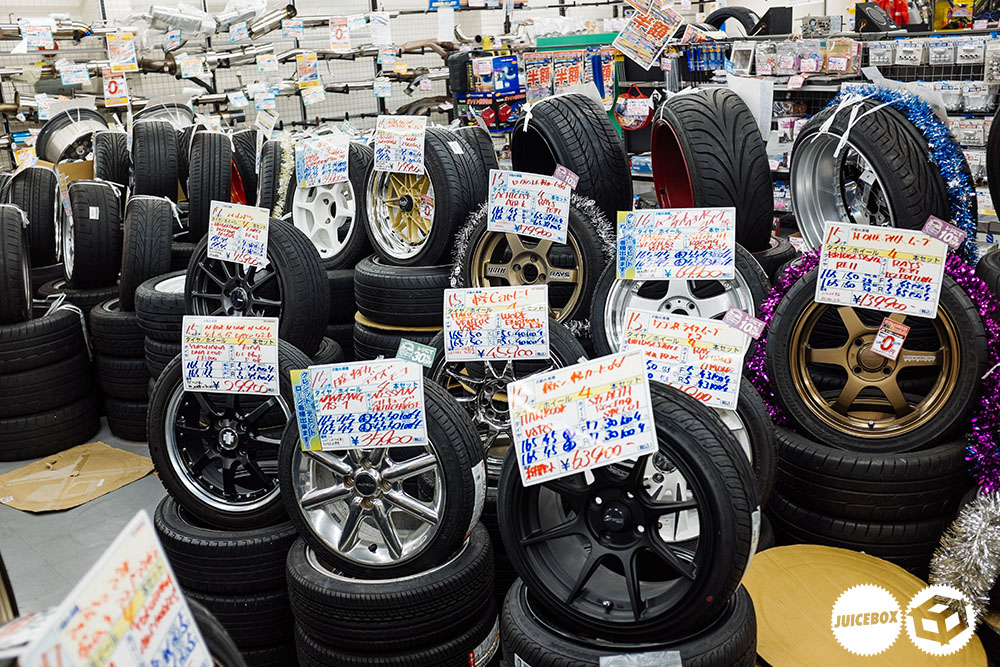 Even just to witness something like this in person, as a true car enthusiast there is nothing quite like this on the planet, whether you are into Japanese, Euro or whatever, Japan is a truly unique place.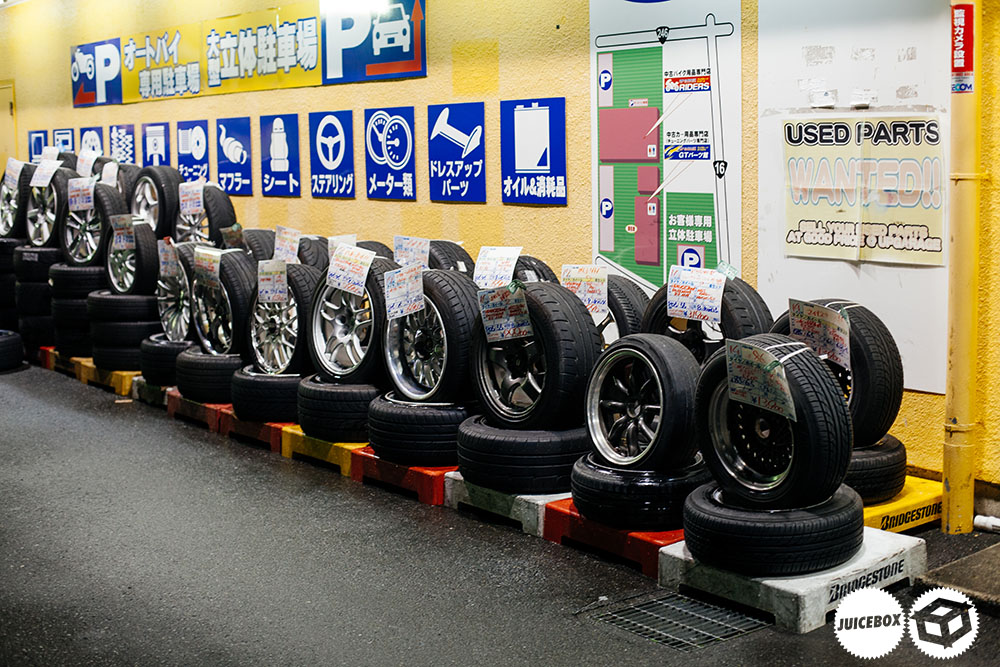 The wheels go on and on, the Up Garage GT had the best selection we had seen so far, I'm sure many of you have already seen a wheel here you would have gladly taken home in a heartbeat…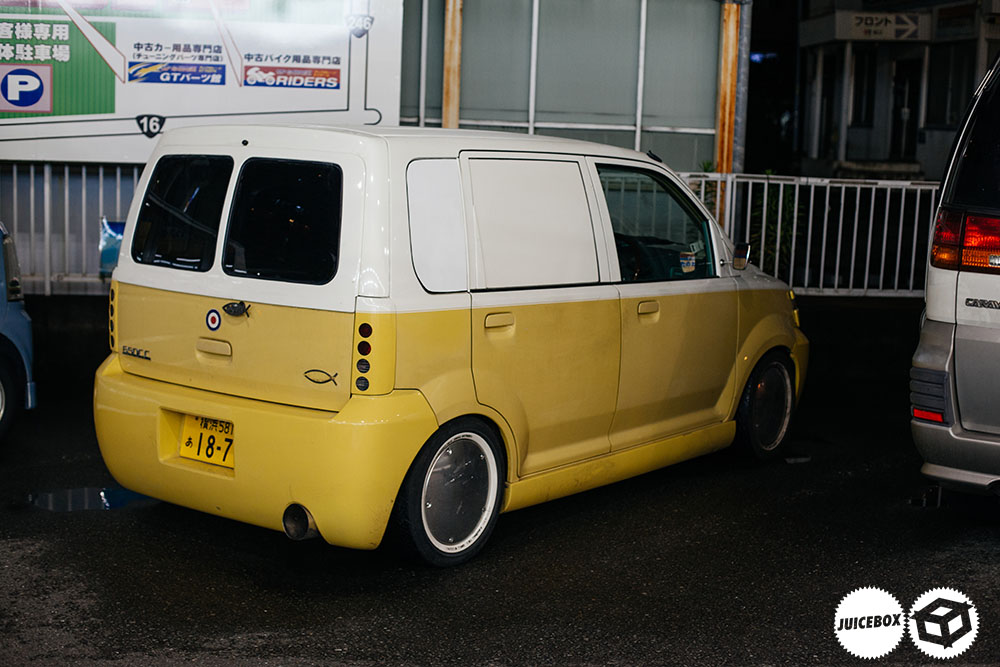 That really is the beauty of Japan, if you live here, you could pop by to the local Upgarage in your dream machine or something as funky as this little mad machine above, and pick up whatever you want.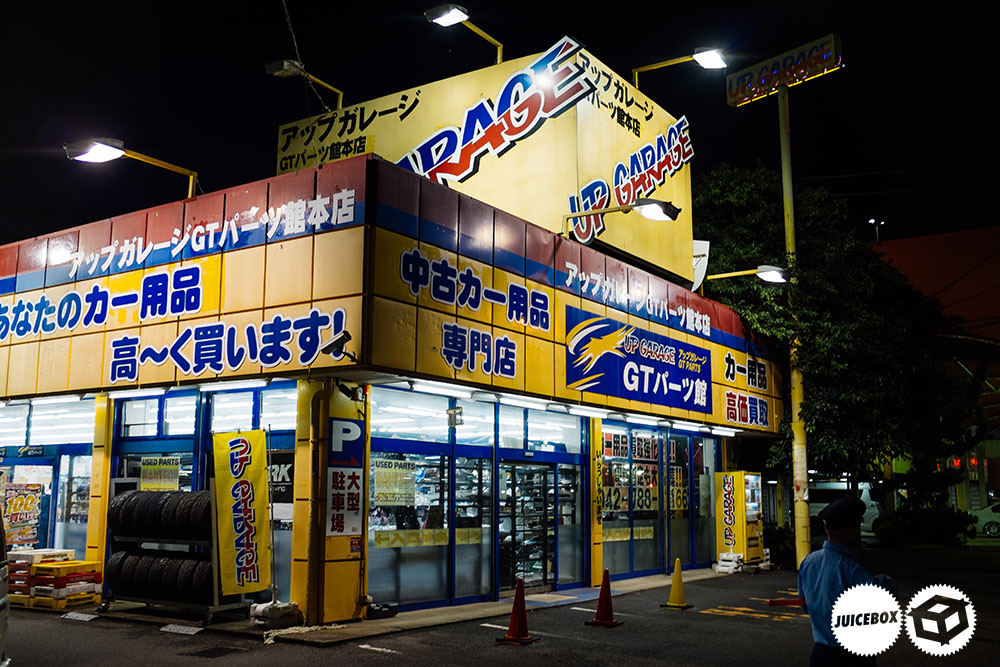 As the night pushed on, we decided to get something quick to eat and try to navigate our way down to Daikoku Futo parking area…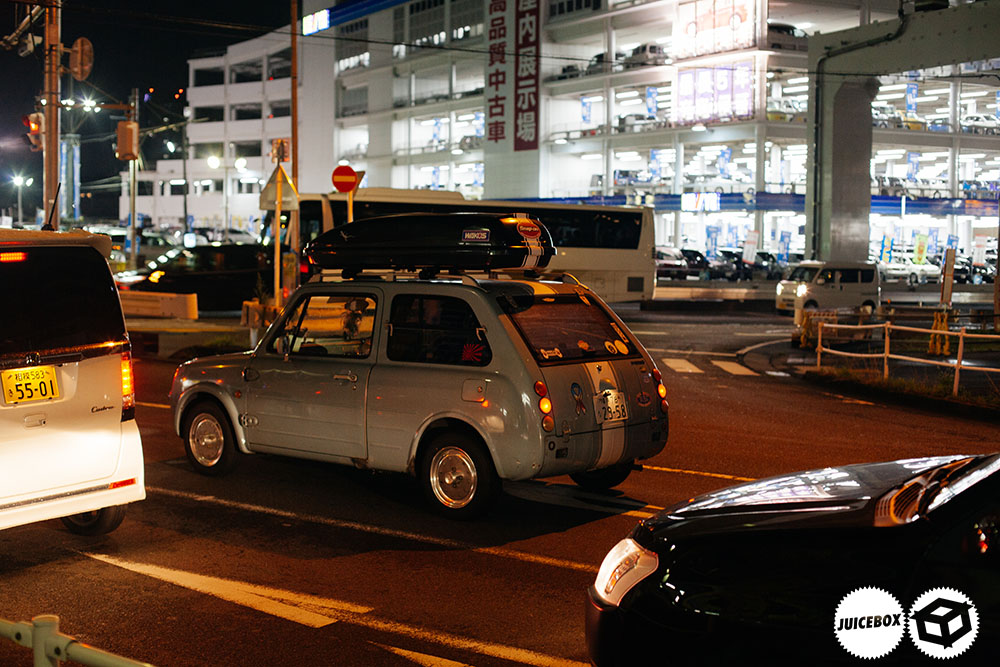 This would be the final bang on our hunt for automobile related madness in Japan, the most famous car park in Tokyo, most certainly Japan and probably in the world.
Stay tuned!
Comments
comments
Powered by Facebook Comments