Hidden Treasure: Searching for an AE86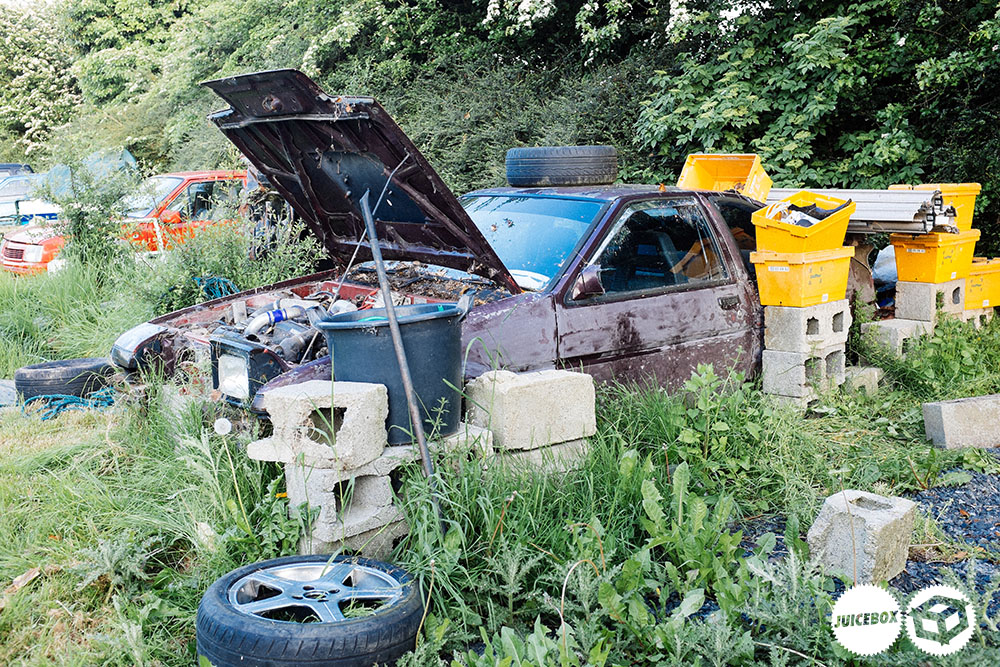 A few months back, Dan a good friend of some of the OG Waterford guys called down to Waterford for a visit. After a few conversations, I told him I was after buying an AE86 shell and was looking to go down the path of misery chasing parts and doing a restore.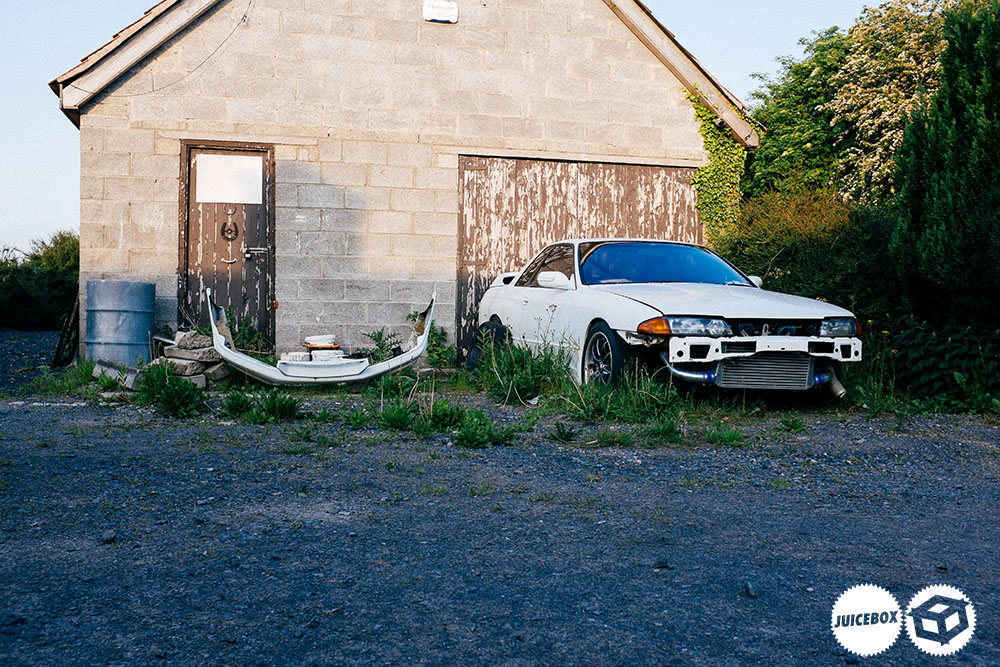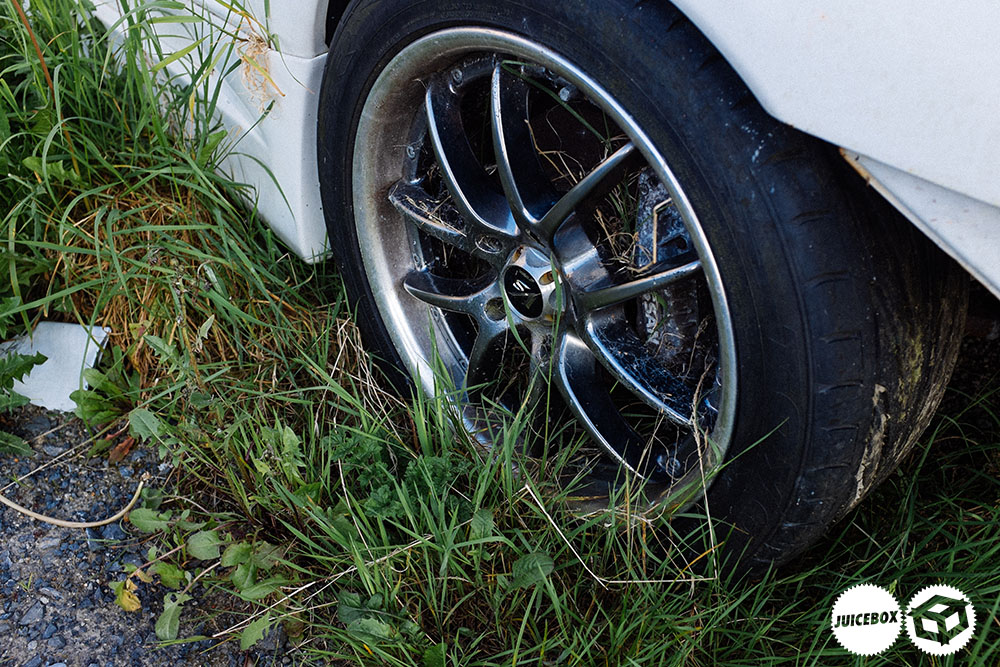 Dan has been around since the beginning, hes done it all, competed in Irish drifting when it was in its infancy and pretty much has a story for every Irish automotive situation you could imagine. Hes an original Irish car enthusiast that has gone through every car phase and everything in between.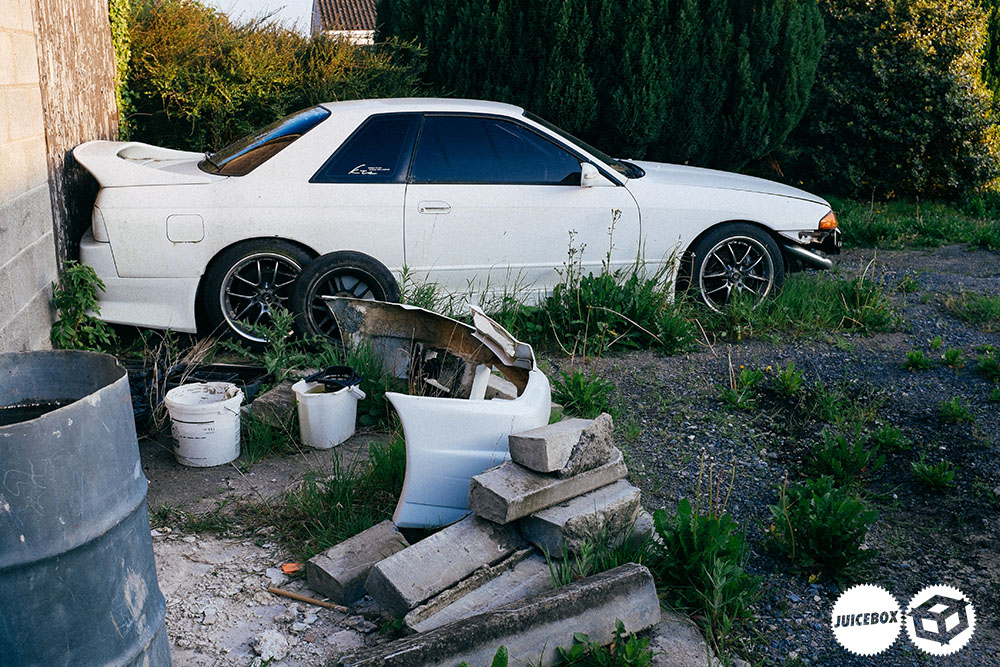 Hes at a stage in his life where he has started to wind down, hes also the mechanic for Mondello so im sure he gets more than a daily fix of anything automotive so personal projects took a hit.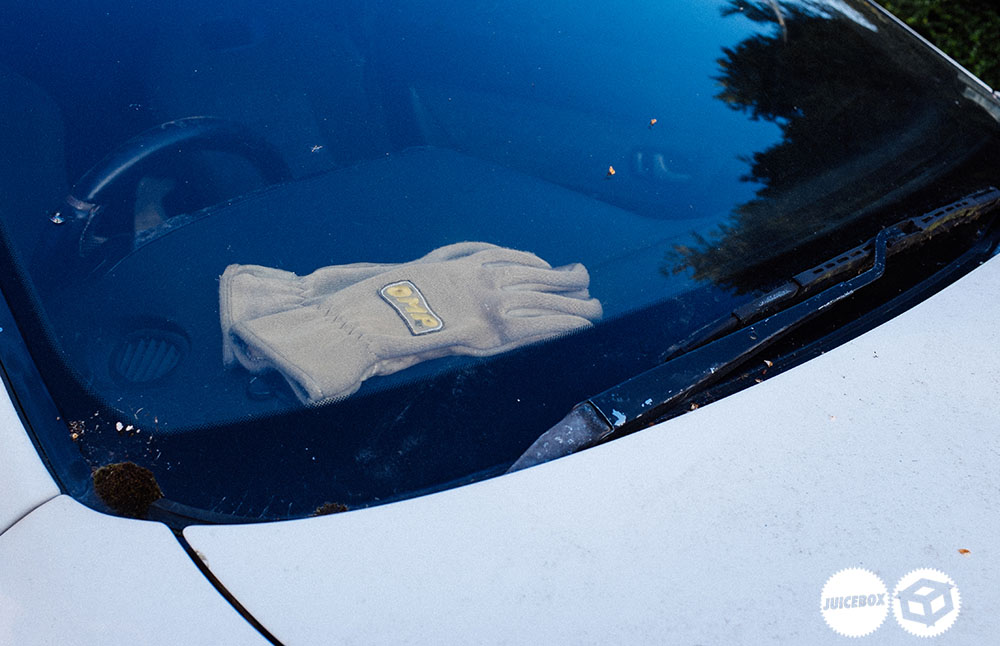 Dan is a hard person to put into words, he has a weird collection of cars, and somehow can rationalize why he left his 86 our in the back garden to rust while a 1.3 corolla sits in the garage and you'd believe him.  Another interesting character that somehow got sucked into the car world. Thats the bauty of this interest, it attracts all walks of life.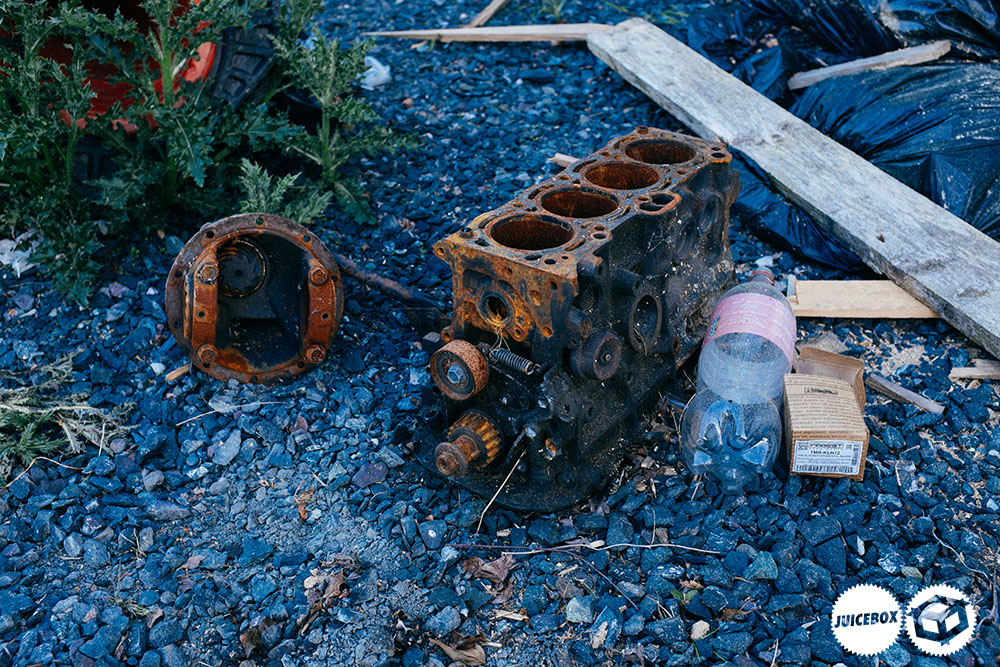 Currently, his back garden resembles an automotive graveyard, he explained how he's just had enough, enough for now at least of "the whole car thing". I can under stand that, I haven't reached that point yet although I came pretty close before I moved to Canada, luckily I didnt have a collection to think about.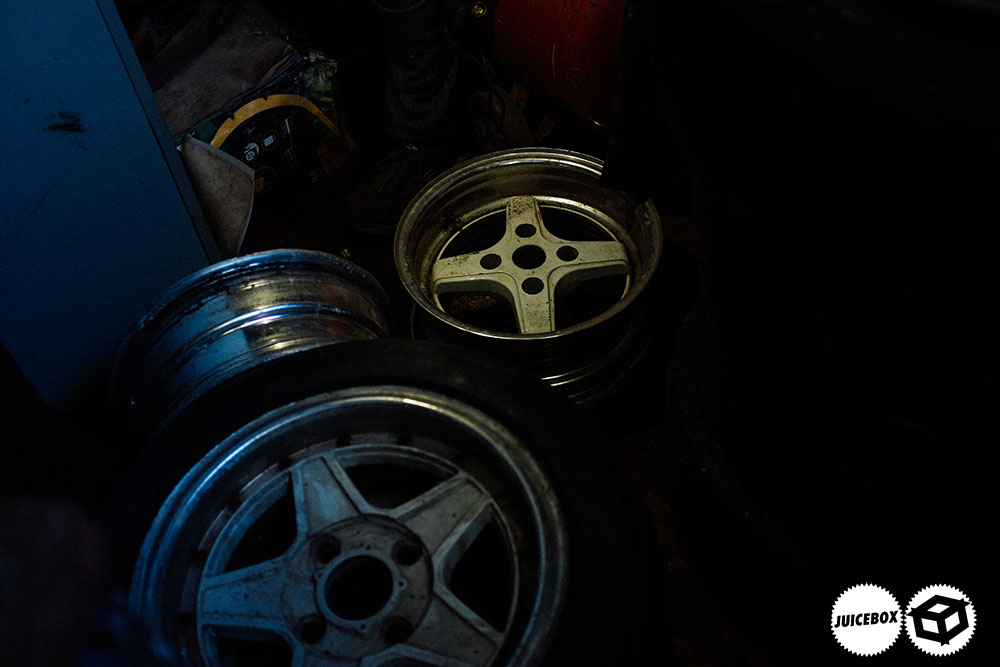 The idea was thrown around about me purchasing his AE86 which was originall owned by a close friend in Waterford, the car was purchased from Gerry who built the insane 2 door Levin we featured many moons ago. Gerry owned this car back in 2006, it switched hands to Dan and has been in his posession ever since.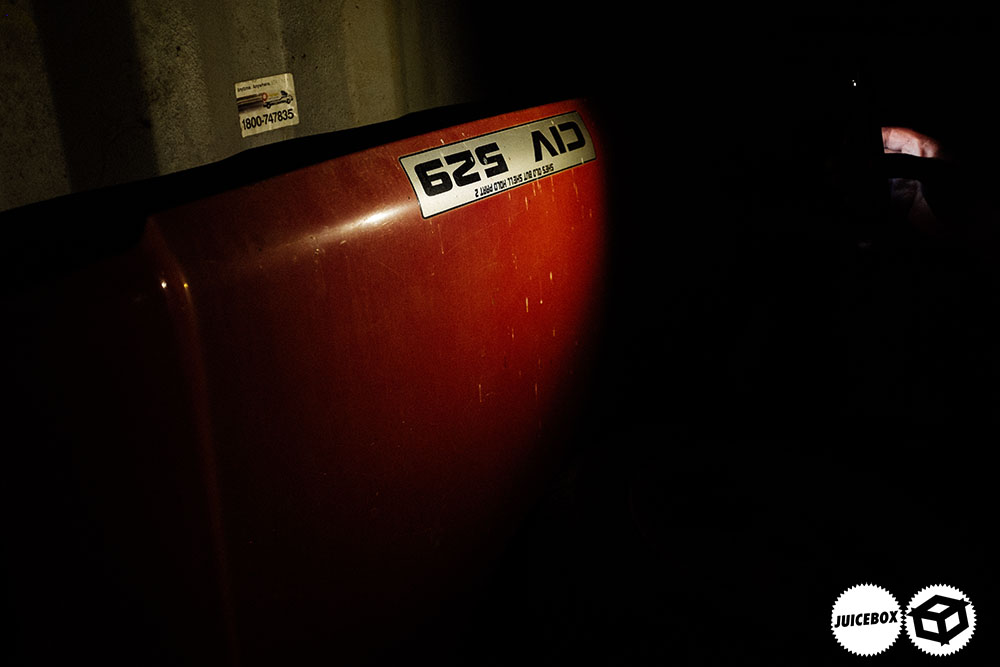 Dan's motivation for projects has faded so they have all sat in various states of limbo over the last few years in his back garden, along with a host of random parts and all other sorts. It's an interesting place to visit. Almost like American pickers but somewhere in Kildare with Japanese cars.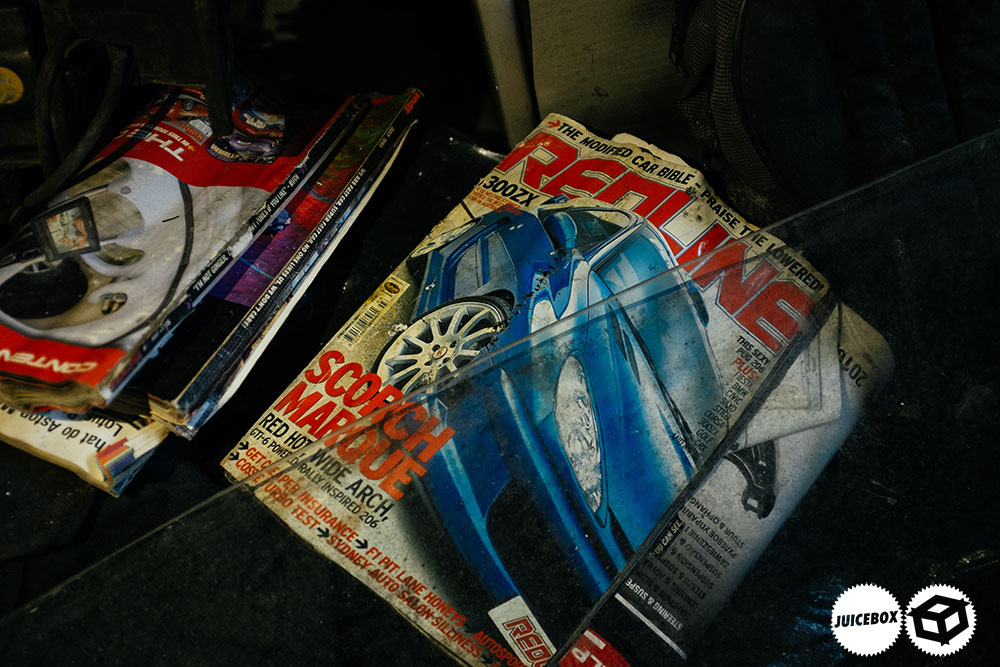 He has sheds worth of random stuff which looks like a total mess but funnily enough, he could easily pick out what he needed.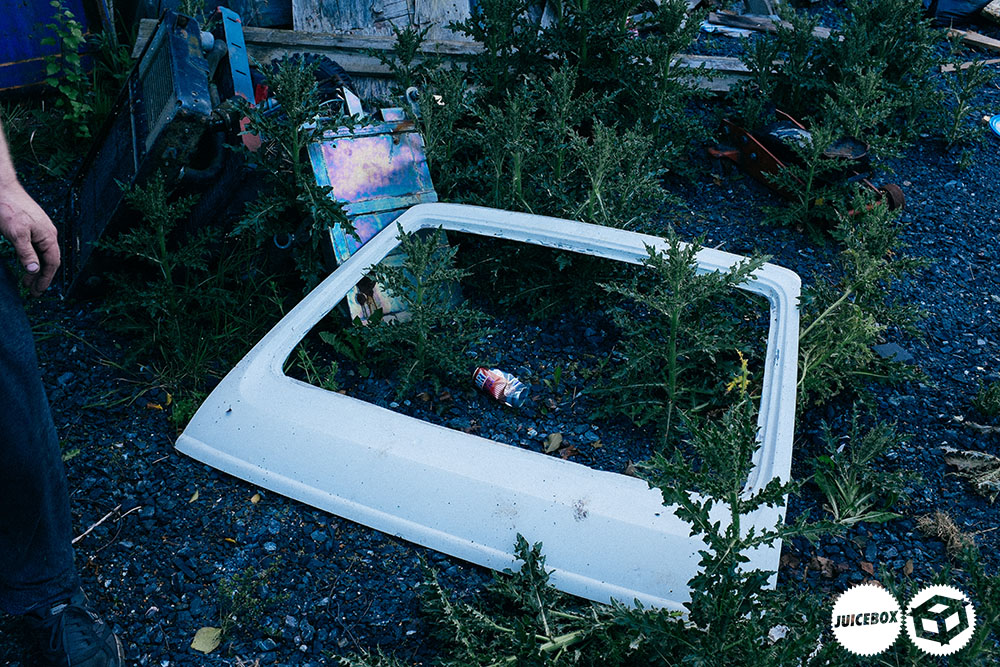 Lots and lots of weird car archived history is thrown across the floor, from wheels and gearboxes with added tales of what and where they were used, accompanied by a selection of old school magazines from the Max Power era.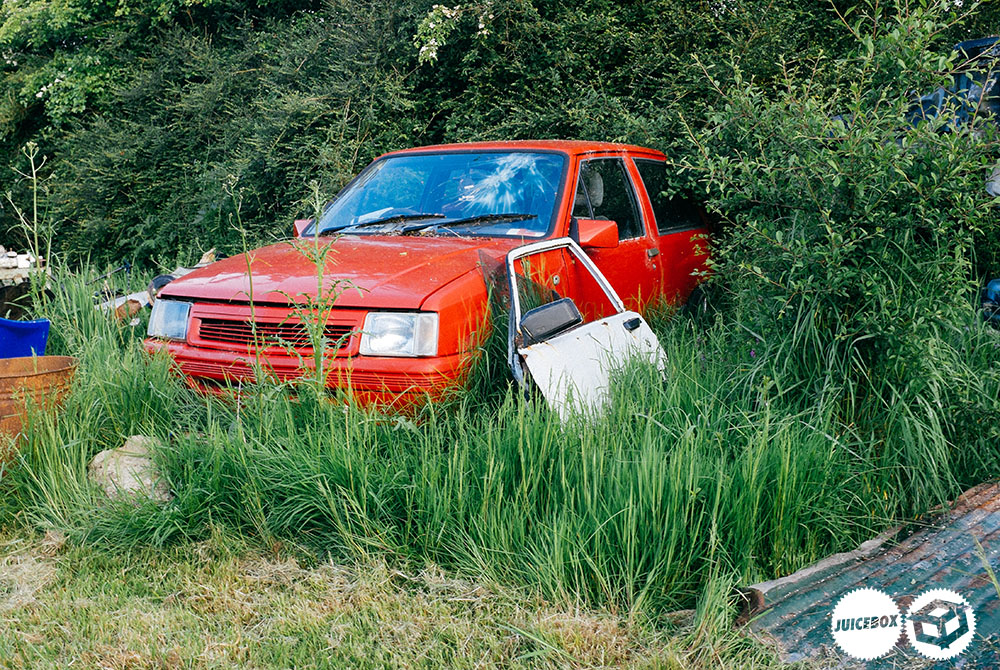 A random collection of machines are errily parked up in the grass out back like this Nova…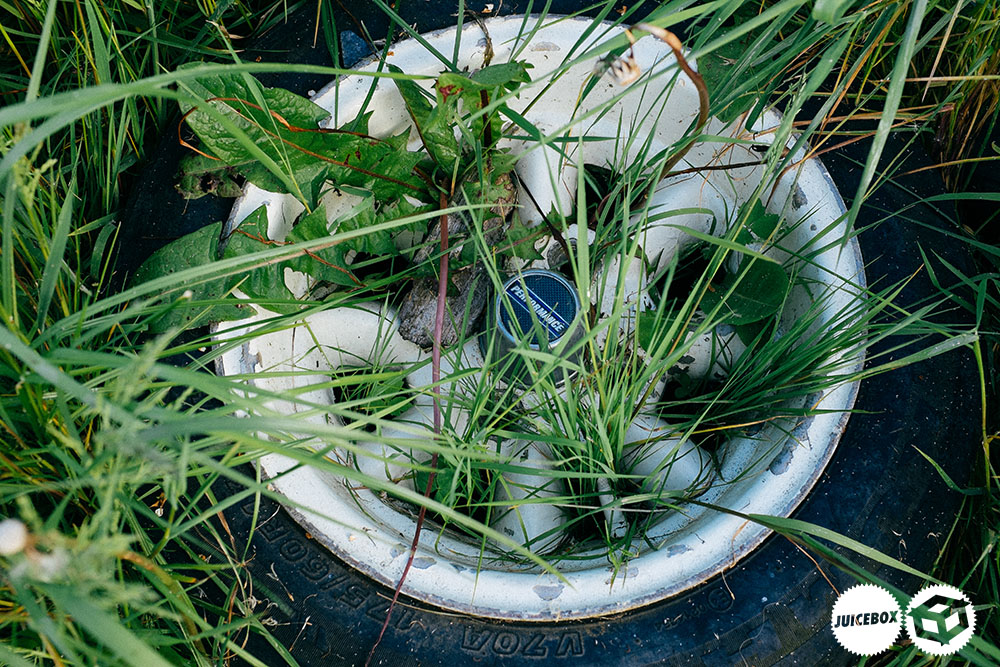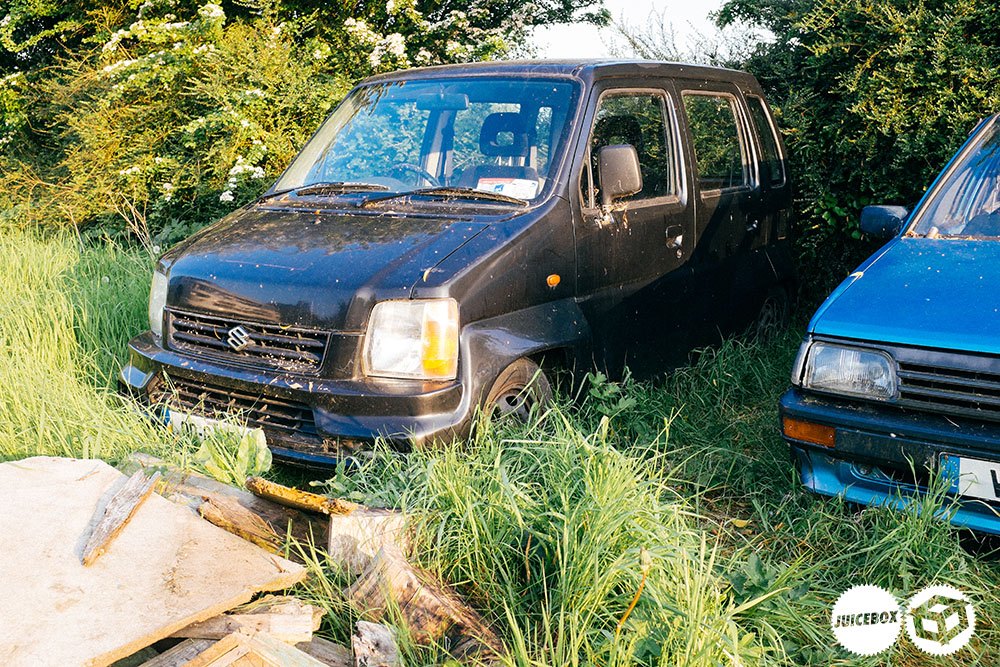 My friend Dayos old crazy N2 kitted Suzuki Wagon which was never fully finished, this started as a Joke, molding some AE86 over fenders and then Damien lost interest, the project went to someone else who got it painted and eventually it ended up here in Dans back garden.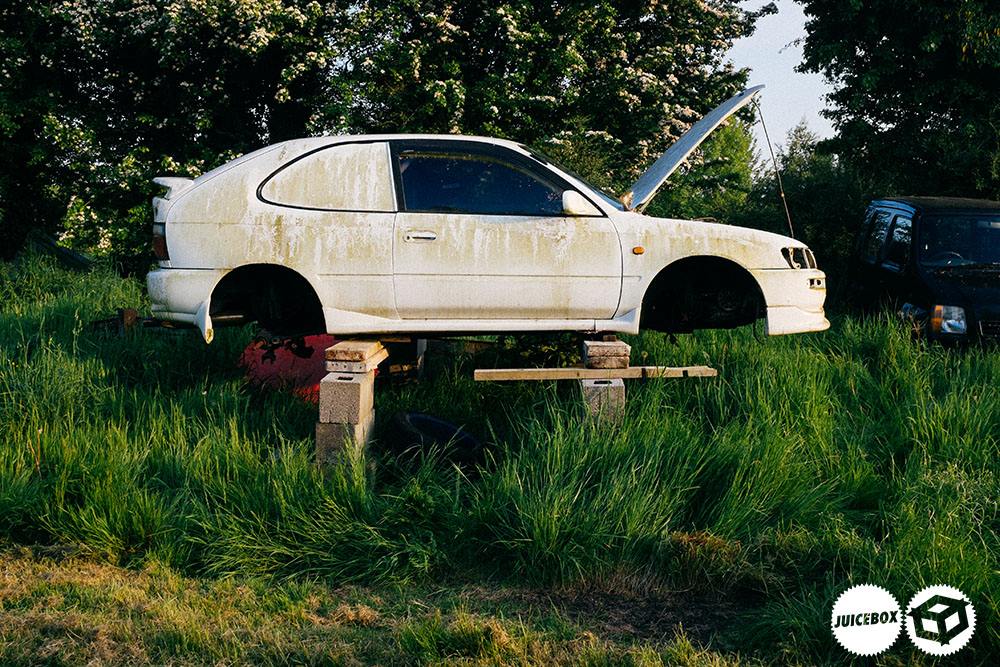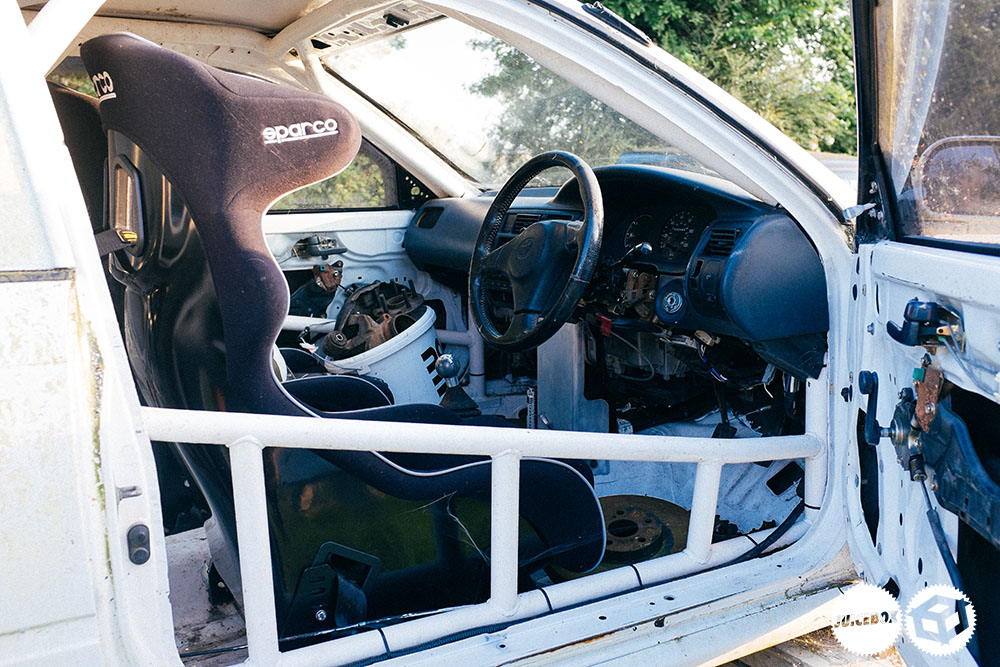 This e10 Corolla van has a full 3sgte from a Celica with four wheel drive running gear, it was destined to be a track machine but it too sits in limbo on some dodgy planks. Nuts!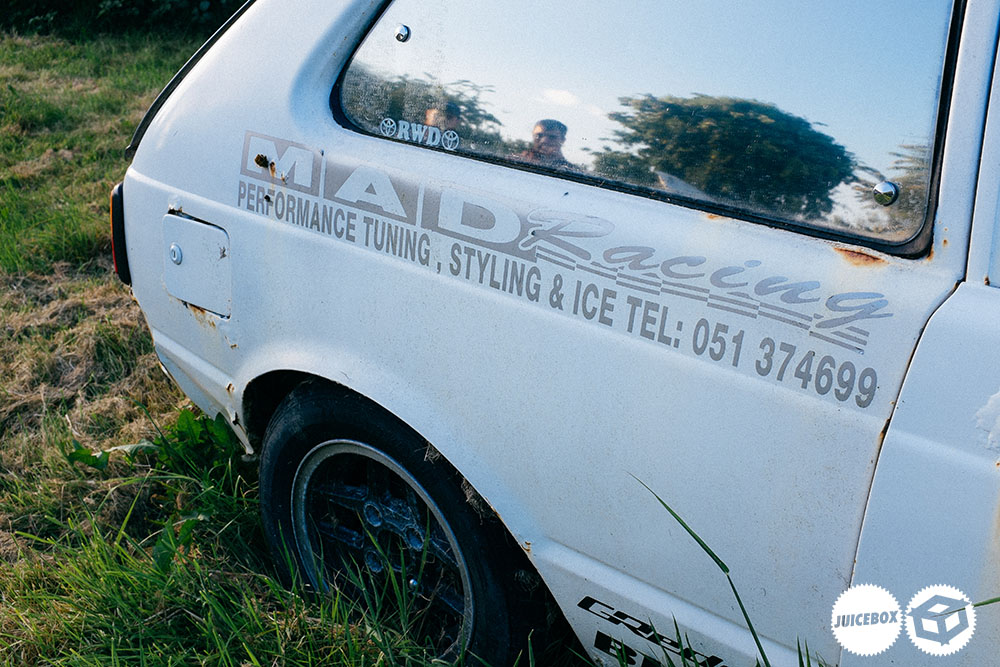 Dan used to compete pretty regularly back in the D1 IRL days, this little KP is still his pride and joy, its in a bit of a sorry state at the moment but he hopes to make something out of it again some day. I hope he doesnt leave it too long!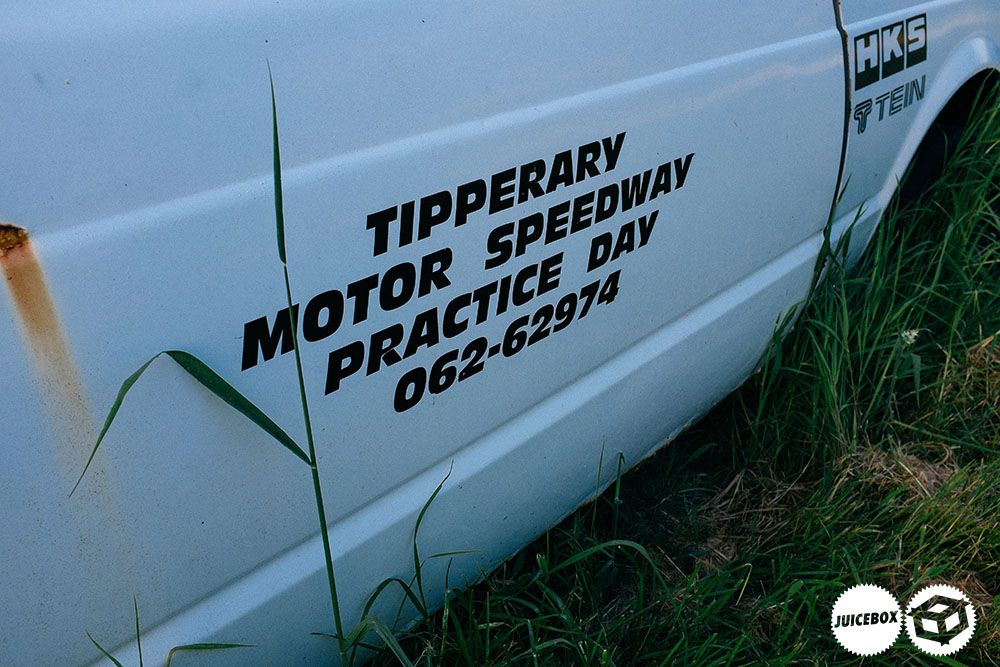 Check the Sponsor, somehow he managed to get hooked up by Rosegreen back in the day, some OG Mad racing logos too.
The door handles were flushed! Dan had to get in from the rear to show us inside..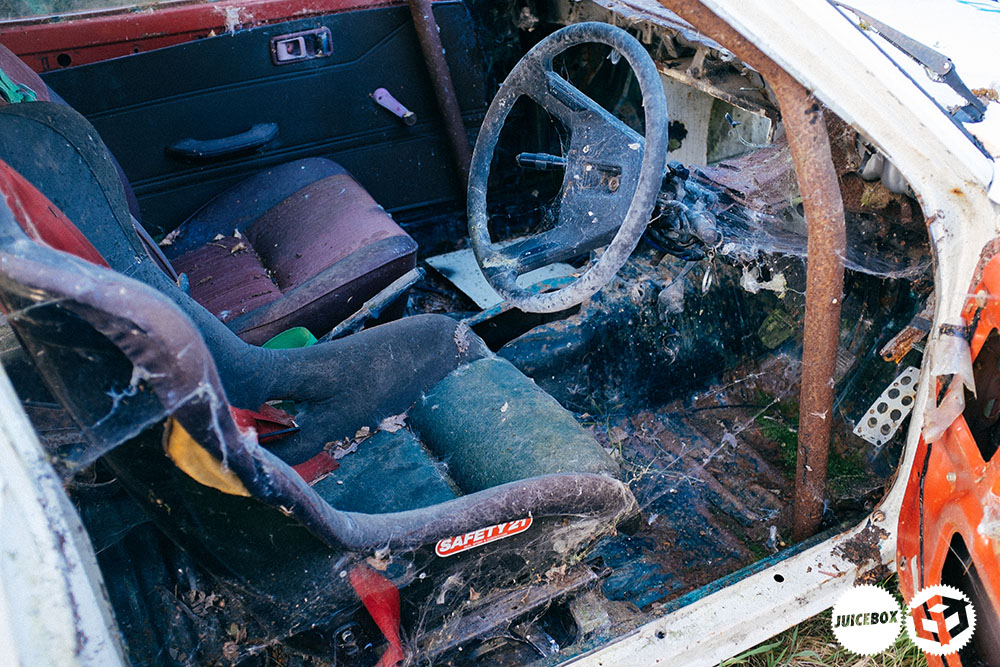 Things looked a little sorry, check the immense amount of cobwebs and moss growing on the floor…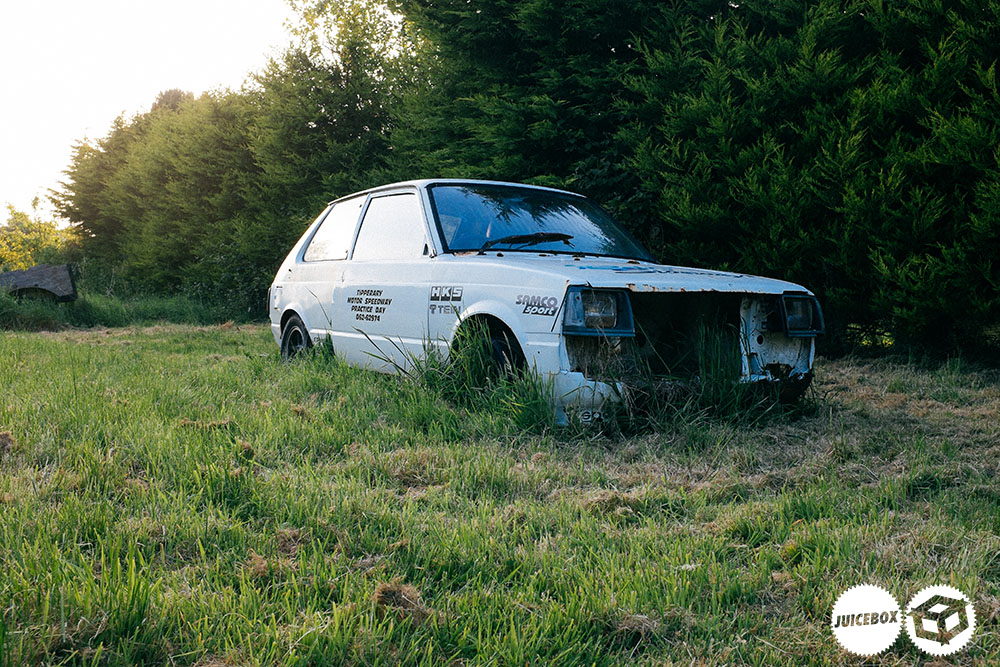 The starlet sits quietly along with Dans old English 200sx he used to compete in…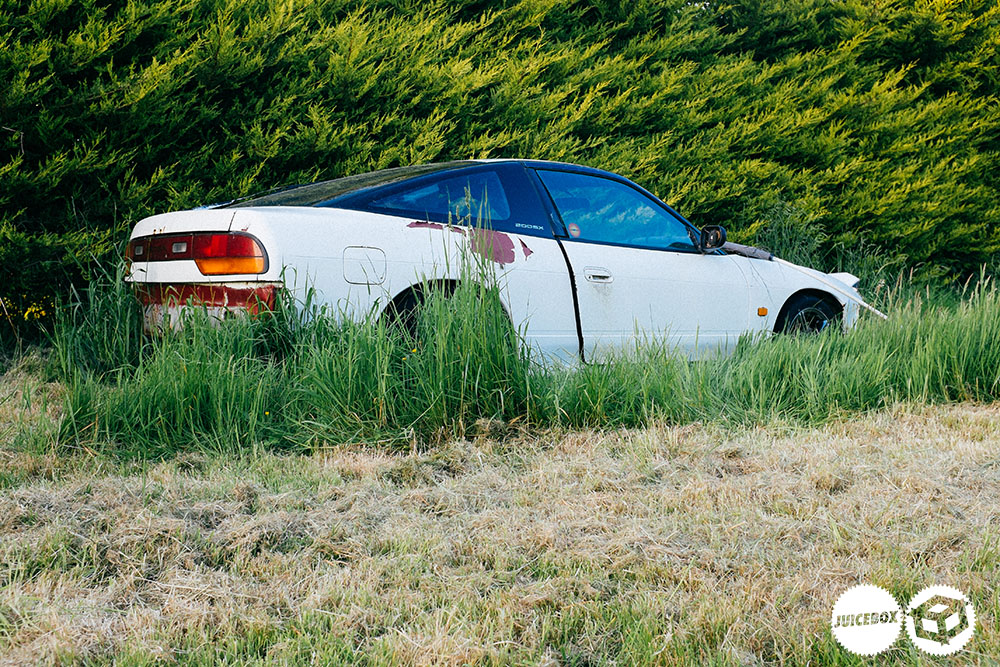 For some reason Dan has left a liquefied cat rot in the footwell of his 200sx, this is completely fucking metnal but hes quite happy to just leave this thing slowly rot away… I asked if he would ever take the cat out and he just laughed and said "maybe someday"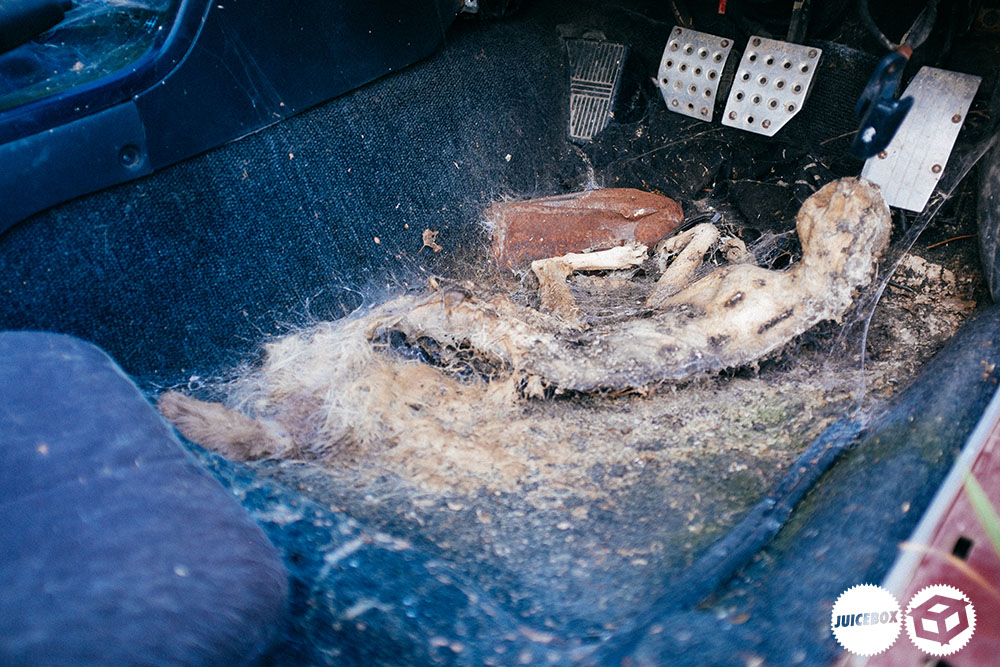 This has a fully built CA18 in it and doesent look that special at the moment but once ran the walls of Rosegreen.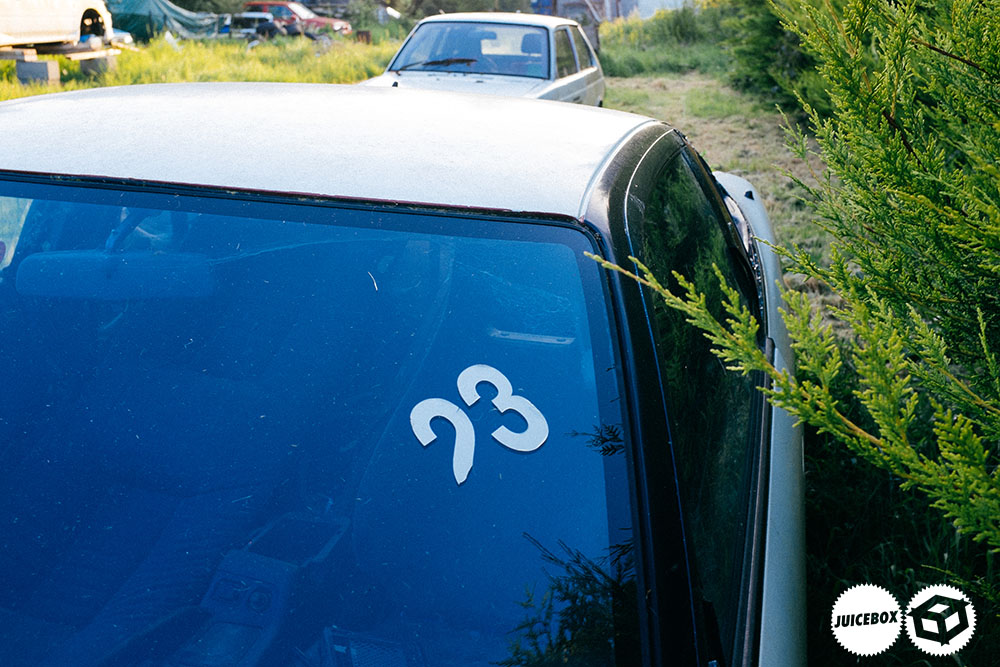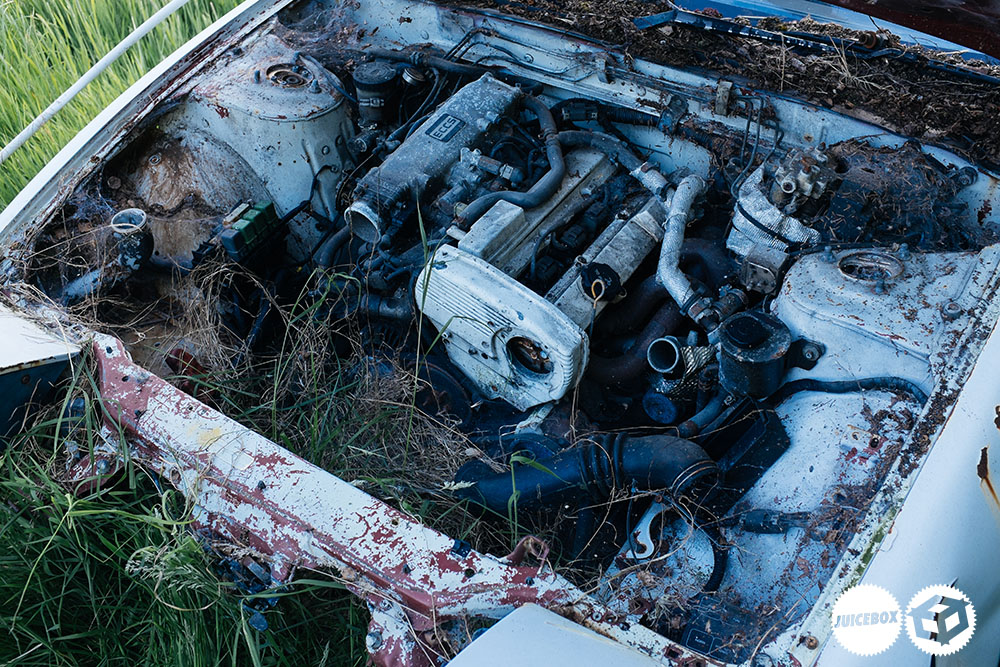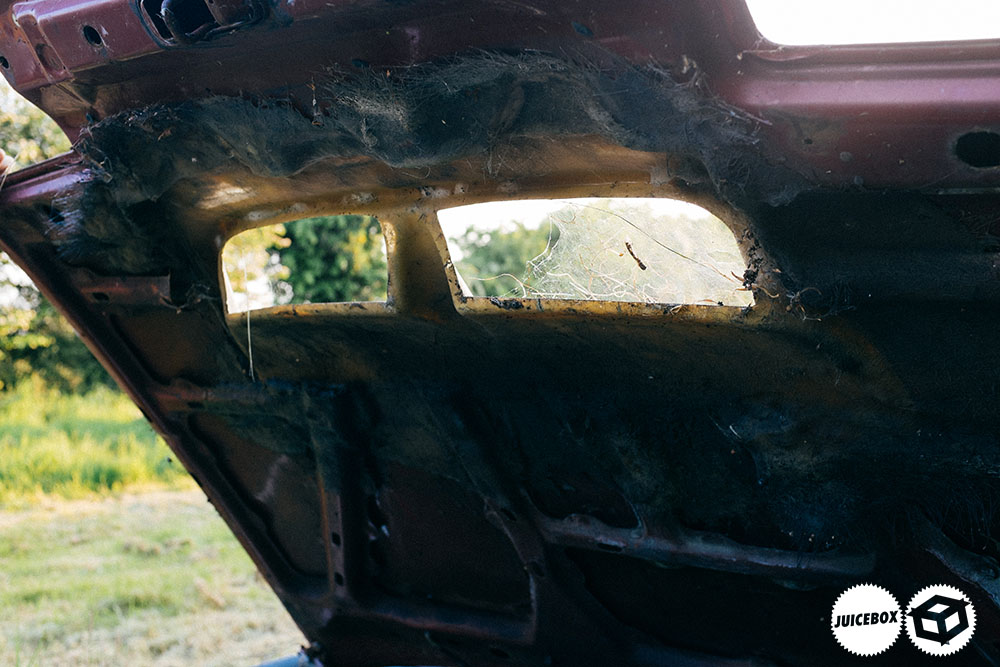 He even made his own custom bonnet long before this stuff was easily accesable, he bought the scoop in America and brought it back in a suitcase and hack fitted with some fiberglass, it actually looked pretty good.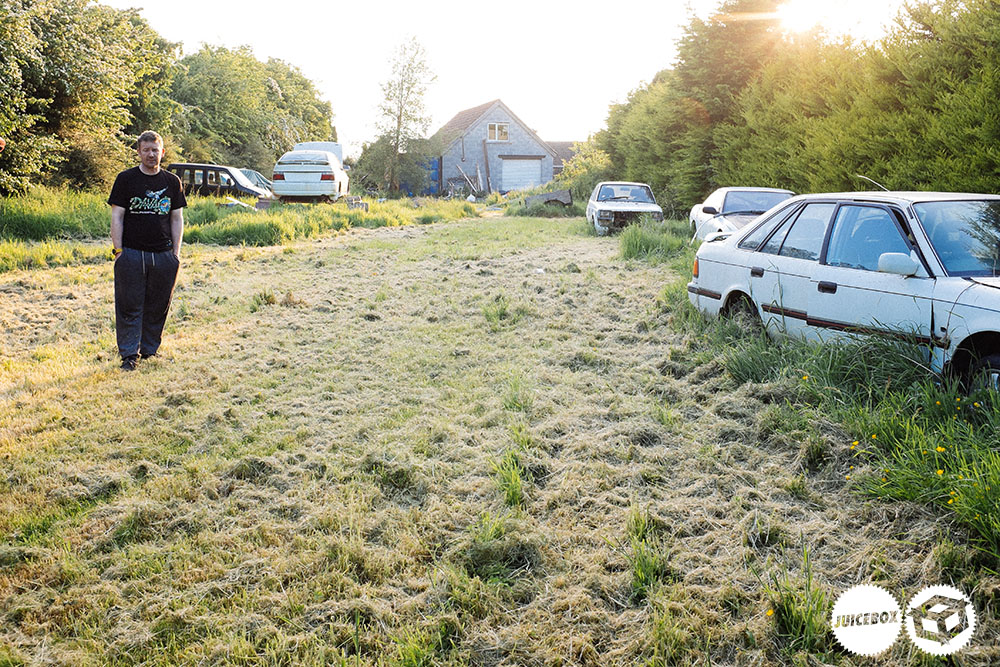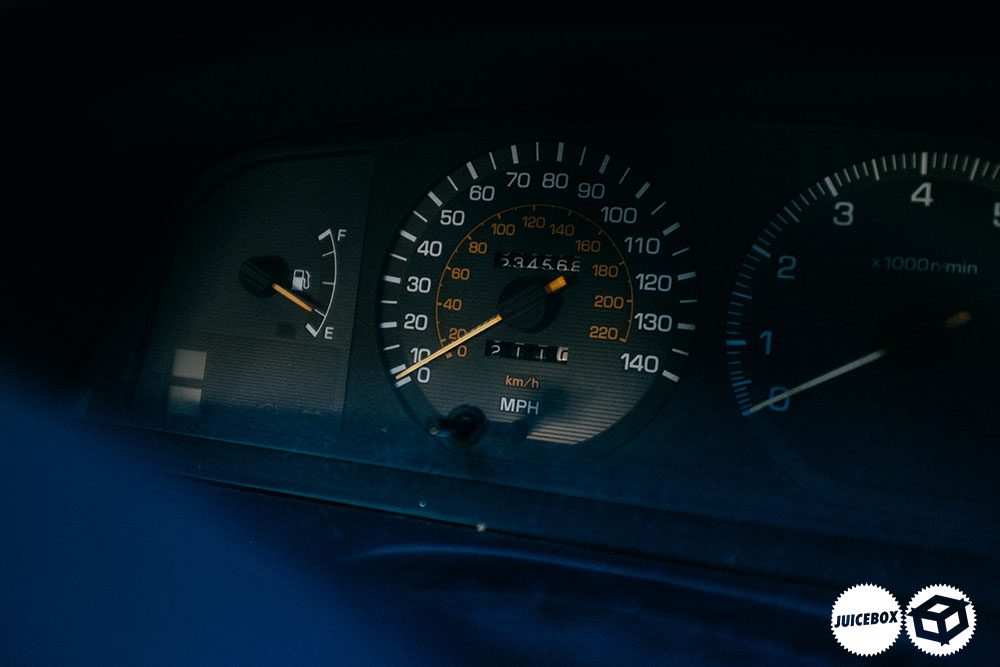 Everything in the garden has a story, we worked our way down to the Carina which has just under 250k miles on it.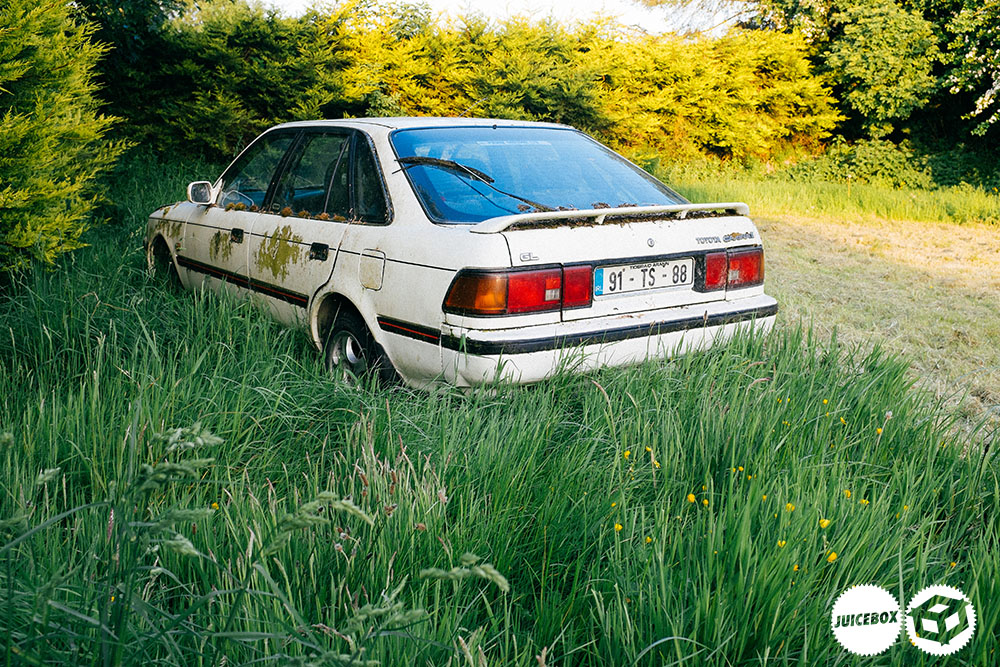 This now has a 20valve conversion and is also caught in limbo until Dan finds the drive to either finish or sell it on.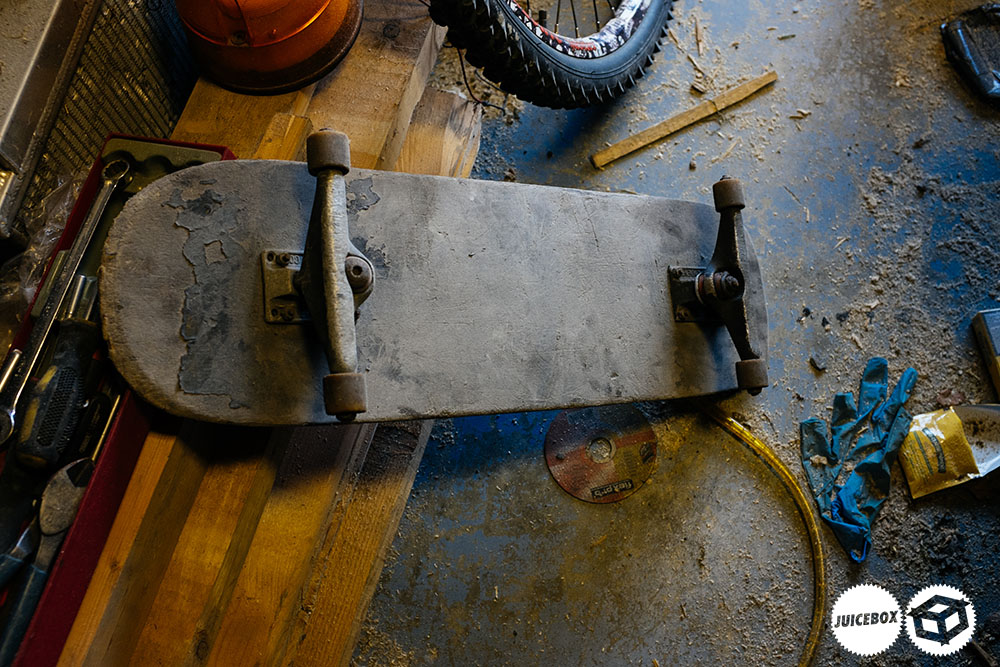 We took a peep inside the main shed, It was quite clear to me Dan hangs onto everything, this was his old skateboard from back in the day.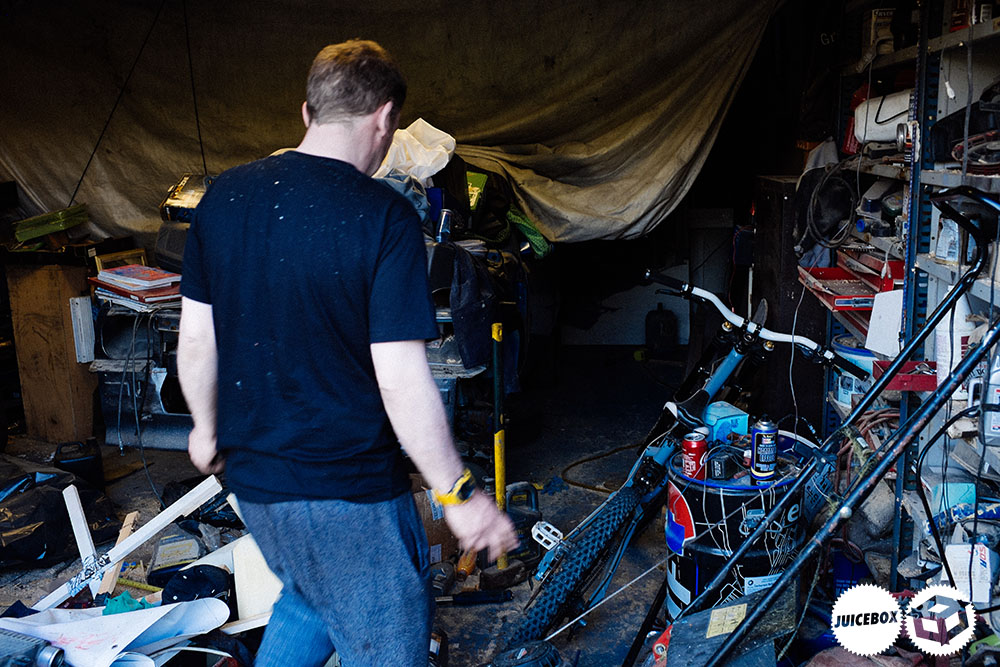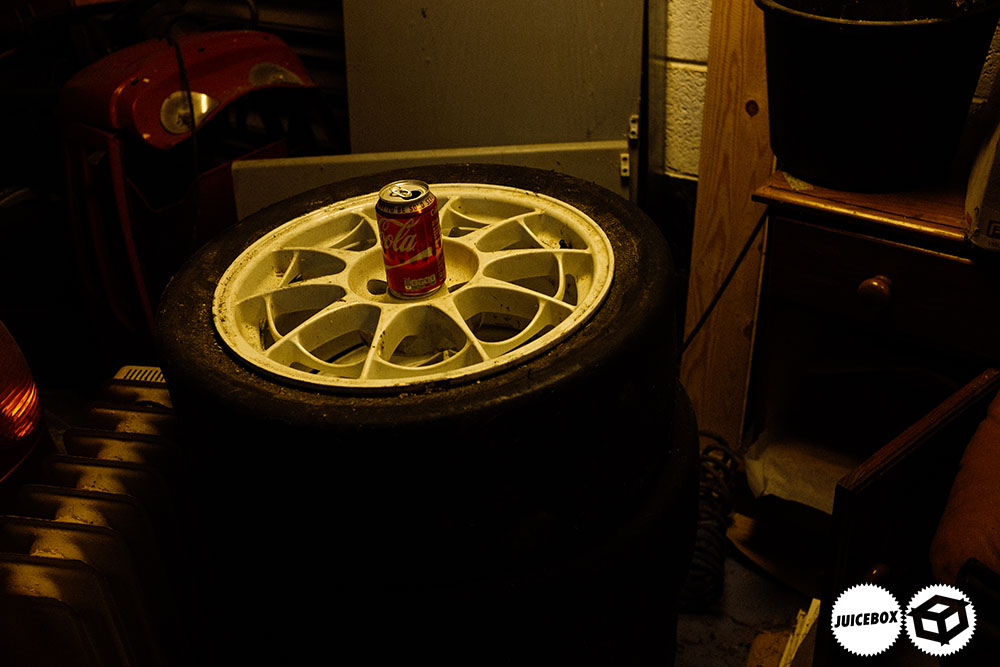 Some NT03's with slicks which were used on his corolla for chasing people down in Mondello.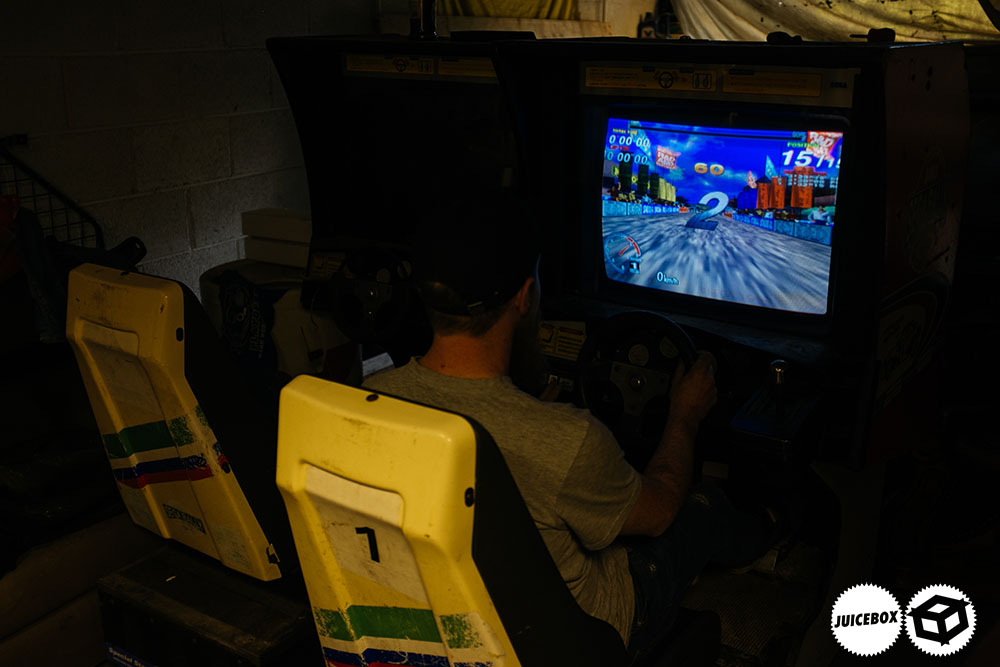 The perks of working in Mondello meant Dan had first pickings when this Sega Rally cabinet was being thrown out. He has been slowly restoring it over the last few years and ducks out for a few games every night.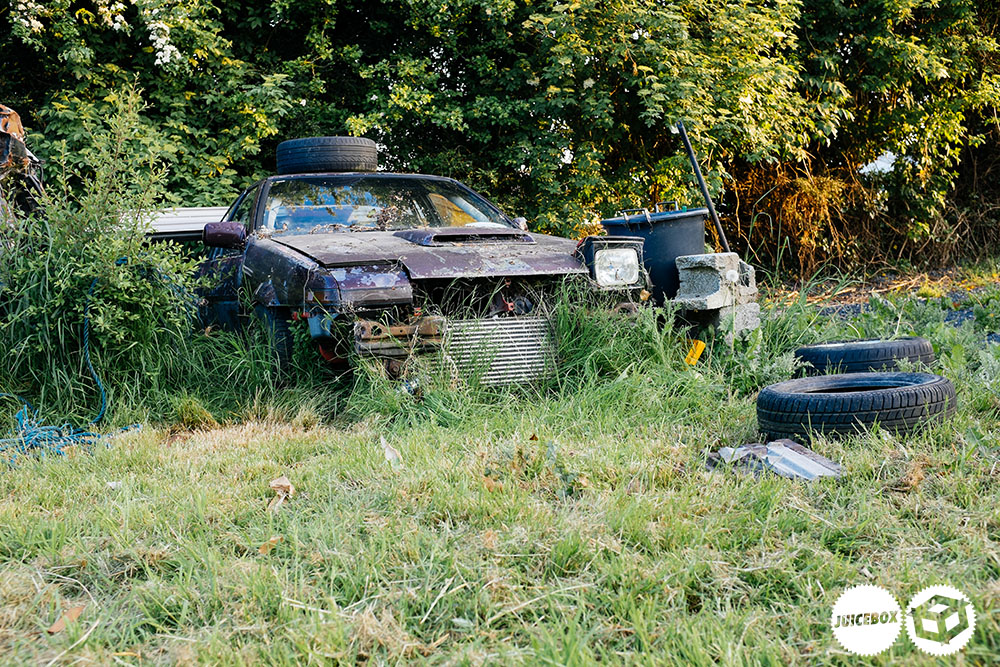 And here it is! The main reason we called into Dan was so I could get a look at this sorry looking machine. I had expressed an interest in buying the car and maybe re-shelling all the parts into my newly acquired 2 door shell. I had seen a few photos of it all the stuff stacked on it and couldn't believe my eyes.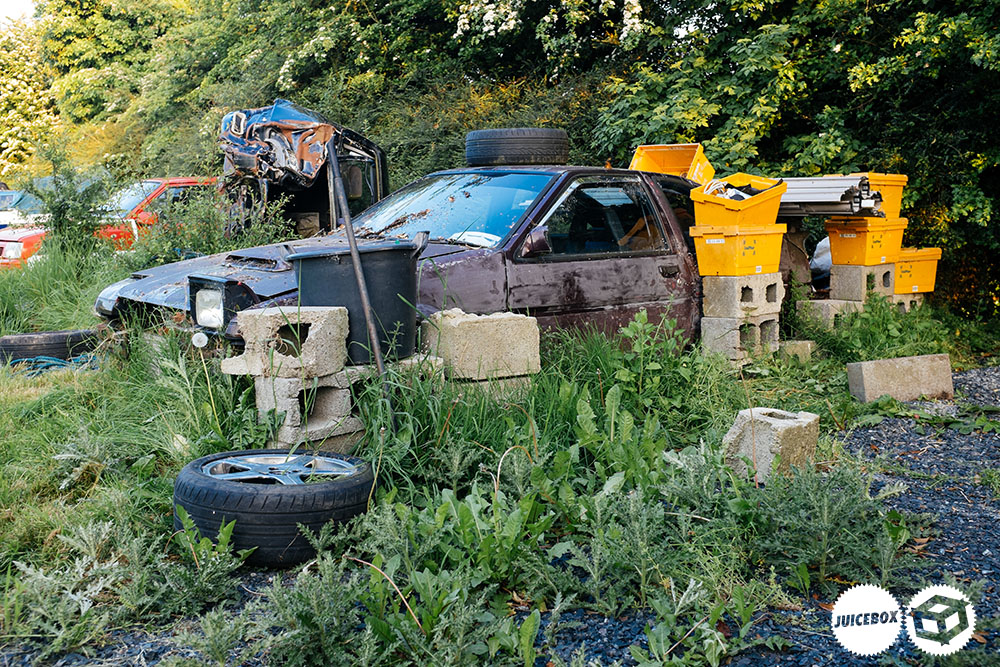 Dan had decided to start storing stuff on top of the car and slowly burying it in bricks and odd parts! Maybe he wanted it to slowly go away!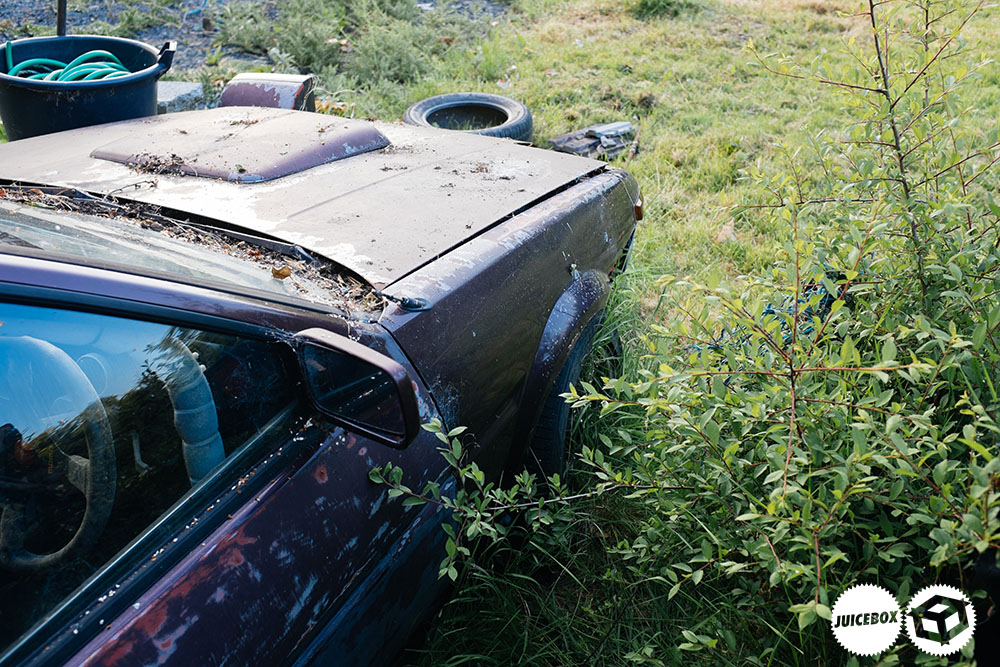 I was nervous enough to commit to this as it was hard to know what condition this car was I'm. I had a look around but couldn't really take a proper look. I was a little wiped out at the fact dan had left this 87 Trueno to slowly decay, especially after I had been lusting for one for so long, but I could understand.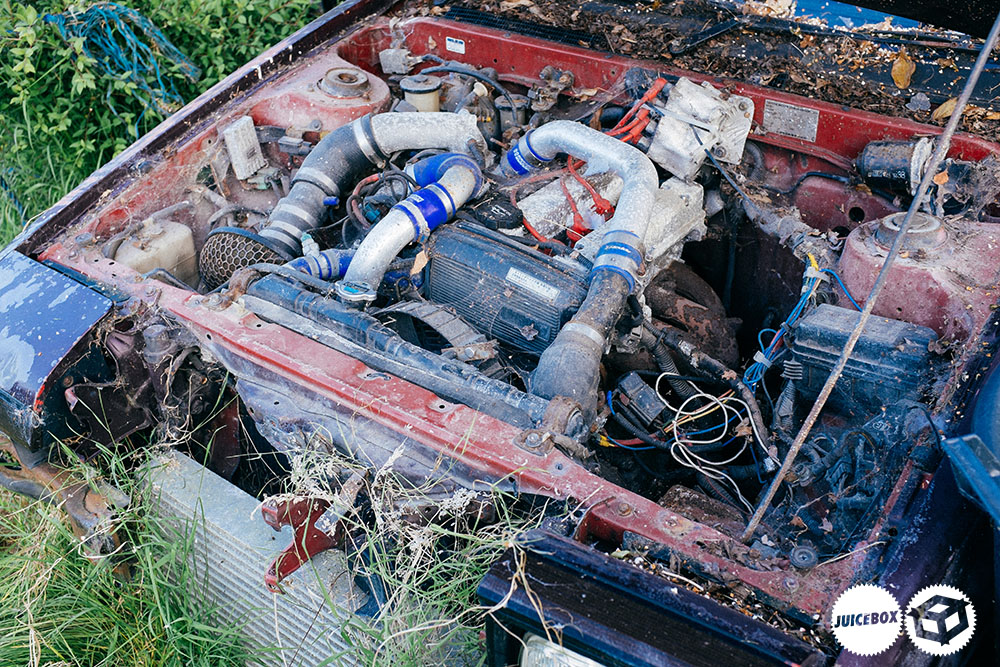 Everything was there, and everything was covered in nature, it looked pretty bad but I knew a lot of this was salvageable. I kept snapping photos because the only other place you would see a Trueno left like this would be in Japan.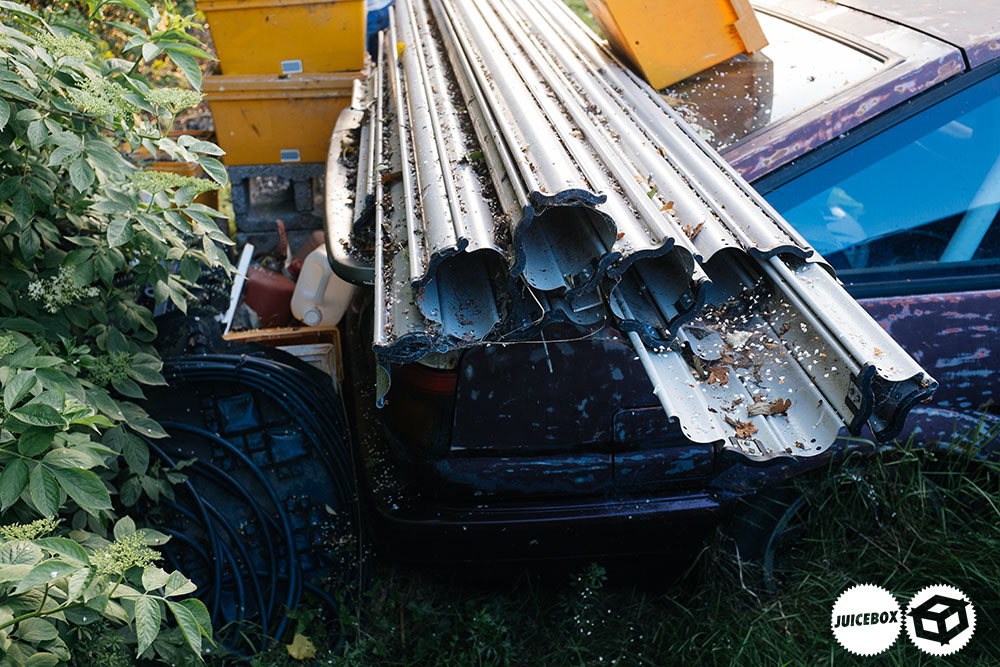 It was just as fascinating as it was nerve wrecking, Dan quite literally lost all interest but wasn't to keen on leaving his collection go, he figured he would get around to it again some day but was about to get married.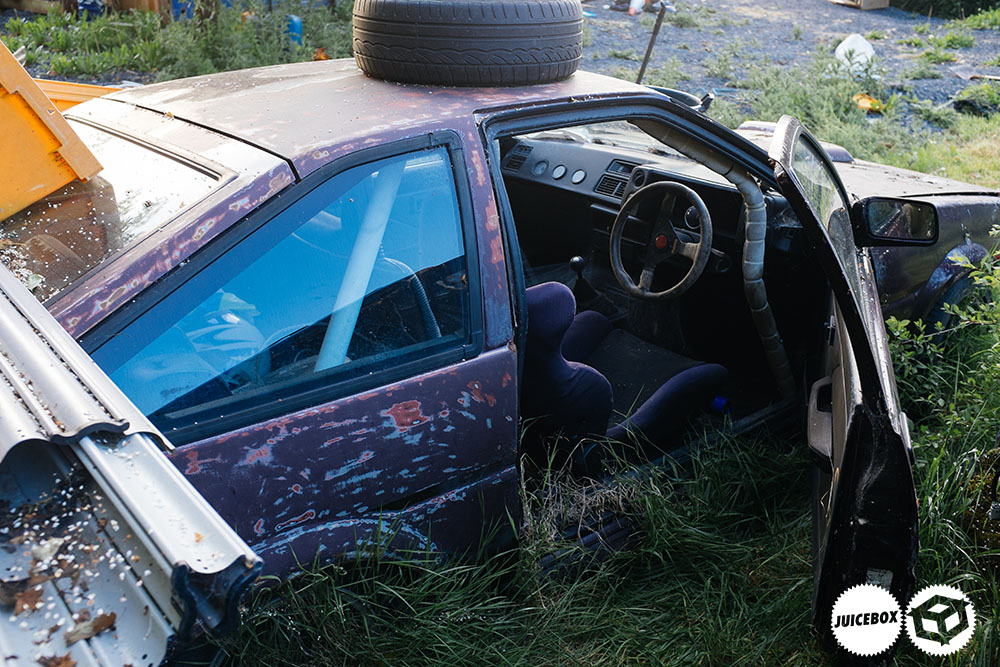 He isn't to keen on selling stuff as you may have noticed, but after chatting back and forth for a week or two, he decided if anyone was going to have it, he would prefer someone who was going to keep it and possibly try to restore it take on the ownership. The fact I had never had one, Dan wanted me to enjoy the misery and so I could get it out of my system, or be doomed forever.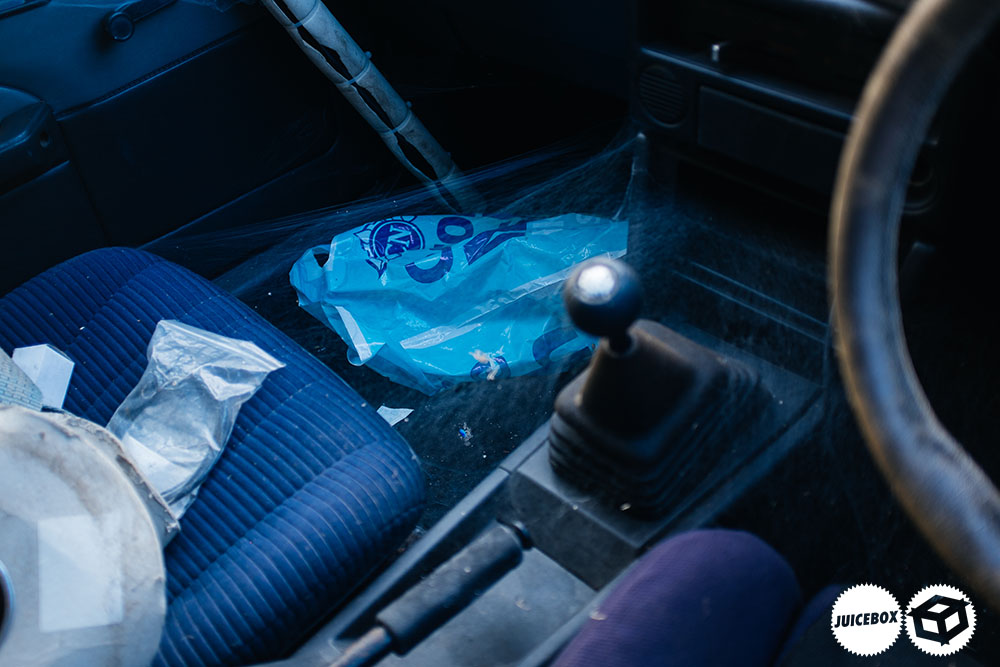 Nature was doing its best to consume this once Nimble triangular machine. Seeing grass attacking a Trueno, along with its cage seats and all sorts peeping out at you is something you don't see too often.  The car has a nice collection of webs too, and further, down the road, we met the spiders who made them, but that's another story.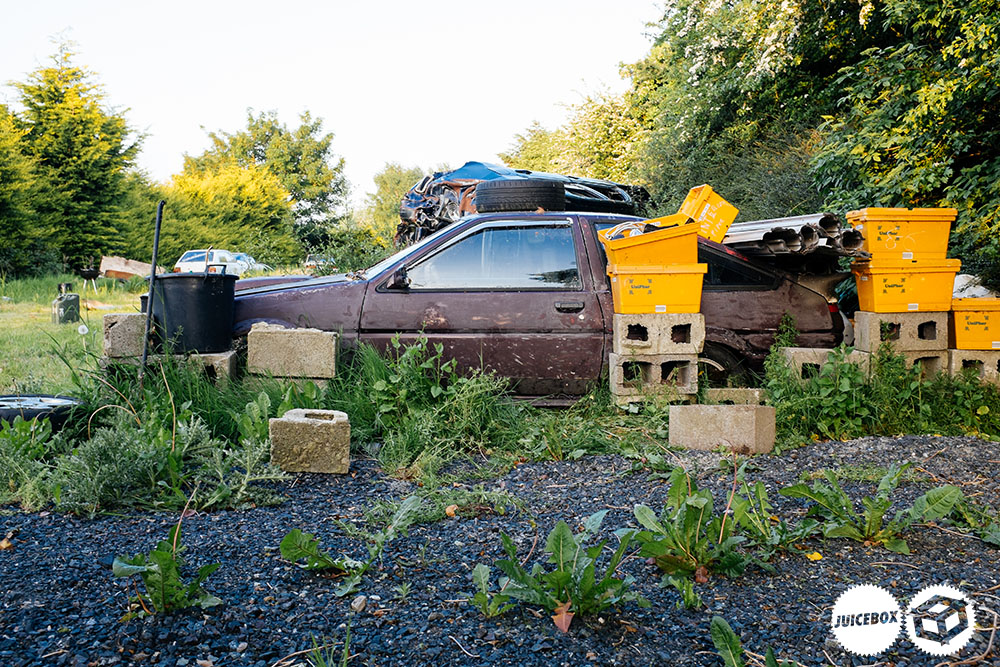 I stood back and grabbed a few more shots, photos I would study over the next few weeks as I thought about making this car my own before I hit the credit union for a loan and under took the task of rescuing and resurrecting this AE86 Trueno, my so called "dream machine"…
These photos still fascinate me, its not often you come across a site like this in Ireland let alone on the web. I knew that beyond the bricks, the cobwebs and the dodgy paint and crust was a car waiting to be loved once more.
Stay tuned for the Video blog on this beauty coming next week…
Comments
comments
Powered by Facebook Comments