Against the Grain: Flips RX8
I remember when Flip moved home from Australia and told me his automotive plans. He was a die-hard Honda fan, and I was expecting something along those lines. The idea to build an RX8 struck me by surprise, I really didn't know what way to take it.
Id would consider myself a pretty opened minded individual when it comes to cars but the first thing I said was "really? An RX8?"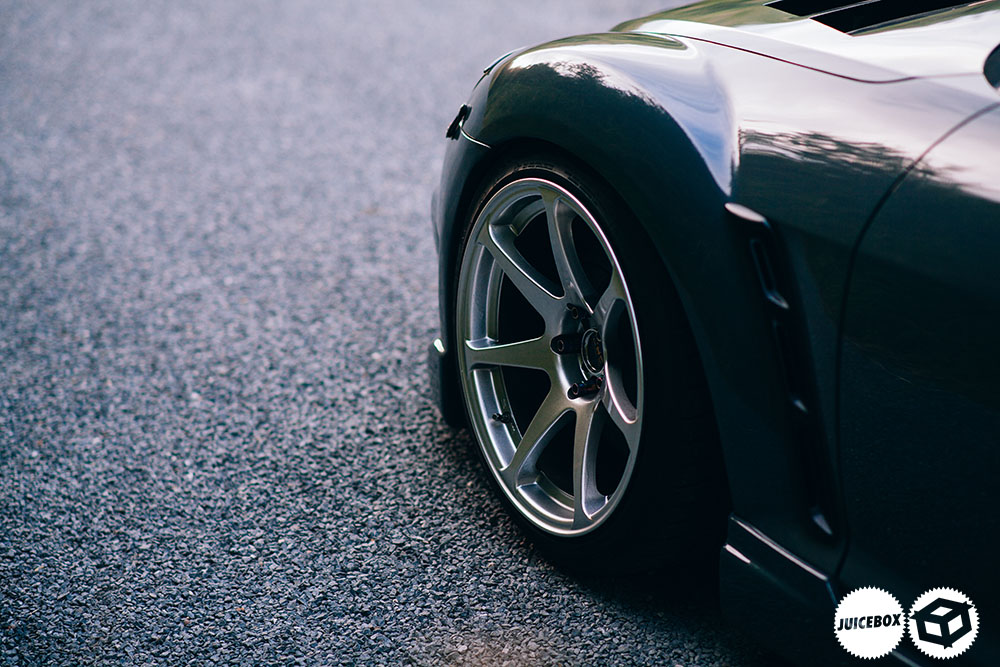 Lets just put it out there, the RX8 is not the best-looking machine in its original form.  The standard wheels are nothing short of hideous and the ride height does absolutely nothing for those curves. Its true that many cars are pretty mediocre in standard form but the eight is exceptionally bad.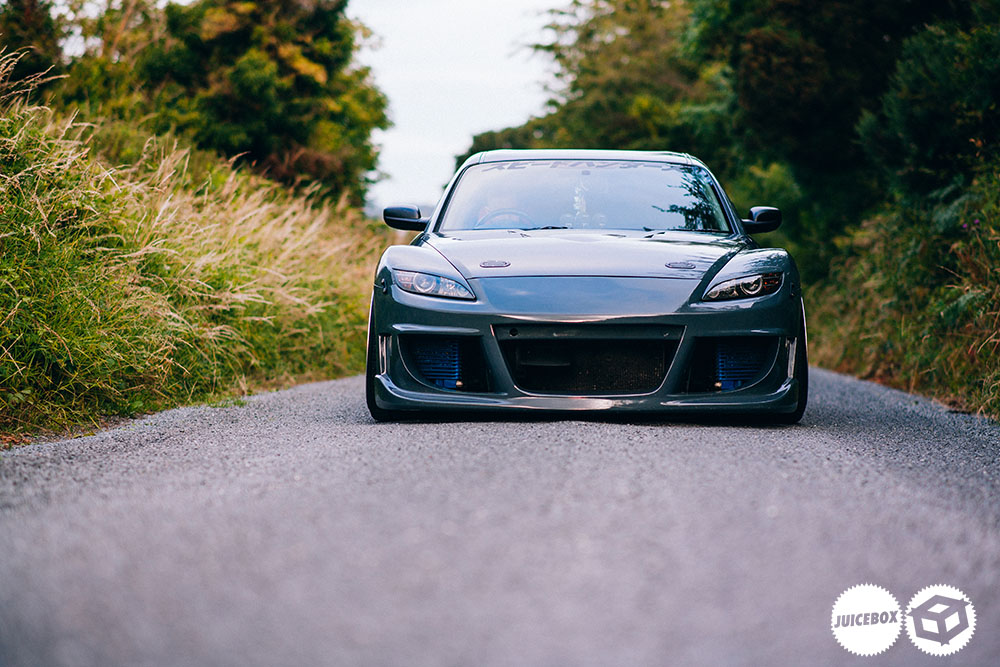 I used to frown at the RX8 thinking how could they? How could Mazda go from the RX7 to this?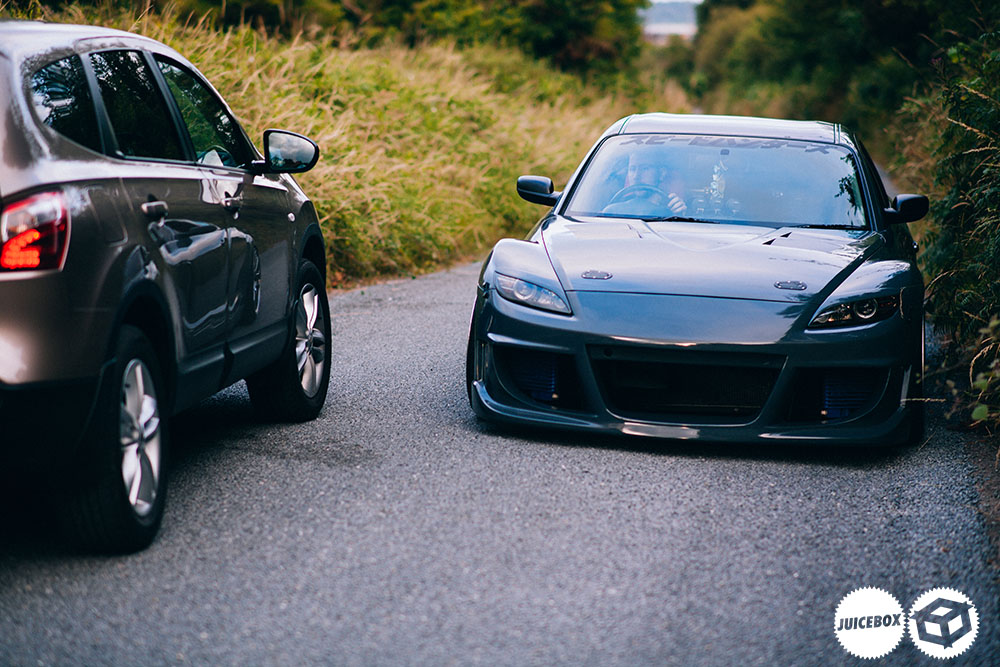 It wasn't until I started paying attention to what Flip was saying did I realise the hidden potential waiting to be unlocked. I have respected Flips decisions with cars for as long as we have been friends. He's always had something nice and would be someone's opinion I would respect when it comes to what looks right.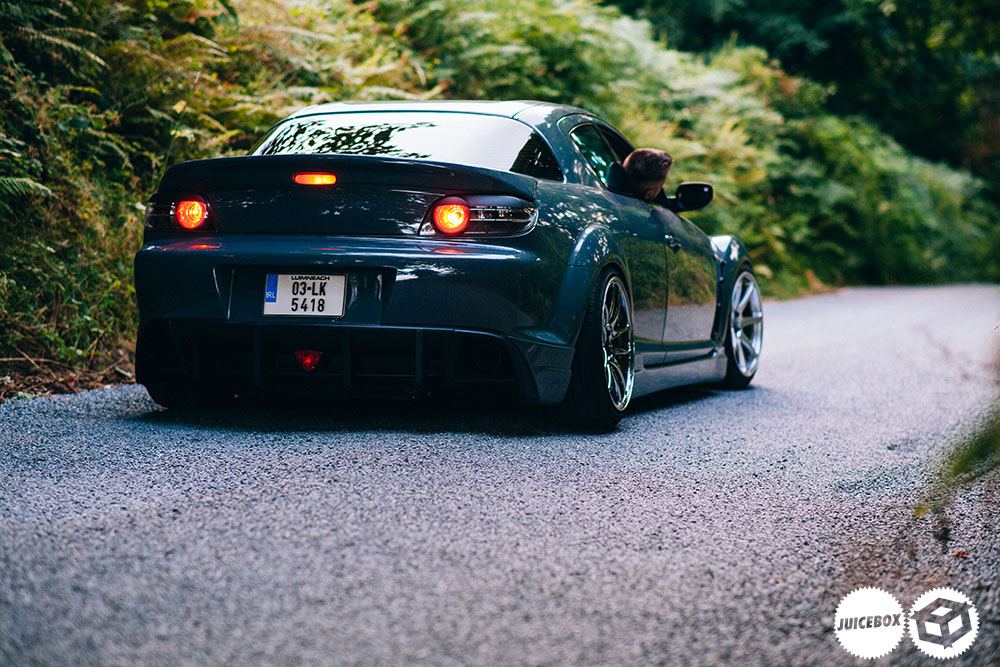 I'll never forget the first few nights he owned the eight, bear in mind I hadn't really looked into these cars online (foolishly) and really couldn't see what where he was going with this.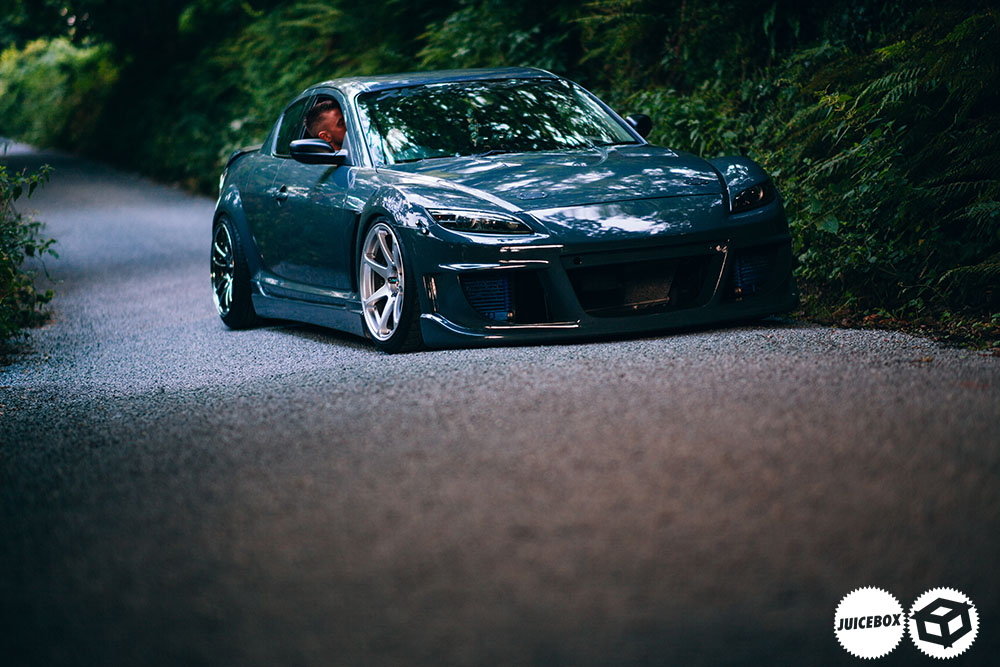 I don't know what it is about a car having a closer relationship with the ground but once this thing was slammed it caught my attention. The RX8 is one of those cars that owes everything to a set of coilovers and good wheels. The car slowly took shape, Flip casually tipped along at the start picking pieces up here and there.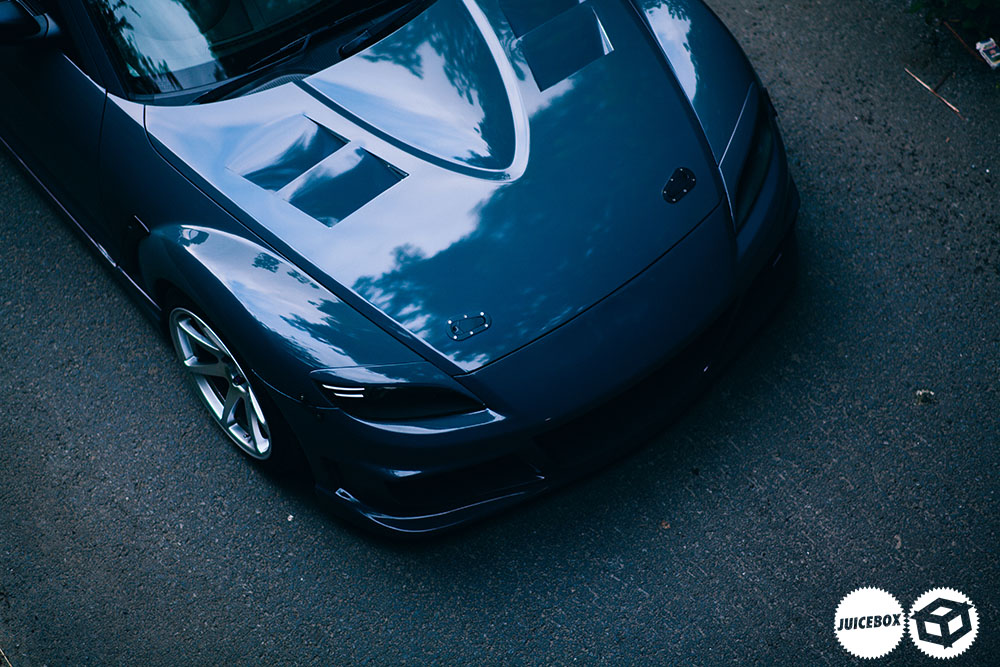 After Flip installed some BC suspension, he set about finding a nice set of wheels, the CST hyper was a relatively untouched wheel in Ireland at the time and I think they were a wise choice.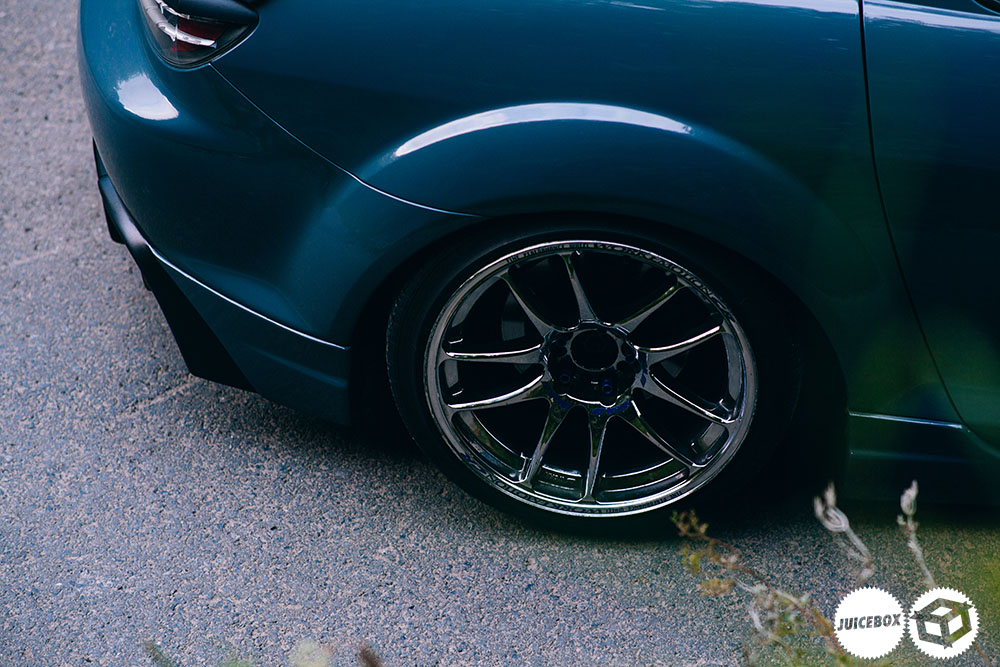 Soon after Flip decided to freshen up the paint, going for a Lamborghini grey it and painted the CST's silver.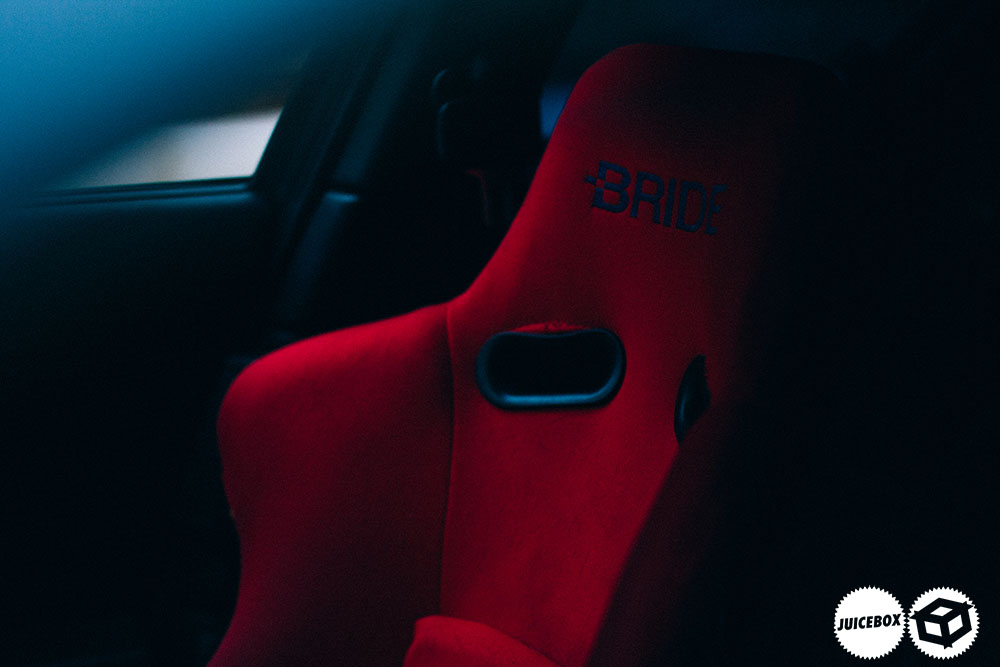 I was starting to get excited about this car, I felt like my mind had been broadened and I was curious to see what would come of this thing next. Flip managed to secure a classic Zeta two from close friend Reuben which really pops against the dark interior. Inside some Greddy gauges were fitted and a Nardi Classic adds a bit of old-school flavor to the cockpit.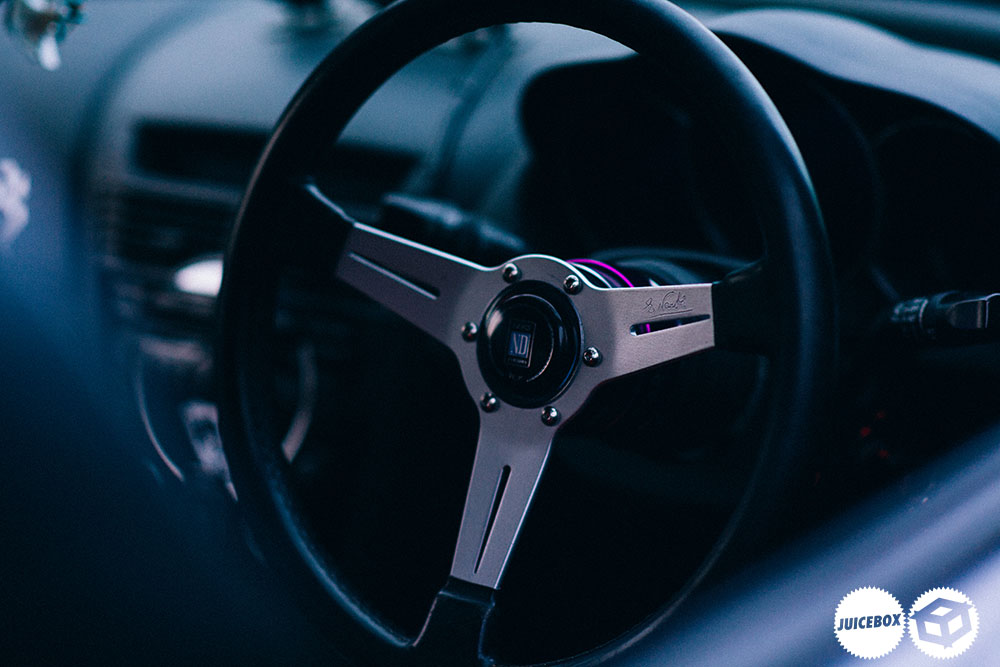 Fast forward a year or so and the car was featured on Speedhunters with a mega wing a nice front lip and that was that. Flip was happy with the feature and the recognition but I knew he had more to give with this thing, he was nowhere near finished.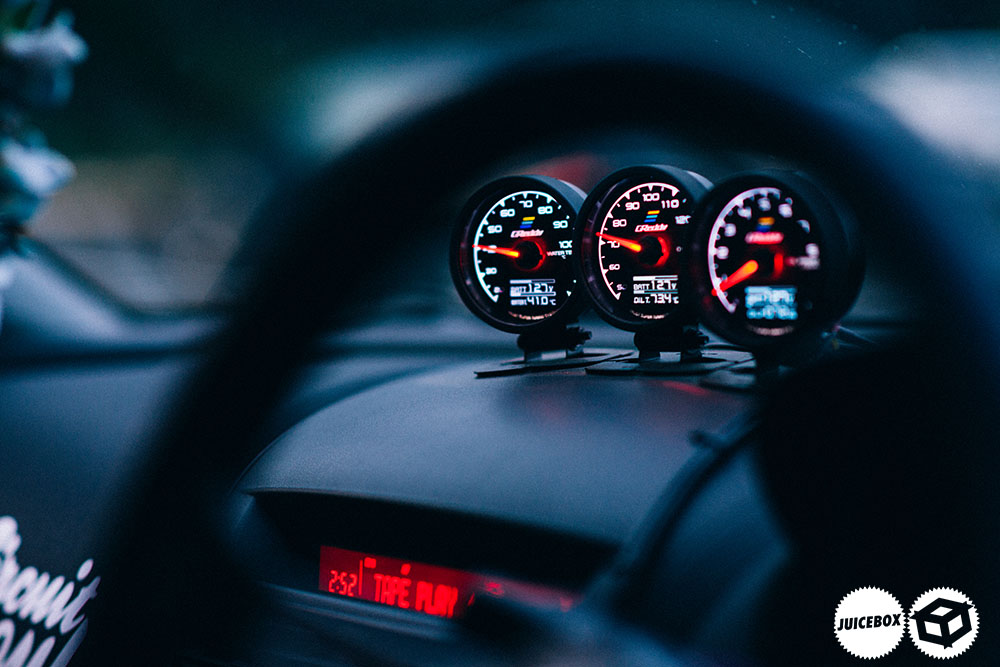 Already thinking of changes to the exterior, not so long after he tracked down some side skirts and rear spats from Ings. This is where my love for this RX8 grew fonder, these cars were made to have Ings skirts!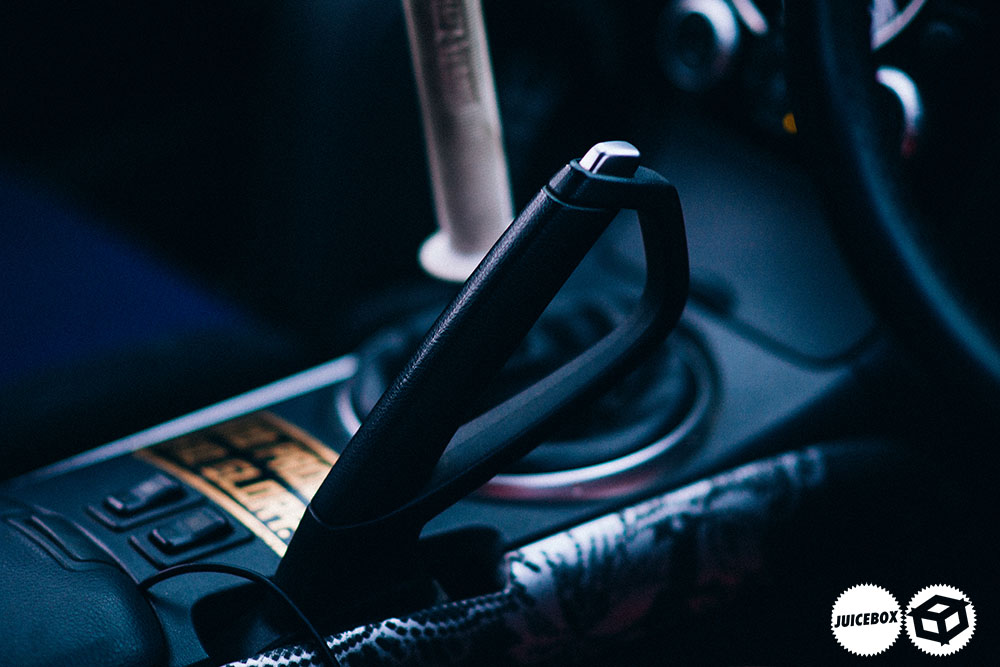 An Ings front bumper was proving hard to come by.  A bumper designed by a company called Ambax in Europe looked very similar and was sourced and fitted, it really cleans up the front end and works superbly with the Ings kit.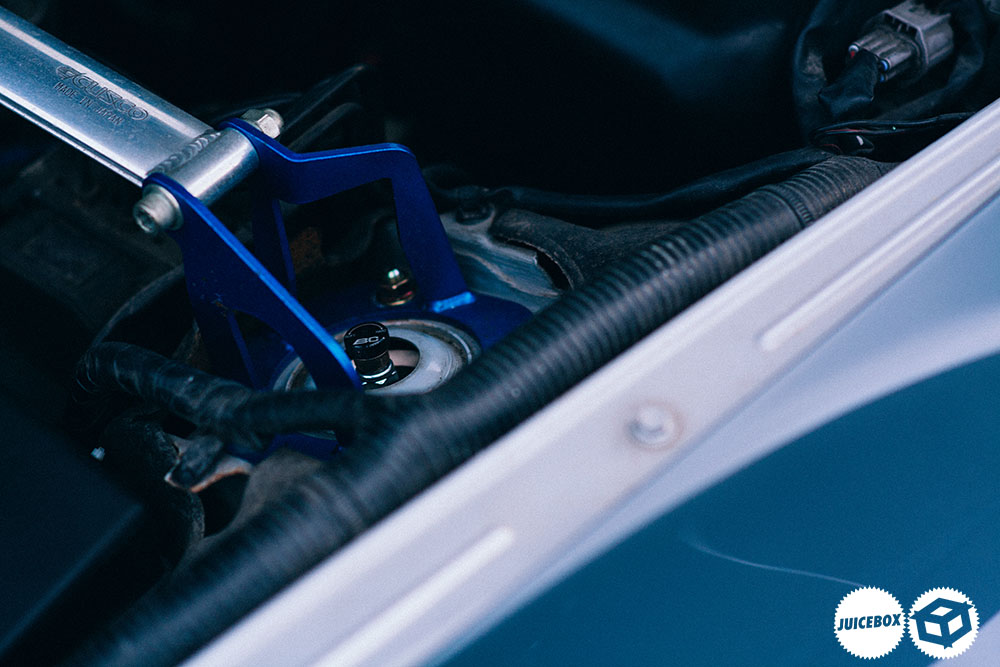 Flip's mission was to build something he would accidentally stumble upon Japan, a car you would find on the internet and right click and save as, something that looked as un-Irish as possible. After a recent trip out there he was back with bucket loads of ideas and enthusiasm. With the new aero installed he decided to go for a mismatched wheel setup and sourced a set of chrome CRK-AI's for the rear.  The roof was treated to a holographic flake and he kept winding that suspension down a few clicks…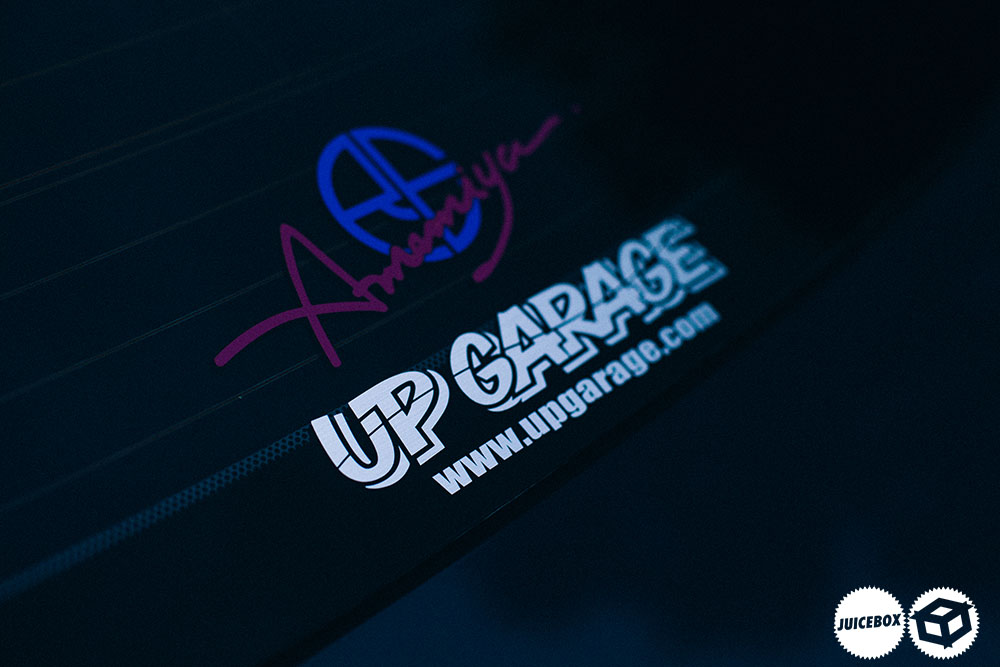 An Ings rear boot spoiler was fitted, the windows were tinted and a rear diffuser was added. Subtle extras like the Chargespeed wing vents are a nice touch. Flip is the kind of person who nerds out about a single stickers placement on a car, often spending hours choosing a location. Its that attention to detail that helped with such a build.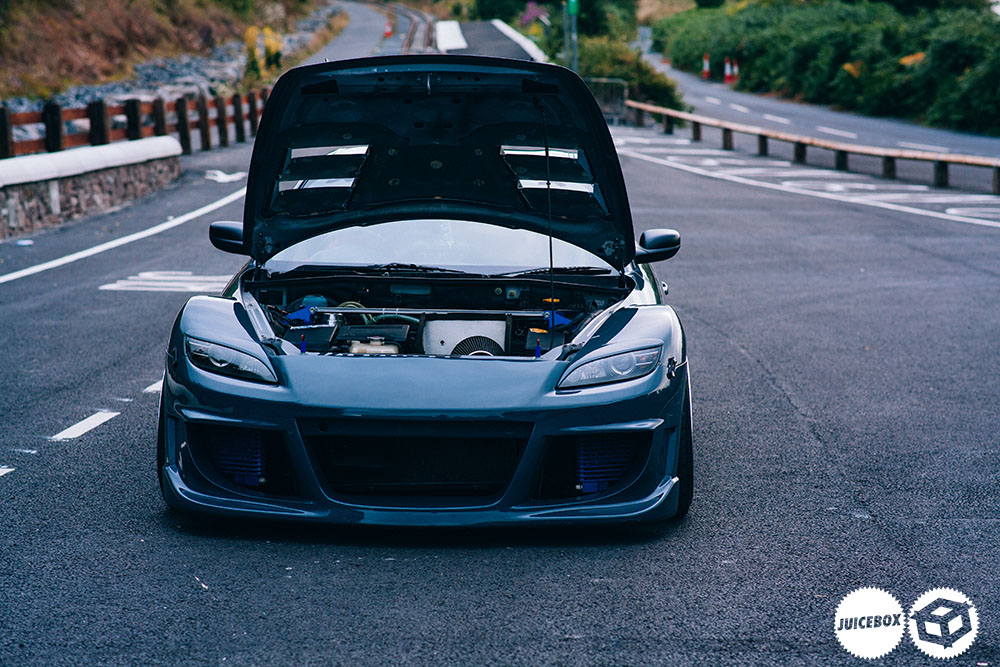 The engine was sent away to be rebuilt, and a few choice mods were added when it returned, under the hood things have remained relatively stock and reliable as Ireland knowledge for the Rotary engine is somewhat limited. We tend to be afraid of these things.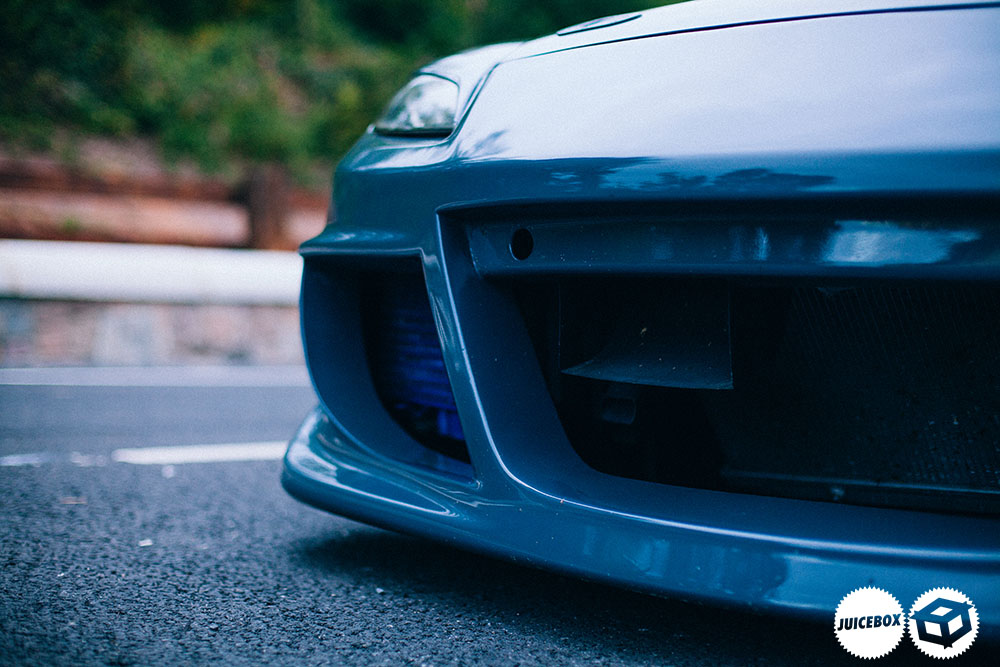 A Nakamura racing cold air feed was located and fitted, randomly a Fujitsubo Legalis R Exhaust came up for sale for peanuts. The car has a very nice note, its reliable looks awesome and drives well.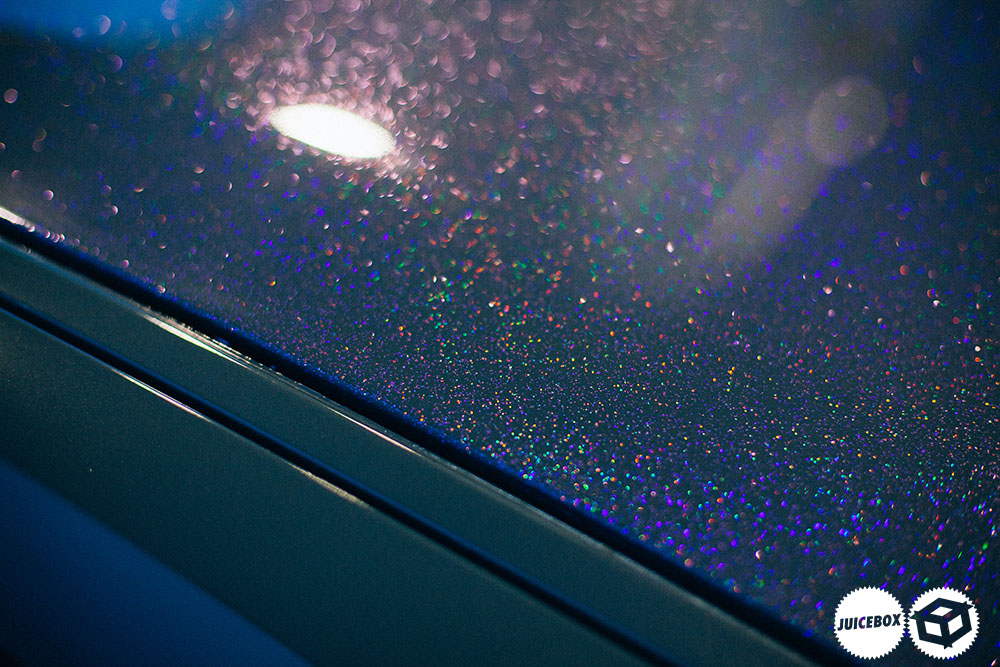 We take so much inspiration from Japan, always trying to create a car you would see in a Japanese magazine or on some random blog, many of us are always chasing that look and I really think he has nailed it here.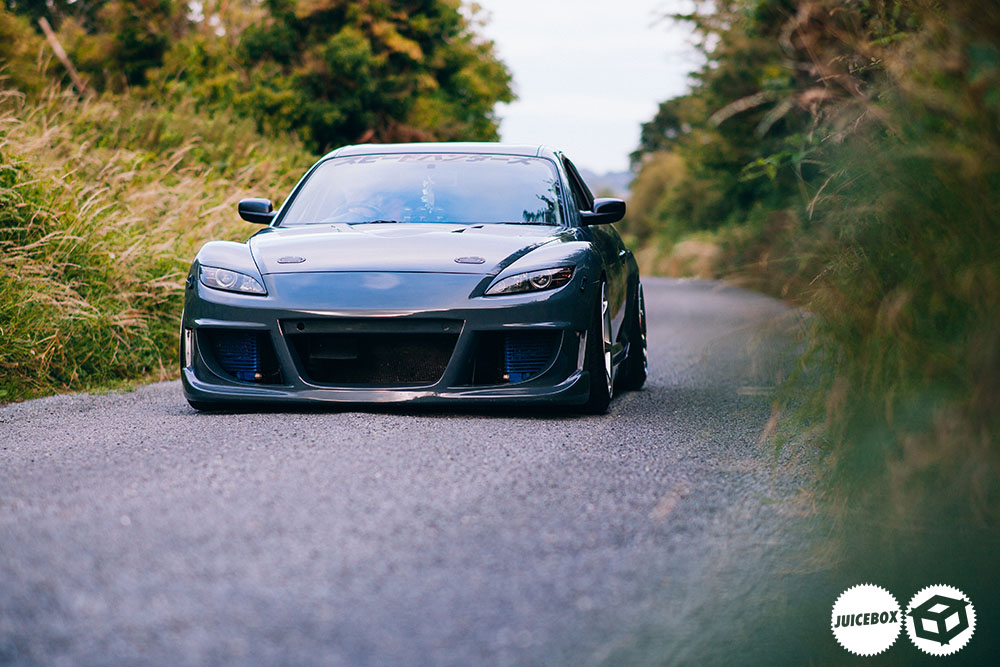 I've gained such a huge appreciation for the RX8 after seeing what potential can easily be unlocked. I dragged Flip down some dodgy roads for this shoot, the car was scraping and beaching and it was a complete waste of time but we every second of it loved it, the car looks incredible.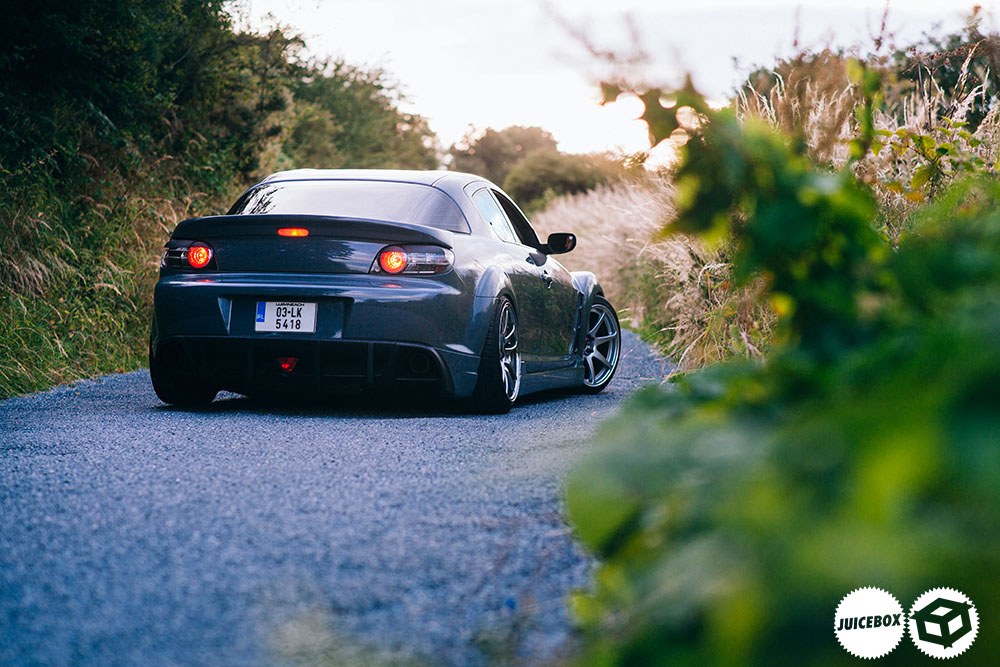 This car started its life as a regular awkward looking RX8 but I'll have to take my hat off to Flip for really going against the norm and choosing a lesser loved chassis, especially in a country like Ireland where this kind of thing does not happen, we have so many other cars at our fingertips the RX8 would probably one of the last cars on the list.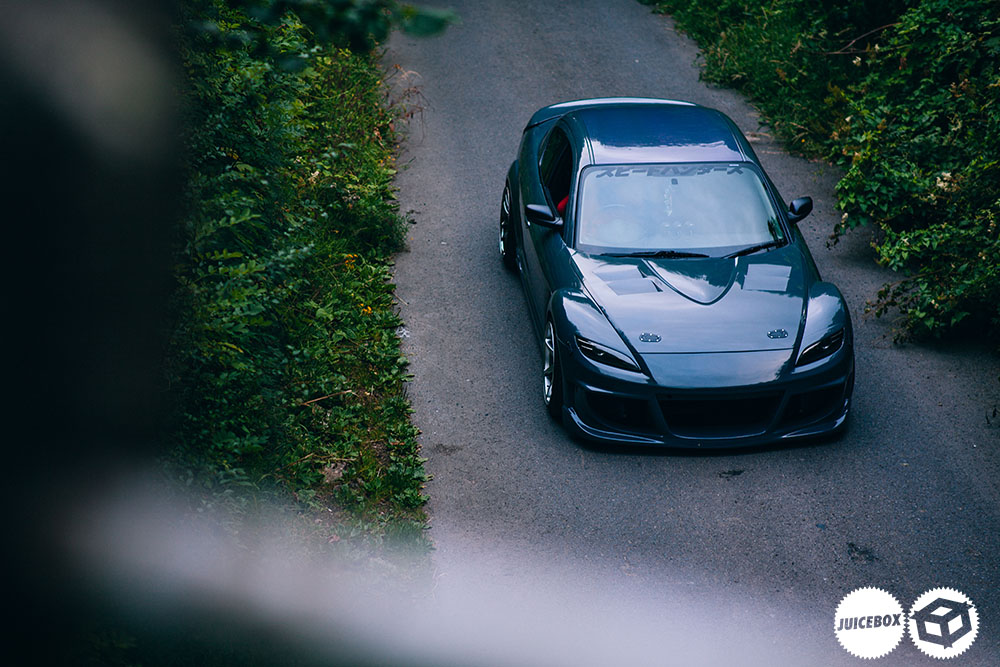 Even Flip will be the first one to admit the RX8 is somewhat of an awkward car, but at the right angles, and with the right parts the car can be transformed into an absolute stunner. This shot really does it for me, the hinted Rotary shapes which are incorporated into the bonnet, which Flip has complemented with his own DIY vents.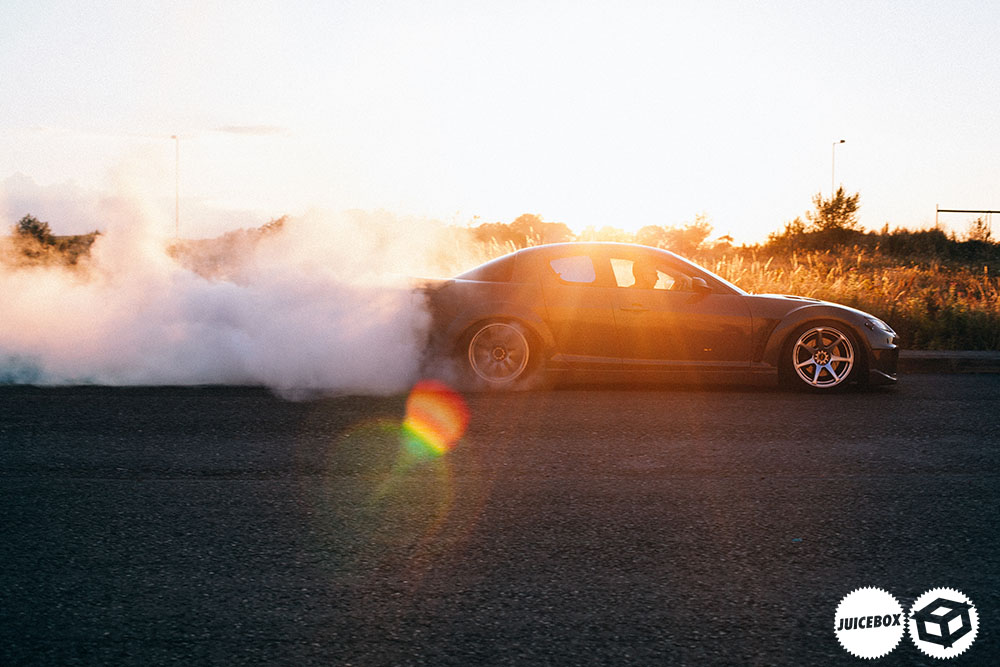 For now Flip is happy, this might be the final version of this car's appearance, who knows? I'm just glad he took an unloved chassis and showed people what was possible when a bit creativity and persistence is applied.
Its de-badged, people usually wonder what it is, the die-hard rotary guys aren't really into it and the rest of the car scene approach with caution and eventually applaud him for forcing them to think twice about the RX8! At the end of the day, its builds like this that make the car scene an interesting place to be.
Engine:
Rebuilt 13b-MSP.
Re Amemiya oil filter.
Sandwich plate.
Blitz air filter.
Blitz cold air box.
Nakamura racing cold air feed.
NGK plugs and leads.
Mazdaspeed rad cap.
Mishimoto alloy rad.
ACT racing clutch.
Oil catch can.
Intake breather delete.
Motul 75-140 gear oil.
Project mu drain plug.
Toyo sport stainless manifold.
Custom stainless decat.
Fujitsubo Legalis R exhaust.
Suspension:
BC racing 8/8kg extra low coilovers.
Cusco strut bar w/ master cylinder brace.
CST hyper zero 18×9.5 +15
Work CRkai (chrome) 18×9.5 +12
Titan extended wheel nuts.
Kumho Ecsta ku36 and ku37 tyres.
Drilled and grooved discs.
Mintex pads.
Exterior:
Fully resprayed in Lambo grey pearl.
Roof painted in a holographic flake.
Abmax front bumper.
INGS skirts. INGS rear spats.
INGS boot spoiler.
TK style aeroworks rear diffuser.
Kei office eyelids.
Custom vented bonnet.
Aero catches in bonnet.
Custom oil cooler ducts.
Chargespeed wing vents.
Masked rear lights.
Rear fog light strobe.
Bumper to wing stays.
Interior:
Nardi steering wheel.
Bride Zeta 2 driver's seat.
Evo 7 Recaro passenger seat.
Engine fan switch.
Razo pedals.
BMX custom shifter.
Chequered floor mats.
Aux cable built into the stereo.
Broadway mirror.
Greddy gauges x4 (Oil pressure) (Oil temperature) (Water temperature) (Vacuum)
Custom painted centre console.
All interior lights changed to LED.
Rear windows tinted chrome.
Comments
comments
Powered by Facebook Comments