Juicebox in Japan: Koguchi Power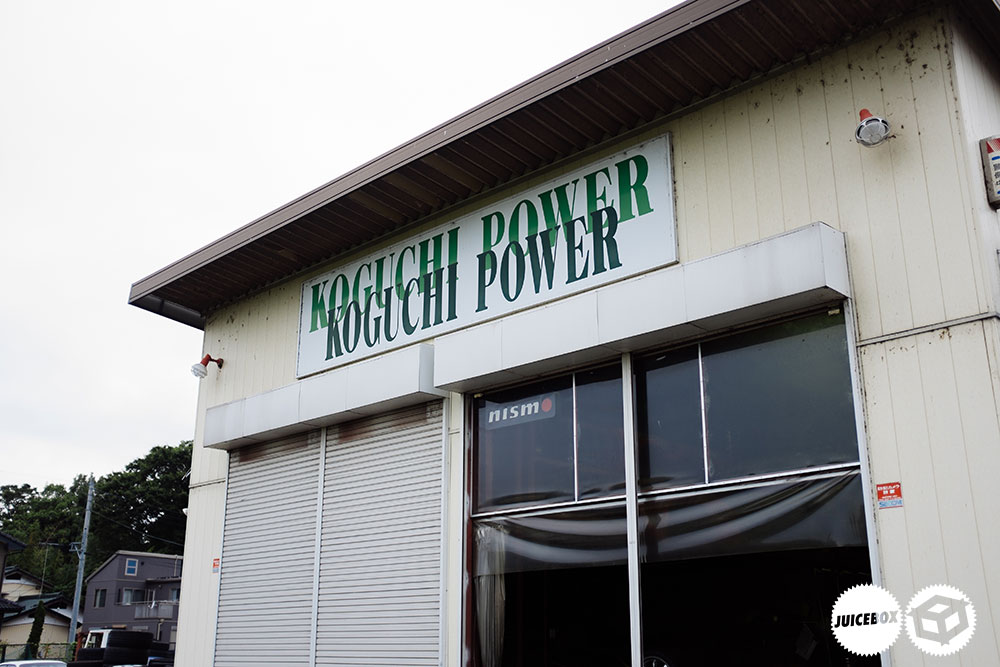 Koguchi power was a such an unplanned part of this journey. I was briefly trying to find this place but was completely overwhelmed by our Japanese markers on google maps and gave up.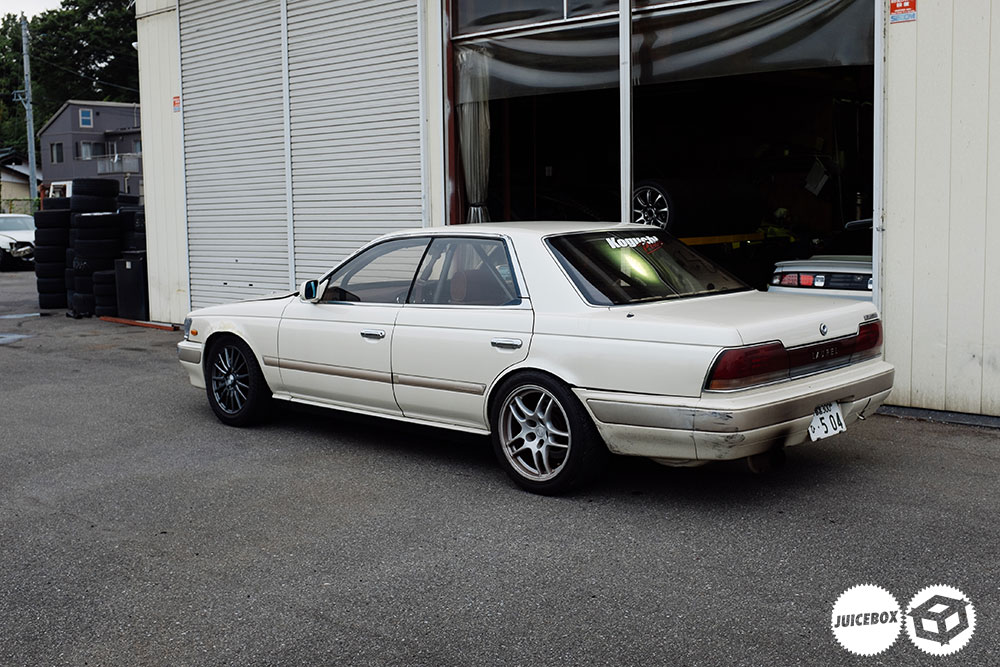 Spotting this shop was one of the funniest moments on the trip. We had finished up for the day in N-style, and were exhausted, driving from Ebisu to N-style and then on to Utsunomiya for some rest.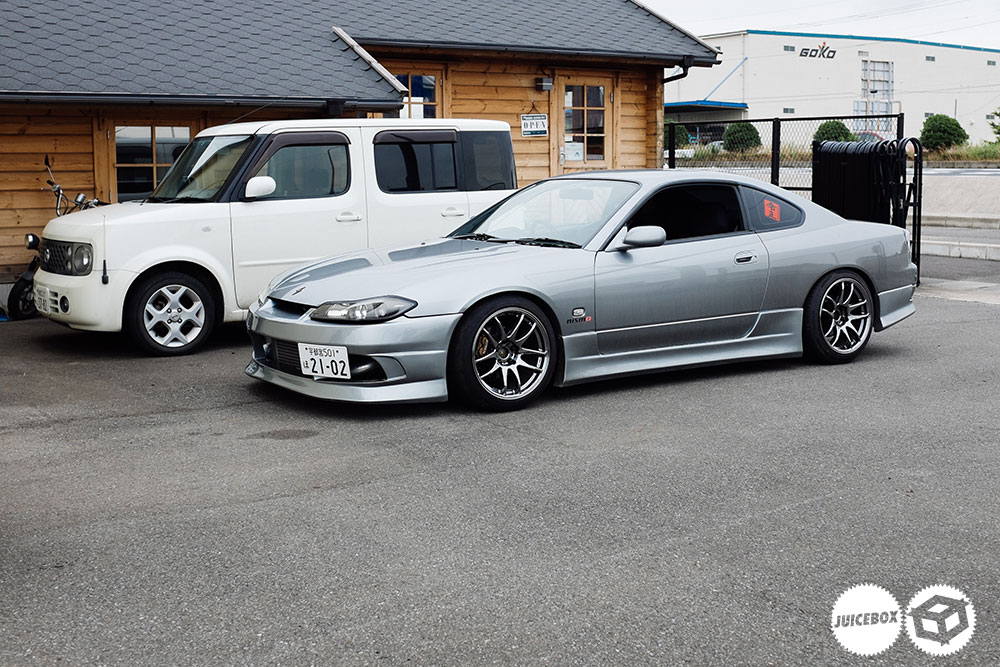 There haven't been too many other occasions in my life where I have quite literally jumped out of the fucking seat like the moment I Spotted the Koguchi sign in the distance. Reuben almost crashed the van.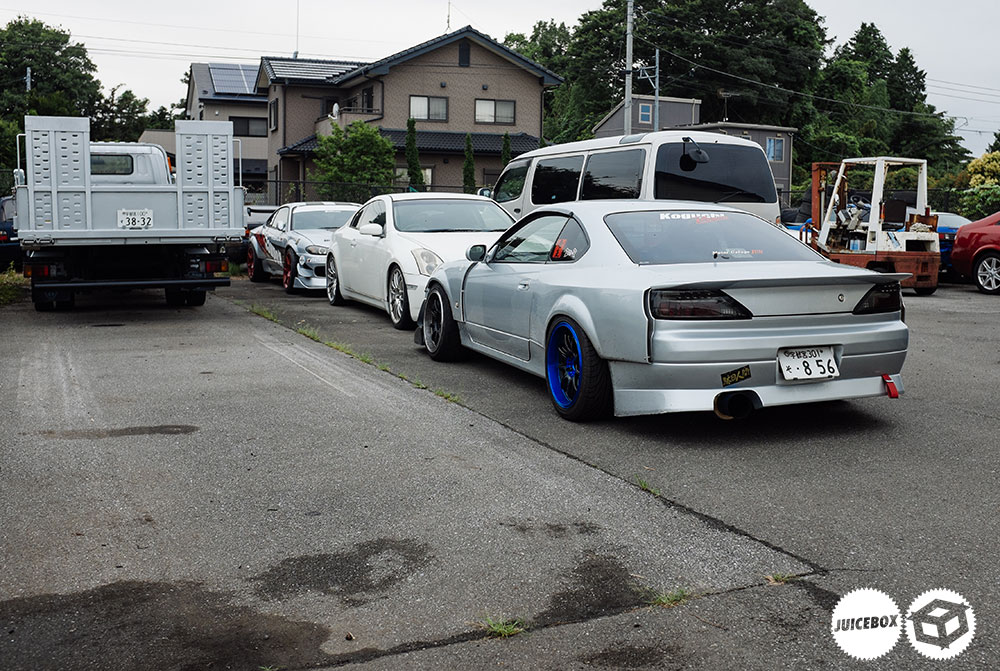 I've really noticed In the last few years the Koguchi fanboi Tumblr/Instagram following has grown rapidly, more and more people are recognizing just how much of a legend he is, little snippets of his car in various forms, showcasing his smooth style both in and out of the car.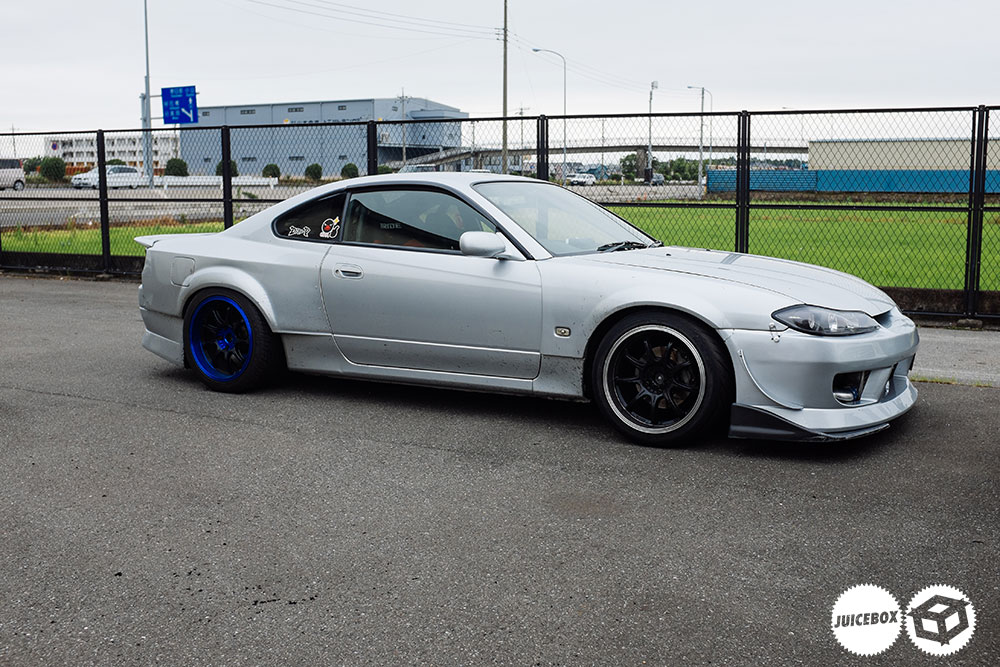 For years he perfected ultimate 180sx, from the Pignose to black and most recognizable the green guise that we love so much. He would be considered the godfather of the RPS13 chassis.Another totally uninvited unplanned visit, three pasty white tourists in quite literally the middle of nowhere decide to park up and walk into his shop to say hello.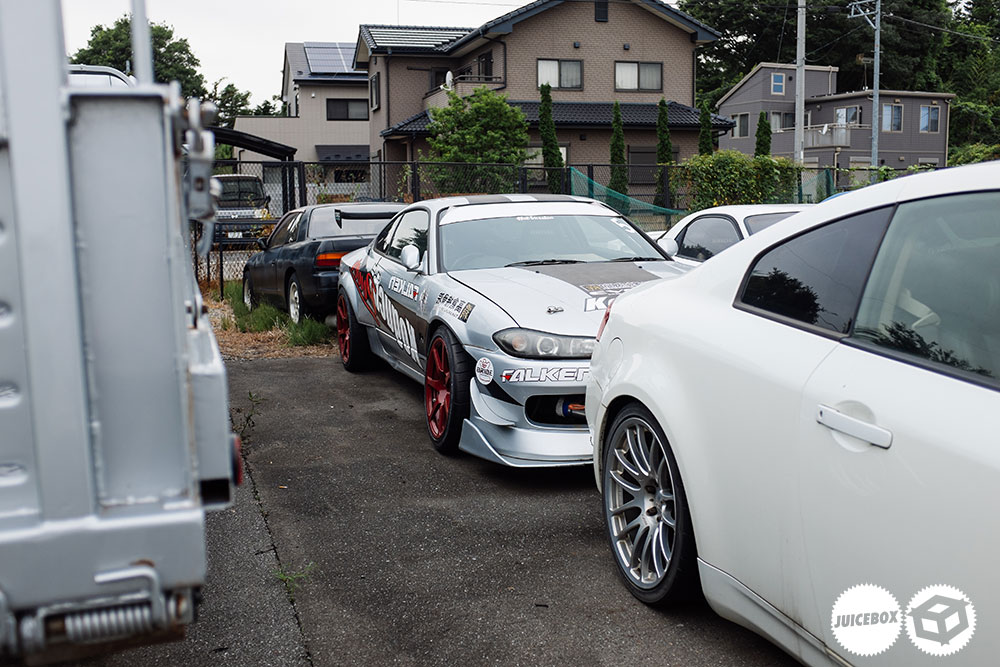 He seemed a little taken back at first, I'm sure this place doesn't get too many visitors, or maybe people have such respect they don't just cruise in. I personally haven't seen a lot of photographs from this place anywhere online so I didn't know what to expect.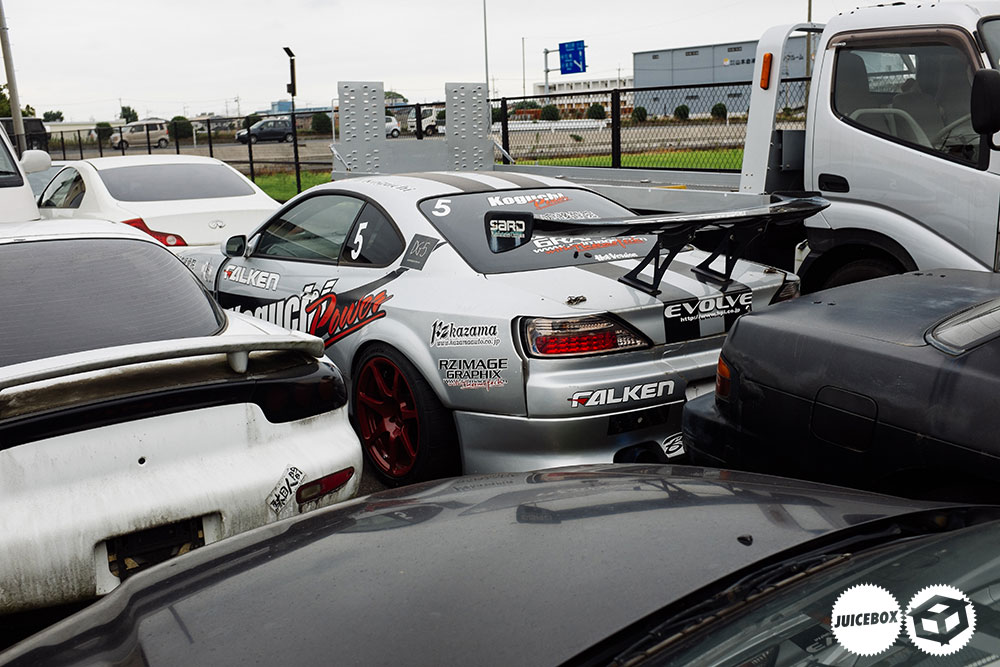 I approached with caution as the fanboy inside me was trying to break out but I held it together…. Again trying to greet him with a rubbish google translate on the phone it was pretty stressful, he grinned and sort of understood and allowed us to have a look around.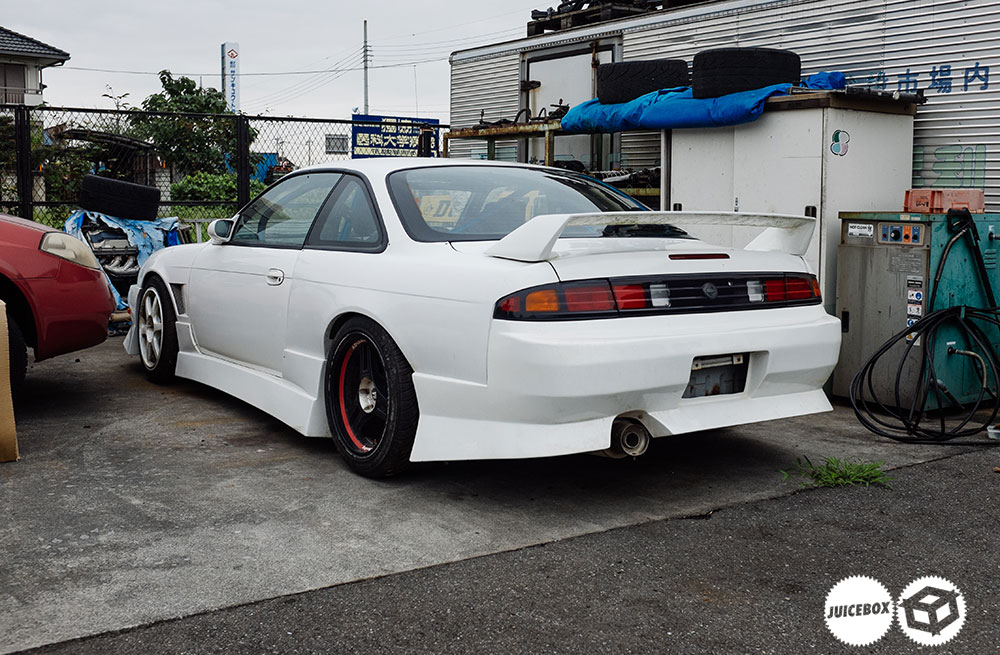 Time and time again you find yourself speaking like a child, trying to find a middle ground with people, especially people you respect and would kill to have a real conversation with but the language holds us back.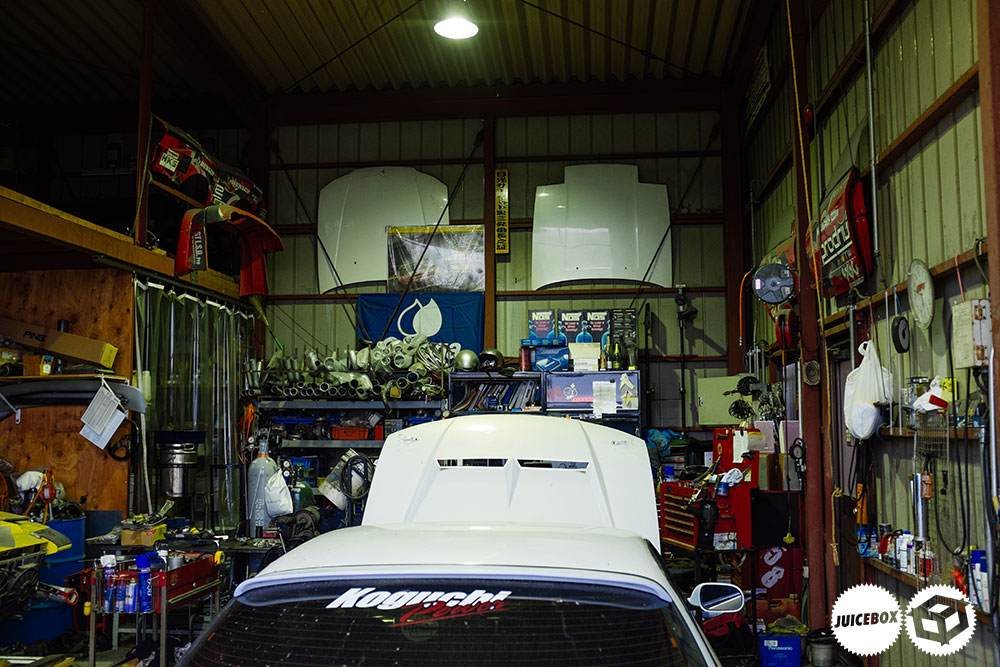 Regardless I began taking a look, instantly attracted to the sea of cars out back. D1 machines everywhere meshed in between interesting street Nissans.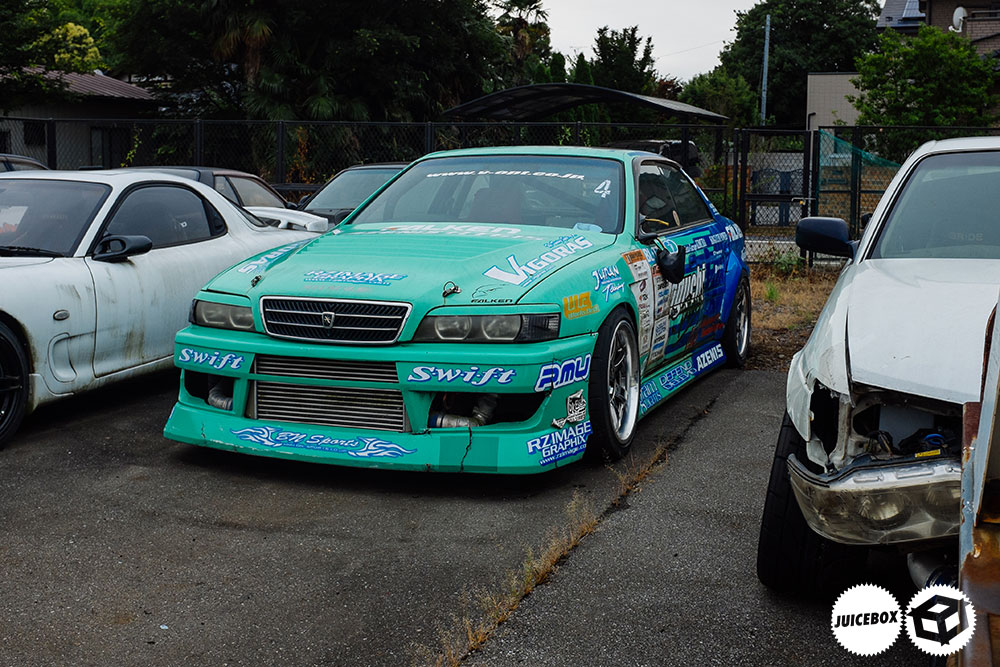 And then boom… there it is. With its sorry looking outfit. I've always had a huge soft spot for these Falken chasers. One of them came to Ireland and competed and is long dead… All that was left was the memories. Never did I expect there was a second one just wasting away out the back of Koguchis own shop. This was the best-looking era for drifting.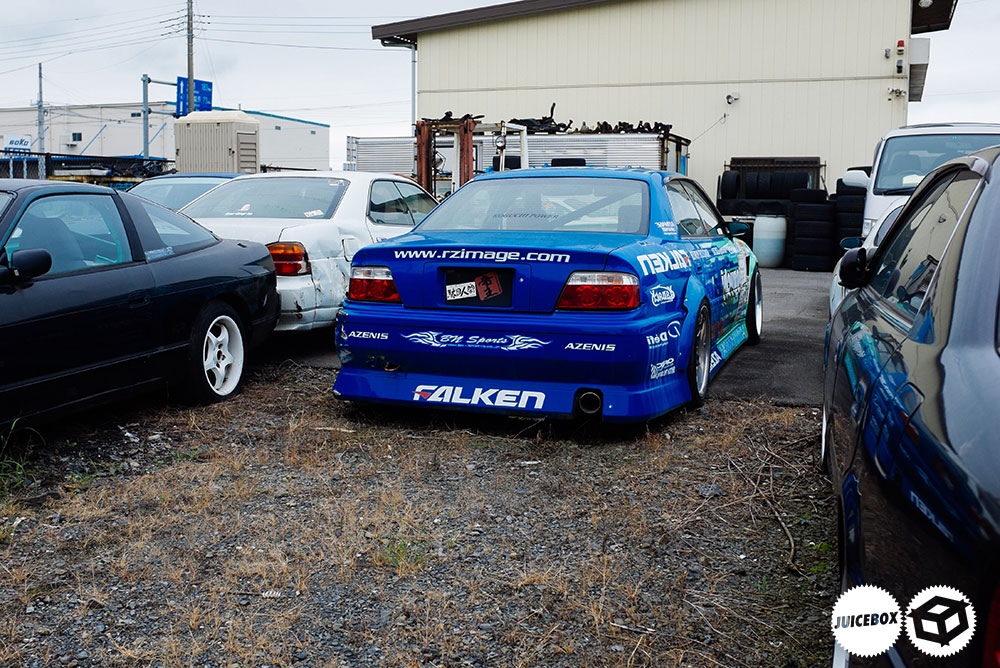 I was magnetically attracted to how this car just sat there like a dormant beast. Its Falken livery fading away, its hard to stomach seeing amazing machinery just parked up rotting away but at the same time I couldn't get enough, you won't see it anywhere else. Koguchi told us this was the D1sl car, the one that came to Ireland was the full on D1 machine.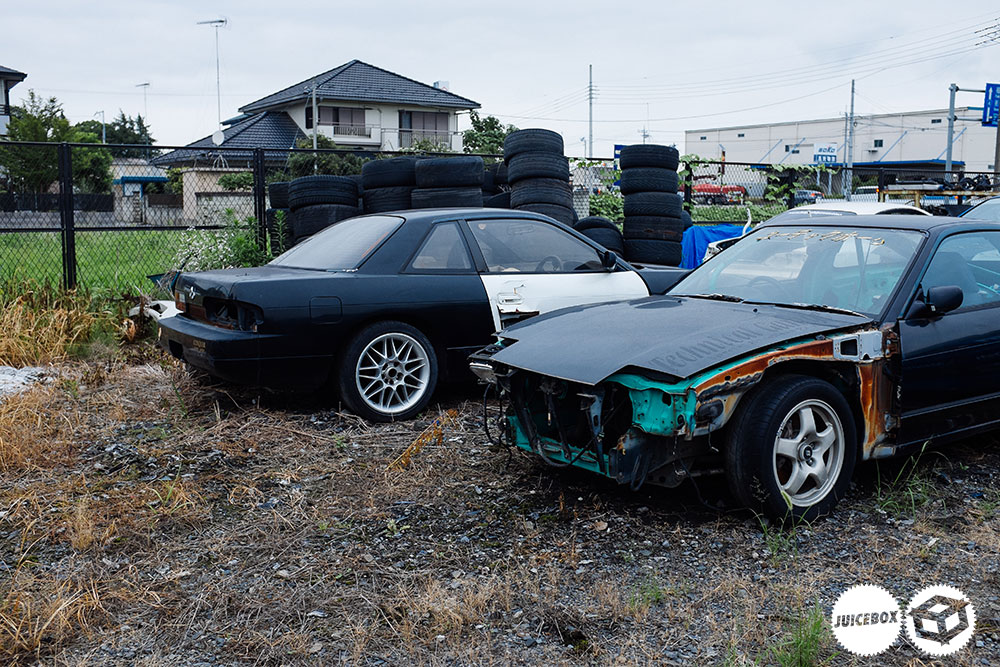 There was a sea of S-chassis laying around in various states. Shells to be used for whatever and others as old stock. This place was everything I had expected it to be and more.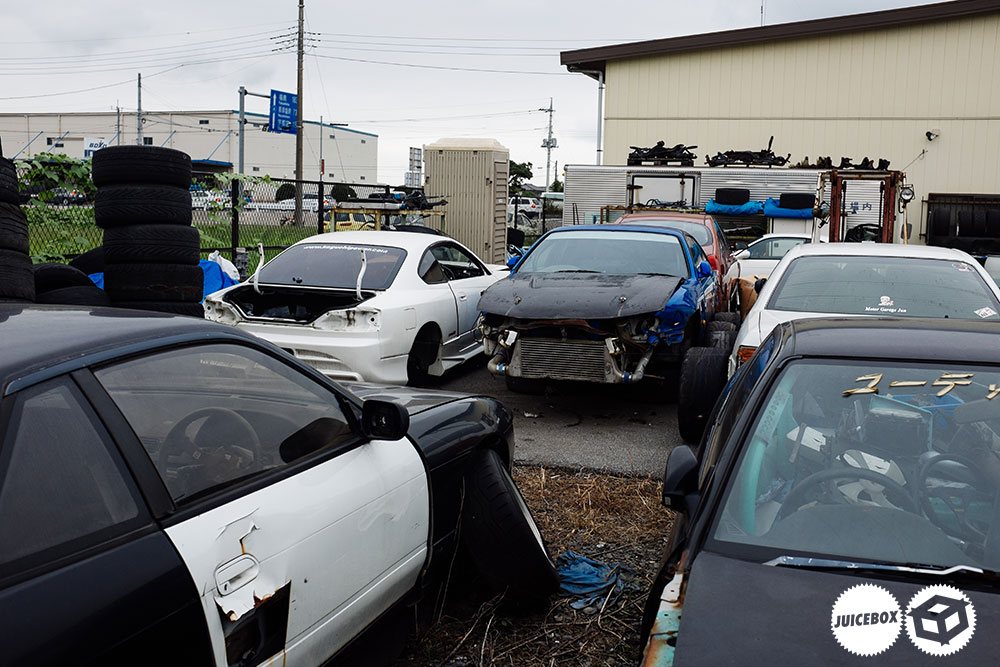 We crept back towards the workshop, Koguchi himself seemed a little busy, he was going golfing with the family and was cleaning up after a full day.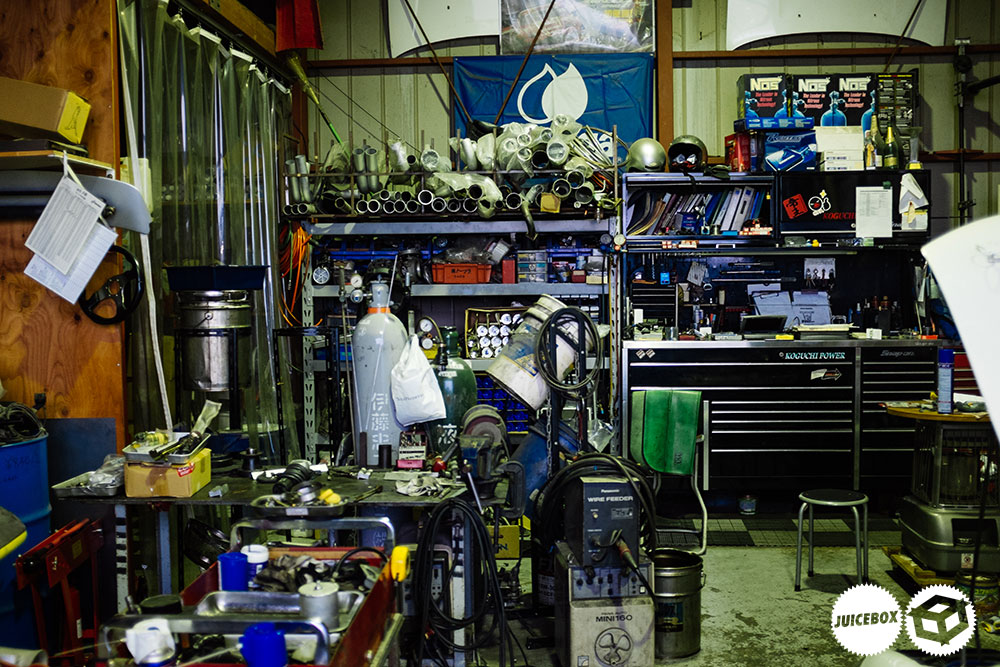 There was a language barrier, and he didn't appear to have a whole lot of English but still left us in to look around.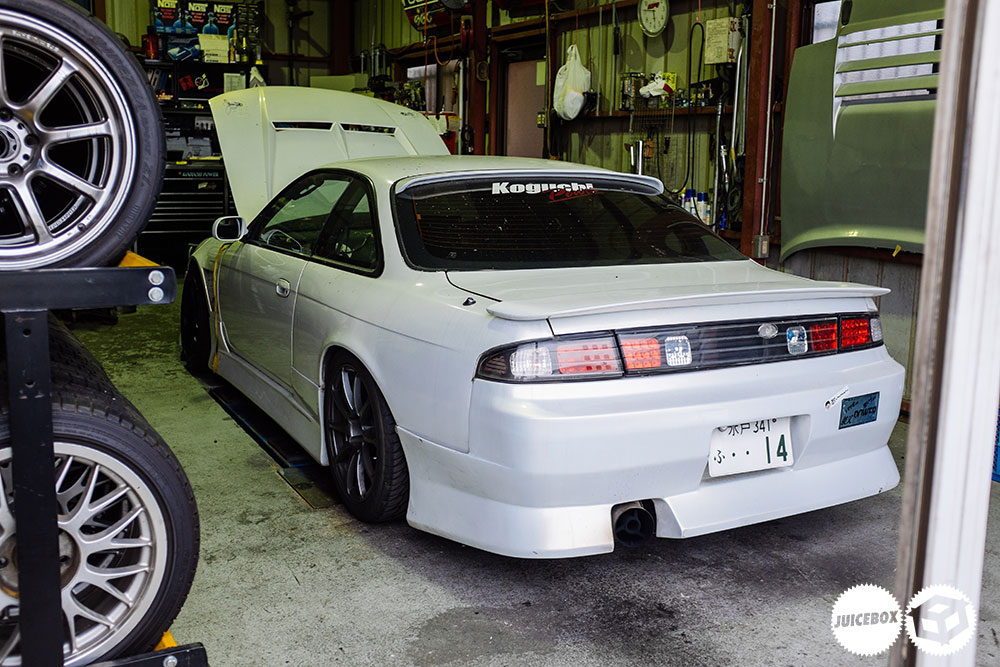 Inside on the wall, the infamous bonnet from the Green car along with his D1 bonnets and aero from the Yellow and Red versions accompanied and other memorabilia. He could see us getting excited pointing stuff out. He would just grin as we looked around.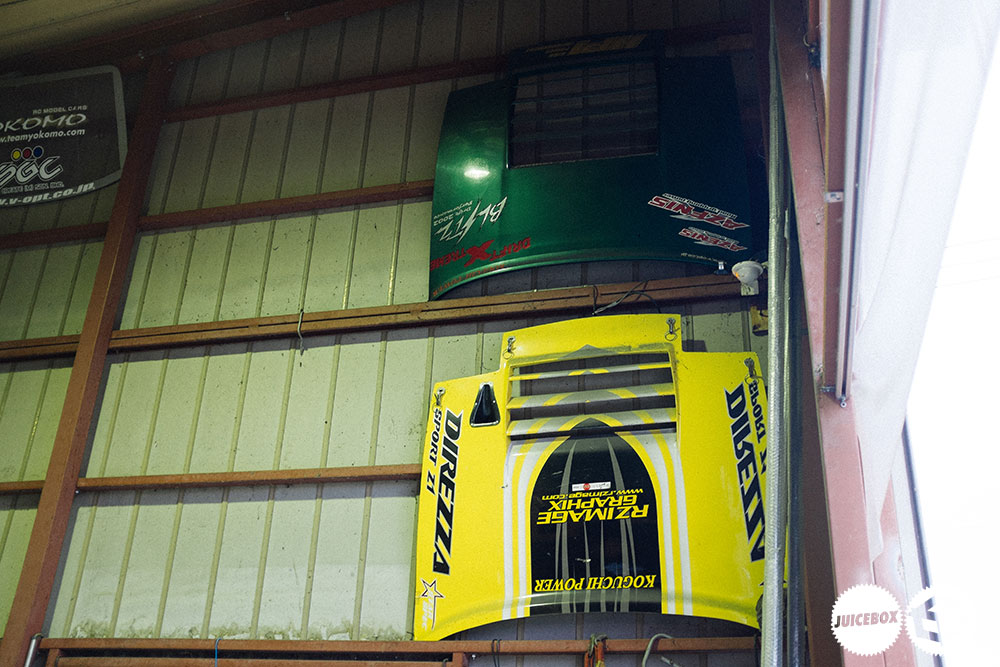 I stood there in awe, such an unplanned part of the trip but probably one of my favorites. The workshop… imagine the stuff that has gone through this place, the stories these walls have.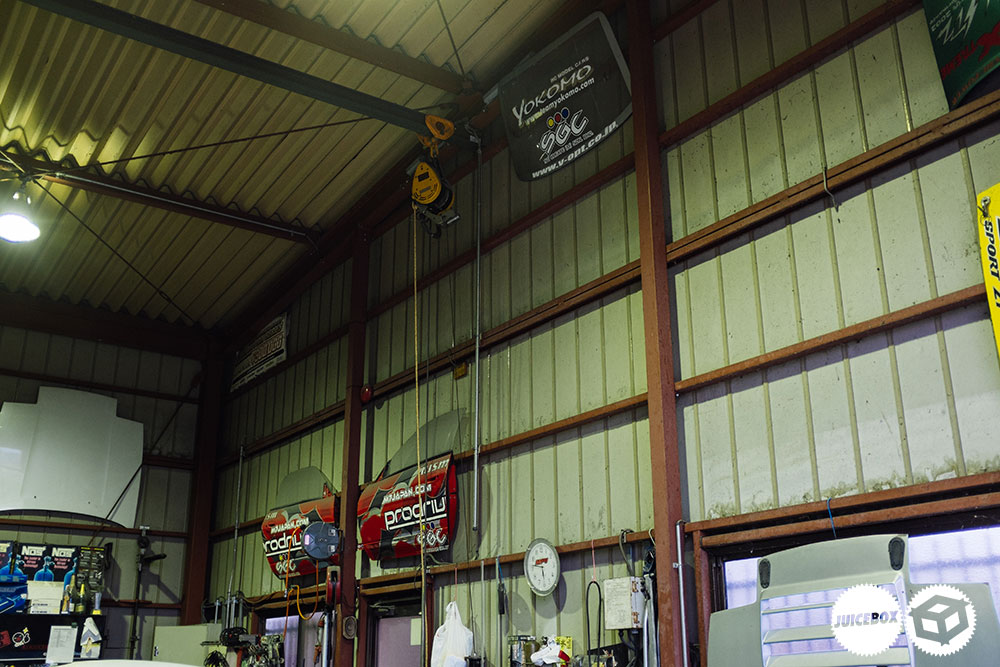 The place looked to have everything you would need and incredibly organized looking. His yellow shell was tucked away at the back, he told us this would live again soon.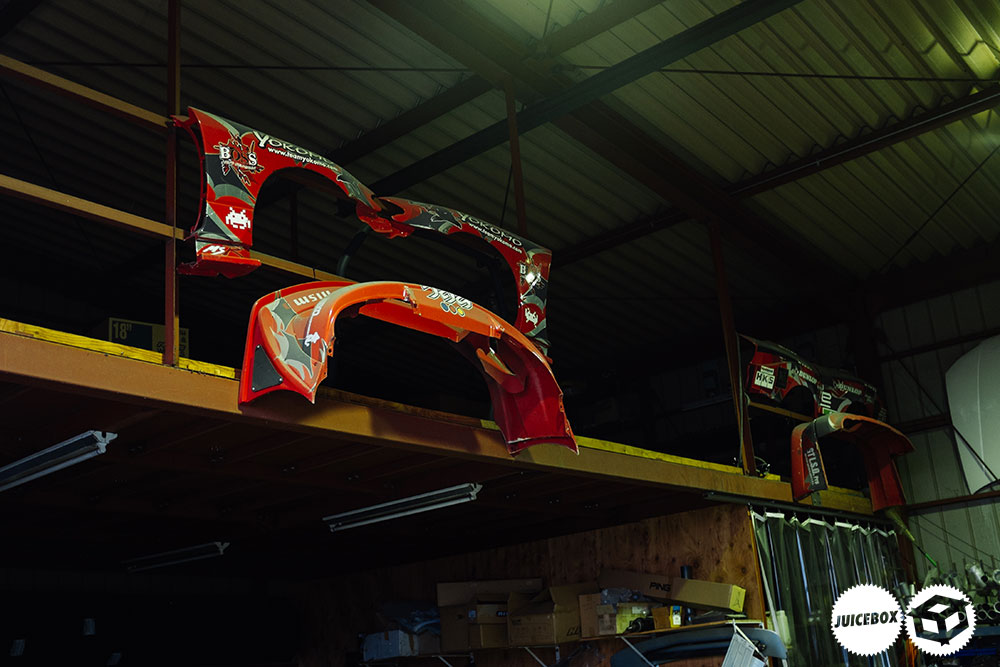 It was getting late so we shook hands, said our goodbyes and got going. It was incredibly unplanned, even his wife and son were there and looked a little perplexed by our visit.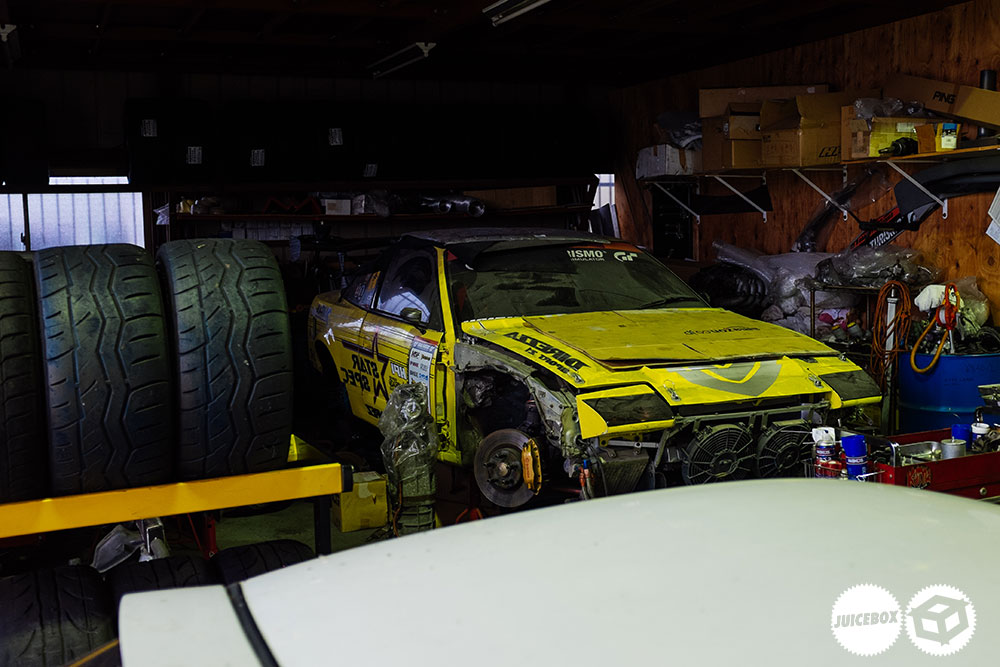 I'm sure Koguchi is aware of his status outside of Japan, or maybe not. Maybe he's completely unaware of his cult following? It felt much cooler seeing how humble this man is, I have a feeling he just doesn't really care.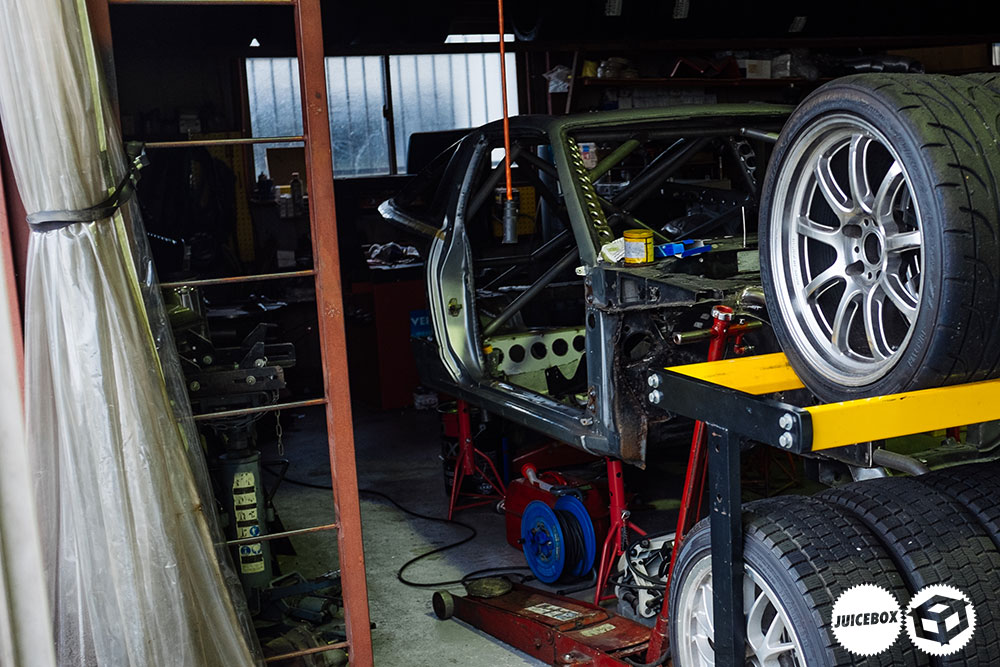 I can only imagine that drift life for him has winded down over the last decade, it had us wondering what will eventually happen to all these superstar drivers from the turn of the Millenium, especially the ones with shops…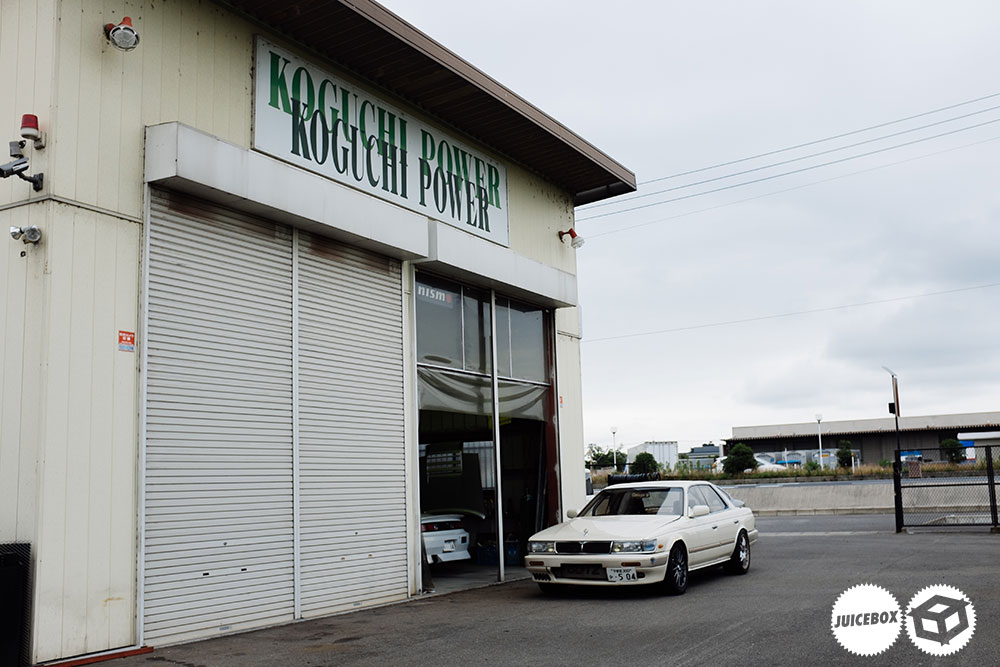 Any old magazine or video will give you an idea just how much presence respect is carried with the name Koguchi in the Japan, the man is an absolute legend and has done it all, it was like meeting a famous musician…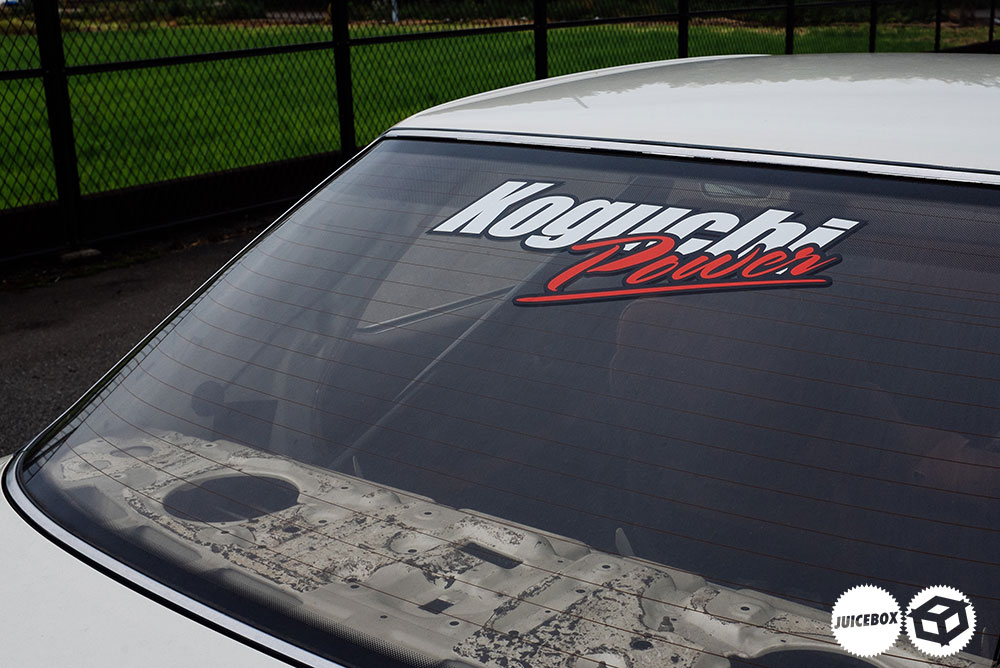 How much longer will a place like this exist? I'm always left asking those questions, this stuff won't be around forever, but at least its still here.
Long live the Emperor Koguchi.
Comments
comments
Powered by Facebook Comments