Juicebox in Japan: Cars for sale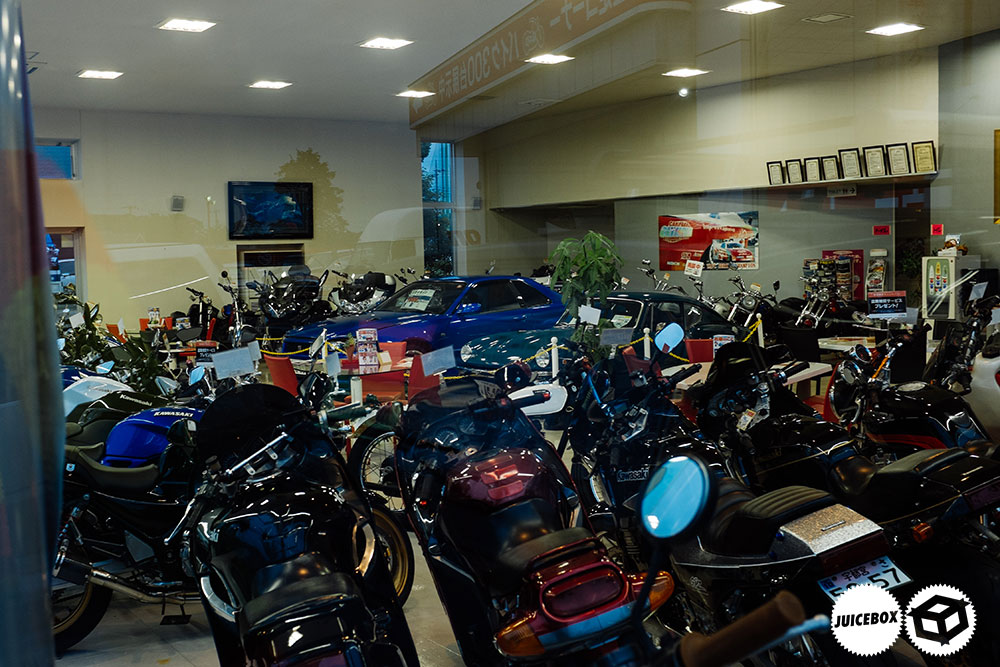 Like I've discussed in previous posts, there is so much automotive content to take in when visiting Japan. On our journey, we spotted so many interesting car sales or car related businesses on the side of the road. If we tried to pull into all of them we would have gotten nowhere.
This particular one was just down the road from Koguchi Power and stuck out because it was literally in the middle of nowhere and had a very unusual collection of cars on dispay.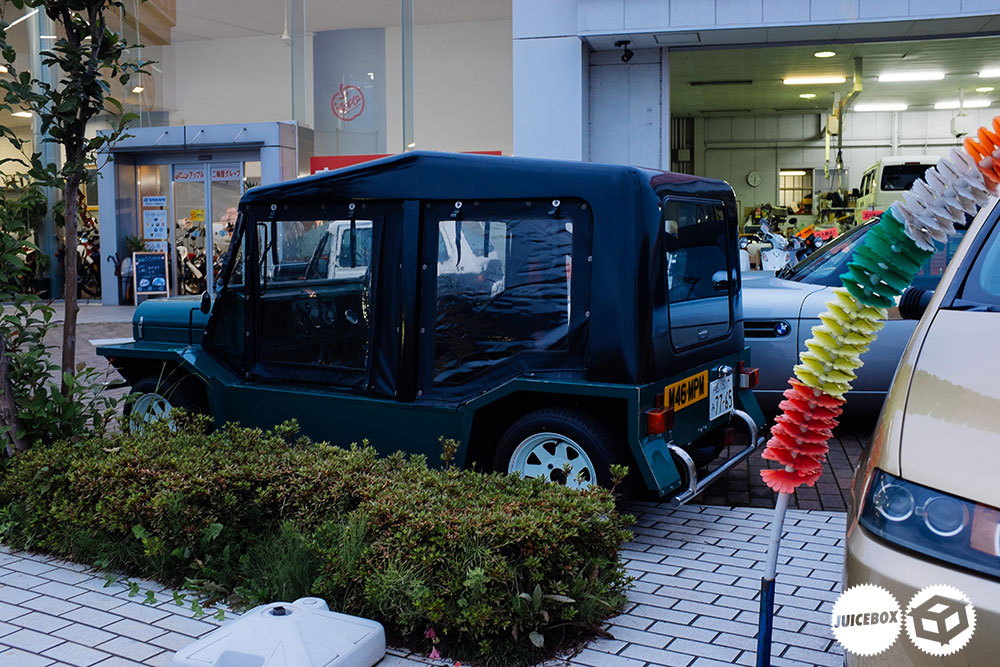 Out front, there was a mix of European machines and the usual Japanese gems which made us pull over, but there was also a varied selection of older Japanese metal and American thrown in for variation, we had to take a closer look.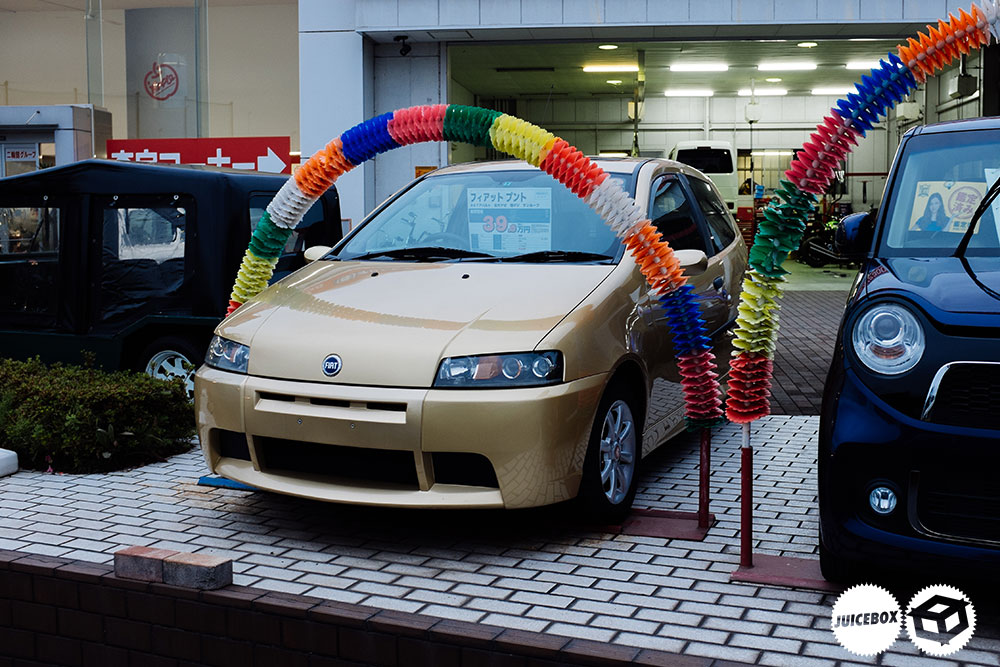 I was surprised to see a Punto in Japan as id imagine they are quite rare and somewhat unreliable, this was an Abarth edition and im sure its a solid way to stand out against the Domestics.
Out front was the four door Autech non-turbo "GTR"  A rare stunning example with a hefty enough price tag, these came with a rare RB26DE.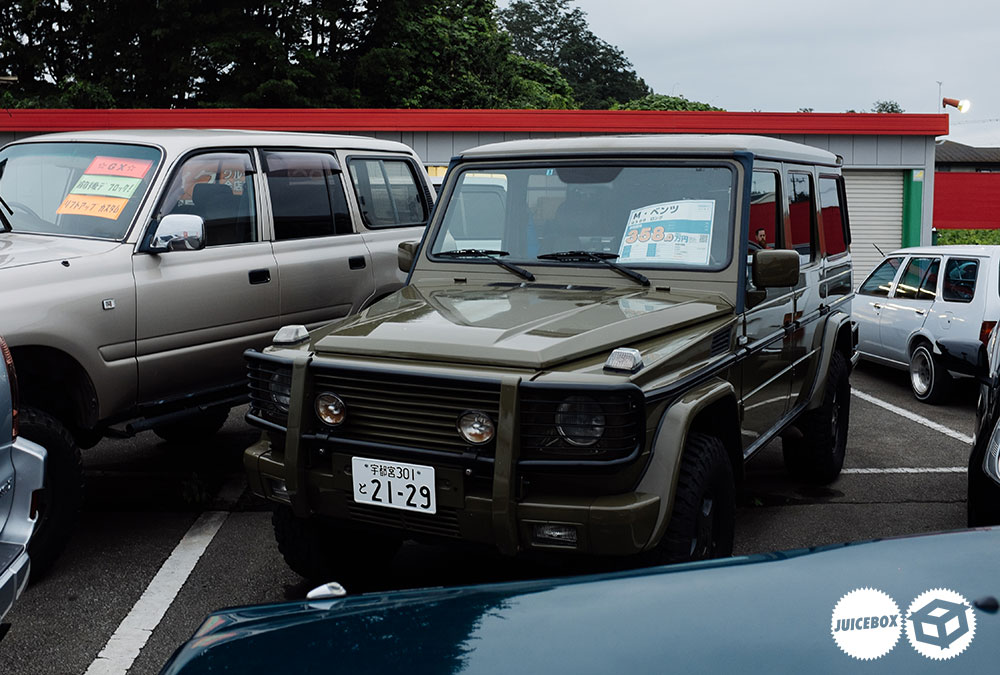 You can see what we mean by mixed, this place has an incredibly varied bag of machines on offer.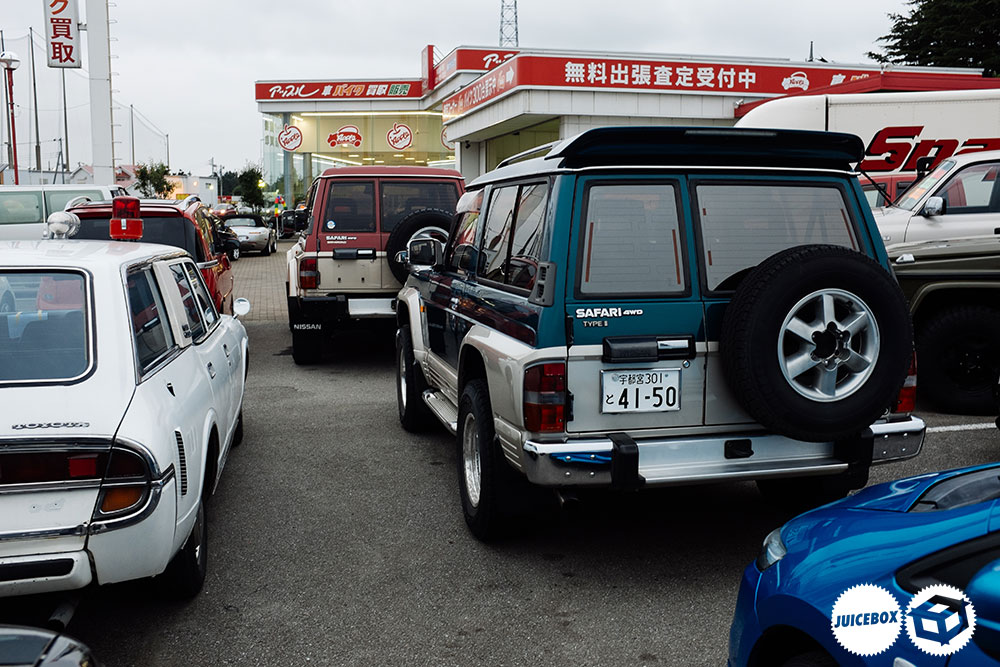 The old Japanese Domestic 4wd machines fetch almost as high a price in these days in their home country due to many being exported over the last few decades.  This safari was incredibly clean and had a price tag to reflect its condition.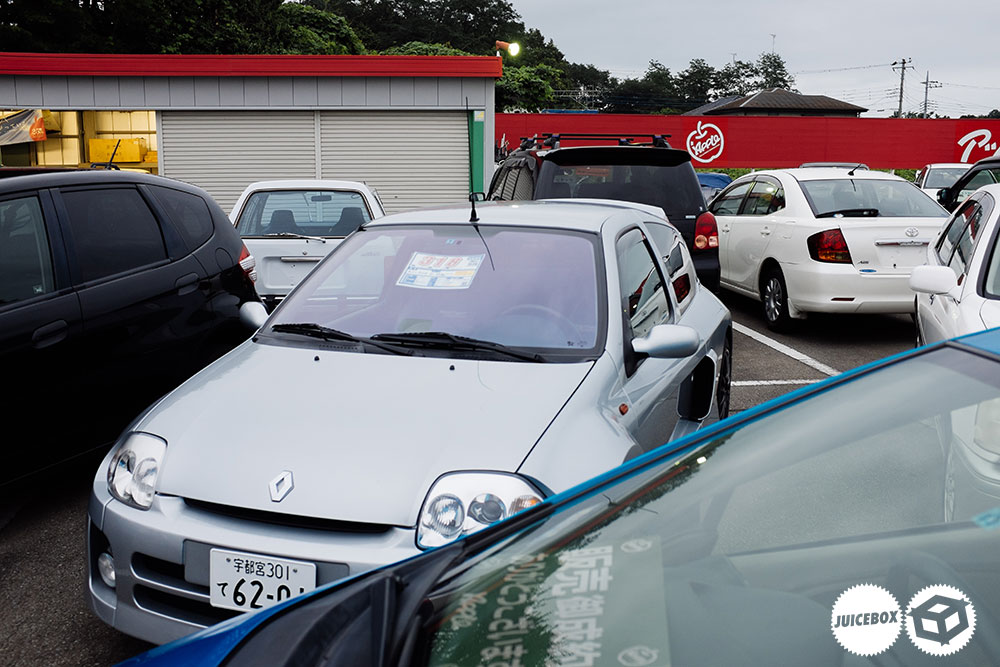 Some stuff was rightly boxed in and was hard to get a decent photo but you can make out the V6 Clio here.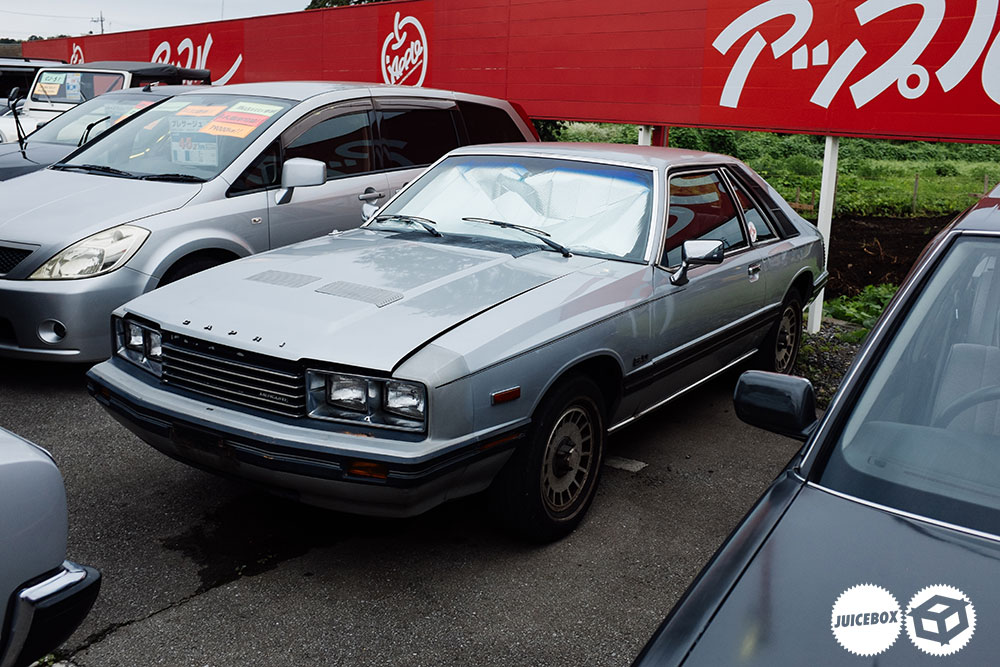 Incredibly random was this Mercury Capri…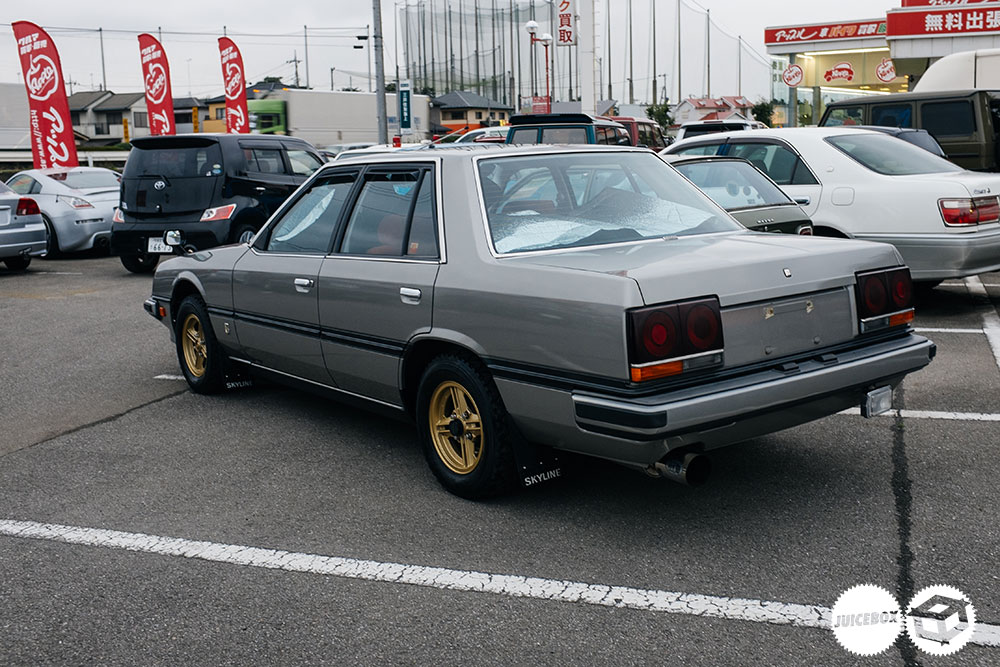 This R30 had a rally vibe to it and was again in immaculate condition. The lot felt more like a collectors private stash than a car sales.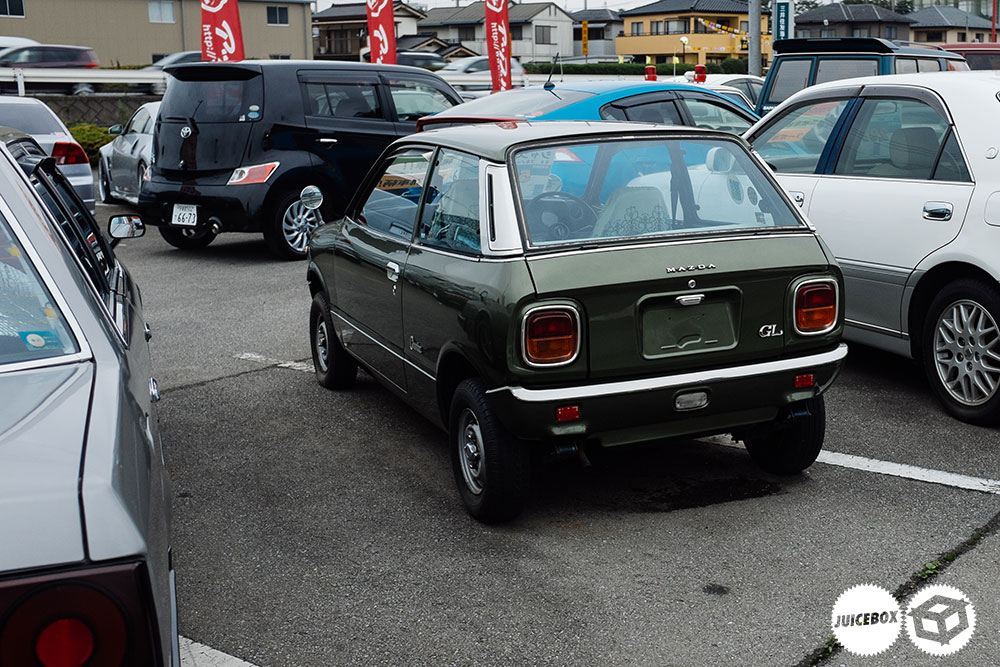 This Chantez was super cool, we had only seen an Re-Amemiya one the day before at Tsukuba.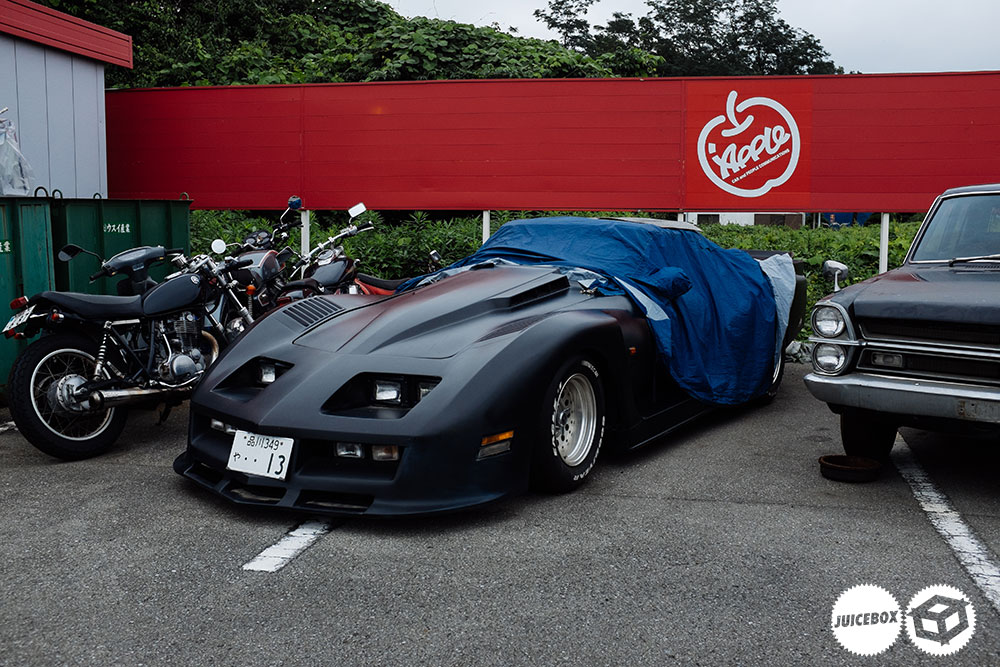 I was so curious to know what was going on here…. This is just another thing we came across that I'll never know the answers to.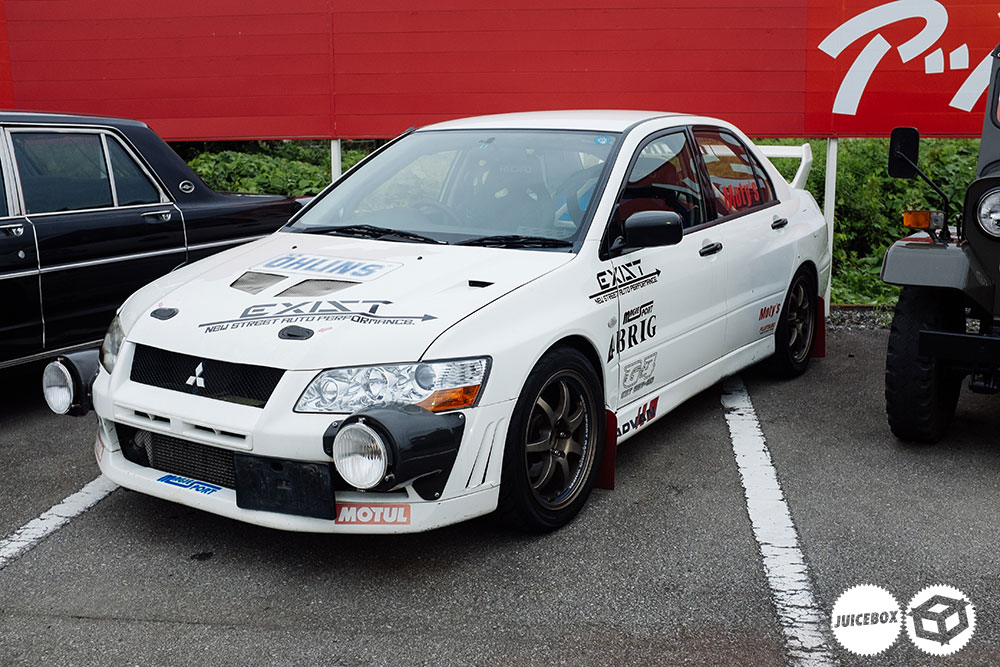 A full rally Evo 7 anyone? Hilarious seeing this wedged between two polar opposites.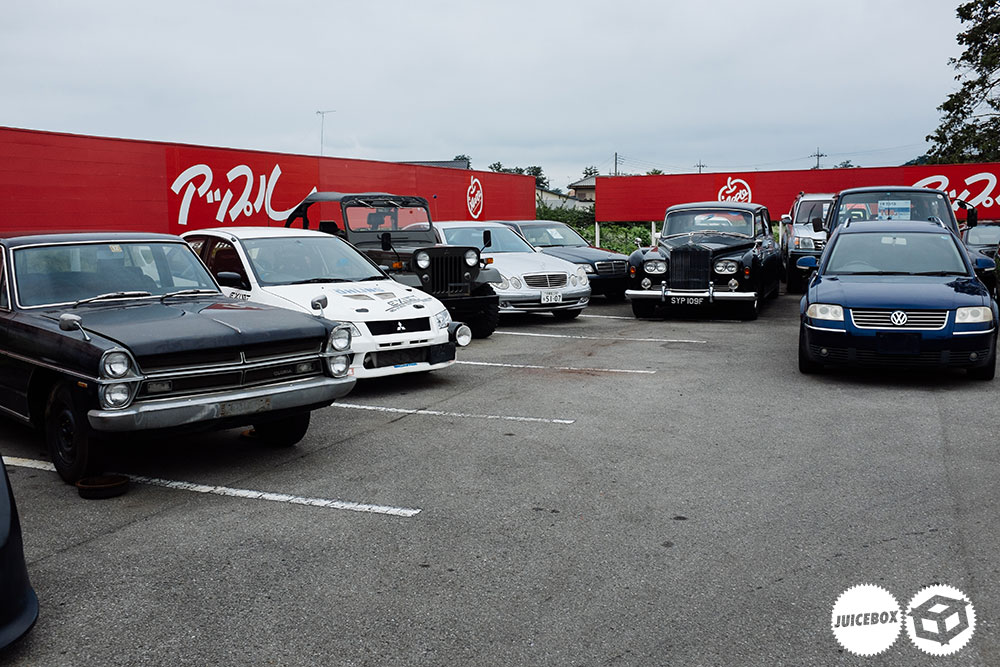 This place took to prize for the most random car sales I had ever come across…
Some stuff I had never even seen before like this 323 station wagon was nice on the eyes parked next to a Fiat Uno…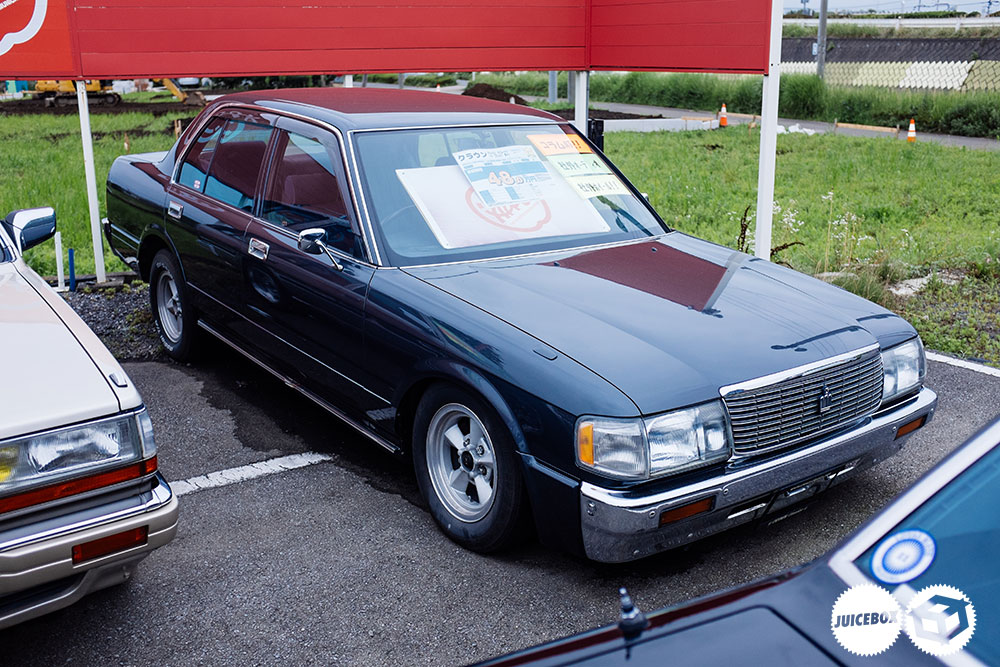 This crown looked incredibly American with hose 5 spokes.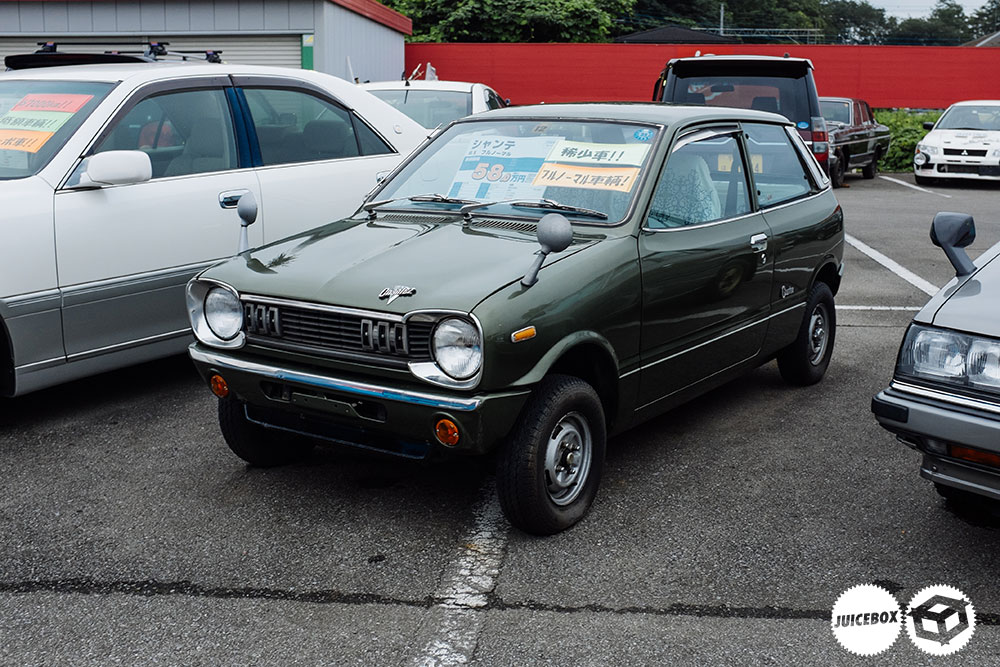 Another shot of the Chantez.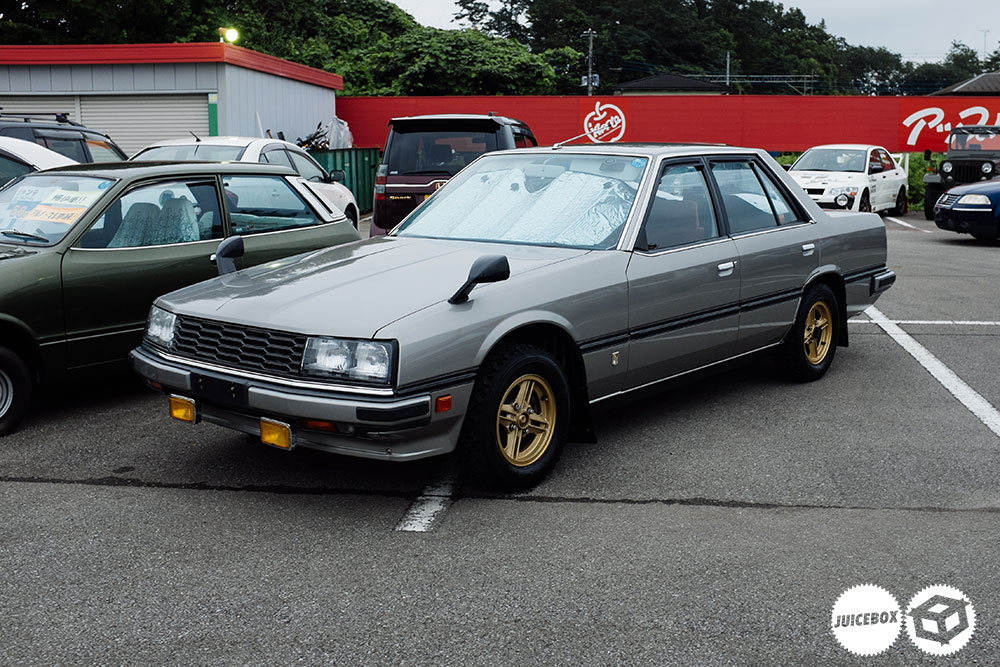 A front shot of the Rally looking skyline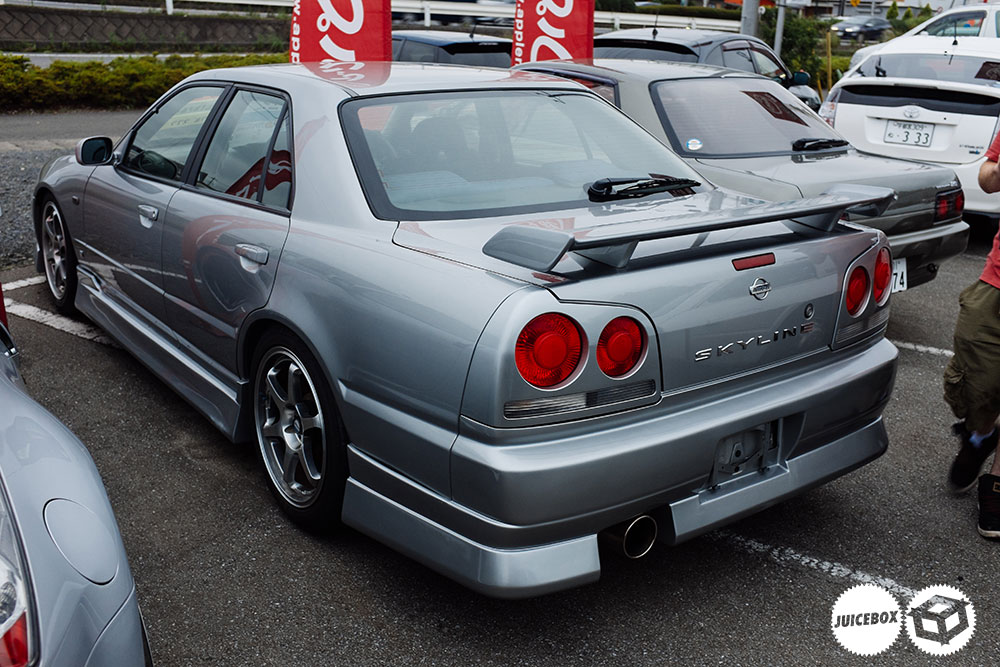 It wouldn't be Japan without some sort of four-door Drift machine thrown into the mix…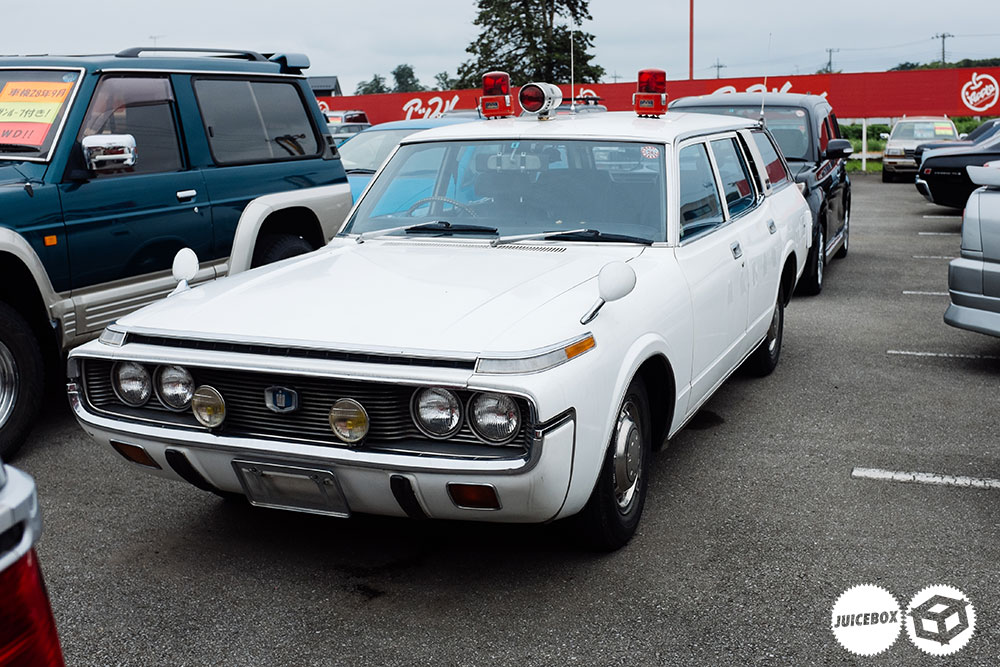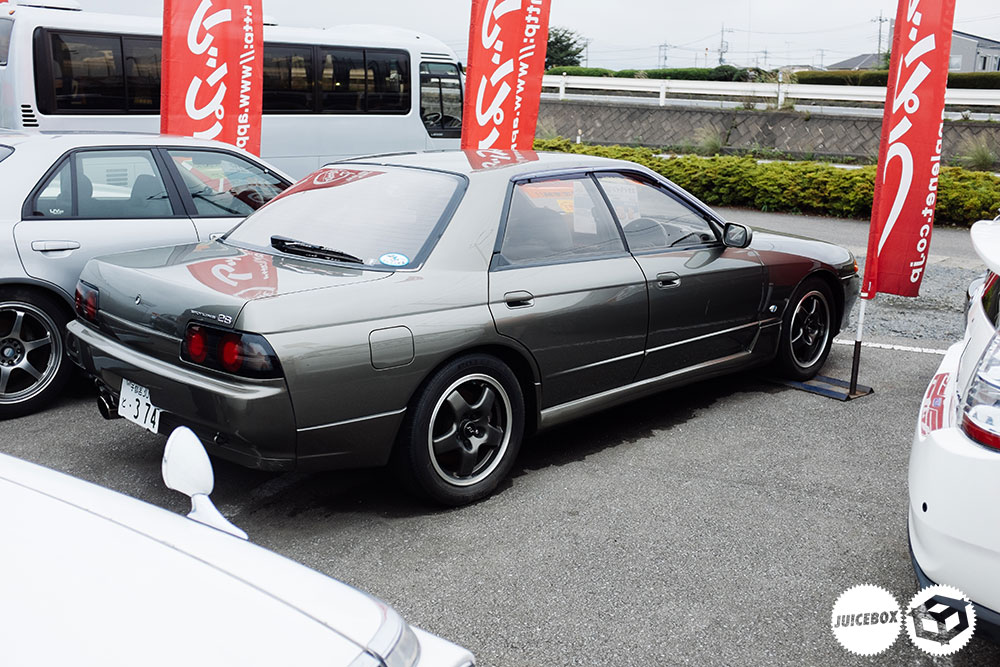 Another shot of the stunning Autech rb26de beast. The colour was incredible.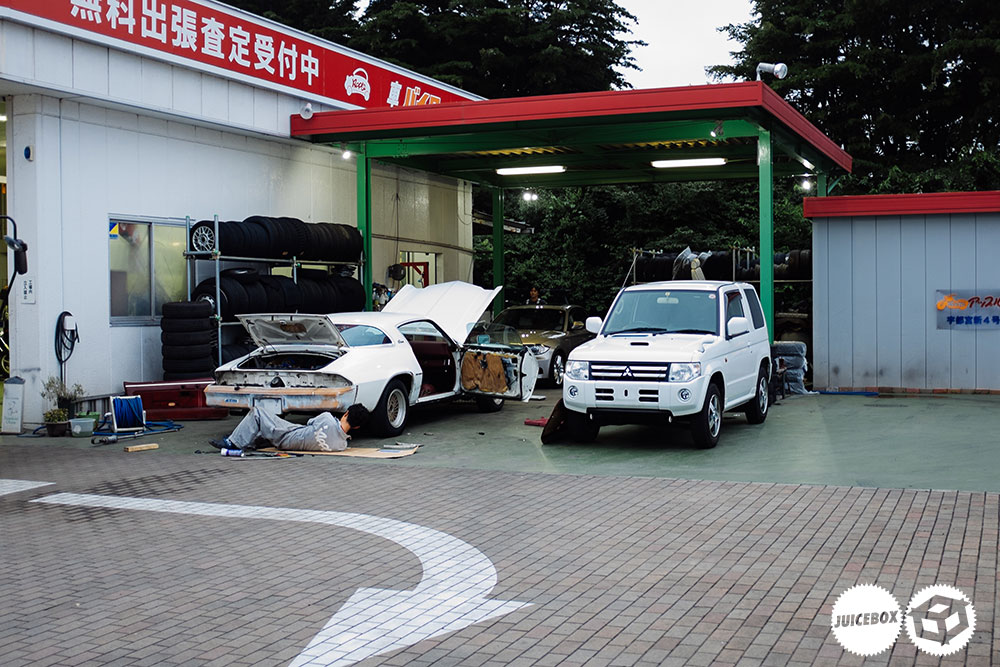 This picture sums up the Japanese car culture nicely, a guy working away on a Camaro while a Pajero Junior sits beside it. This place is just dripping with weird and sometimes unexplainable car scenarios, Japan loves its variation and I've never seen anywhere to match its love for the Automobile.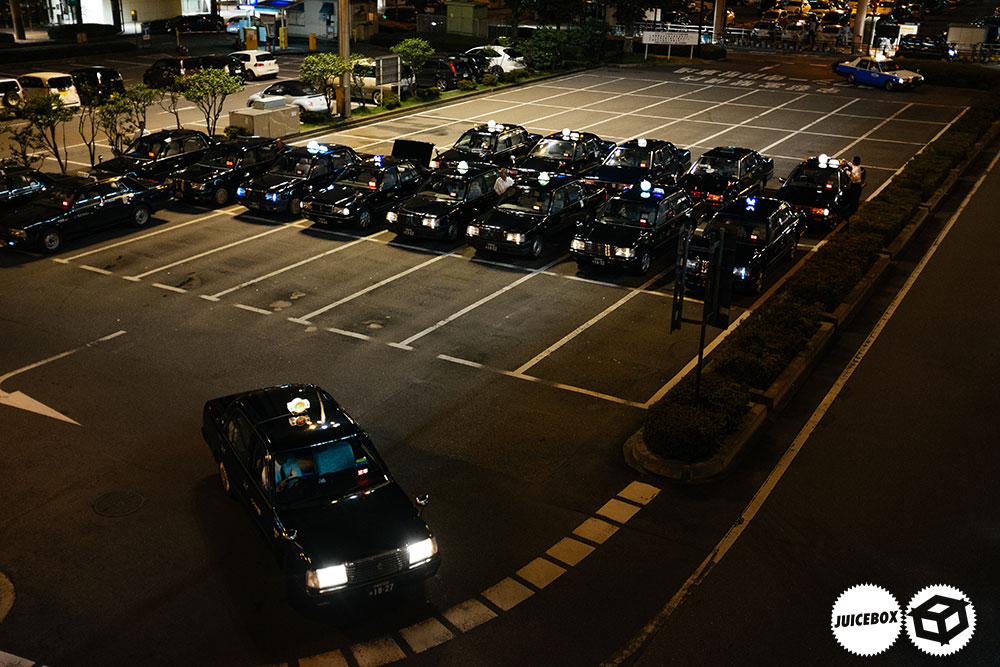 Later on that evening we made our way to Utsunomiya where we would call home for the night. I brought out the camera to see what I could find around the city. Crown Taxis are everywhere on the road, it's not until you see them all parked up waiting for people that you realise just how many of these must be driving around a Japanese city. They made the same shape for almost twenty plus years its nuts.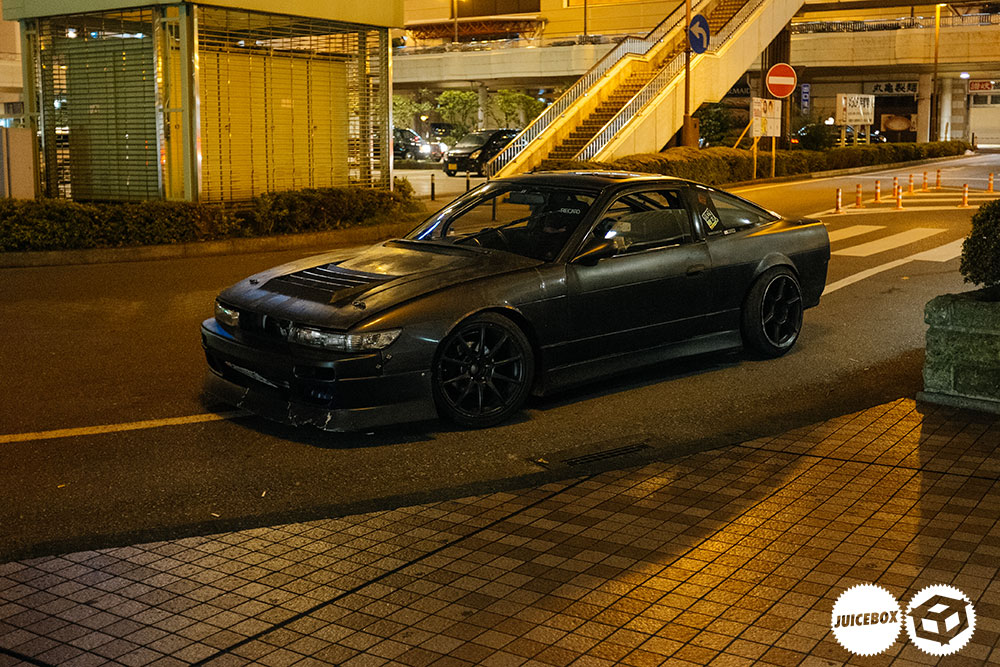 We actually bumped into a few guys downstairs from the hotel who had some interesting cars but the language barrier was too much and we never really made much more of a connection with them. It made us realise just how incredibly lucky we were to have been able to break proper contact with the Fukushima guys just a few days before.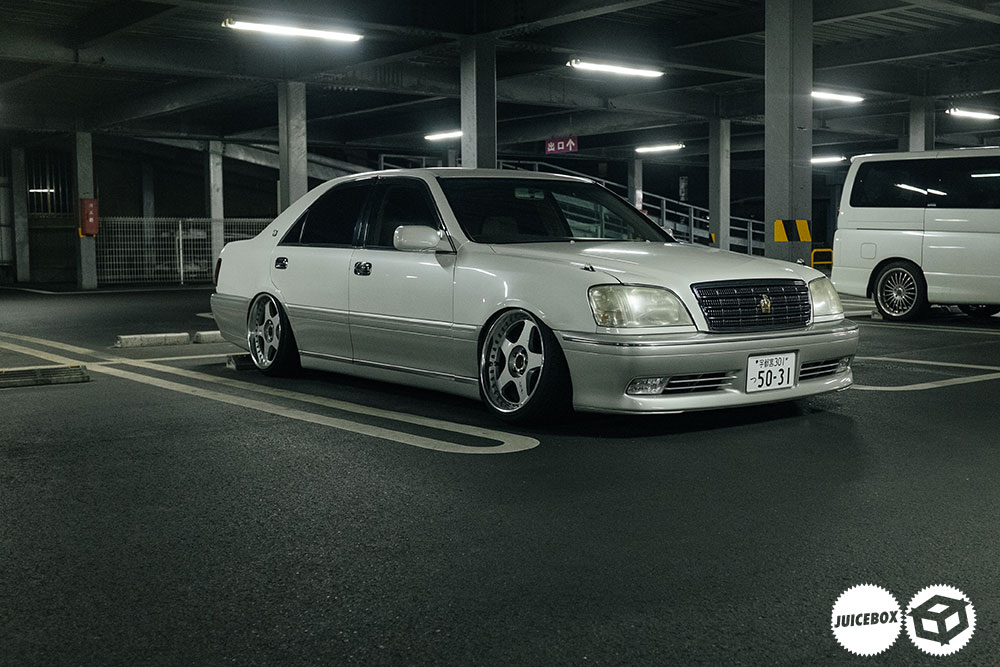 We had a few beers and strolled through the humid streets of what seemed like an endless city. You are always on guard here, trying to spot something cool down an alley way or in some multi-storey car park. After a failed visit to a closed arcade, we spotted this in the car park behind the building.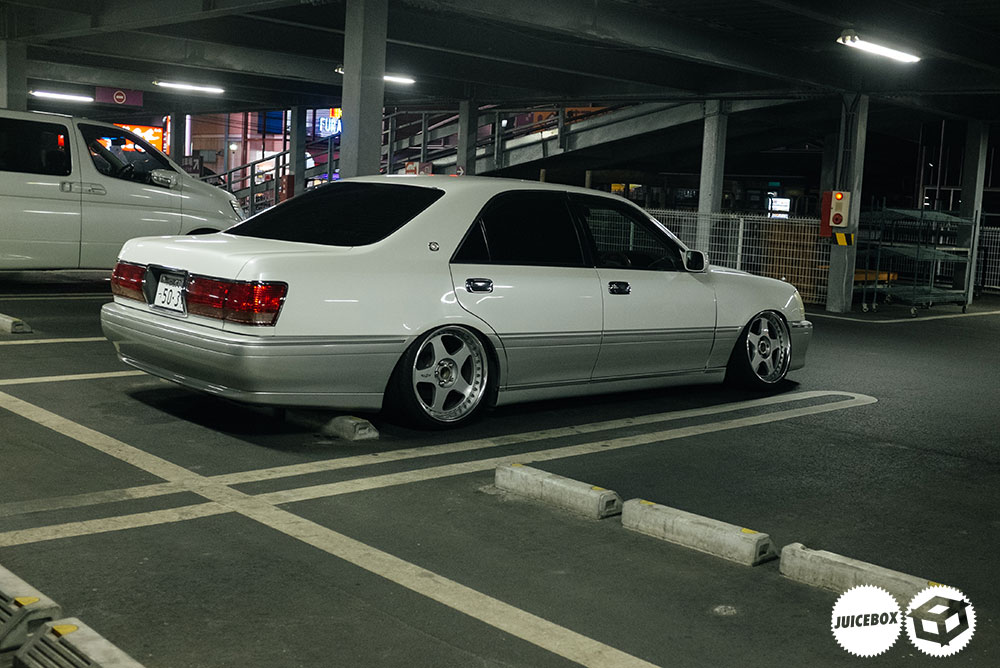 We couldn't get over how even with weak enough offset wheels someone could produce such an incredible Crown with an even more impressive presence, this thing was static too! No big deal just another random guy with a random build. He may never know that two foreigners sat and admired this thing for a good ten or fifteen minutes while we drank a can and reflected on the trip so far, laughing about how little this car stands out to the average Japanese car enthusiasts.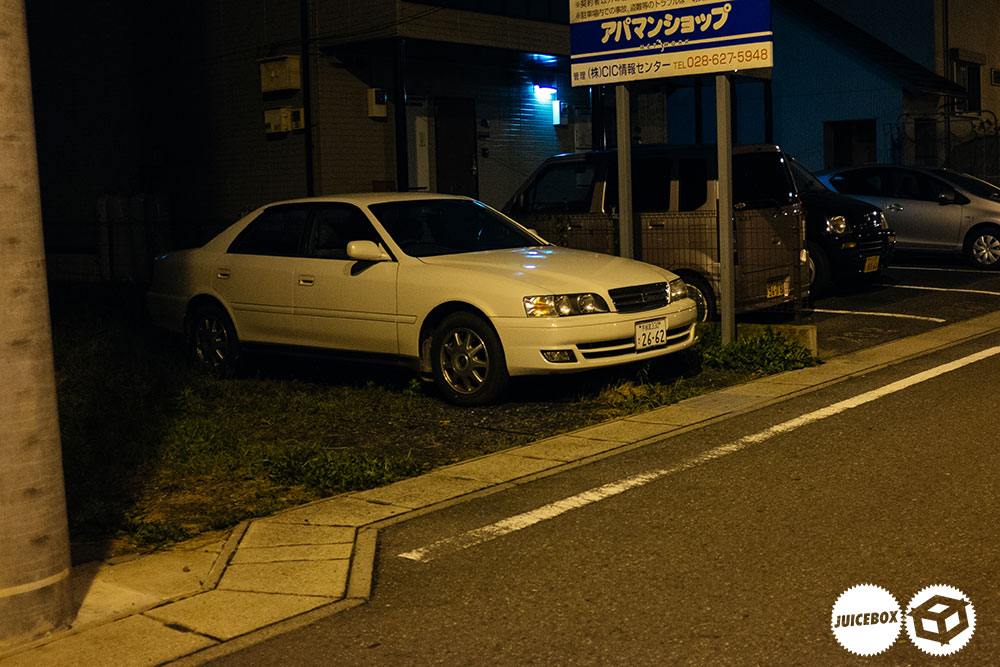 We walked on, stopping to laugh at the odd standard GX100 or similar, and how hilarious it is that these are just daily commute machines for some people, possibly unaware of the cult following the chassis might have to other people in both Japan and the rest of the world. There must have been so many situations like this with the AE86, Silvia, MK2's, Cressidas or similar over the years, where these were just casual machines that innocently roamed the streets of Japan before landing the eager hands of a disruptive car enthusiast. I'm sure even the GX100 will soon be a thing of a past on the roads of Japan.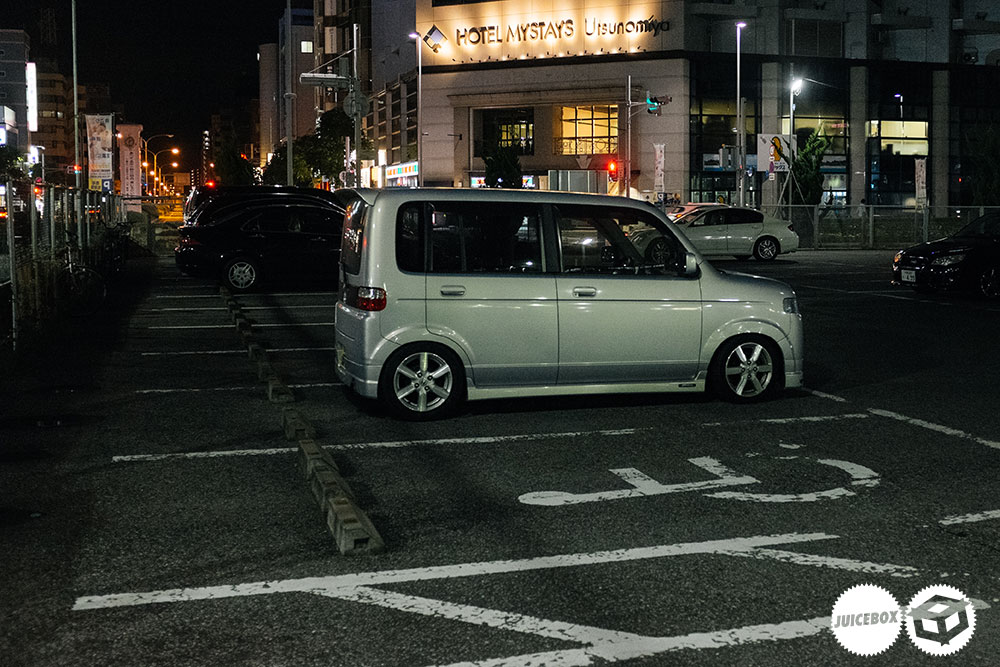 The final image of the night was when we stumbled across this little unusual Honda. Japan has such a vast culture of Kei car styling that we will never fully know anything about. I'd love this little beast as a daily, it was nicely slammed on some Honda OEM wheels and sported a lovely Mugen kit. You think you know so much about Japanese car culture until you spot these Kei machines and are left scratching your head.
Turns out this was called a Honda "That's"… Yeah, you read that right a "Thats" I couldn't believe it!
This truly is a place that keeps on giving to a hunger car fan always leaving us with surprises.
Ill leave it here for this week. Cheers for the feedback on these posts.
Comments
comments
Powered by Facebook Comments