Shed lurks : The Evo Killer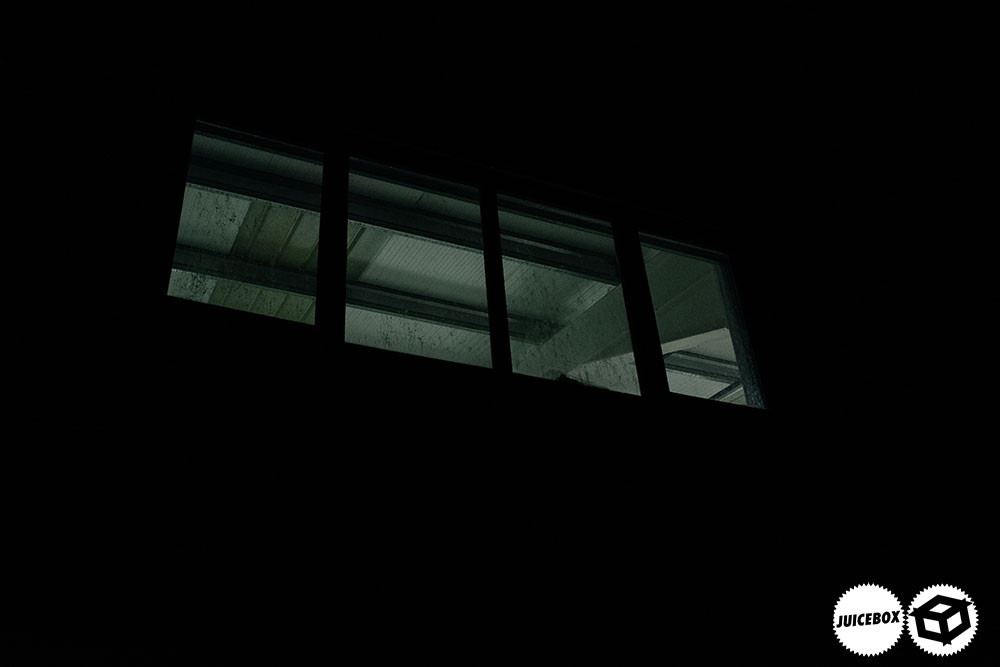 This is a very interesting shed, its one Ive wanted to share with you for quite some time now.
Originally the owner, Rob had a much smaller unit but decided to move into a much larger premises with local friends and with that his collection grew.
That shed was featured on Speedhunters (behind closed doors) a few year back and Rob used to run his own business alongside the other guys having their private car collection. This shed eventually came to an end and Rob went out on his own.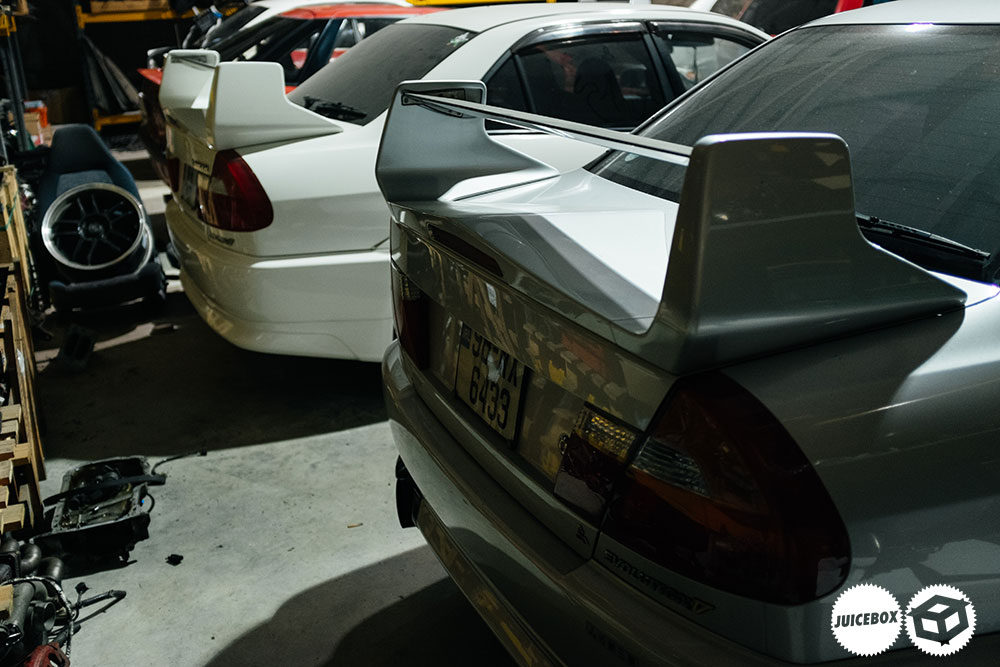 One way or another Rob found himself deep in the world of Mitsubishi. At a time when things were super grim in Ireland, often he found himself breaking Lancers more than he wanted to as complete cars had no market value.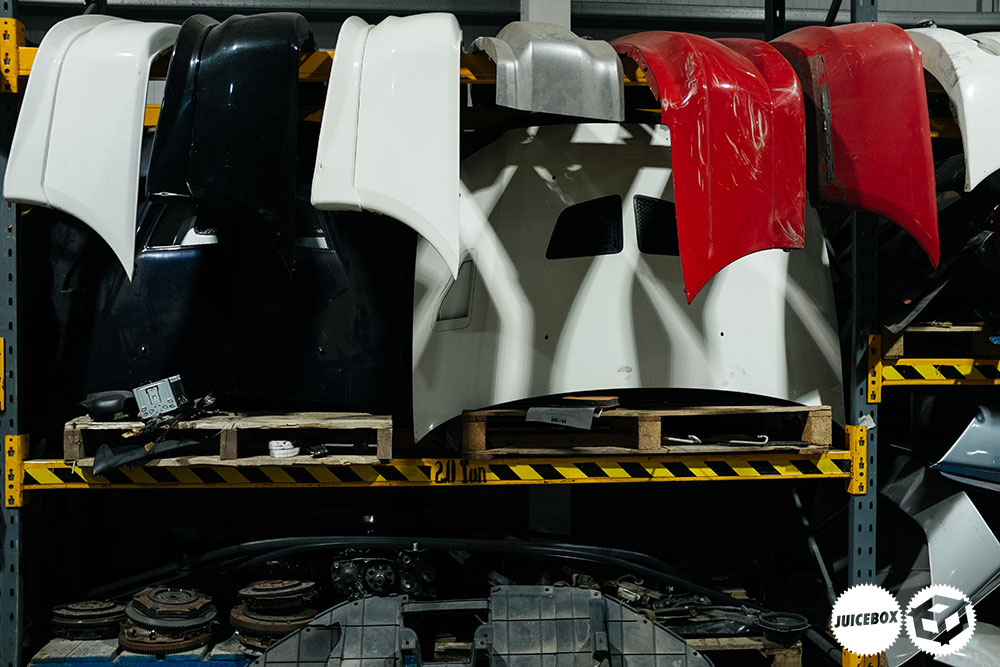 It's almost hilarious looking back thinking about it as the prices and demand for these have literally reversed almost overnight.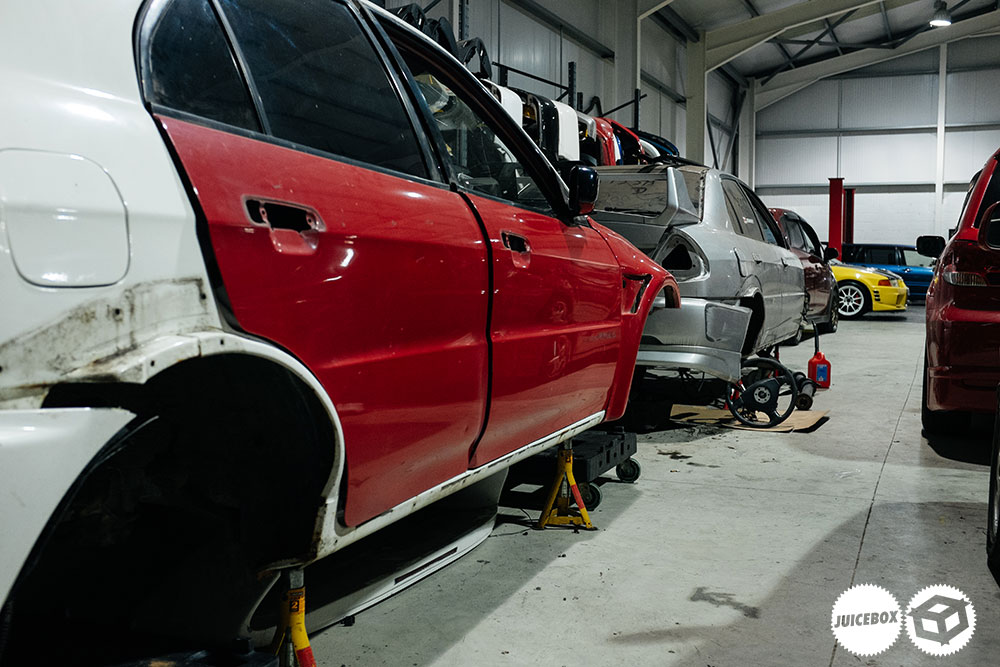 It was often tough to watch a rare Evo being stripped but this was the only way he could survive.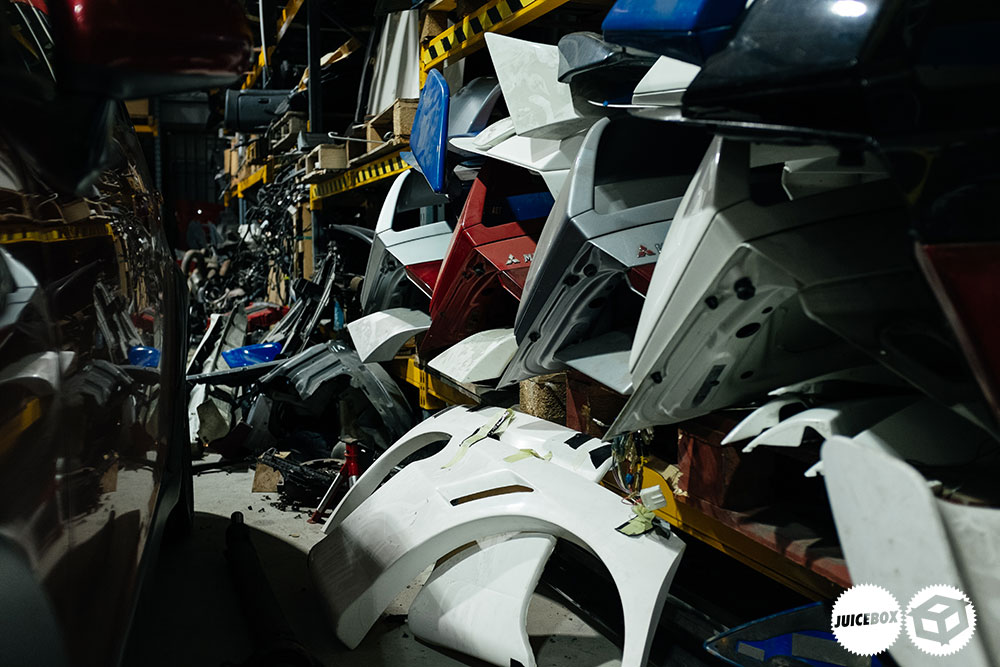 Asides from our economic downturn, many Lancers were past the point of saving as it would appear Mitsubishi built them from the worst possible metal.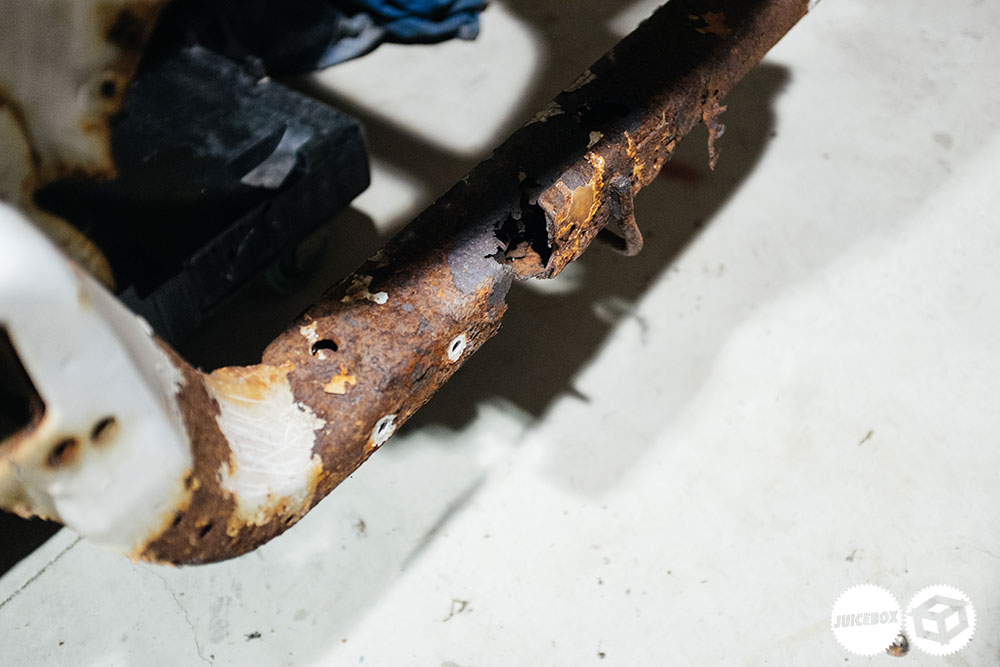 I say this because out of all the 90's lovable cars from Japan, I have never seen any other brand to deteriorate so quickly. (Asides from Suzuki)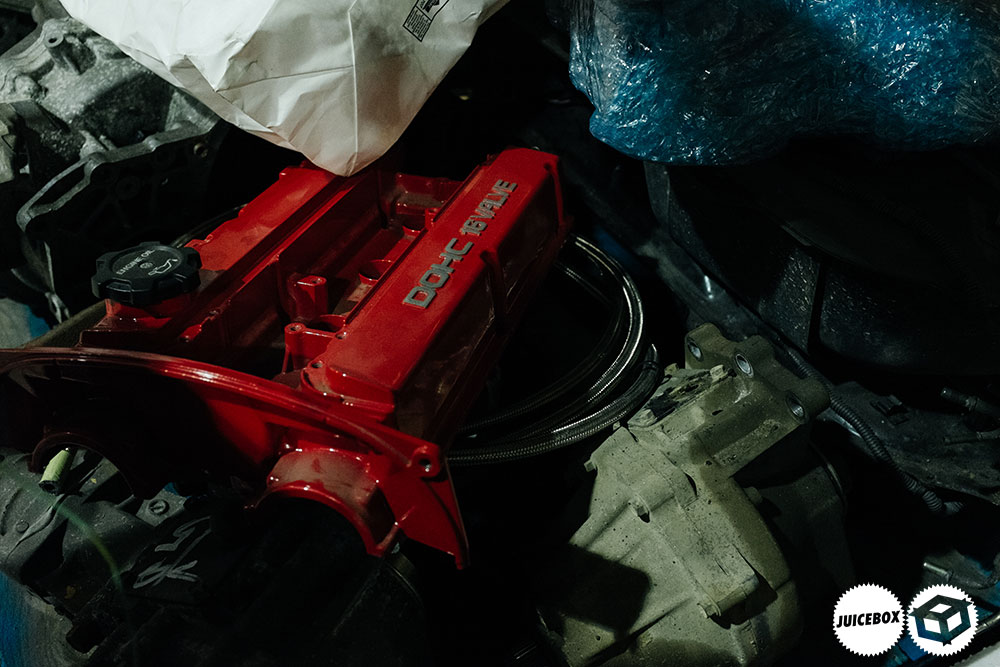 Add a combination of Ireland's humid air, and somewhat salty roads thrown in with our unforgiving terrain, many of those cars had a hard time surviving when they came from Japan.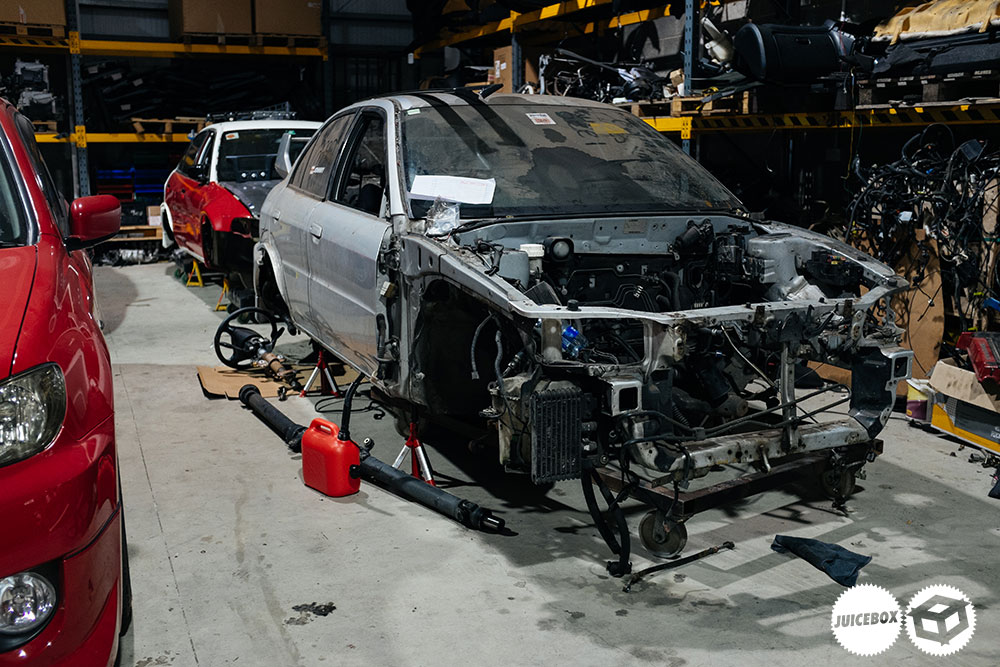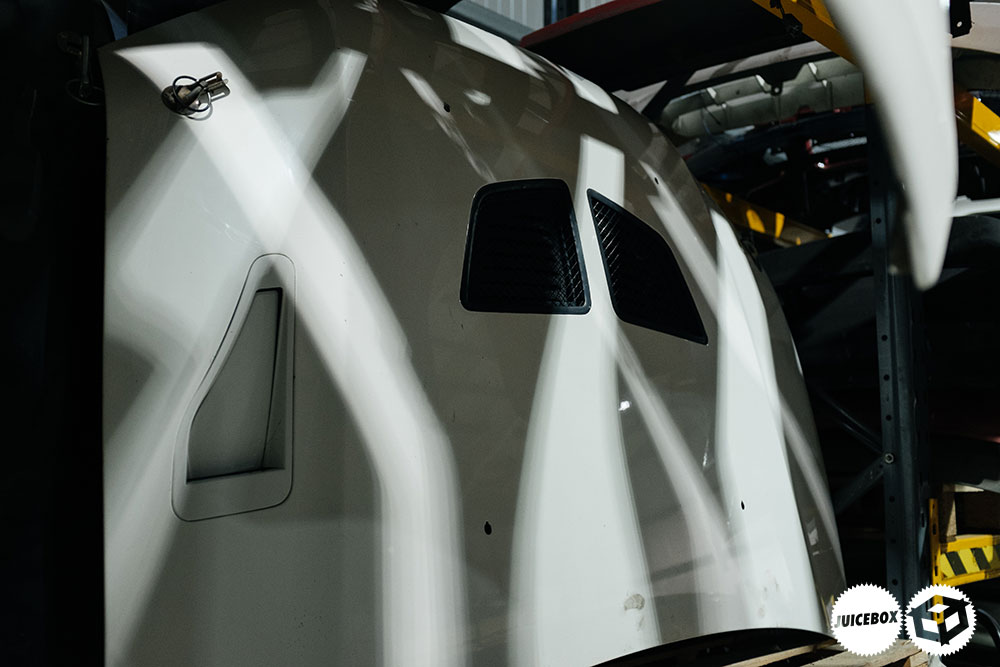 It's good to know that there are quite a few out there which have been well maintained and taken care of, but compared to any of the older Toyotas or similar, the Mitsubishis didn't hold up.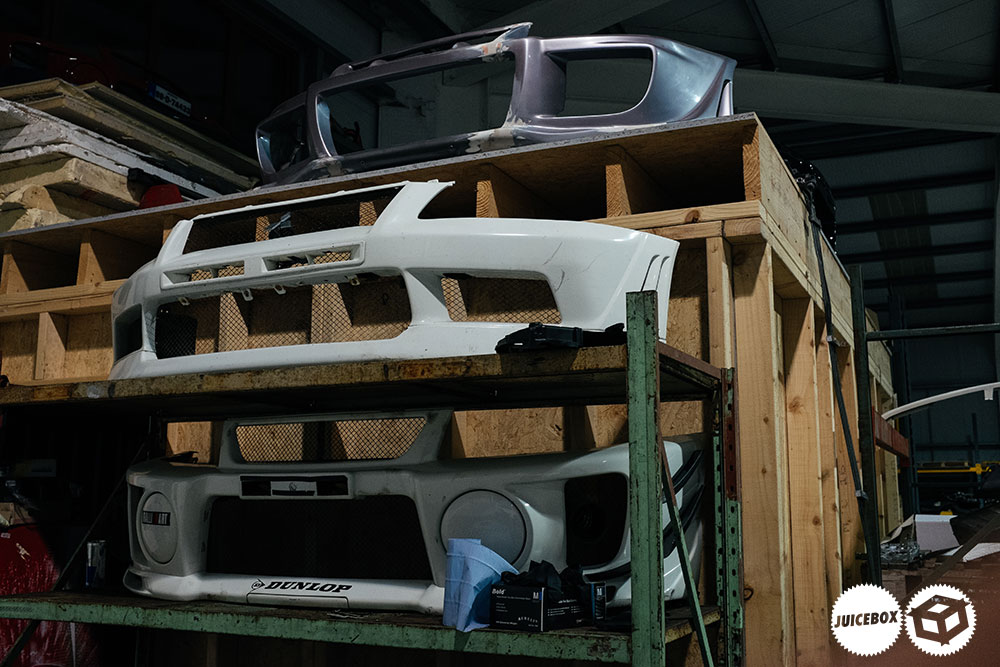 Any that come here from the UK are almost unsalvagable, they had been salting roads much longer and this just wasn't kind to these cars.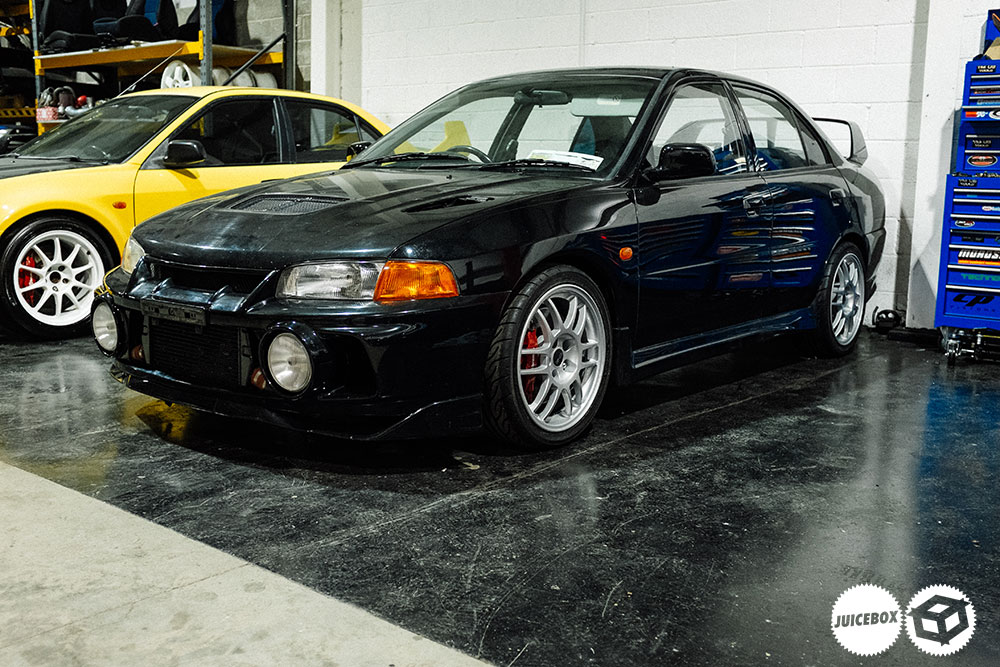 The Evo itself has always been a cool car. Another crazy idea put together in Japan that that thankfully carried on for many years.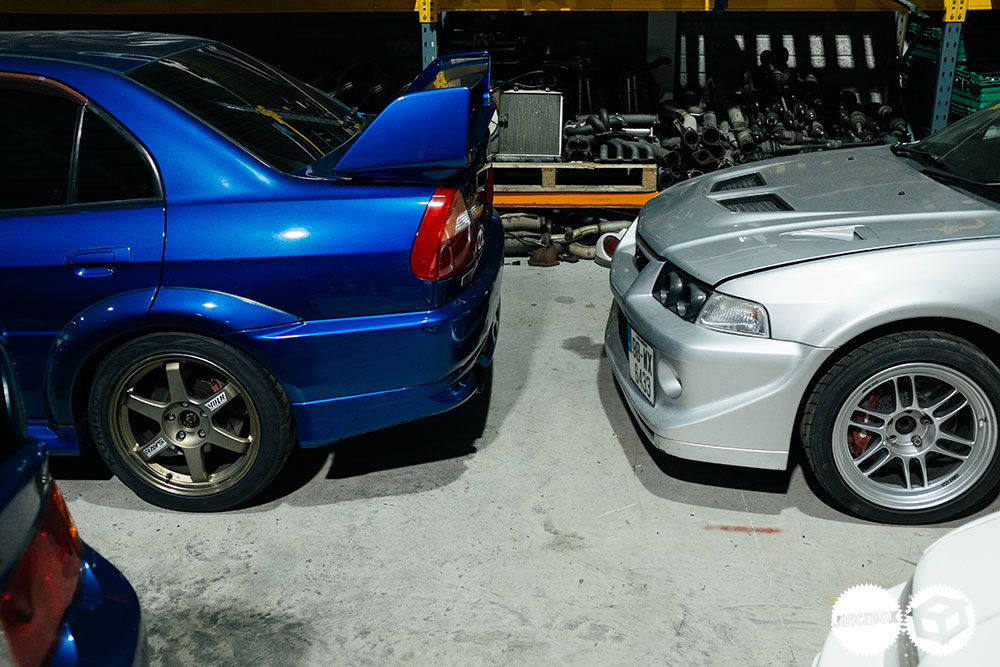 Taking a standard not so aggressive looking Lancer and building a homologation version with obnoxious extras AKA the rear wing only to then sell these to the public.
A rally car for the road with plenty of power and handling to match. Its what I have always been drawn to about them.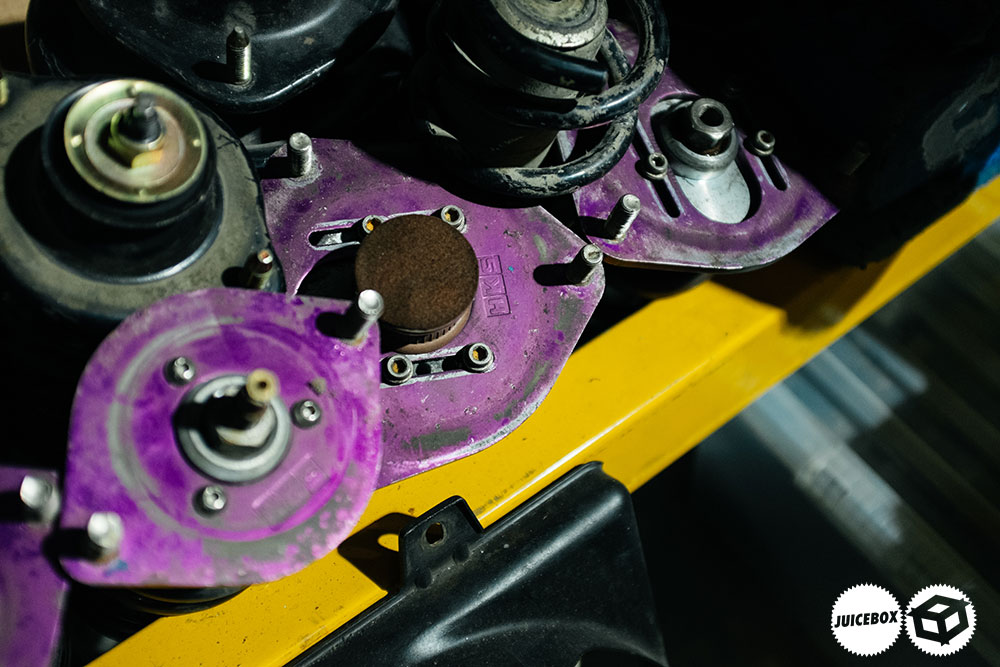 Rob fell for the Evo and never really got out of it. In fact, he's managed to build and own some of the coolest examples to ever make it to Irish shores.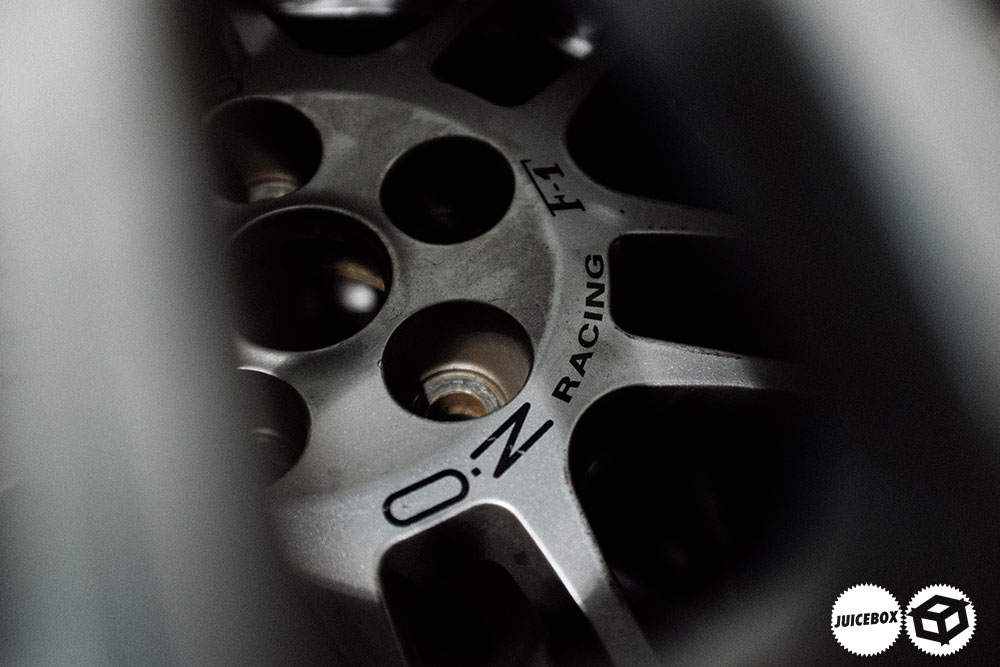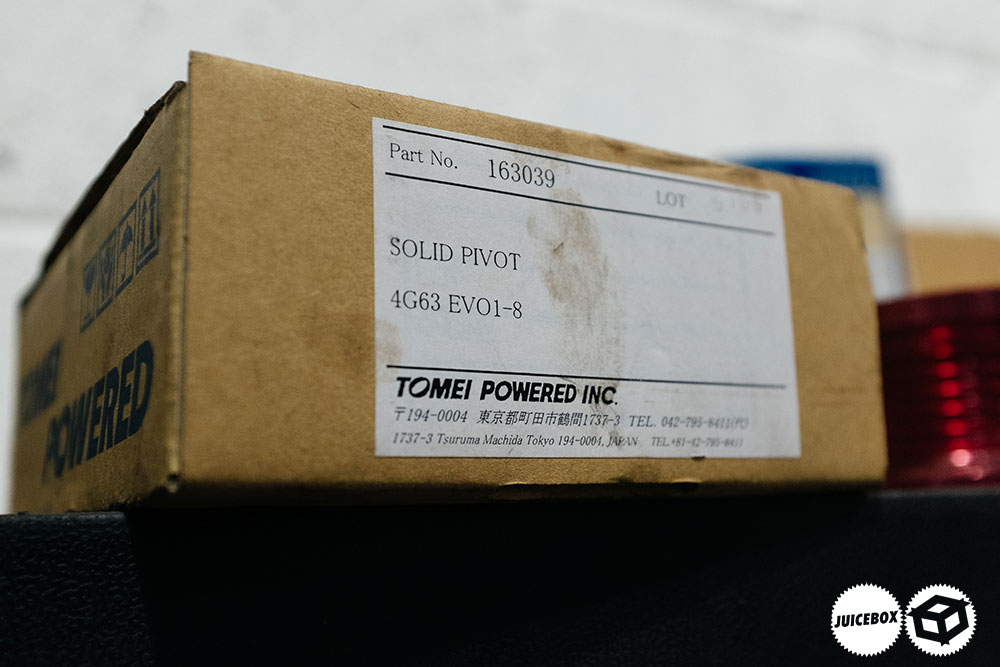 The new premises is like a rotating door for cool cars and parts.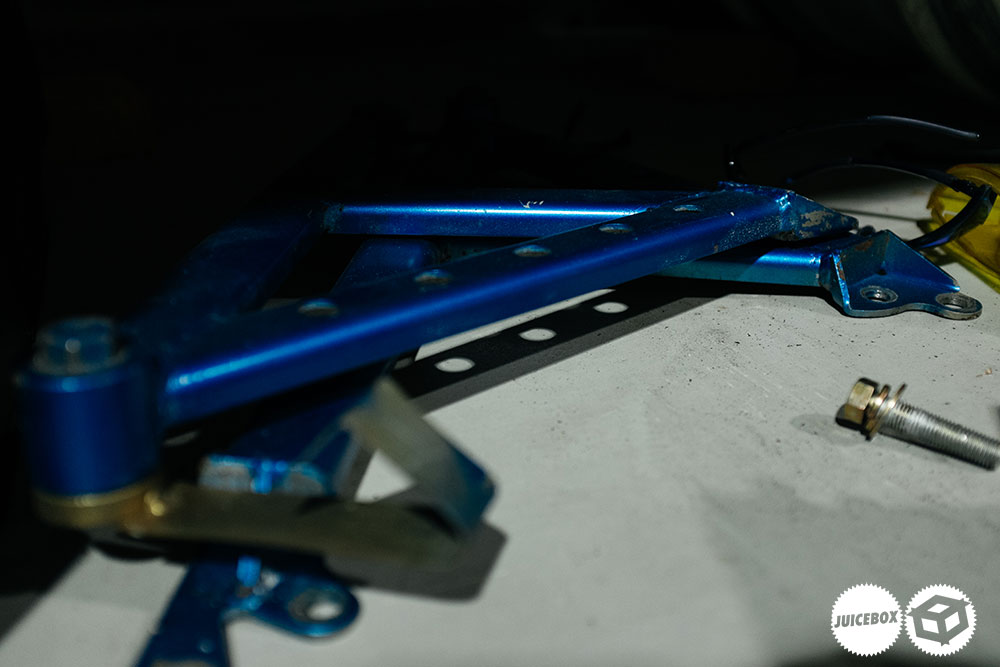 He's managed to stack up a serious amount of rare and hard to find parts over the years.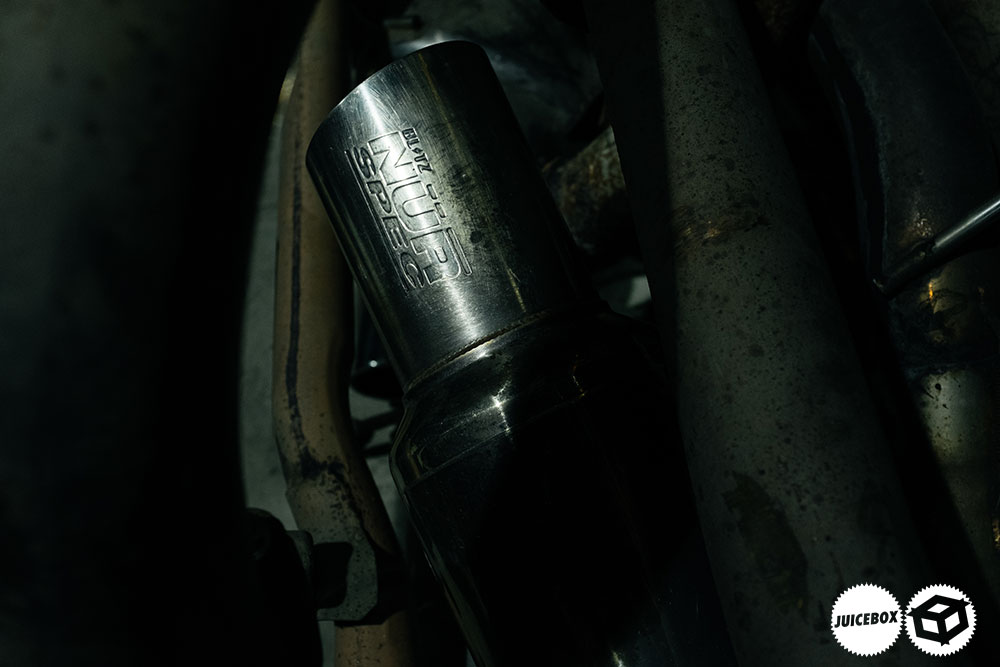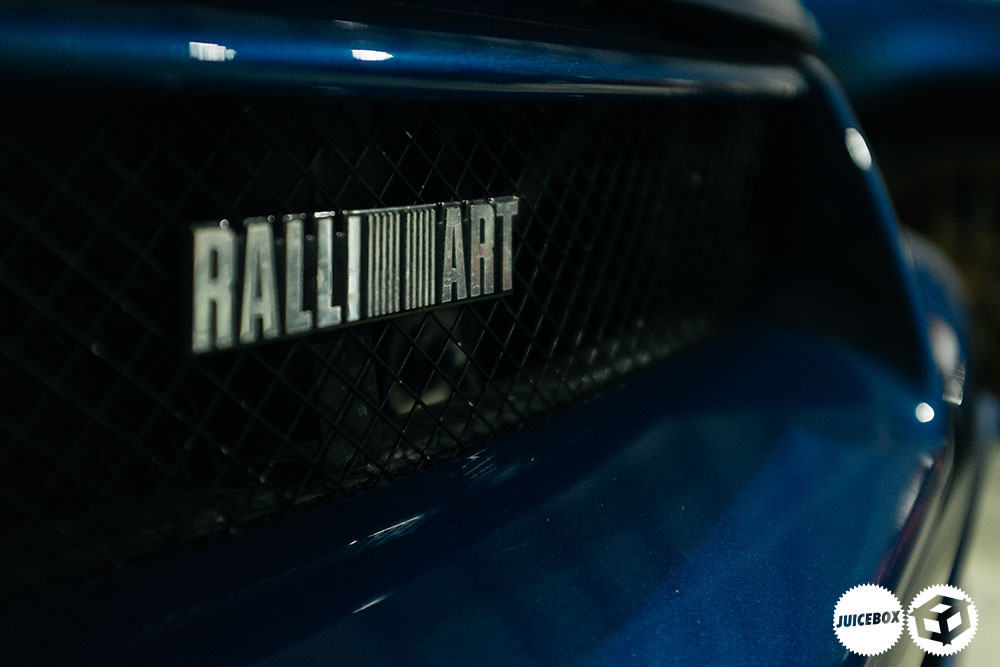 We used to Joke about calling him the Evo killer as quite a few cars never made it back out of his shed alive.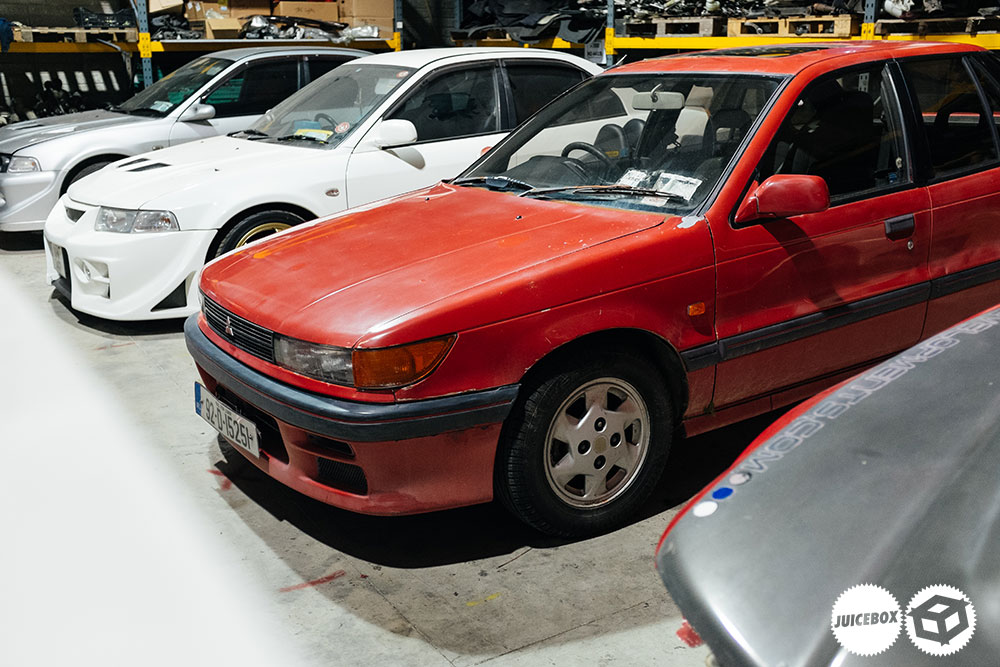 The new shed is a combination of his personal collection, some customer cars, and a few cars which are in storage for friends.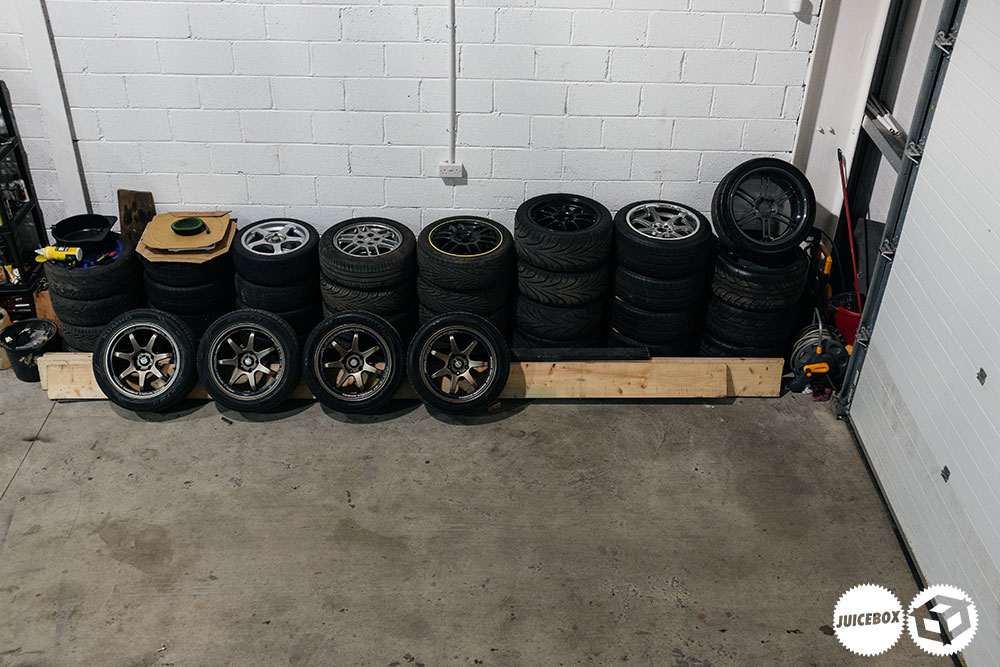 You really have no idea what's lurking in an Irish shed.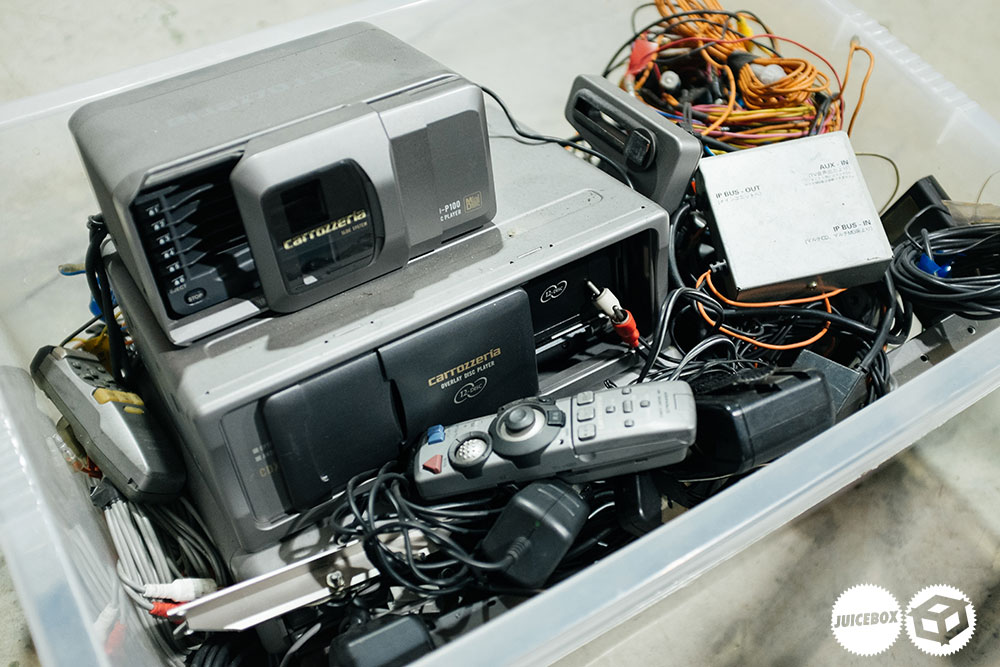 A deep delve into what's on the shelves reveals a random mix of rare and unusual parts.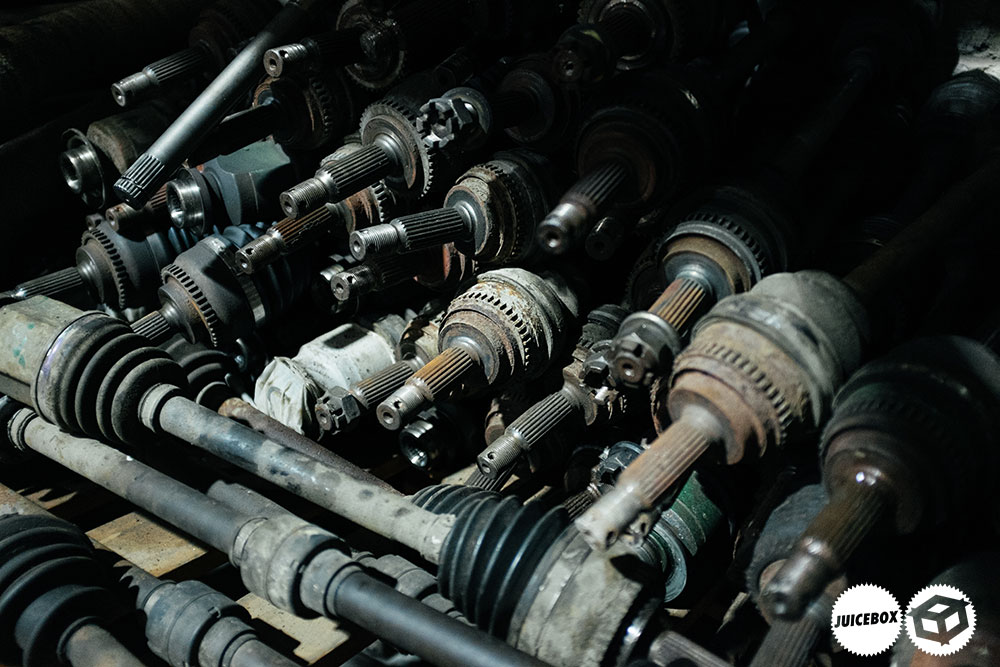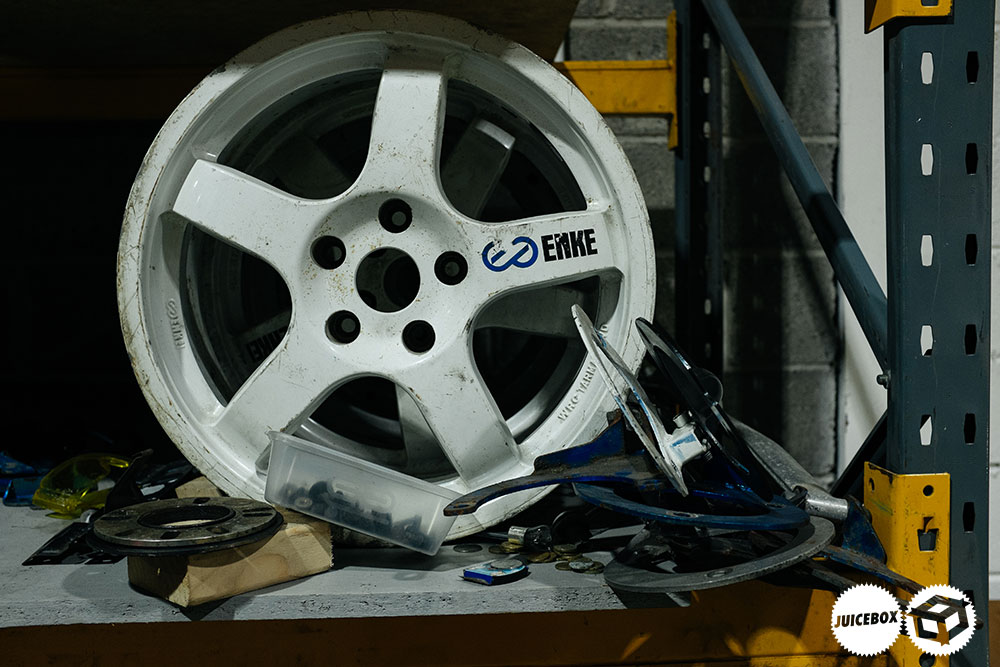 His love for these has grown into a business which fully specializes in buying/selling/breaking Mitsubishi's even importing them from Japan.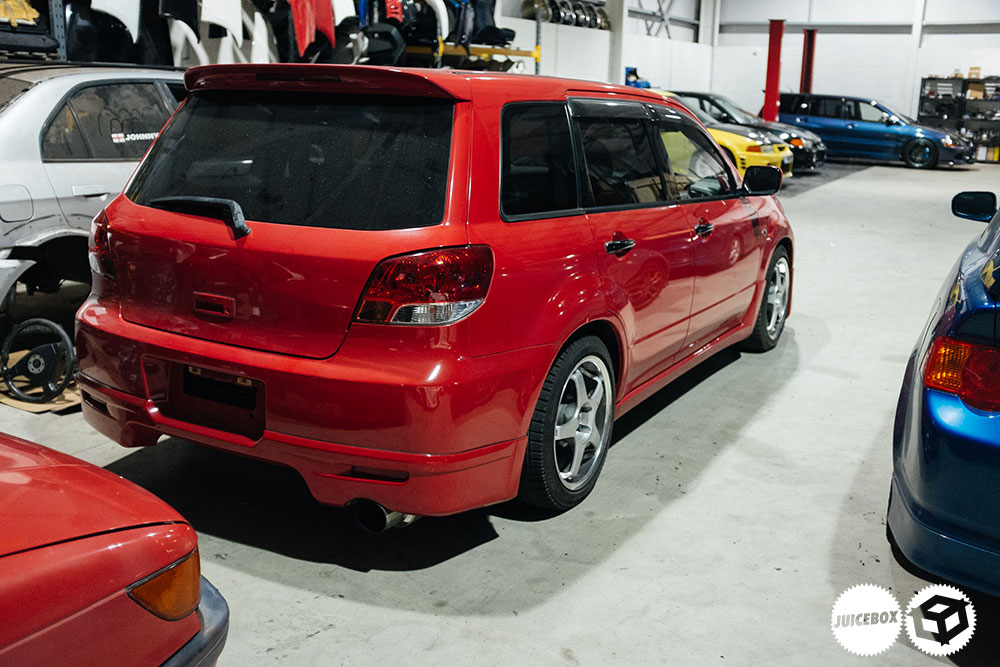 In the past year, he has brought in some unusual machines like this Airtrek…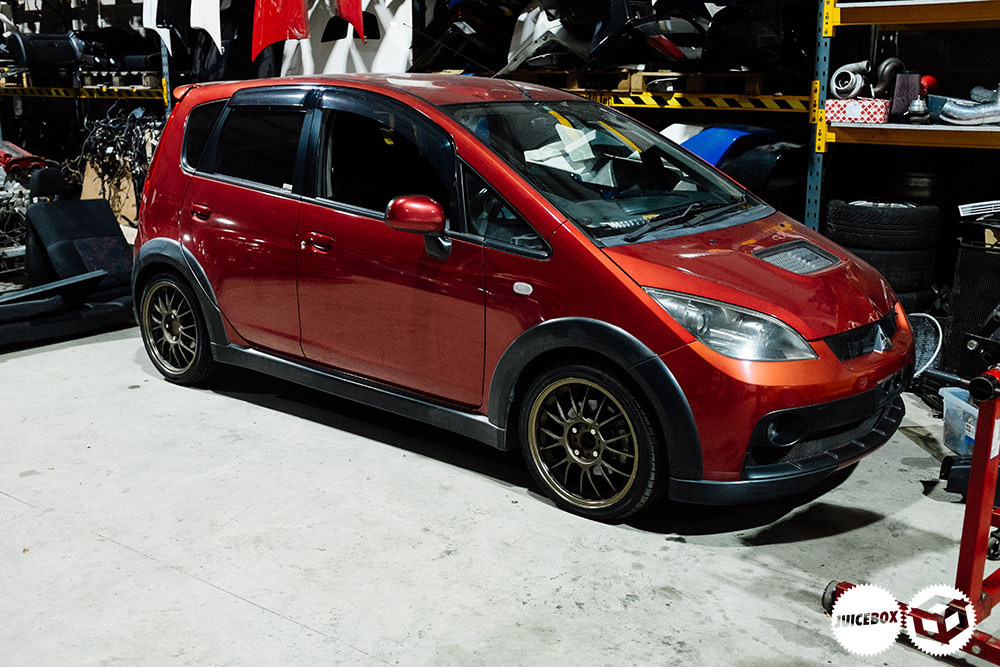 And this New age Colt is another, which is now wearing a set of SE37ks.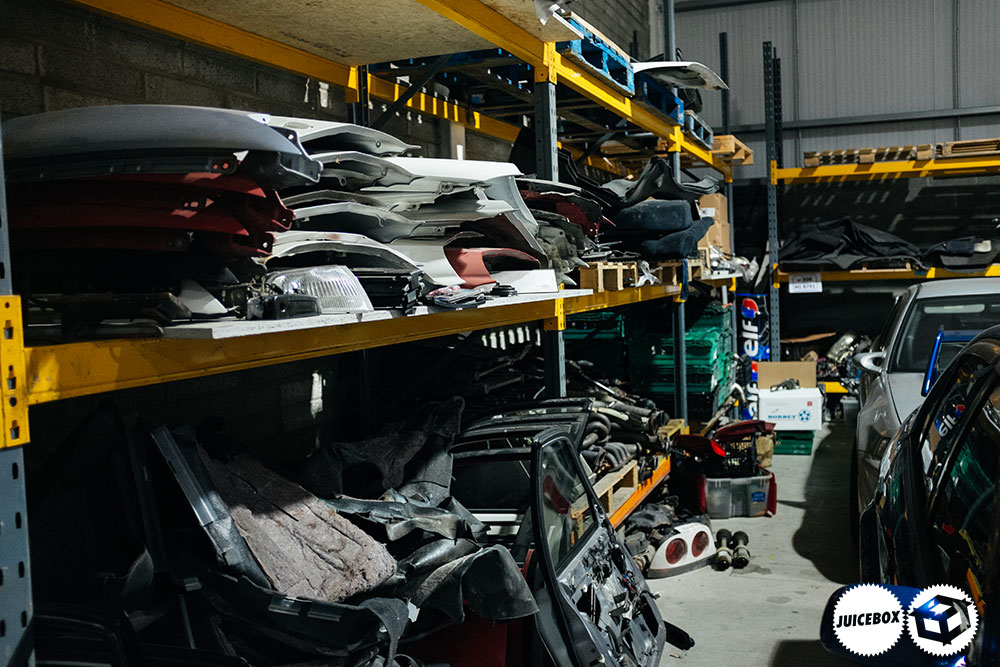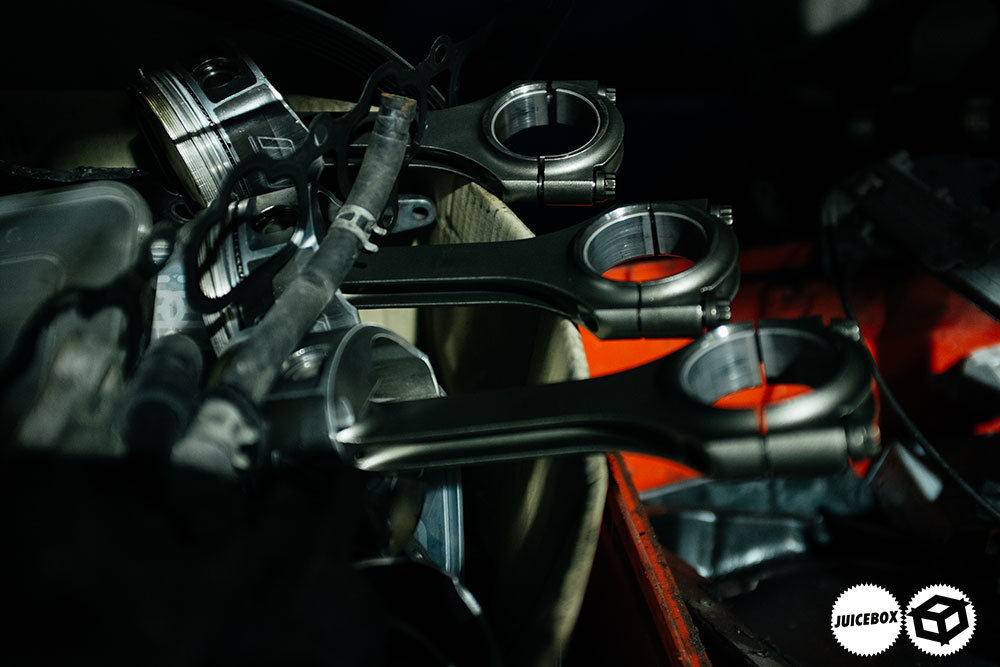 The shelves are full of bits and bobs, an Evo fanatic could spend some serious time in here!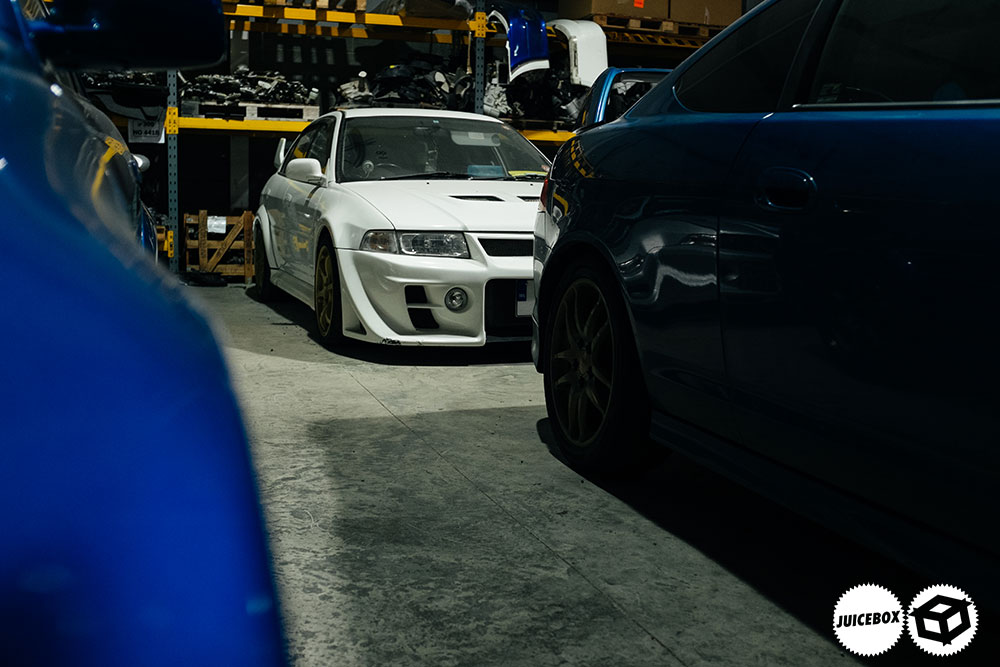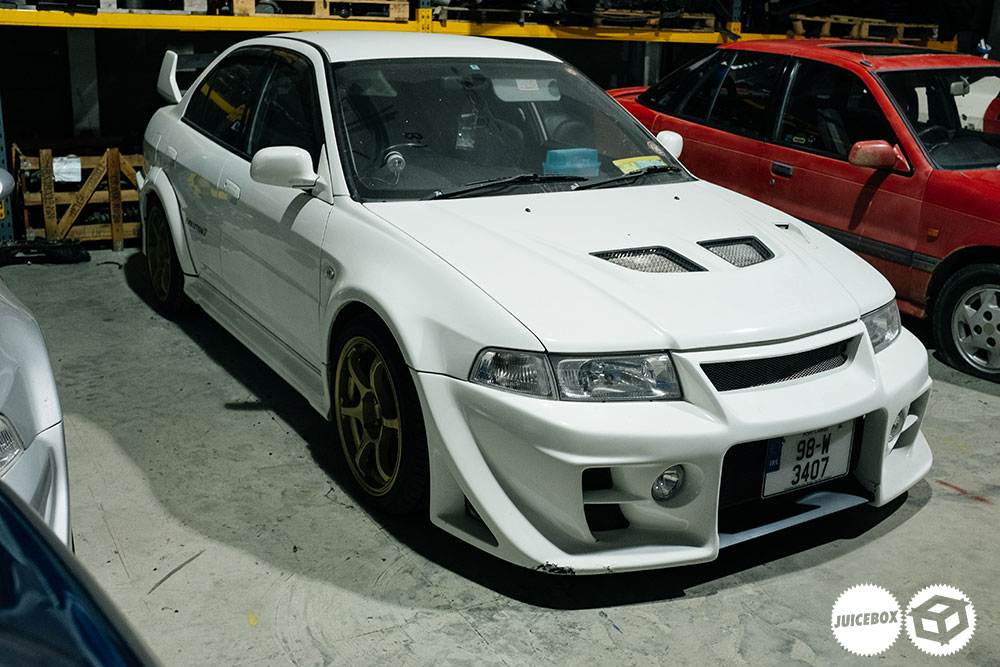 This car has seen this website and Speed hunters, a car that has been long in hiding with its distinguishable front end.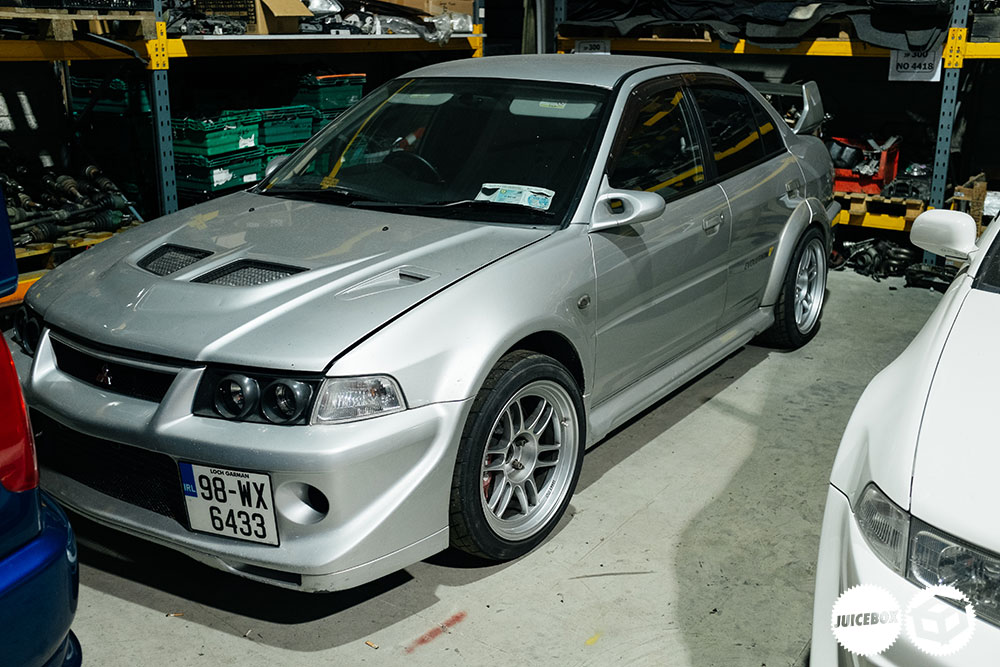 Other machines are in certain stages of repair or rebuild like this Silver beauty wearing RPF01's.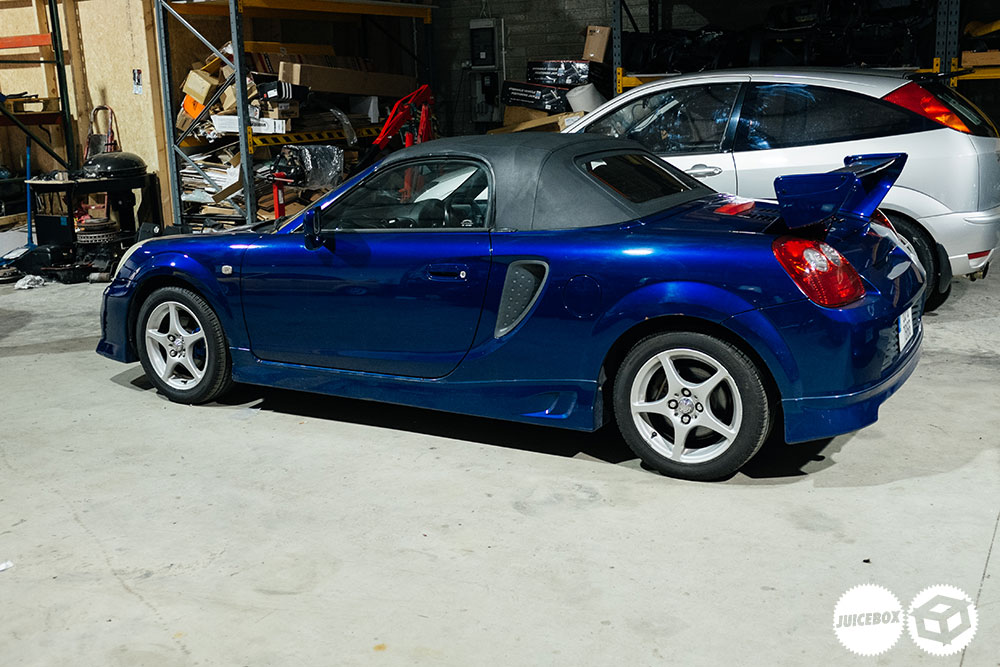 An unusual one for the collection is this TRD kitted MRS.. That rear wing seriously makes this a much better looking car.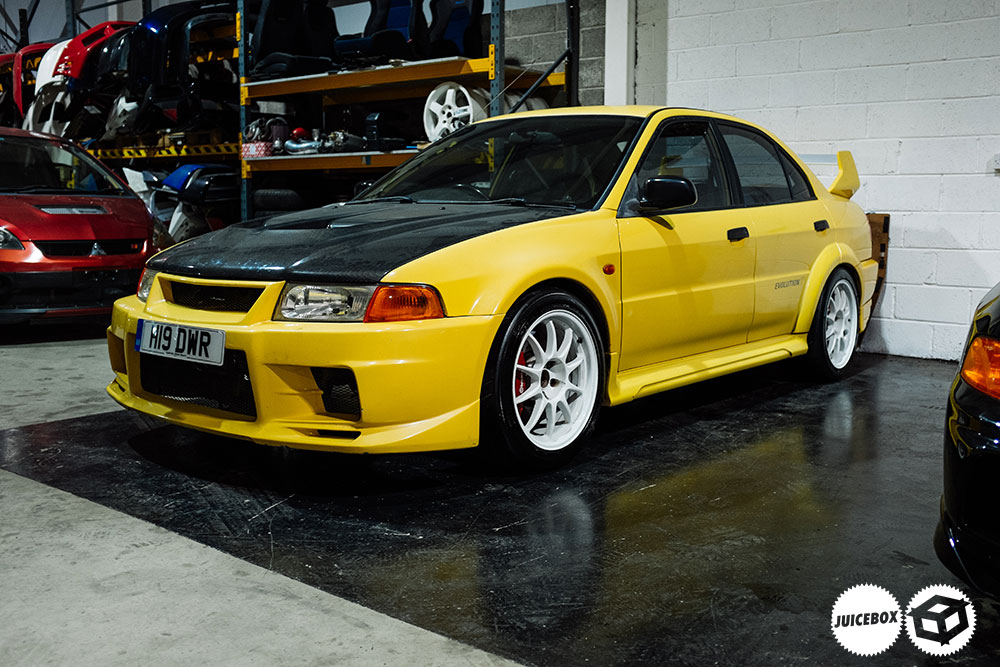 Rob has a thing for Yellow Evos with this 5 being his 4th one to own and more than likely not his last.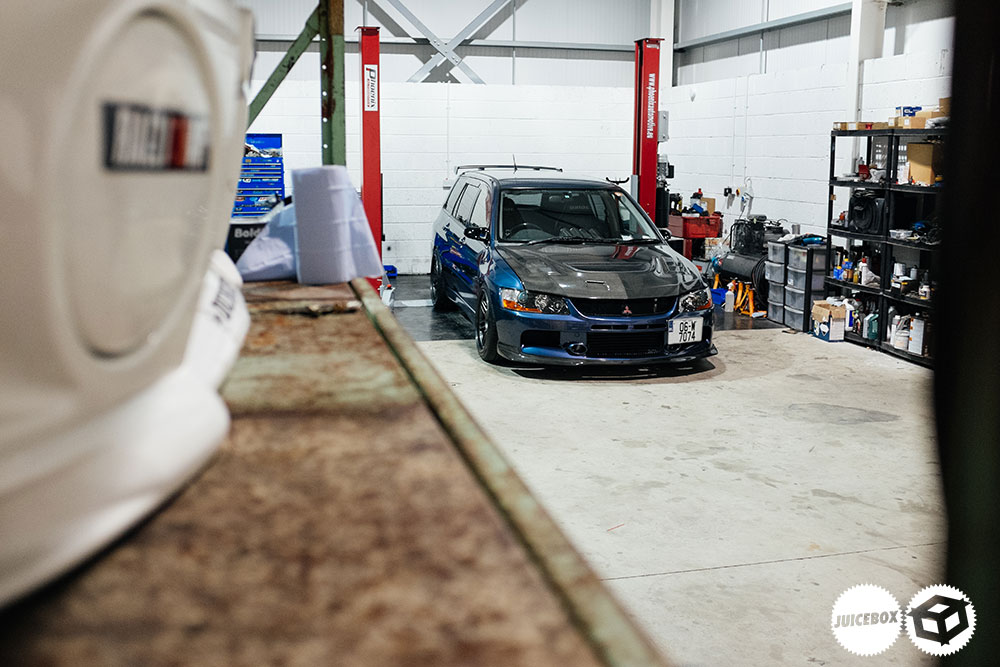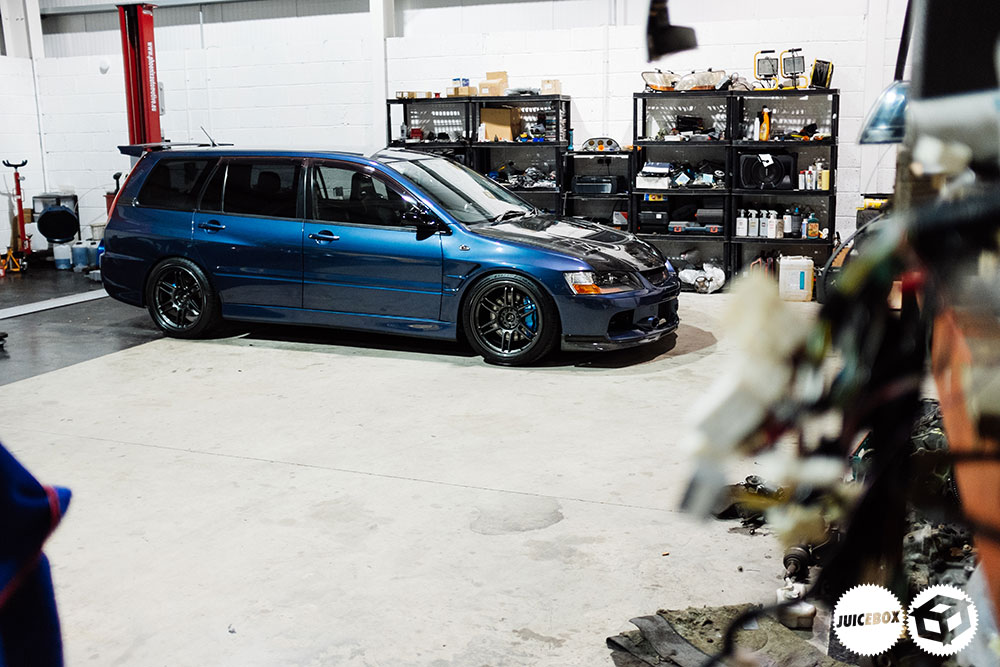 His crown Jewel is this Evo IX wagon which he has been slowly building over the last year or so.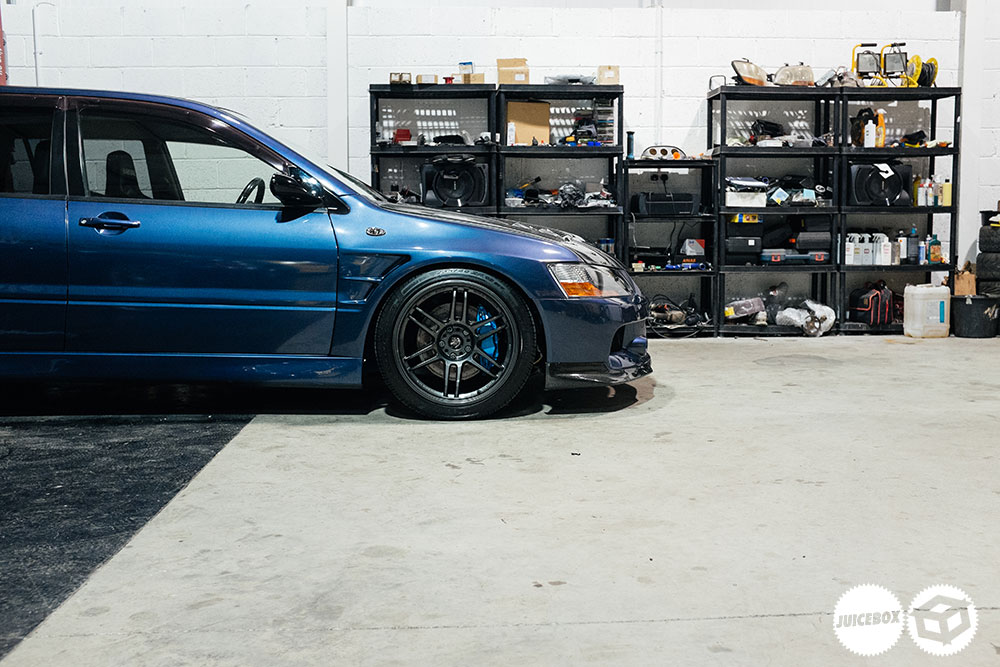 Knowing how bad Mitsubishi metal is for corrosion Rob stripped the car down to the bare shell and resealed and future proofed this thing for the Irish climate.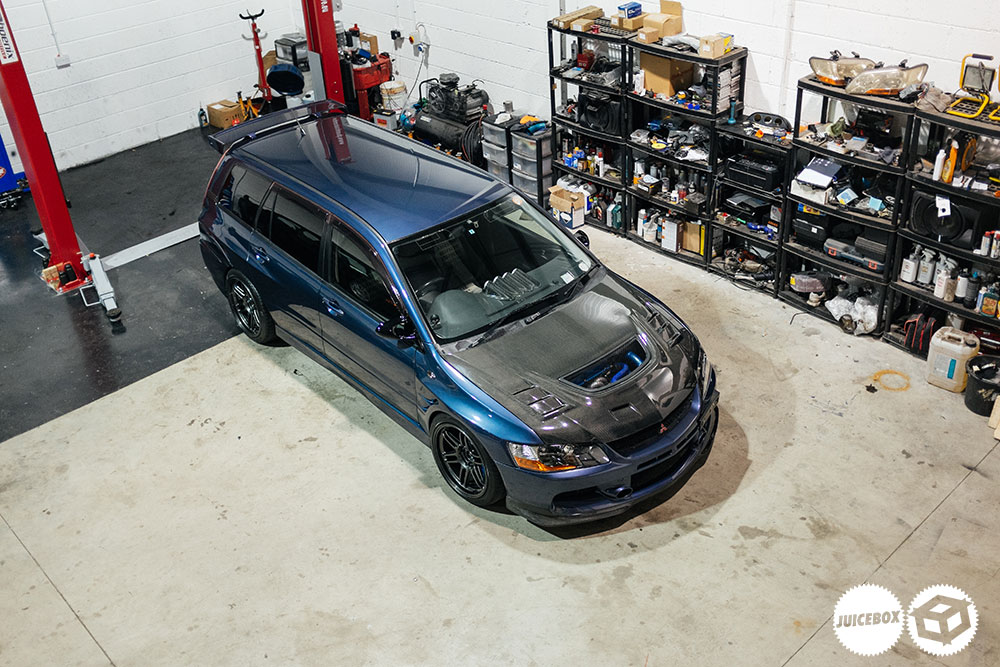 This car is simply insane and is sort of the finale in Robs quest to own the ultimate Evo.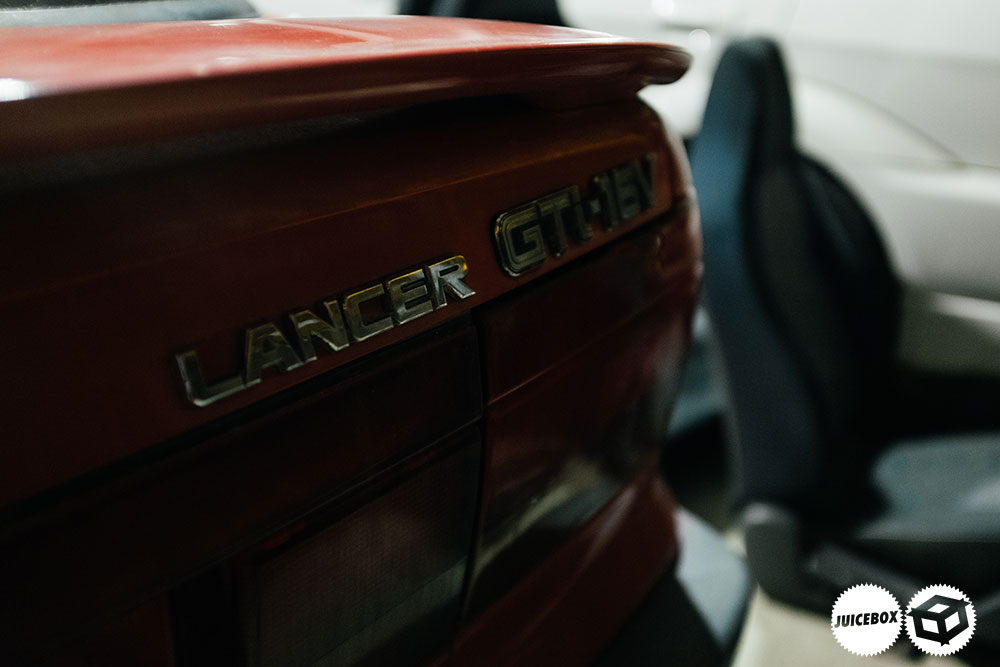 Rob has managed to climb the ladder of the years,  finding and building the perfect Evo by buying and selling and breaking others!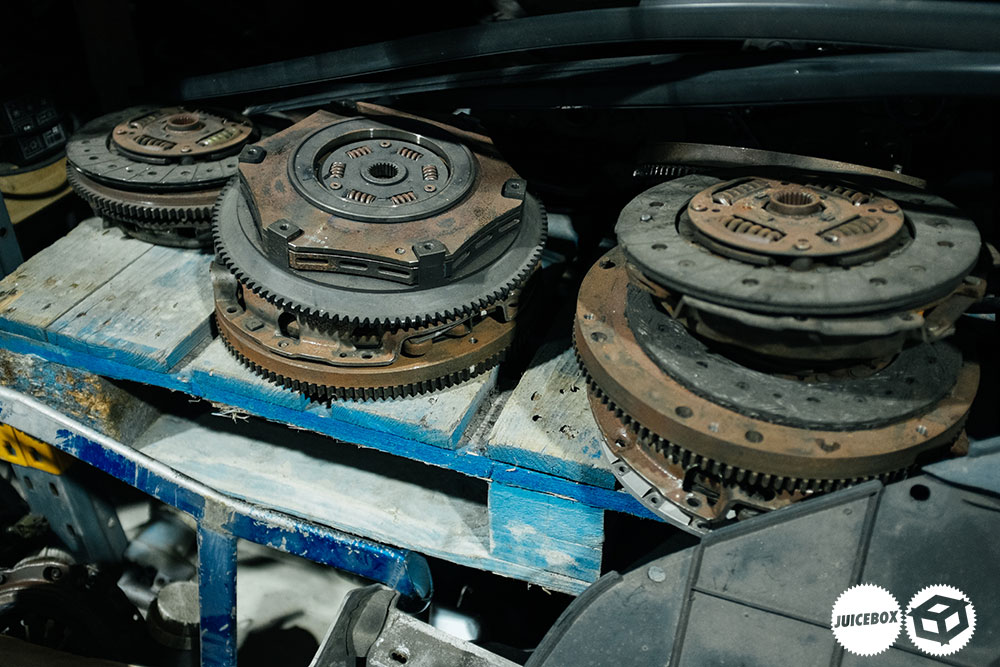 I'll have much more on his EVO Wagon in the coming weeks.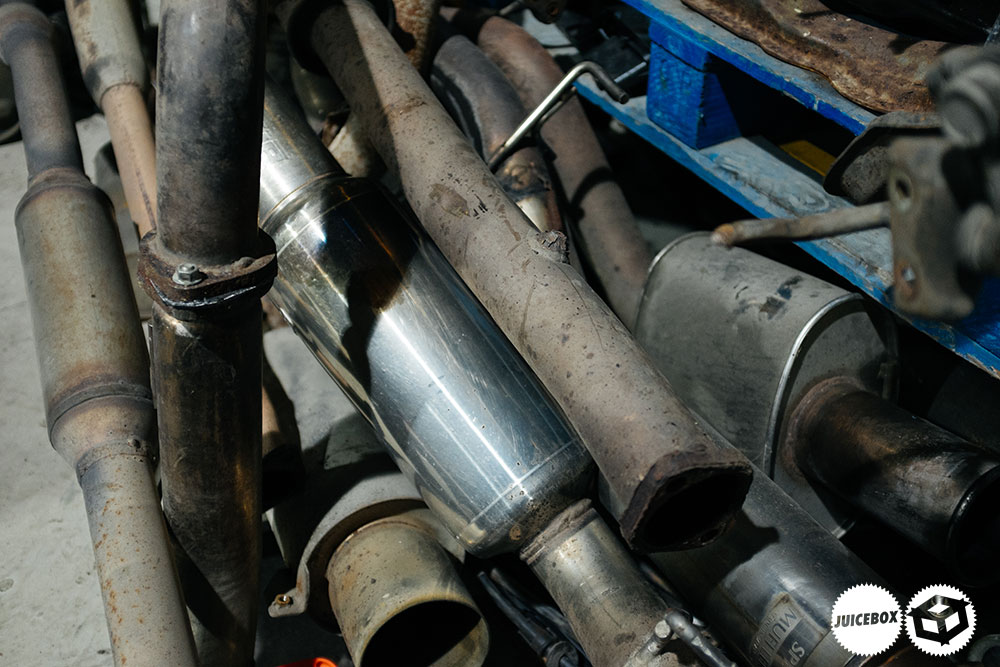 I felt this place deserved a story as I haven't come across anywhere like it… the amount of stuff stockpiled is mental!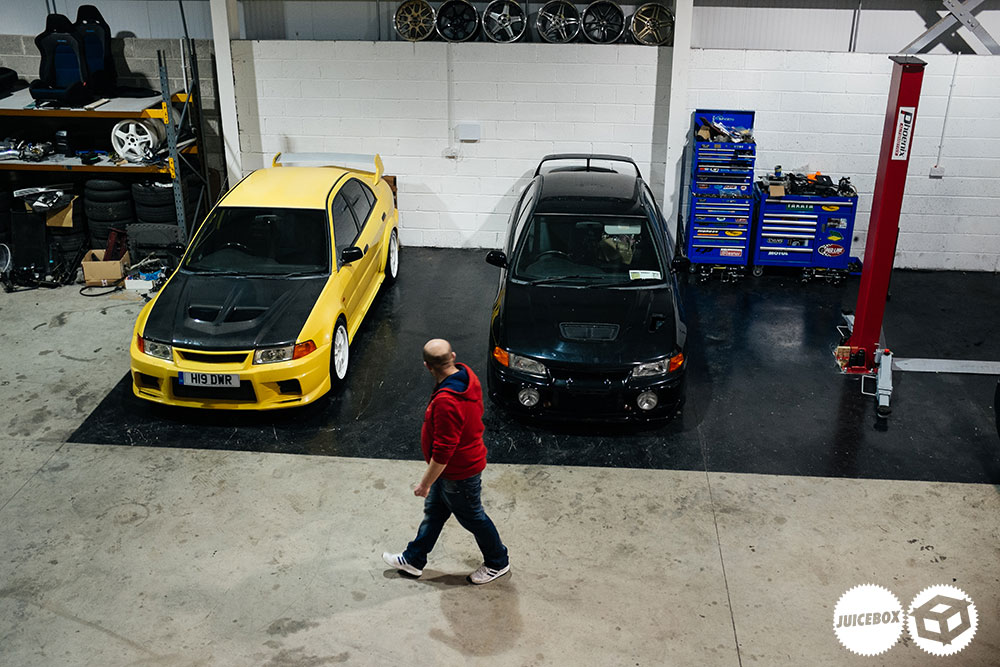 An enthusiast turned entrepreneur, a guy from the southeast has managed to gather this large collection of Evo stuff whilst keeping his passion alive.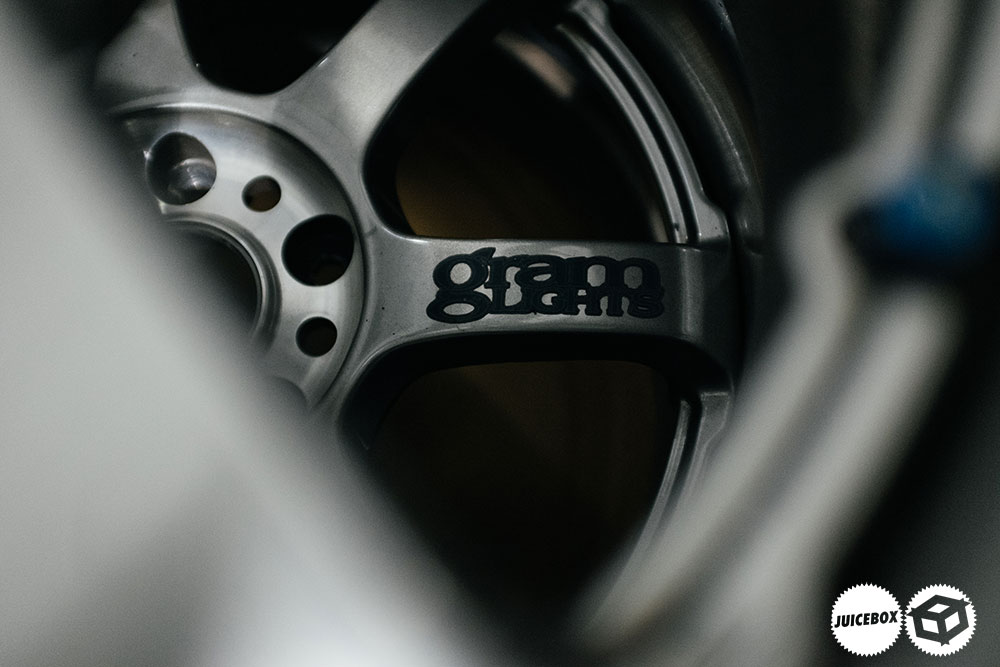 I'll leave you with the rest of these pics to enjoy.