Out of the ashes : Twin trueno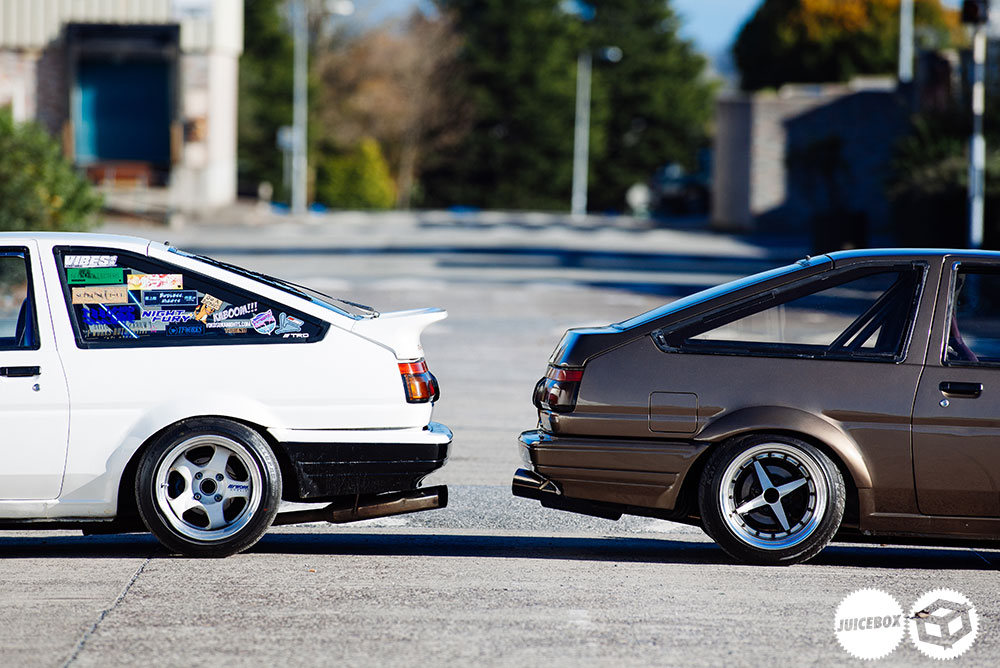 You're fifteen years of age, your Dad tells you Christmas and birthdays sorted for the foreseeable future, somehow you have ended up with your dream car. You look outside and you are the proud owner of an AE86.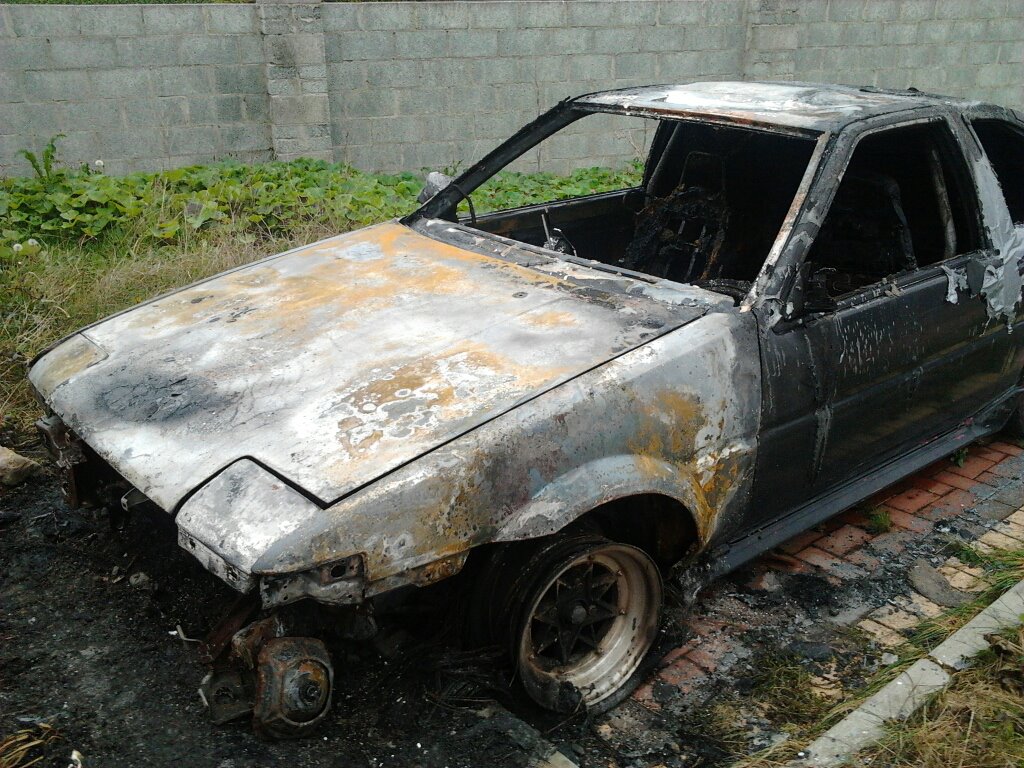 Imagine your worst nightmare. Imagine waking up one morning to find the car burning to a crisp in the front garden. At fifteen years of age, this must have been seriously heartbreaking.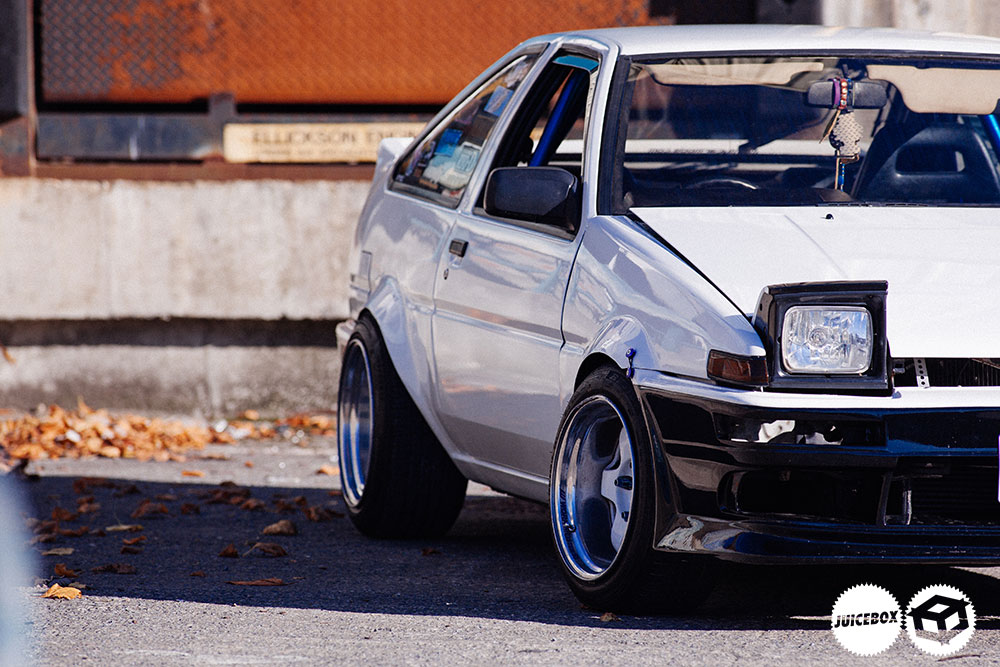 Seamus told me it still gets to him. His dad was gutted, both father and son stood there trying to come to grips with what had just happened. His Dad ended up paying the car back without the enjoyment of seeing his son driving and working on it.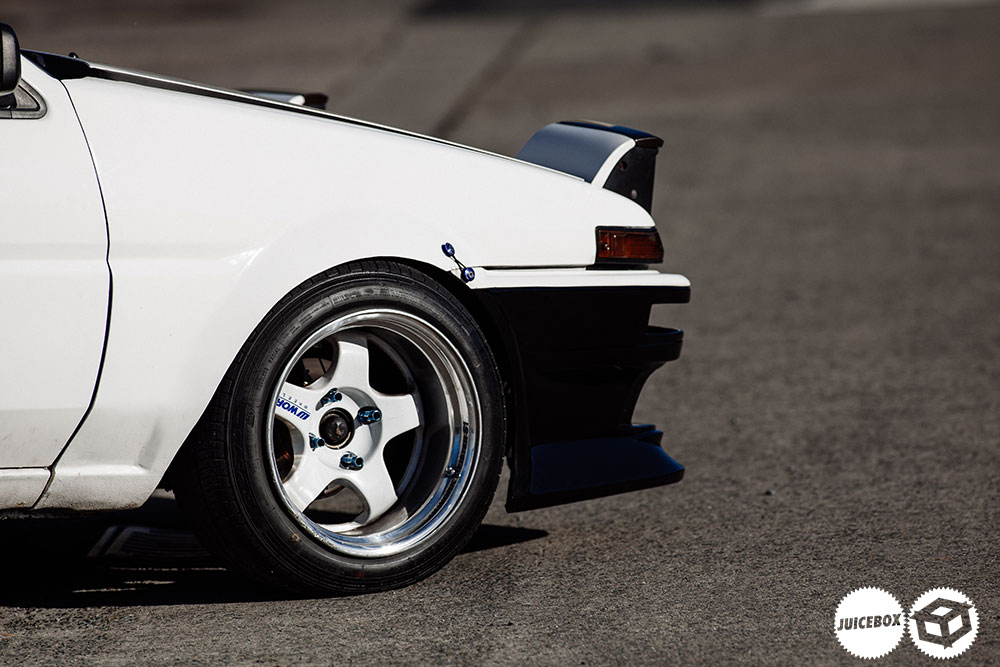 Fast forward a few years and Seamus is an adult, working away stashing his money, keeping that car in the back of his head. The original incident was nothing more than a drive to get the dream car once again.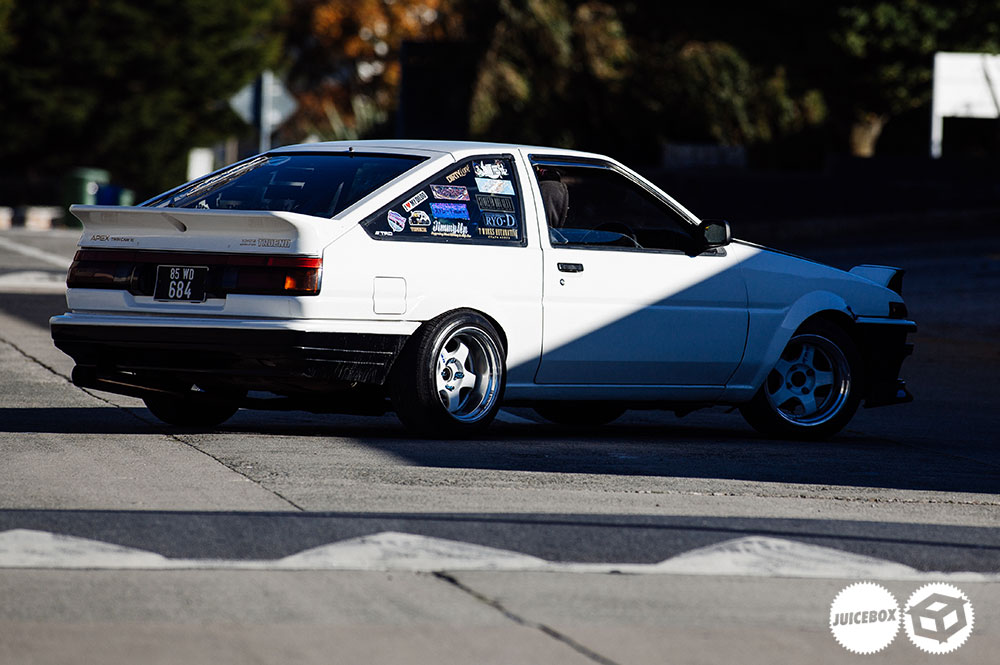 He told me that seeing that Trueno burnt to a Crisp completely gutted him, but he promised himself that one day he would have that car again.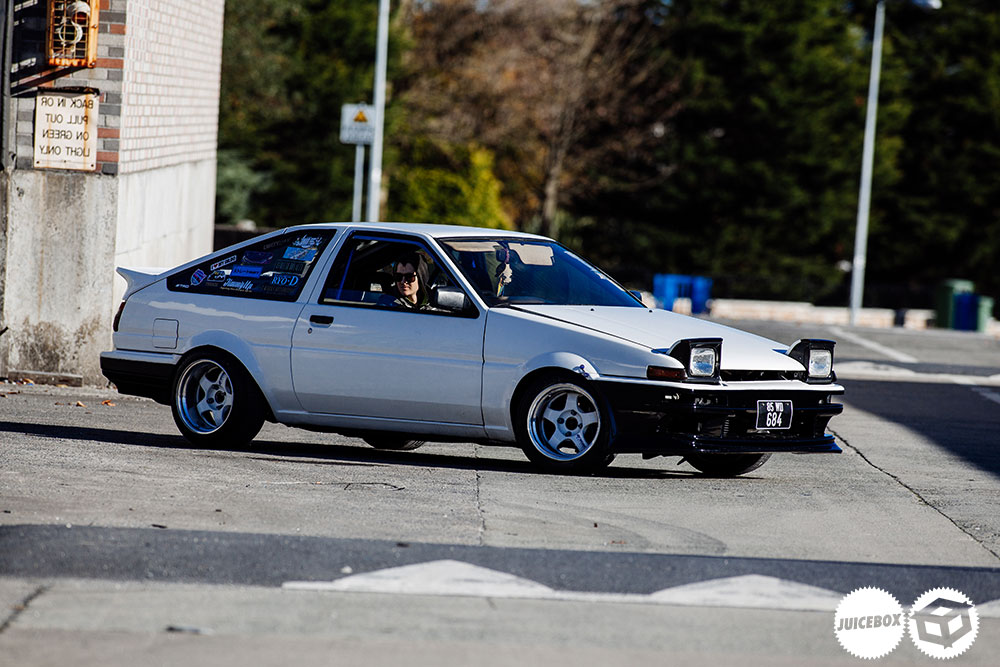 When the time was right Seamus came across this Trueno with an original Waterford reg (where Seamus is from) and he had to have it.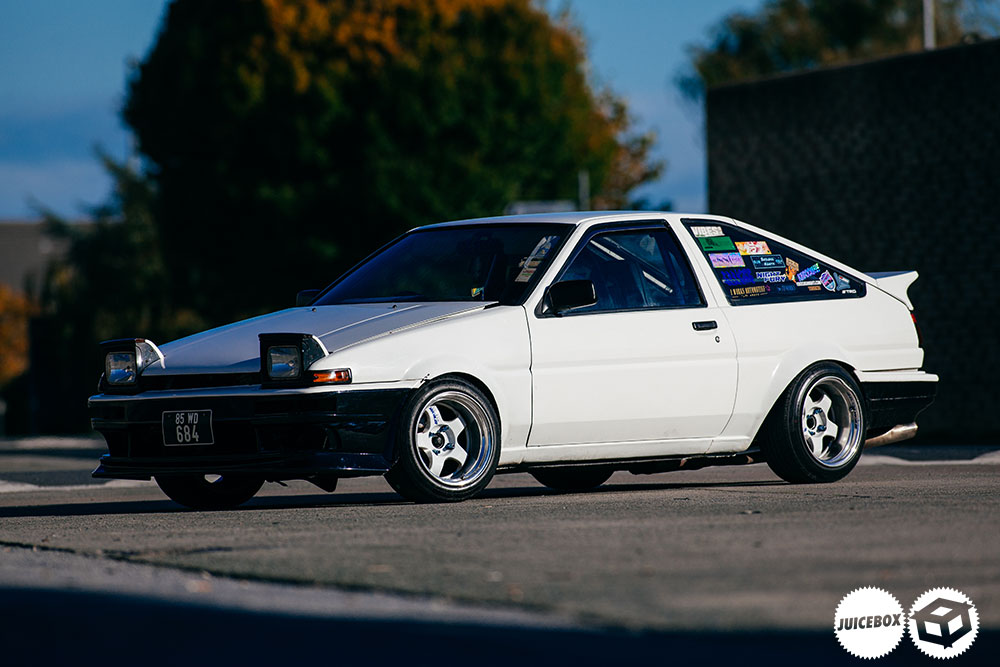 The car needed work and was a nonrunner but with the right amount of effort was the perfect base to once again begin begin his relationship with an AE86.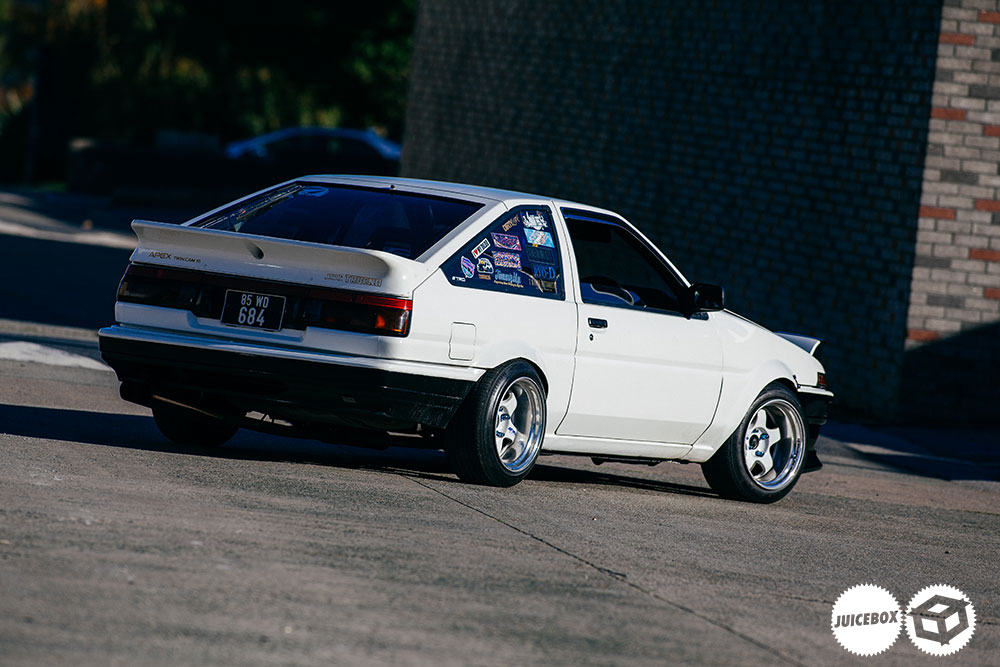 The car is finished in a simple white with black bumpers. It's a classic look. A TRD rear spoiler is the ultimate choice for the rear hatch.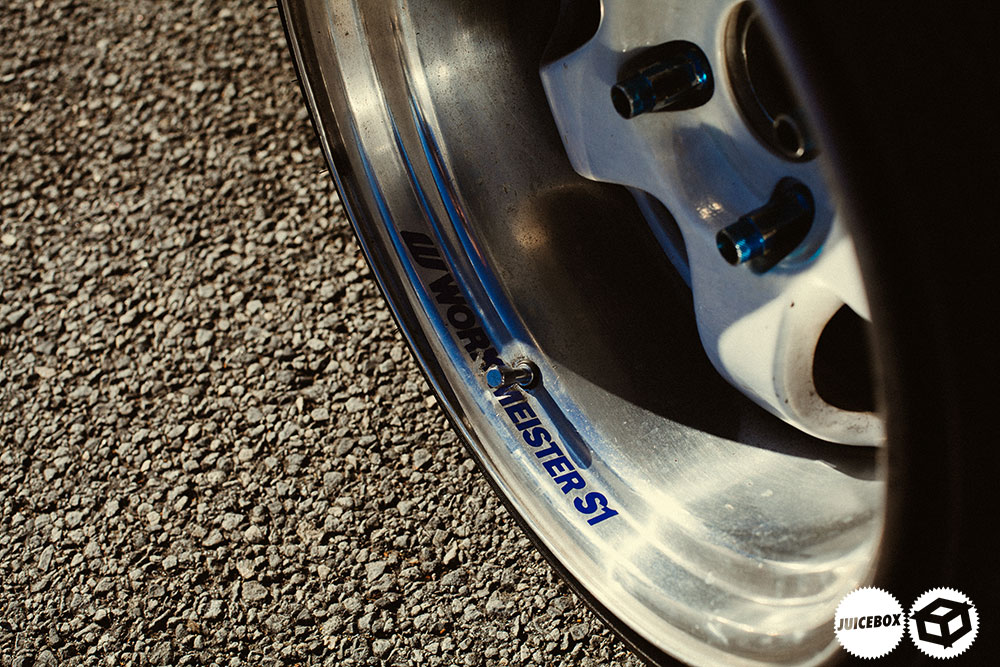 Under the arches are chunky 9J Meister Sp1's. As much as I have seen the Meister on an 86 over the years, it's strange just how much a modern wheel suits an old chassis, almost TE37 territory for all other cars.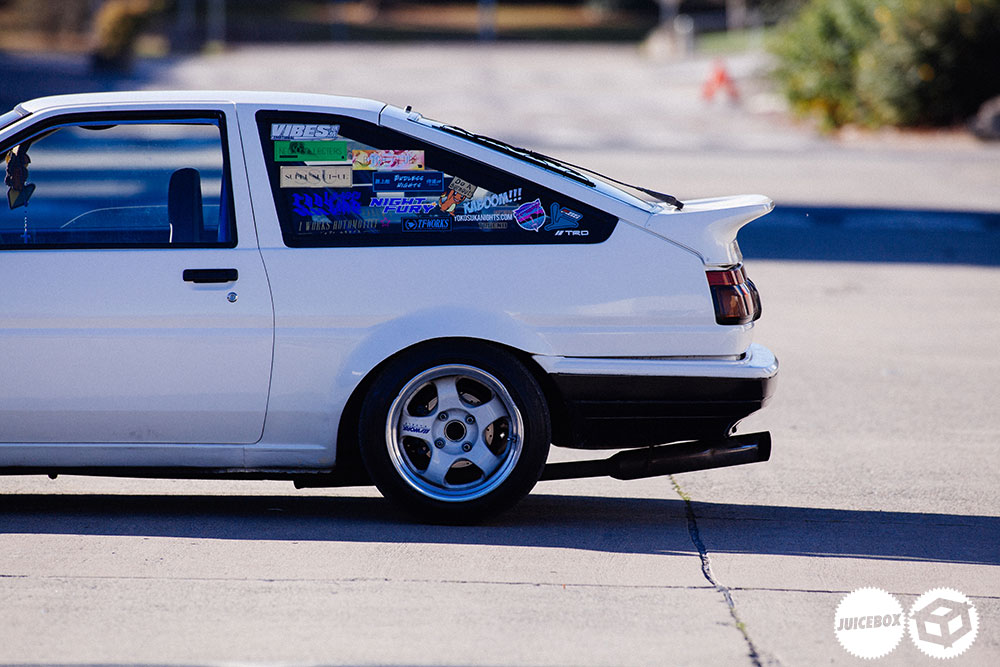 Tein coilovers keep the 86 firmly planted with an array of arms from Cusco underneath.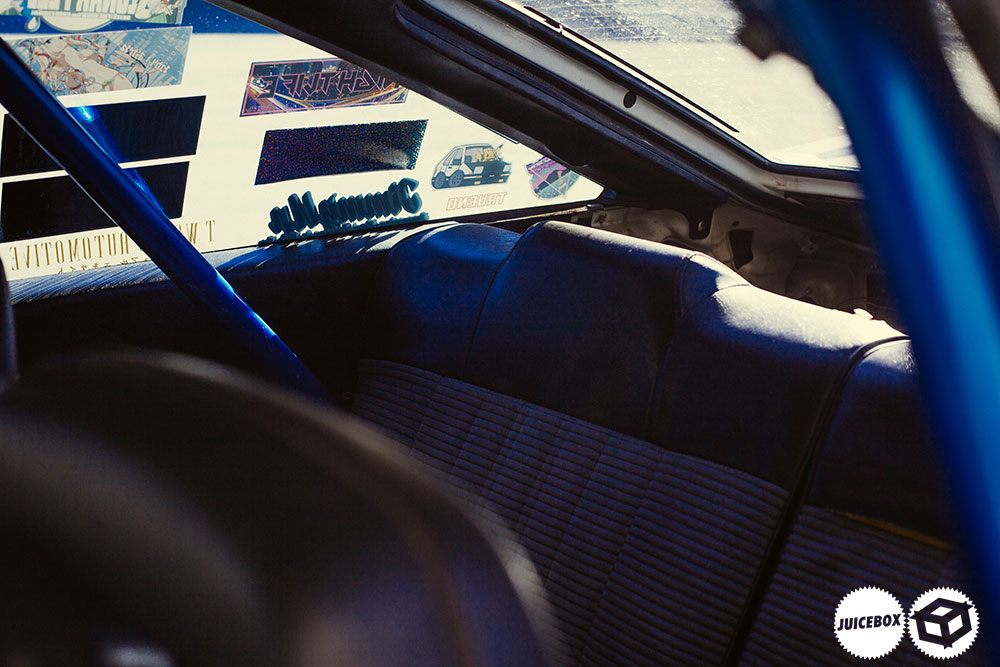 This car is daily driven rattles needed to be minimal, Hachis are well known to be rattle boxes so Seamus has tried to reduce  as much as possible by keeping a full interior.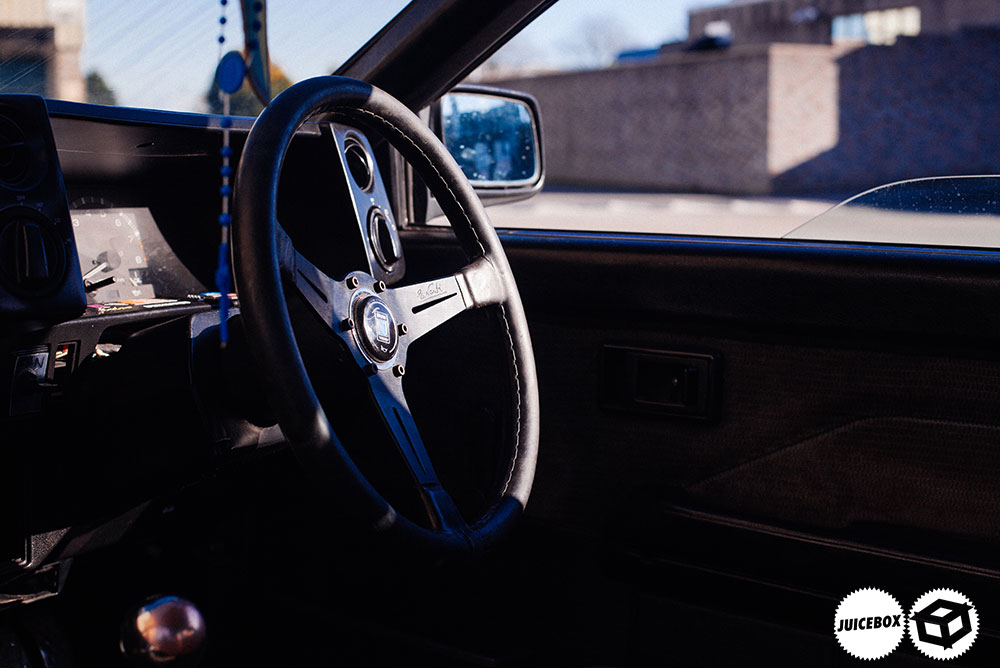 A Nardi classic always compliments that eighties interior while a Bride seat takes care of the driver. Wrapped around the cockpit is a Cusco cage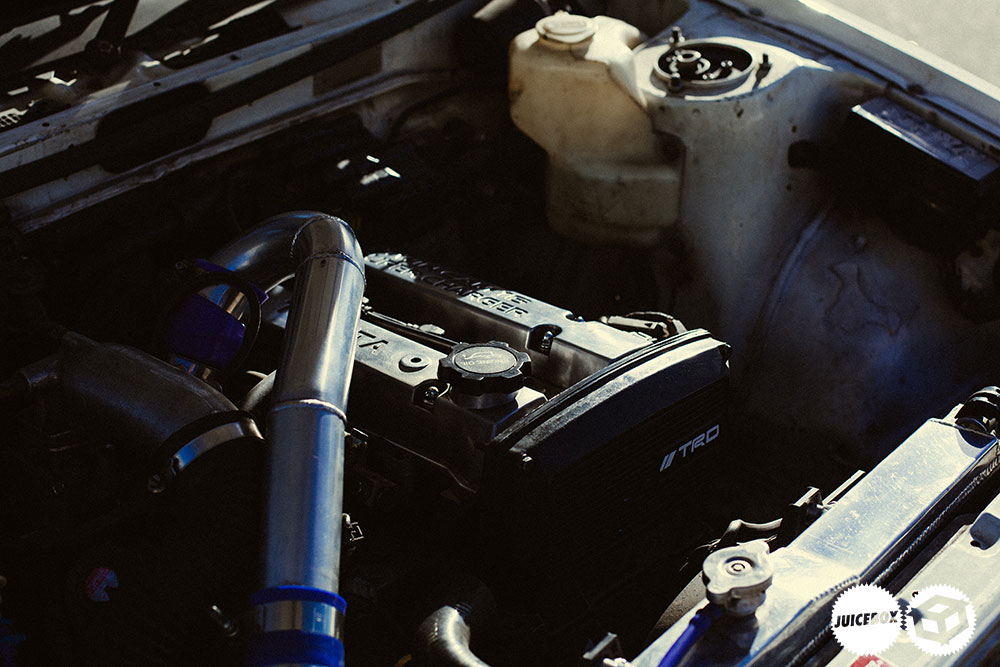 Power is supplied by a 4AGZE engine from an AE92, mated to an Exedy Paddle clutch and TRD LSD out back, a classic reliable setup for easy power.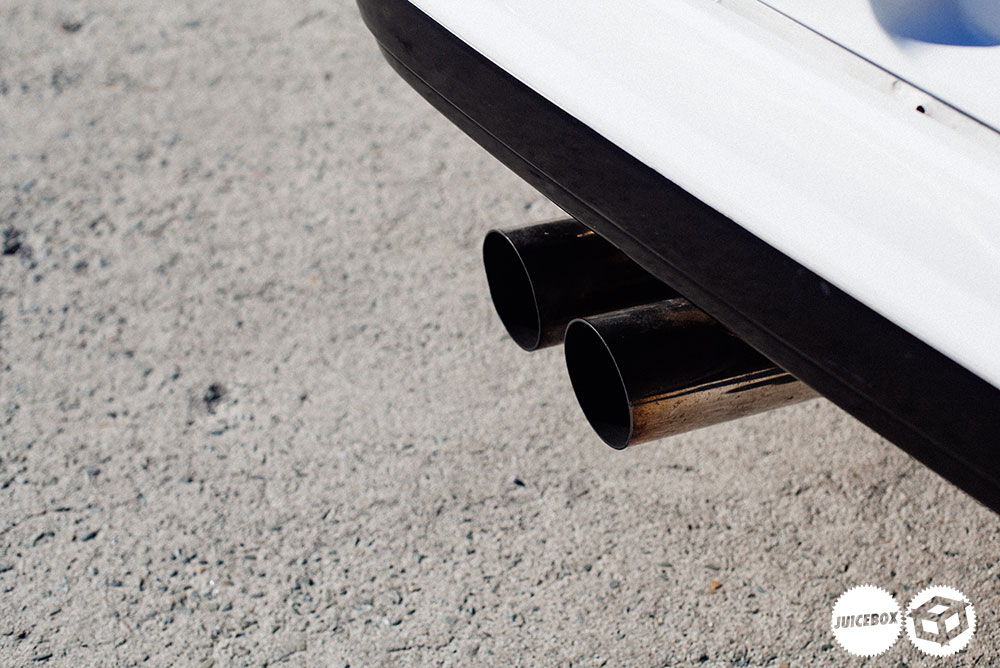 I don't think I could get sick of this car. It's was nice to see Seamus putting this back together and enjoying the crap out of it, years after the misery he endured as a teenager.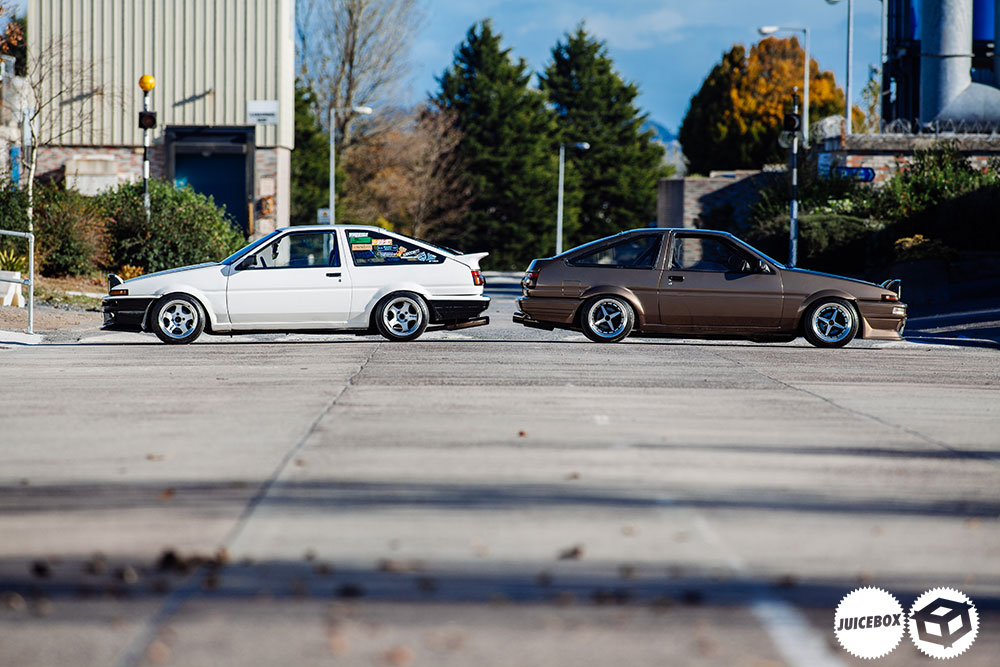 What's cool is his Dad who had been a long time active member of the Waterford car scene picked up this EX D1 street legal car from the UK. He wanted to enjoy the 86 life with his son.
This car has competed in many events and used to sport a full livery and Aero kit.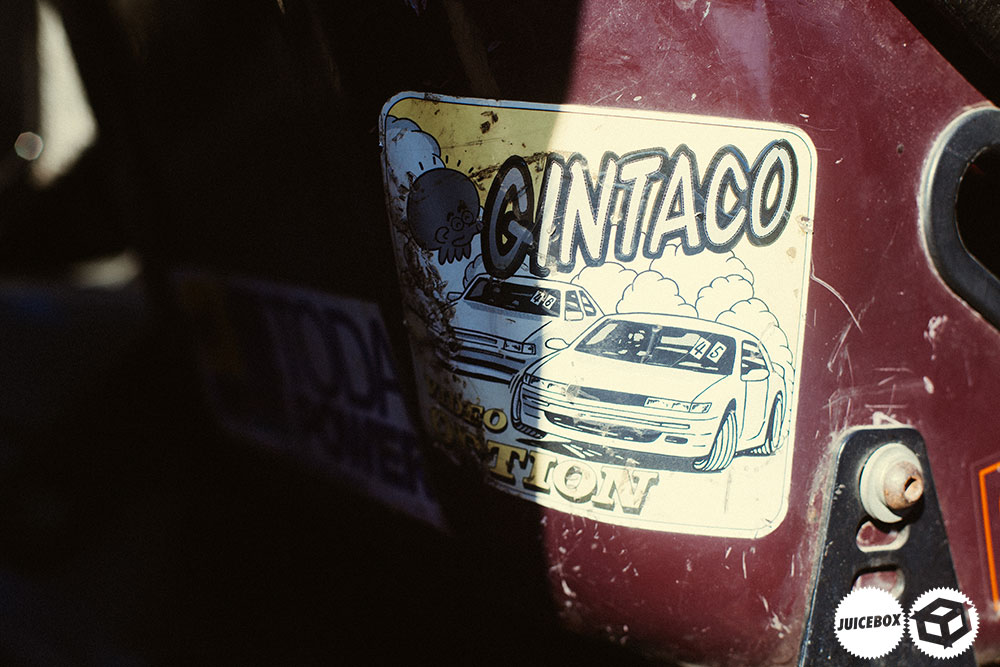 The amount of history through stickers etc is super cool with this Trueno. I'm a sucker for this stuff, its like car archeology.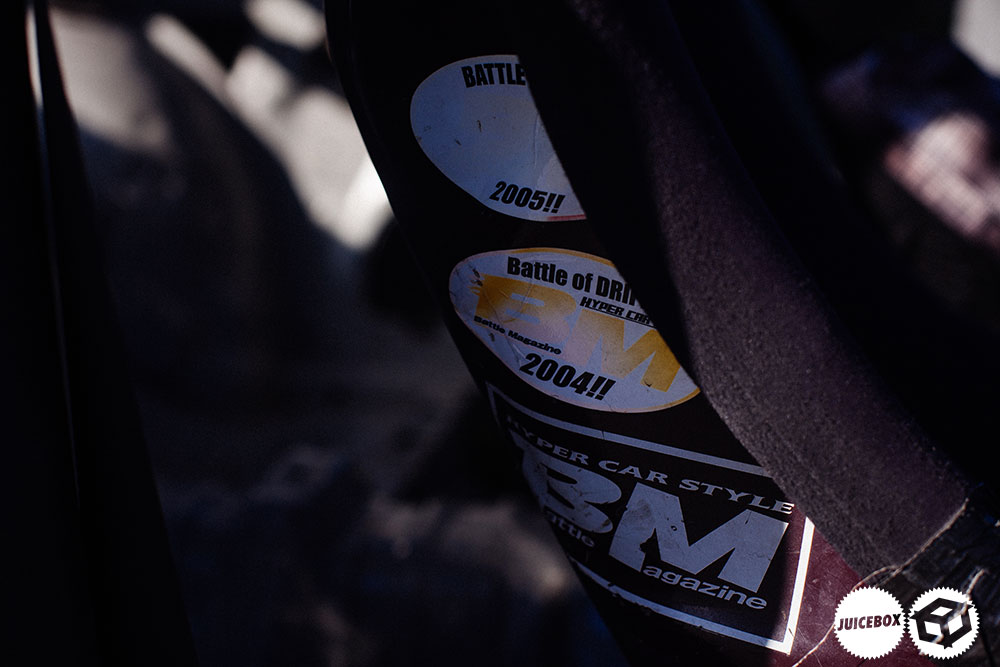 You can see on the seat various BM competitions it had entered and team stickers on the seat.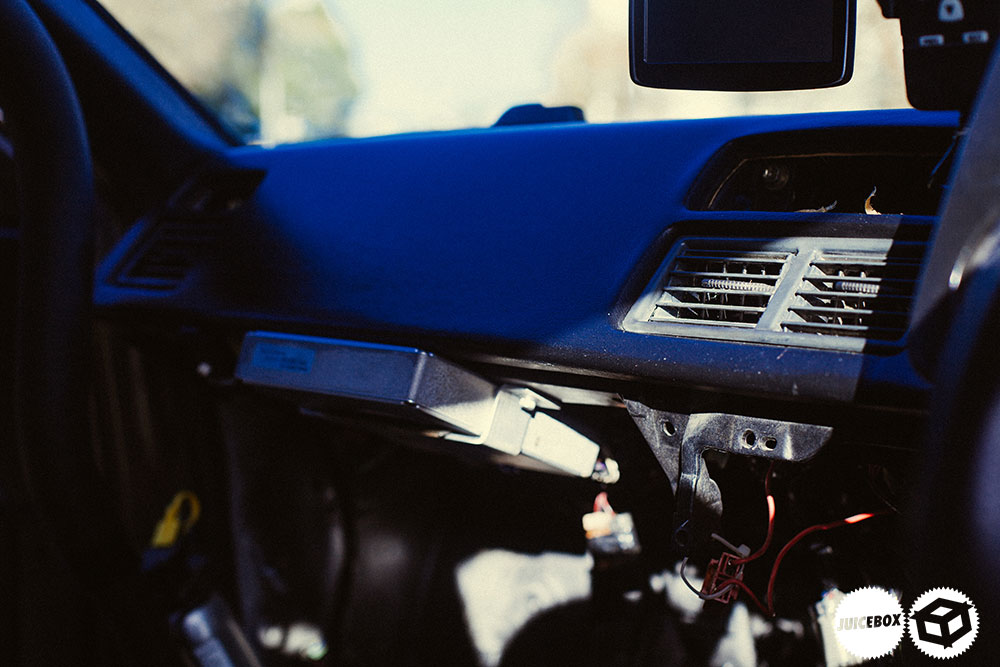 Inside there is no carpet nothing, barely a dash, just the bare essentials remain. The Apexi Power FC is mounted underneath the dash. Its a proper rough and ready track car, quite a contrasting machine to the usual Irish commuters of a Sunday.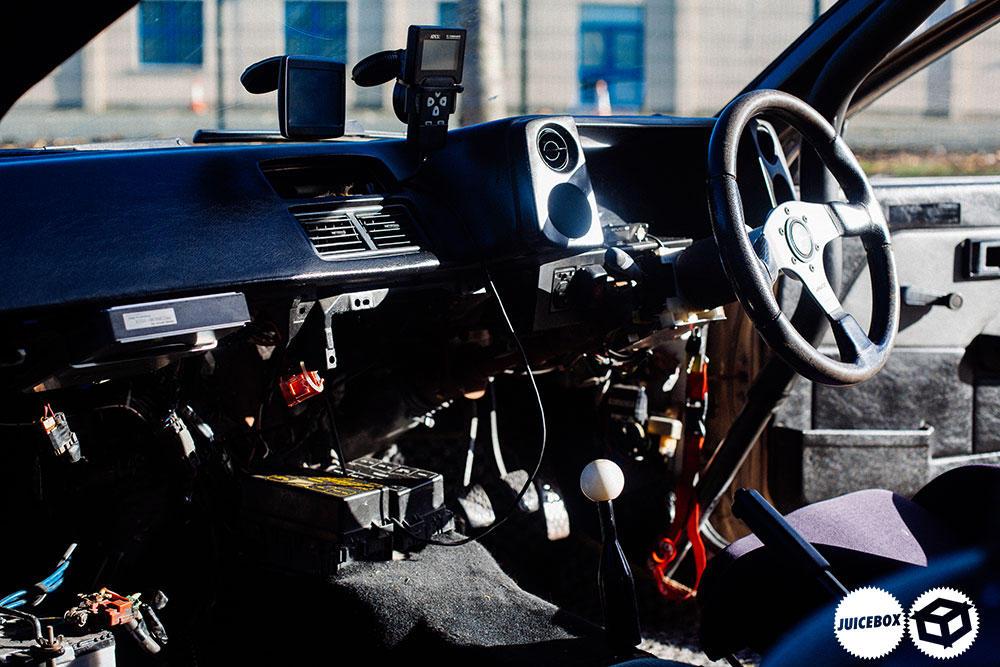 No interior, quite literally nothing! There is little in the way of hearing that engine scream. It sounds miserable on paper but we couldn't stop smiling as we drove from location to location.
The exterior has been retired from its Livery and is now wrapped in a brown metallic paint.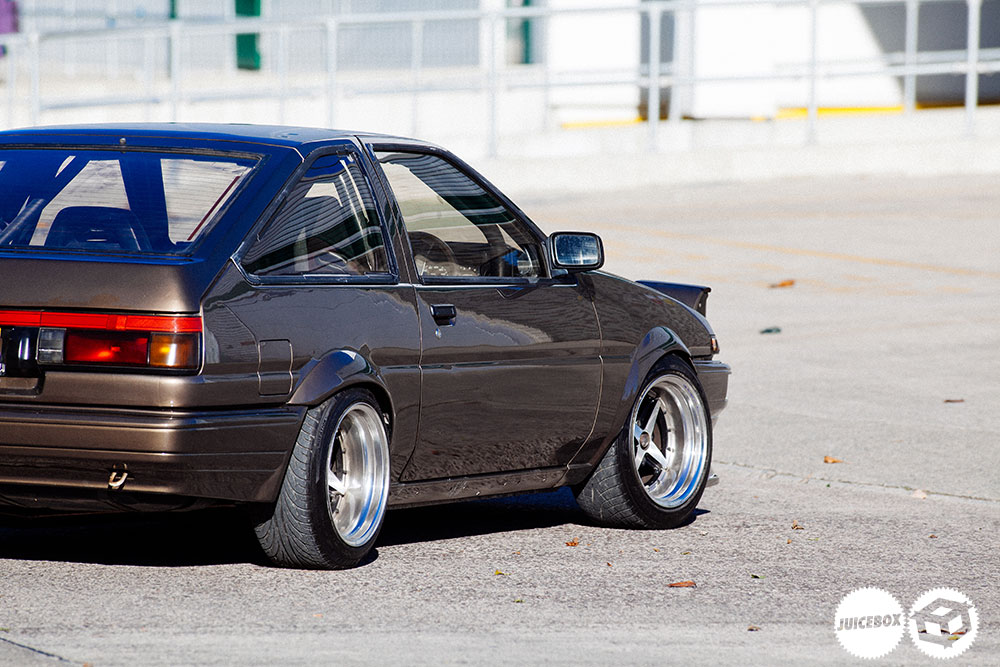 The front bumper is Run free and it sports a J-blood carbon bonnet with peeping foreign heart. I love the look of chunky wheels minus side skirts, in Japan, this car sported a full Run free kit but I'm liking its new tough looking street attire.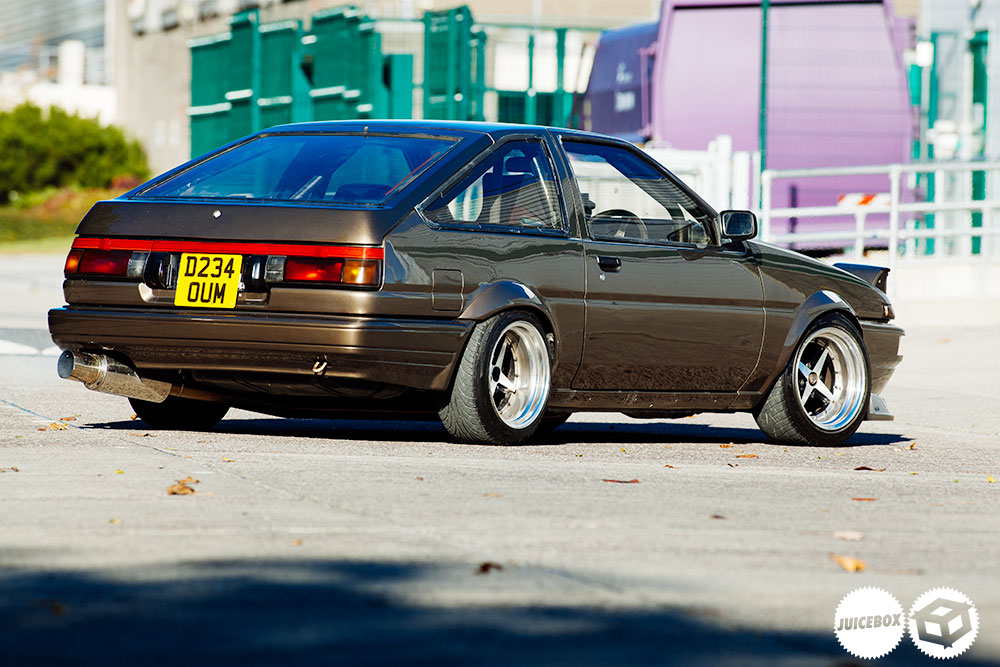 These really do need very little to look good. At the rear back, the car is fitted with redline rear lights and fiberglass boot lid.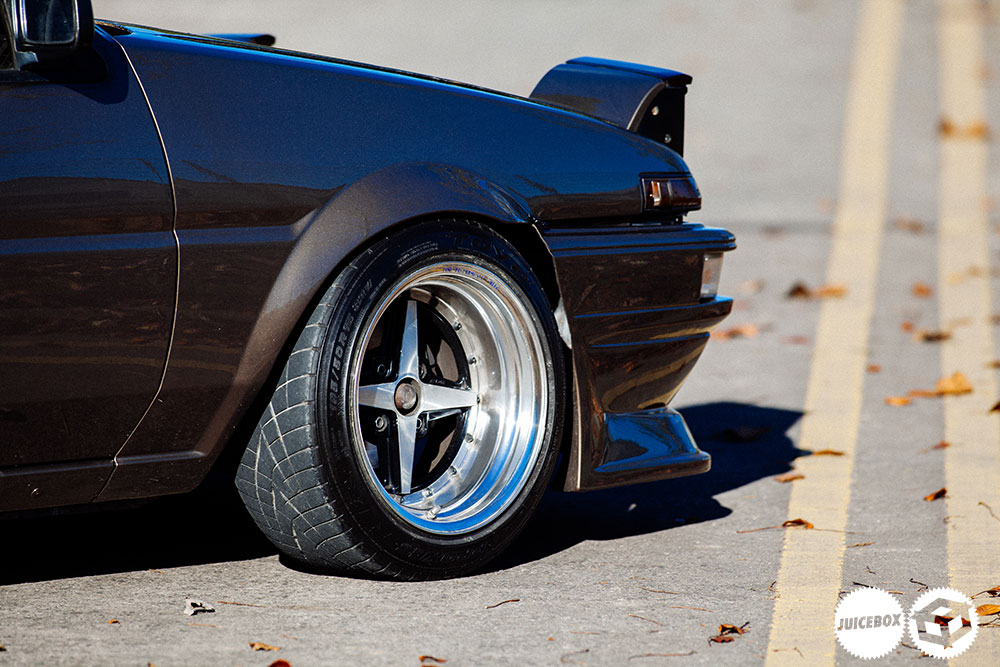 The wheels are none other than the iconic four spoke Equip 01's from Work wheels. These wheels are great, I go through phases of being sick of them and then seeing them done right makes me fall in love all over again.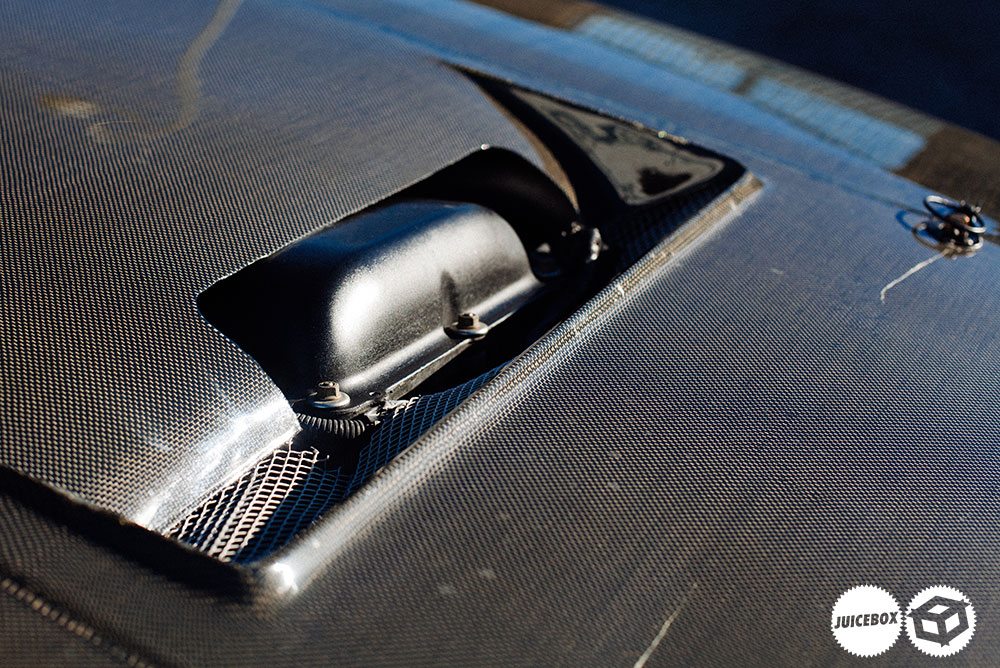 Under the bonnet is a black top SR20, a common enough transplant into these cars in both Japan and Europe for cheap reliable power. This conversion was done in Japan as I'd imagine the original little 16valve couldn't keep with competition.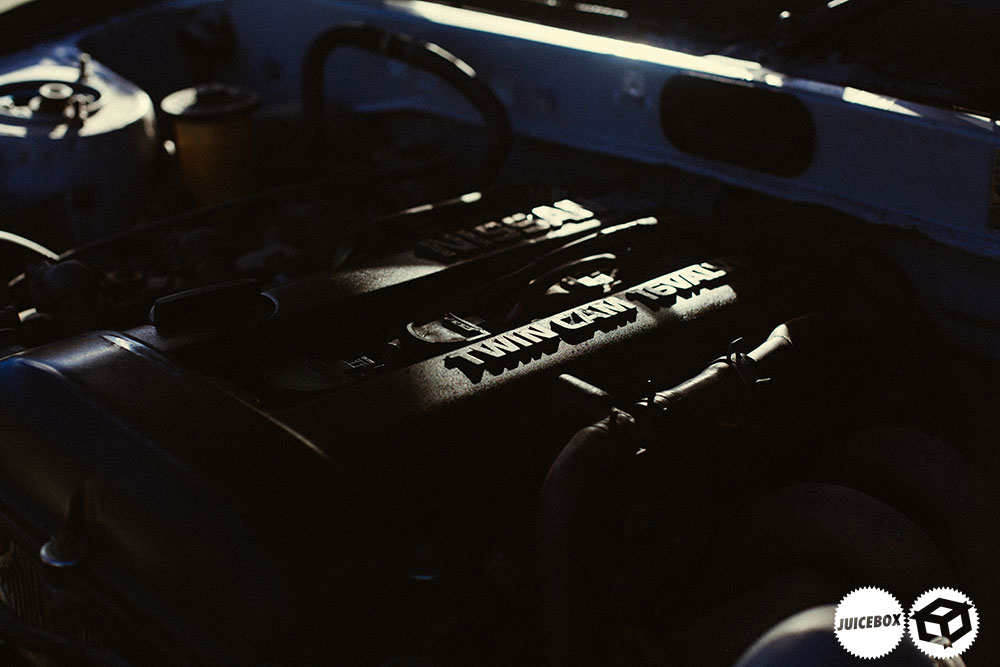 A nice selection of upgrades includes a Koyo front radiator, Trust oil cooler and a HKS GT2540 turbo with uprated Nismo 550cc injectors and fuel pump.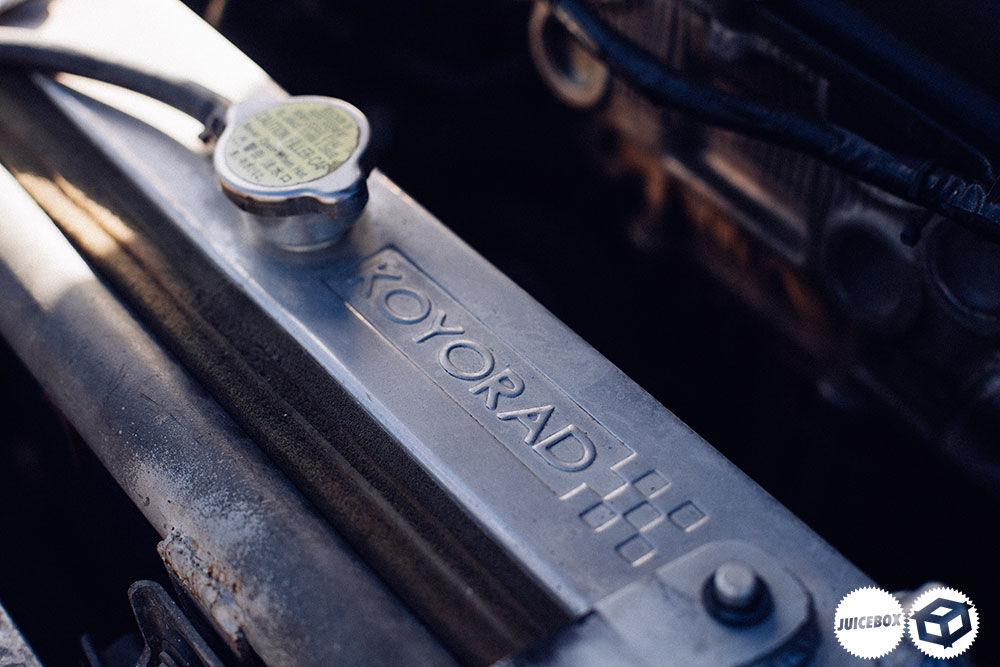 This kind of power in such a lightweight chassis is insane on the road. We were unsure what back axle it is but it looked to be an MA71 supra with a TRD differential!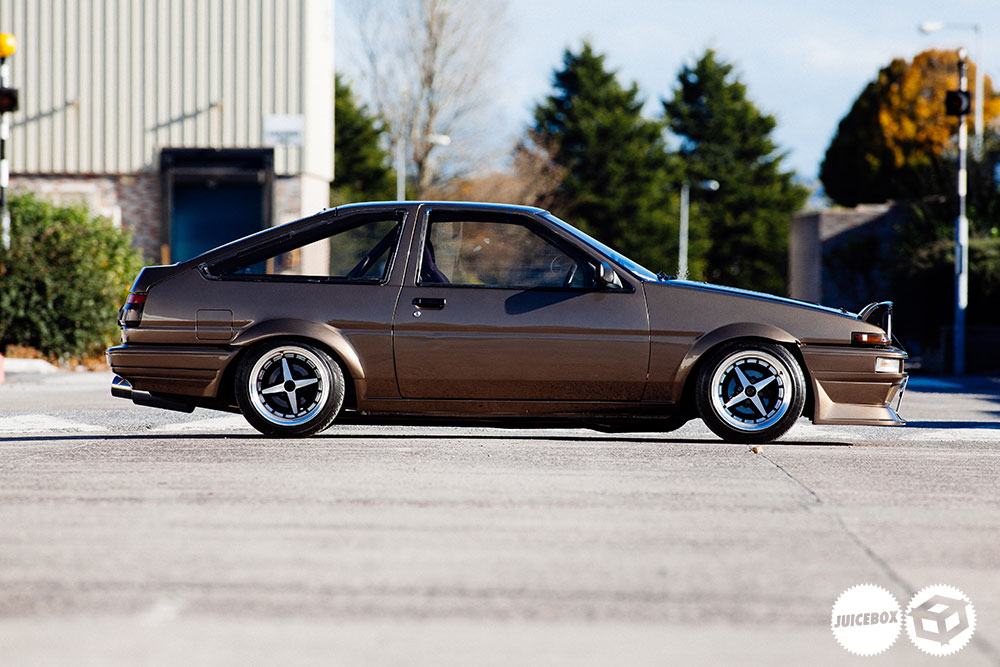 When planted this car had no issue stepping out and getting loose. Trying to tame this cars handling is a set of front coilovers while the rear has been fitted with TRD springs and dampeners.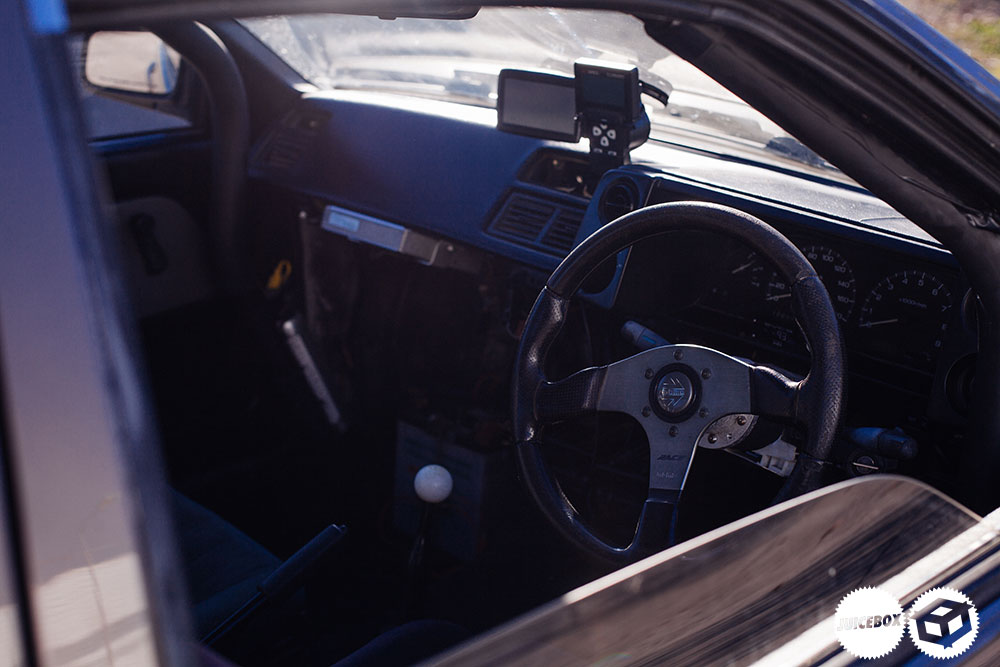 Like I said this is a wild enough setup and certainly a bit of a handful on the road, but thats what makes the 86 such a blast to drive.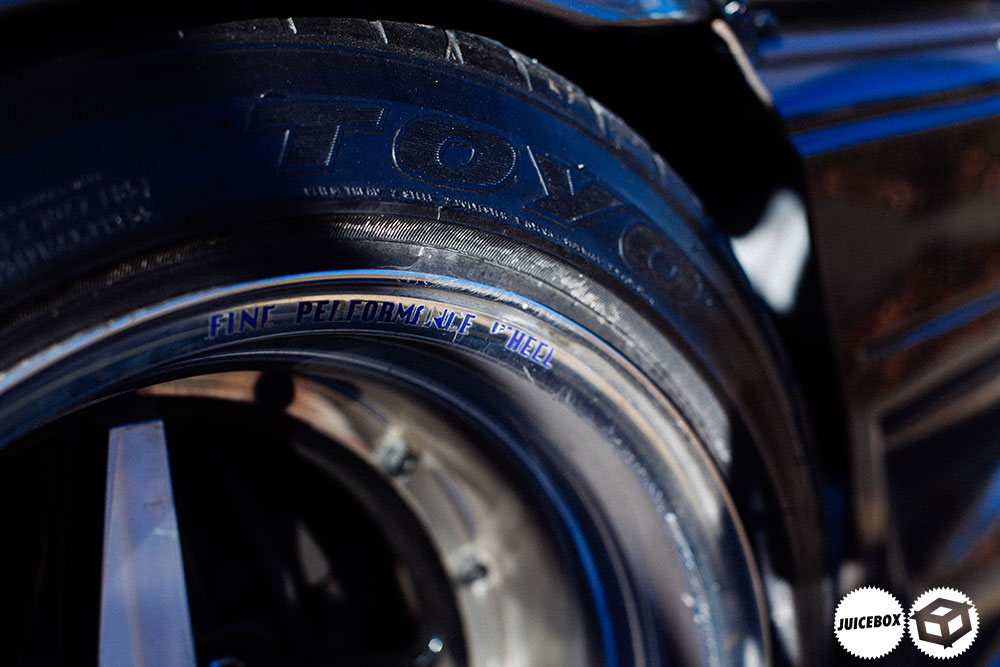 This is a great car, you may have seen it on Monkey London, he did a review on YouTube in London a few months back before it came to Ireland for some work.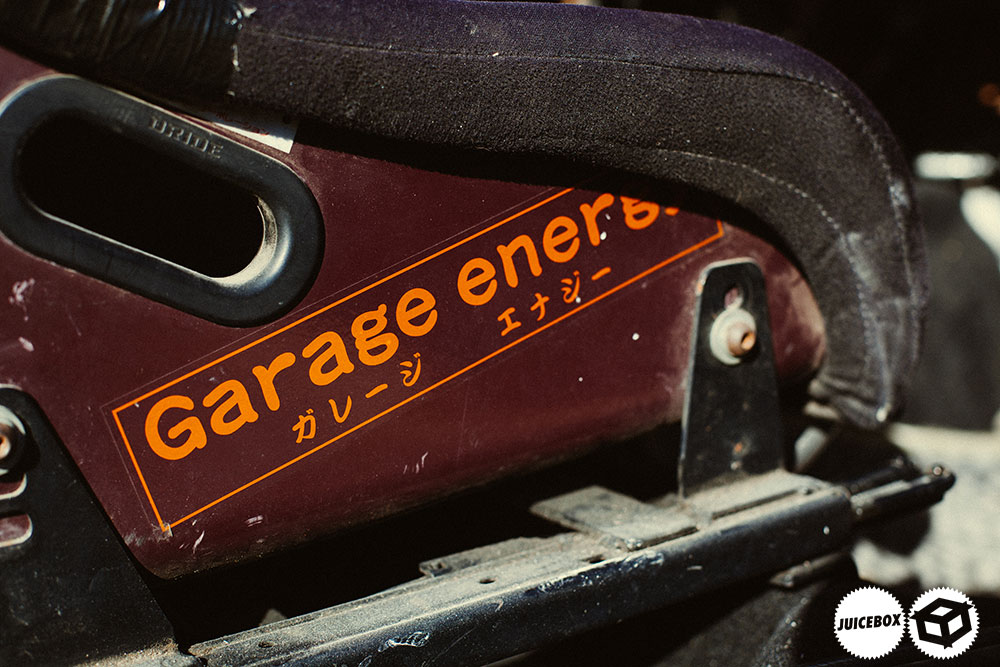 The history that goes with a car like this is what fascinates me too; always leaving us eager to know more.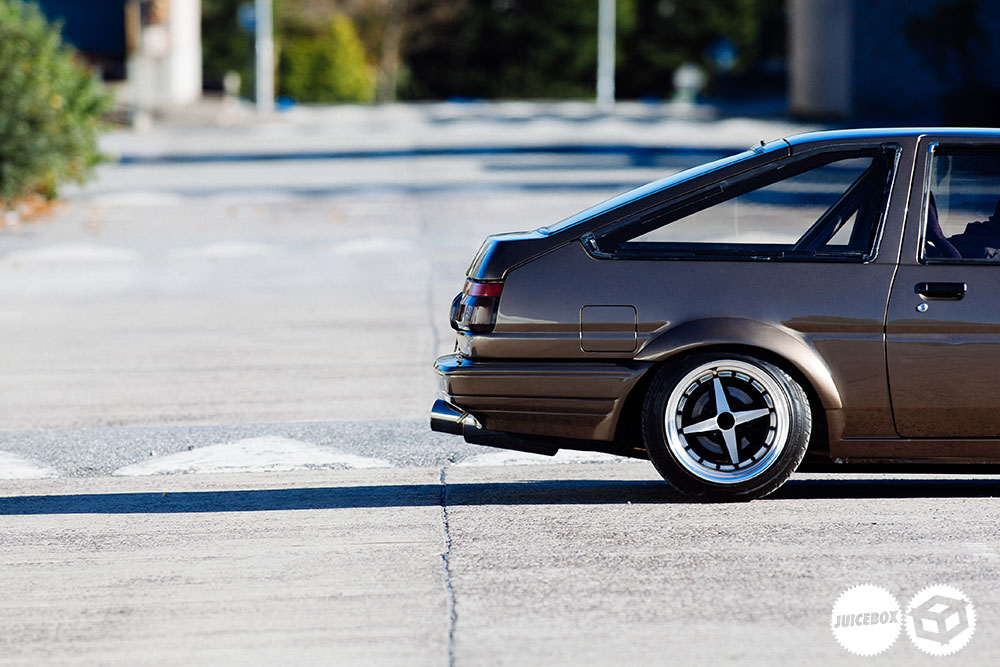 I always say it but yeah, it never ceases to amaze me how much love Ireland has for these cars. Something this country can be proud of. We have some of the best out there.
It's an absolute pleasure to write a happy ending to Seamus and his dad's story with this double feature.
Hope you enjoyed it.
White Trueno Spec:
Wheels/Tires/
15 x9 9 Work SP1 all round
Suspension/Handling/Brakes
Tein Coilovers
Tein top mounts
Cusco rear strut
Cusco underbrace
Camber plates
Braided lines
Drilled and grooved discs
Transmission
T50 Box
TRD LSD
Exedy Paddle Clutch
Exterior
Custom Arches
Origin front bumper
TRD rear wing
Redline rear lights
Chrome wind deflectors
Interior
Cusco Cage
Nardi wheel
Bride Brix driver's seat
Hydraulic handbrake
Trust DD exhaust
Engine
4A-GZE engine
Wire tuck on engine bay
Alloy Radiator
Custom Piping
Apexi power FC and commander
Brown Trueno Spec:
Wheels/Tires/
15 x9 Work Equips
Suspension/Handling/Brakes
Unknown Coilovers up front
TRD springs and shocks rear
Unknown rear axle, possible MA71 Celica
Camber plates
Braided lines
Transmission
SR20 Gearbox
Custom drive shaft
TRD LSD
Possible custom rear axle from MA70
Exterior
Jblood bonnet
FRP rear boot lid
Redline rear lights
Rolled front arches
Runfree rear arches
Finished in metallic brown
Interior
Completely stripped out interior
Bride Fixed  driver's seat
Momo wheel
Achieve roll cage
Engine
Blacktop SR20DET engine
Koyo Radiator
Trust oil cooler and relocation kit
Uprated fuel pump
Nismo 550cc Injectors
HKS GT2540 turbo
Full custom exhaust
HKS EVC controller
Power FC and commander
Comments
comments
Powered by Facebook Comments