Juicebox in Japan: Up Garage pimping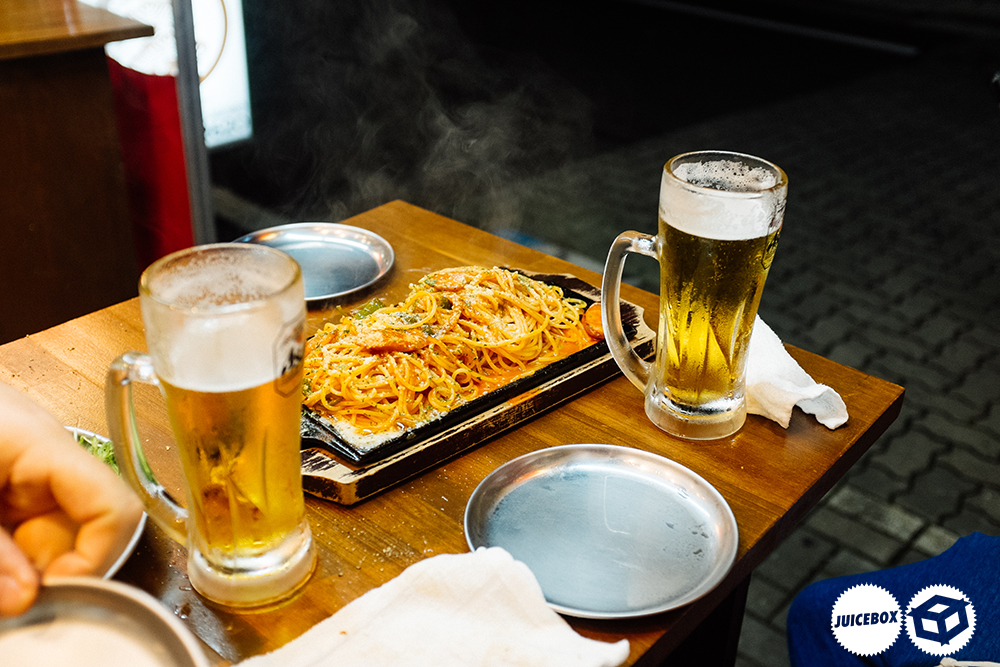 After a day of car hunting, we had to make our way back down to Himeji. We would be pimping out the van with some ordered parts in Up garage the following day.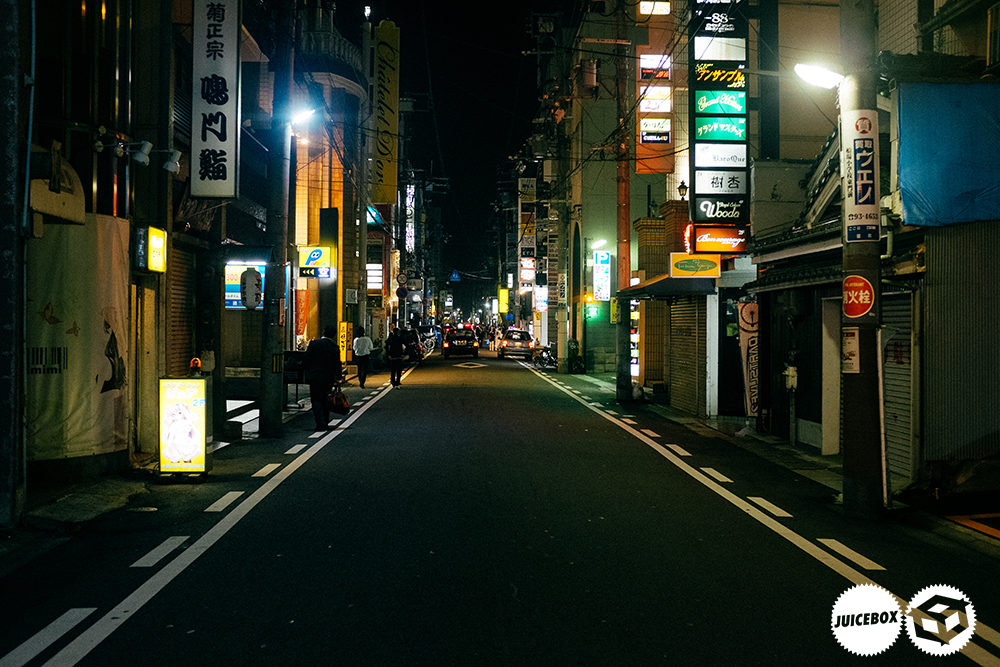 Himeji is a strange, strange place. It has a small town feel but the infrastructure and architecture make it look like a quiet area of a much larger city.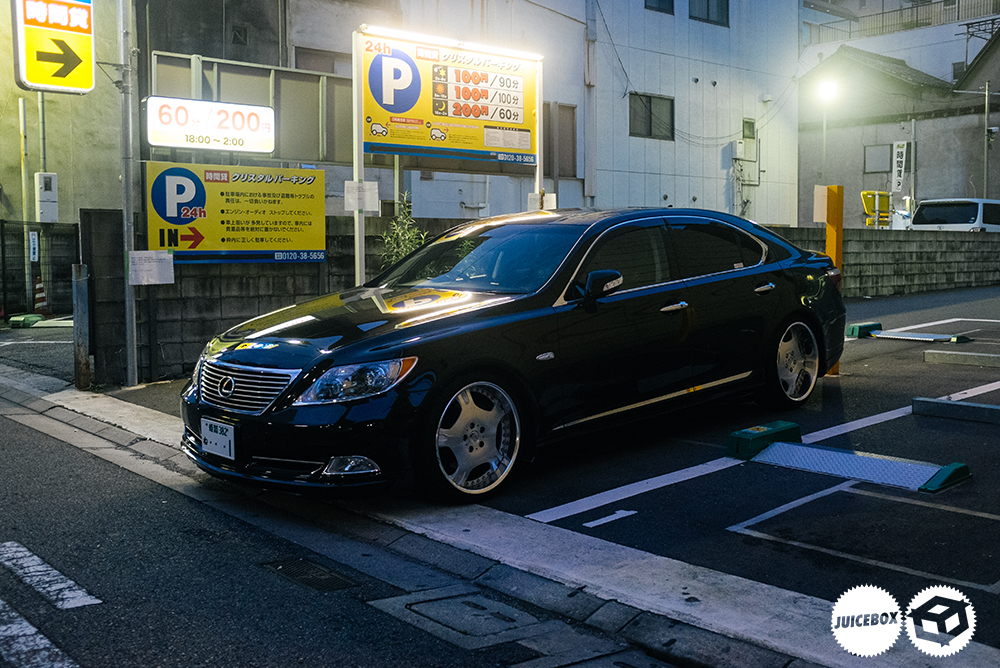 If you had the chance to follow us on snap chat you might have seen some of the antics, joking around drunk with locals on the streets.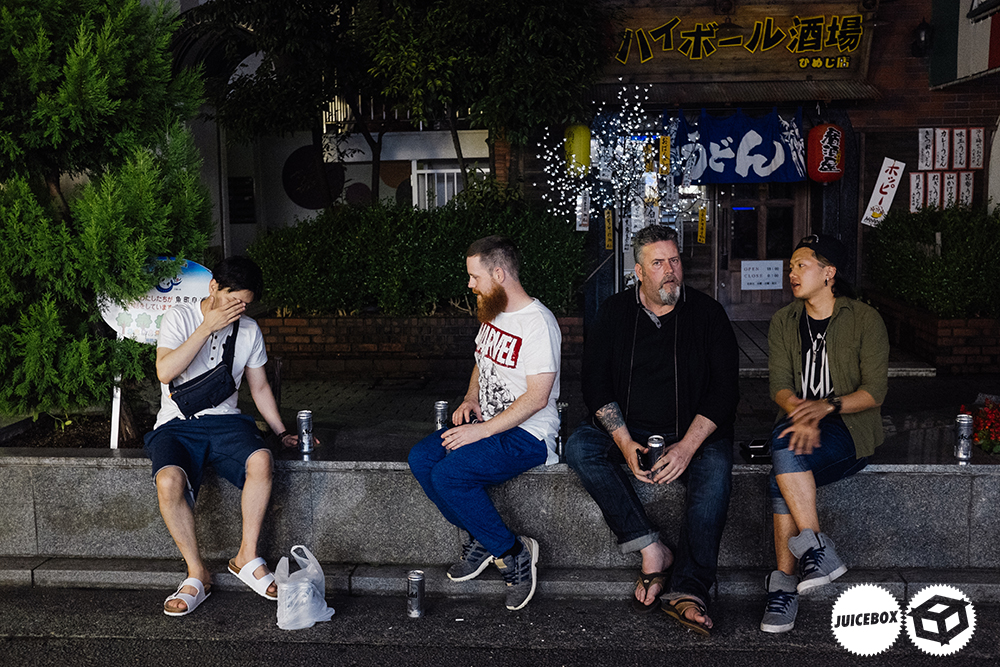 Japan has a pretty seedy nightlife. Clubs litter every corner of the busy after dark hot spots, something you don't hear much of outside of the country I was very surprised by the amount of it, and even more so by how casual it is.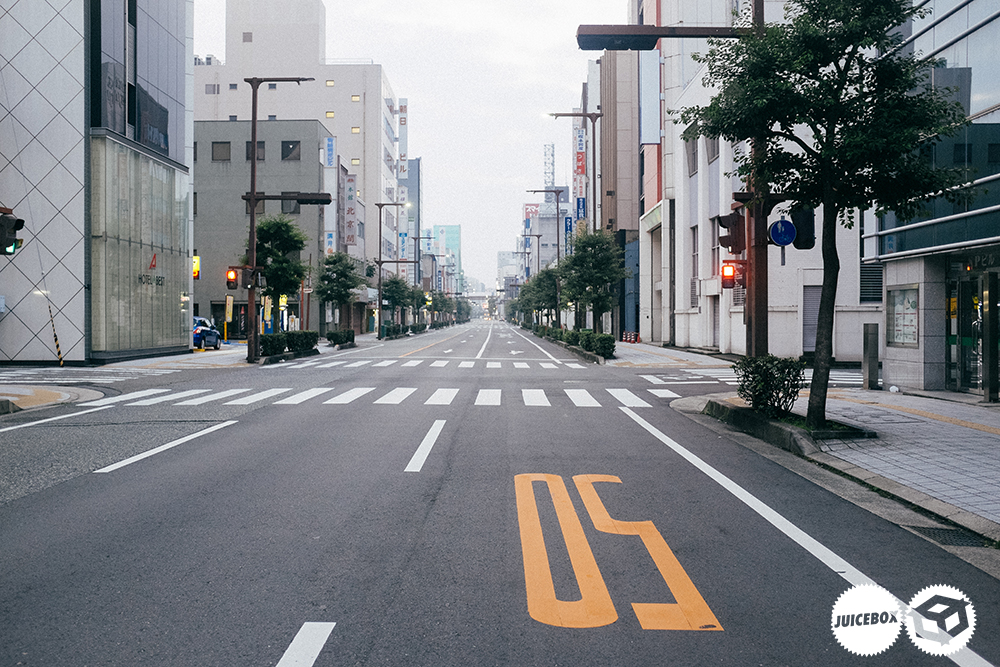 We didn't make it home until stupid hours of the morning, a good solid five or six hours were spent street drinking with the locals. Once all these articles are finished I'm going to make a video compilation of the nonsense we got up to.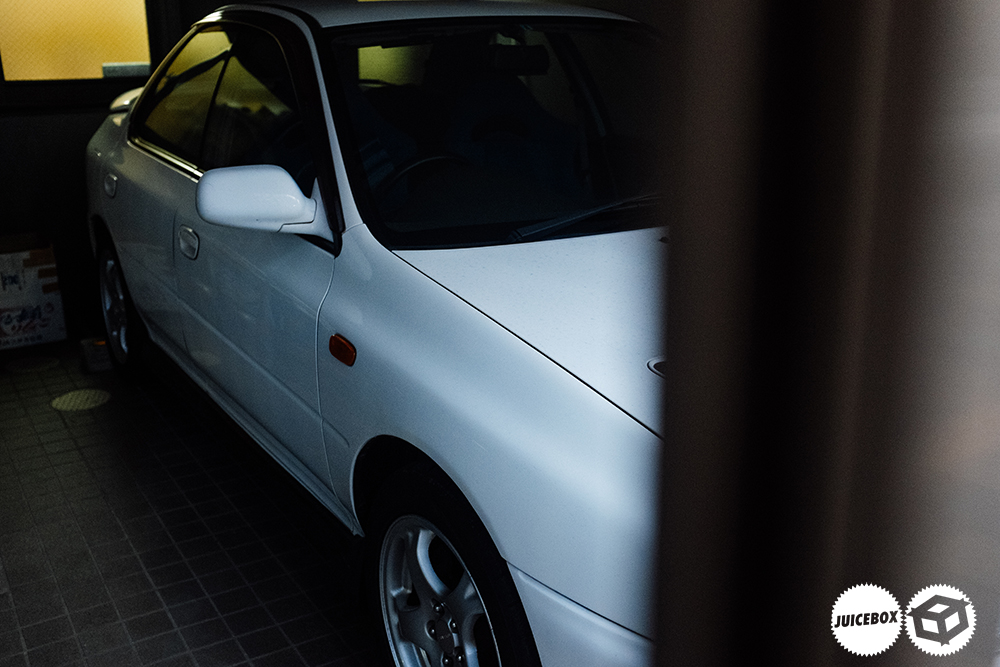 Walking the streets we spotted some cool stuff, for example, this GC8 was immaculately original, tucked away and parked up for a long time We wandered like drunk zombies until the sun came up, looking for late night food and eventually with no luck had to call it.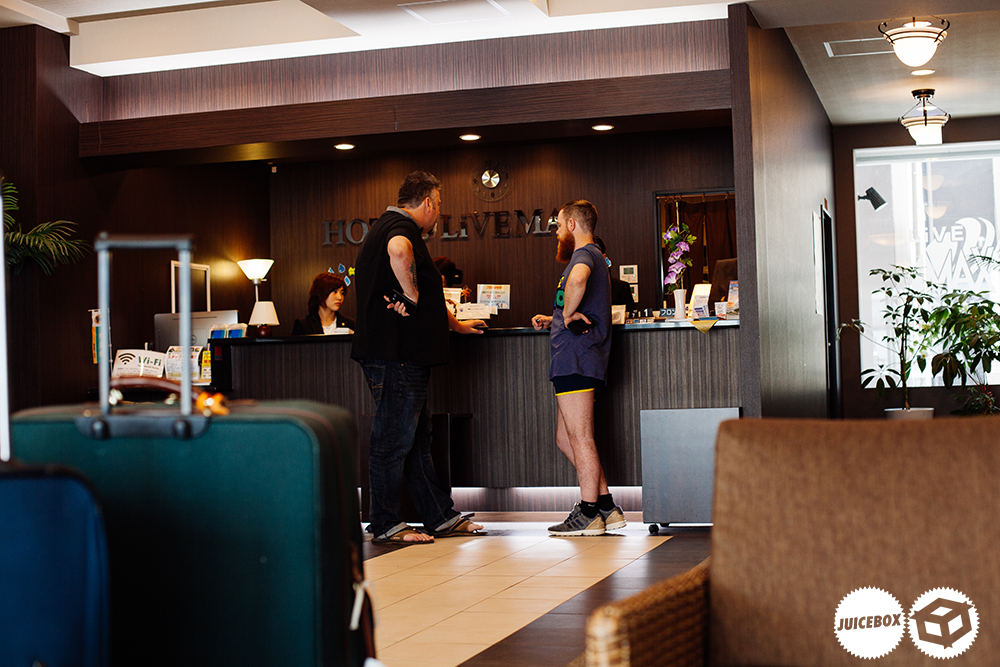 The next morning Reuben woke up to his air conditioning unit pissing water all over his clothes, phone and passport, as our other clothes still had to be collected from Osaka airport he was left in his underpants for a few hours. This made for a quality time in the lobby the next morning.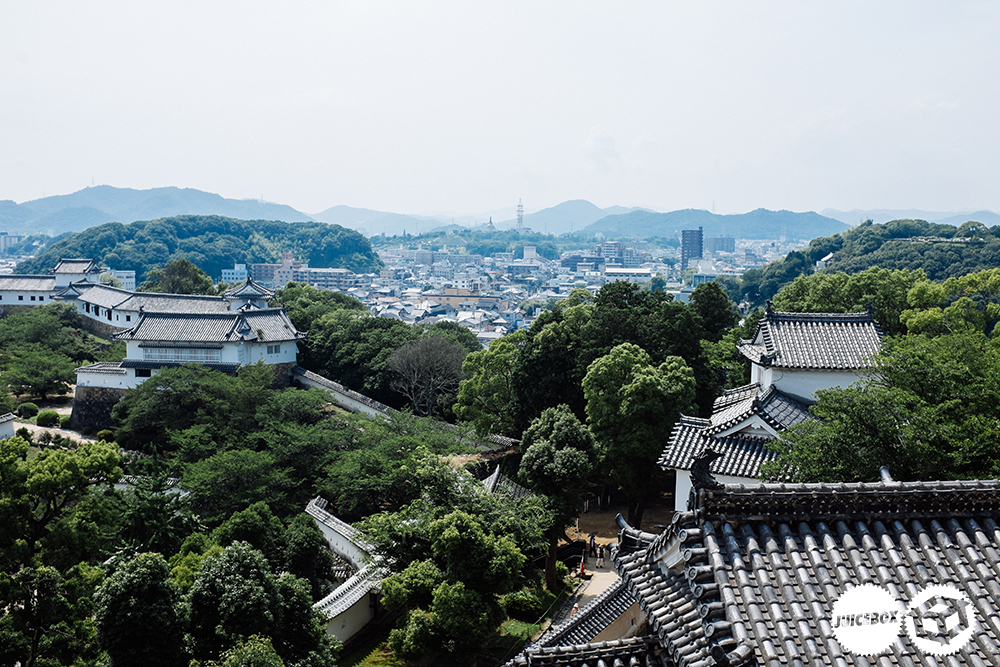 We had a good few hours to kill so we decided to step away from the cars and check out a few sights.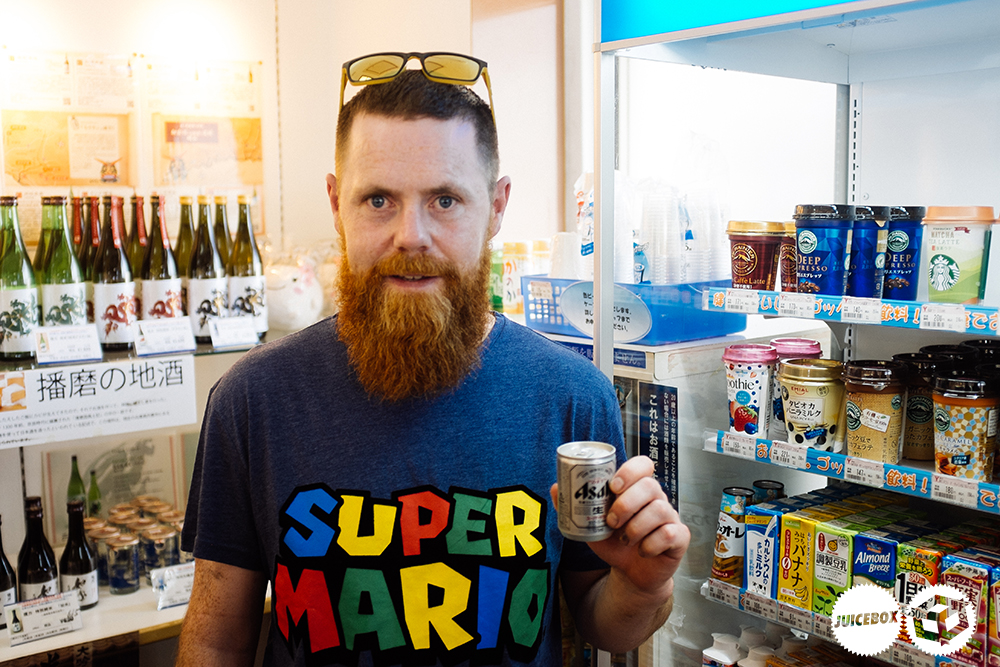 Reuben managed to find the smallest can of beer in Japan and once again we were off.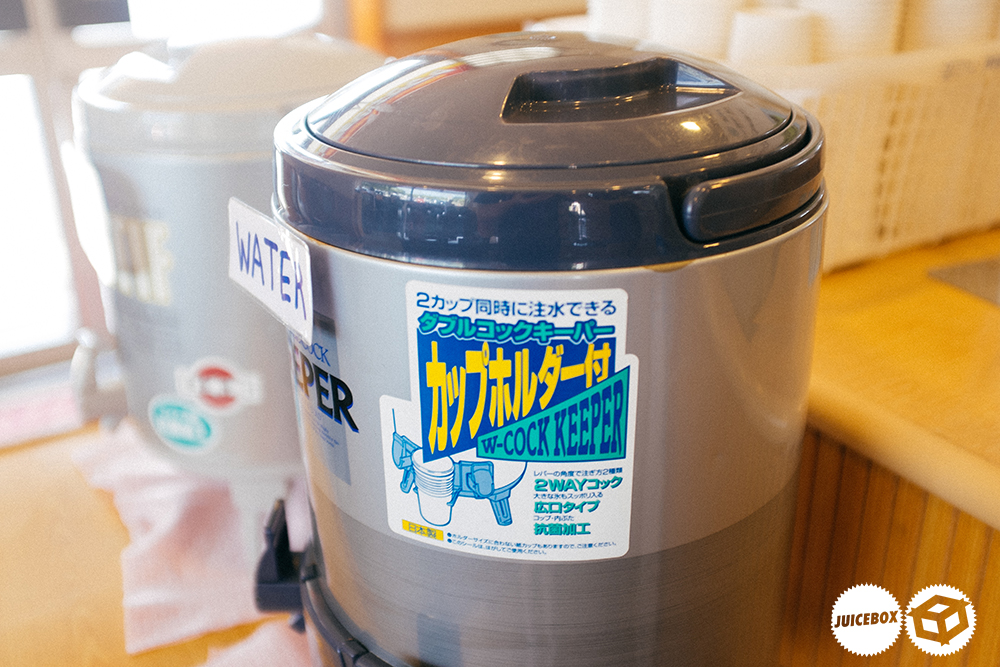 Himeji castle was close enough so we shrugged off the humid hangover, stuffed ourselves with Mcdonalds and engaged tourist mode.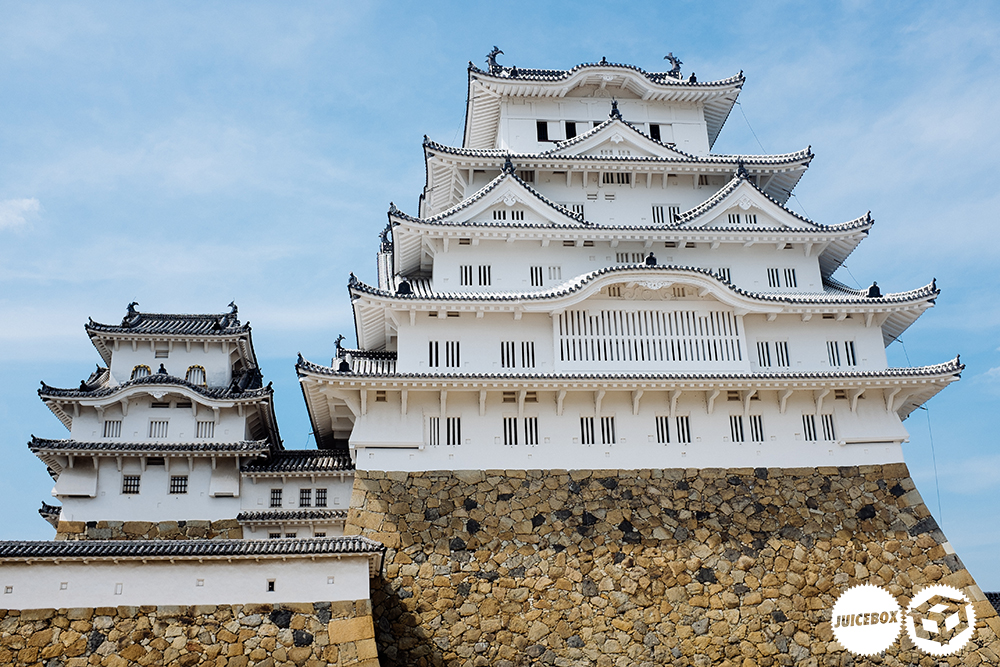 We lucked out, Himeji Castle is the largest and most visited castle in Japan. Somehow it remained intact through all the bombings and natural disasters of the last few hundred years.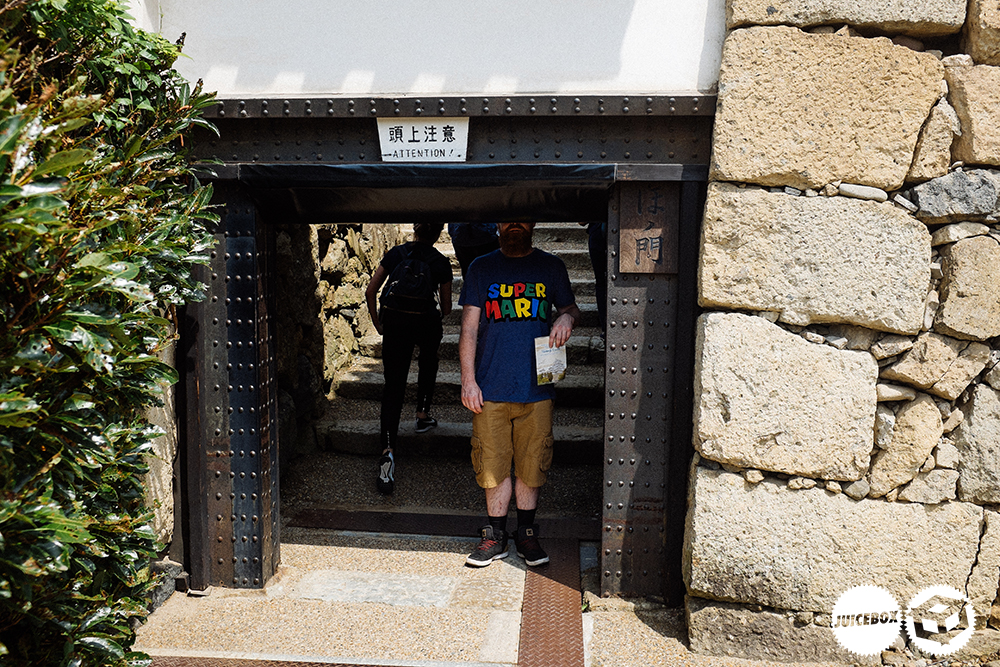 Japan is packed with tourist stuff that could have easily absorbed most of the holiday. The place has too much to offer.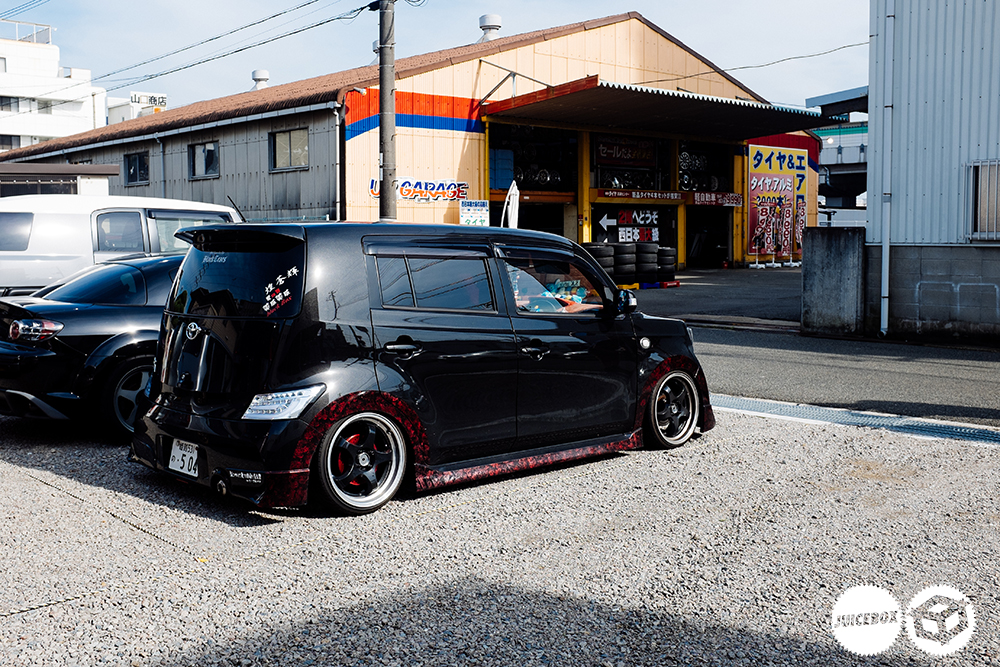 Julian had sourced the Elgrand from Yahoo auctions and had his friend Stephen organize all the paperwork, a big shout out to Stephen for getting all that sorted, the Elgrand made the trip.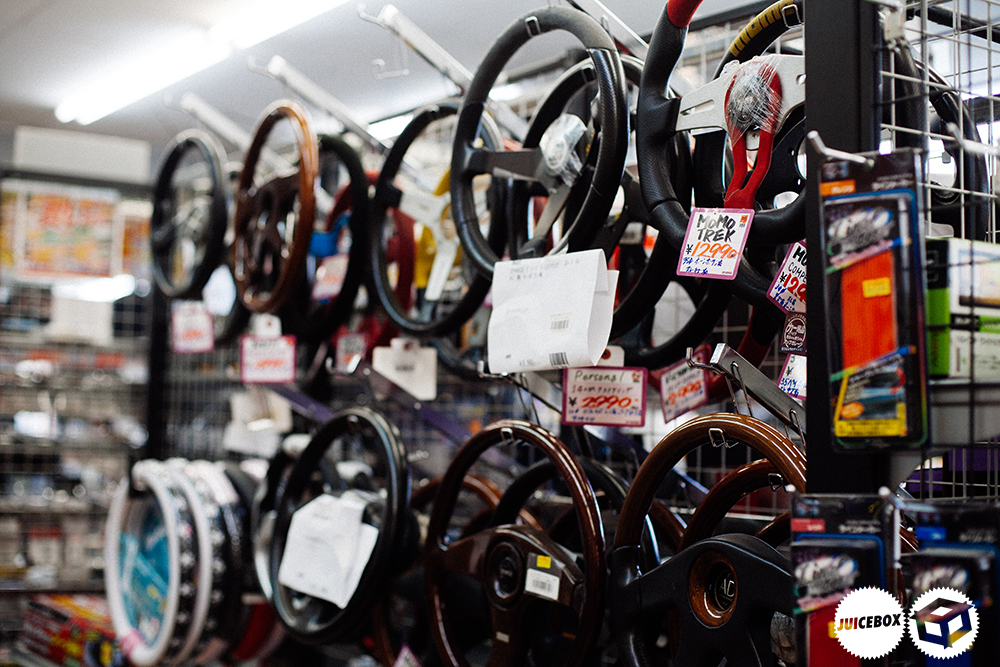 This Up Garage is a mild example of what's really out there but still had some cool stuff to purchase, I'll do a more in-depth look at one of the larger stores further on in these write ups.
The wheel shed did make for an epic view and was probably one of the biggest collections of used wheels we came across. I love the dodgy corrugated roof.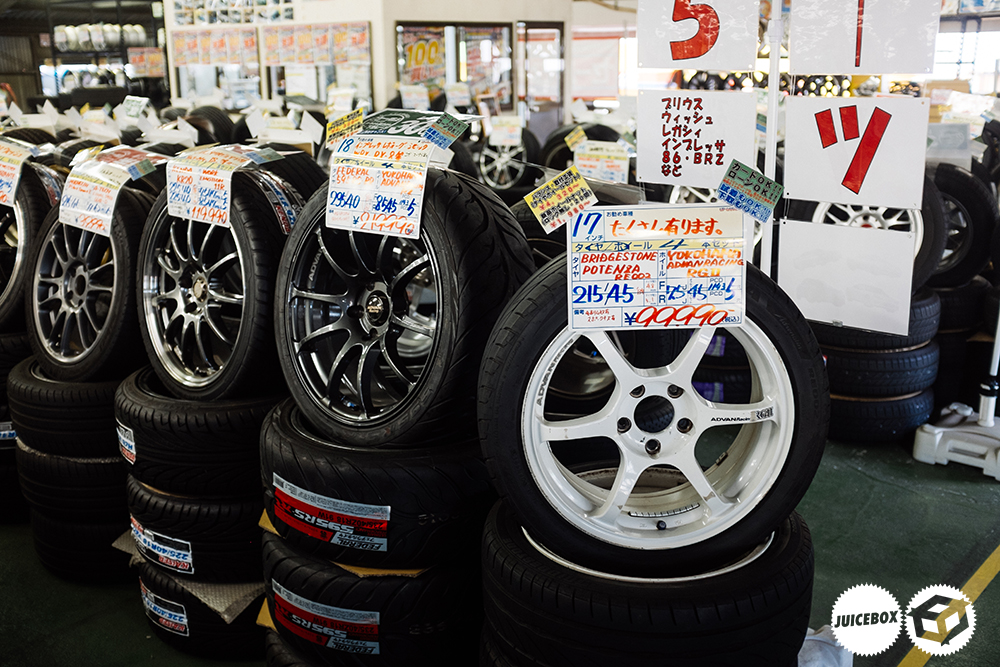 Every UP Garage had the gems, some items seemed a little overpriced while others a complete bargain, it was like hunting in a charity shop.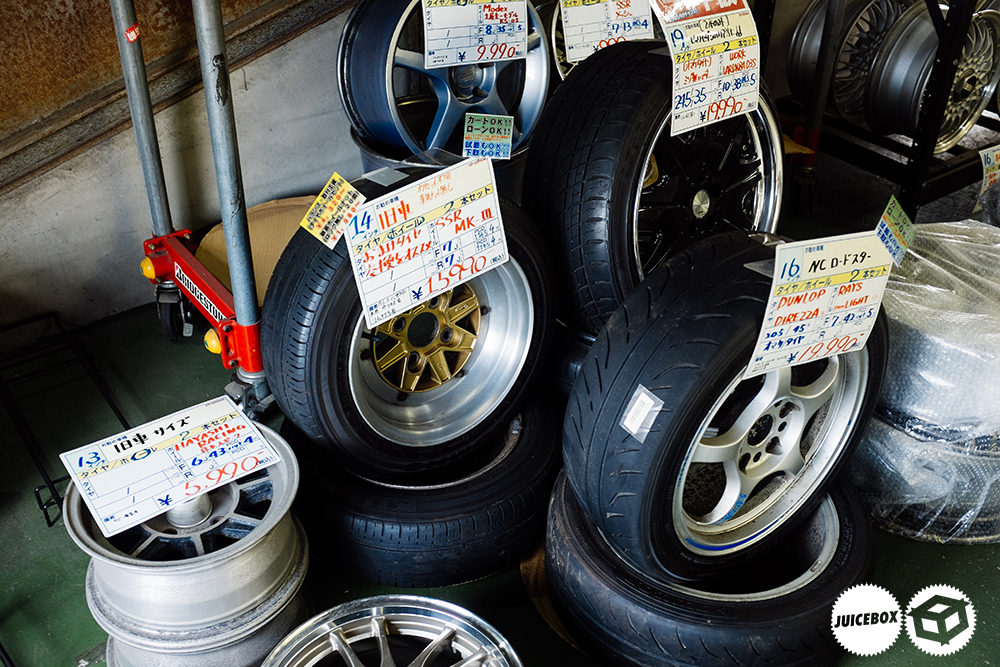 The store front on the Himeji Up Garage was small, but there were quite a few gems to be found inside.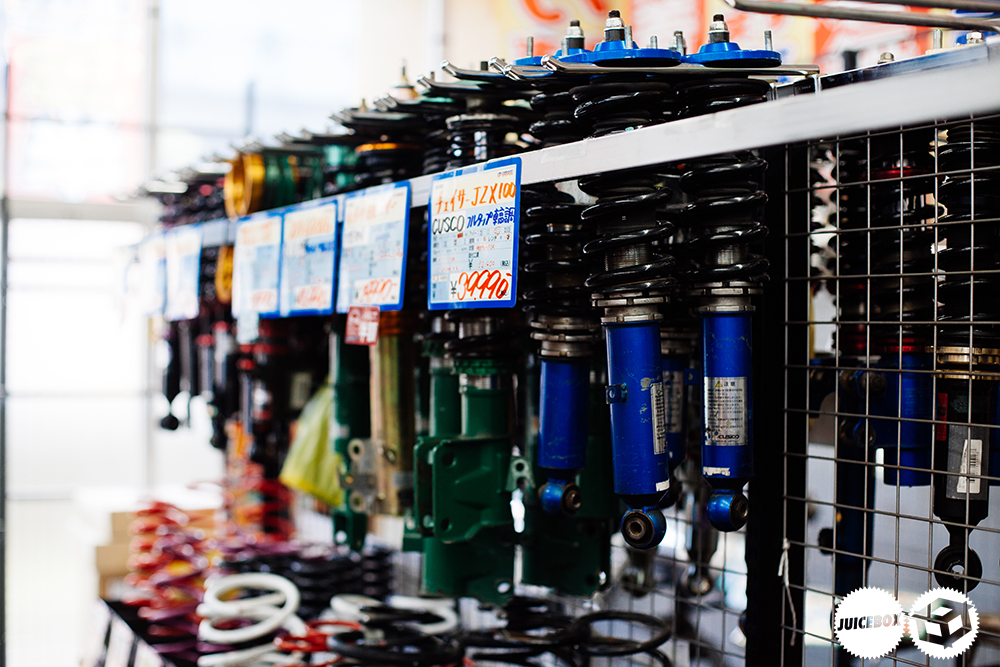 It's a shame we didn't bring bigger suitcases, you could score a set of mint s13 coilovers for 150 euros.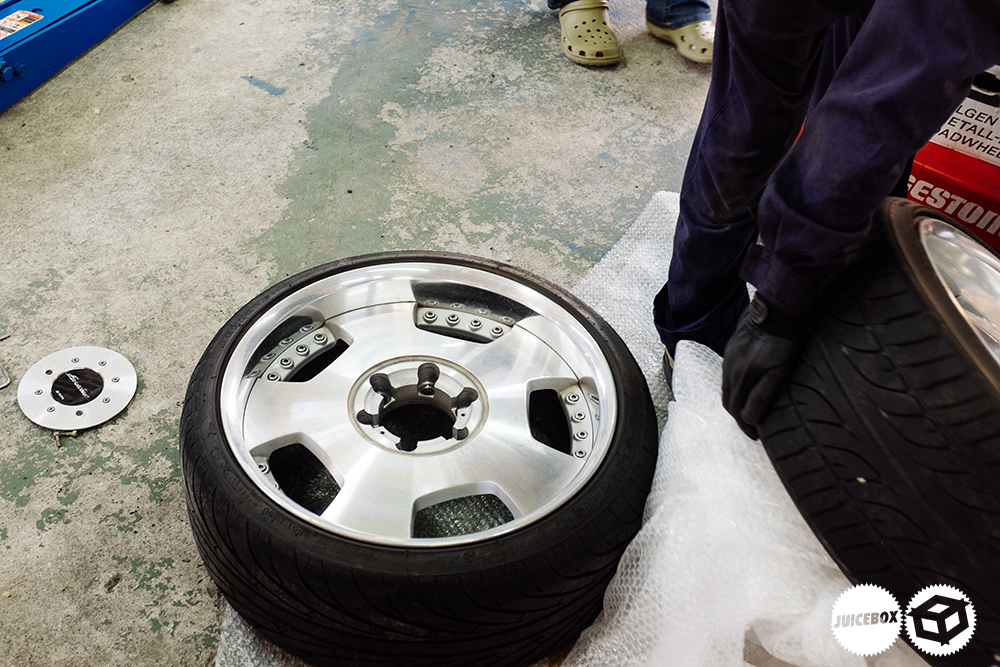 Check this out! The wheel of choice for the Elgrande was a set of Eurolines which came with tyres for under 500 Dollars which was a pretty good deal.
The guys had come across this pretty cool front lip too which happened to be the same colour as the van. Big pimping!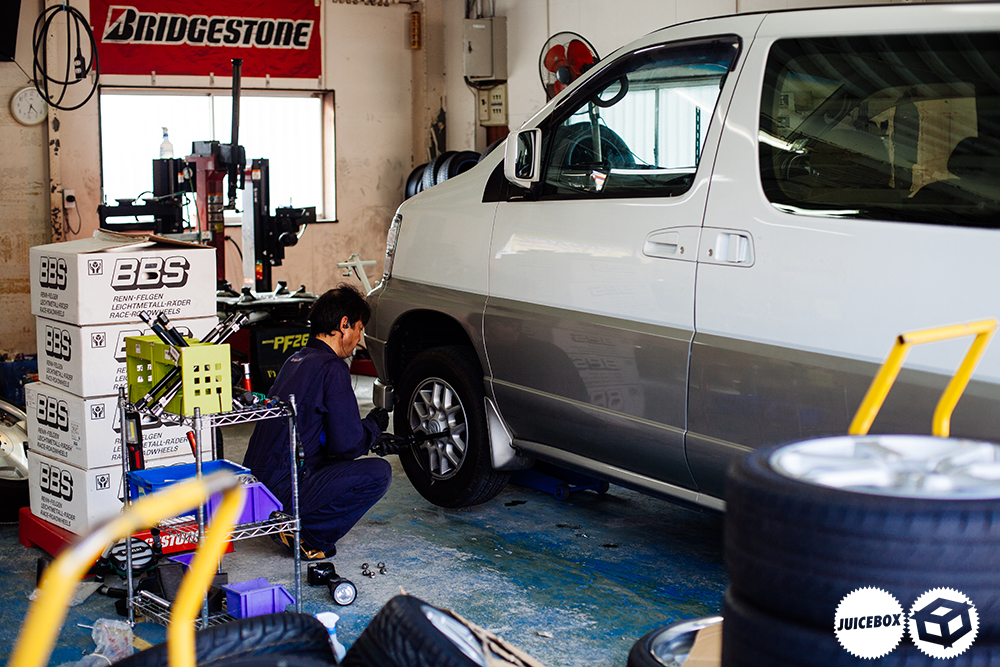 In Japan, it's against the law for a shop to fit wheels if they poke out even a tiny bit past the arches.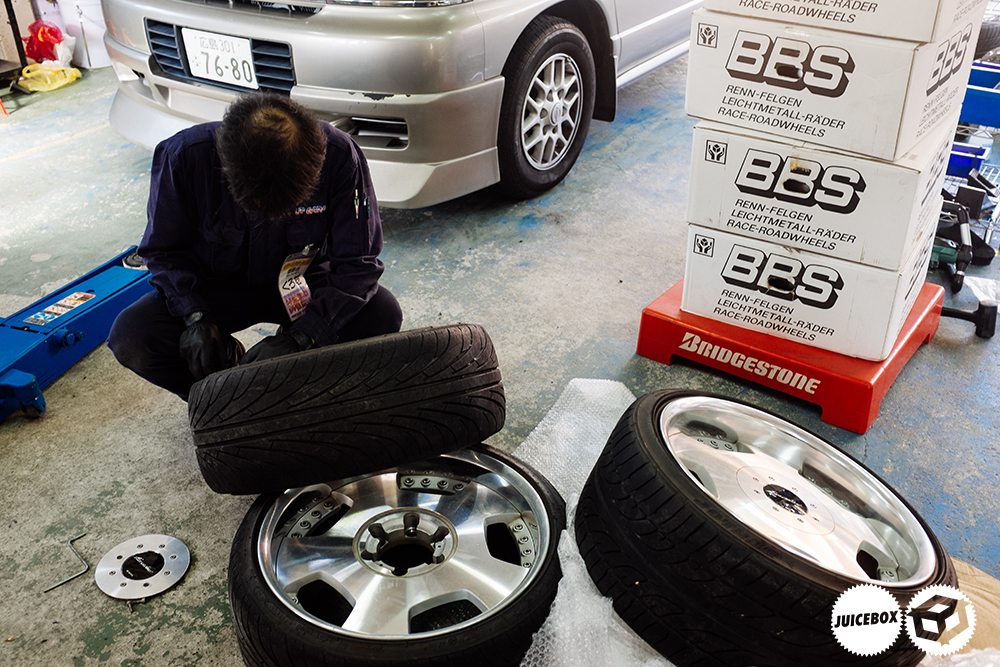 Up Garage refused to fit the wheels even though to our standards they were an epic, if not the perfect fit.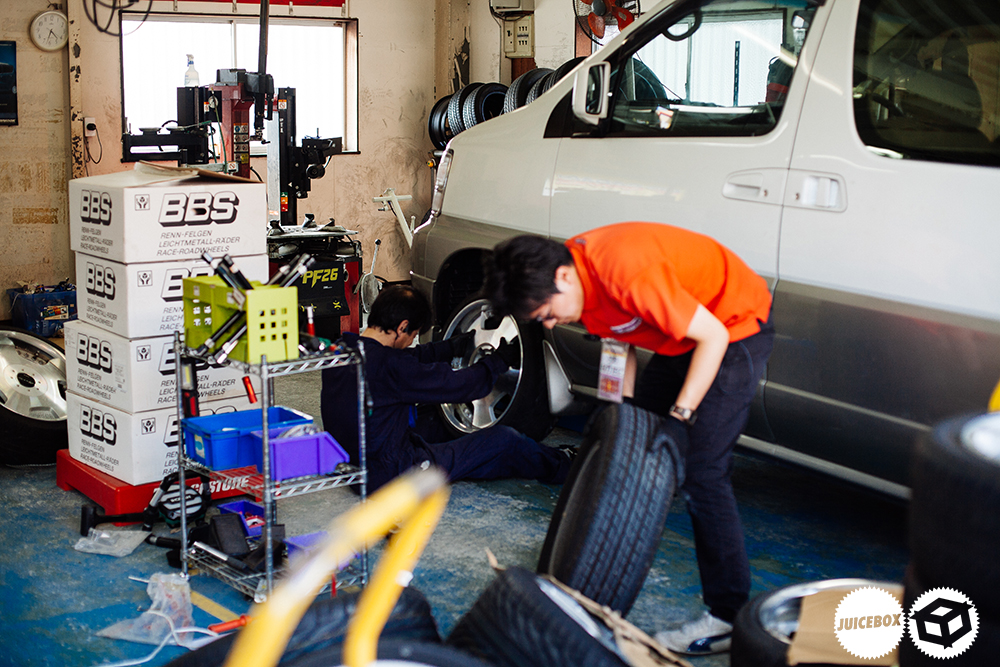 The workers played around with it but in the end told us it was against policy.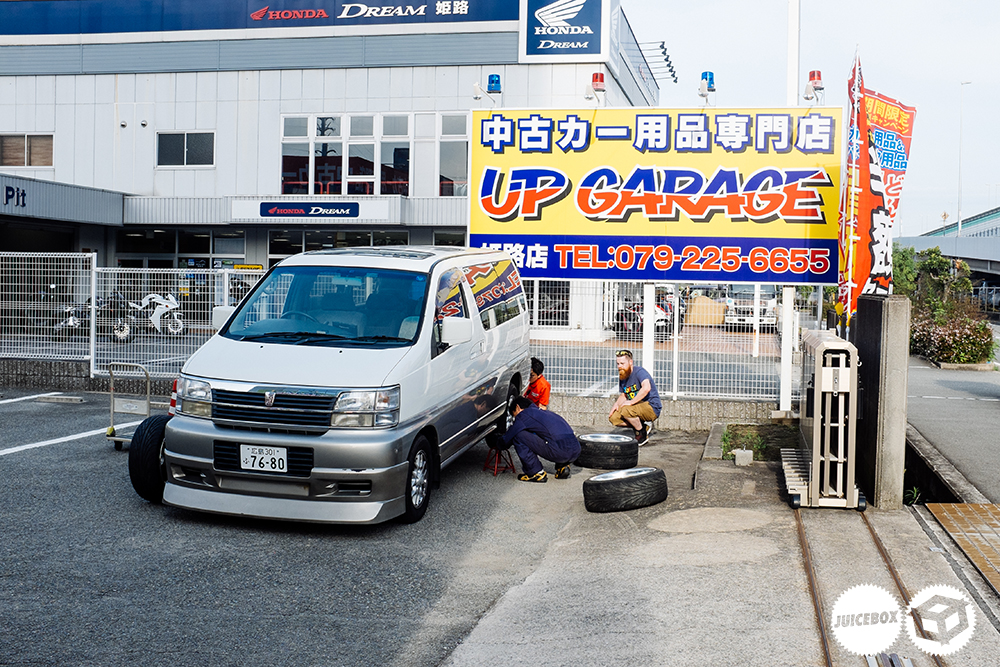 We took matters into our own hand and turned pikey on the situation borrowing tools from the workers and fitting them ourselves out in the car park! The worker set up the axle stands and left us at it… Job done!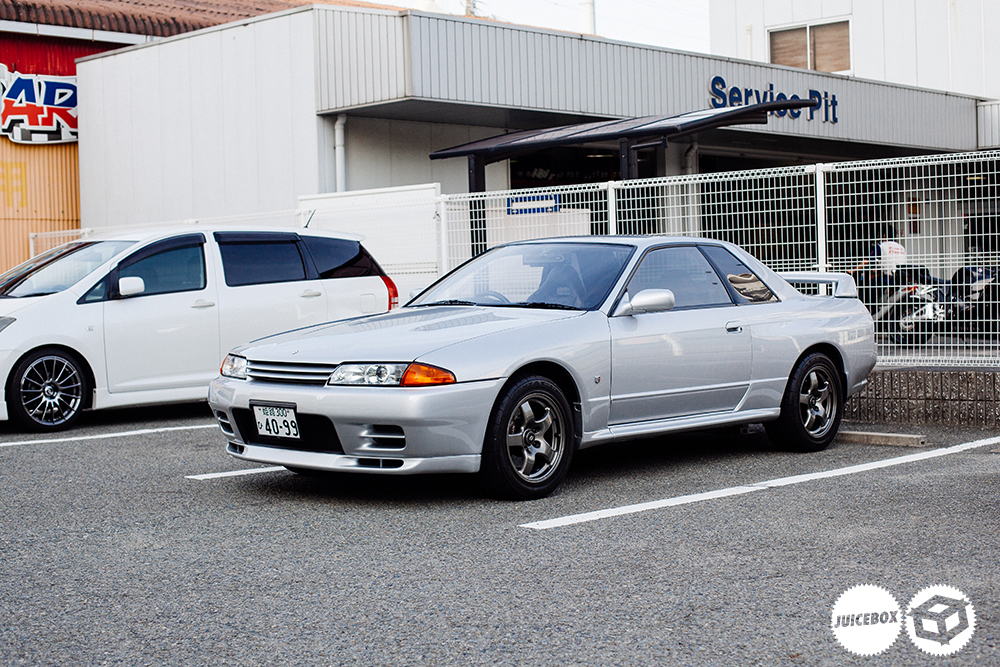 Up Garage appears to be a magnet for cool cars. In the time fitting the wheels, a steady sea of interesting metal would make an appearance. Most memorable this BNR32.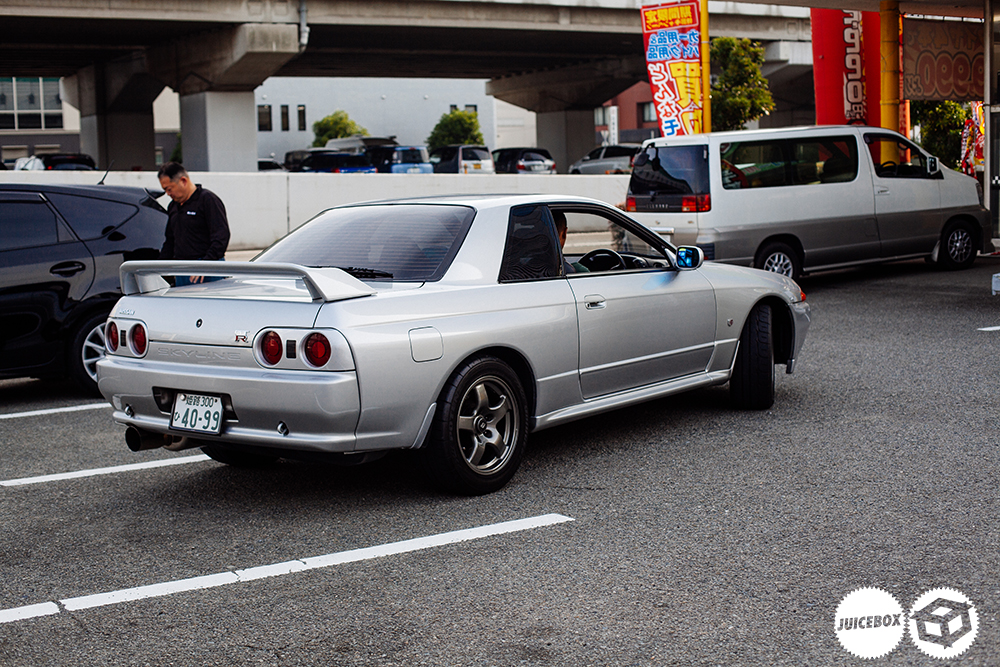 It had 30 thousand on the clock! A pristine original paint fully original beauty. Chunky tyres wrapped around the standard wheels, these cars really need nothing to look good.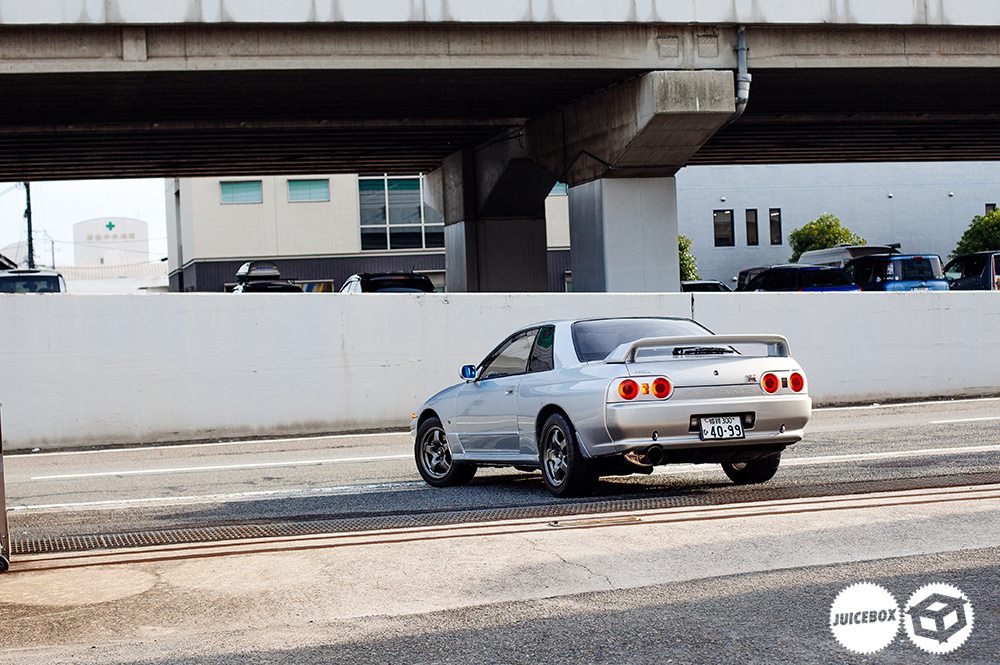 The owner was more than happy with us taking photos. The Skyline was so clean it looked animated, too shiny for real life, even these photos make it look like something from a video game.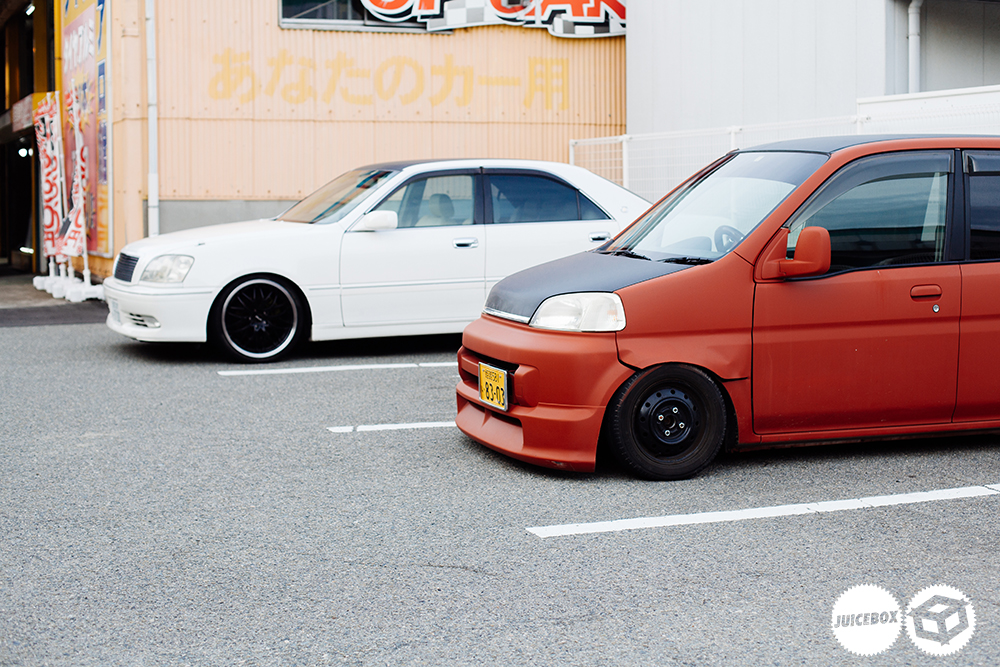 Not long after a bunch of the younger locals started showing up in various machines. This sketchy little Daihatsu with stanced steelies and cut arches was pretty funky.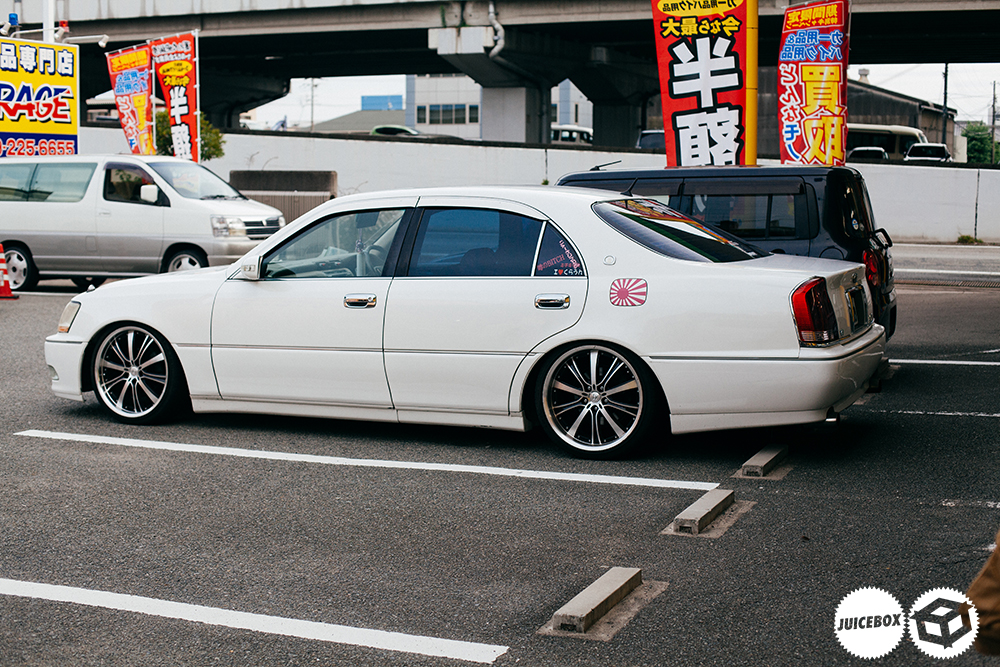 I love these Crown Majestas, such a seedy sedan. This one was hitting the spot.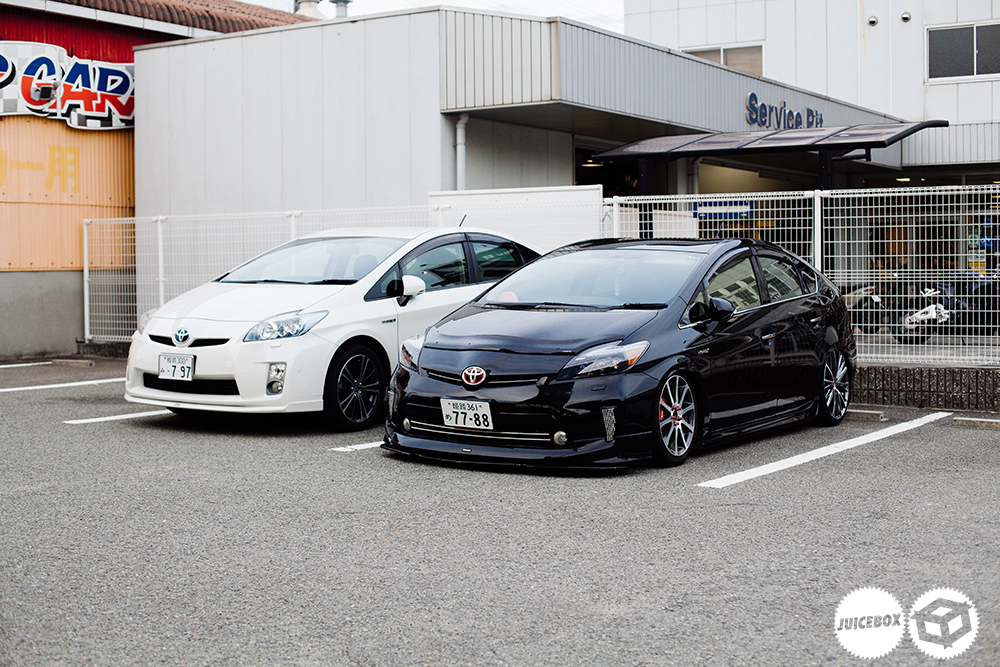 Japan quickly adapts to new cars. As much as they respect and try to retain the older car cultures there is no hesitation when it comes to playing with a new chassis. I love this photo of the stock and modified side b side.
This Prius was seriously cool. Already a little tatty with a full optional extra kit and static suspension it was basically hugging the ground. I never thought id say that about a Prius but this seriously made me rethink these things! Japan always nails this stuff. Even the odd wheels worked.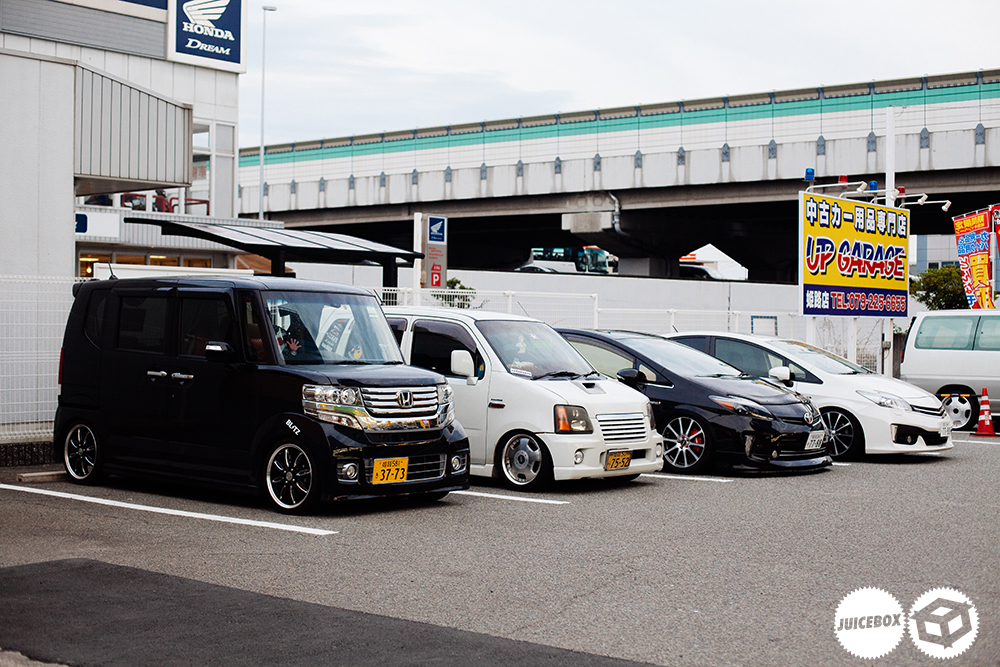 Not long after a few of his friends arrived and it appeared they were gathering troops for a night of spinning around Himeji. The car scene appears to be in full swing here, you quickly notice just how popular the Kei car culture is.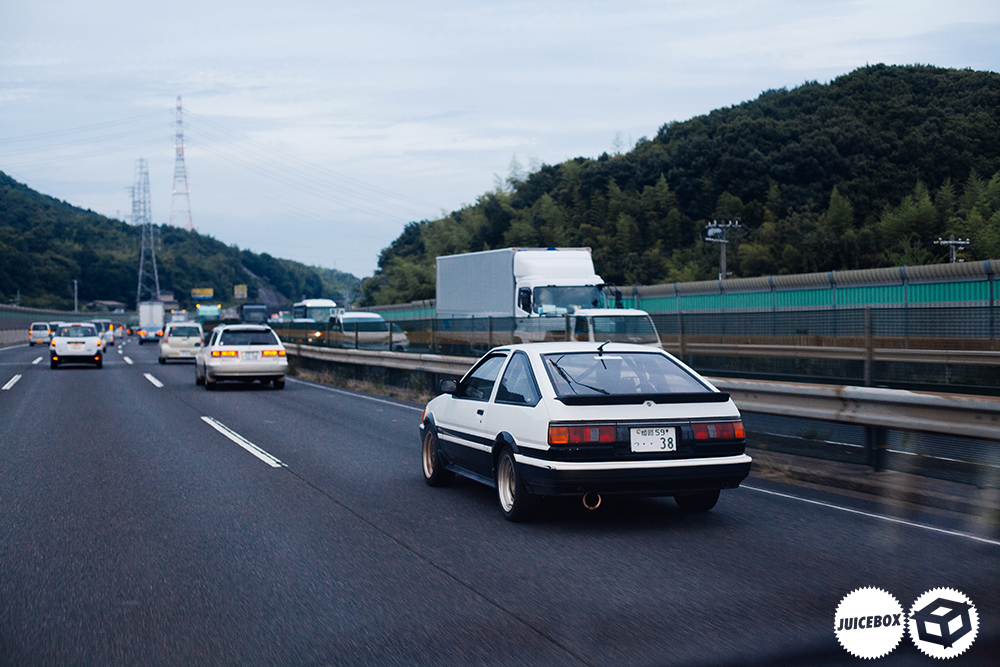 We eventually got our wheels on and hit the road as we had a seriously long drive ahead of us. We were making our way up to Ebisu circuit through Nagoya and hoped to catch a few more shops along the way.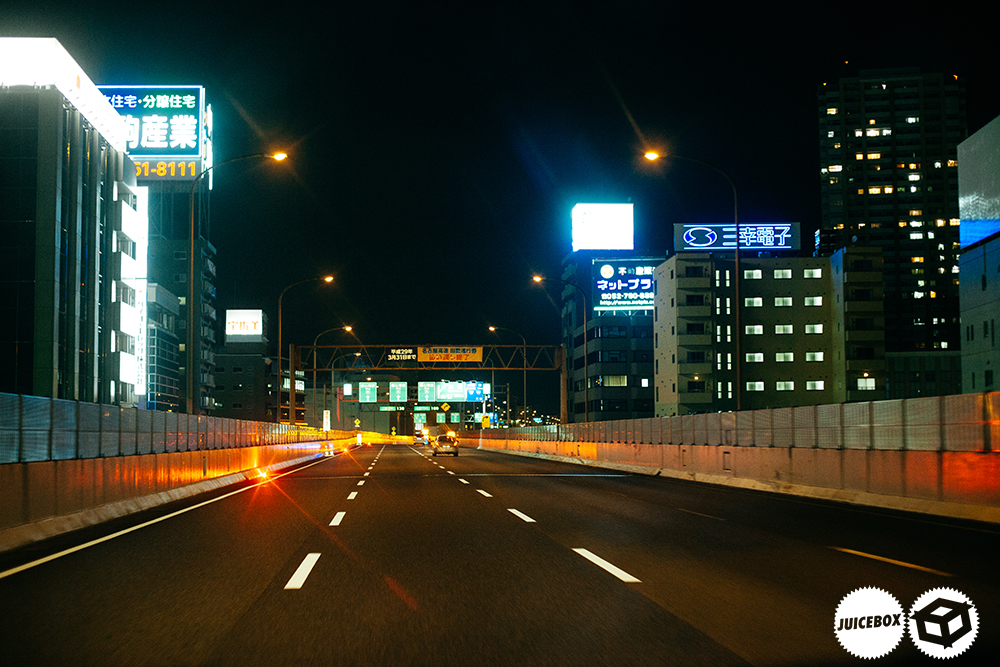 Long winding highways through the mountains and cities made us feel like we were in ridge racer or Gran Turismo. Those levels from those video games are basically every Japanese motorway you could think of, it's nuts.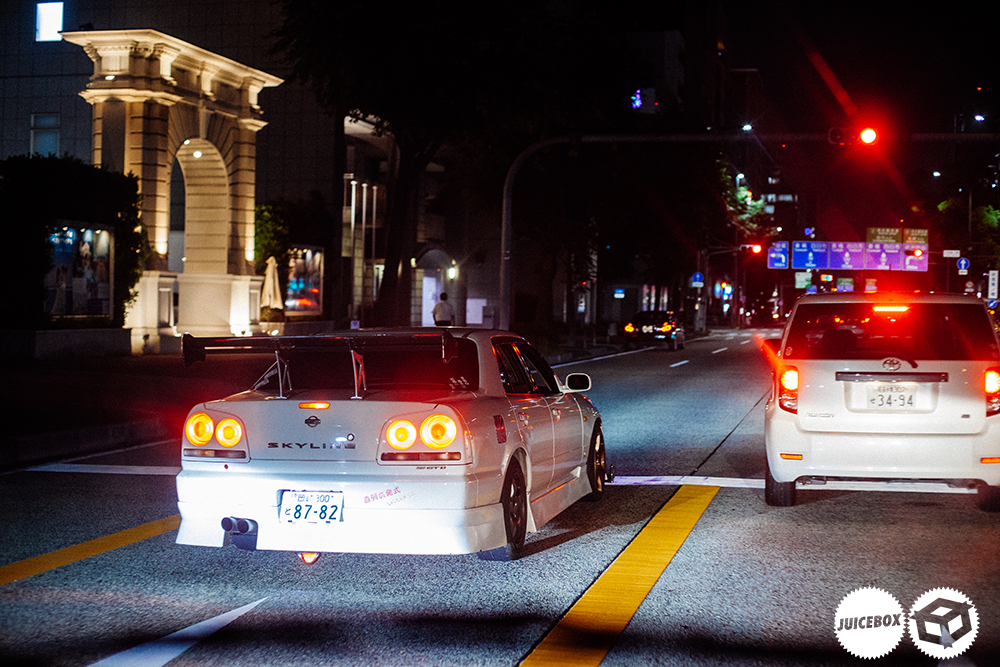 After a tiring day of fitting parts and driving what felt like forever, we were greeted to this ropey four door 34 in traffic which got us pretty excited and more or less brought us back to life. We decided to get an early night as we had another hectic day ahead of us.
Stay tuned for much more coming next week. Let me know how you feel about these articles. Thanks for reading!
Comments
comments
Powered by Facebook Comments