The hunt for perfection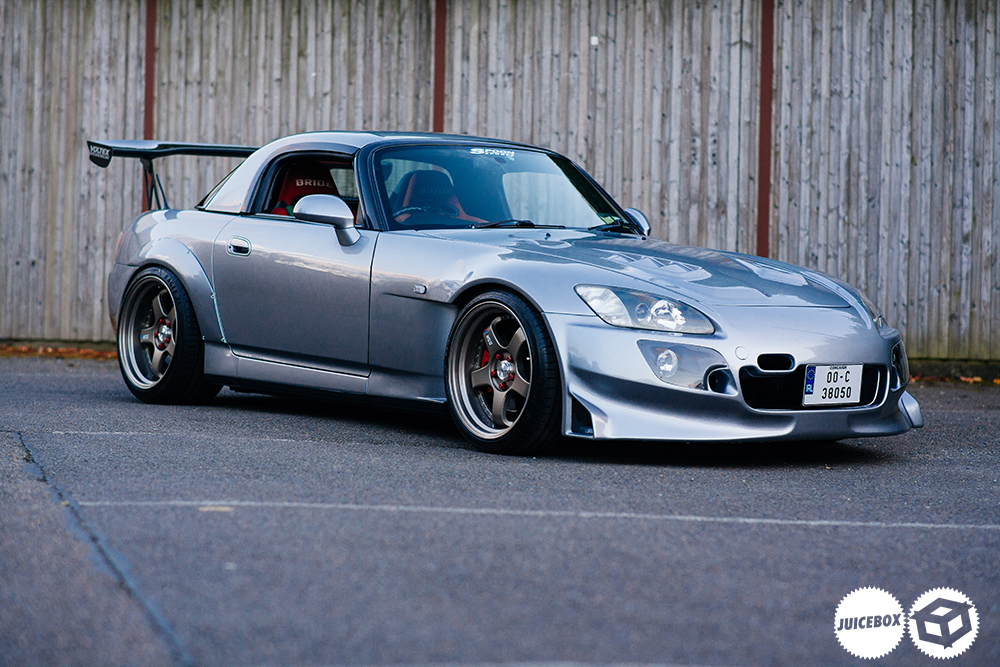 The owner of this car is a bit of a solo character, solo in the sense that he built this beauty out of the watching eyes of social media lost on his own hunt for perfection. Another Irish build once again leaving me in awe.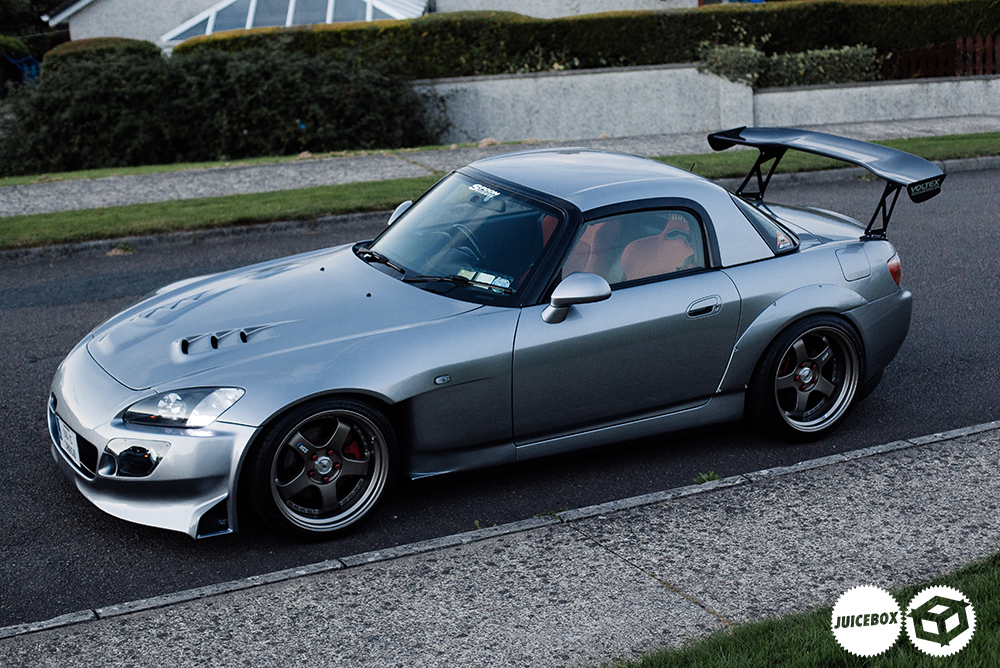 This car is amazing. Everything is so well put together. Its like an S2000 straight out of Japan.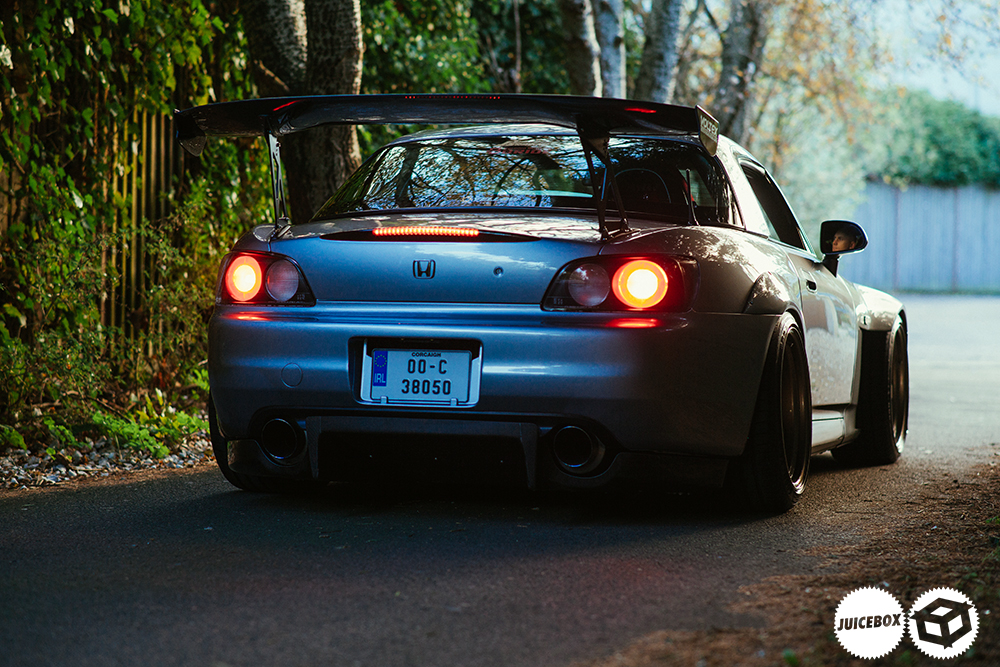 When Honda released the S2000 in '99 it was an absolute hit. A honda engine in an FR roadster. Watch any of the Gunsai Touge videos from Japan and you will understand.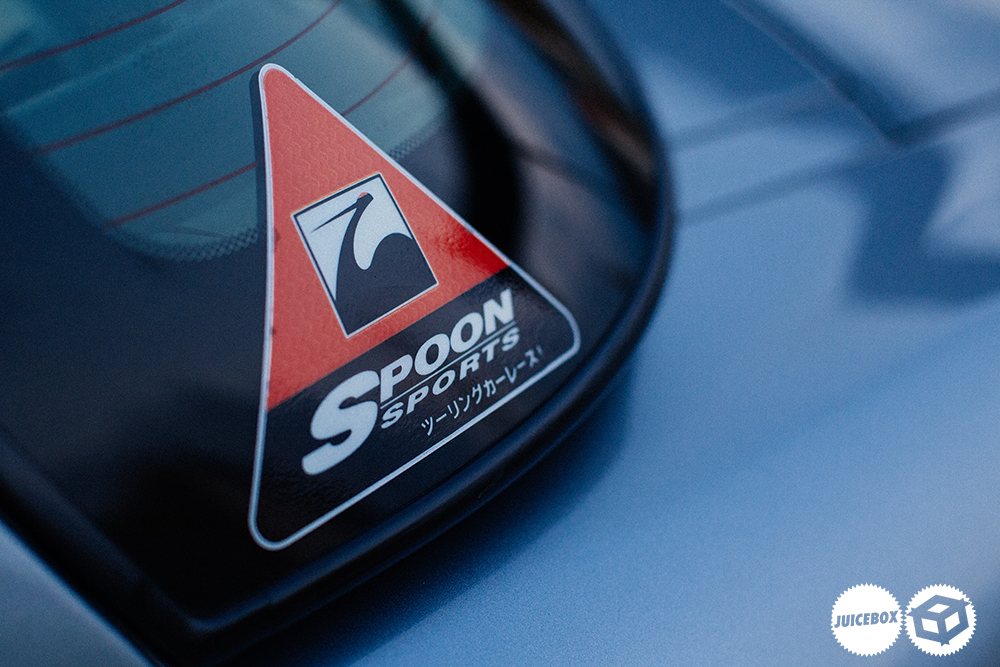 The S2000 quickly established its reputation and companies in Japan started adding their touches further unlocking the car potential.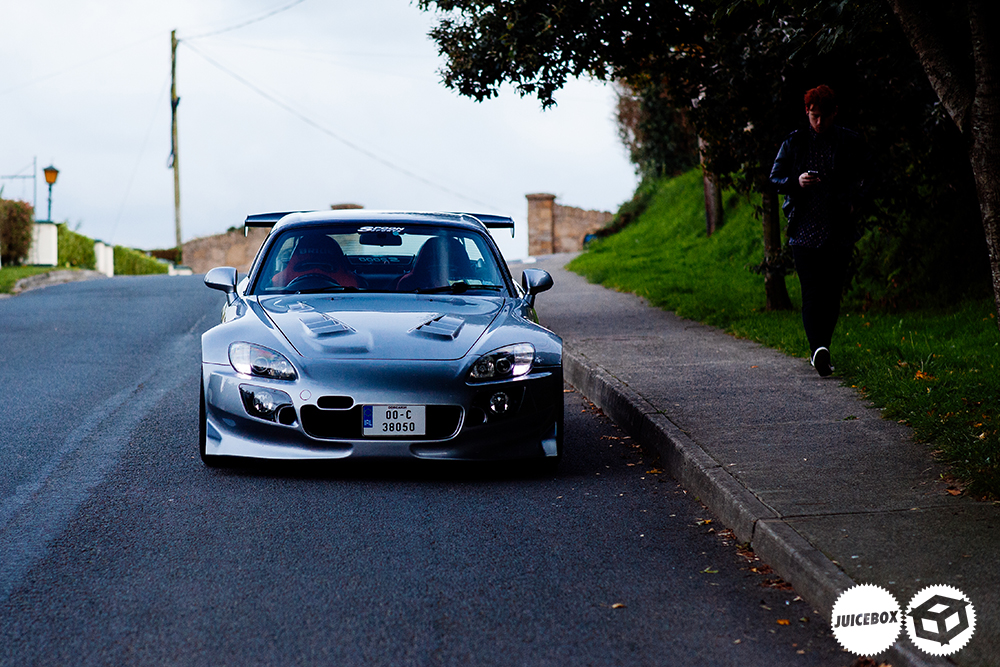 I love the Spoon S-tai front bumper. It adds that race car Aesthetic and Quentin complimented it with a Spoon bonnet and J's racing 35mm front fenders. The fender pieces have been molded into the spoon bumper for a clean look.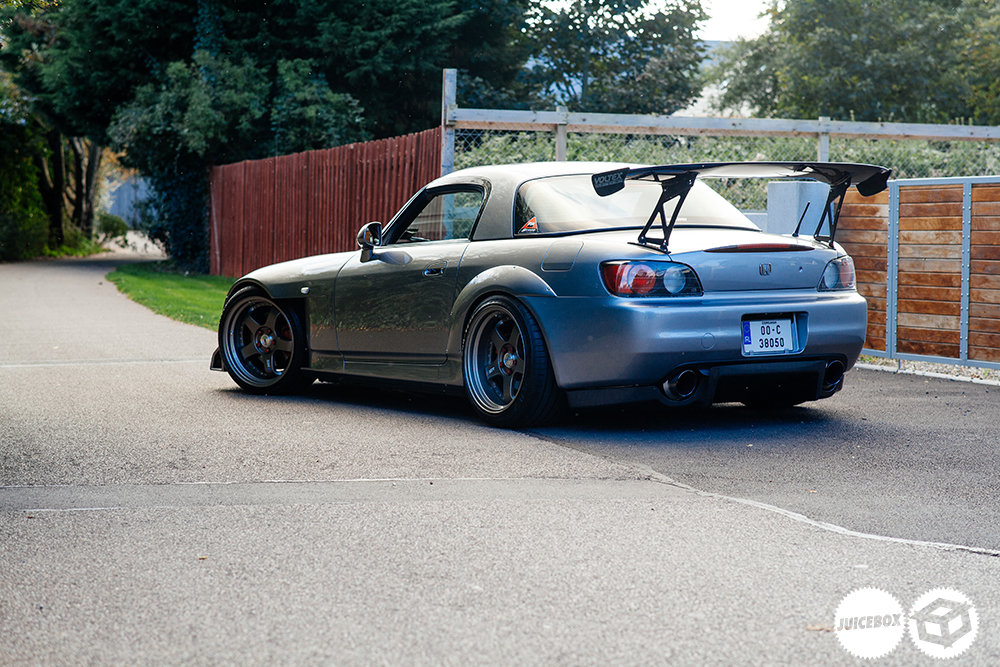 On the rear, a Voltex Carbon GT wing with Sard 275mm risers is the perfect match paired with a J's racing diffuser. I  can't get enough of the stock rear bumper and diffuser combo on these.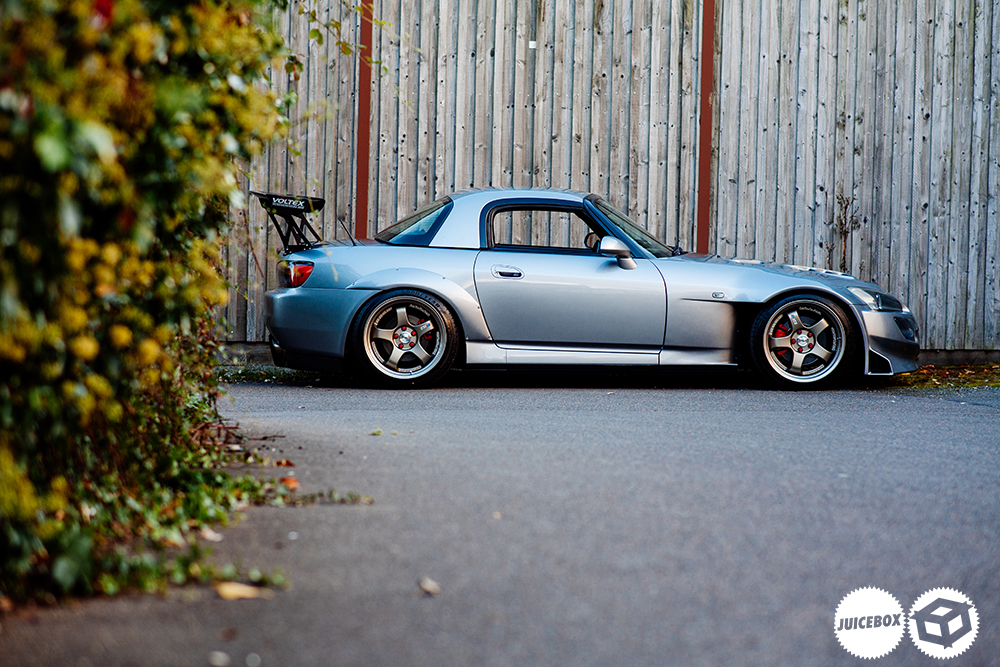 Quentin had the original arches cut and welded to fit some ASM rear overs. The original body lines are nicely enhanced by these subtle but effective exterior touches, it transforms the otherwise tame looks.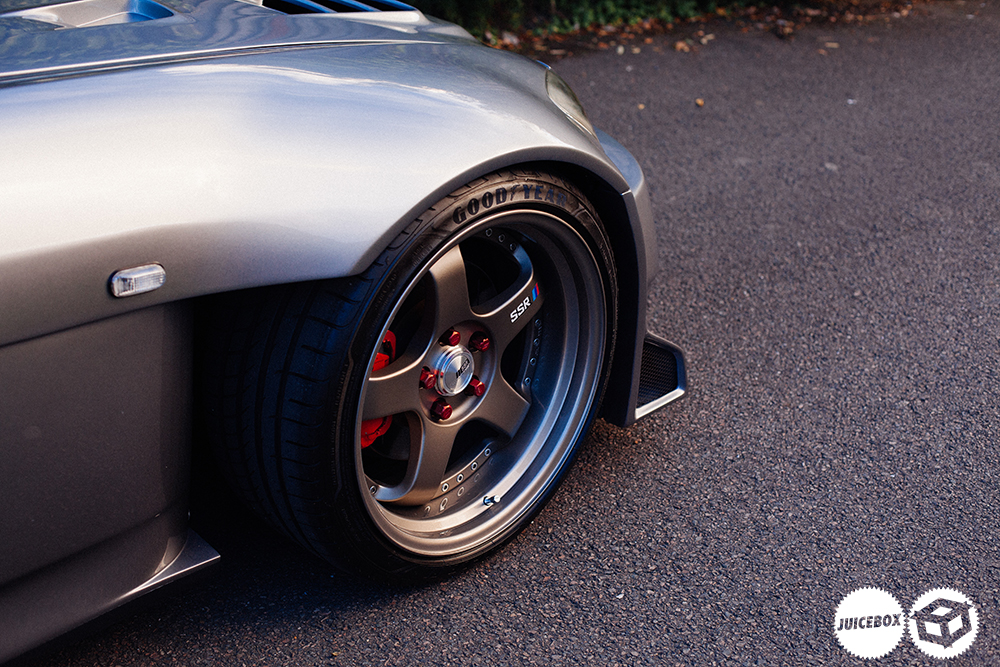 The look was finished with a set of SSR SP1's in a custom matte bronze with gloss. The combo is phenomenal looking.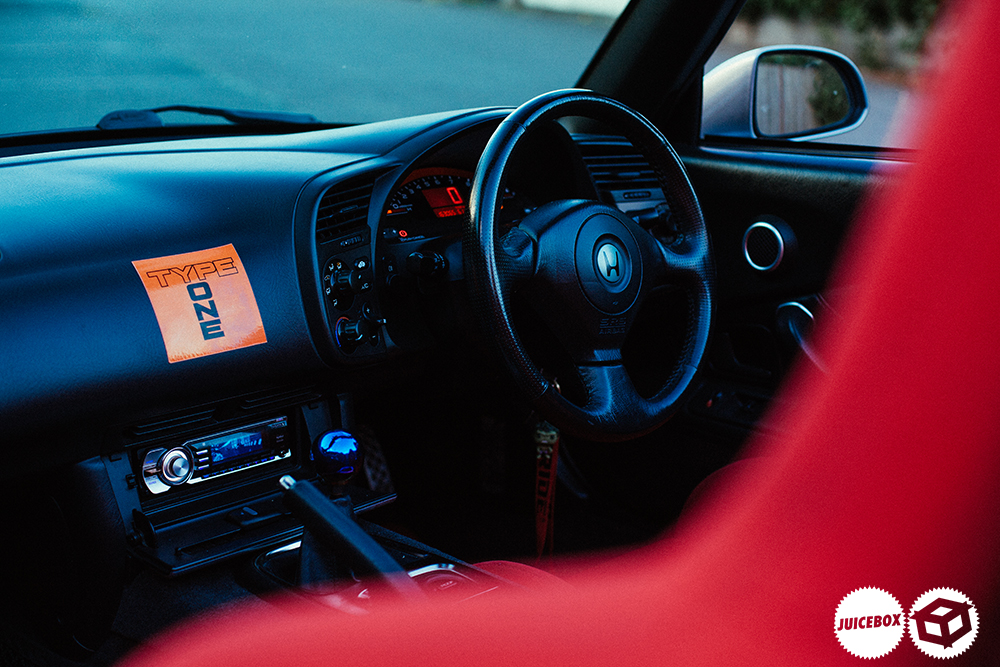 The original seats were swapped for a pair of matching Brix II's in blood red with and matching red mats. A titanium J's racing shift knob stays true to the theme of the build.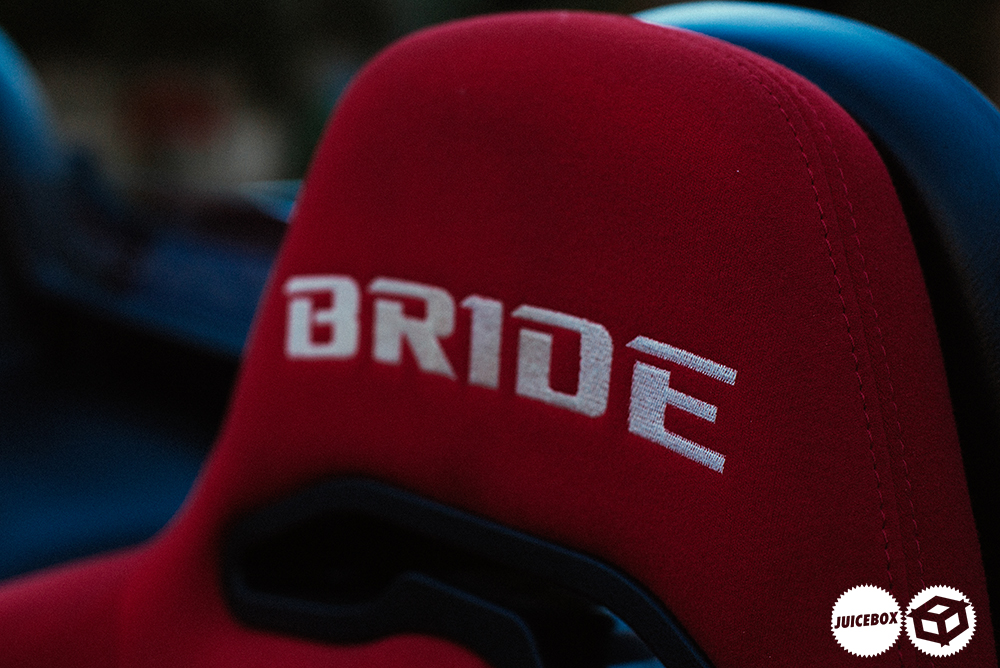 The S2000 is a special machine, something you soon realise when you go for a drive. Everything is crisp, even standard that F20c pulls like nothing else, the engine held the record for the most powerful NA four cylinder engine to be used in a production car.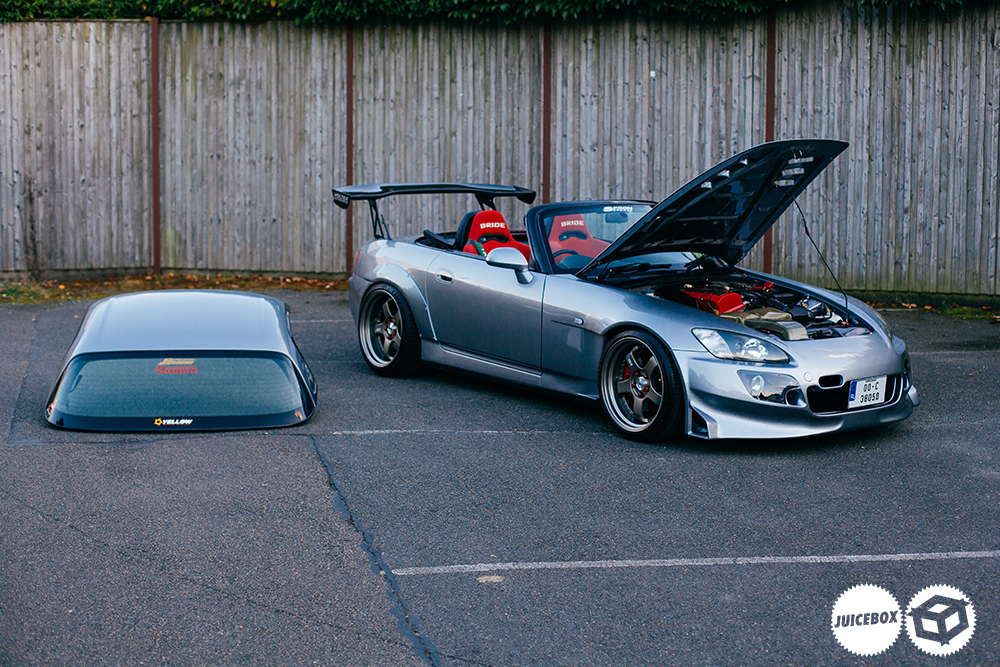 A front mid-mounted engine and 50/50 weight distribution means the S2000 is already set up amazing from factory with its rigid "high X-bone frame" design.A set of Yellowspeed coilovers were added to the mix further stiffening the chassis complemented by grooved discs and braided brake lines front and rear.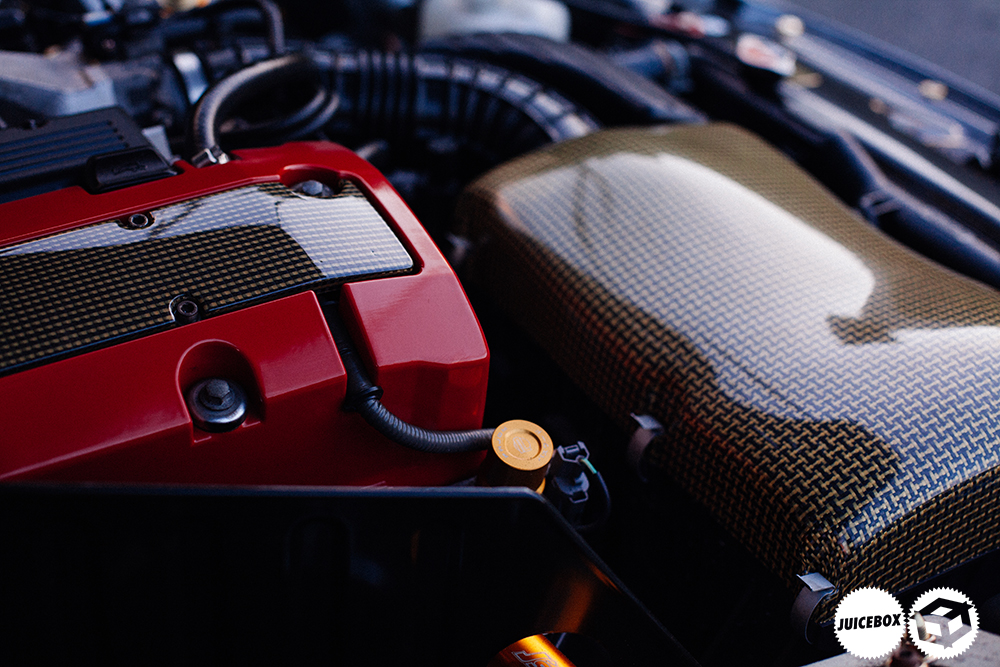 Power wise Quentin wanted to keep the original feel of the car. All that's been added for power gains are a spoon carbon Kevlar snorkel and a Mugen exhaust system.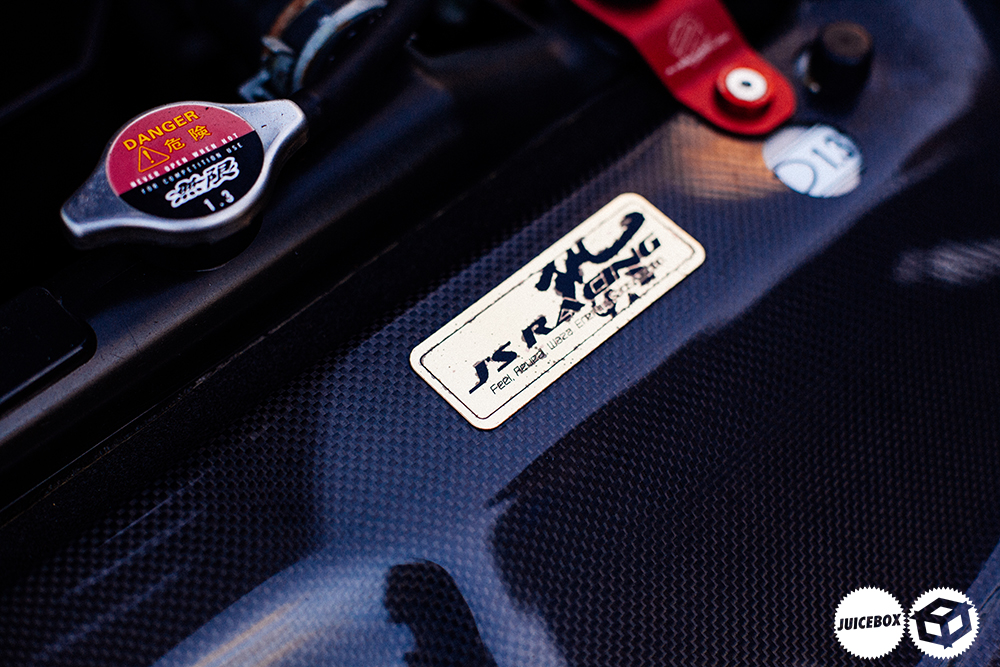 Some nicely selected Aesthetic mods include a J's racing rocker cover, cooling panel, and torque damper. Parts from Mugen include an oil cap and radiator cap.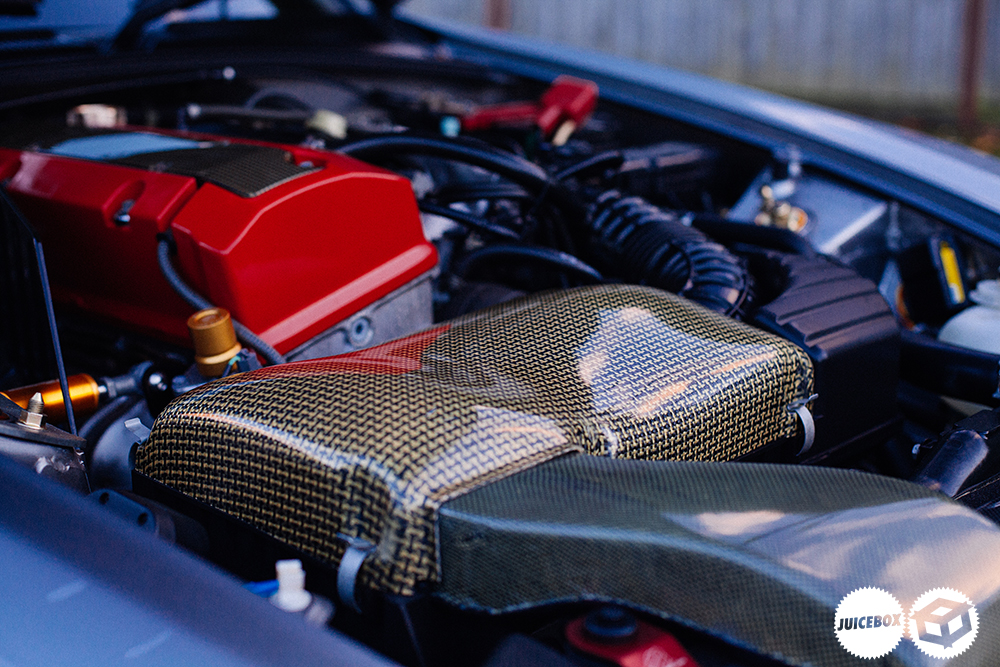 The matching Kevlar bits are a nice touch.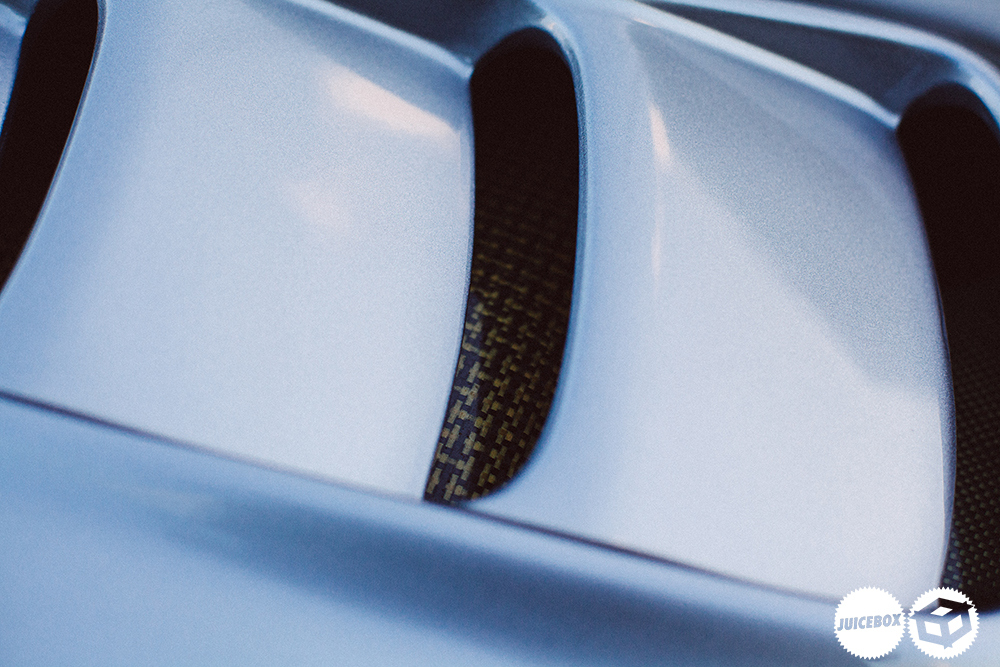 This car wasn't even on the "Irish radar" This country is filled with guys on personal quests out of the watching eye building their dream machines.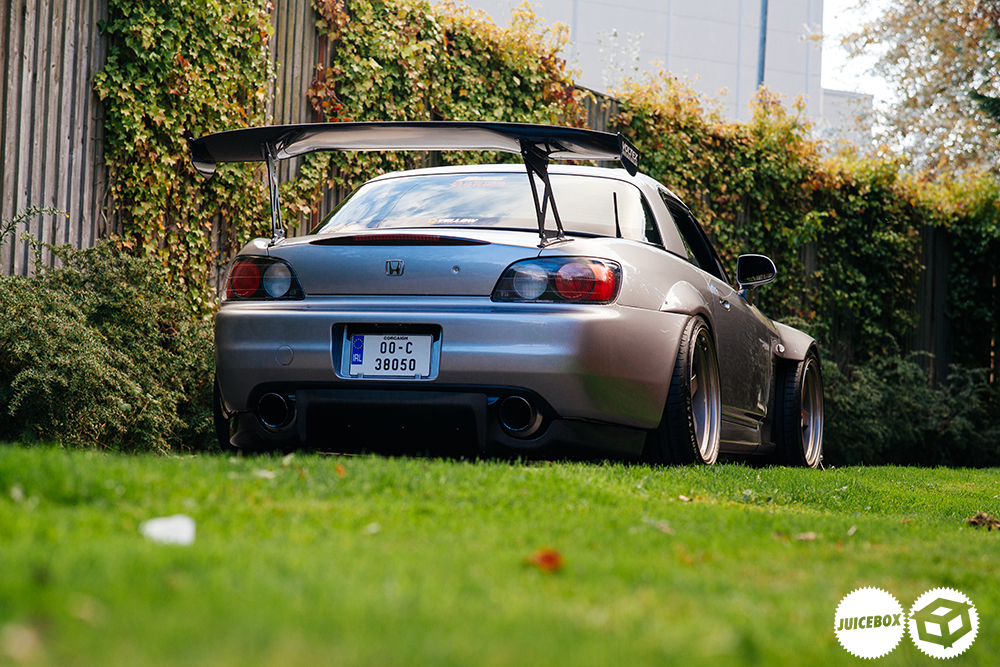 It's what makes this a special place.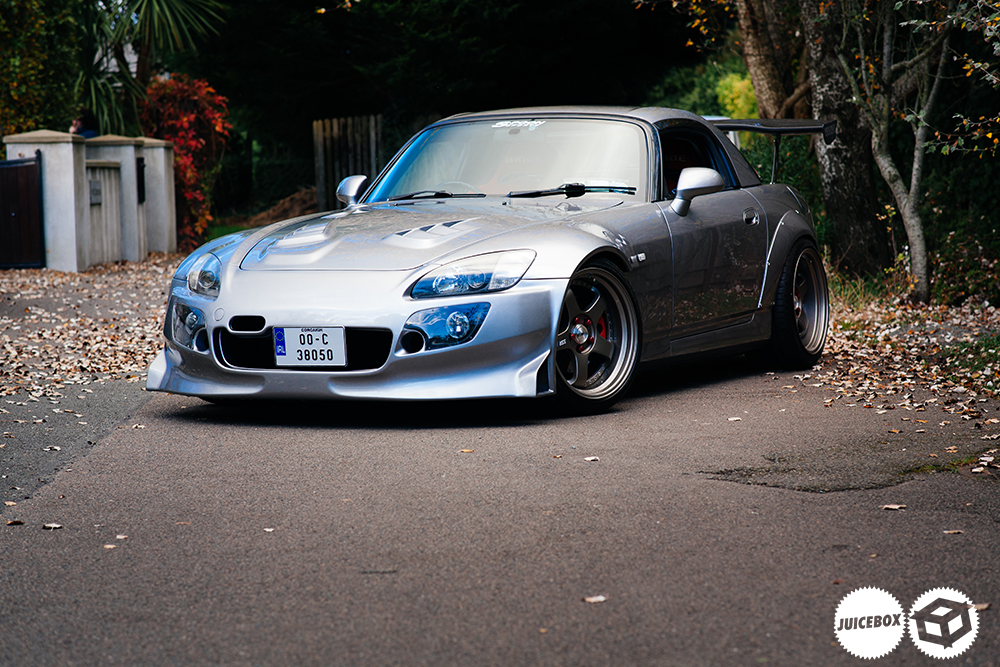 It's laughable that hidden away in the most unassuming of places is one of Irelands top S2000's. Quentin is off chasing his version of S2000 perfection regardless if people are interested.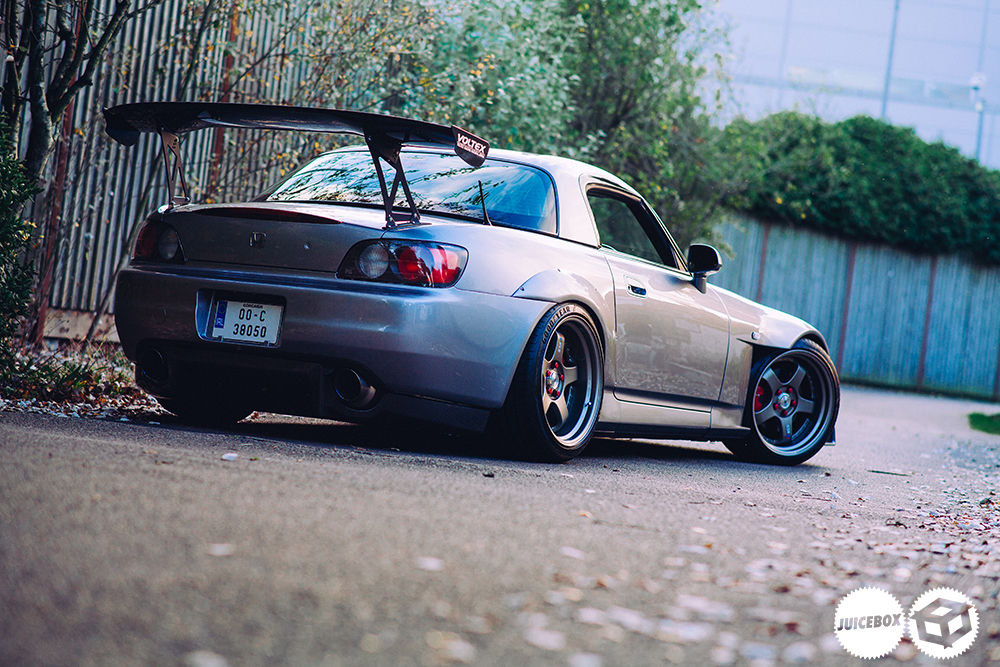 These are the stories we love to share. A genuine guy with a genuine love for the stuff, it's nice to seek these people and shed a spotlight on their pride and joy.
Hopefully, this feature will give the car the attention it deserves.
Cheers for reading.
Wheels/Tires/
SSR  SP1  10.5+30 rear 9.5+ 30 front.
Sprayed custom bronze Matt centre and bronze gloss lips.
Ssr centre caps.
Goodyear Eagle f1 asymmetric 2 265 35 rear 245 35 front.
Work red wheel nuts.
Suspension/Handling/
Yellowspeed coilovers
Grooved Discs
Braided brake lines.
Exterior
Spoon S-tai front bumper with molded J's racing bits.
J's racing 35mm front fenders
J's racing carbon GT wing with Sard 275mm risers
J's racing carbon diffuser
JDM rear bumper
ASM 25mm rear over fenders
Spoon bonnet.
Interior
Bride Brix II seats
Bride seat rails
J's racing titanium shift knob
JDM S2000 mats.
Engine
Mugen exhaust system
J's racing carbon cooling panel
Mugen oil cap
Mugen radiator cap
J's racing torque dampener
Password Jdm carbon kevlar airbox cover
J's Waza emblem.
Spoon carbon Kevlar snorkel
Spoon carbon Kevlar valve cover
Comments
comments
Powered by Facebook Comments