From the other side of the globe:
I love cars that literally appear out of nowhere. This KE70 appeared in some photos online one day and literally blew us away. At First I thought it was just another really well put together Corolla from the Internet, little did I know this was actually on Irish shores. I was pretty eager to take a closer look.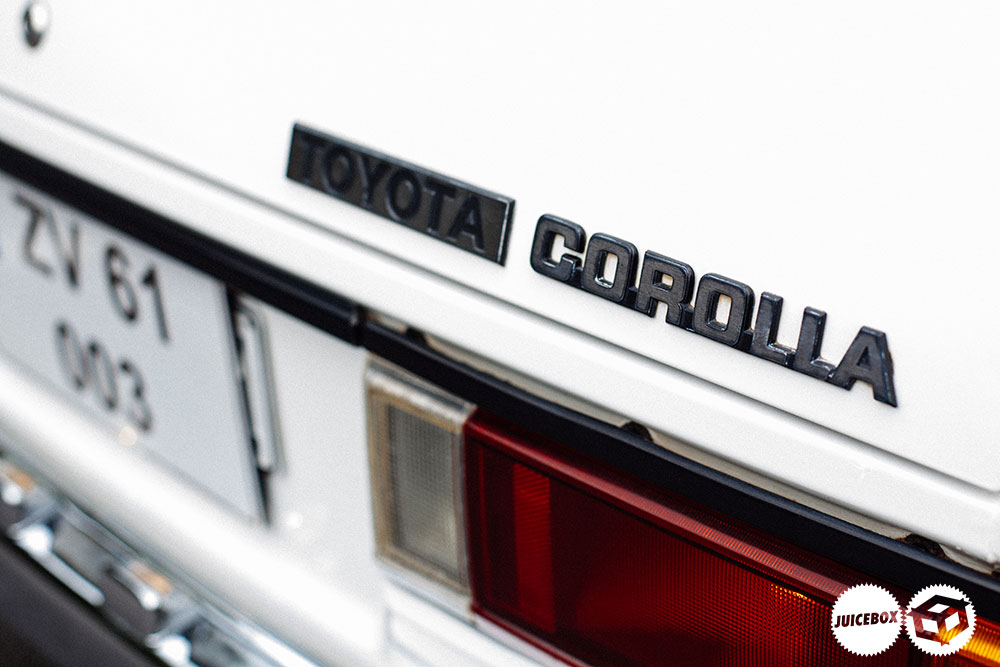 Before I had a chance to arrange a shoot with John I was fortunate enough to see the car at the annual Toyota meet, the absolute pristine body, the immaculate 14" Longchamps. The look was timeless, exactly how I would put one together.Throughout the Day I kept making my way back for another look at this car as it seriously stood out amongst the crowd with its Aussie plates.
With a bit of luck as we were heading to the hotel for the night after the Toyota meet, John rolled in ahead of many others and I made my way over for a chat and asked would it be ok to shoot the car, he was more than happy for us to grab a few snaps and have a chat.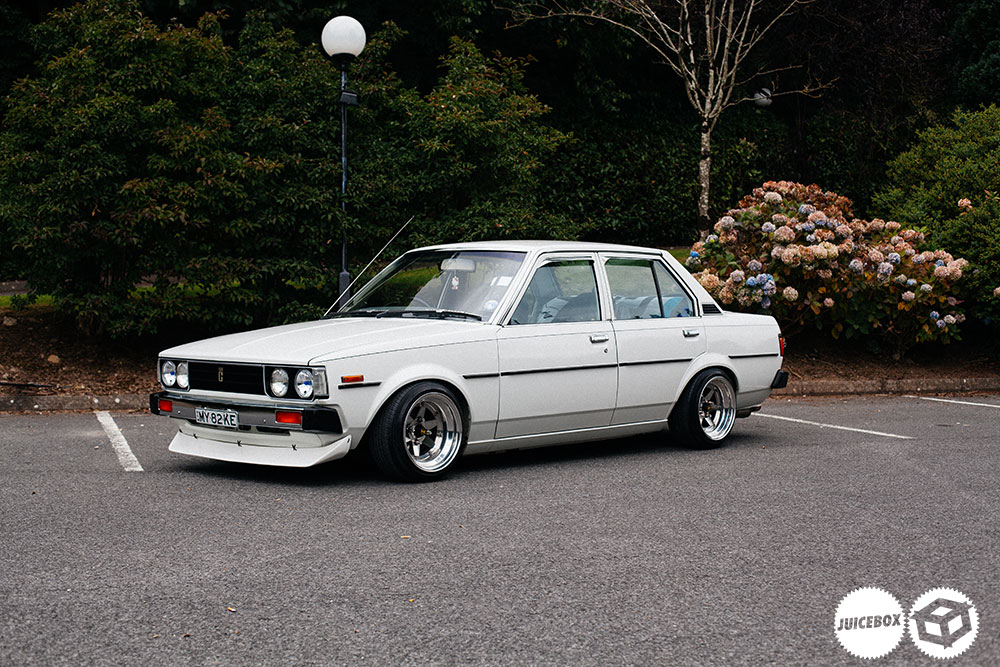 John like many other Irish enthusiasts made his way to the land down under when shit hit the fan, as he started to get his feet on the ground in Australia that bug for Toyotas was creeping back up on him in a major way.He showed me photos of the KE Panel Van he built before this which satisfied that itch, a car which he admits he had to sell but this, this was a keeper, this as coming back to Ireland, this was the crown jewel.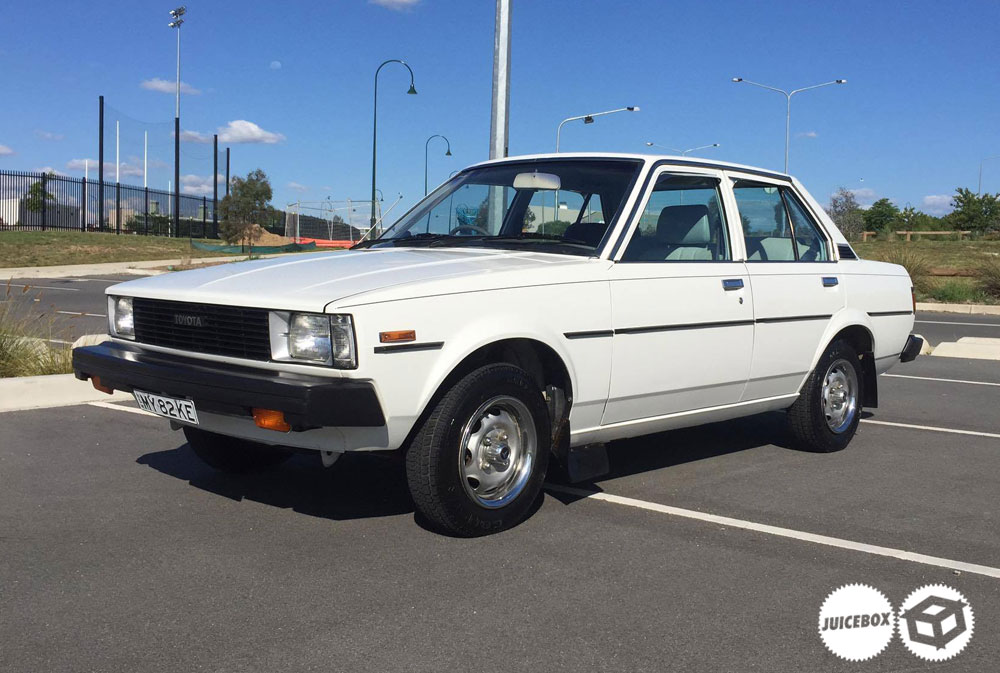 He told me he patiently waited years for the right one to pop up. Out of nowhere one day this original 70,000 kms from new beauty appeared for sale. The car was an 82 KE70 completely unpainted unrestored original car, no matter what John had to have it.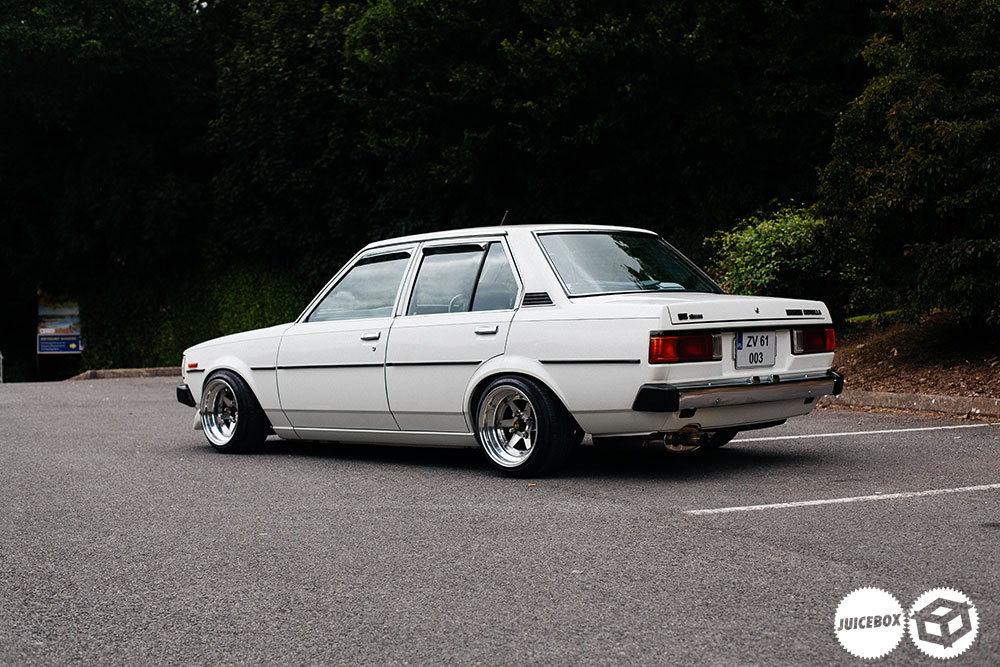 This would be the keeper, the perfect base to build the perfect Corolla, Australia being the magic place where cars like this can survive in such great condition, John was in the best place possible to build his dream K70. The slippery slope began.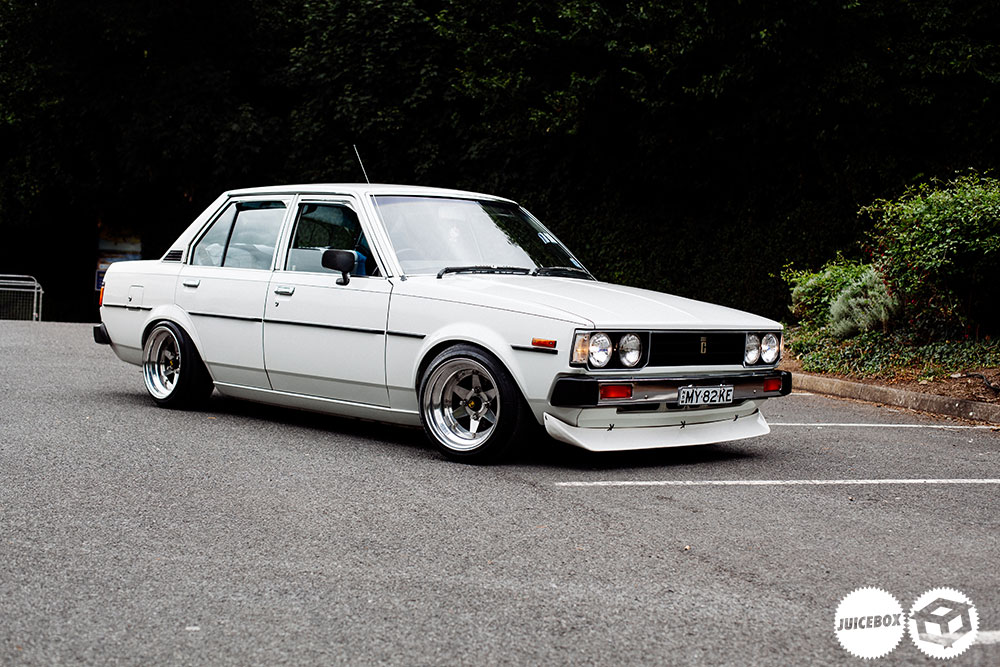 From the outside, you would be mistaken into thinking this was a mild enough build until you start to take a closer look. The car came with the original small headlamp front end; John decided to swap it out for the ever so desirable Japanese quad headlamp conversion and grill. To compliment this brand new chrome bumpers were fitted and a Madhouse front lip completes the front end.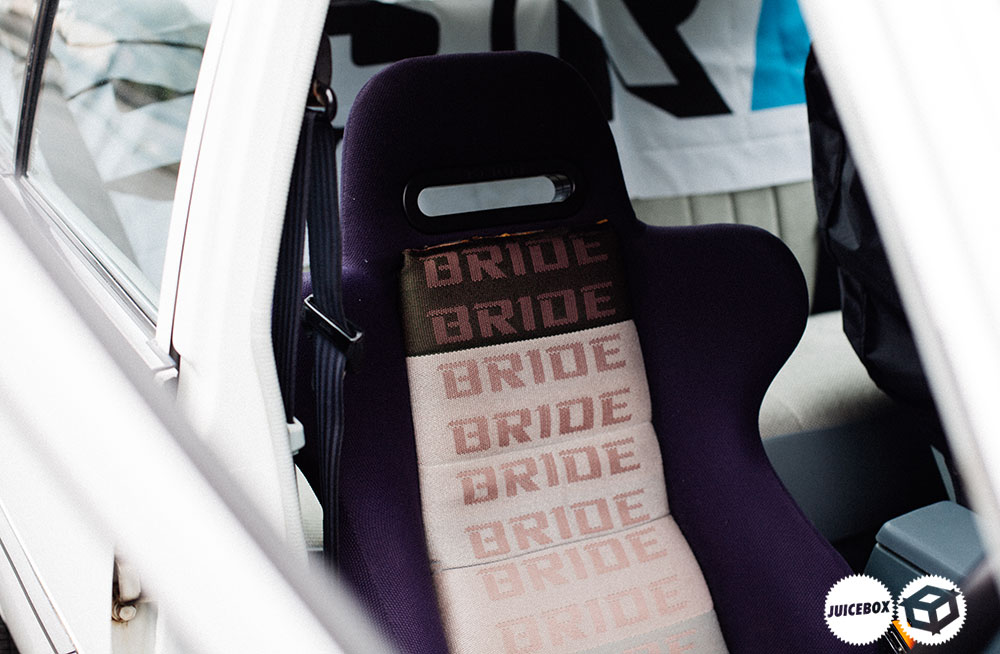 Inside I could not get over the light blue trim offered in OZ with these cars, it looks super cool against the white paint and was left in pristine condition. Going for the classic Japanese look John swapped out the drivers seat for a Bride recliner and added a few period correct Omori Gauges and a Nardi classic wheel.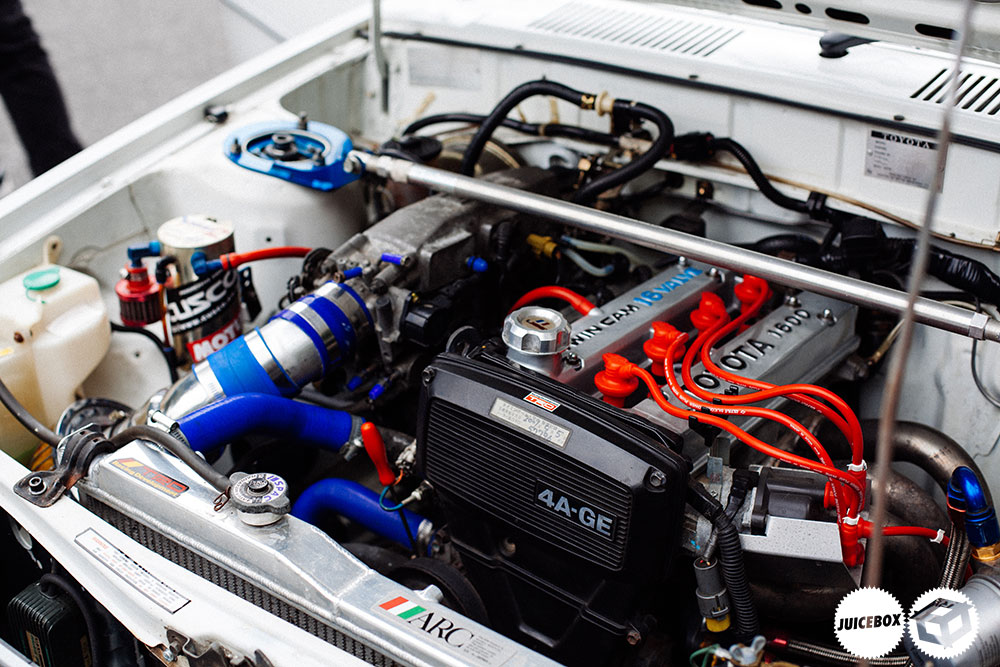 Because these chassis are so interchangeable with the AE86, John went about converting this thing into essentially a four-door version.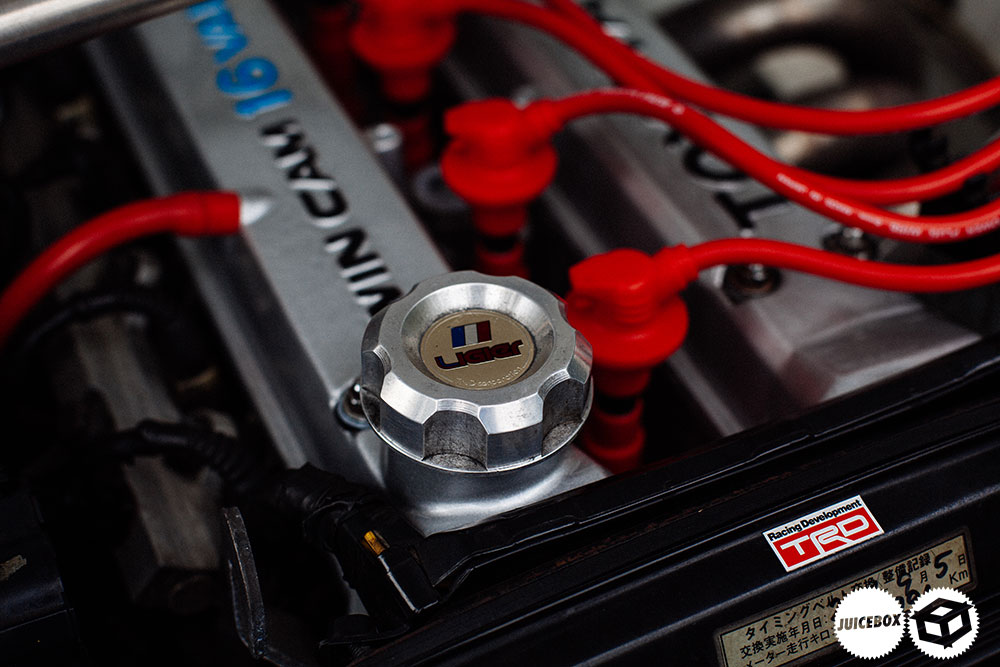 Under the bonnet the original engine was replaced with a Bigort 16valve 4A-GE which was then treated to an array of Japanese goodies such as a Cusco Powerball manifold, Greddy oil cooler, an ARC rad, Tech art Didistributor and heat shield…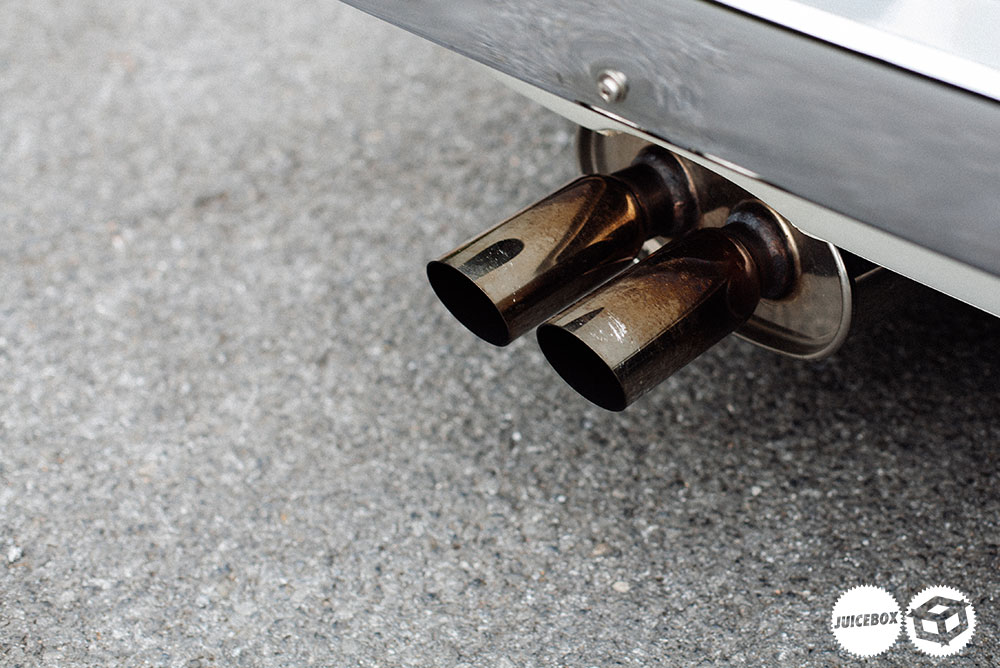 The car oozes with well selected rare choice goodies. The distinctive 4A-GE can be heard through a raspy Fujitsubo Legalis R cat back stainless system.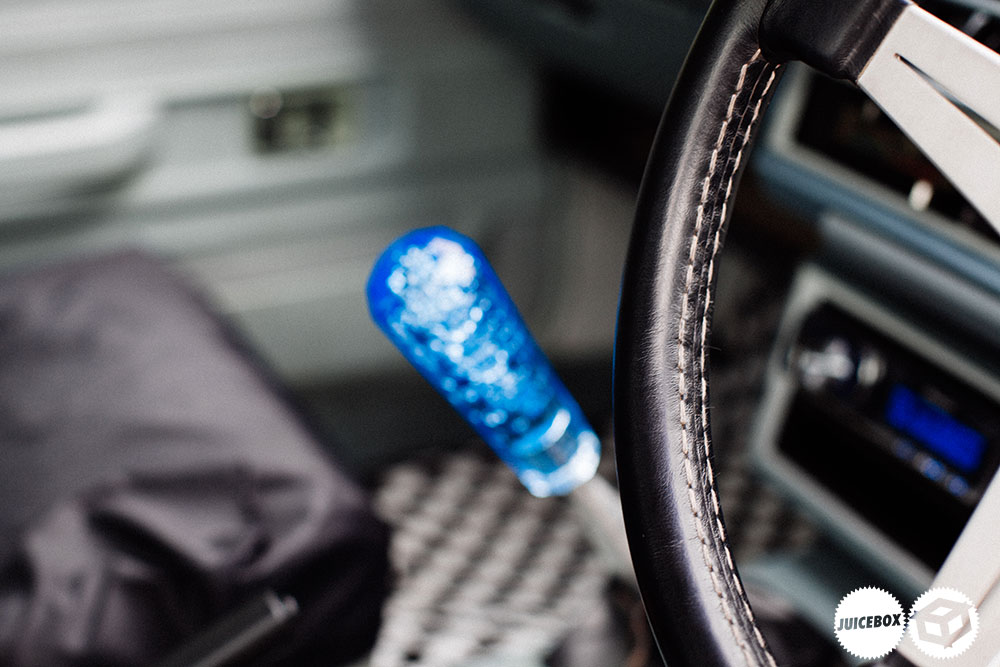 Mated to the 4A-GE is the old reliable T50 gearbox, which has been freshly rebuilt and accompanied by a C's short shifter, a lightened flywheel and an Exedy HD clutch. Out back a TRD 2 way keeps things tail happy with a 4.5 Crown wheel pinion.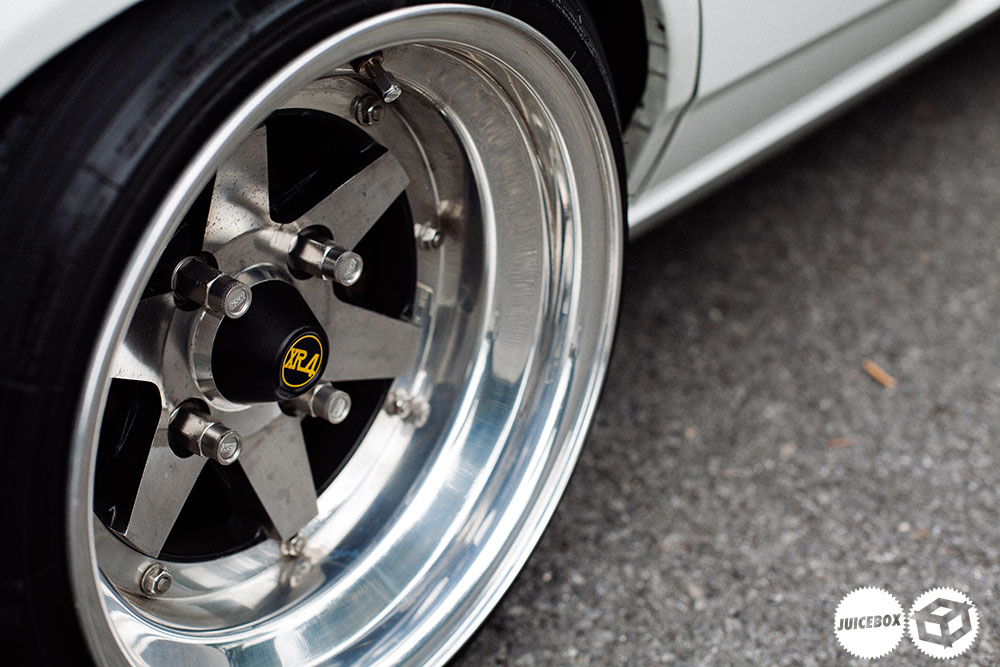 I spotted some Discs through the rear wheels; John used an AJPS rear s13 Disc conversion with endless pads. Up front some AE86 Calipers rebuilt accompanied by Brembo drilled/grooved discs with braided lines for both front and rear.
For handling a mixed bag of various tried and tested parts likely to be found on a well setup AE86 can be observed: Cashiew coilovers up front with Cusco top mounts, Silk road springs and 86 power steering arms. At the rear: TRD blue short stroke shocks with BC 4.5kg springs and a white line Panhard rod. Braces from Cusco help with the rigidity both front and rear.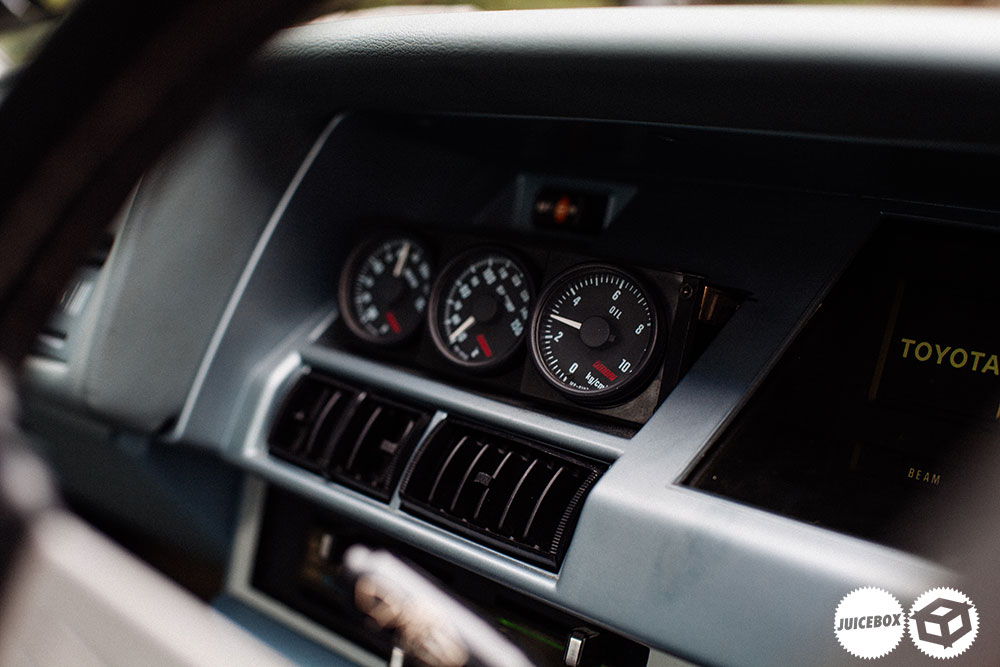 This is E70 Corolla perfection, to be able to take such a relatively mundane econo commuter from the early eighties and retro fit it with a shopping list of Goodies is one of the main reasons I love these cars so much, its almost like Lego.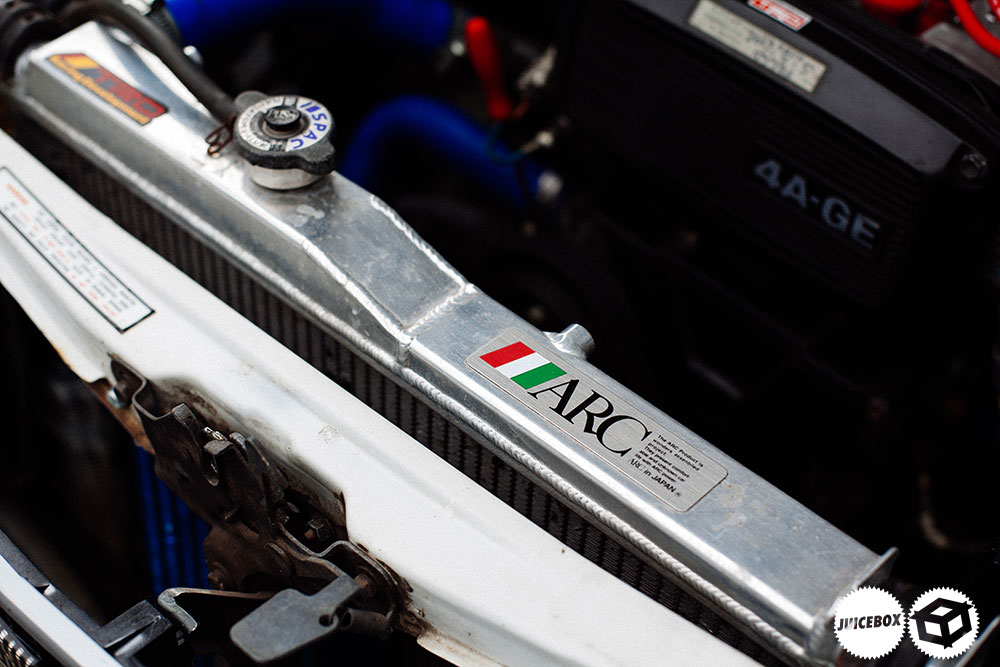 Our damp rock in the Atlantic Ocean killed many of these off over the last thirty years and coming across one in this great of a condition is almost impossible. By the time we really figured out what could be done with these the selection was extremely limited.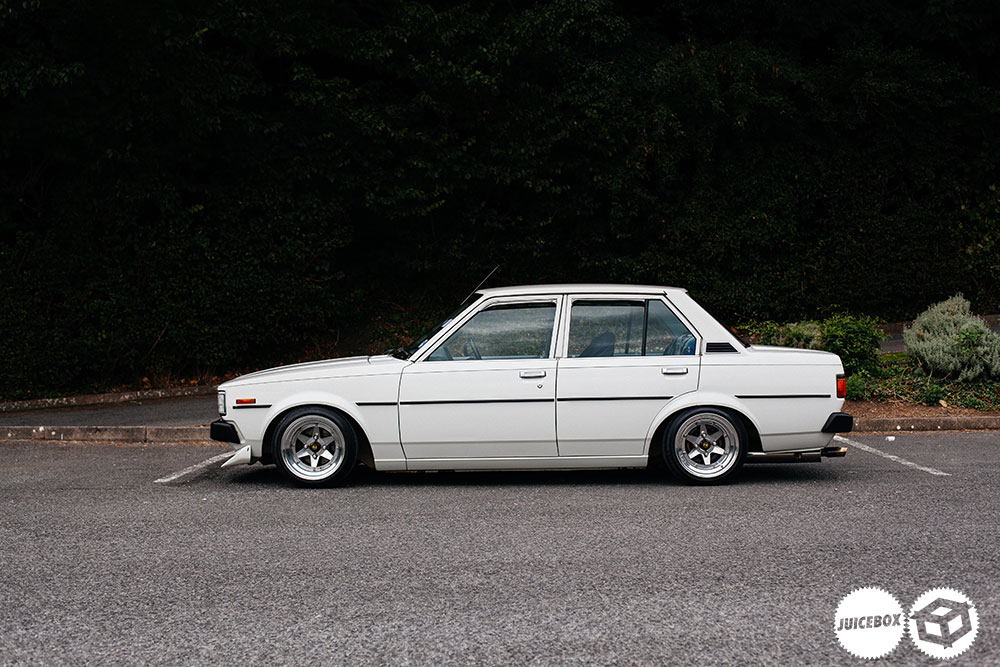 Turning an Australian Grannys "one owner from new" Corolla into an angry little monster and then bringing it back from the other side of the globe is something and owner can sit back and be proud of.
John has put together a masterpiece with this Corolla and it's a nice addition to our little Emerald Isle.
Wheels/Tires/
14×8.5-14 SSR Lonchamps
14×8.5-20
Restored ssr centre caps
Ssr lug nuts
165/50/14 tyres
Suspension/Handling/
Suspension
Cashiew coilovers
Trd blue short stroke inserts
Cusco camber tops
Silk Road 6kg springs
Super pro bushings
Extra lock spacer
86 power steer arms
Ajps 40mm rca's
Cusco strut brace
Cusco lower brace
Rear
Trd blue short stroke shocks
Bc 4.5 kg springs with ajustable perch
Whiteline ajustable panhard
Trd trailing arm bushes
Cusco strut brace
Brakes front:
Jap 86 calipers, rebuilt
Brembo drilled/grooved discs
Qfm pads
New wheel bearings
Braided lines
Rear:
Ajps s13 rear disc conversion
S13 rotors
Rebuilt calipers
Endless pads
Transmission
Rebuilt t50 gearbox
Shifter bush kit fitted
C's Short shifter
lightened flywheel
Exedy hd clutch
Endless Braided clutch line
Trd 2 way
4.5 cwp
Exterior
82 ke70 Corolla
70k kilometers from new
Original paint,un-restored car
Australian import
Madhouse front lip
Quad headlamp conversion
HID's
Narva head lamps/Piaa bulbs
New chrome bumpers front and rear
Stainless rain visors
Interior
Bride recliner drivers seat
Pioneer head unit
Nardi 360  wheel
OMORI oil temp/water temp/oil pressure gauges
OMORI tacho
Engine
16v 4age bigport motor conversion
Trd metal head gasket
Cusco 'powerball' headers
Fujitsubo  cat back stainless system
Stainless de-cat pipe
Ultra plug leads
Greddy oil cooler and filter relocation kit
Earthing kit
ARC alloy rad
Cusco catch can
Zero sports intake
Tech-art dizzy and heat shield
Other
Ae71 engine and gearbox crossmember
Ae71 hydrolic clutch conversion,pedal box
Ae86 fuel tank
Comments
comments
Powered by Facebook Comments