Perfect five: The Gymkhana Evo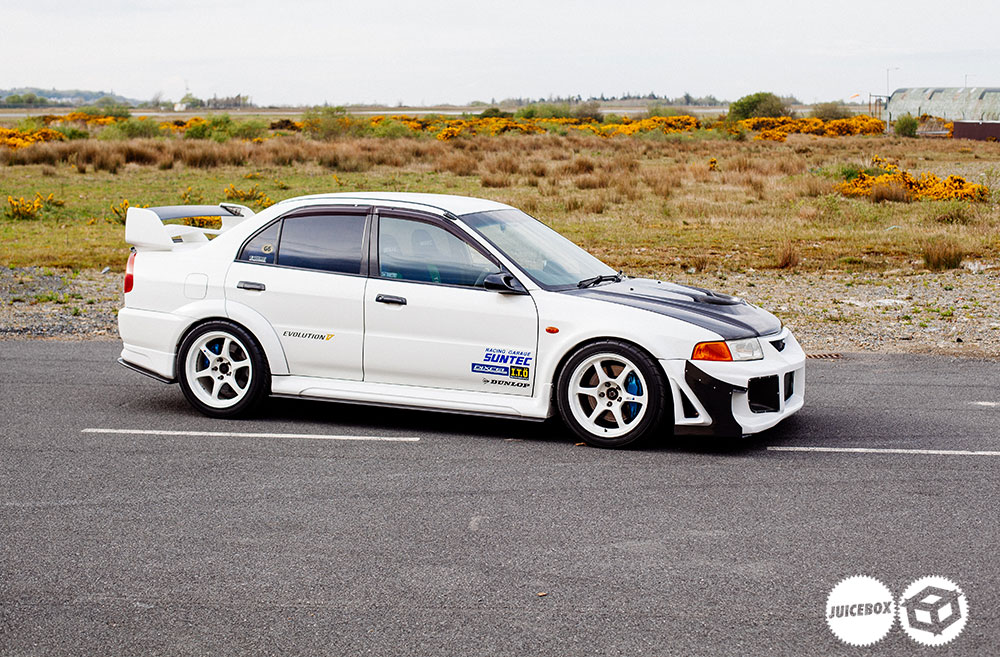 Japan has been good to us. This country has seen some great cars land here over the years. In almost every category we have imported some of the best. It amazes that after fiteen or more years of plucking the gold, time and time again amazing machines like this end up on the docks in Dublin.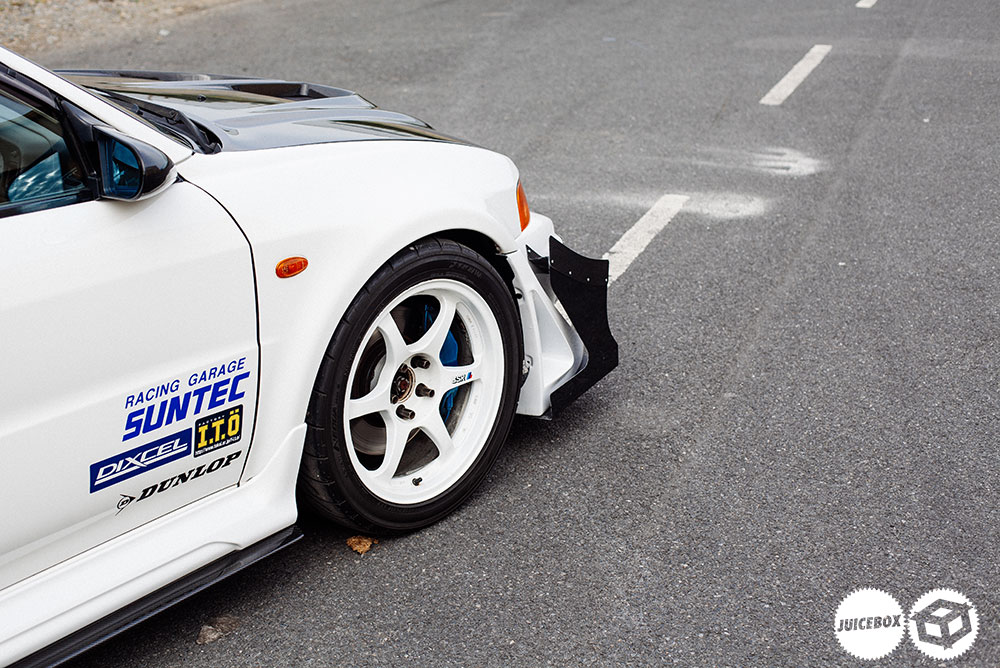 Rob is one of the biggest Evo guys in Ireland and managed to snatch this Evo V RS up on the auctions. When I heard the spec I sounded awesome, it was great to see such a highly modified example make its way here as far too many of these that were imported were somewhat modest on the modifications, eventually wrecked, broke or used for rallying (which is understandable)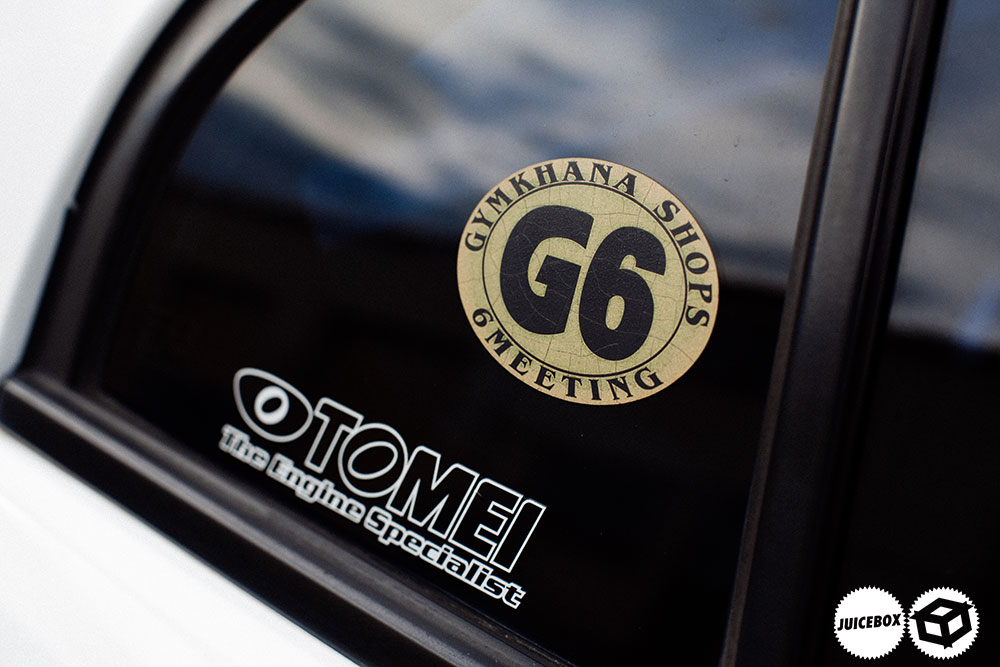 As Rob started to send me photos of this thing the inner fan boy started to get out of control. The SSR type C wheels, the collection of very neatly classic Japanese sticker placement stickers, I immediately wanted to know more.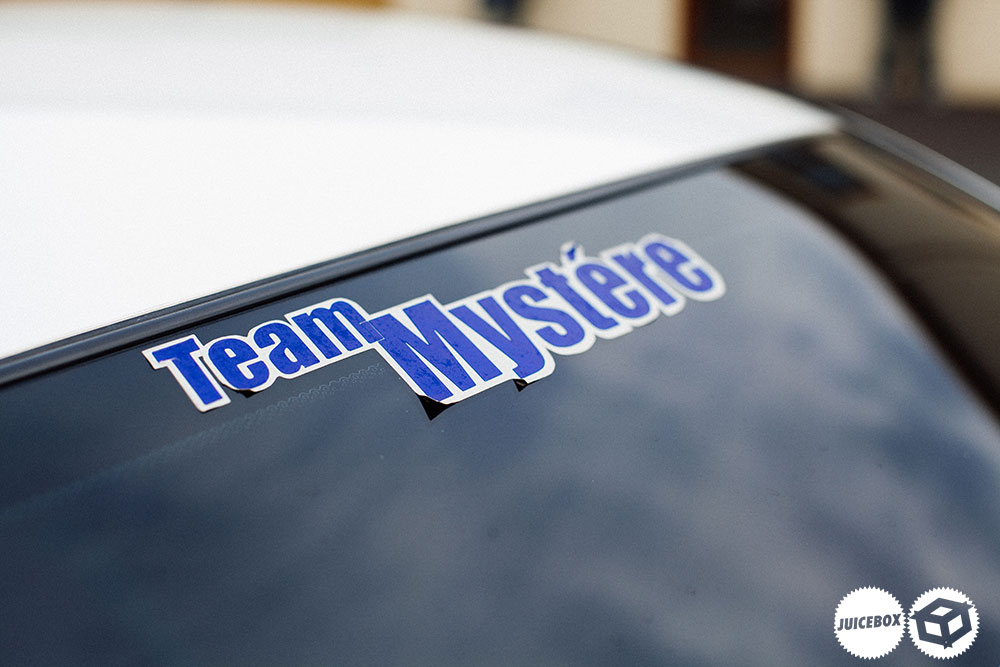 "Team Mystère" "Racing Garage Suntec" I love that shops and teams in Japan always leave little traces for us to unravel on the other side of the globe always having interesting names for us to figure out. Rob did a little digging and found the tuning shop in Japan, he also found the original owner of the car on Minkara.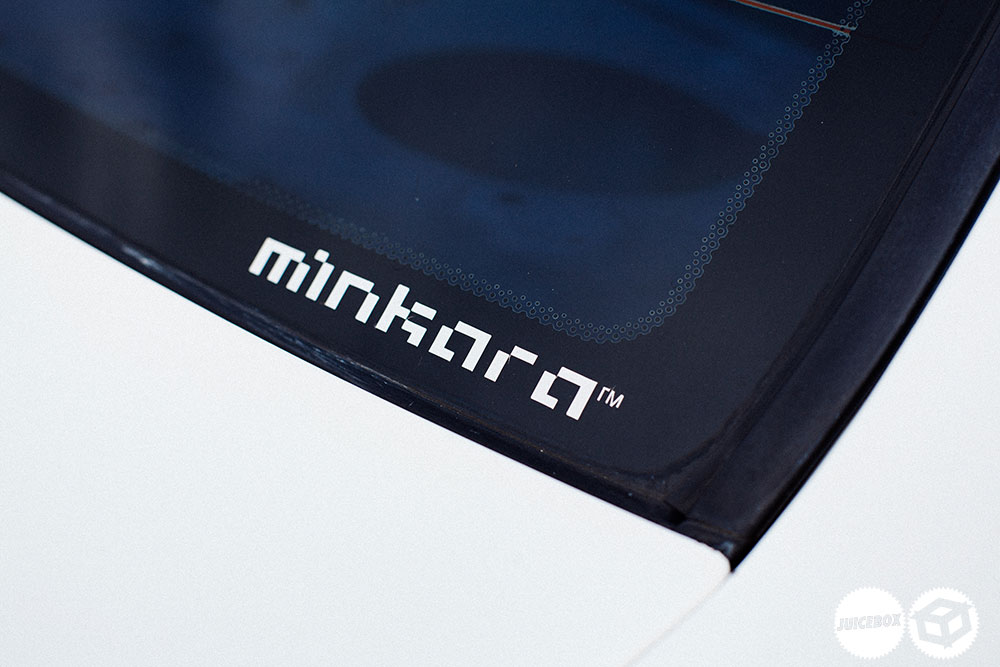 That unlocked a bunch of cool photos and videos of this giddy beast taking part in Weekend Gymkhanas. The mystery started to unravel. Its amazing a bit of time on the internet can fish out.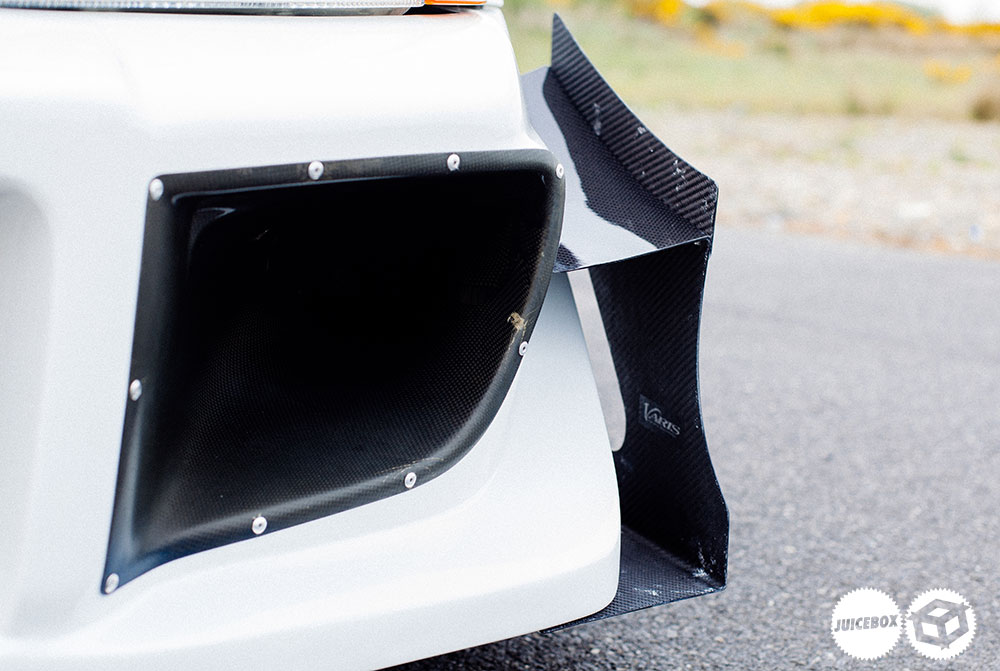 Rob was going to have a hard time building on perfection but somehow managed to make this RS look even better. He went about adding a collection of Varis goodies including the bumper, bonnet and ducts to the front end.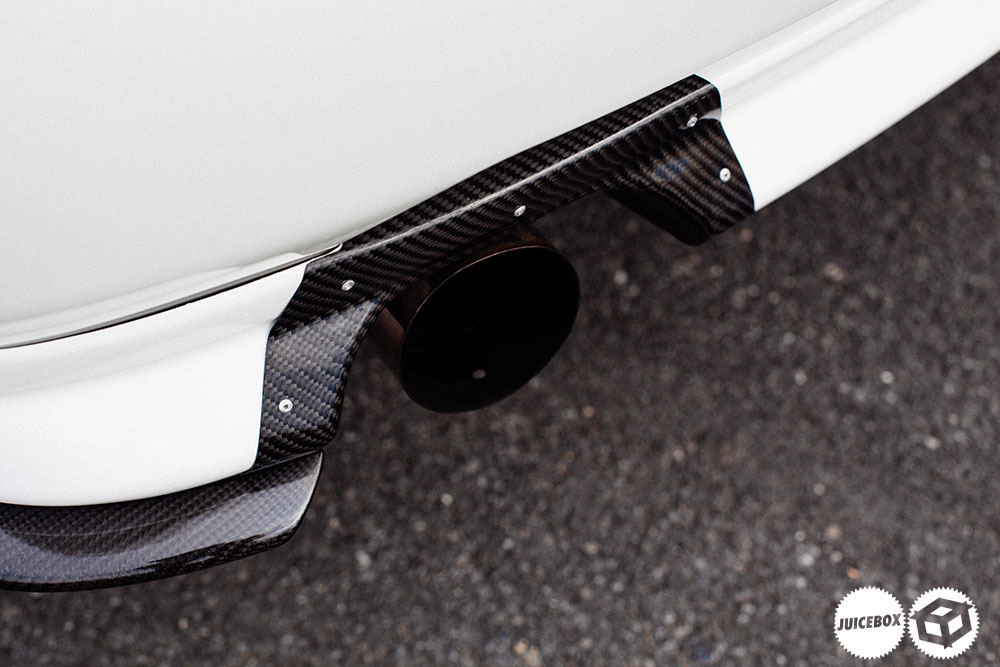 Carbon side skirt extensions were fitted on both the original skirts and rear bumper. These work nicely with the Ganadors and carbon pillar trim and exhaust Surrounds. The immaculate white is complimented perfectly by the carbon accents without overdoing it. A EVO VI rear spoiler and boot lid wraps up the rear end.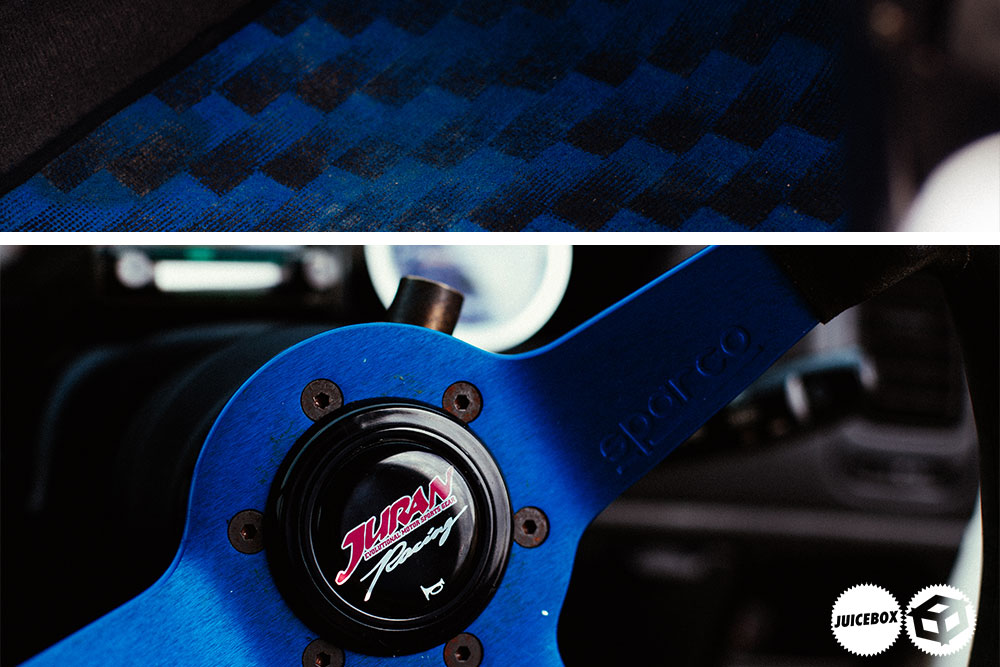 A very nice subtle theme going of blues, blacks and carbon flows throughout the Lancer, the blue Sparco wheel complimented by blue checker mats and a sea of Defis and is just right.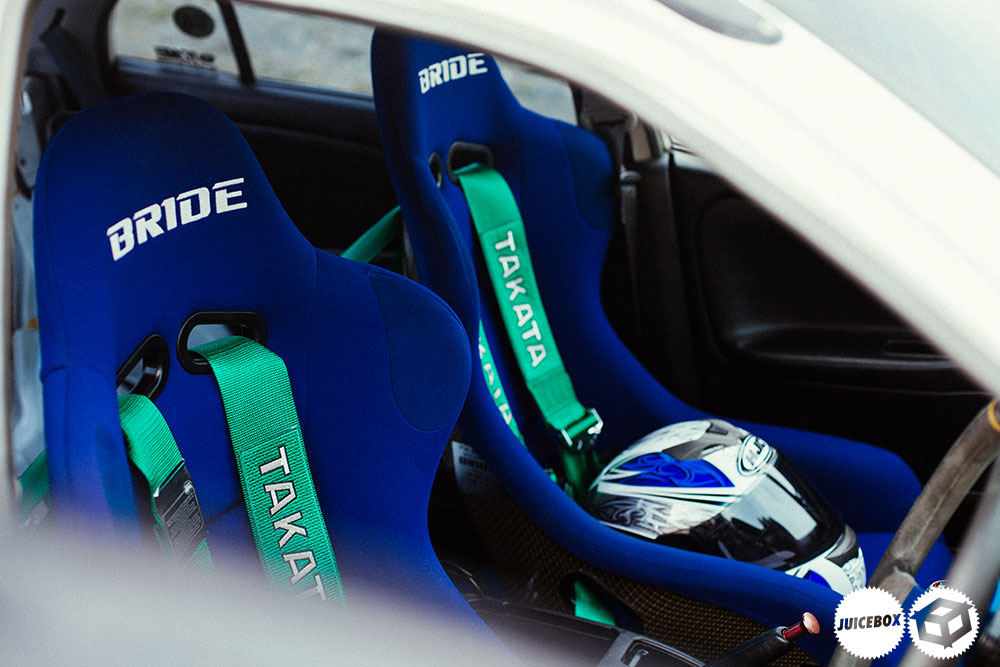 Being an RS model this came with things like windy windows, it's a lightweight model, asides from that any of the interior which wasn't needed has been removed.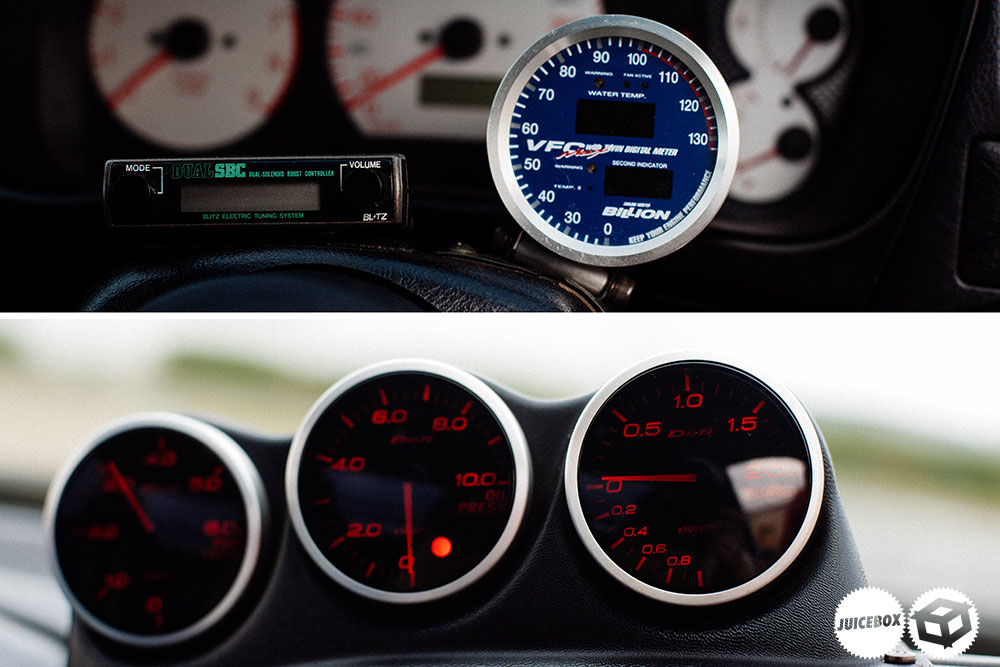 Rob decided to throw his touches to the interior by added some Bride Carbon Kevlar Zeta 3's seats fitted with Takata Harnesses.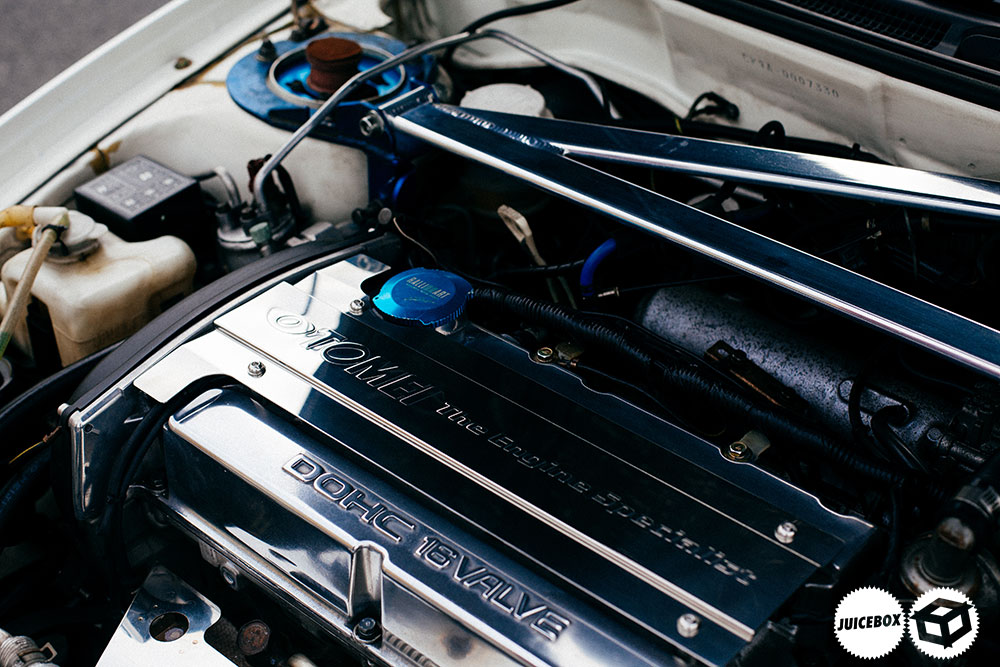 Under the bonnet lurks a remapped Evo VII engine with a touch of launch control for assistance. A very nice catalogue of external engine aids have been fitted from the likes of HKS, Ralliart Monstersport and more, take a look at the spec below its awesome. The internals have remained relatively stock as big power gains were not the focus for this car.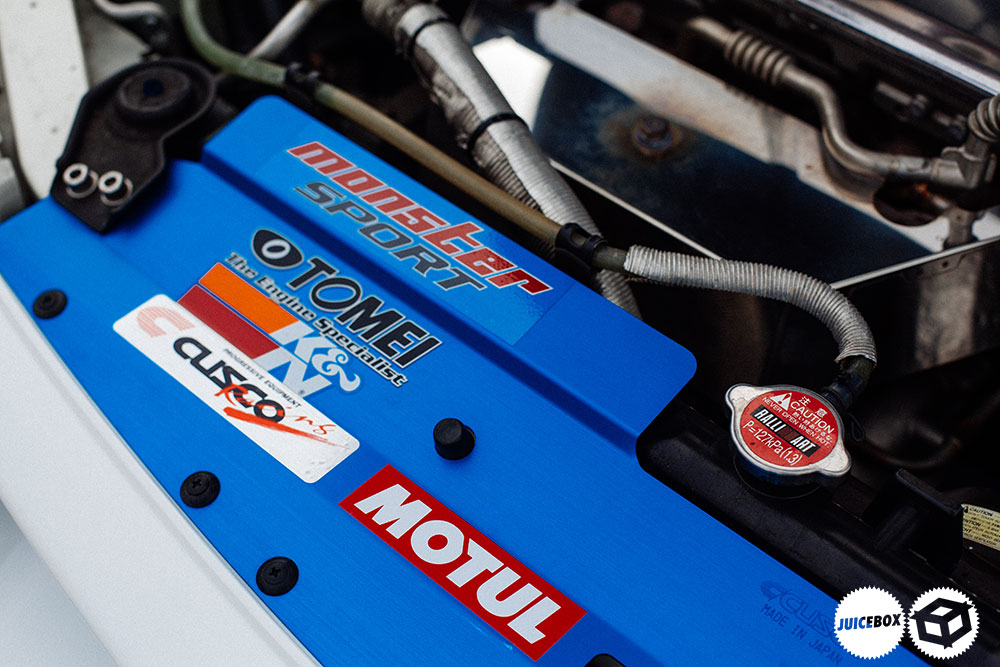 Far too often we see super high powered Evos which are indeed incredibly fun machines on a big straight road but often at the sacrifice of the cars handling leaving the car feeling very unpredictable and dangerous in tight corners and backroads.The opposite has been applied to this version. This five was highly refined before making it here and has ended up with an entire catalogue of Cusco handling goodies.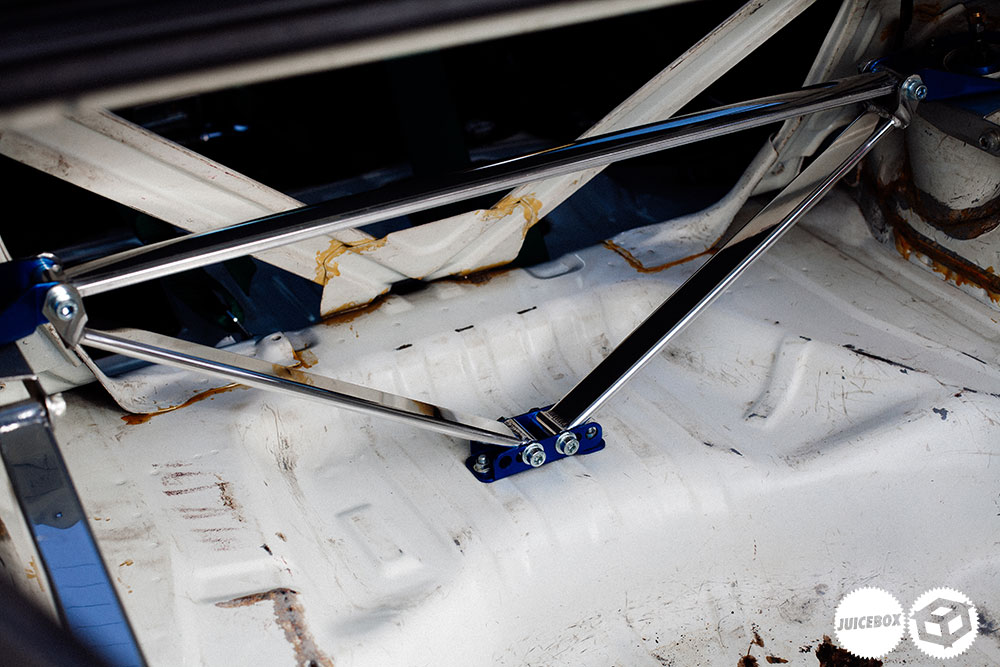 Cusco braces litter the chassis both inside and under, when there isn't Cusco there is something else. This is one seriously stiff five built for launching into corners. The engine and handling is in harmony, just the right amount of balance where the driver can really trust himself chucking the car around bends and obstacles without fear of loosing control.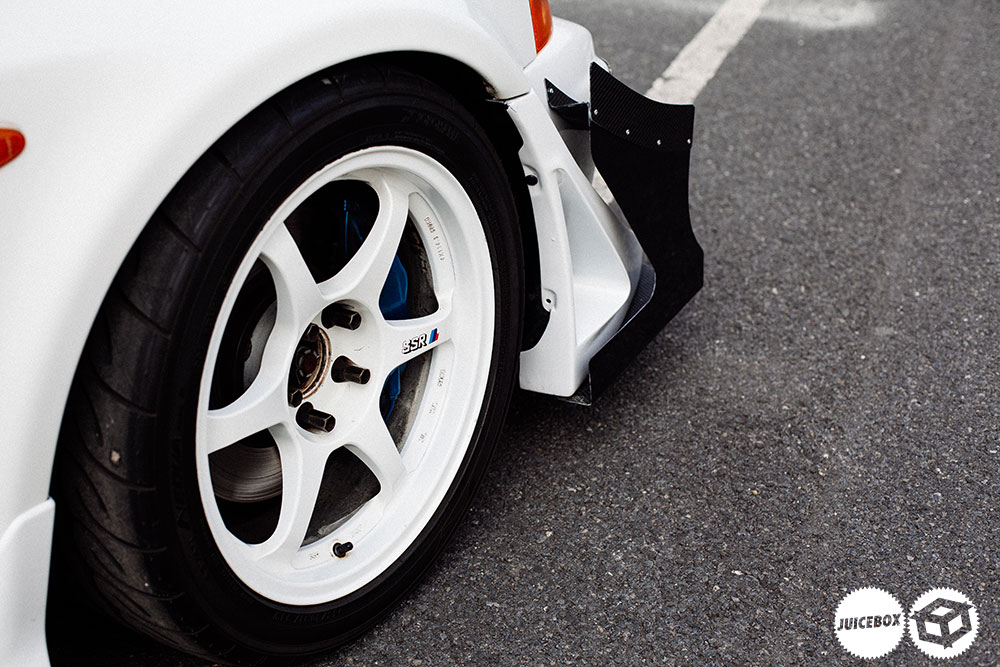 An EVO VIII short ratio box mated to a Cusco Twin plate gets this thing moving pretty quick assisted by a Cusco RS up front and a 2 way at the rear. Ohlins coilovers on each corner accompanied by lightweight Evo VII brakes, SSR Type C's wrapped in Yokohama ADO8R tyres keep this thing firmly planted.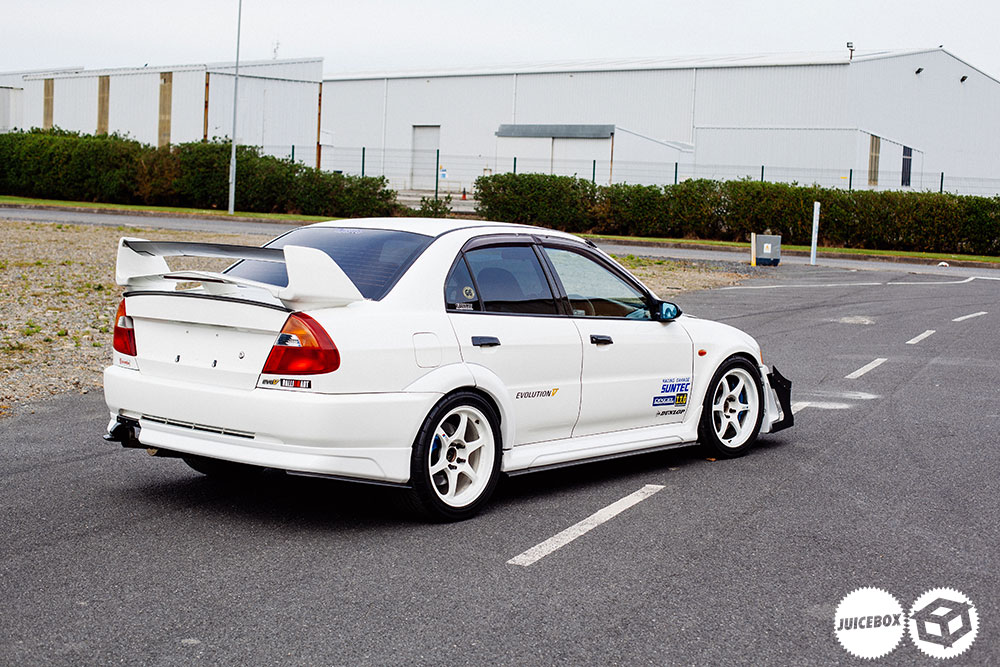 There are no words to explain just how fun this car is on the road. With the amount of bracing and development that has gone into this car over the years, you can really tell as this thing was a blast to drive at Gymkhana. Its giddy nimble personality inspires the driver to try harder without fear of loosing control. It's infectious.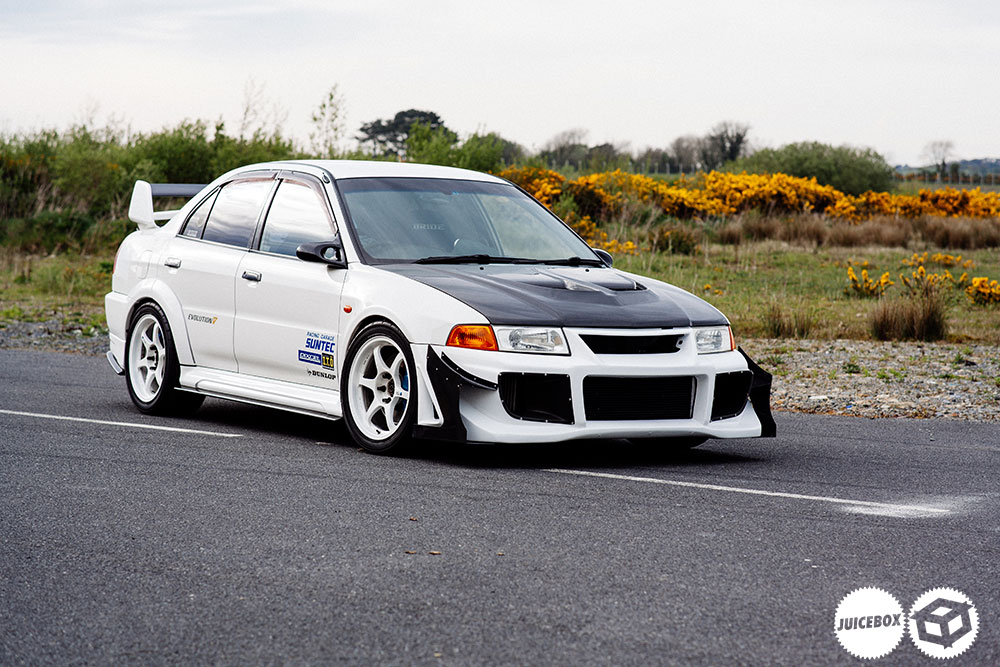 There is more than enough power without sacrificing the overall driving spirit of the car. The Japanese master this. Rob intends to keep the car more or less the way it is, adding subtle touches here and there as time progresses, maybe tear the car down and give it a good once over.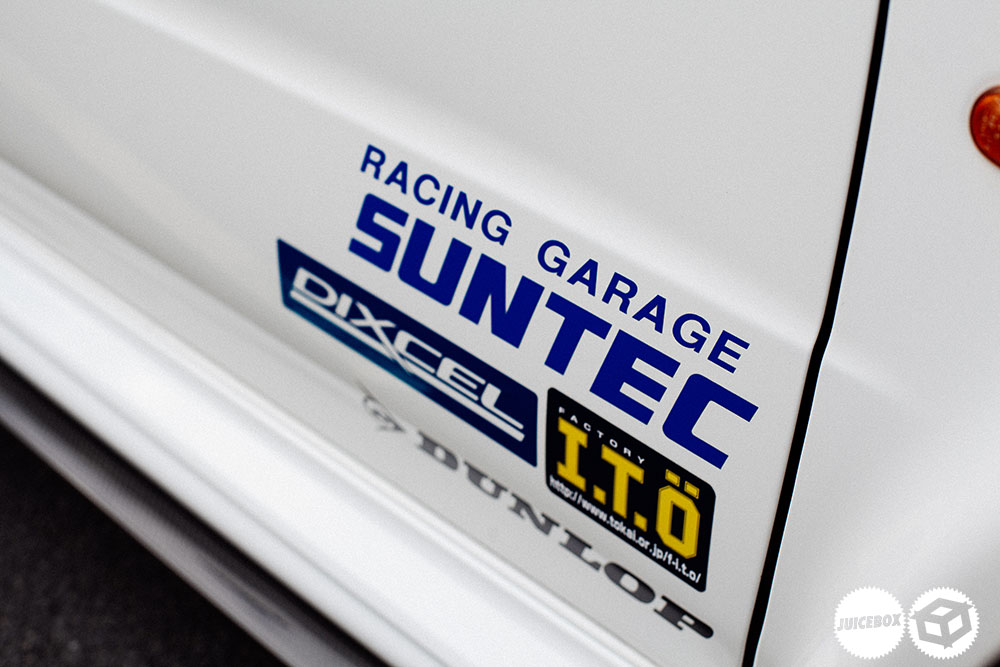 Its team stickers and shop decals which gave an insight into its former life ripping up the weekend Gymkhana events is the stuff we love to find out about, so many of us would only love if the cars could speak and tell their stories.We love a bit of car archeology. Maybe the owner will find out someday this car landed in the right hands.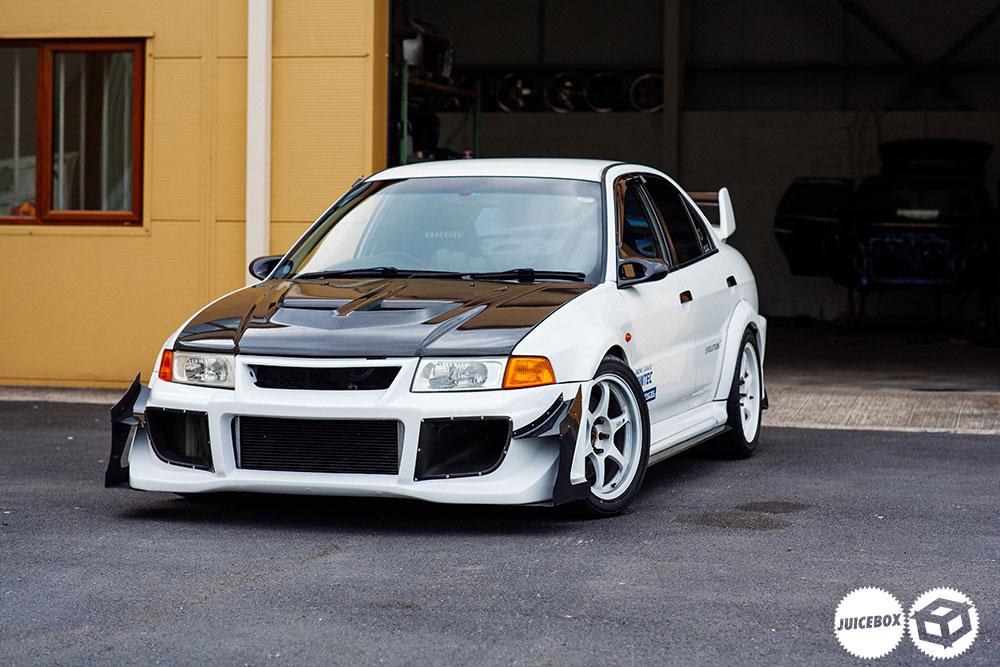 An amazing car with a dream-shopping basket of Japanese goldmine goodies, the perfect balance of power and handling backed by interesting history… what more could you want from a car like this?
This Five is Perfect.
Check out videos of it in Japan here:
https://www.youtube.com/channel/UCKUrTOKjfzUyaBx7MOBDIZQ
Wheels/handiling/suspension
SSR Type C 17×9 et28 Front et40 rear 5mm spacers all round
255/40/17 Yokohama ADO8R tyres
Evo 8 GSR brembo calipers
Carbon Lorraine RC6 pads
Dixcel brake discs
Project Mu handbrake shoes
APP braided brake lines
Ohlin coilovers
Cusco pillow ball top mounts
Cusco front ARB
Cusco rear ARBpillar
Cusco front adjustable droplink brackets
Cusco Version 1 lower front brace
Cusco Version 2 lower rear brace
Cusco 3point front brace with Brake cylinder stopper
Cusco 3point rear brace
Mines rear brace bars
oem RS boot brace
Jspeed flitch braces
Jspeed lower braces
Ralliart suspension bushes
Cusco twin plate clutch kit
Evo 8rs short ratio box with long final drive and Cusco VCU
Cusco RS front diff
Evo 9rs rear diff with Cusco MZ 2way LSD
Ralliart rear diff mounts
Exterior
Varis front bumper
Varis carbon hyper canards
Varis carbon oil cooler guide
Varis carbon air guide
Varis carbon bonnet
Carbongoodies d-style carbon sideskirt extensions
Carbongoodies d-style carbon rear bumper extensions
Ganador mirrors
Evo 6 spoiler
Evo 6 bootlid
Bootlid lip spoiler
Carbon exhaust surround
Sigma Carbon pillar trims
Engine
Evo 7 for MKSports Japan GK specification
Remapped ecu with launch control
Ralliart engine and gearbox mounts
Monster sport and ralliart intercooler hard pipes
Monster sport alloy intake pipe with K&N filter
HKS Intercooler core
HKS Oil cooler kit
HKS Oil thermostat
HKS SSQV
HPI Turbo elbow
Fujitsubo downpipe
Apexi High flow sports cat
Fujitsubo RM01 cat back exhaust
Coil on plug kit
SARD fuel pump
Tomei plug cover
Cusco catch can
Cusco cooling panel
Polished rocker cover
Ralliart Oil and rad caps
Jspeed manifold heatshield
Jspeed thermostat housing
Billion rad hoses
Interior
Bride Carbon Kevlar Zeta 3's seats
Bride passenger seat rail
Weistera super low down drivers seat rail
Do luck floor brace
Takata 4 point harnesses
Carbon rear view mirror cover
Carbon Mitsubishi motors gearknob
Sparco steering wheel
Blitz SBC boost controller
Ralliart 300km clocks
Billion water temp gauge/ fan controller
Defi BF gauges x6
FET turbo timer
Comments
comments
Powered by Facebook Comments