Juicebox BBQ: The Squeeze PT2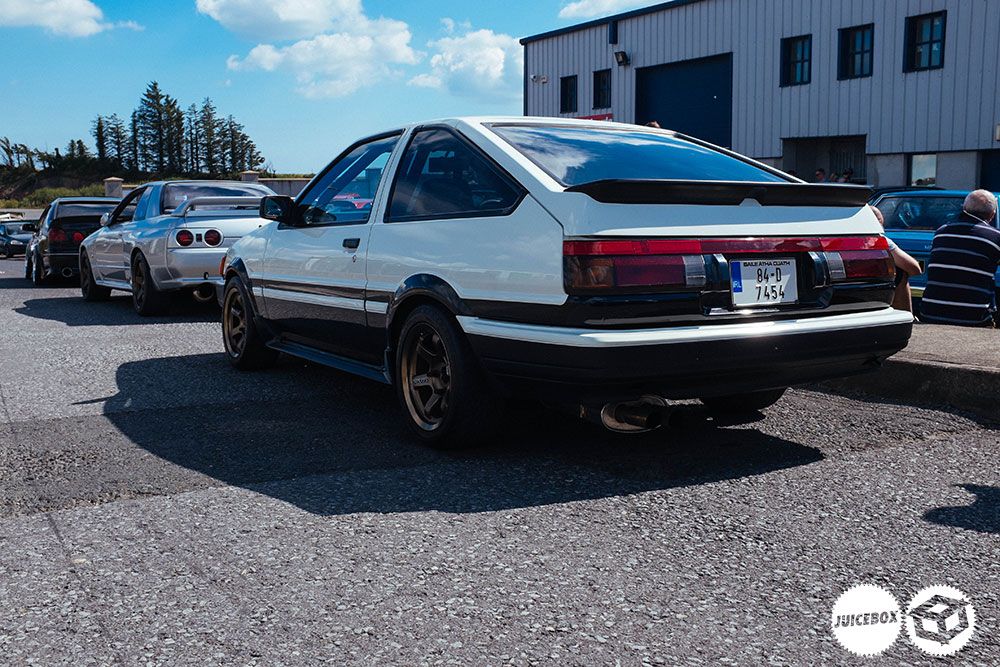 A lot of people made it down regardless of situations that sprang up which either on the day or close to it.  Somehow the weather was on our sides which enticed people to make the journey down. I genuinely would not have held the event if there was a monsoon of Irish rain.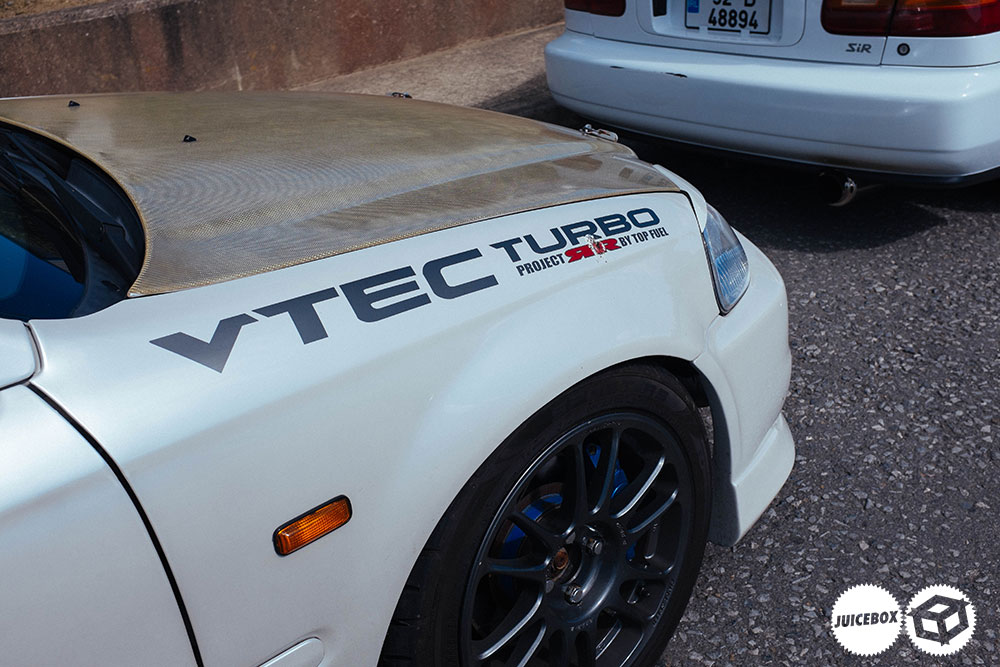 It was great to be reunited with old faces I hadn't seen for quite some time. Its so good knowing this Top fuel EK is still alive and well, one of my all time favourite cars that made its way here to Ireland, and somehow survived.
A rear shot of Barrys EK4, probably my favourite EK4 in Ireland.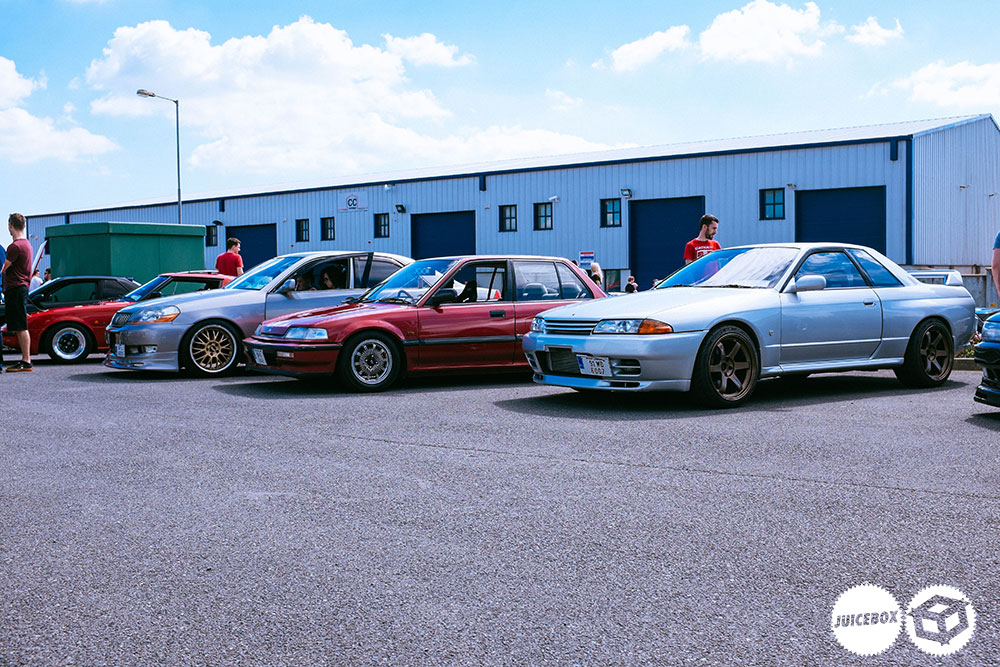 I enjoyed how much of a variety was on show, with no organization on where to park. This created some perfect line ups of quality cars from different manufacturers.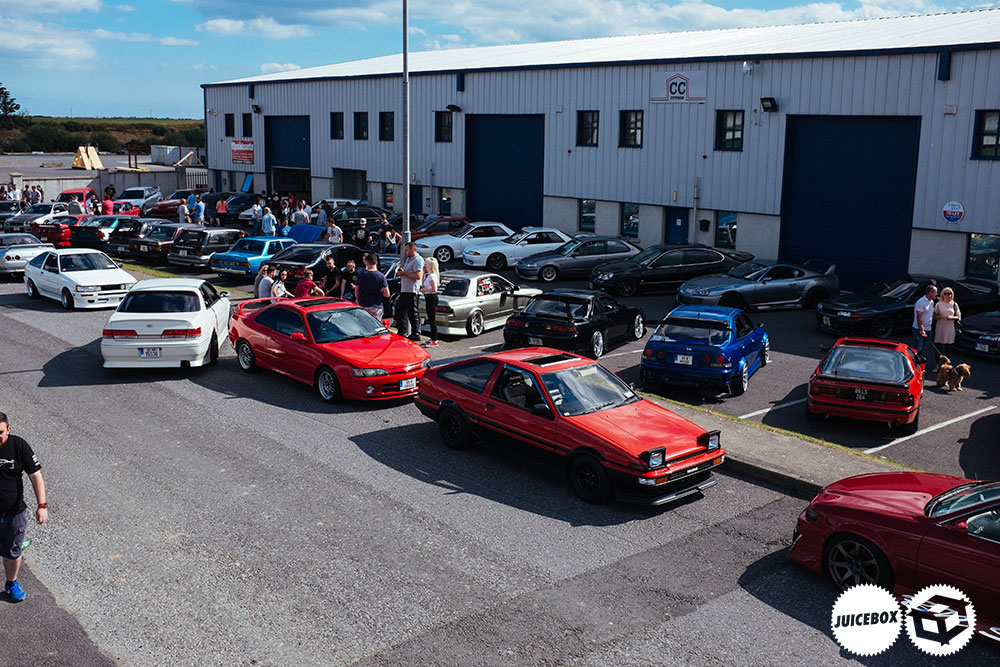 More and more people started to arrive and we sort of underestimated the space we had intended to use, as this was a closed area people just started parking up on the street.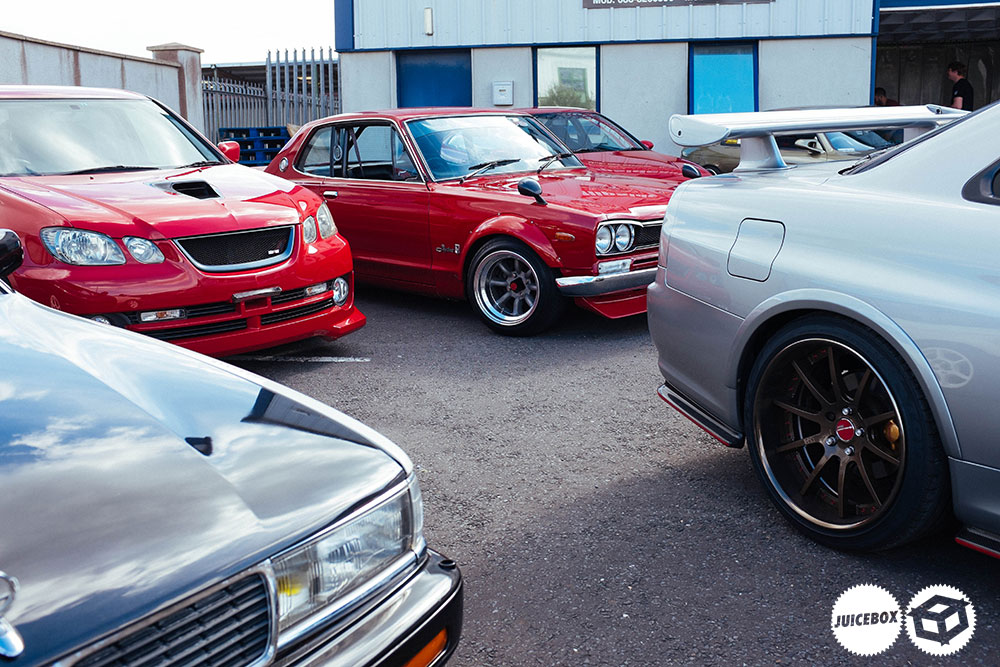 With it being such a relaxed vibe, the crowd was at ease. Everyone there was there for a reason or had a high respect for the cars on display, cars were scattered and to be honest it worked a treat. Peep the Airtrek, forgot to shoot a closer photo as it was buried for the day.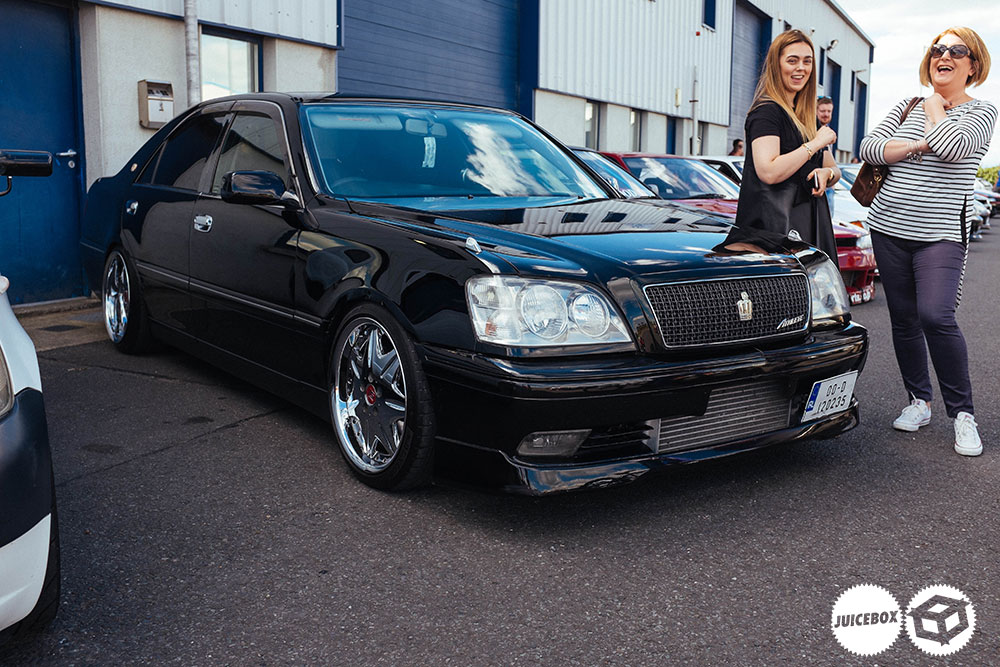 Adrian Walsh recently picked up this crown and gave it a good buff which really brought the paint back to life. Surprised this car sat for sale for so long with a manual conversion and all the extras.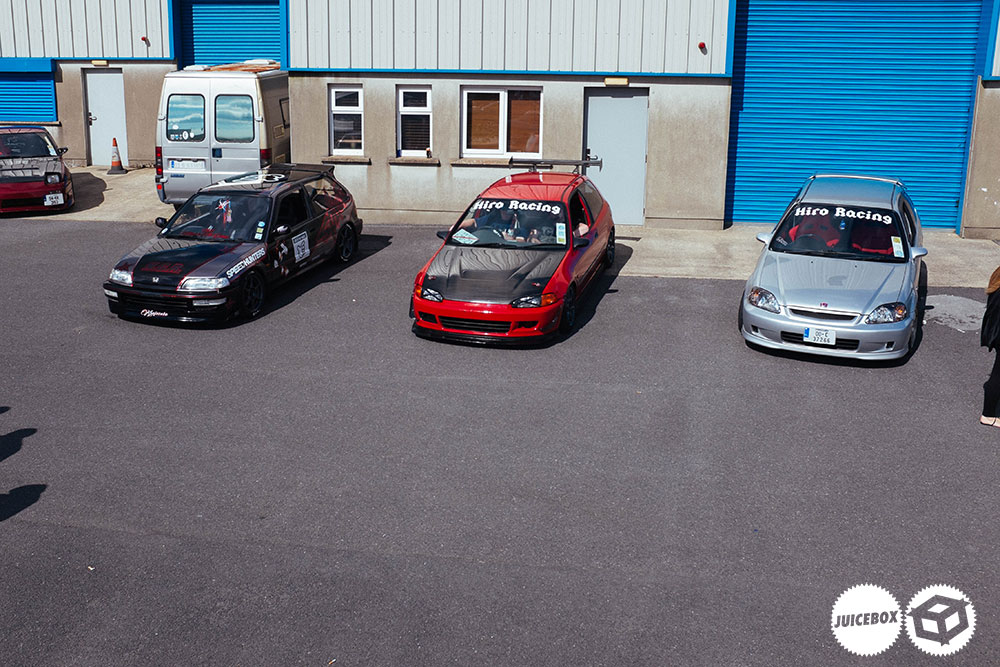 I really enjoy this picture for some reason, three of Irelands finest Civcs, one from each generation all doing a good example of how its done for each chassis.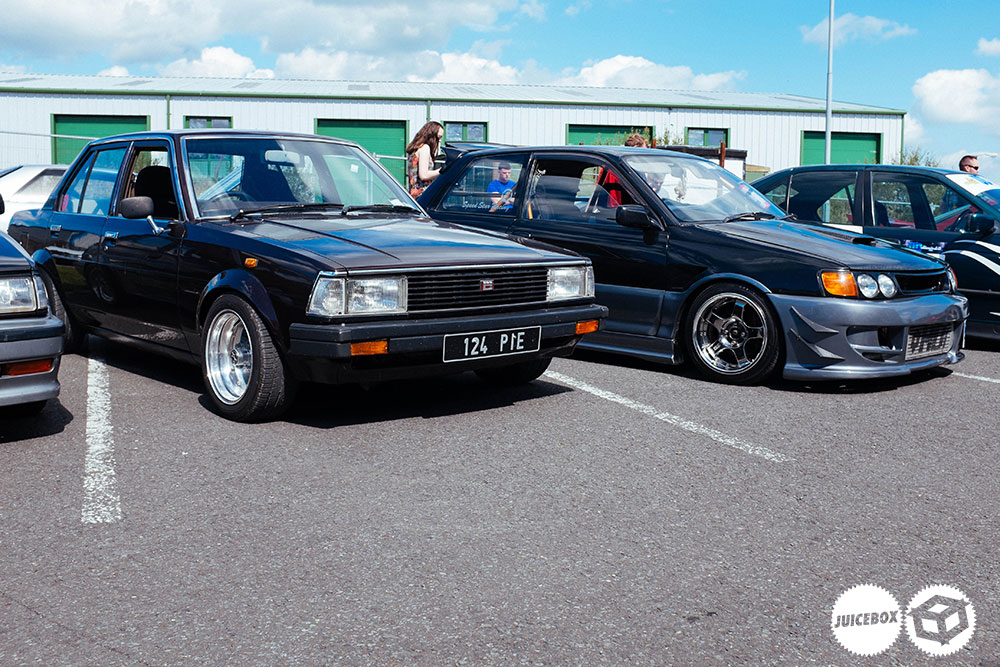 Some of the usual you may have seen on site are good friend Jamie's KE70 and Seans EP82. Two of the finest Toyotas the south east has to offer. I could never grow old of that license plate.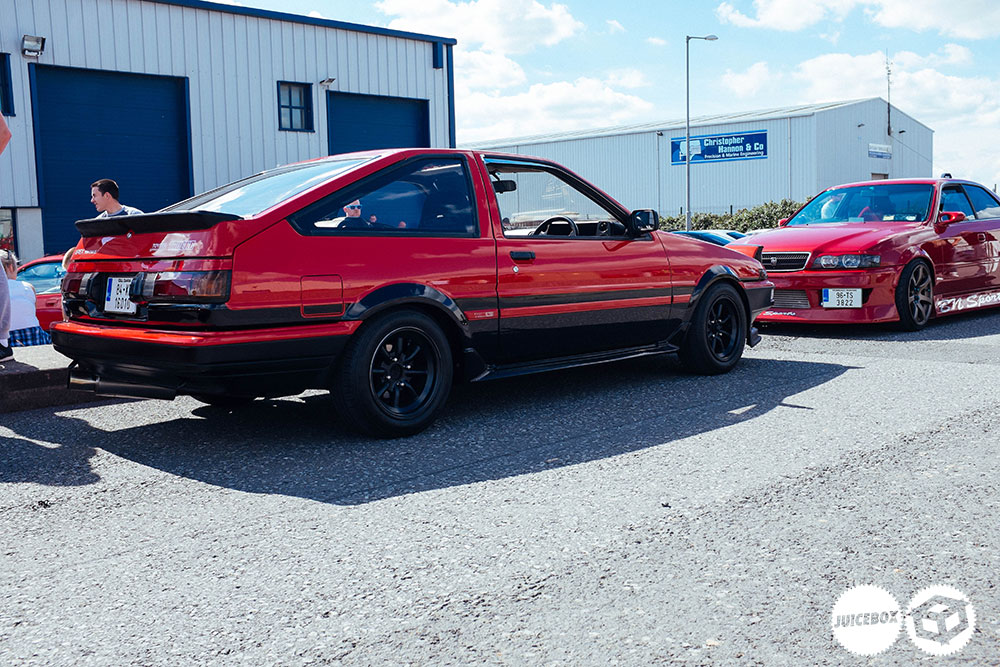 Connor Norris recently snatched himself a very clean Red panda from Japan to enjoy the less modified side of the AE86 world.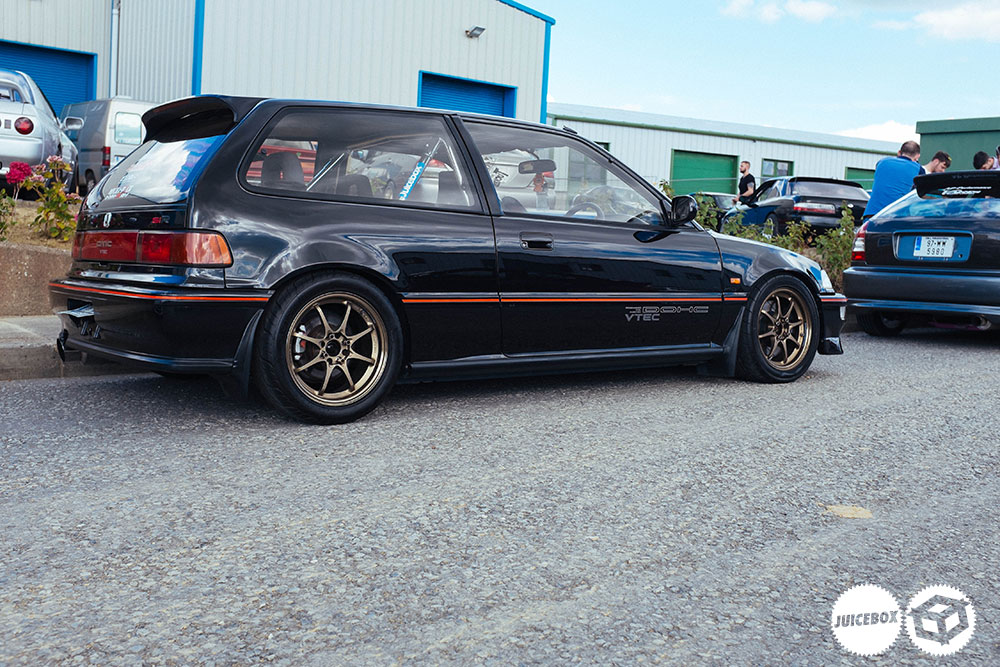 Spot the O.G. Juicebox sticker on the cage, this car has always been a huge favourite of ours and its great to know the Civc is still in good hands.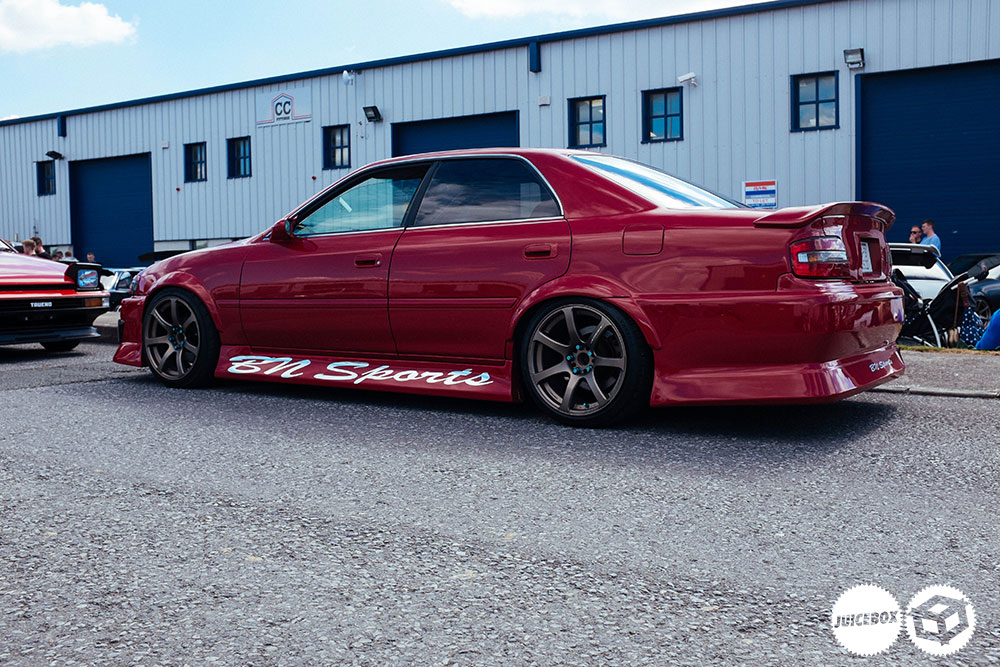 A close up of this complete winner, so many Chasers have landed as of recent, many of them relatively standard looking so its an absolute joy seeing a  more hyper kitted example like this. They wear the BN dress very well.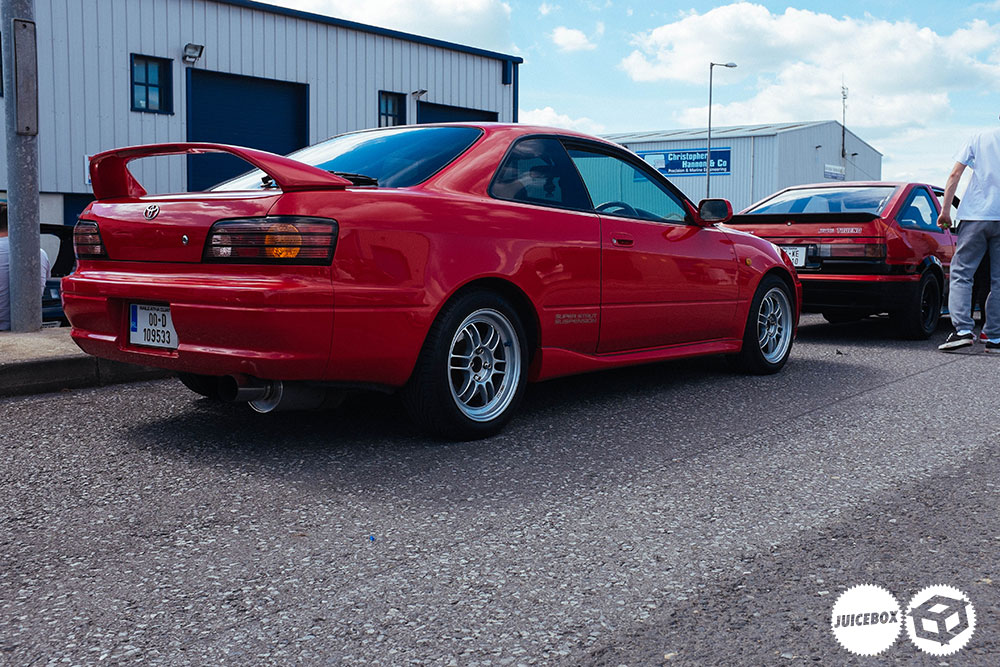 Seeing this car for the first time was a treat for the eyes, such a simple but extremely effective look. We love the AE111.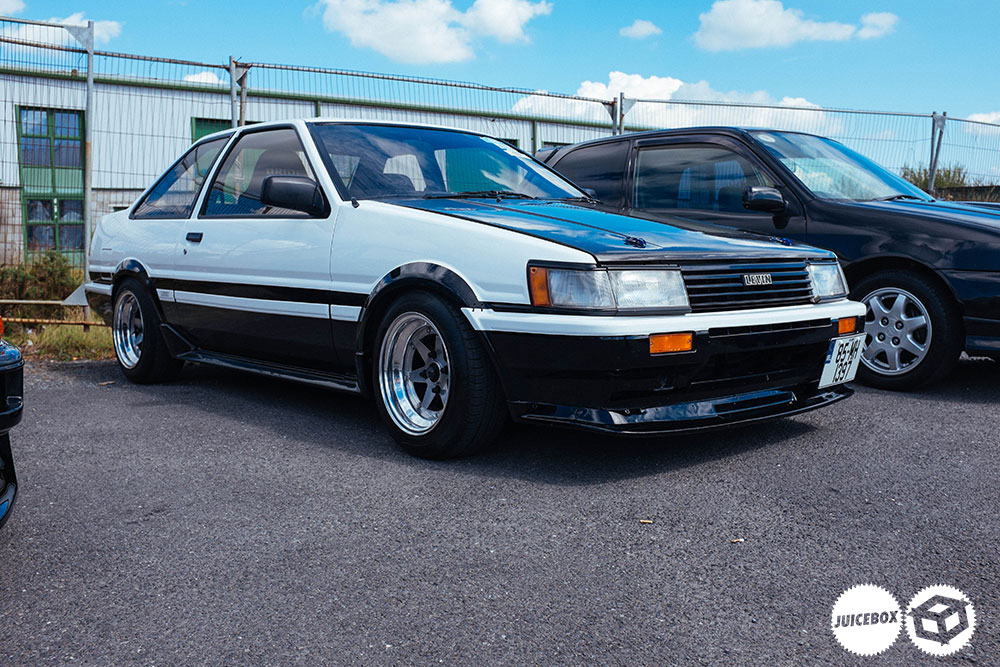 This Levin from New Ross is sporting an NA SR20 under the hood and probably a very nice setup to drive. . You really cant go wrong with Longchamps on a Panda either.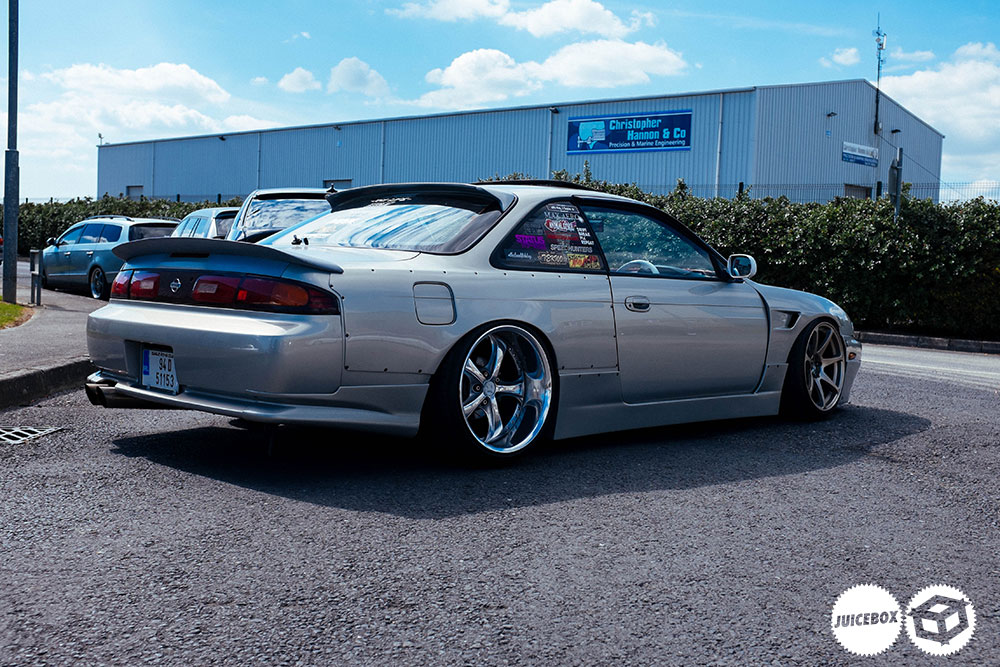 I love this rear shot of Neils Thompsons 14. This car is an absolute how to guide on styling an S14 in Ireland, good job man.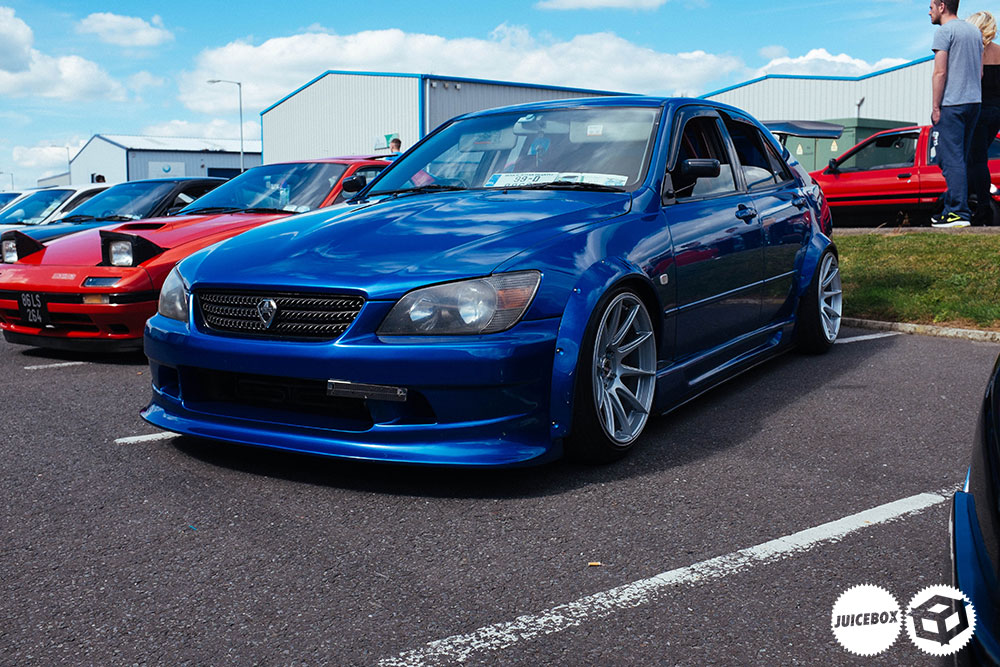 The poor Altezza chassis has somehow been tarnished here in Ireland as of recent. Its great to finally start seeing some creativity with these cars, it completely baffles me how more people aren't adding kits and good wheels to what is already a very attractive body style… 90% of the time its painted standard wheels, asides from the few that landed here with the odd kit or wheels. Good job on being creative here. People take note.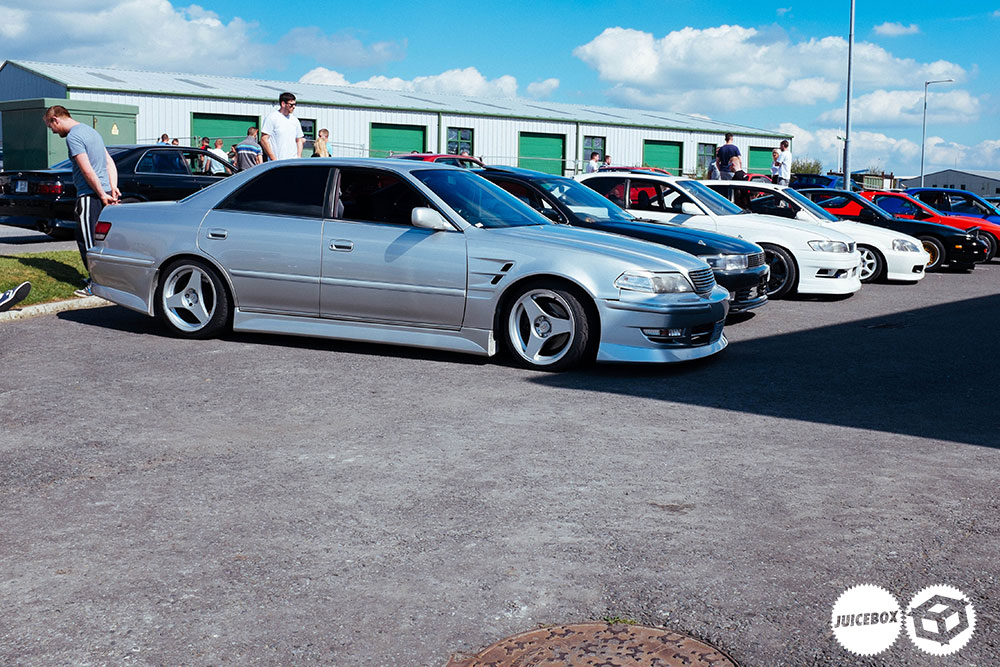 It's hard to get a more nineties look than the Work Equip Voggard. The all silver Mark two and Voggard combo is awesome.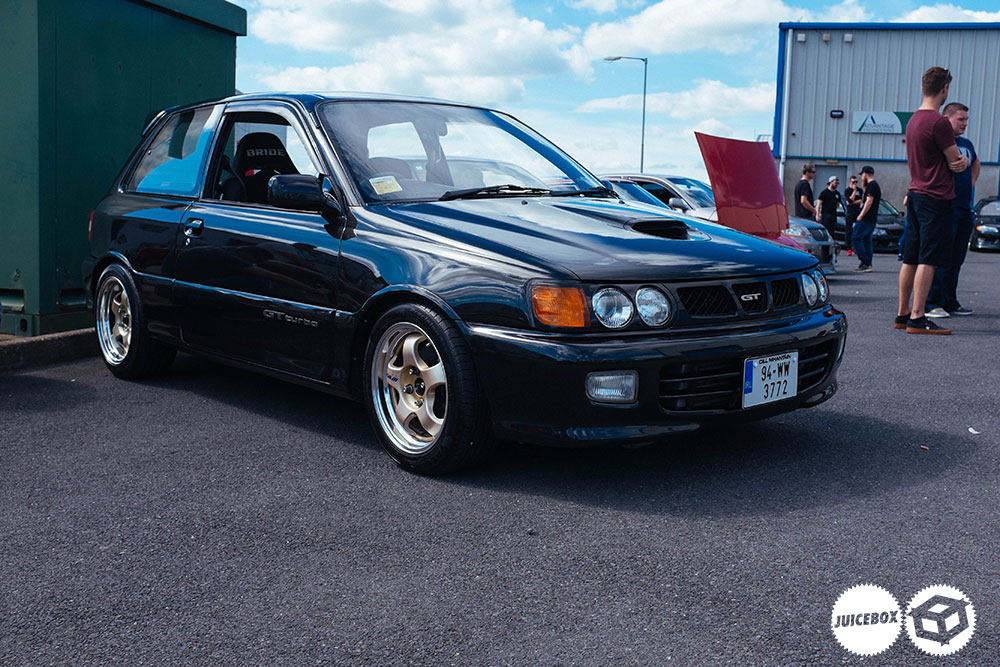 As seen recently at the Toyota meet, Claire knows the perfect way to style an EP82, as less and less of these are around anymore its always reassuring to see one in pristine condition.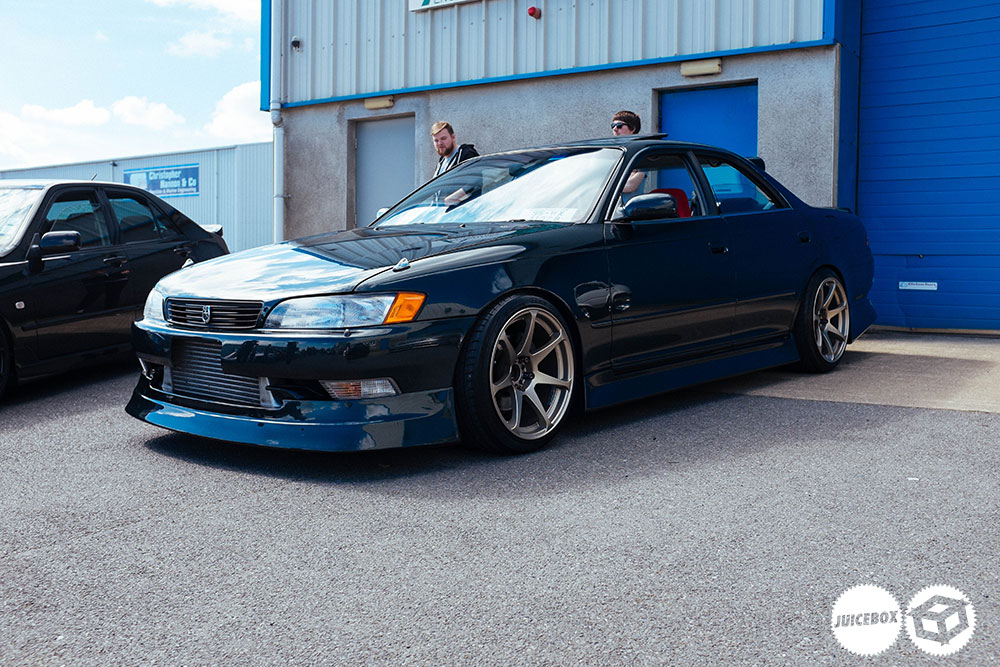 Clarie an Boyfriend David have a bit of a thing for Toyotas as he owns this immaculate JZX90 pictured above and Motorcraft Trueno which is in part oneof the BBQ feature.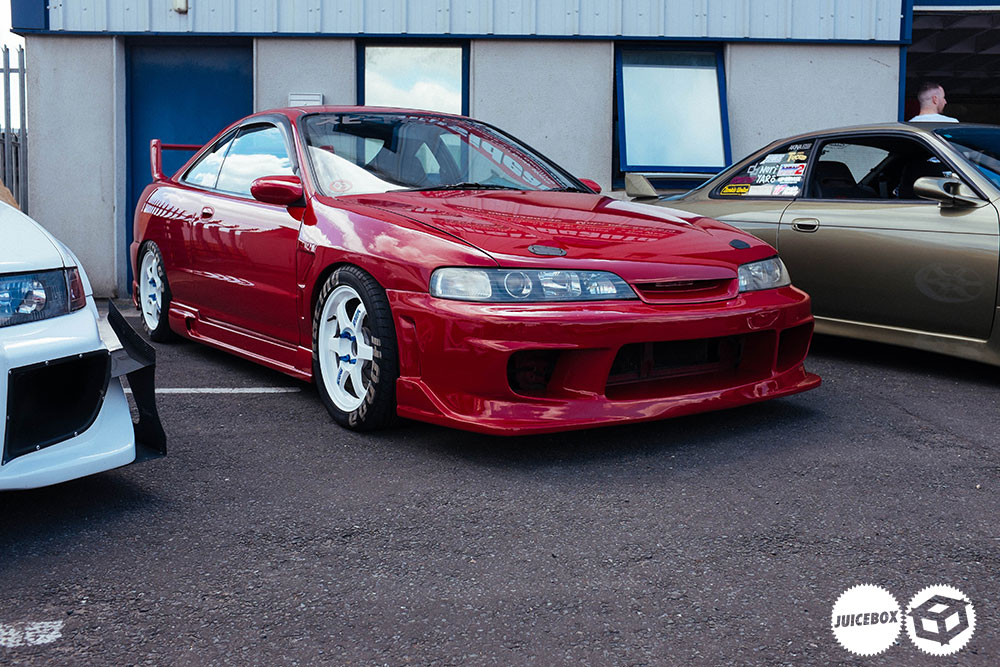 Jamie decided to flip the script on his DC2 a month back and go from a clean USDM look to an all out aggressive track inspired look, picking up bits and pieces from neglected back sheds all over Ireland to create this master piece. Good shit.
Love everything about this EK9 wearing CP035R wheels.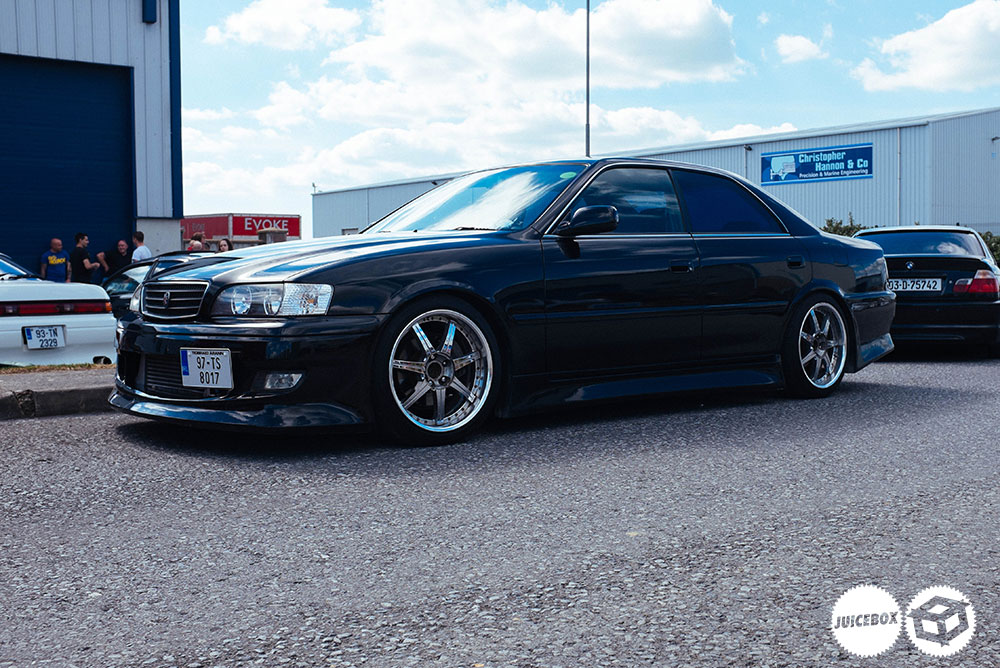 Another good looking Chaser on Intensive Hunk wheels.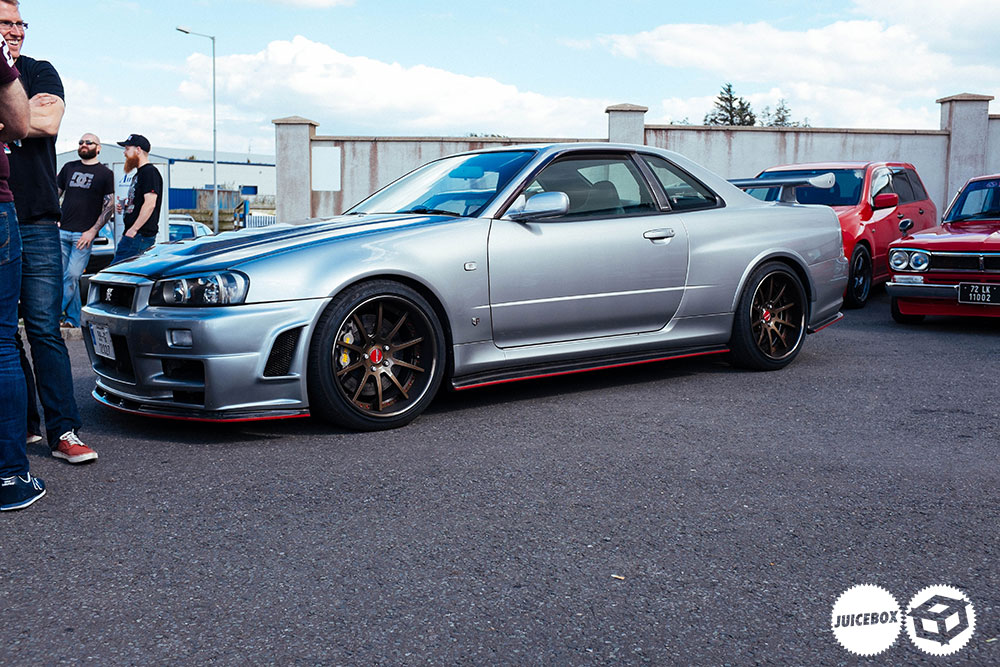 Marcin recently picked up a brand new set of these custom CV01 wheels by SSR, a very unique choice for the 34.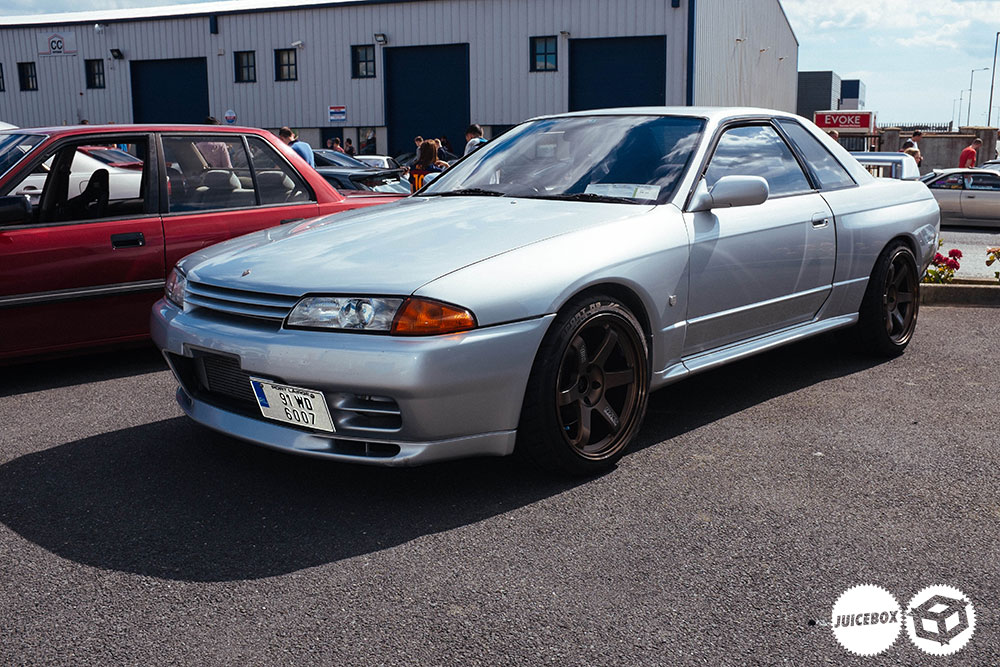 Martin brought the 32GTR out of hiding for the day.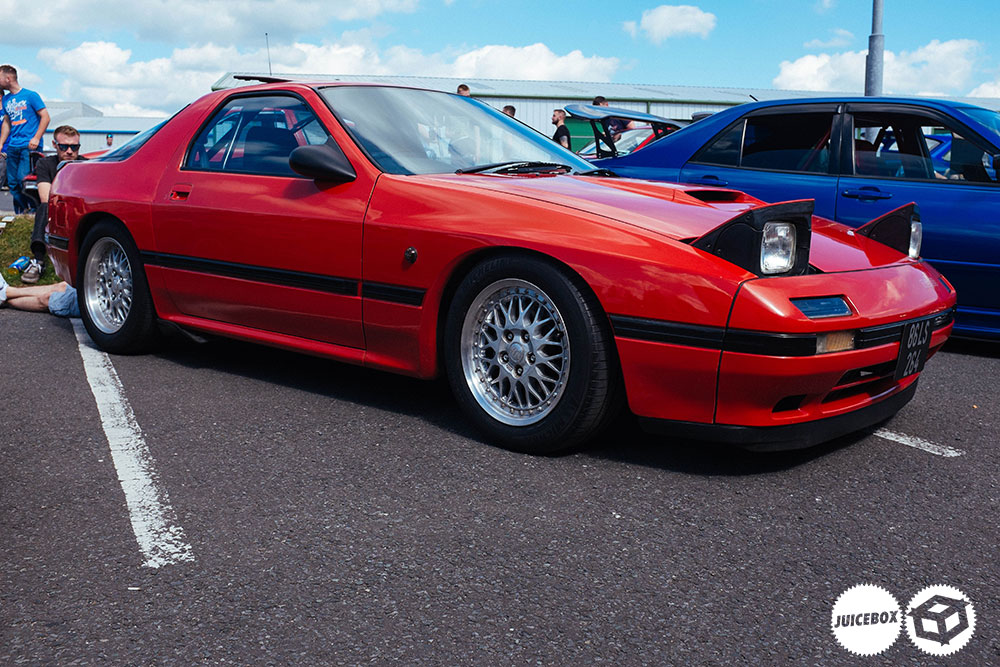 I wish there was more of these in Ireland. They have all either vanished or gone into hiding.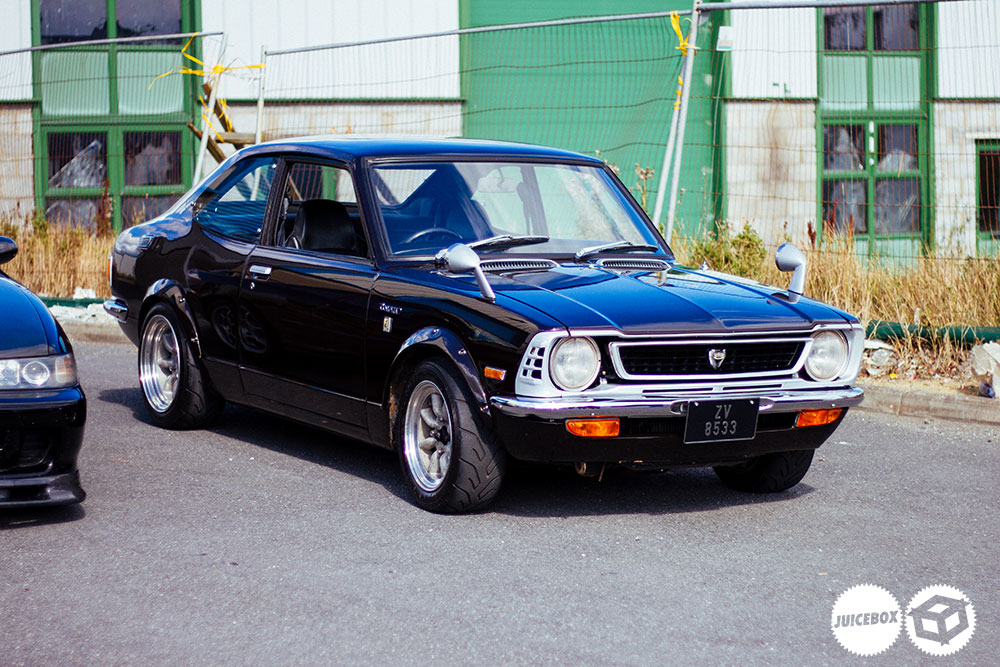 Every angle of this TE27 is great.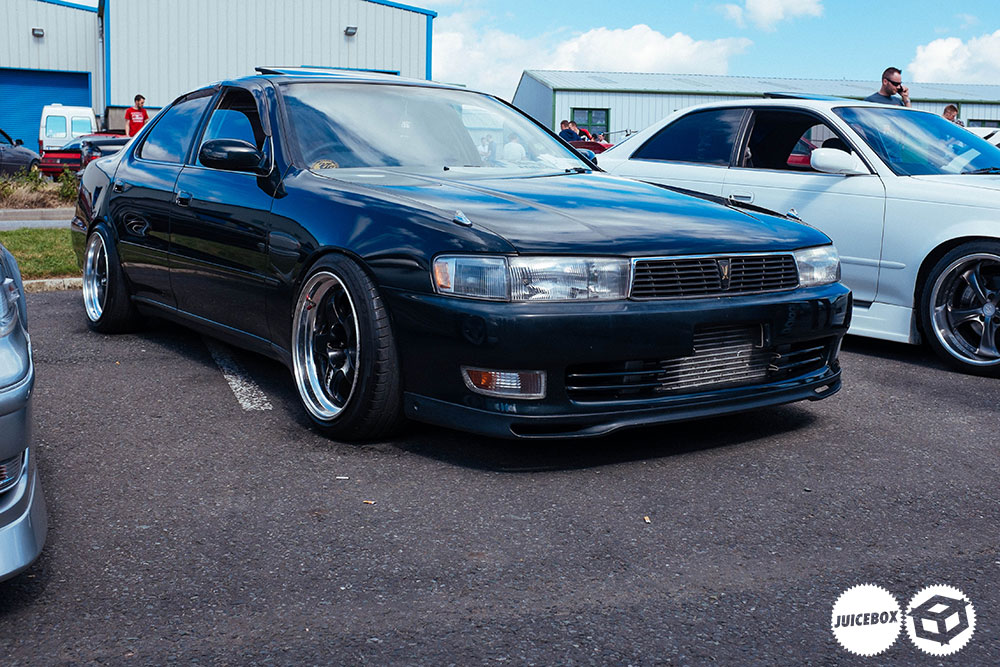 Another car you don't see that much of is the JZX90 Cresta, the guys slapped the wheels and appropriate ride height on this just for the BBQ, looked fucking awesome.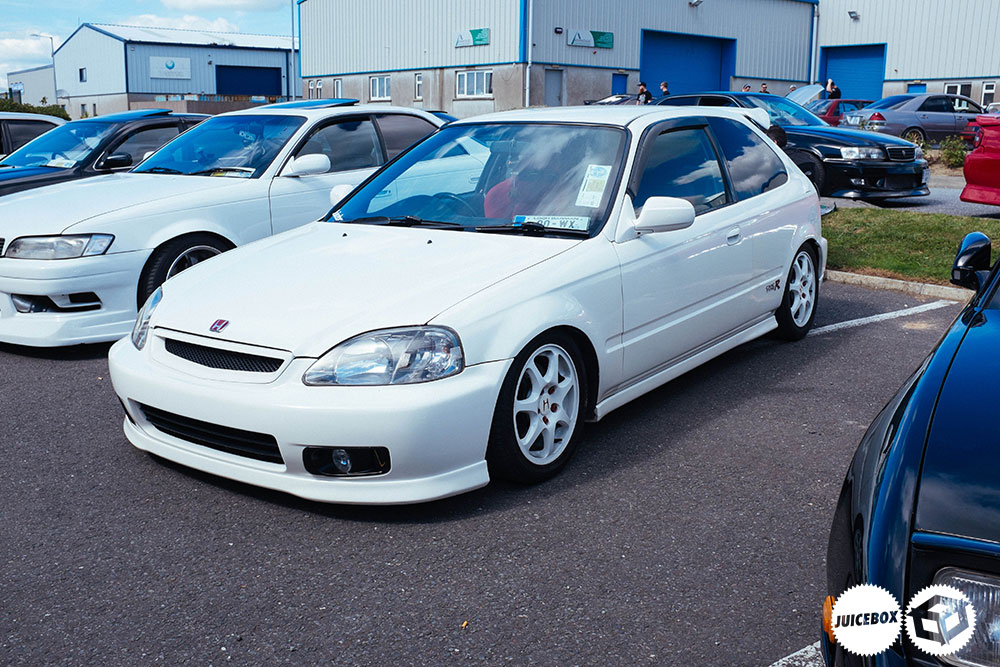 Chrisy Walsh made the trip down from Cork too, again its hard to go past the OEM look of an EK9. I quite like the fact this has been de-molded on the side. Cheers for the support man!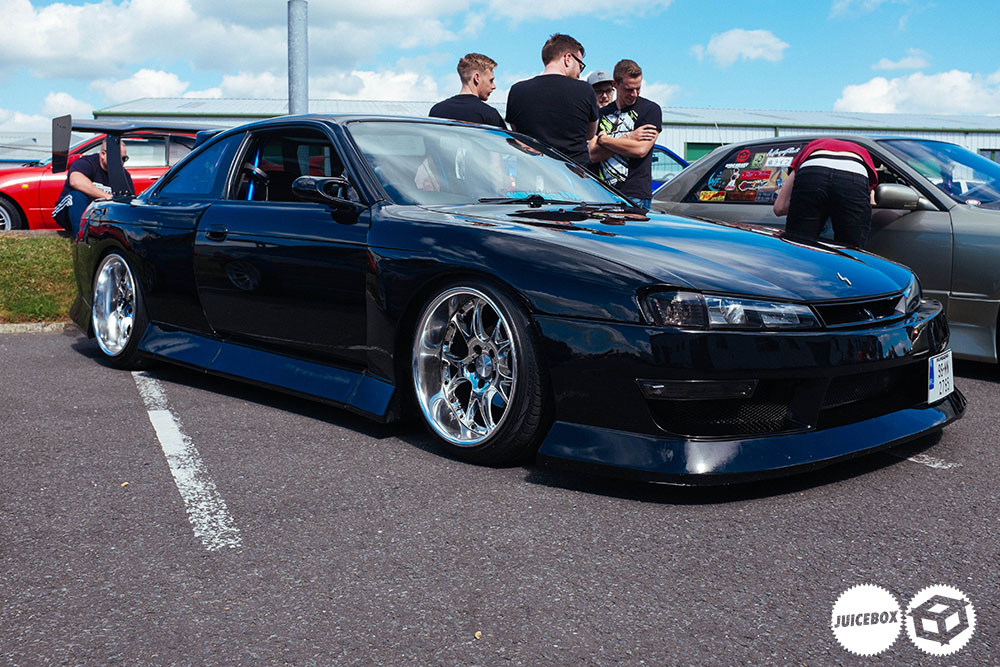 Another beast is this menacing BN kitted S14a on super meaty SSR Agle Strusse wheels.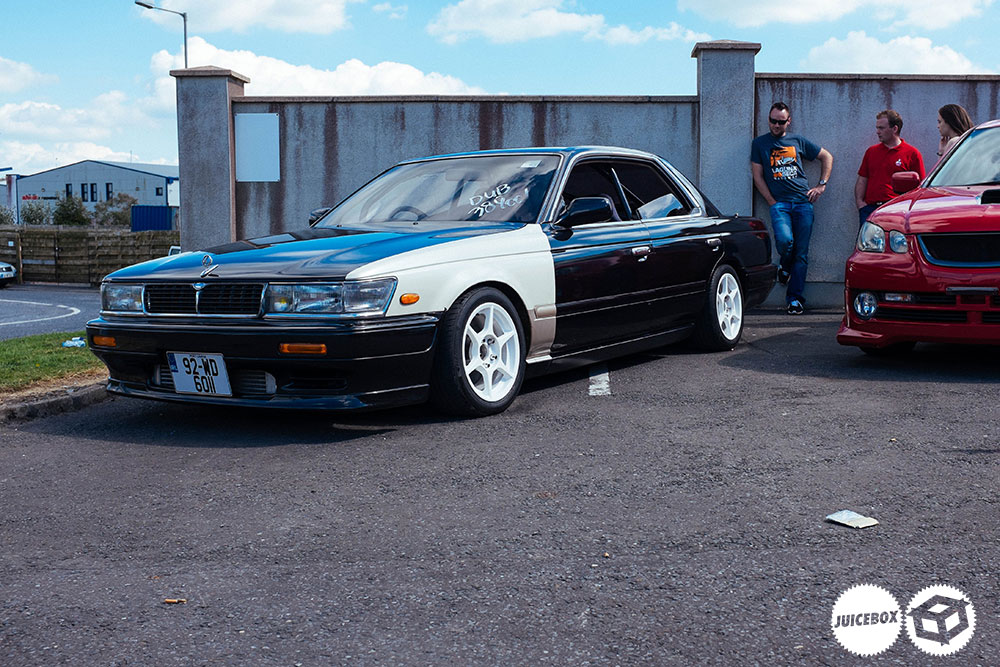 Rueben's new found Japanese love. A woman named Laurel. The nights before we were toying with the idea of these wheels as a last minute option, funny how they look fucking amazing on the car, hard to believe they are +45 EK9 offset wheels!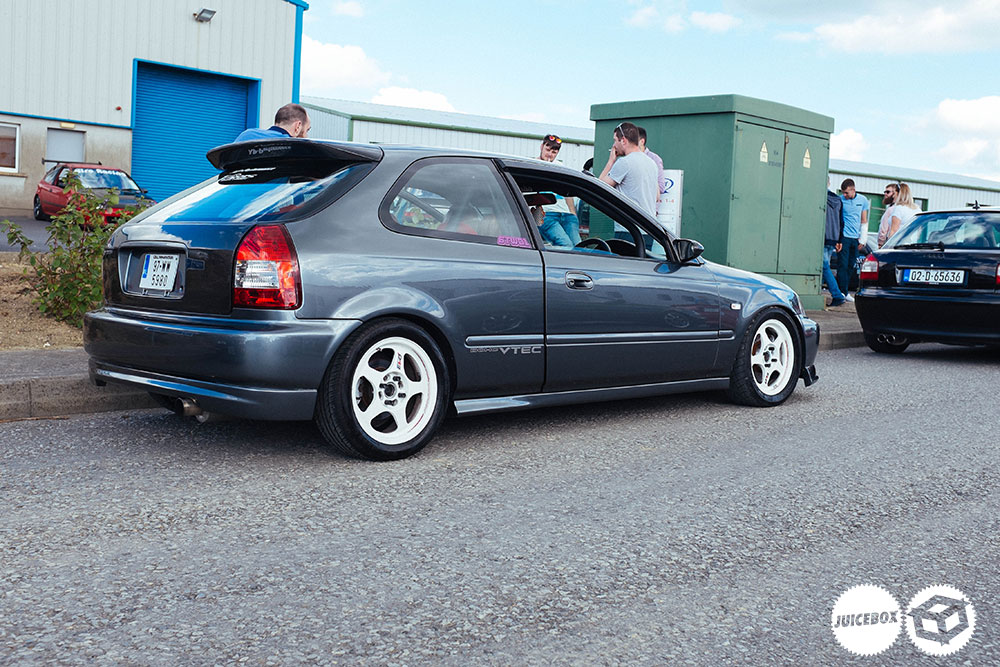 Alan made it down from Cork also in this fantastic EK rocking Regamasters.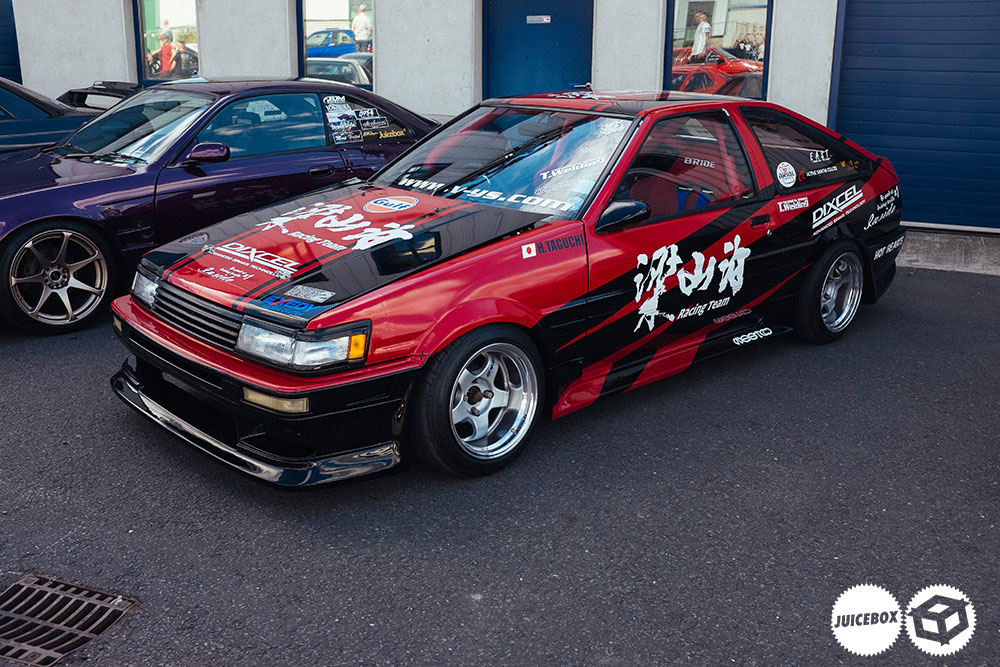 There will be much more on Kevins restoration of this Levin very soon. Doesn't get much better than a road going competition drift car from Japan.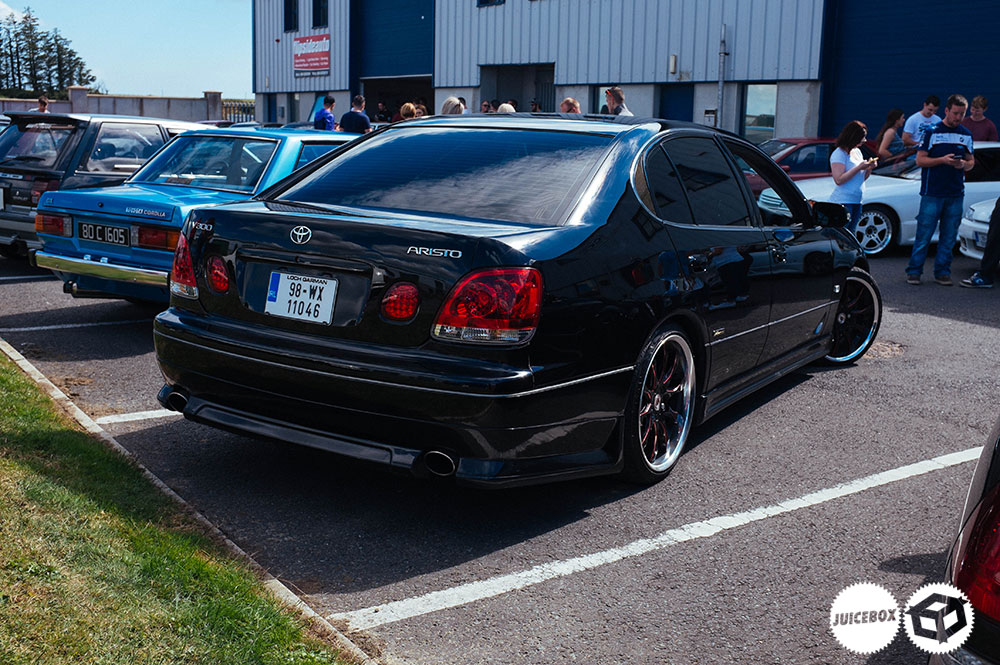 Davy was the first person I had ever seen with a JZX and this was back in 2005. After a long break from Toyota its nice to see him back behind the wheel of something four door with a straight six, looking forward to seeing what happens to this over the next year or so.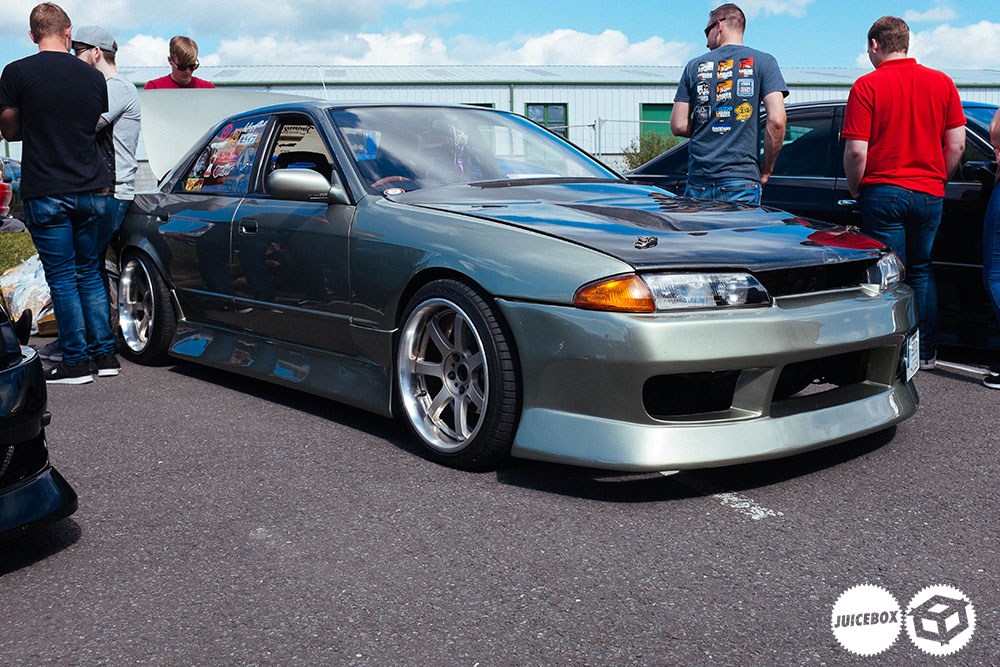 Danny finally painted his four doors and boy does it look good. The front end was in full NCT mode hence the ride height but that didn't stop him from making the journey down.
This car is a familiar to Juicebox also and a few days before the BBQ changed hands, from one good friend to another. This will be another one to watch over the next year.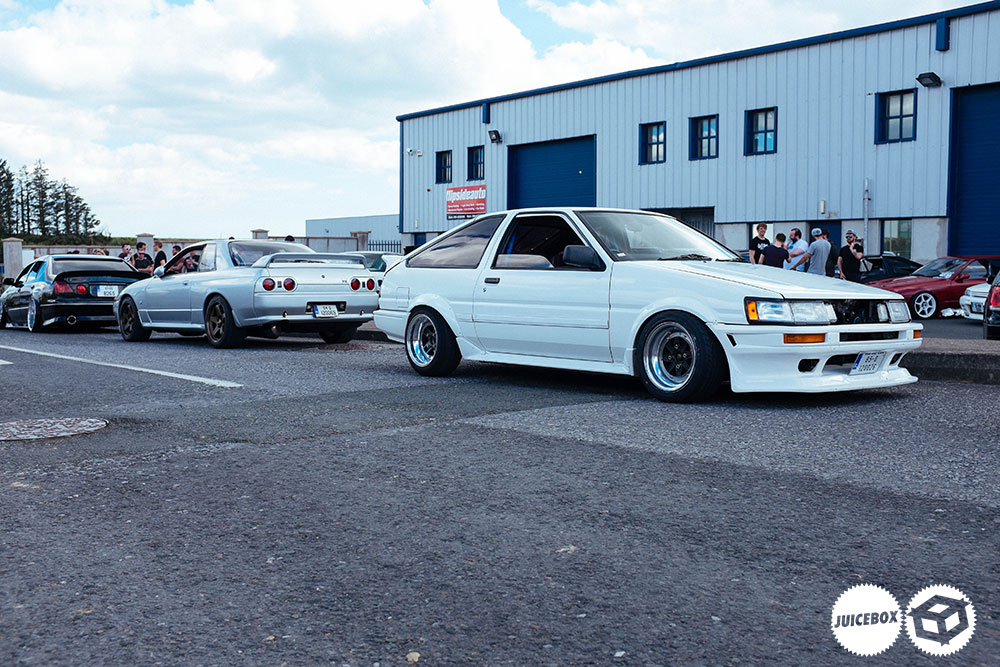 I'm rambling on and on so ill stack the next few pictures as a few bonuses.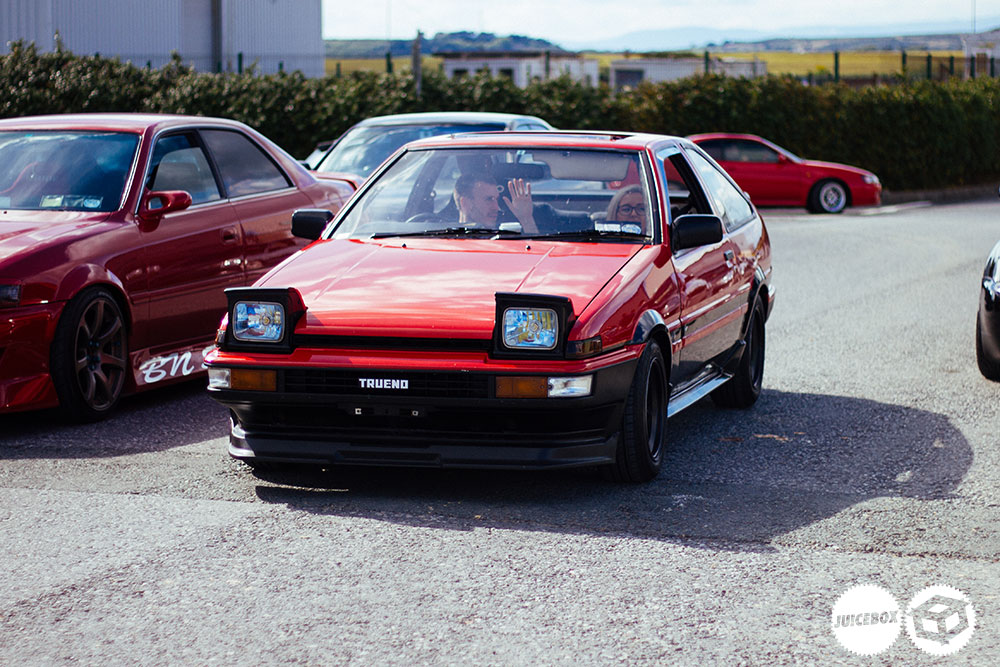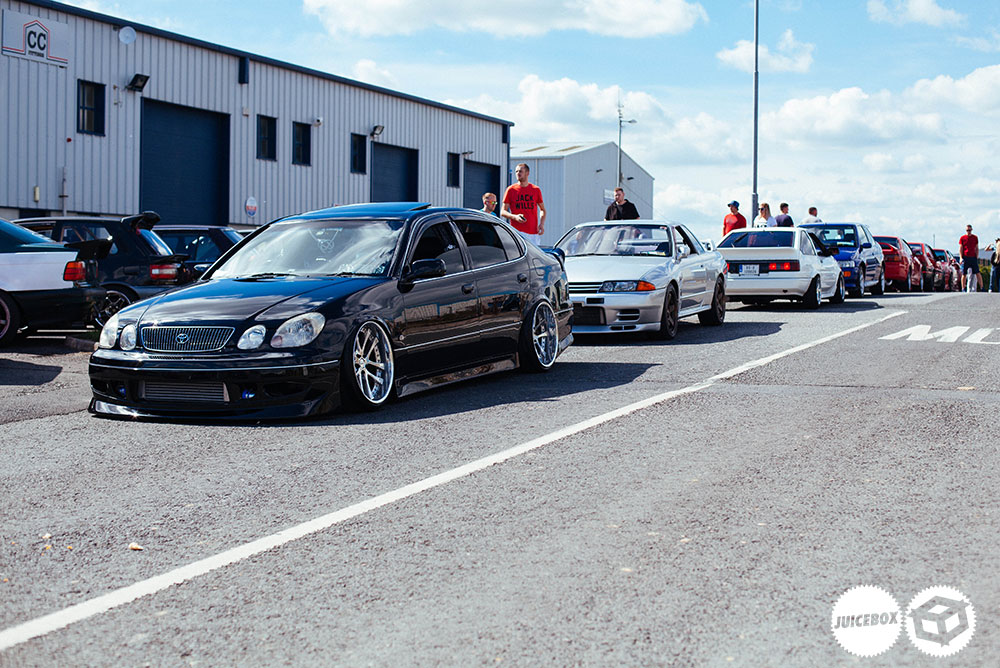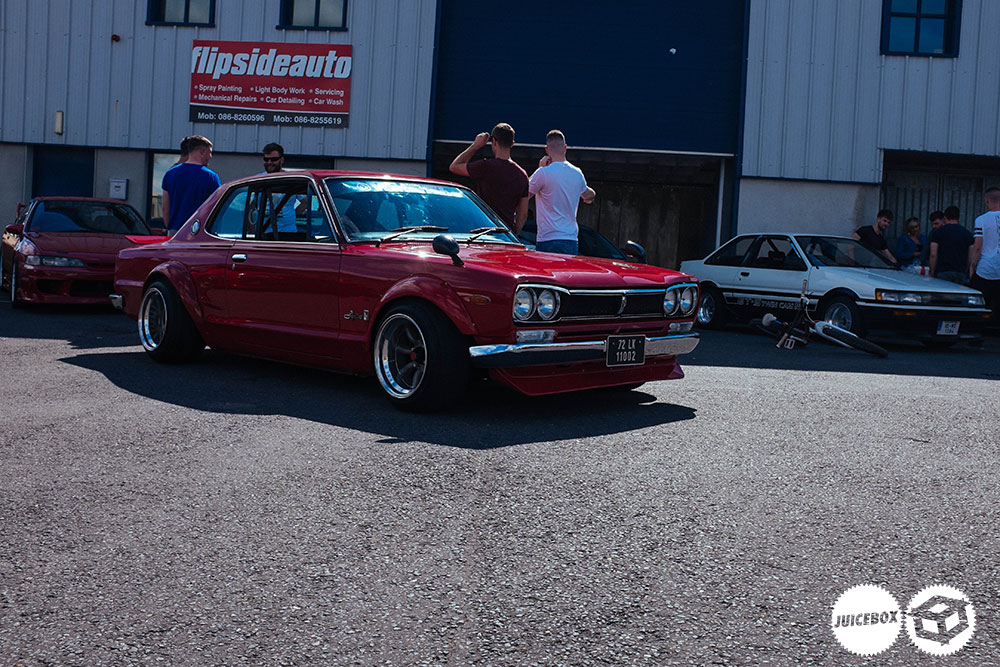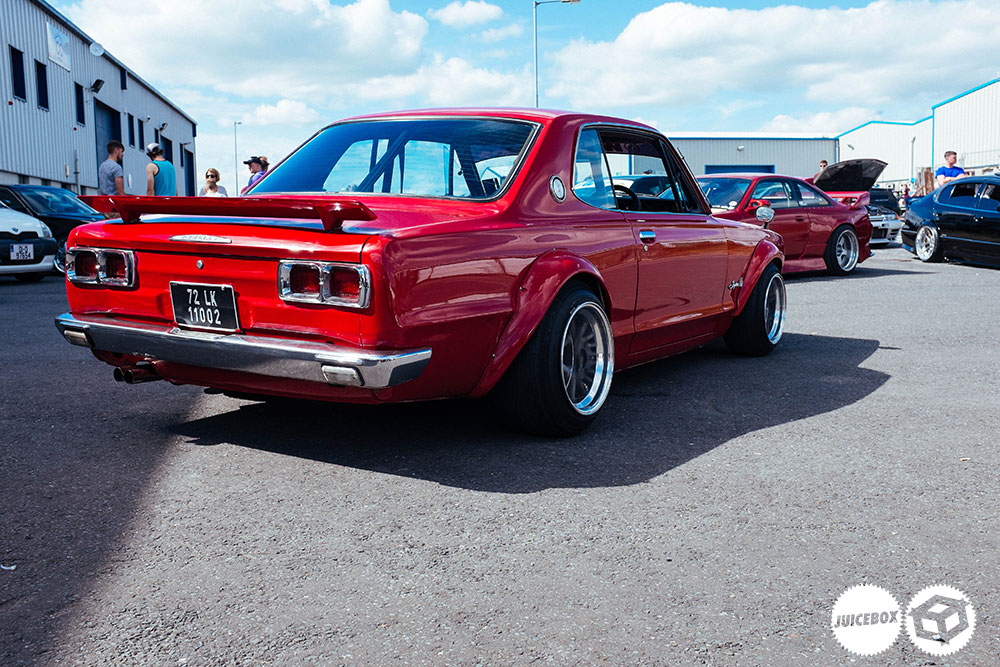 Its such a joy to shoot this, Sorry John this car stole most of my attention on the day. Hence the million photographs!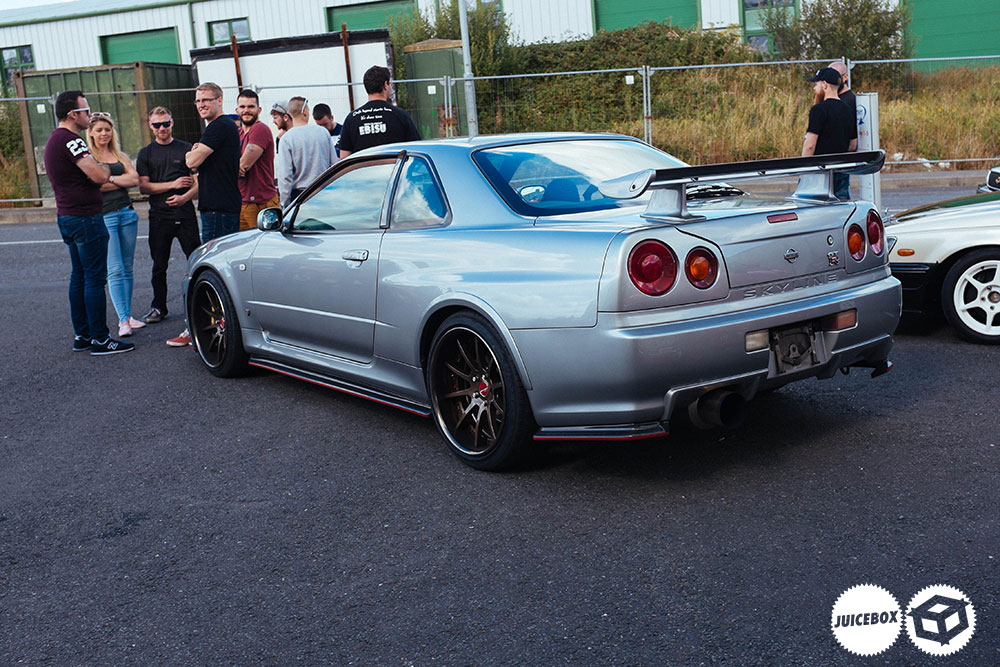 Pauls EF is great. Those CF48 wheels are perfectly suited to its magical eighties shape.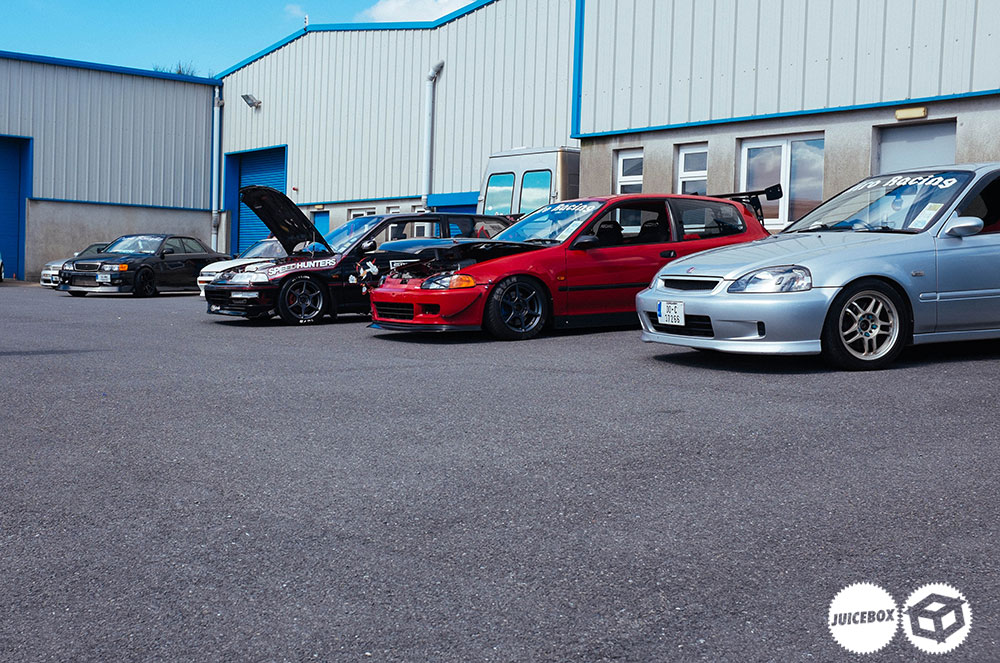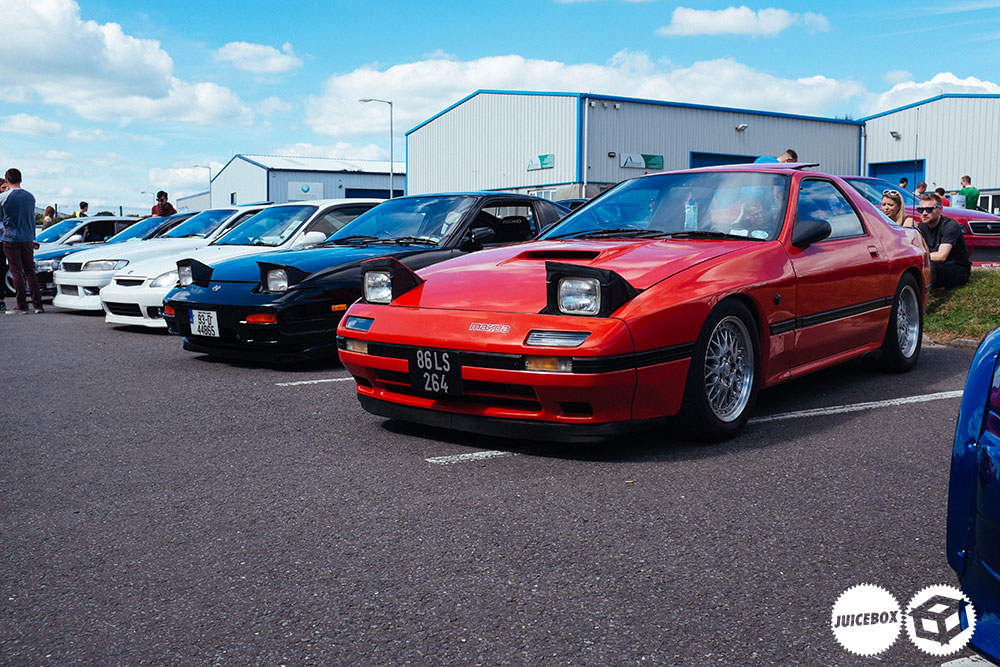 Bring back pop up headlights!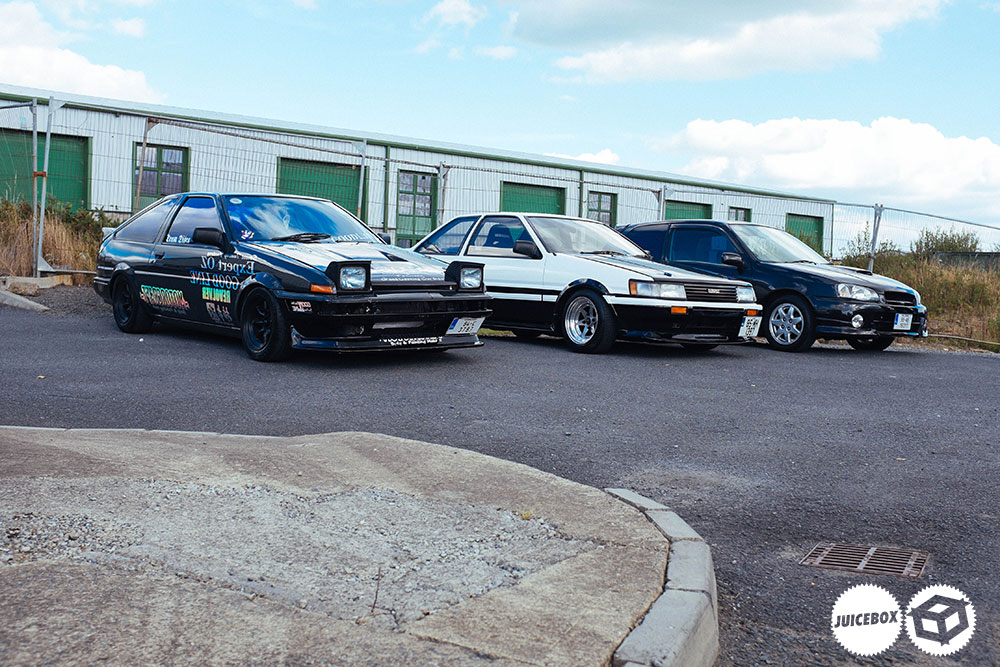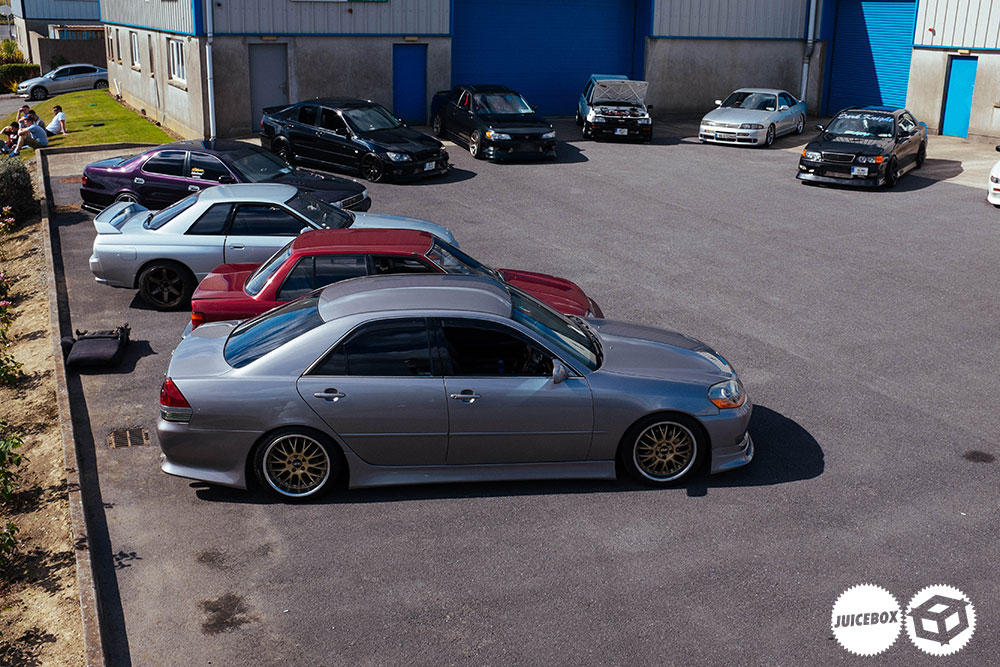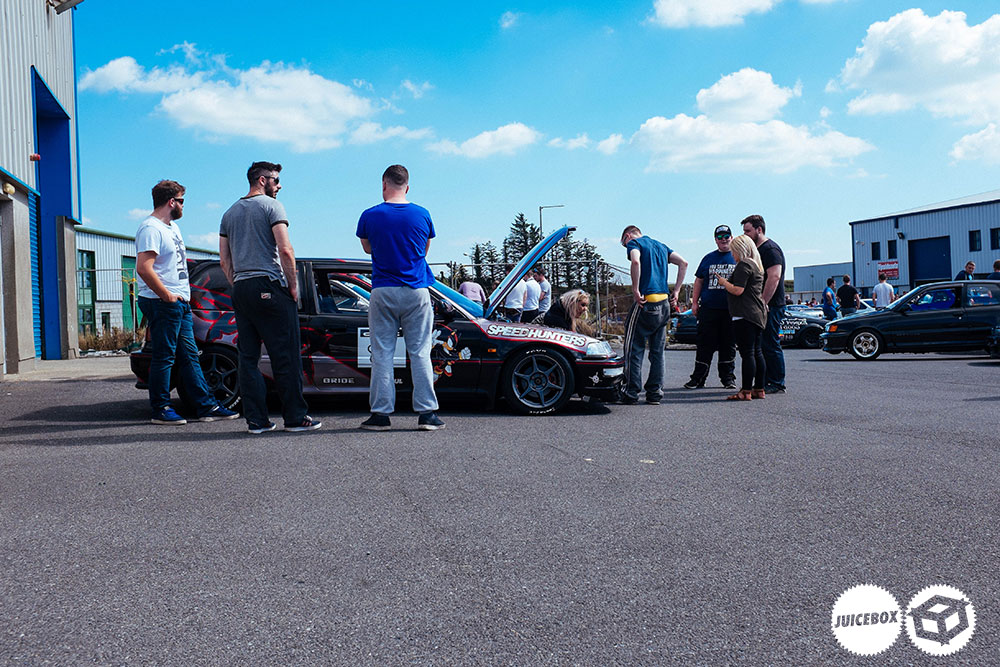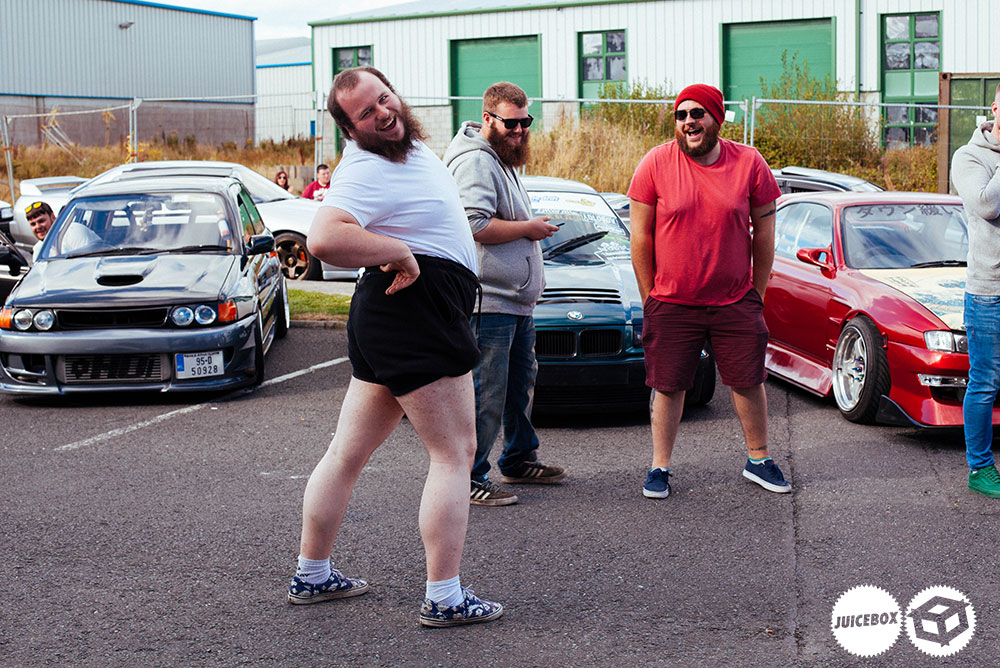 The Juicebox babes were in full effect all day. Thats really what this whole activity is all about, making a connection and having a good time with friends. Filling in the blanks of life with fun shit that gets you excited, cars are something that do it for us. They have given us endless joy and solid friendships we will carry for the rest of our lives.
The day couldn't have been any better, we had nature on our side and it was such a huge eye opener to see that many great cars and genuine people all in the one place. Good food, good cars and good weather….Many of us didn't want to go home so soon so we got food drove around and chatted well into the night admiring the one thing that brought us all together.
Apologies to anyones machine I missed photographing, I know there is a few like Jasons blue KE, Ive photographed that car so much recently I thought it was in there. Thanks to everyone who made the effort of coming down and supporting the site all these years, makes it all worth while.
Till next time
Comments
comments
Powered by Facebook Comments