Juicebox BBQ: The Squeeze PT1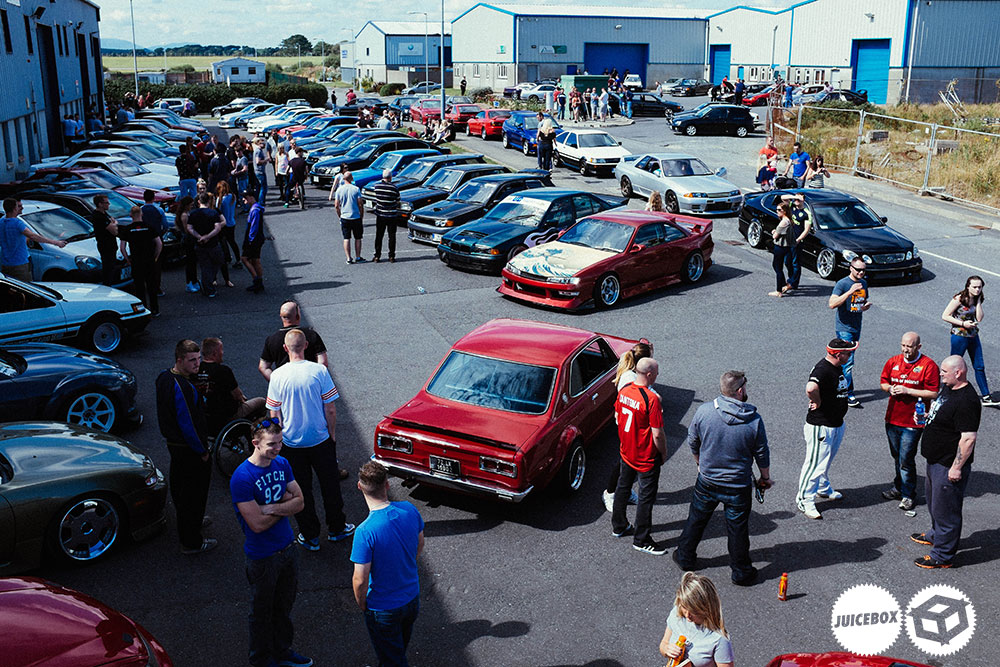 Where to begin really? This whole thing started as an idea few weeks back, well a concrete idea that is. This plan literally fell into place in less than ten days.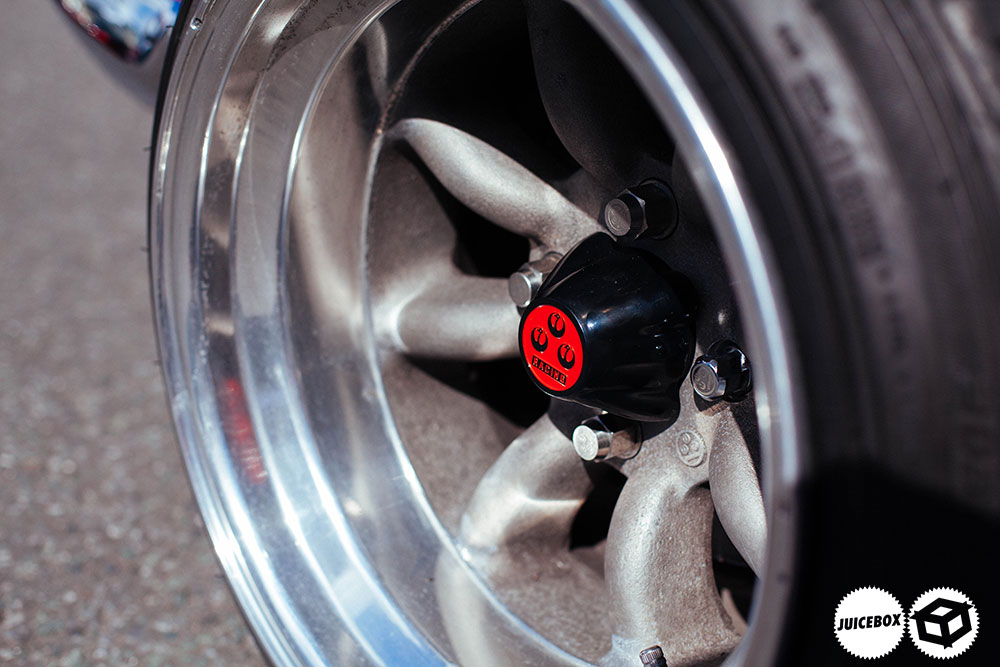 I had been toying with doing another BBQ for a long time and since being away in Canada for quite a while we never really pinned anything down when I was gone.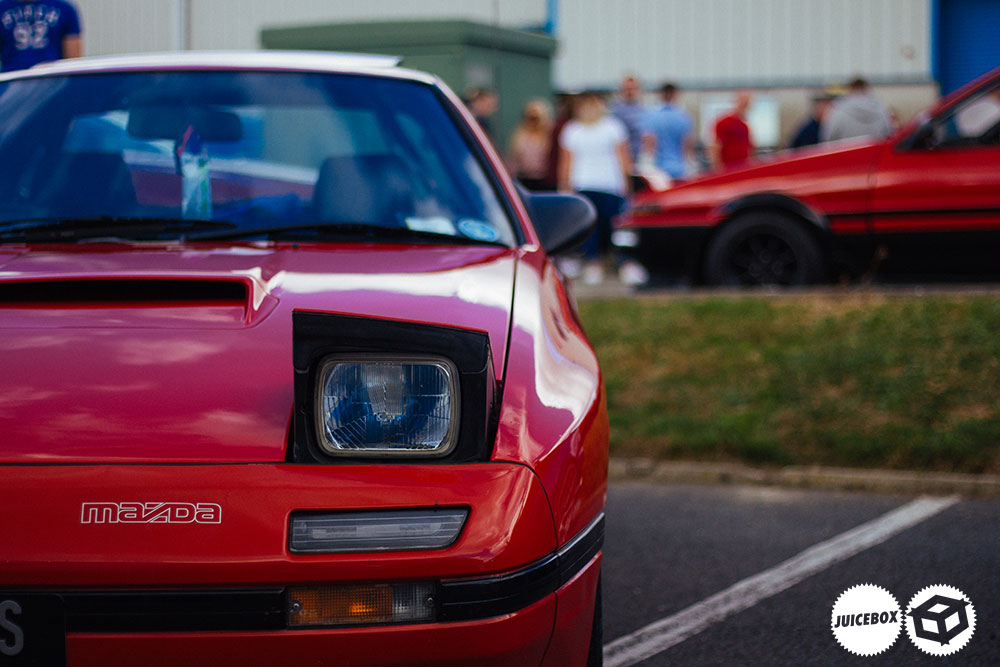 We had said it a few times and as the summer was drawing to an end quicker then we realised I felt that the last weekend of august is usually a safe bet.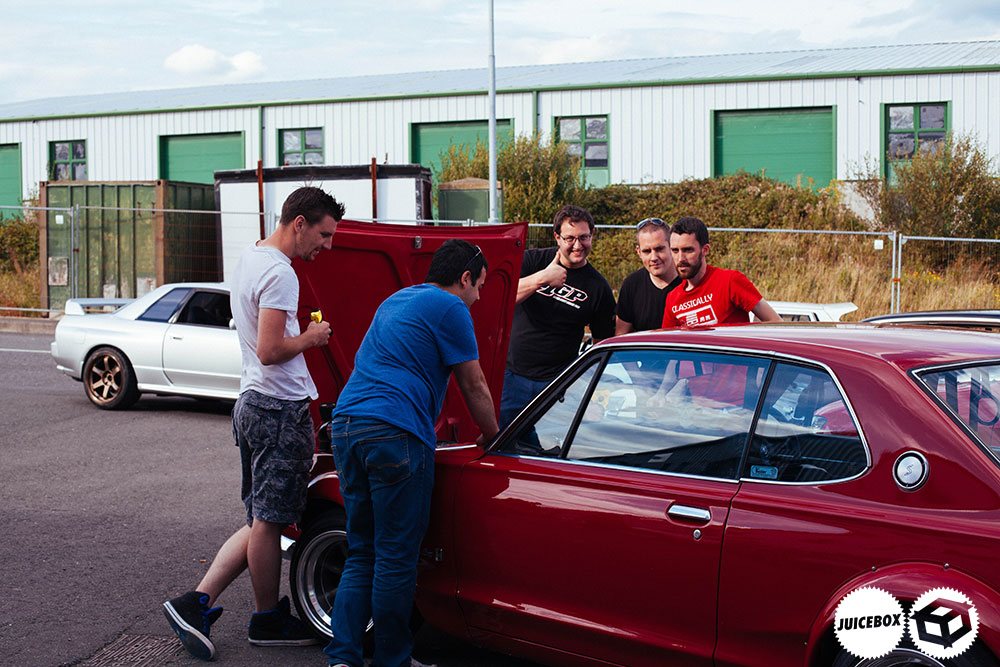 Little less than a week we compiled a list of the first 60 people that popped into our heads.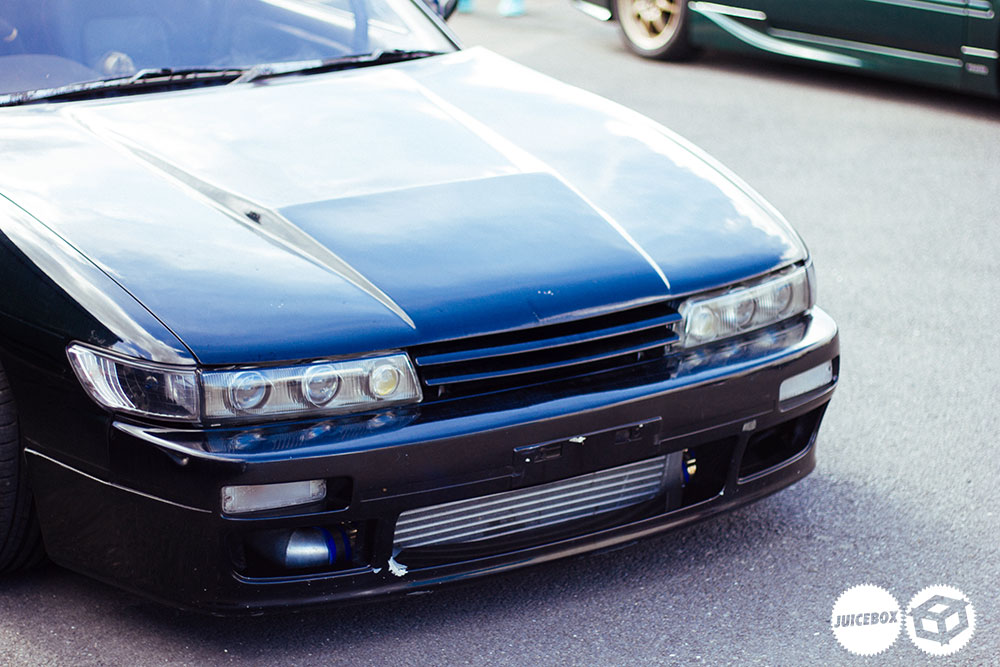 The idea was simple, try to invite as many high quality interesting cars as we could find and stuff them into a relatively small space.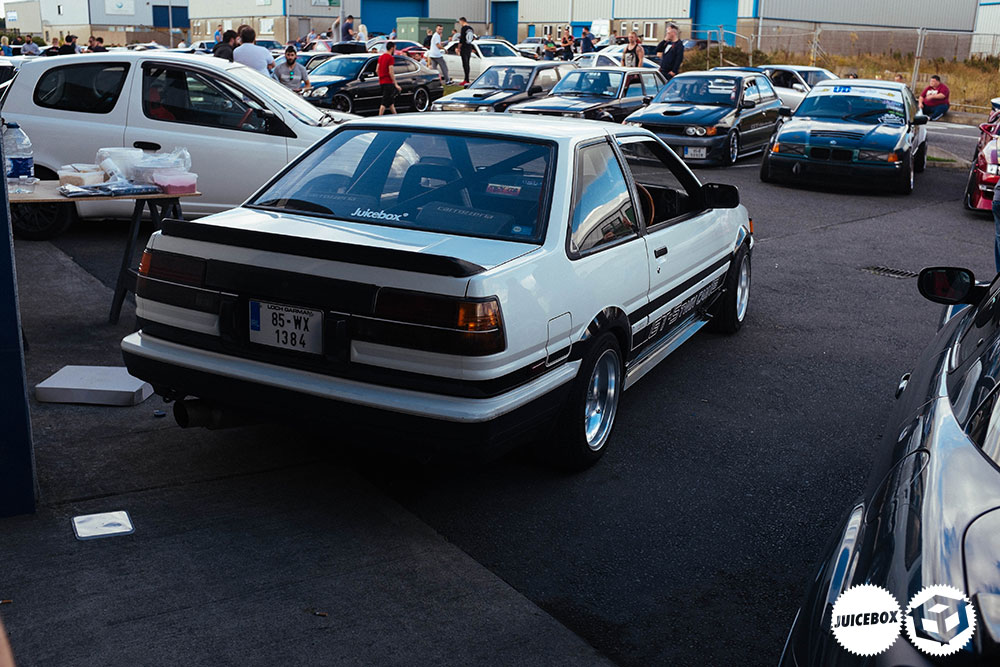 Its not that often you have that many good cars in the same spot and in recent years with the recession having a massive blow to the Irish car scene accompanied by the Diesel plague, we just don't see that many interesting imports on the roads anymore.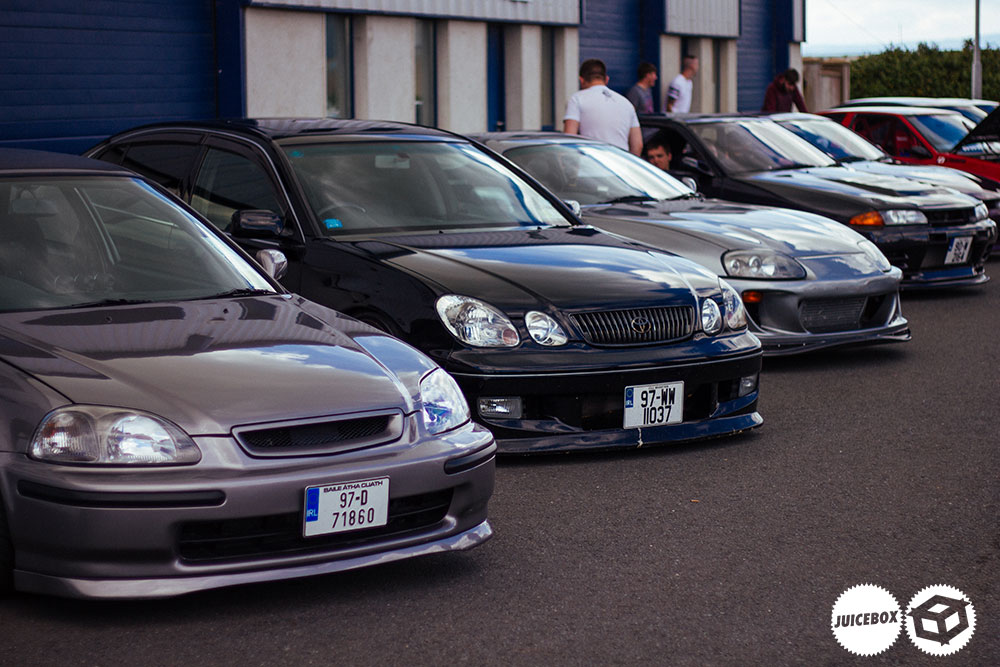 When I was away things did take a turn for the better, all hope was not lost and the amount of machines, which were being broken or sold off to foreign countries, stopped.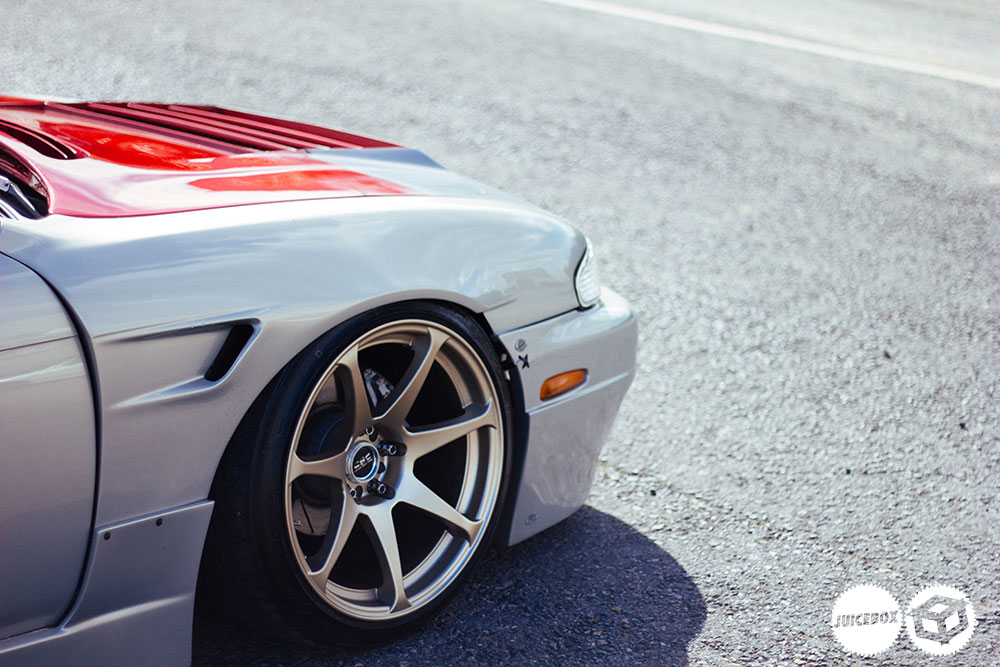 Cars started to trickle back into Ireland and suddenly the prices were going up, which is good because cars are starting to be appreciated much more and the endless massacre is almost behind us.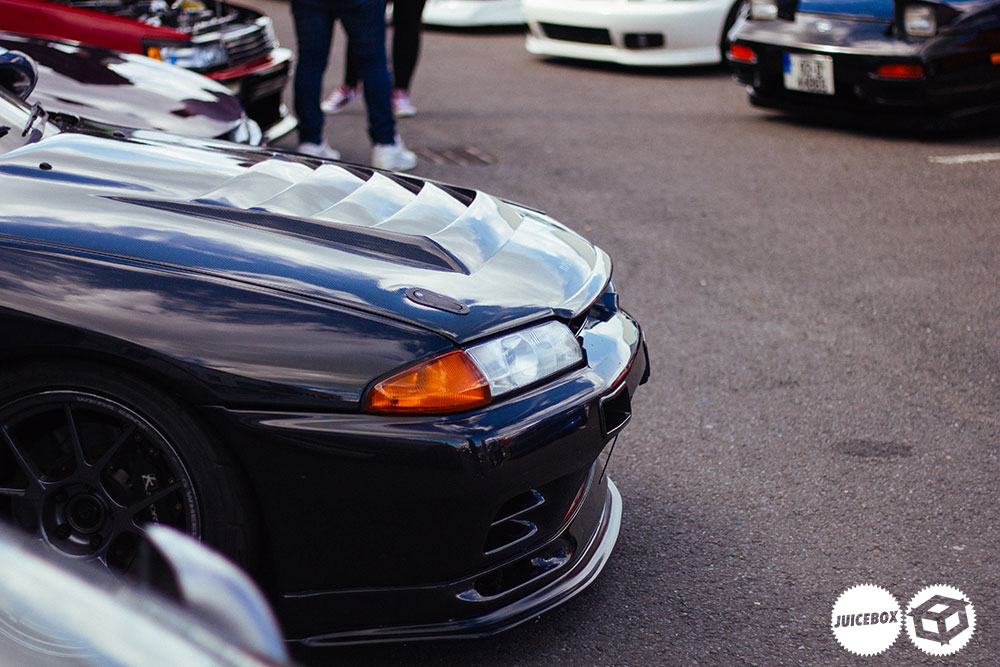 It would seem that the die-hards have stuck around; lots of people who had Japanese cars before the boom who were interested or were dipping their toes into the scene have either fizzled out or moved on or circumstances have changed.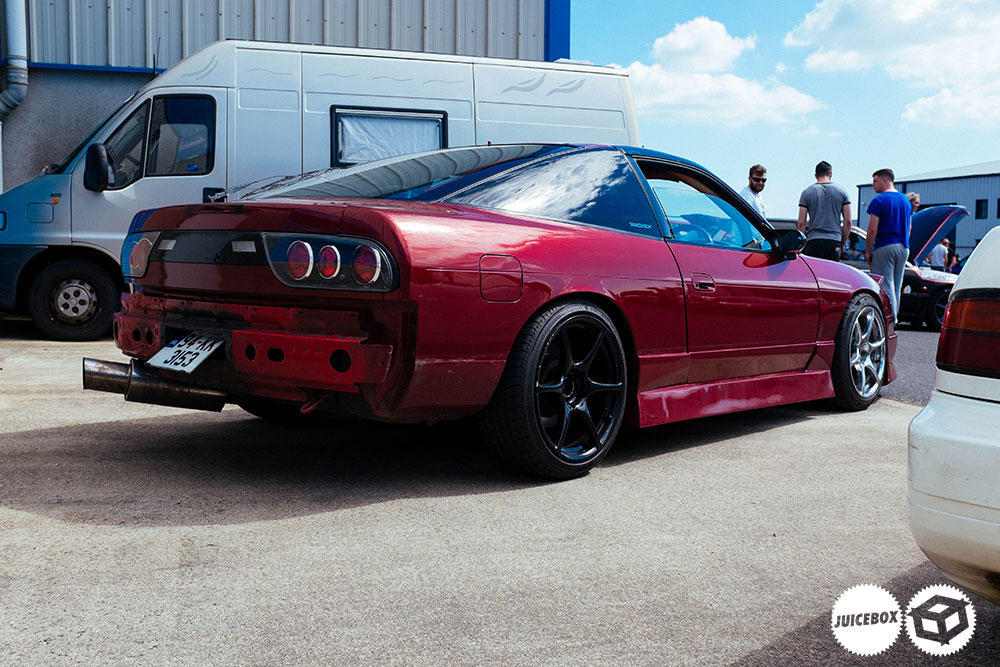 With rising costs on insurance, fuel, tax and NCT, it has pushed a lot of people away in recent years. Surprisingly there were quite a few fresh faces at this event that have come on the scene which is great to see. If the passion is truly there, you will always find a way.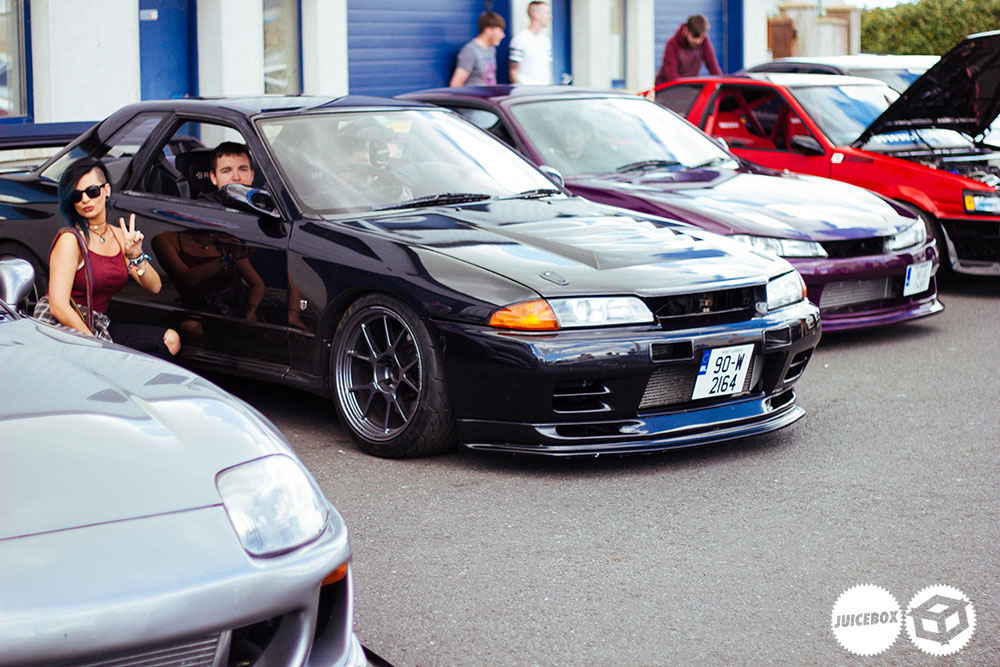 I think that's what I love the most about our little country, the resilience. No matter what the Irish government try to do, whatever way they try to take these cars off of the road and shit on this subculture we adore, we aren't going anywhere.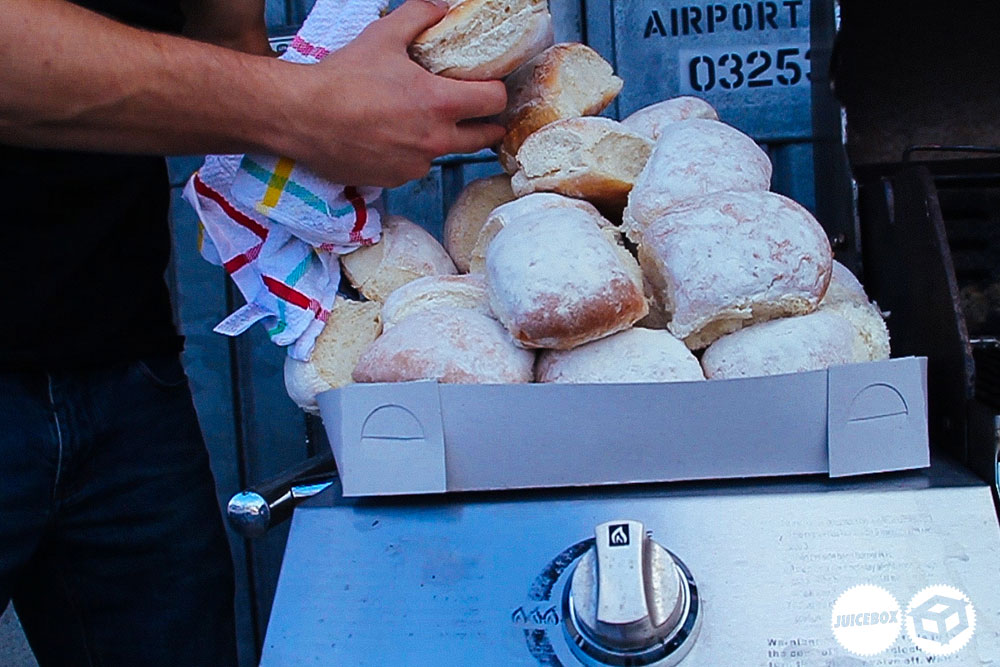 So lets get back on track, I really wanted to incorporate the Blaa into everything. The Blaa is a Waterford only treat. Basically its floury fluffy white piece of magic. We figured it would be nice to treat everyone to a Blaa and some proper Waterford Burgers and sausages as a thank you for driving down.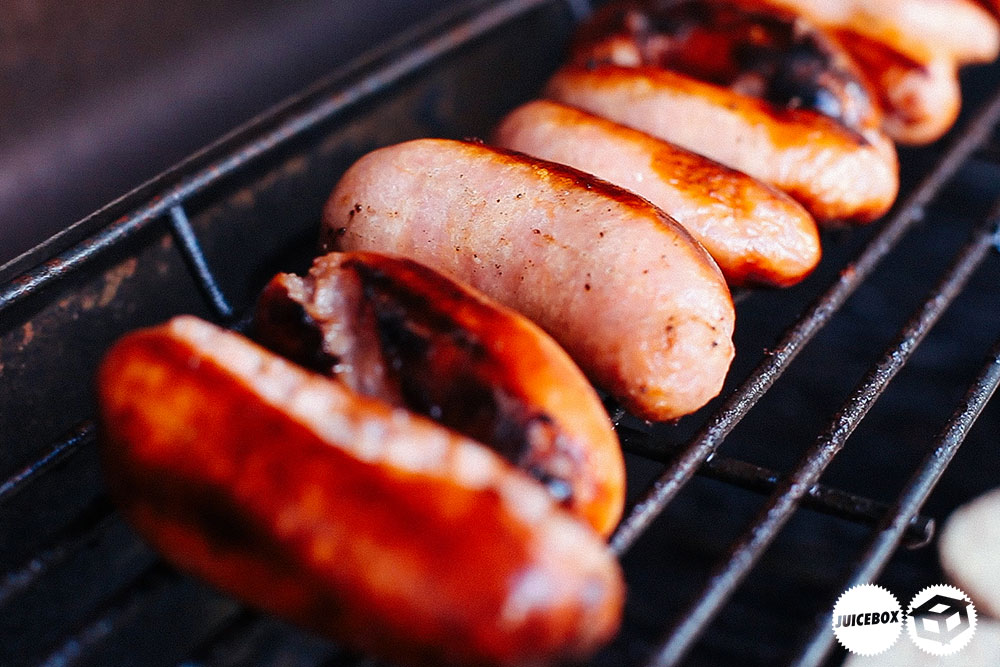 Long time friend Ben and his family have been running O Flynns butchers for over 300 in the heart of  Waterford so naturally he was the next person I reached out to. Not only did he farm the animals, slaughter them and make the burgers and sausages, Ben was nice enough to hang out for the entire day and cook too. It doesn't get much nicer than that.
Back to the cars, I almost feel obliged to throw a picture up of every single car that showed up, out of kindness. I felt myself taking the same photo of every car out of courtesy along with each car being of a higher quality.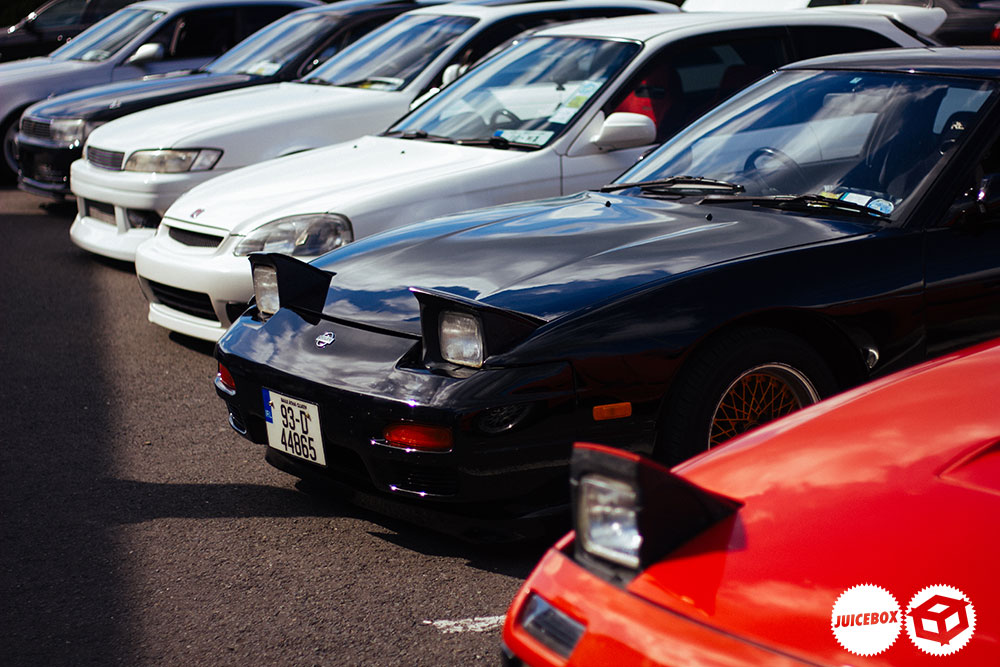 You had people from all over, the list was quick with a few added here and there. I was shocked to see how many people actually showed up accompanied by one or two friends they felt had something to display.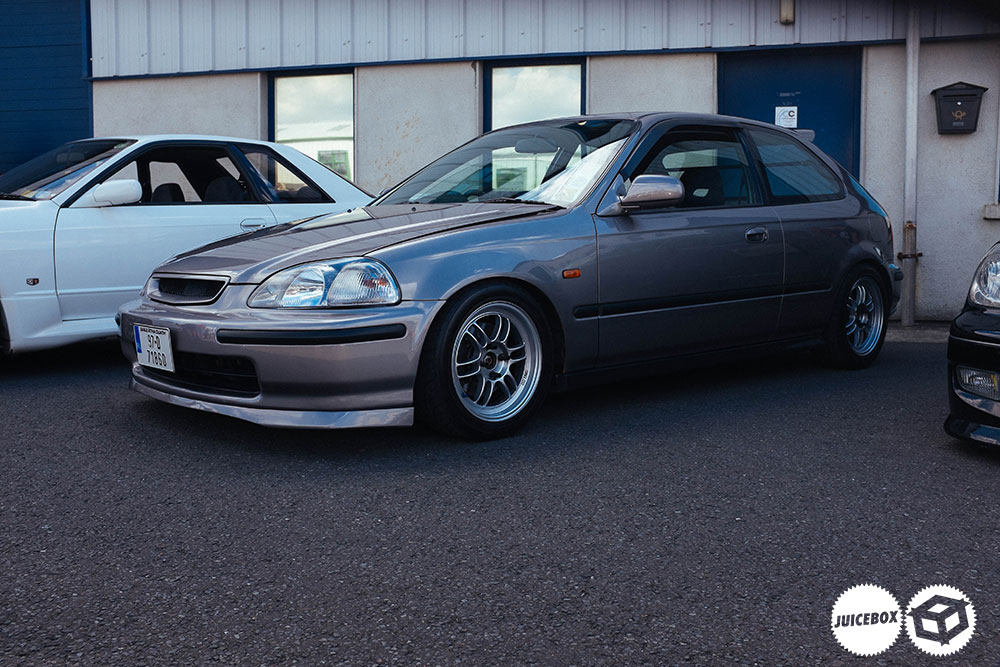 Along with who was invited, I have always felt very proud of the local friends and their quality of cars. Waterford has always had a very solid car scene and the local invitations alone would have been enough to make a good day.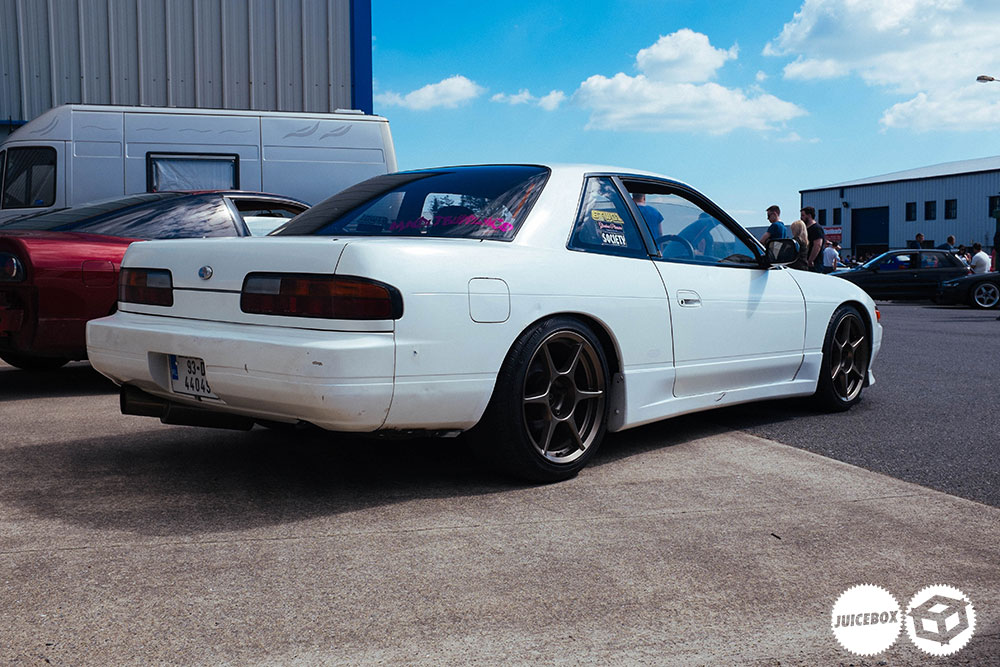 I Love everything about this PS13, P1's and OEM body styling.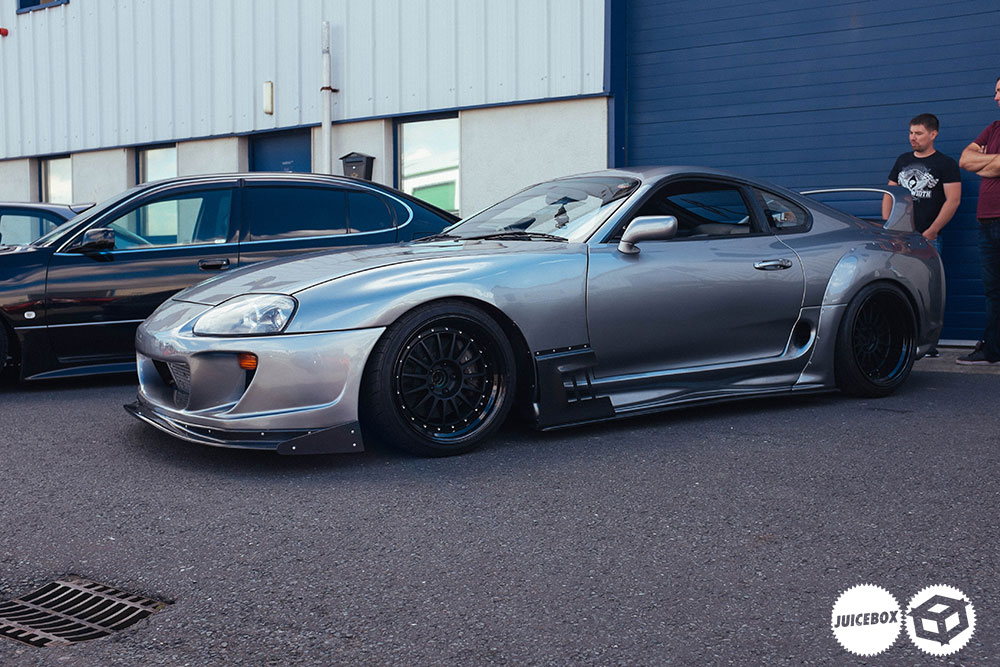 Dave was hyped about the BBQ and ensured the car made it down regardless of the few mishaps he had on the journey.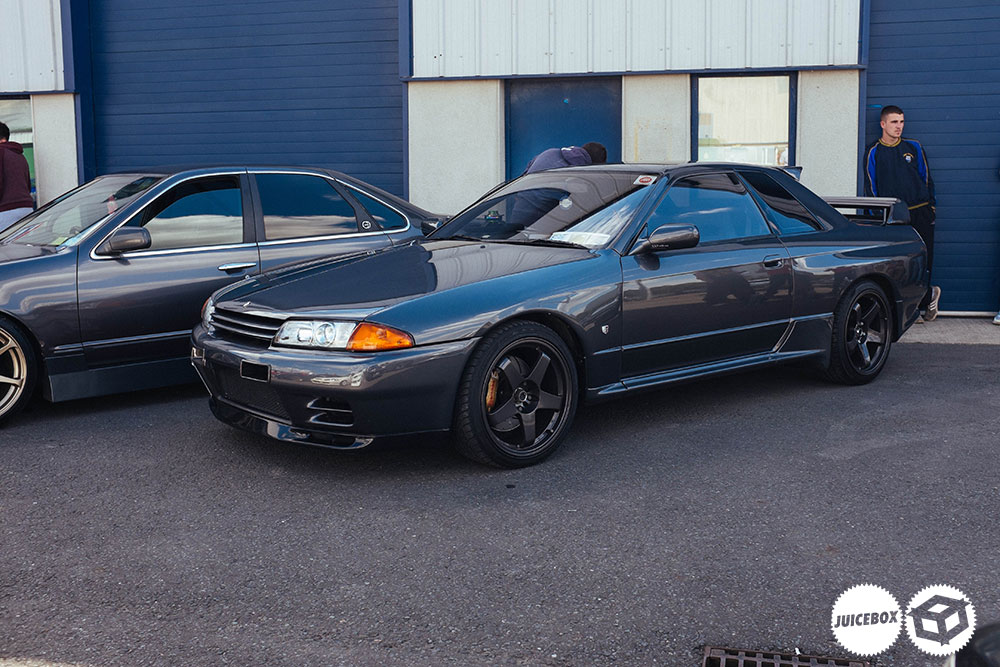 Along with him where some people from up around the Wicklow/Wexford area like this rear wheel drive BNR32.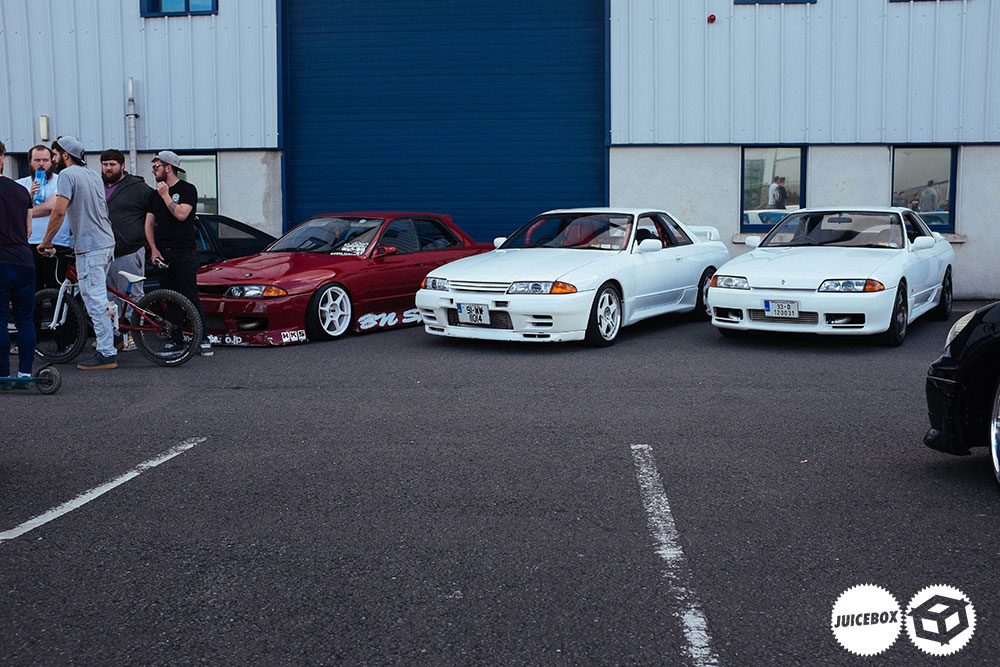 Speaking of skylines, Waterford has a strong R32 game at the moment and I think its here to stay.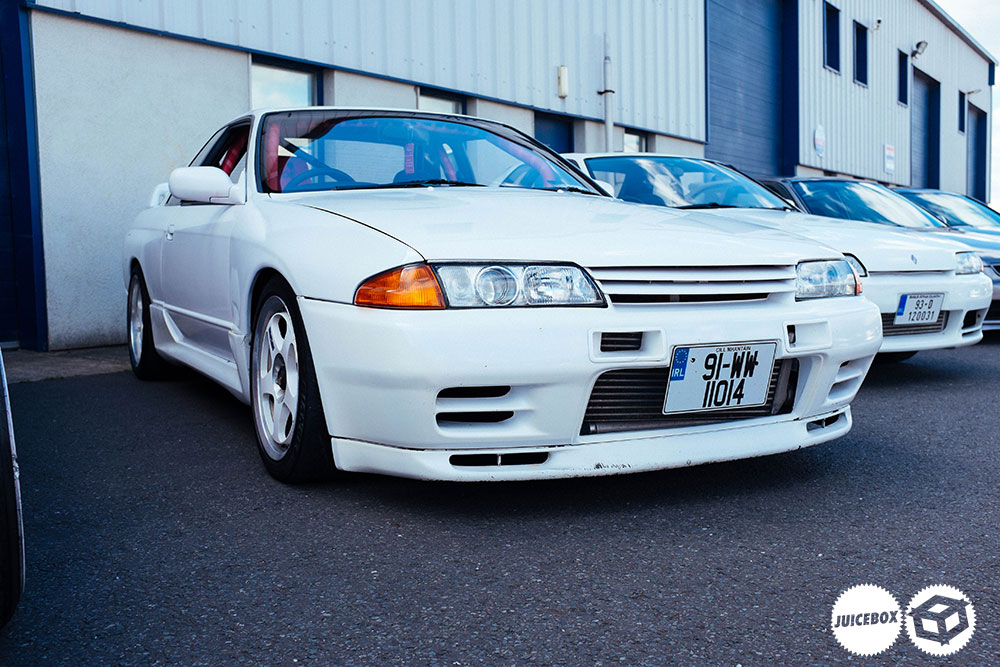 Barry not only has that nice EK4 pictured further up but is now the proud owner of this timeless looking 32 that has a very early nineties group A look to it.
You can spot Eamon smiling in the background with Flip, Eamon recently acquired John Fallons old creation and couldn't be happier, its such a great looking car.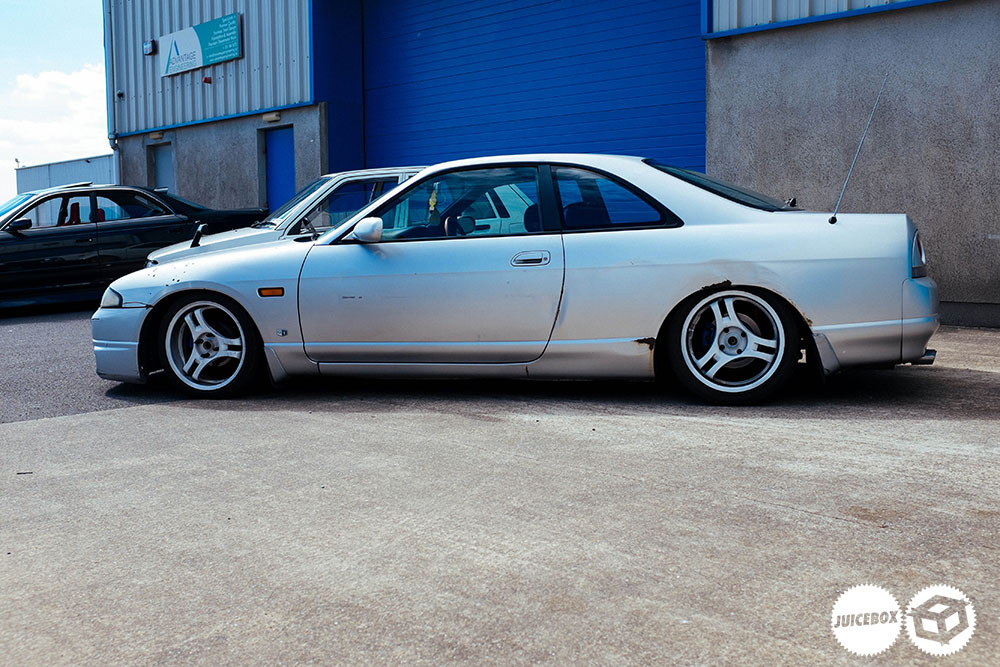 I love the character of this ropey R33. Big three spokes and the R33 are the pinnacle of 90s Japanese car styling.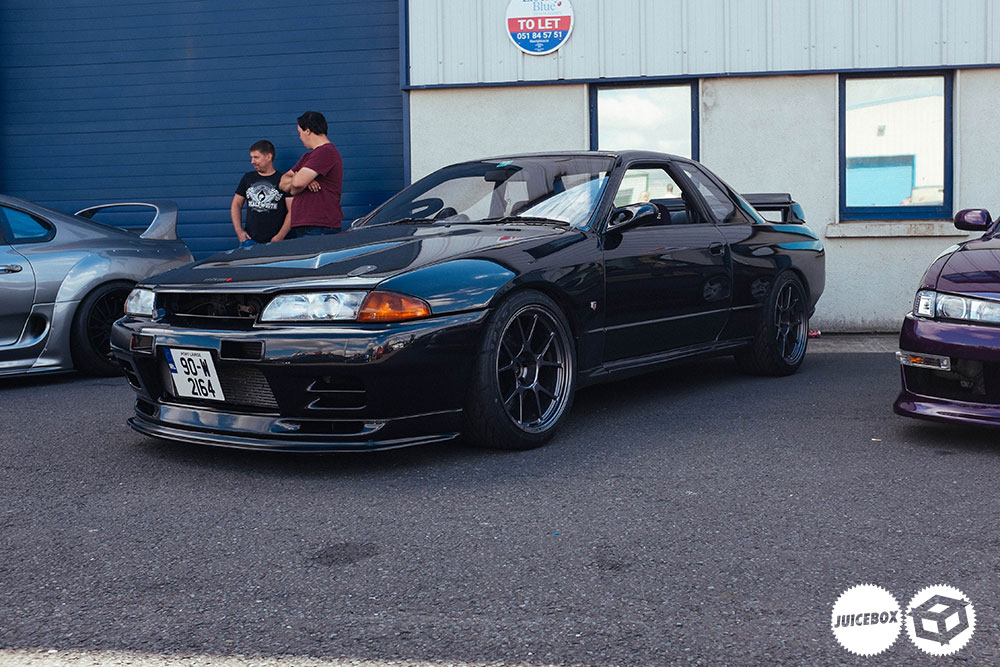 Michael brought his freshly painted BNR32. Doesn't get much better than meaty Wedsport TC005's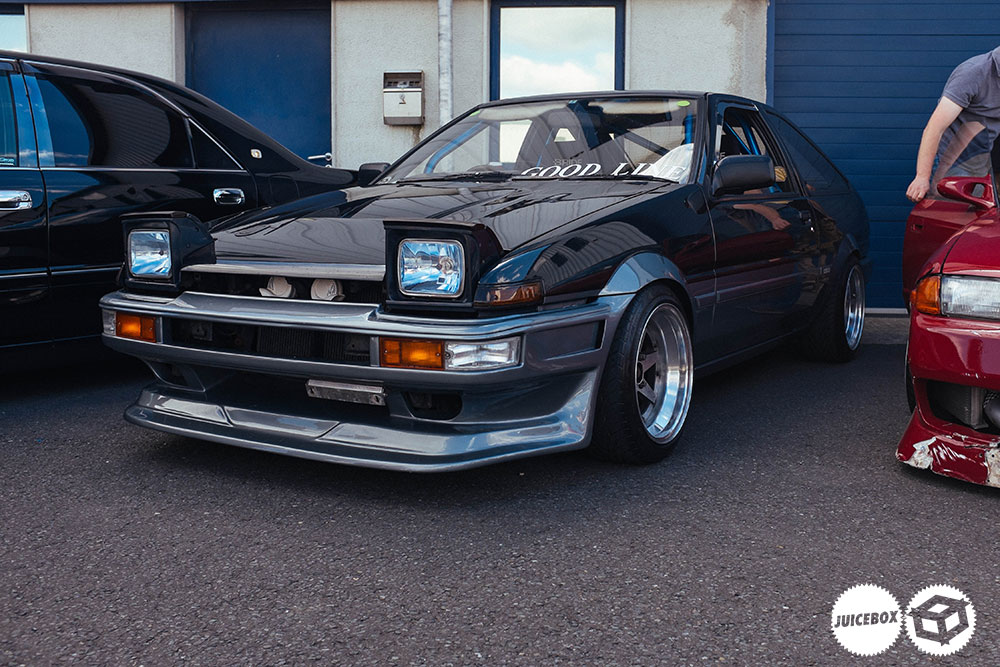 Seans Trueno, a bit of a famous machine that's been featured a plenty on Juicebox. "The Juicebox cam lad"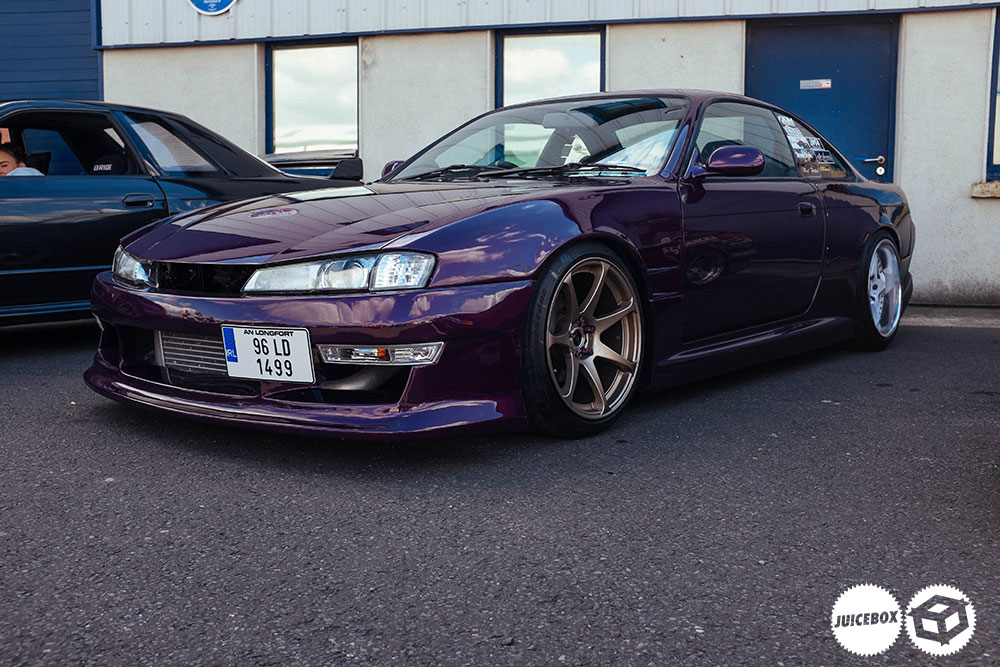 Good job to Mark, freshly finishing his S14a. Such a nice colour and loving the mismatched wheels.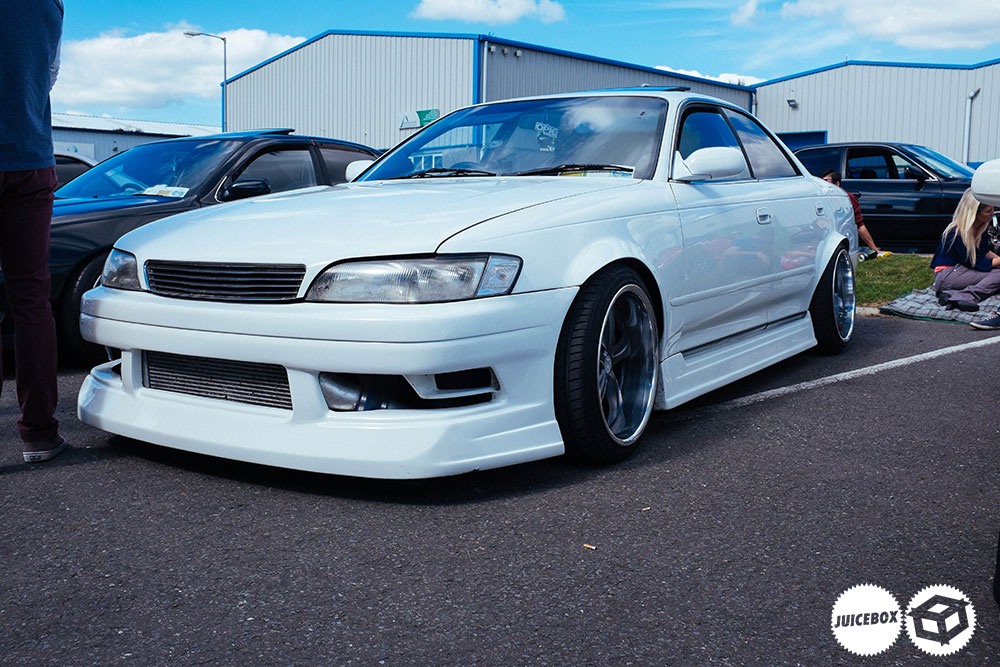 Not enough of these left anymore. Luckily this is such a great example of an JZX90 and I was delighted it showed up.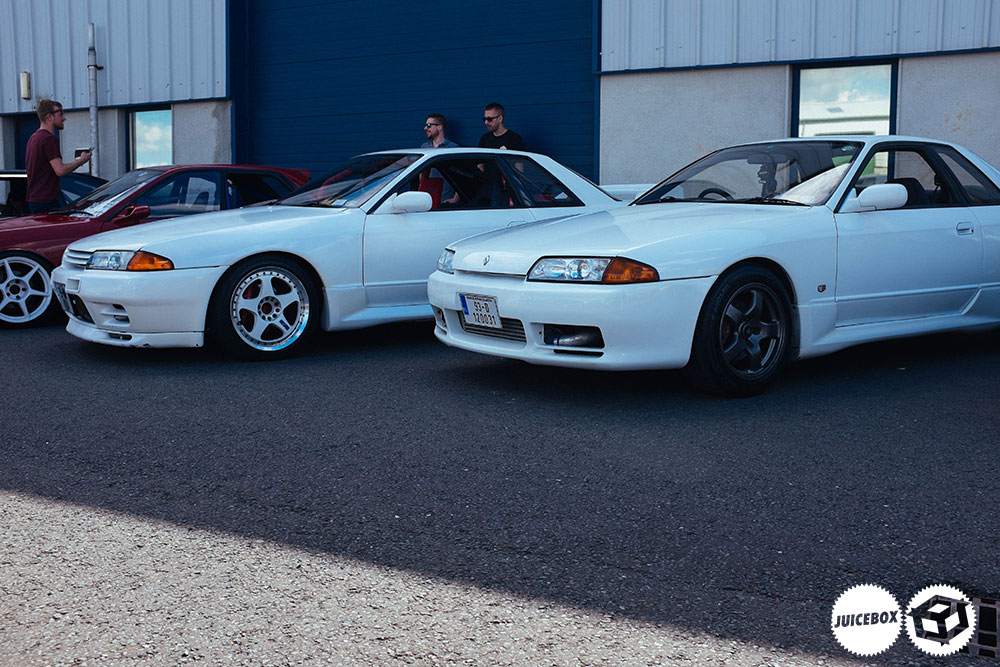 Two brothers, both recently attracting the R32 bug. Fuck these cars have aged well!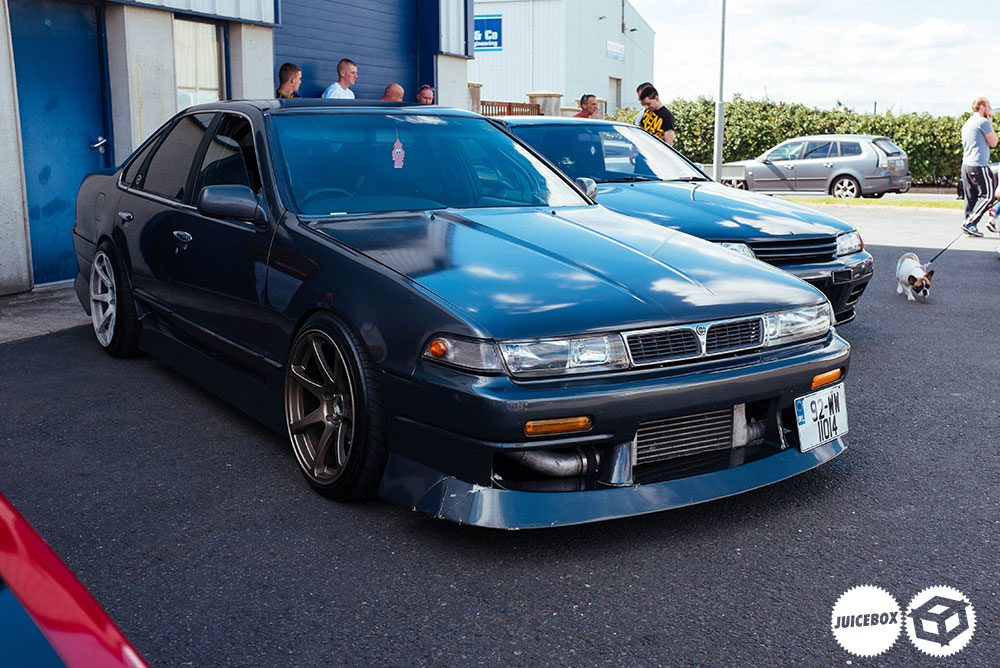 Like I said, I'm just gonna work my way through most cars that showed up. Every single car was decent in its own way.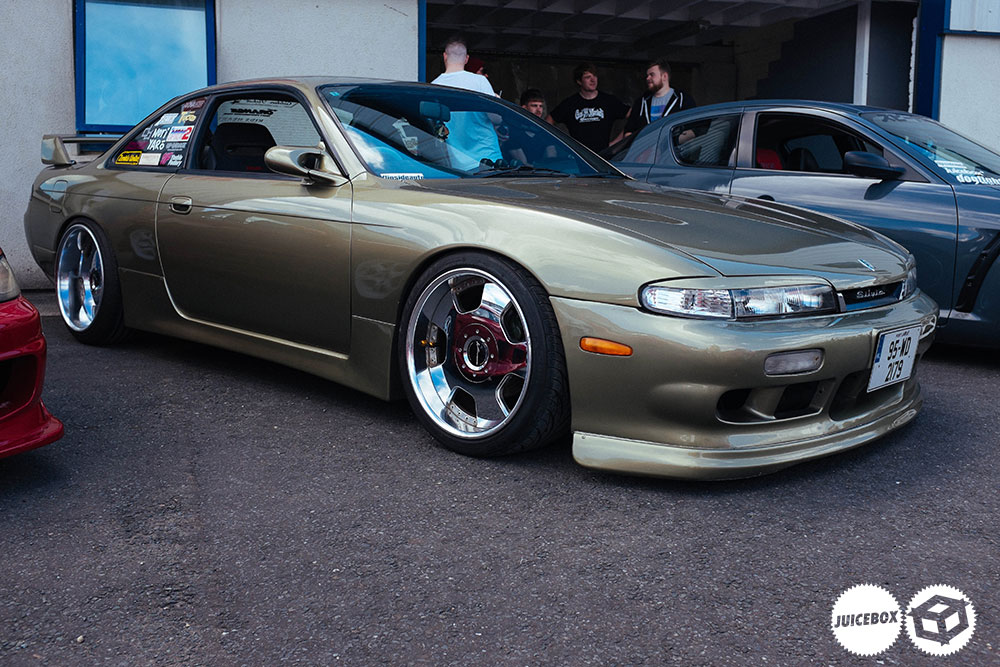 Aidans beautiful S14 has a great story, a car which was literally saved from a bare shell in a field, we will have much more on this very soon.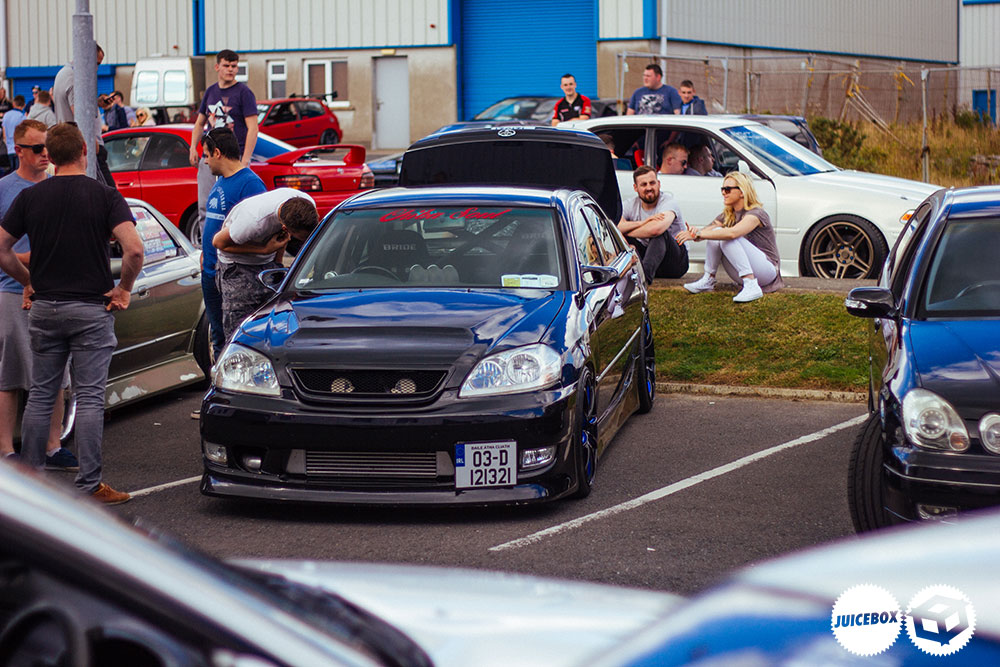 Shane Mooney very recently picked up his new machine which was fresh in from Japan.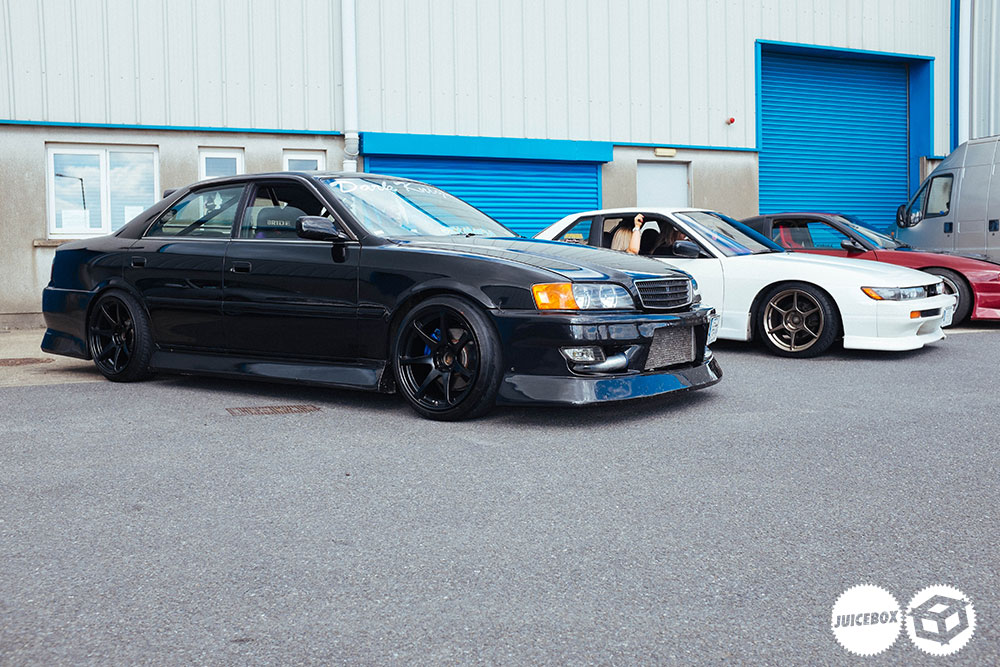 John Joe Meehan has one of the most menacing looking Chasers in Ireland.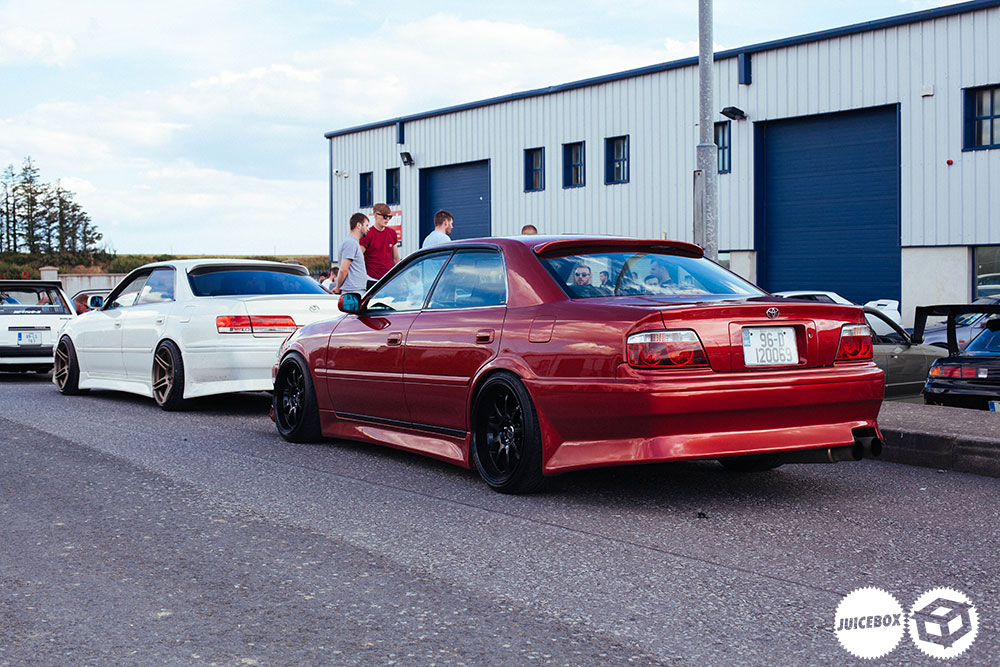 We've become obsessed specifically with the Chaser and x100 chassis in Ireland. These cars were almost unattainable years ago with price tags of up to fifteen grand or more.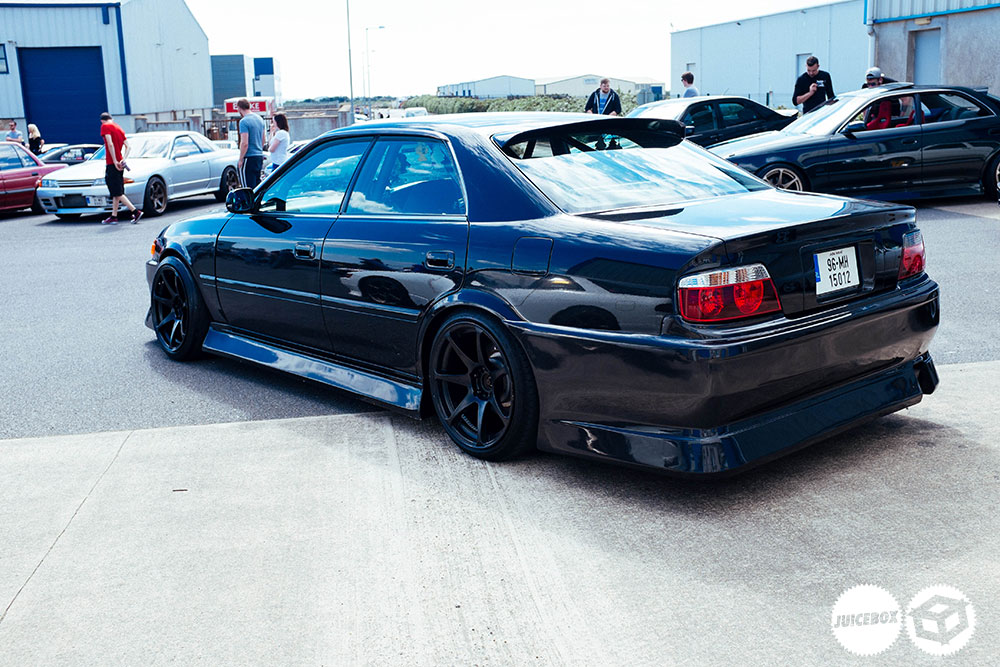 Value has come down over the years in Japan and since things picked up Ireland is doing a good job of grabbing as many manual ones as we can. There is just something so good about a four door straight six.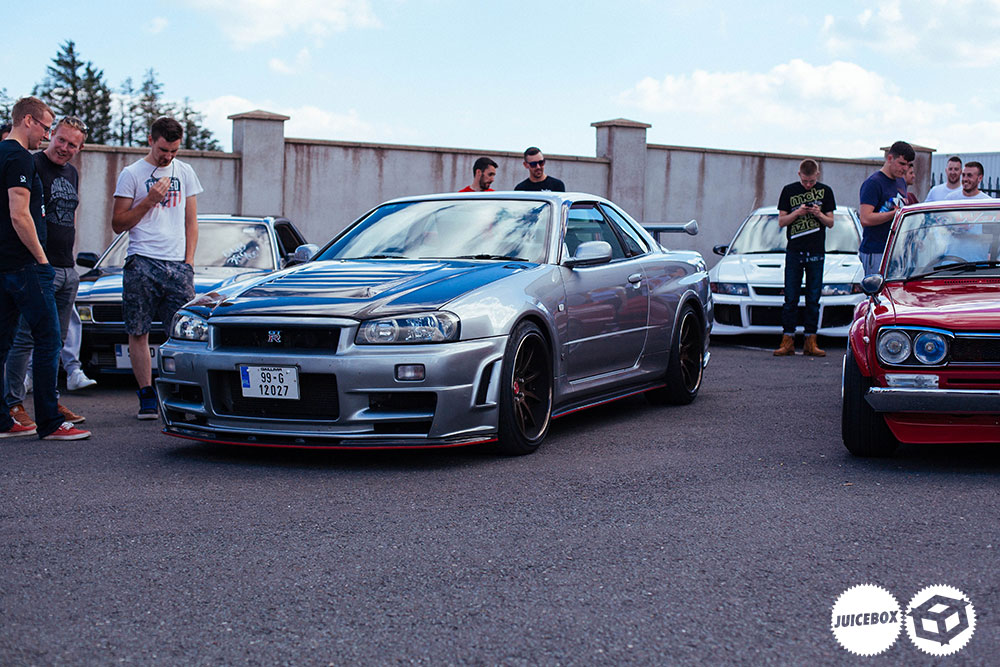 Marcin was nice enough to make the long journey over from the west of Ireland in his recently acquired R34 GTR. Cheers man it was seriously appreciated.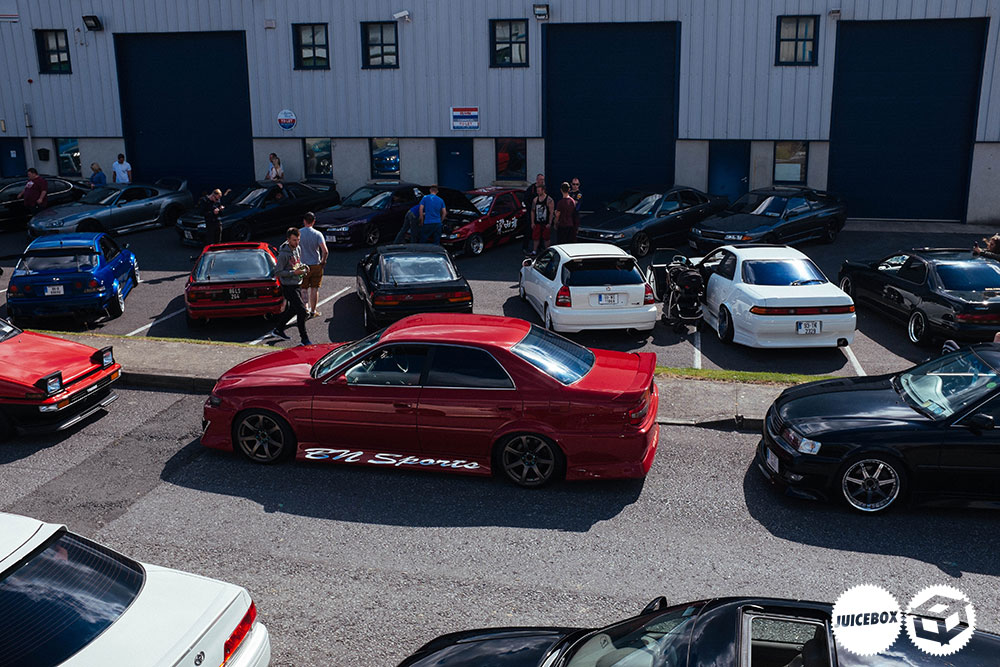 Another great chaser, it was nice to see some of the best in the country all in the one place for many different chassis models.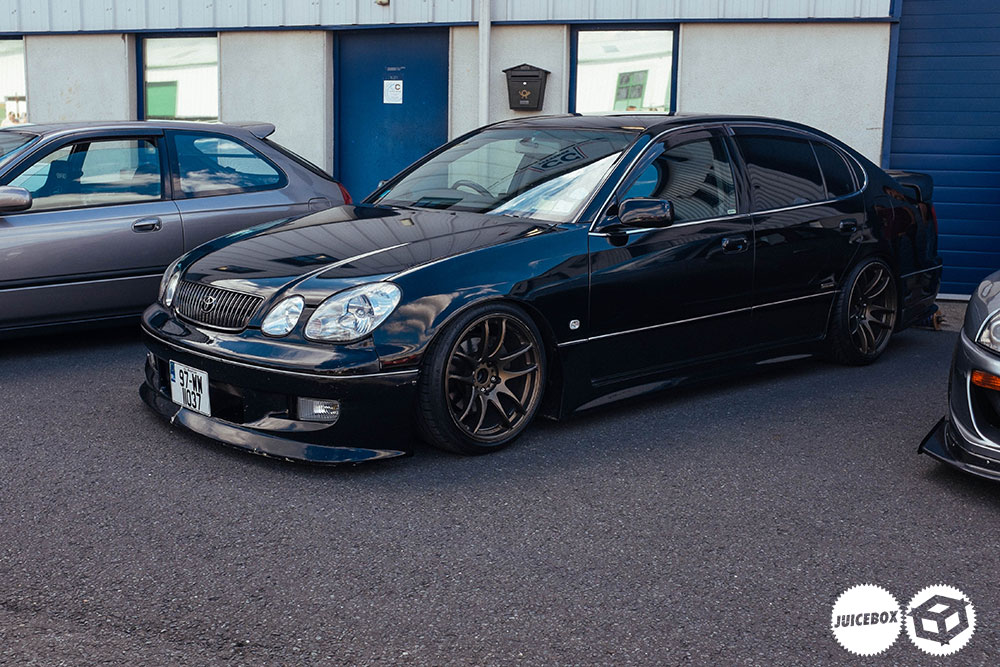 Greg daily drives his Aristo, I have nothing but respect for the man. He also slammed the shit out of this for the BBQ, thanks! The car looked fucking epic.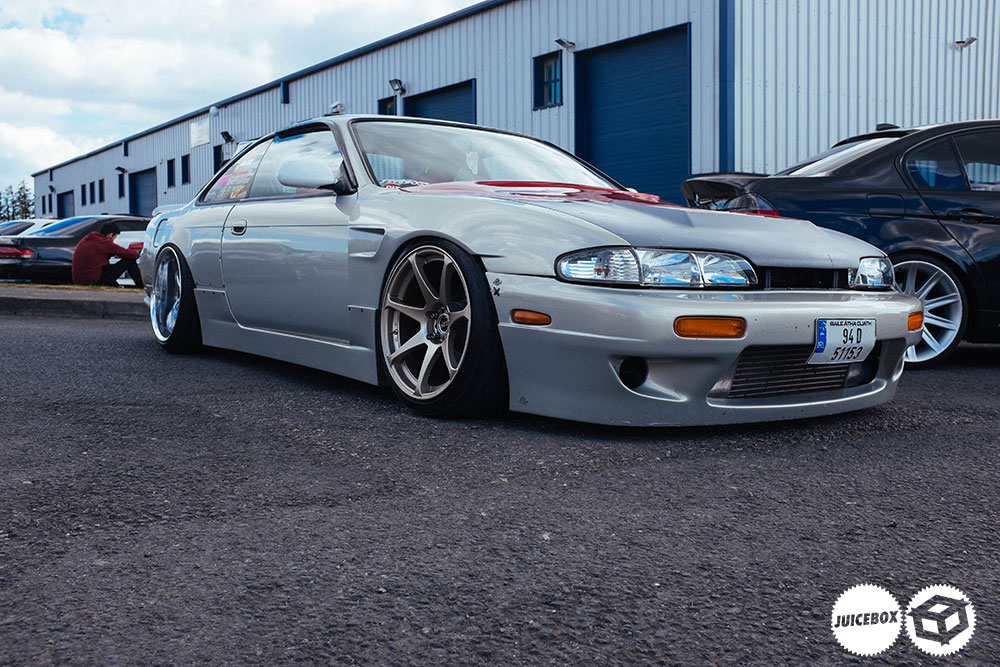 Neil from the Lowlife has been doing great things with his Zenki s14, I had seen it slowly progress when I was away in Canada, nice to finally see it in the flesh.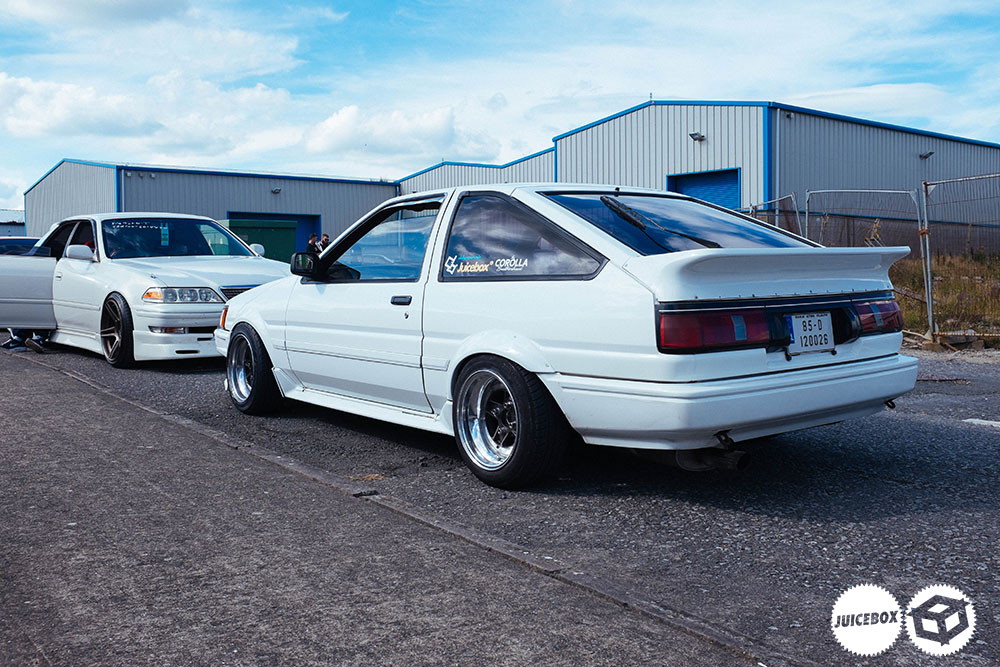 You really can't go wrong with a fat set of MKII's, absolutely love this whitelined Levin.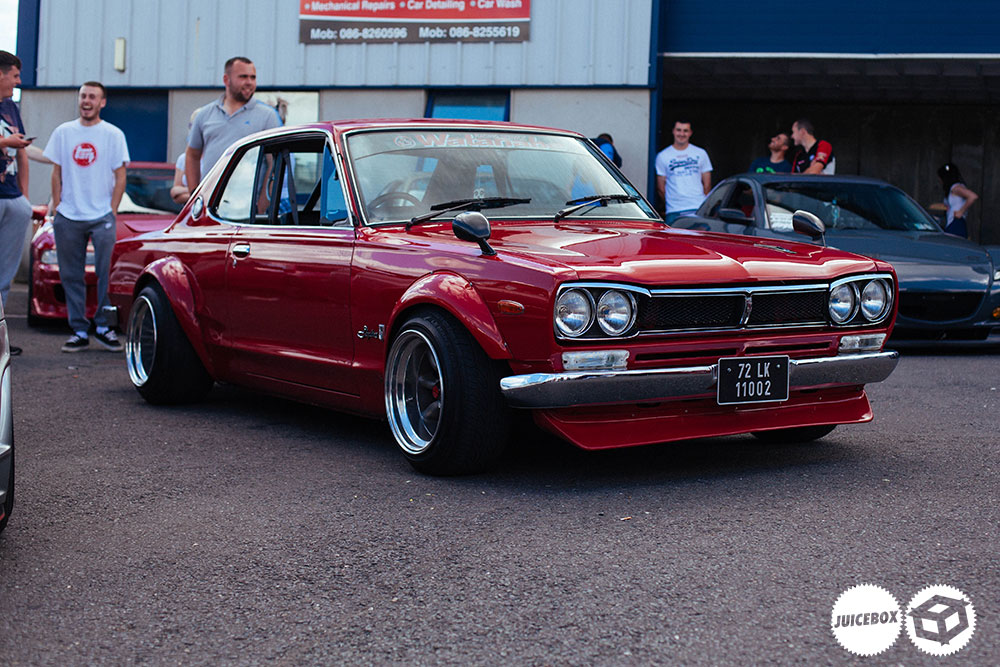 John was nice enough to bring his C10 skyline down from Limerick, ill be forever thankful, another car I had not seen in the flesh yet.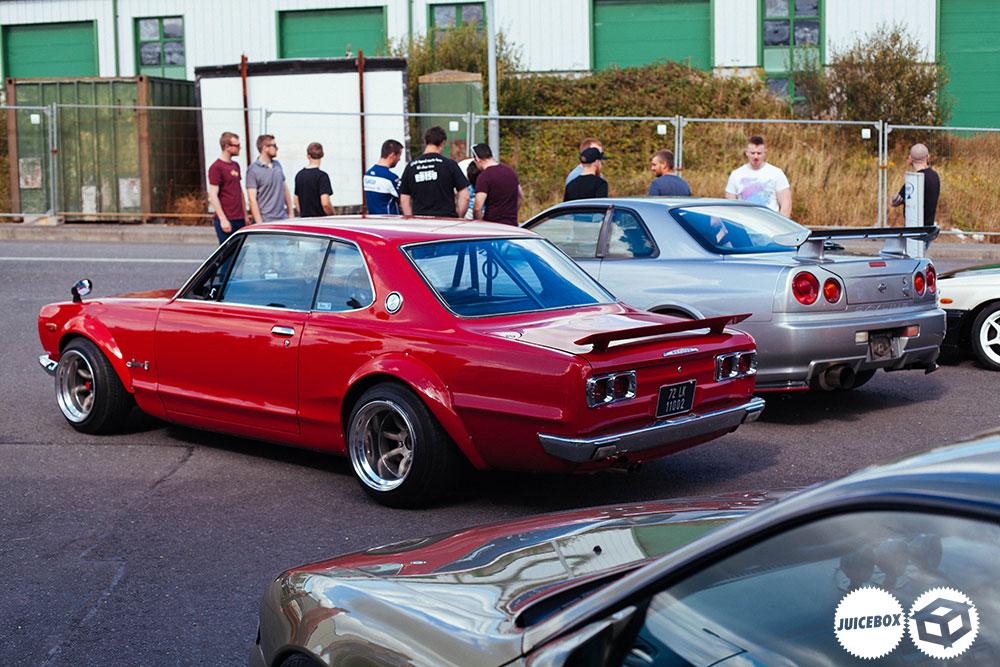 Sitting on ridiculous Watanabes, this style on the c10 is perfect.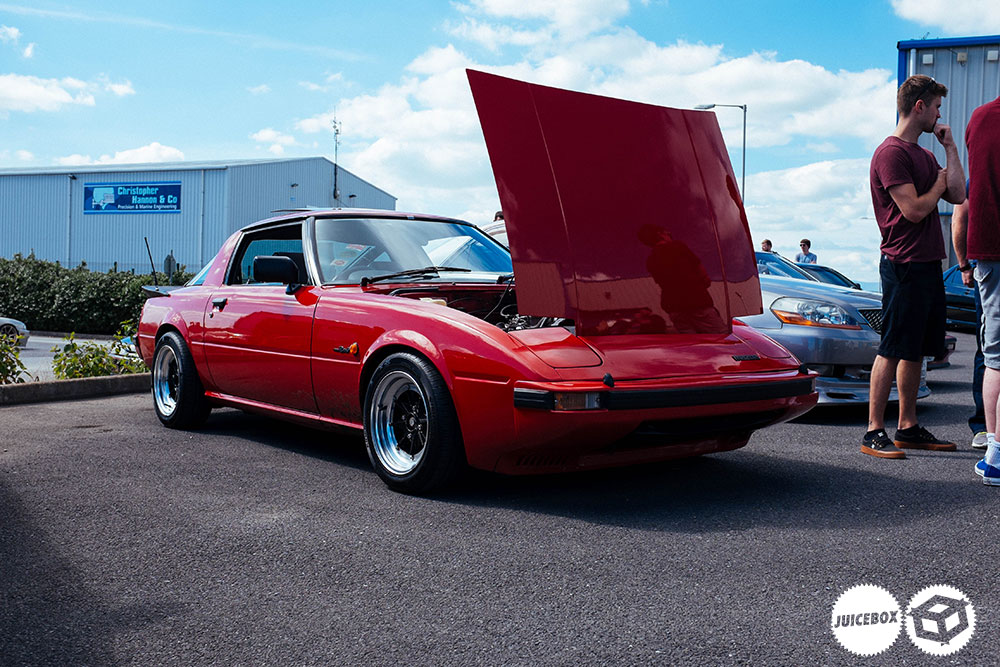 Jason was scrambling midweek to get the FB ready and things weren't looking good. Luckily it all came together in the end, thanks for calling down and a side note: Please dont sell this FB. Thanks.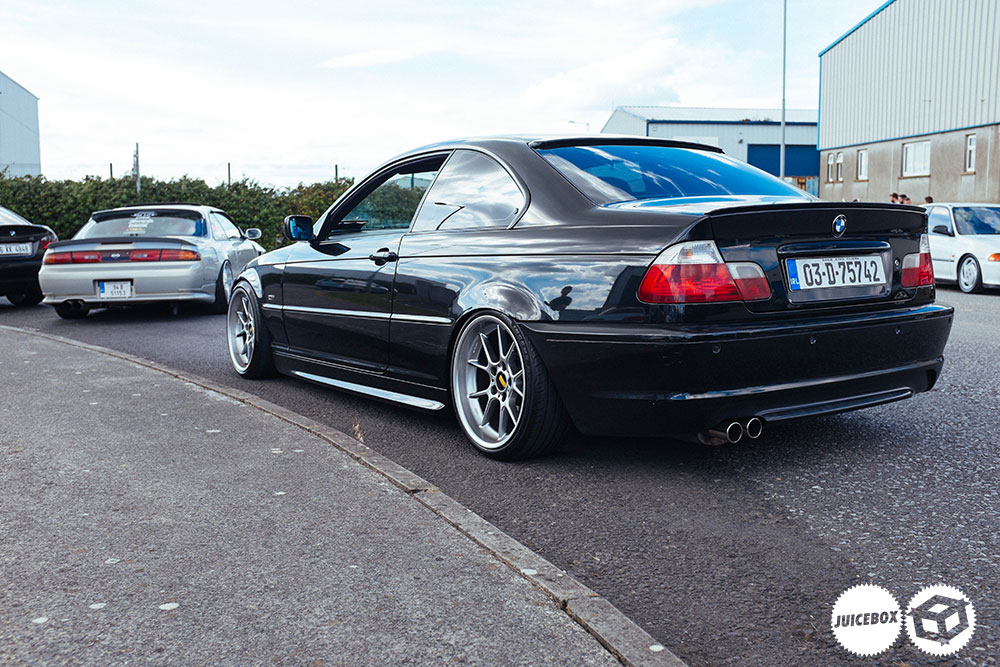 Adam O Connor made it down in this very good looking E46. It's a shame more people don't go this route here, its 10/10.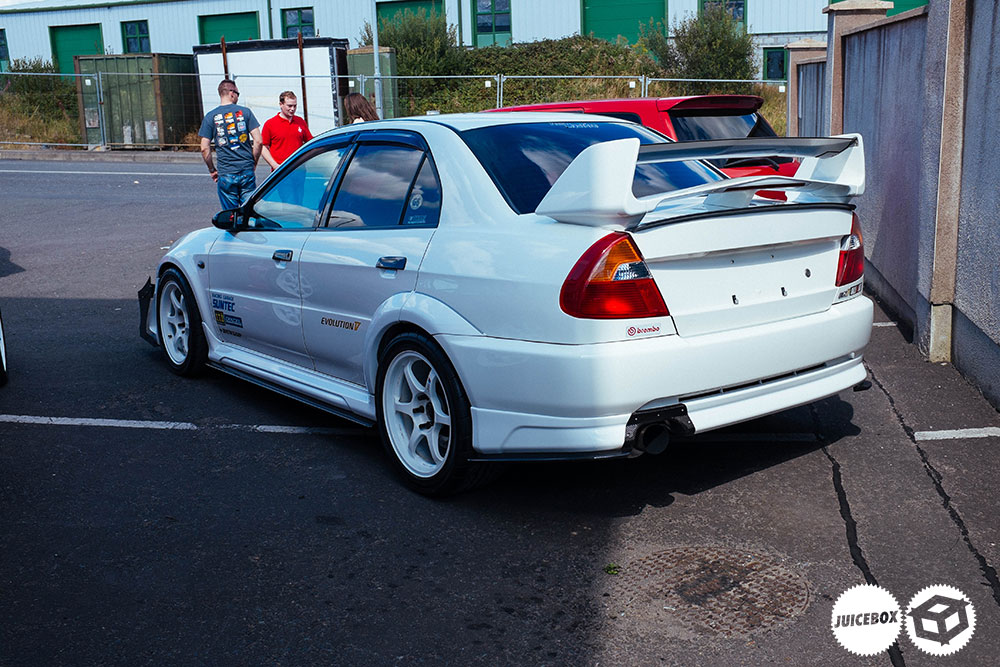 Rob brought over his stunning Evo 5 RS, we have a feature on this coming very soon.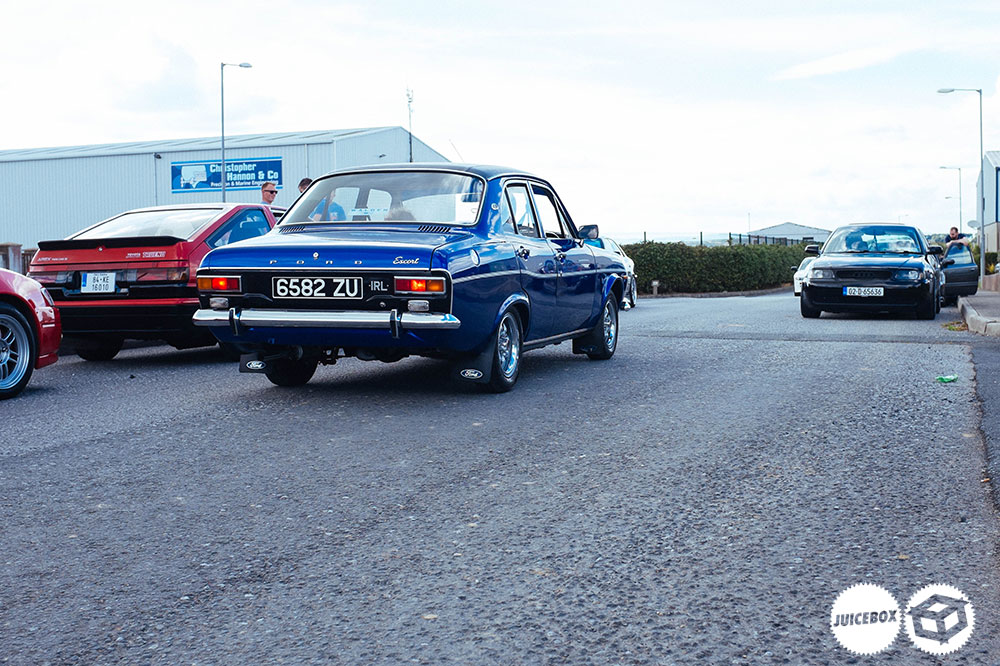 Paddy was covering the event for Speedhunters and his dad called over for a little creep in the Escort.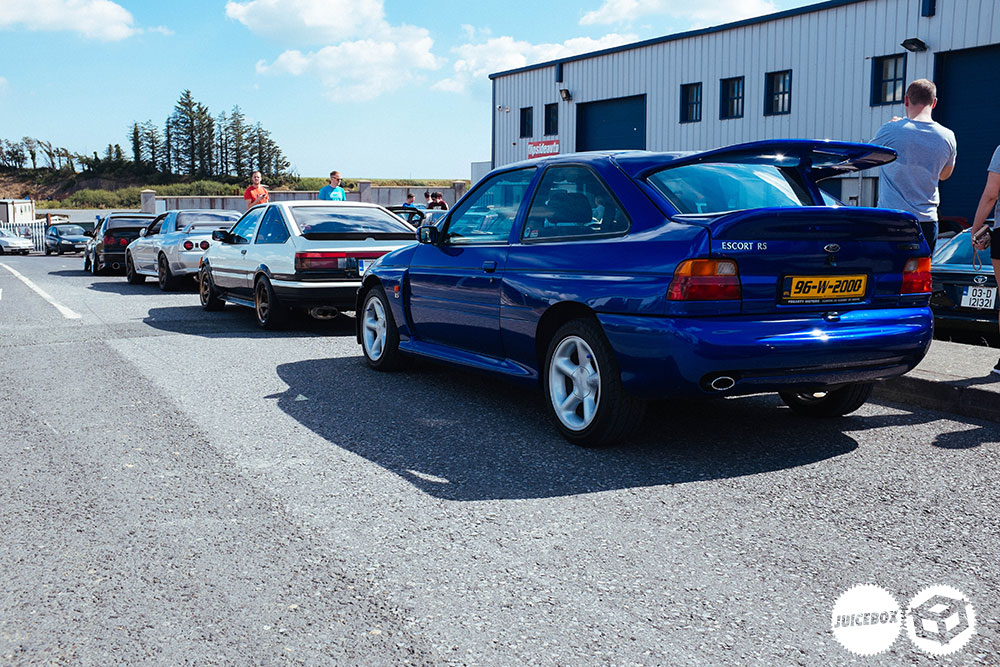 Dayo made it out in his Dads Escort Cosworth, Probably my favourite car from Ford.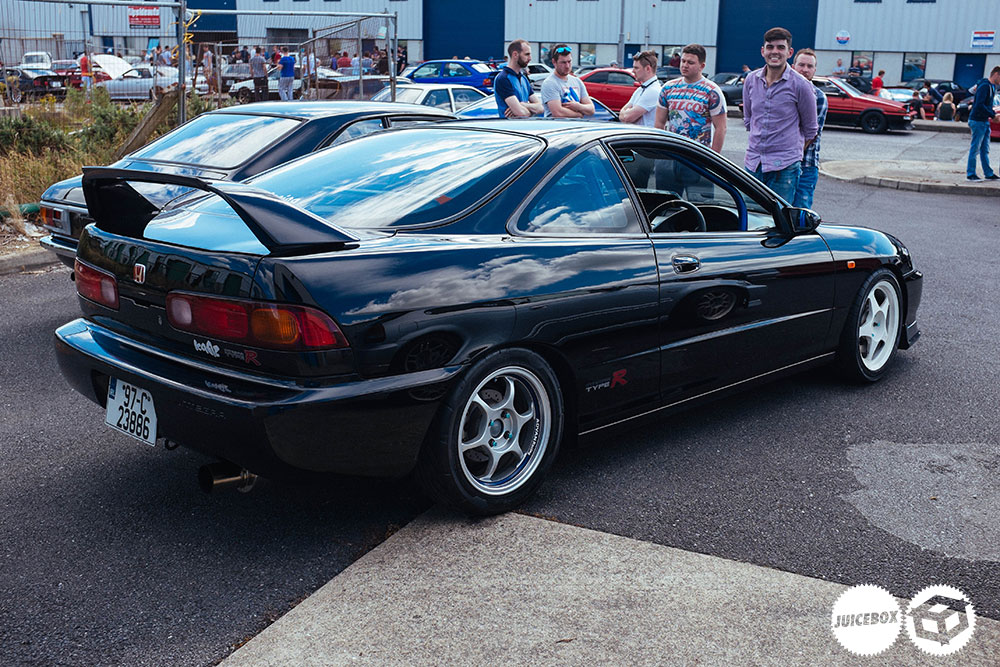 Jackies DC2 just gets better and better, Stephen giving some smiles in the back.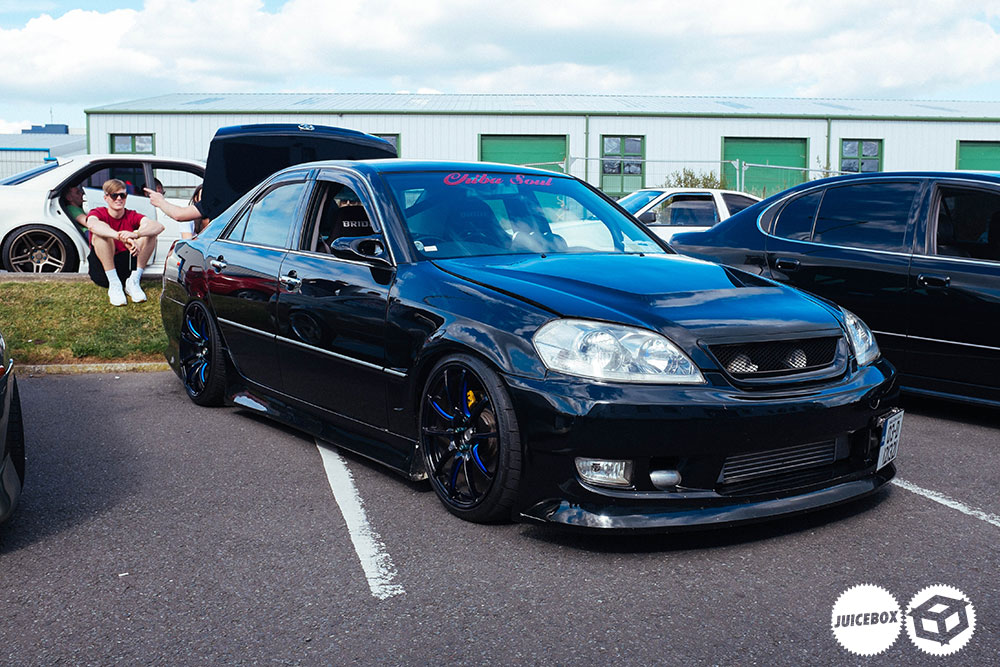 Another shot of Mooney's new beast. How depressing is it that nothinghas come after the x100 for Toyota and four doors. No more straight sixes either.  It all ended here.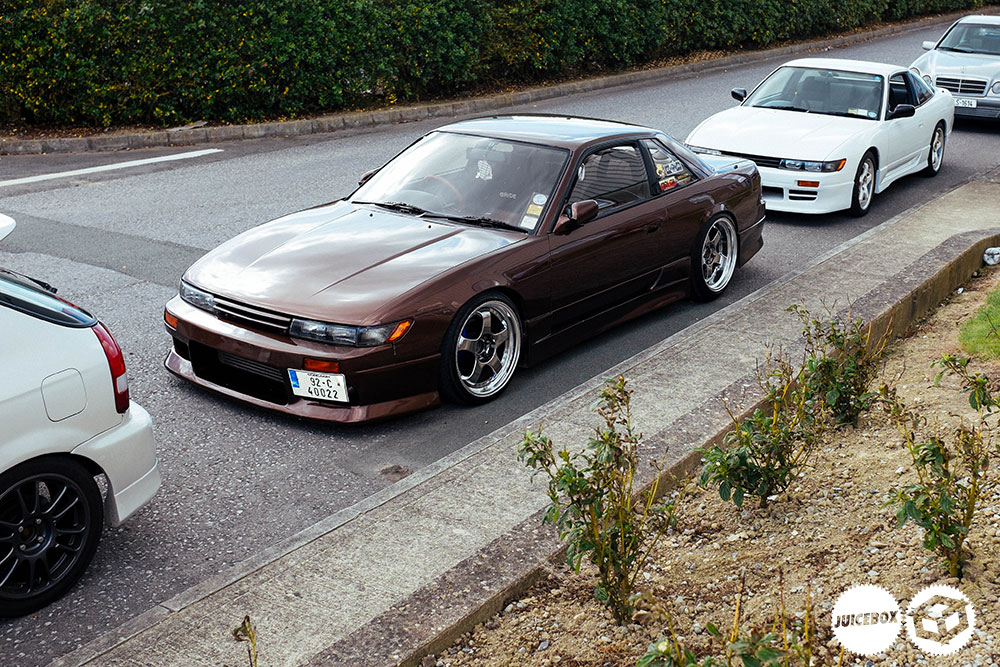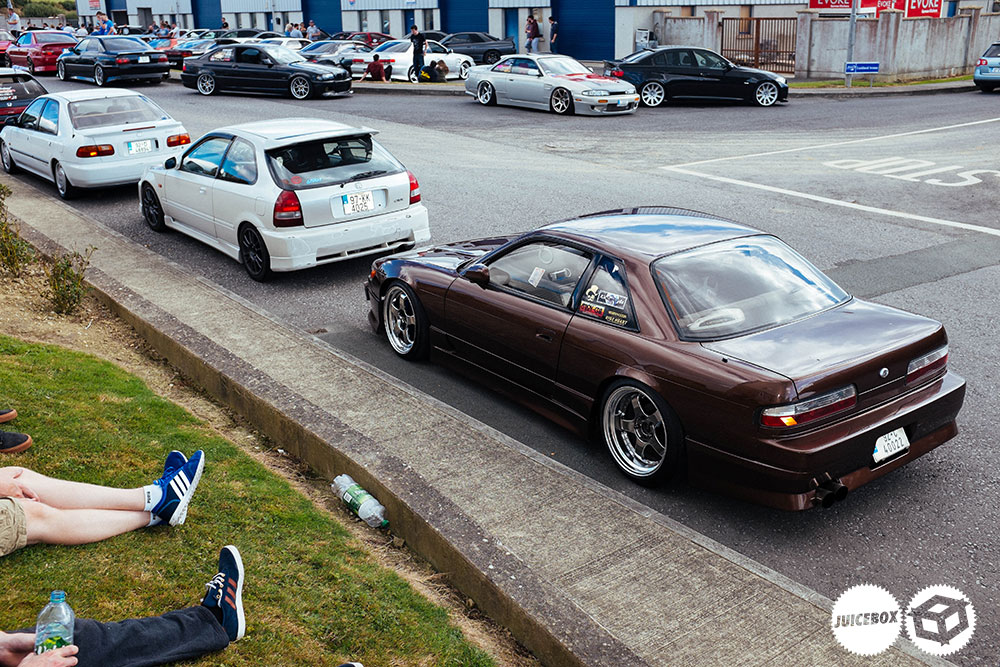 A face I had not seen in awhile, Ross Mccarthy brought his spectacular brown PS13 accompanied by the cork gang.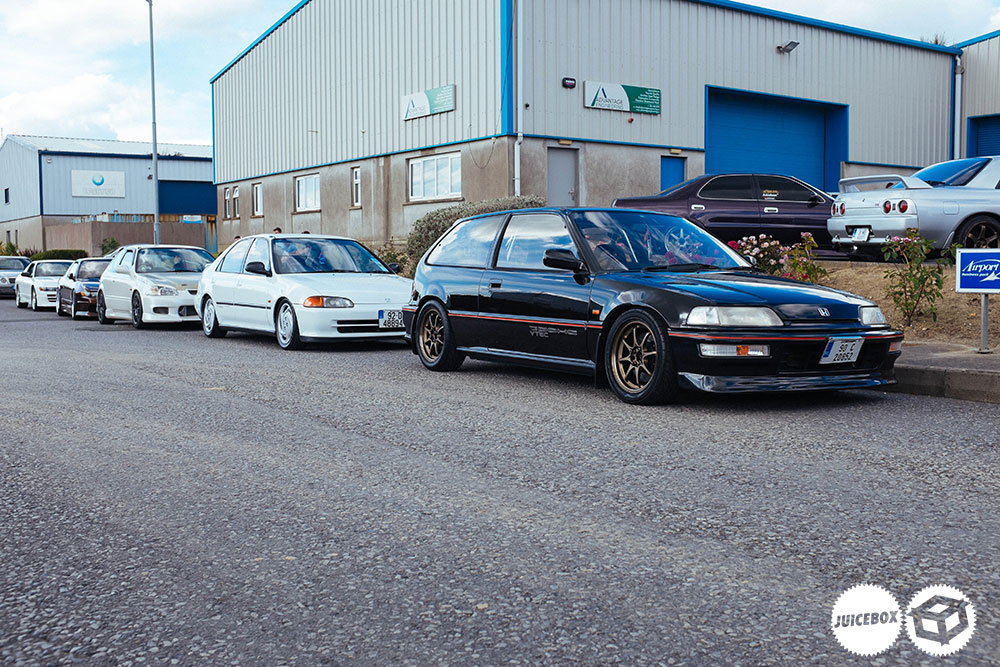 David Murphy now owns Ross's old EF9 which we featured years back and is taking more than great care of it.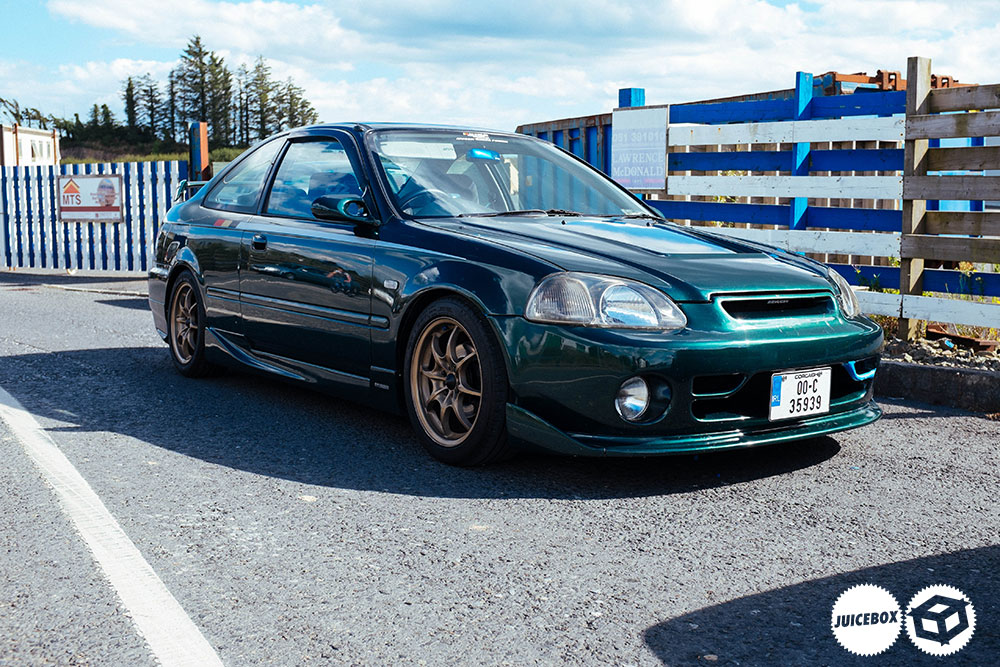 Darren Fawcett popped in towards the end in his all Mugen EM1 coupe.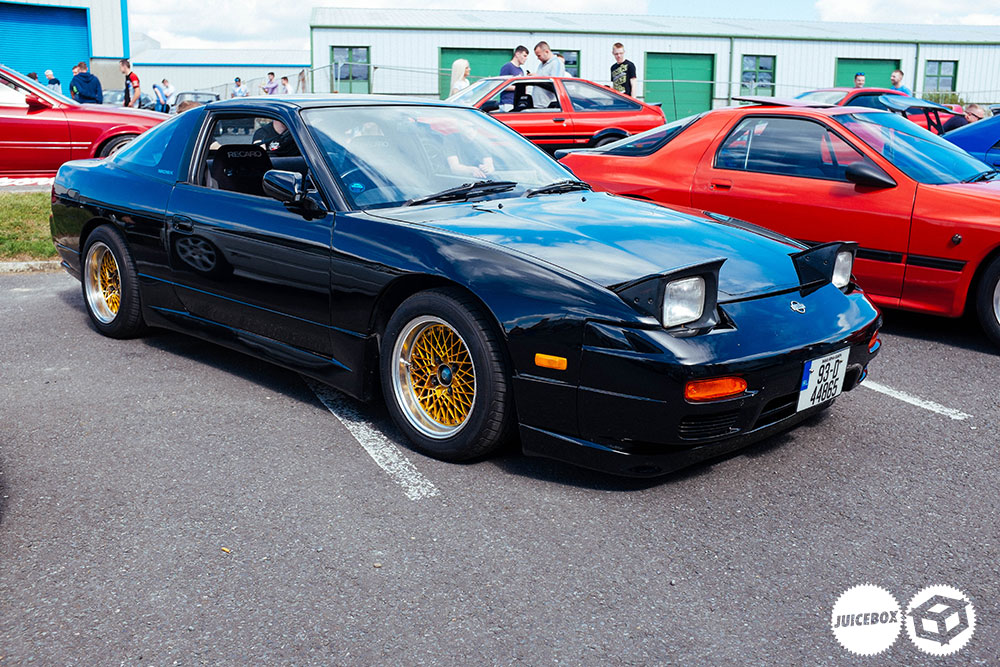 Laurence, we love your timeless 180sx.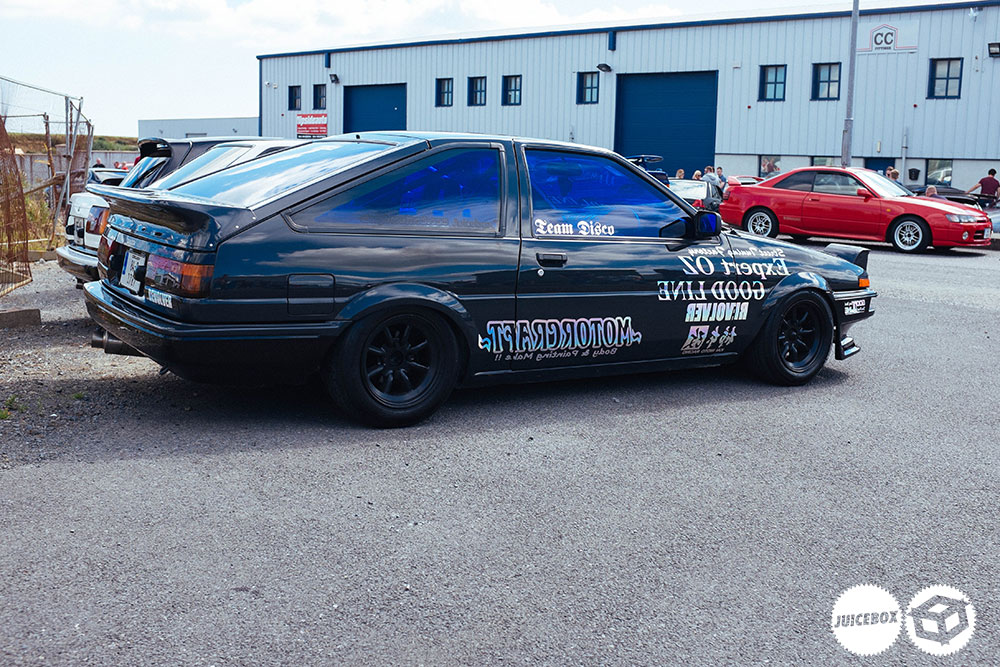 Hartley and the Motorcraft AE86. Its almost impossible to photograph how cool the colour is on this car.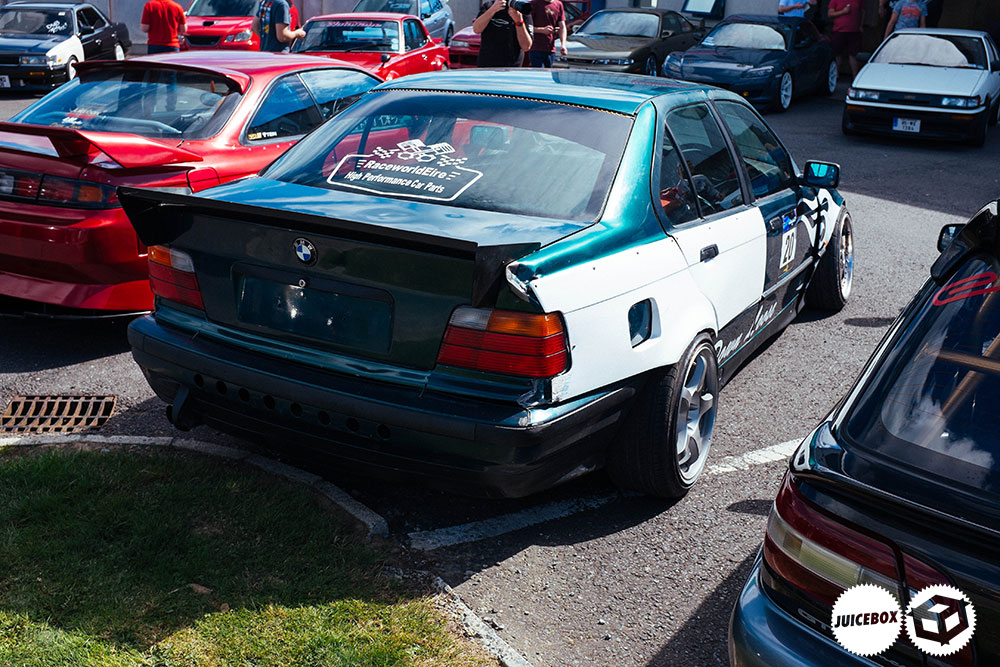 How to style your BMW drift car in Ireland, proving that just because its a cheap and cheerful machine, doesn't mean it has to look like shit. We love this thing, good job Josh.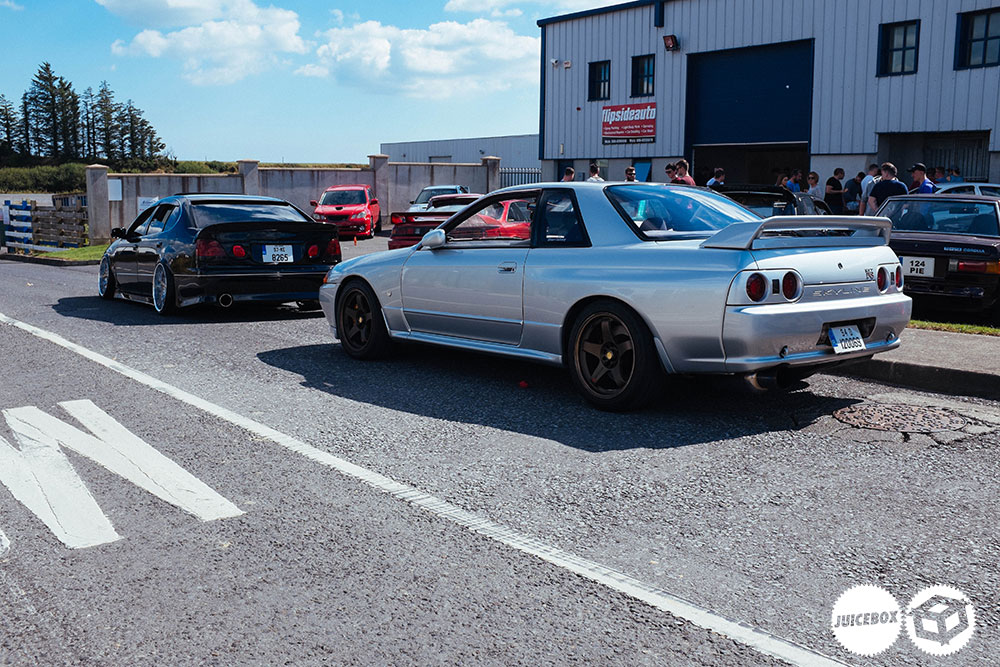 It was genuinely overwhelming trying to take the entire day in on camera. A complaint many had was the fact there was too much to look at, too many good cars to take in at once. Glad those were the only complaints.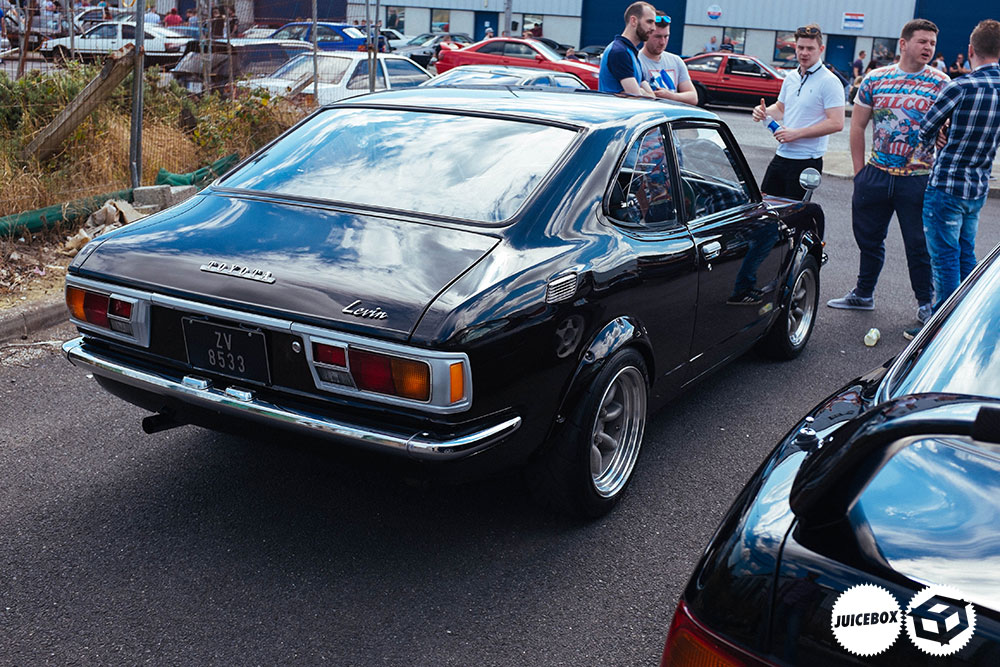 Stephen has one of the best vintage Japanese cars in the country, its absolute perfection.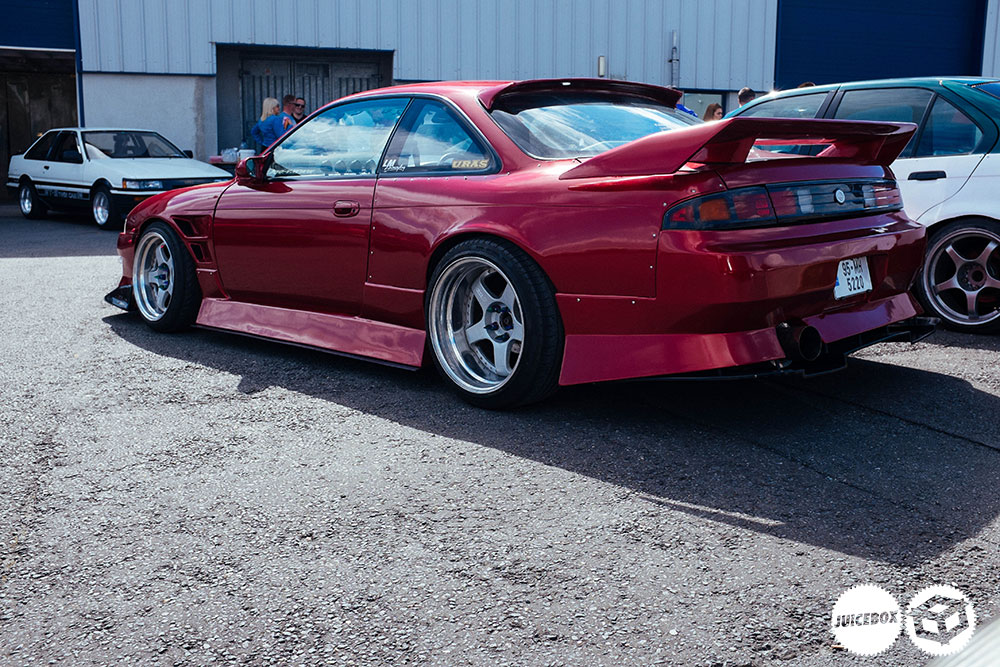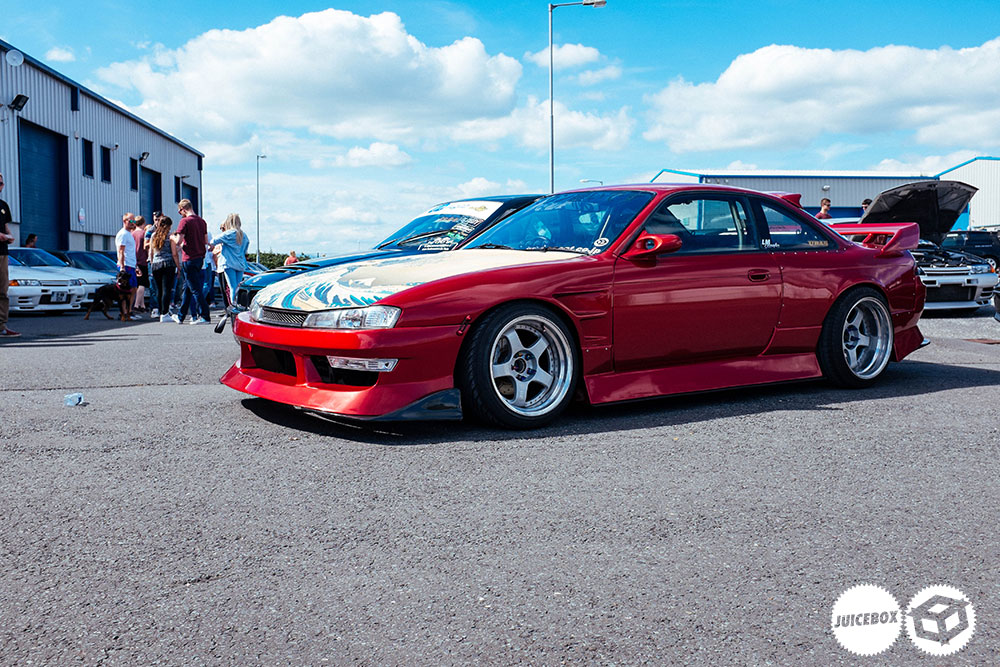 Saved from rotting away on a front garden in Waterford, we are amazed with how far this car has come and will be a story we cant help but tell forever. Much more on this soon.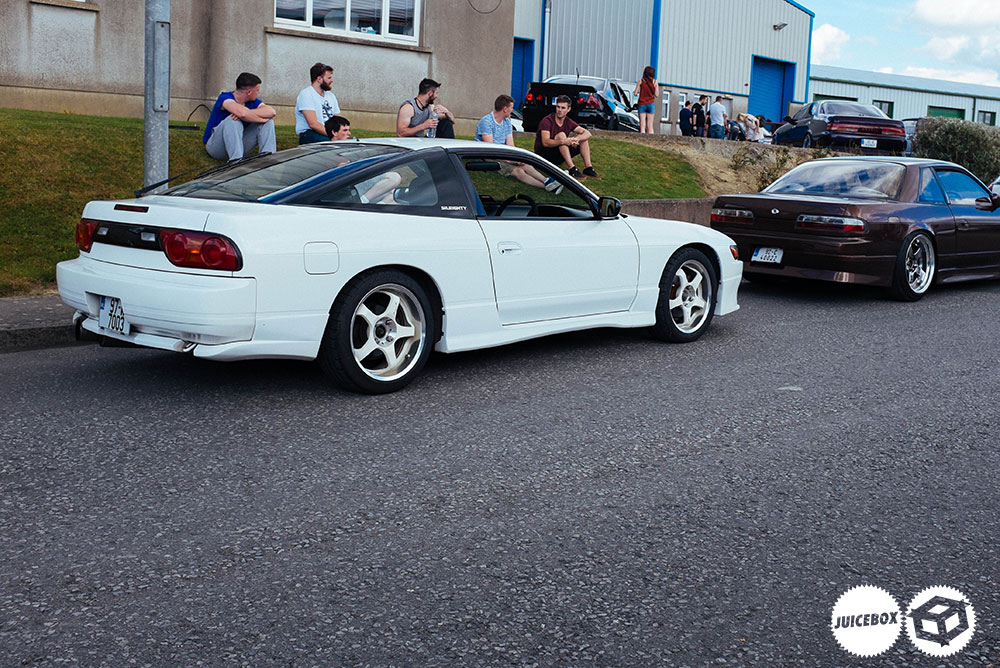 Genuine Sileghty? Regardless this stunner was hiding at the back and looked completely timeless.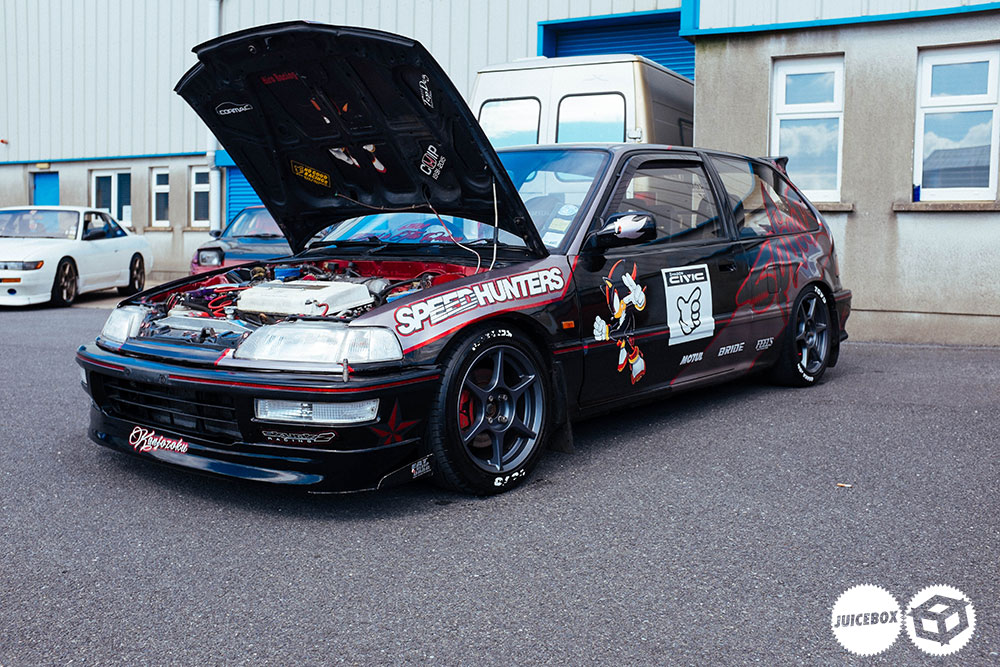 It was only a matter of time until someone had a go of doing a Kanjo/Loop style civic. It works perfectly on the EF chassis and doesn't look too shabby at all, Its great to see a people going this route also with Hondas here in Ireland.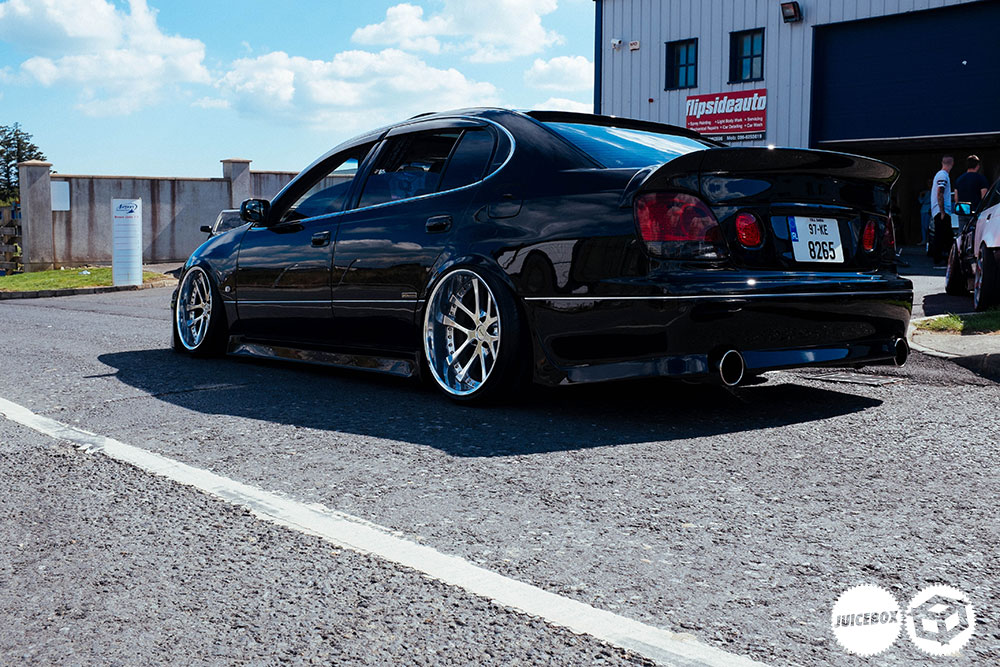 Paddys Aristo, hands down the best VIP car this country has ever seen, making the trip down regardless of the little situations that popped up. Cheers man.
We are going to leave it here for today. Its quite a large chunk of in-depth imagery on the screen that we hope you enjoyed, a real nice cross section of whats out there in Ireland, makes us very proud of what Ireland has to offer, stay tuned for part two coming tomorrow.
Comments
comments
Powered by Facebook Comments