The Toyota Gathering PT2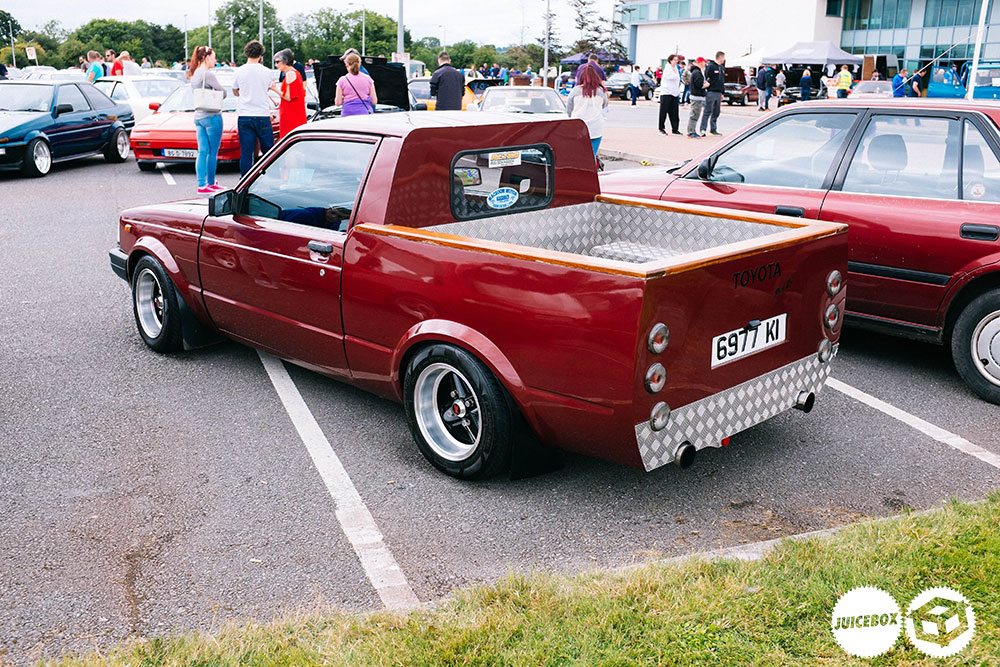 What I enjoy most about this event is how varied the selection is, not narrowed down to only drift enthusiasts or classic car its a perfect cocktail of car people right across the board and anything, literally anything can make an appearance. Check this KP pickup for example, something I have never seen before. A crazy idea!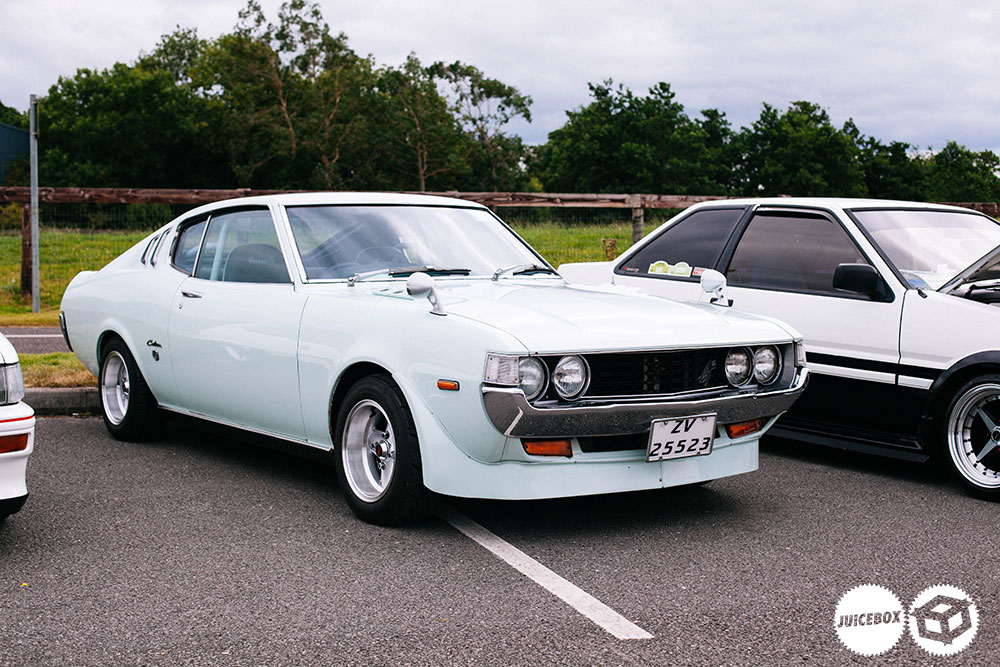 The colour, the matching cage, the front lip… this thing was fantastic, I wish more owners of these Japanese imports would throw oldshcool genuine Japanese wheels on them instead of Revolights. Id probably melt on the spot if this had a proper set of Kyusha shoes.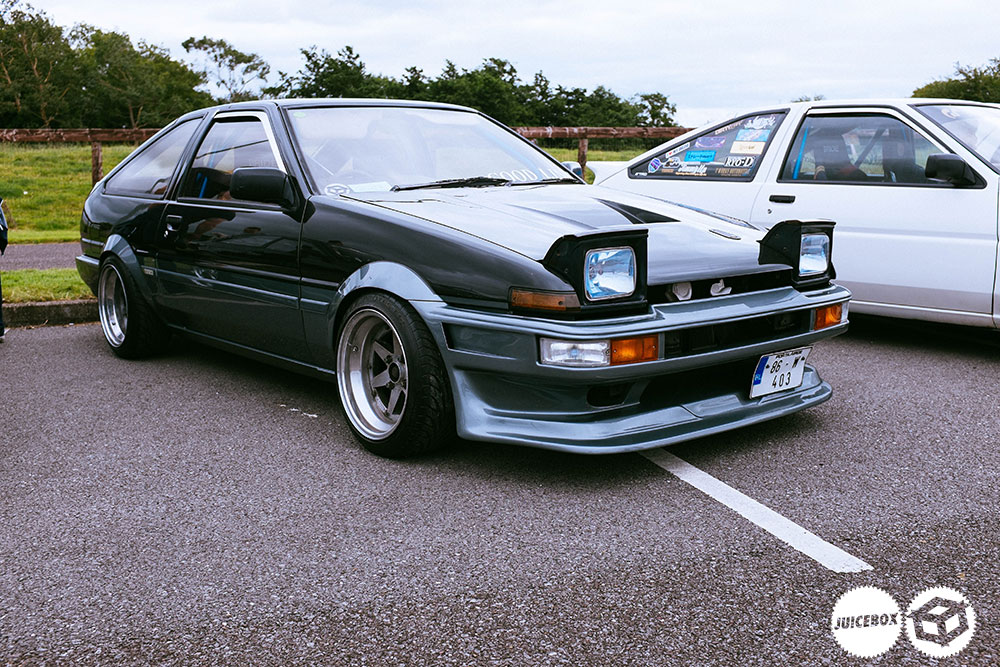 Seans machine needs no introduction, one of the hardest driven Truenos in the country and its still pristine.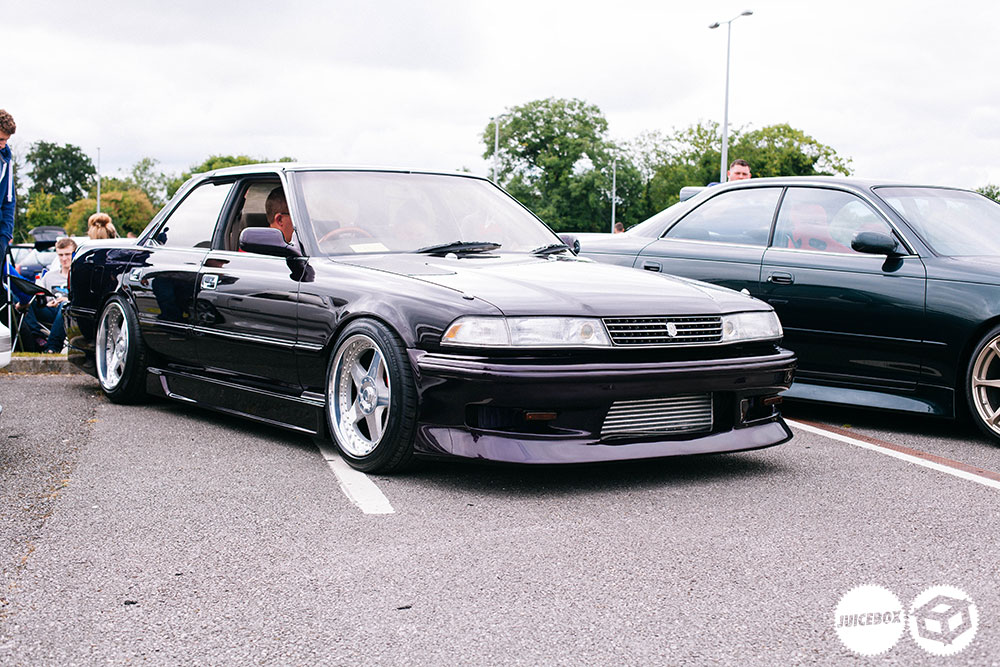 Just when you think you have seen them all, this JZX81 MK2 appears out of nowhere. Apparently the owner has had it years and is quite a bit older than you would expect. One of the best looking cars on the day.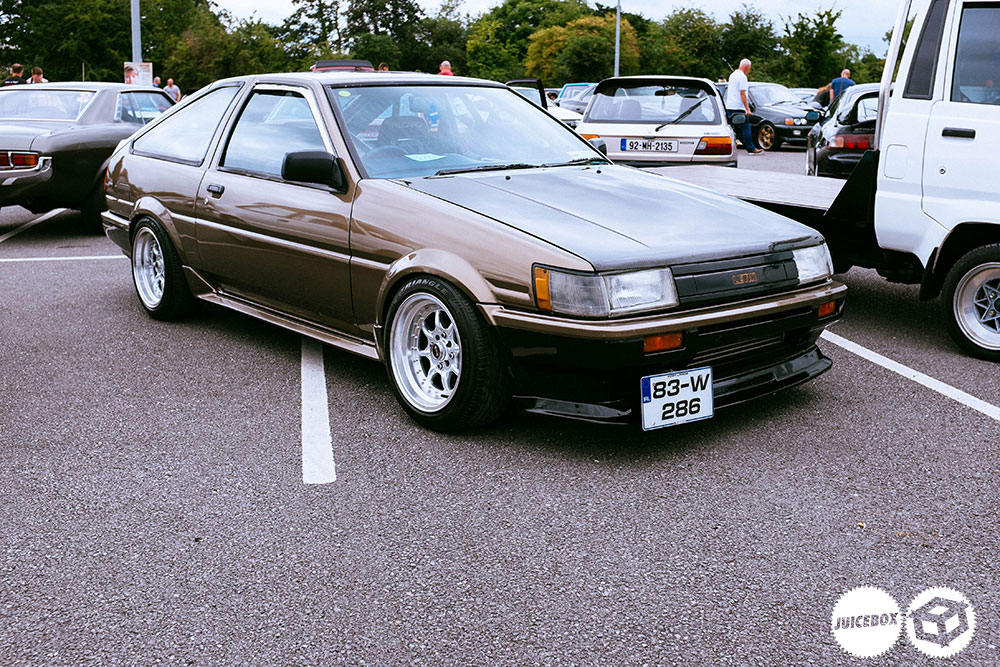 Daves old stunner, still alive and kicking and back in Waterford with a new enthusiastic owner. Looking forward to seeing what happens with it next.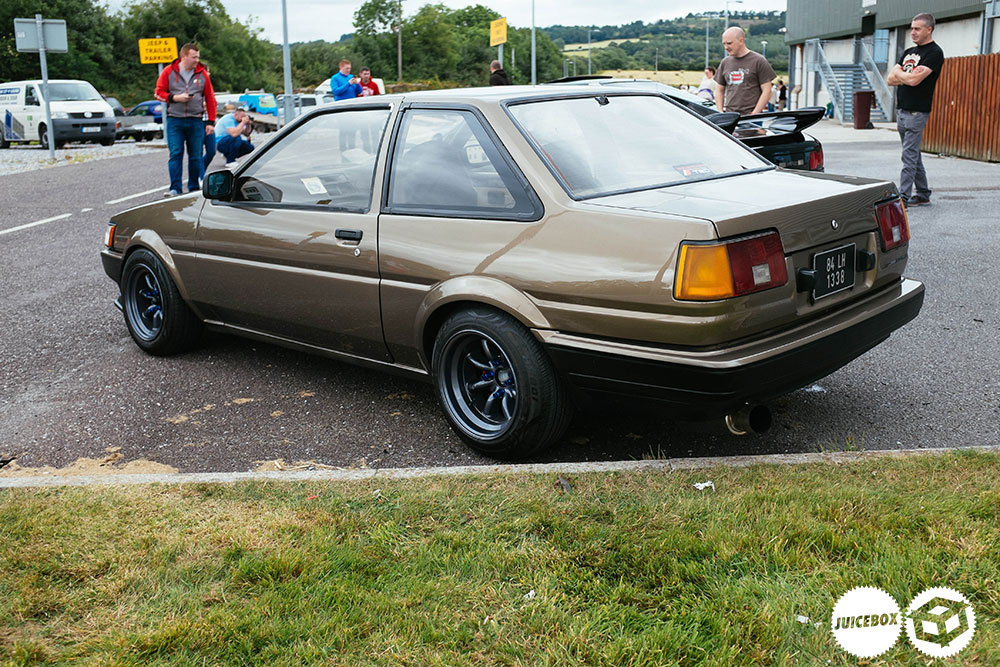 Hey who would have thought! Looks good on a two door also!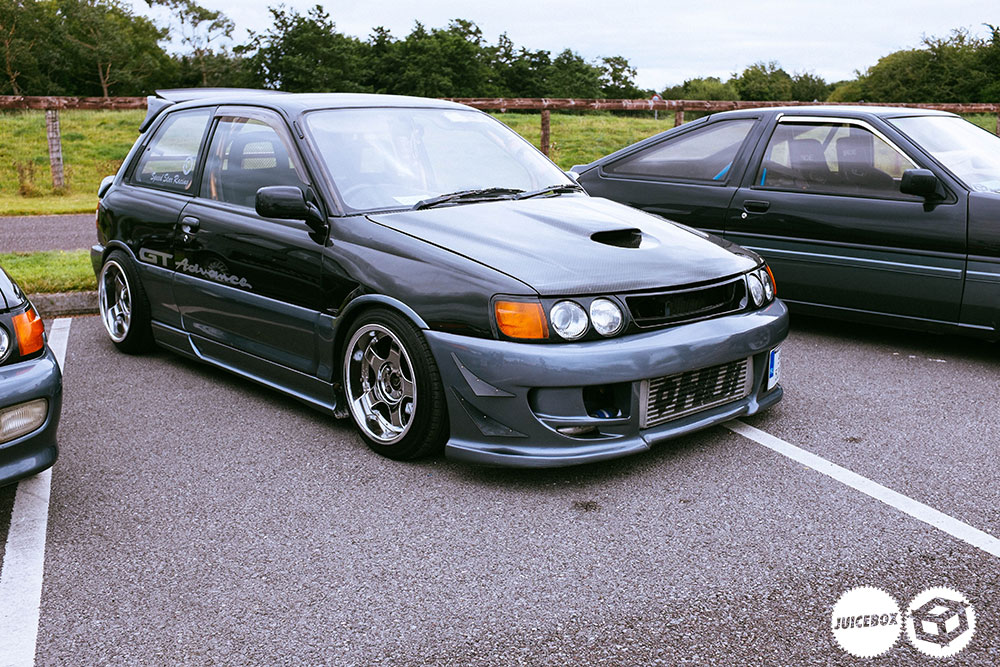 Seans EP82, definitely one of the coolest looking Starlets in the world.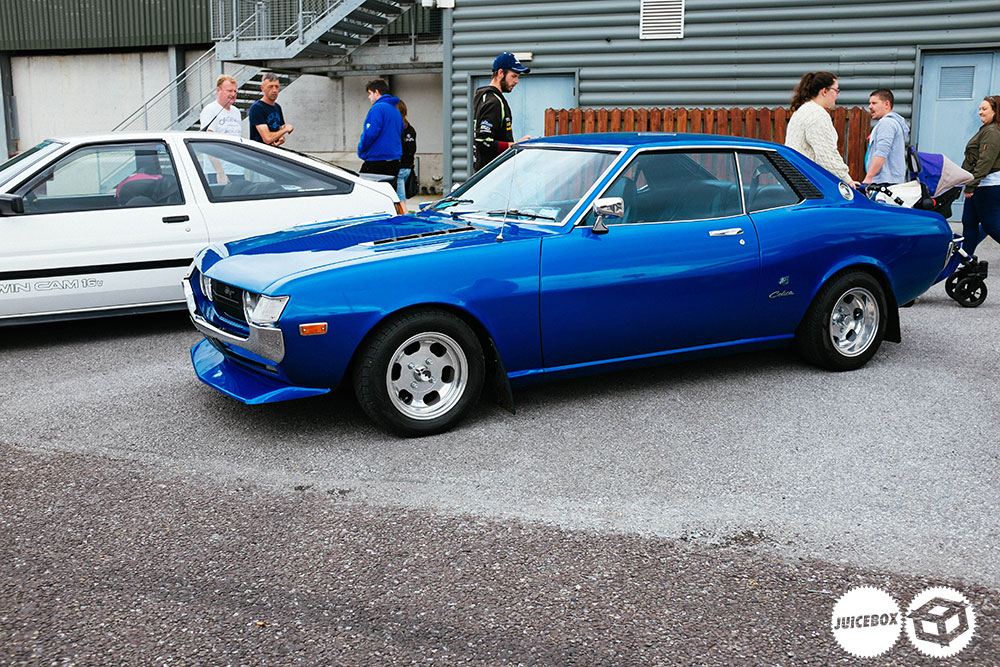 That colour, such a nice car on polished slots.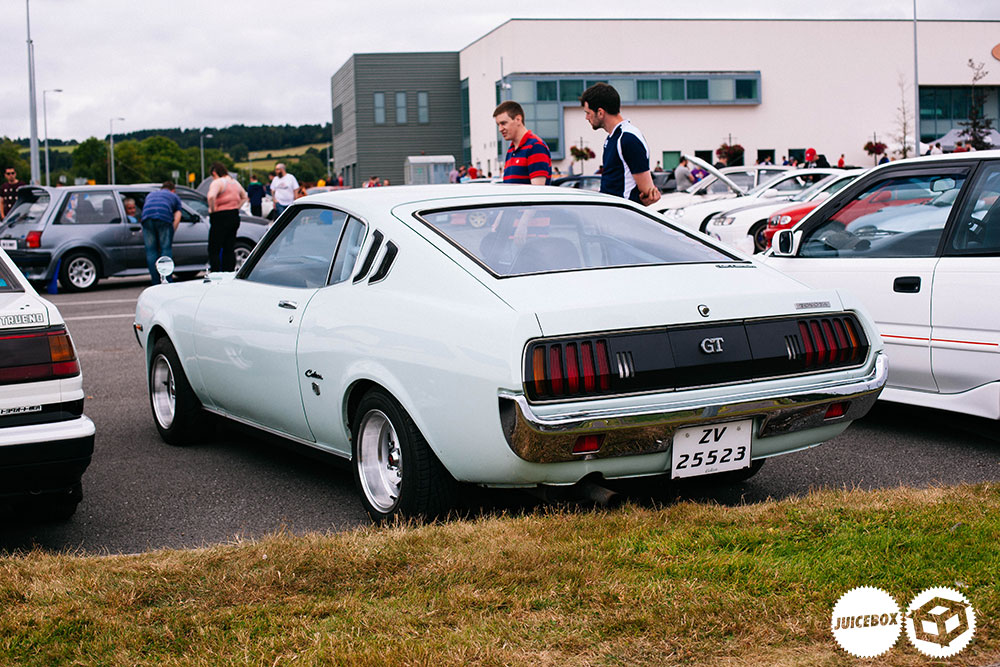 Another shot of this RA 25 GT, what a stunning machine. The better looking mustang. This thing needs some Watanabes or MKII's.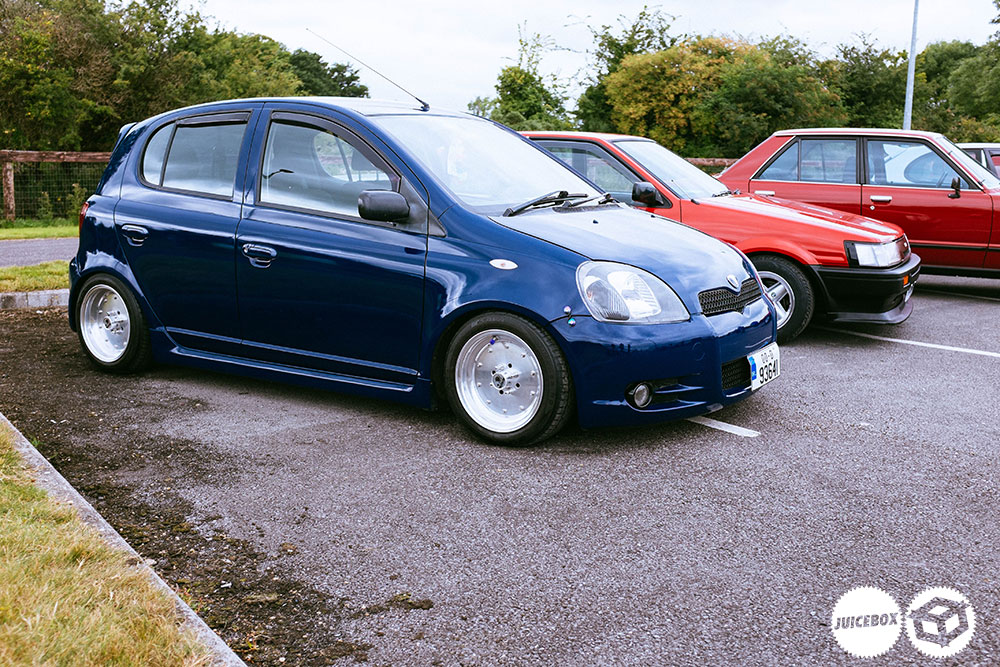 This is something you don't see everyday, MK1's on a Vitz. It actually works quite well.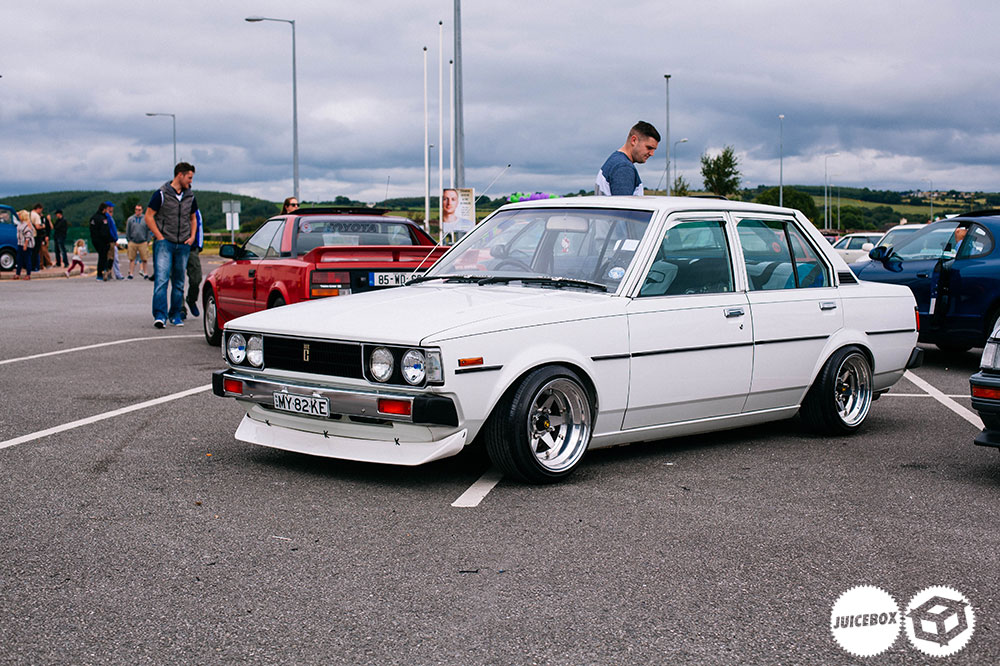 Another Australian import, another amazing little story which we will have in detail very soon, stay tuned.
The tried and tested simplistic formula, you cant go wrong with that Good Line.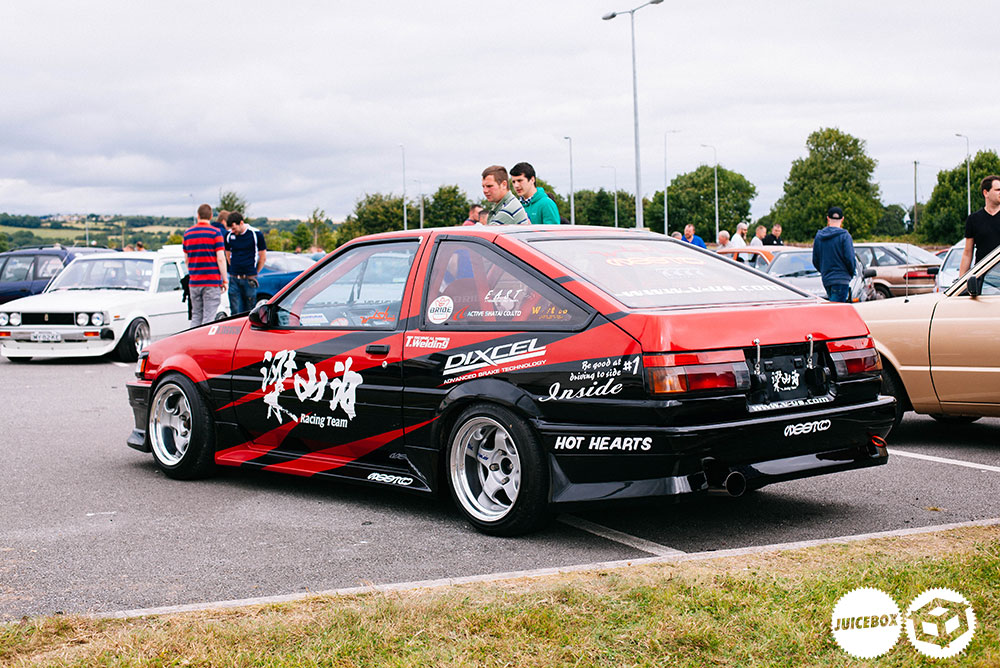 Kevin has done wonders restoring this car back to its former glory and somehow adding more without killing the original spirit and look of this little unicorn.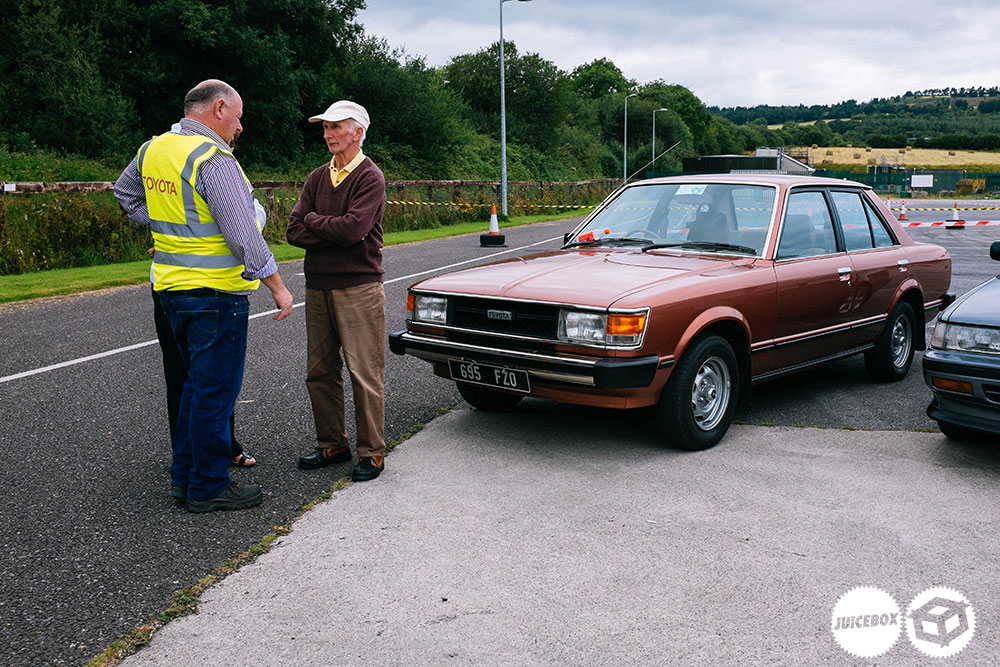 There was such diversity at the event; it was easy to forget as you got overly excited about the usual machines. It must have been cool for an older character to see such a following for the brand he is loyal to, along with seeing such an amazing varied collection of machines.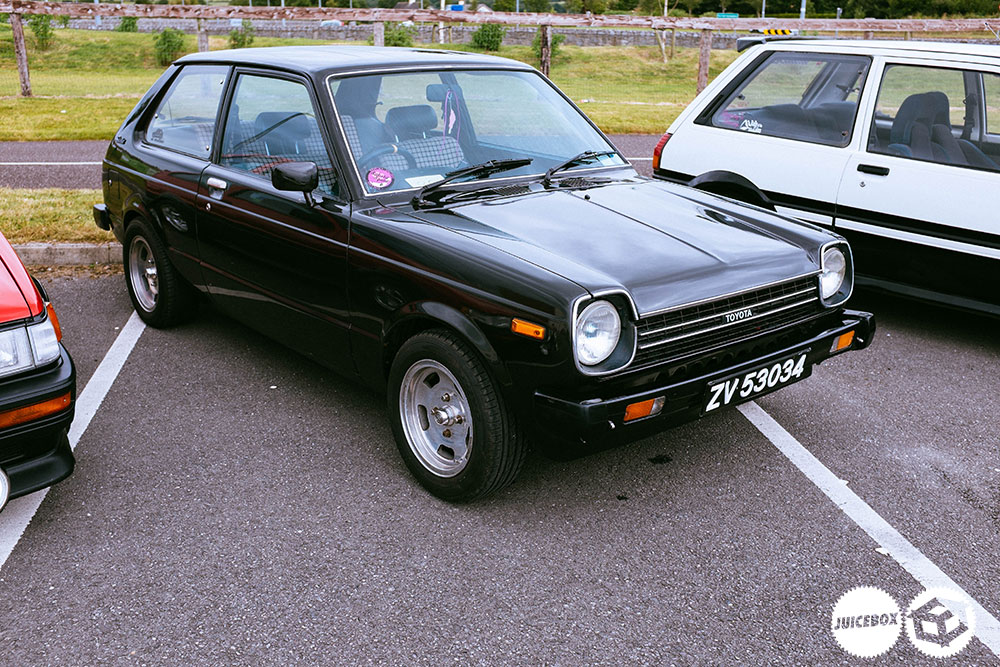 The Mk1 fronted KP will forever be my favourite, its just such a humble almost life like looking creature. Great to see such an original Irish one in black with the original black license plate.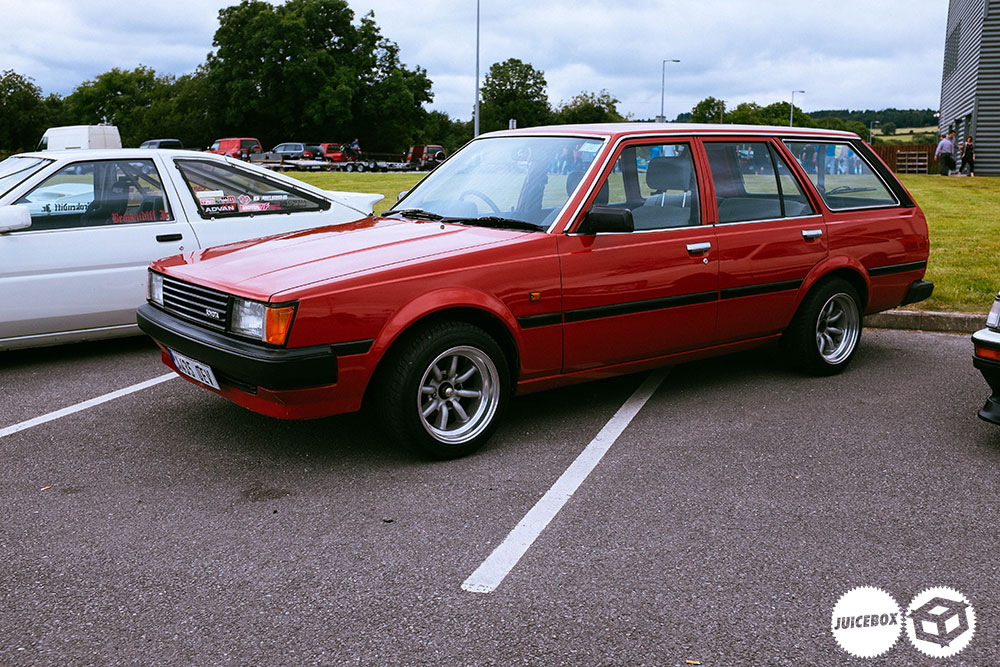 Same for this Irish Carina wagon wearing nothing more than a crisp set of Watanabes that compliment is body shape.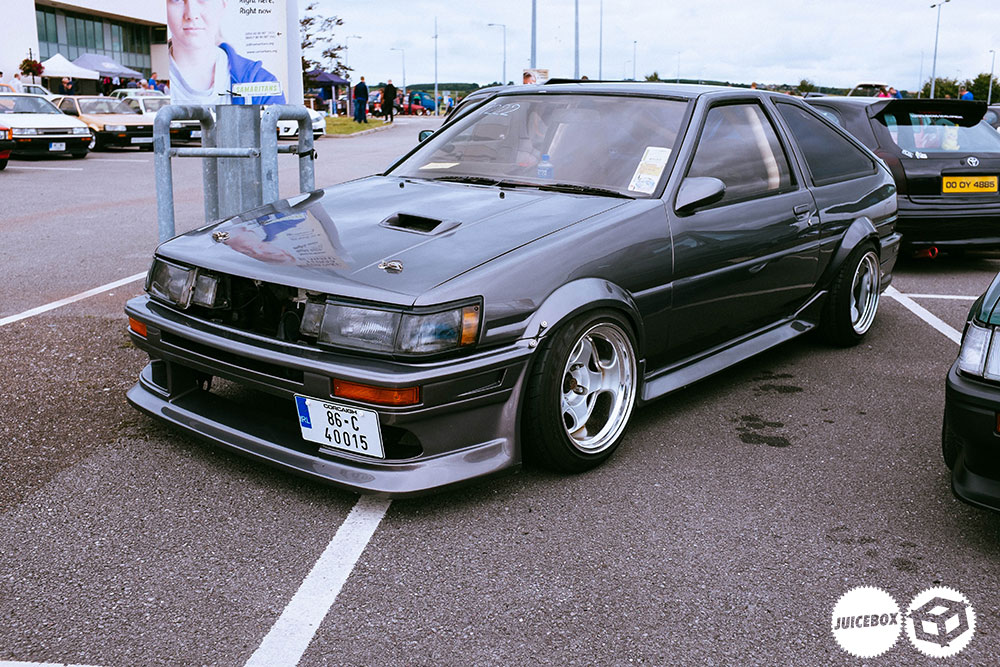 With the country sort of pulled out of the hole it was in, and the influx of people returning from abroad accompanied by people spending cash again, its great to see a new batch of imports from the motherland. This 86 being one of the more recent imports its already one of our favourite Corollas in the country.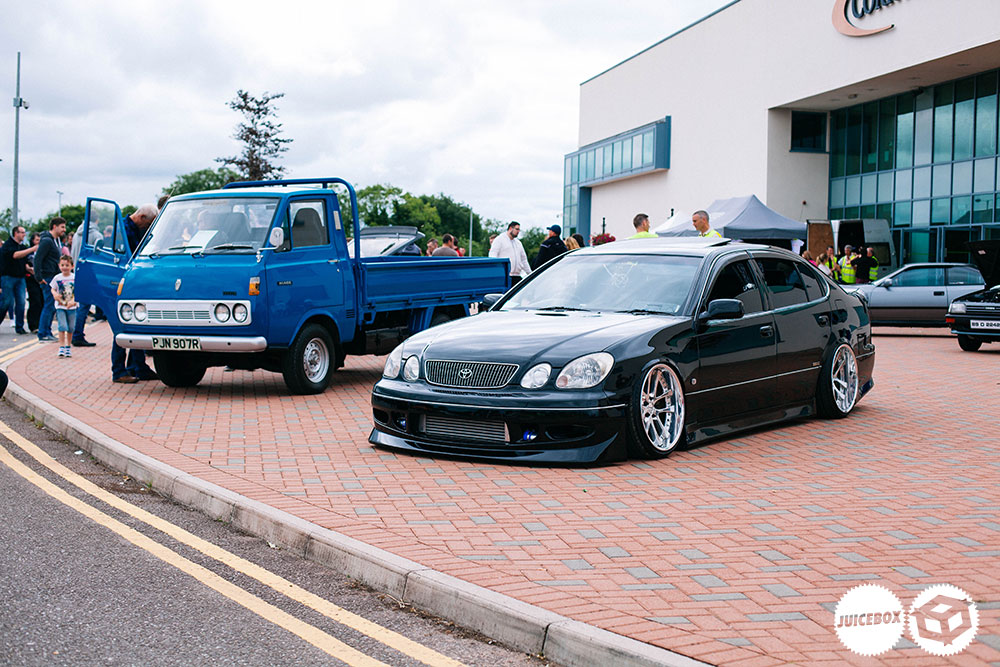 Hard to believe these came from the same manufacturer!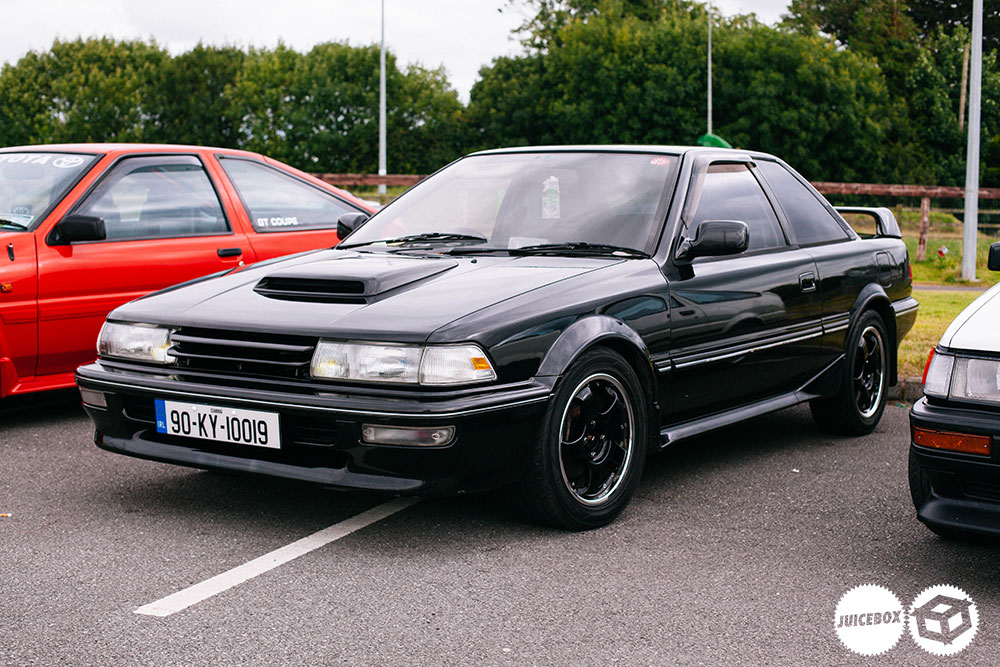 There cant be too many of these left in Japan let alone Ireland. This being the super charged AE92 with that mega scoop. The car was in a really nice condition and like many others it was a joy to see one being loved.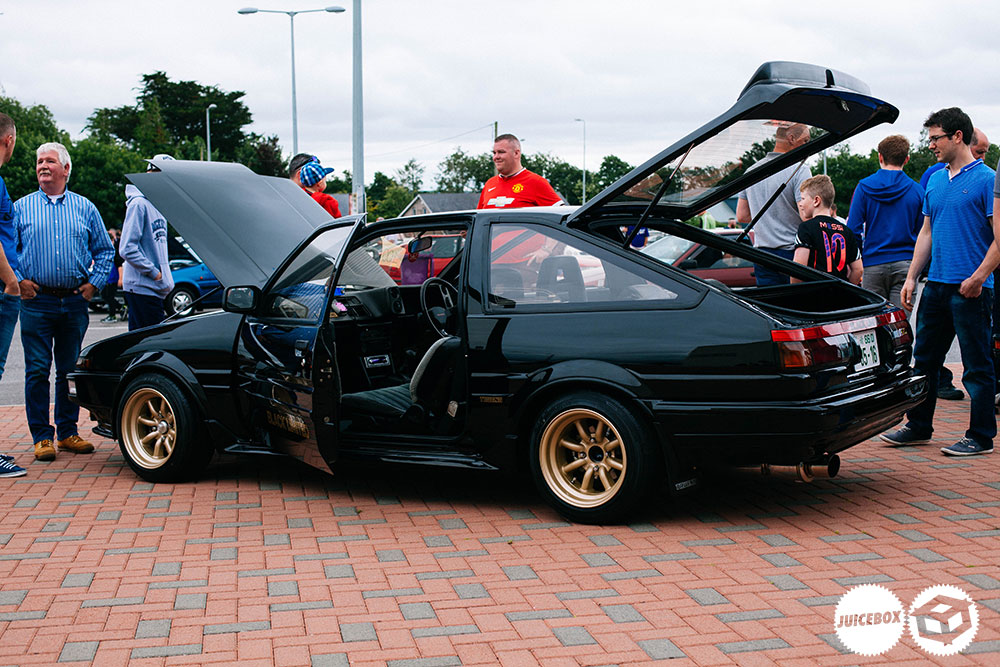 That work of art engine bay belonged to this super Trueno which had a big crowd around it throughout the day, not so sure if it was a genuine Black limited but regardless the amount of effort gone into this car was mind blowing.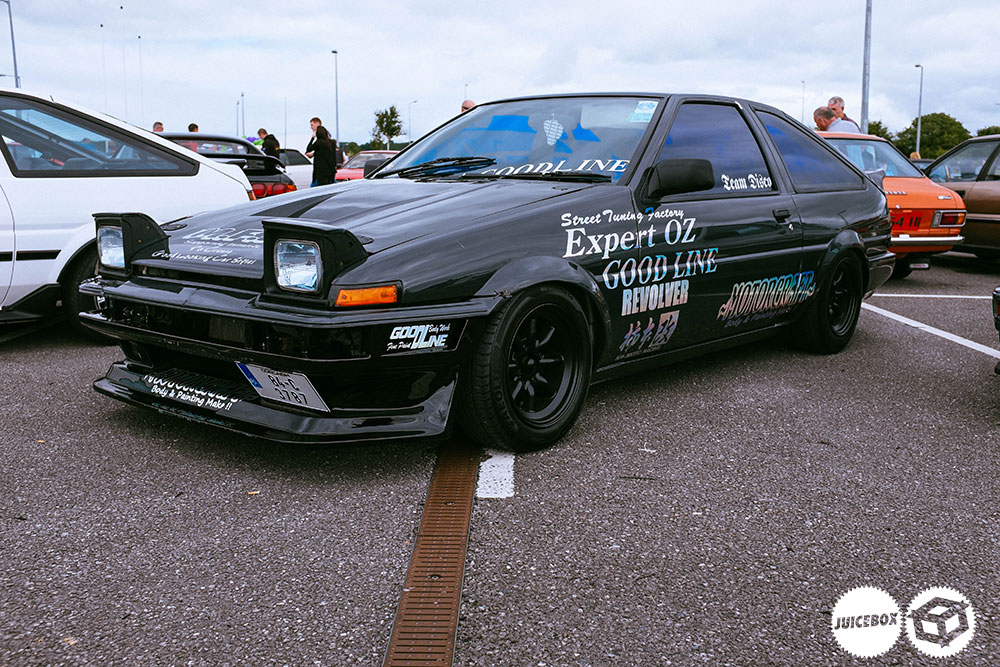 Hartleys other pride and Joy is this Trueno rocking that Golden era styling. Such a great car…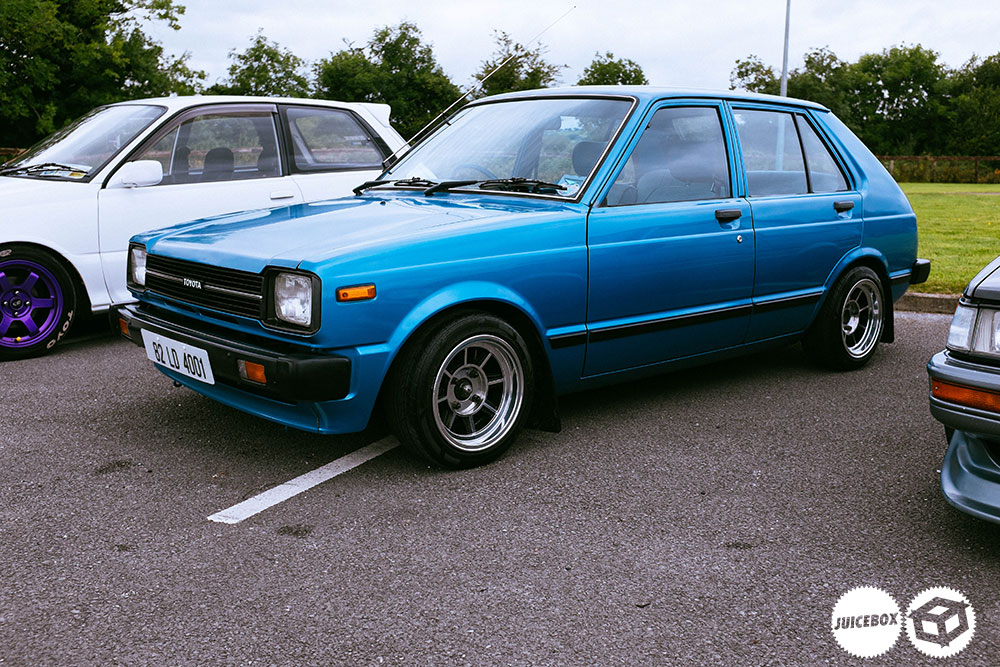 Japan X Ireland in all the right ways. The simple modest sized streets against the Irish model starlet, a very simple but very effective look.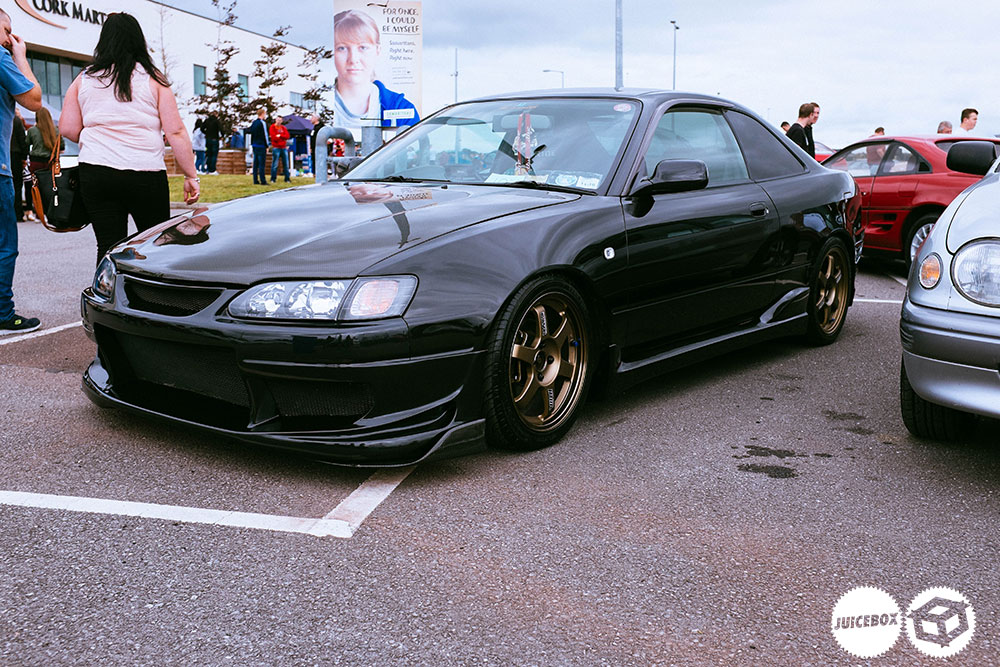 One of the best AE111's out there, if you haven't seen the feature we did on this car you are missing out.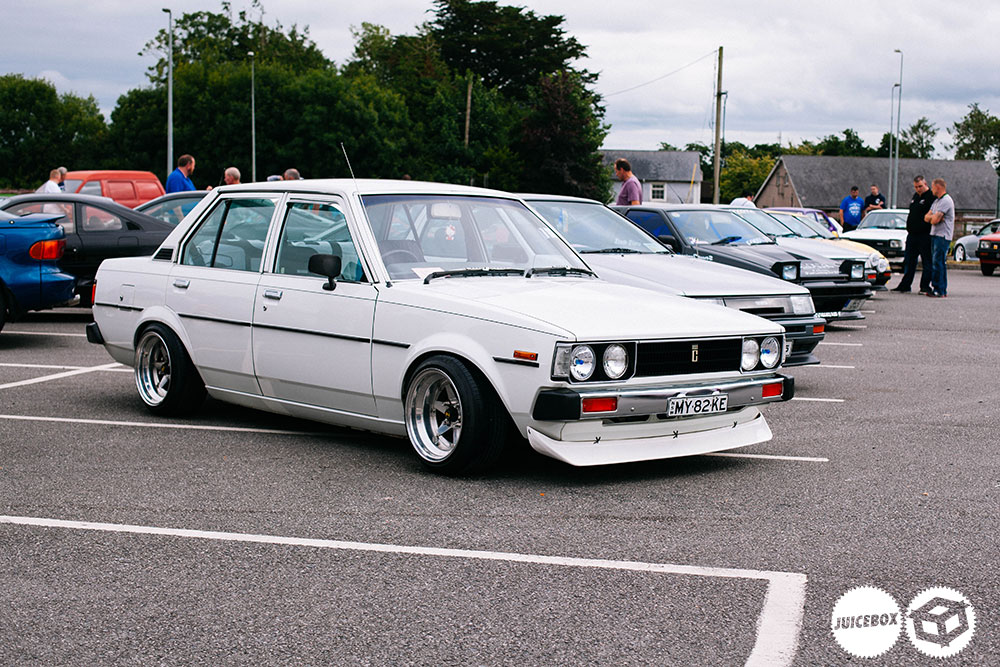 Another shot of this E70, the 14's are perfect.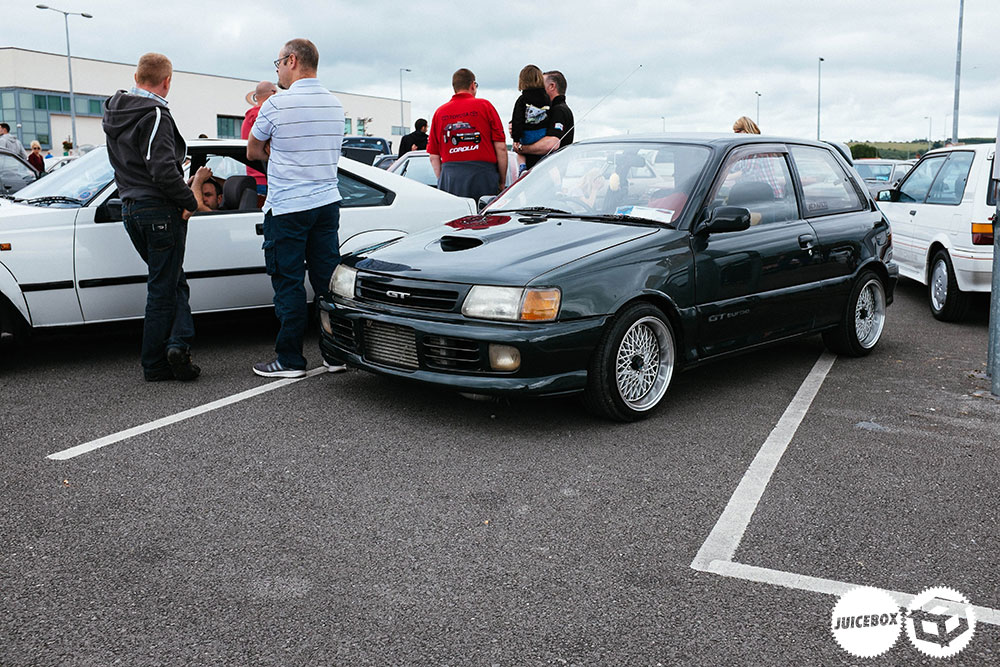 4×100 meshes on this EP82 looked top notch.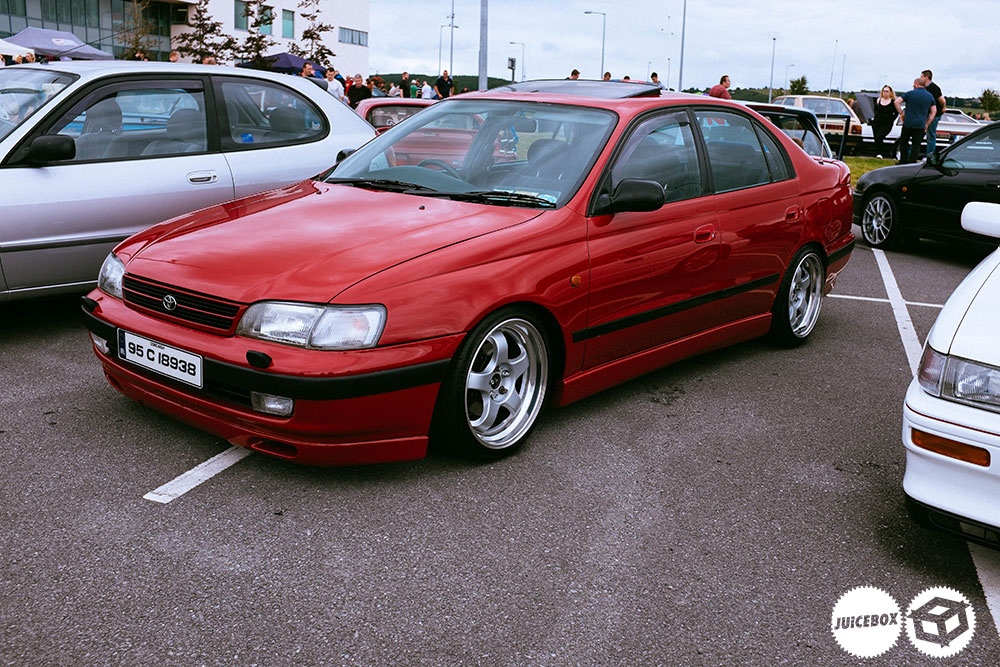 Yes! These cars were the backbone of our country right up until about eight years ago, I'm sure in the deepest parts of the Irish countryside these are still being daily driven.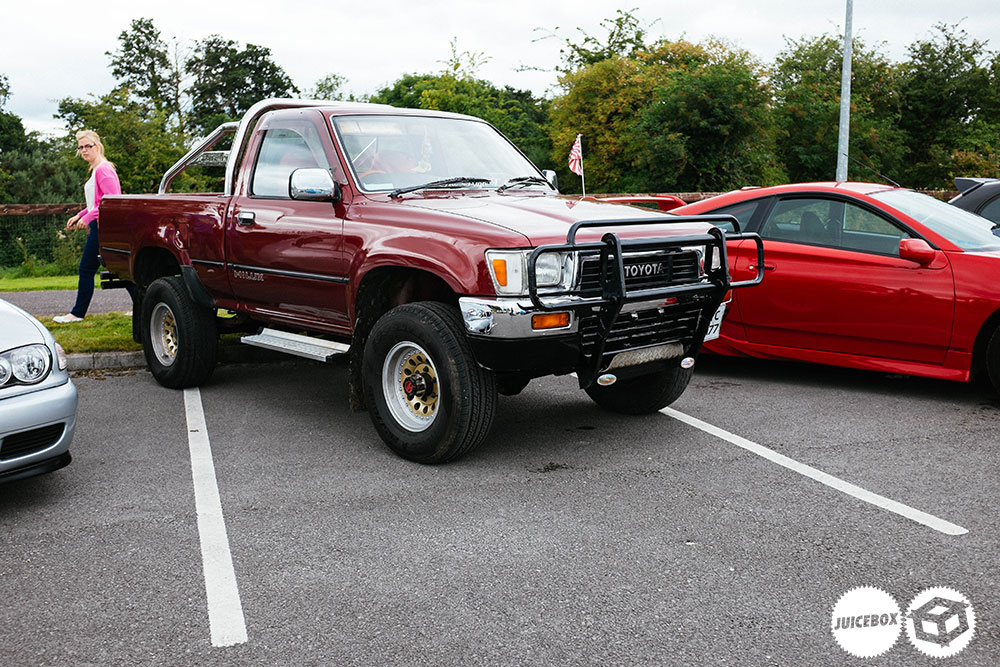 The Hilux, what more needs to be said. This Japanese model was rocking all the goodies; I love those mega wind deflectors they came with.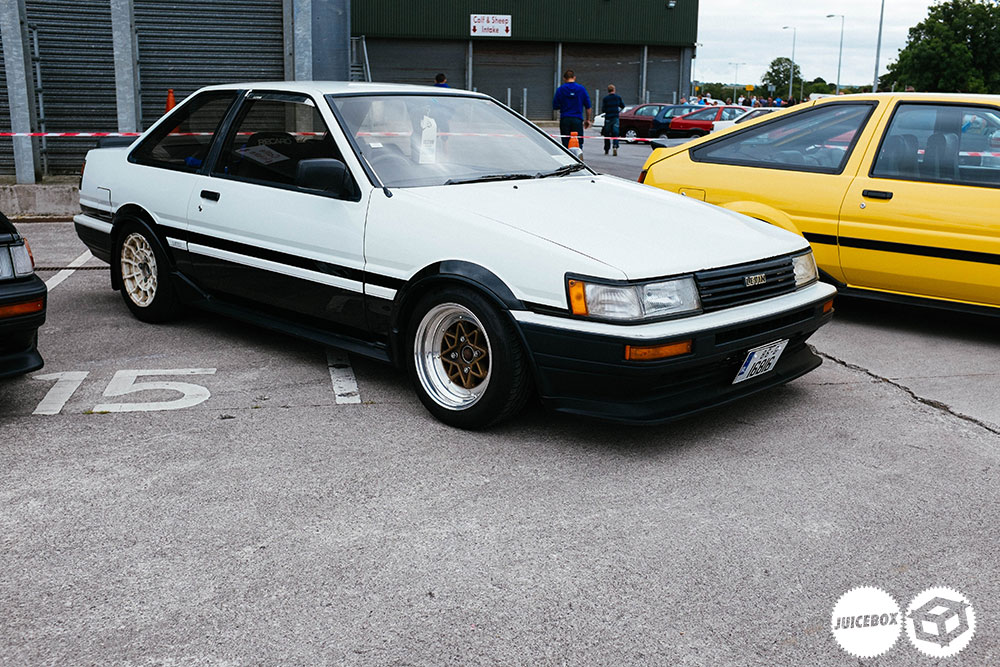 Rare shoes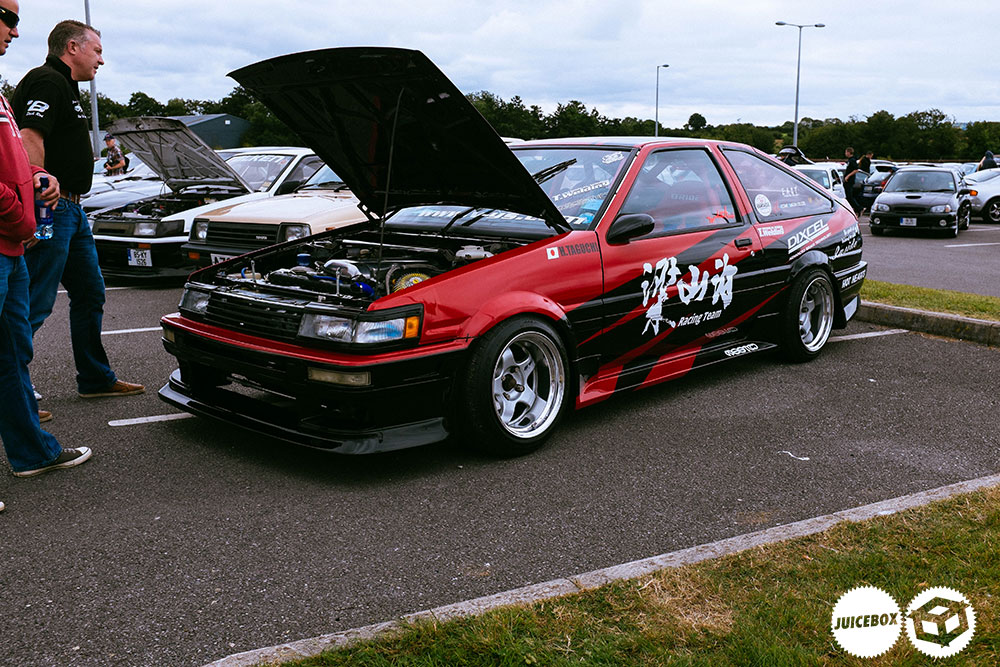 Another shot of Kevins basically road going ex drift car. Lots more on this car soon also.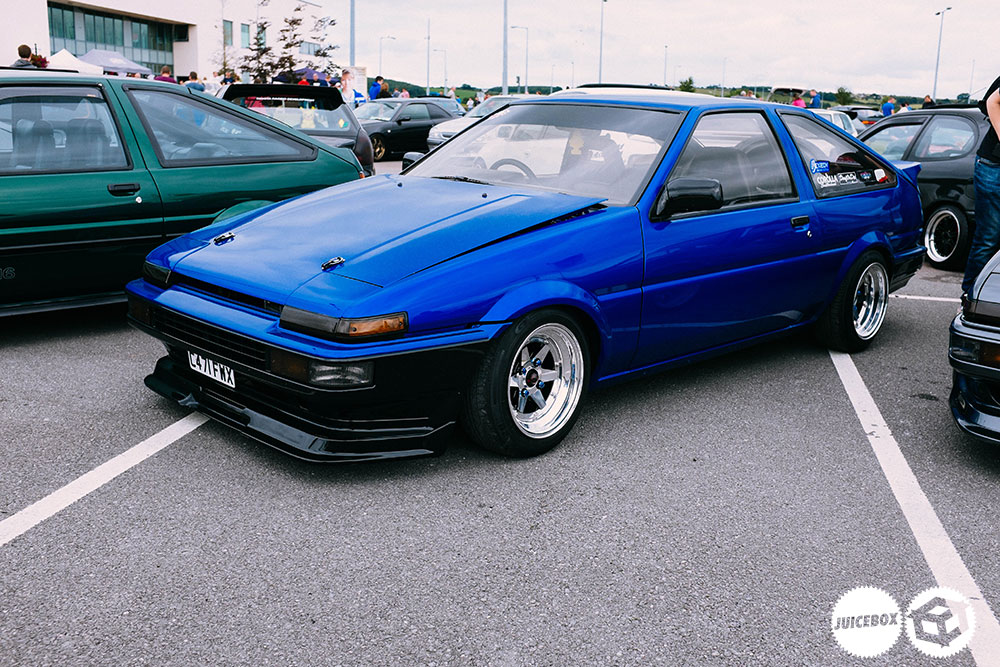 Damn that colour against the painted bumpers is working wonders. This car really stood out on the day.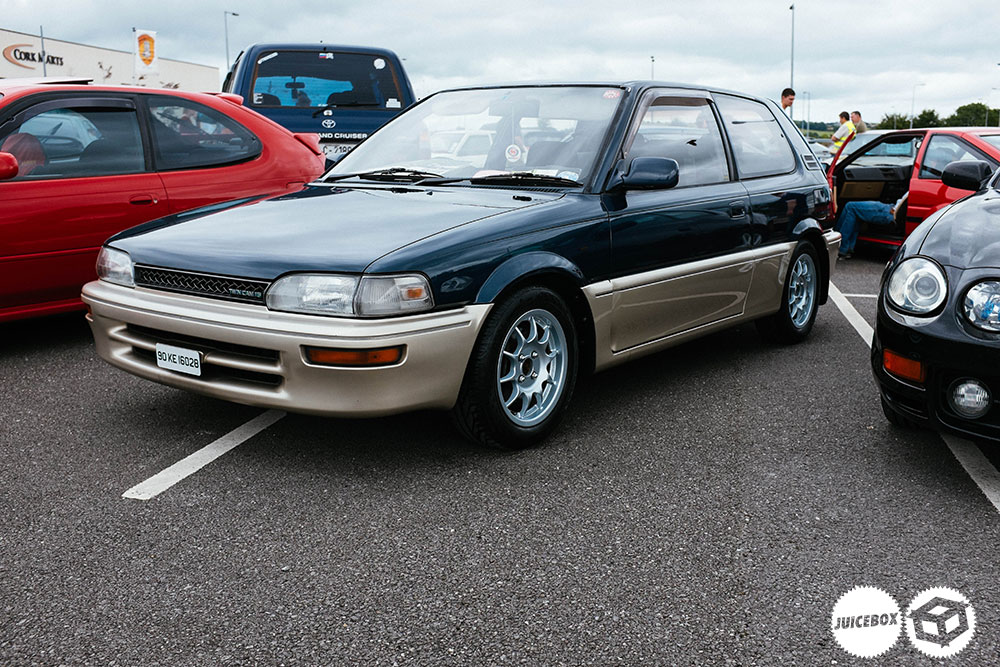 Being very biased towards the usual I tried to capture at least some of the more interesting other chassis that had attended.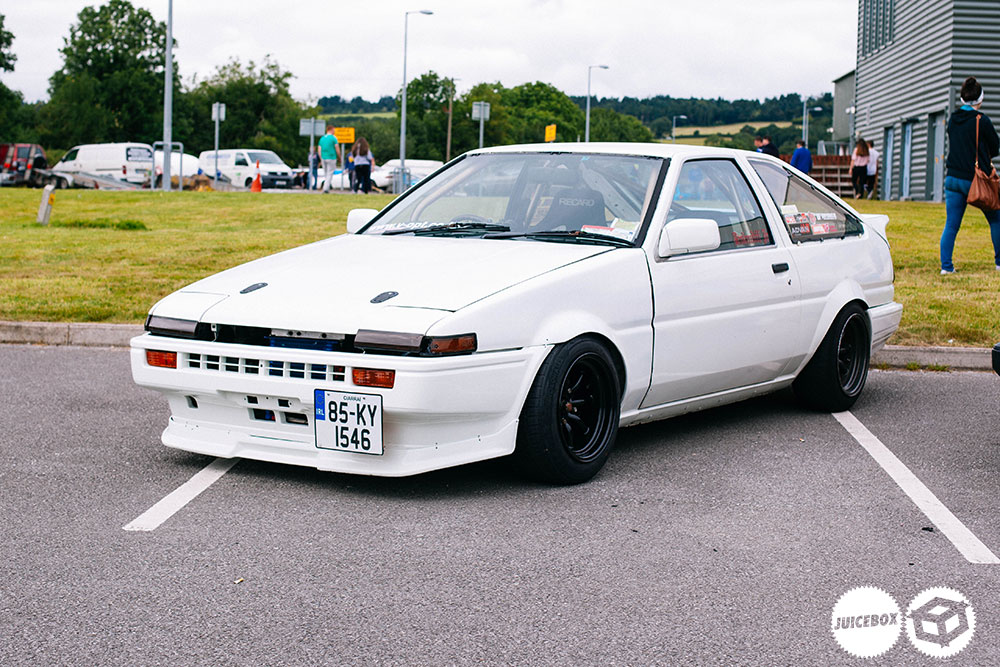 But dammit, we will never grow sick of seeing a good looking AE86, its just never going to happen.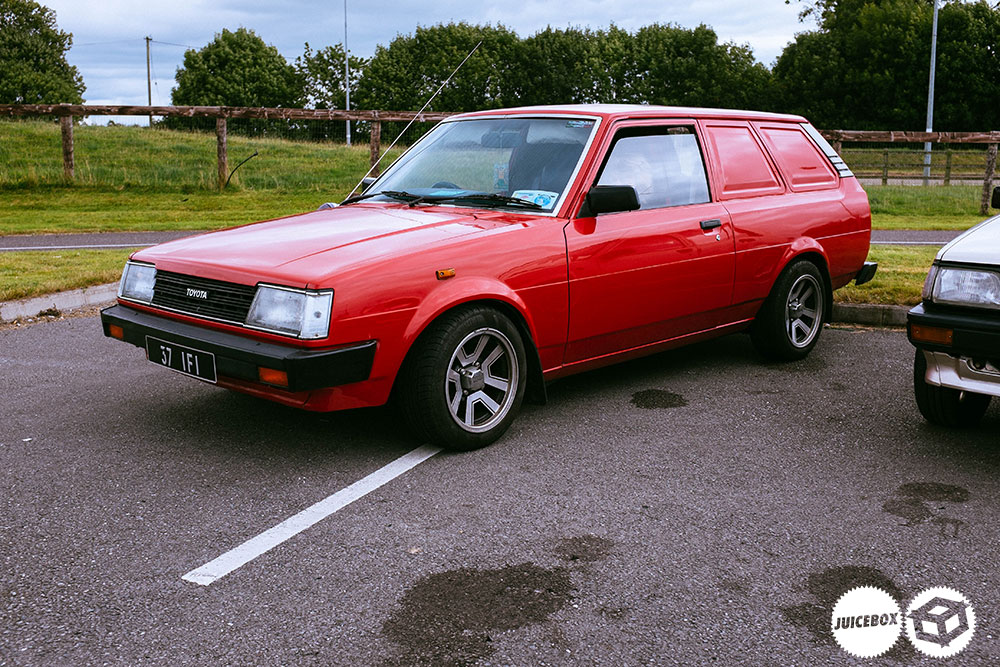 Celica wheels on this slant Nose van, I've always wanted a van and I'm always shocked when one comes out of hiding especially a super pristine example like this red one. These must have all had a hard life so it's always a treat to see one which has been either loved or restored.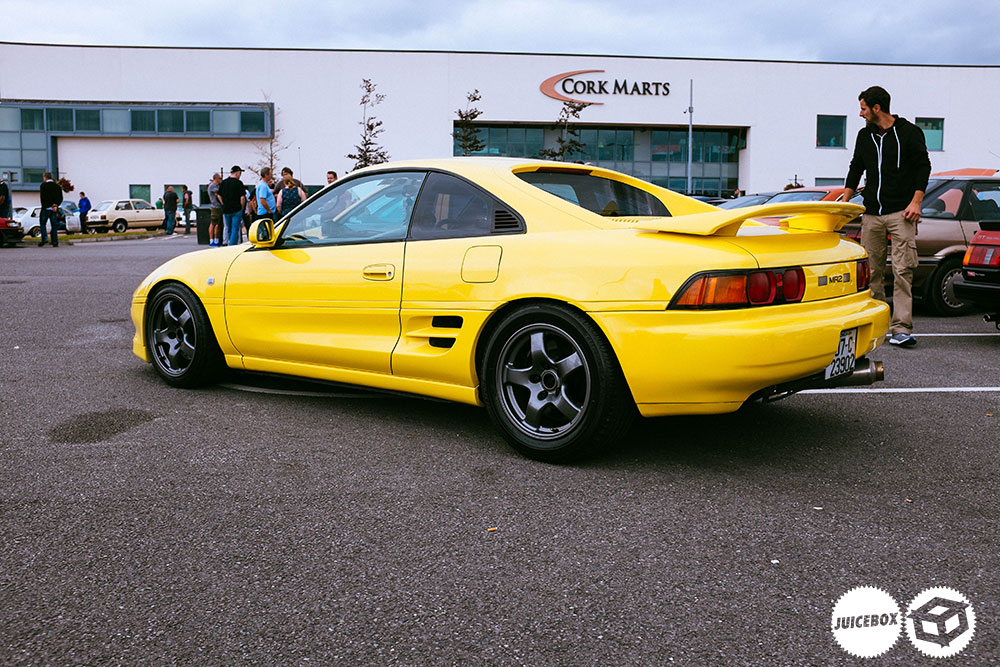 A rear shot of that SW20 had to be thrown in here. I can't get enough of that OEM cross manufacturer cocktail.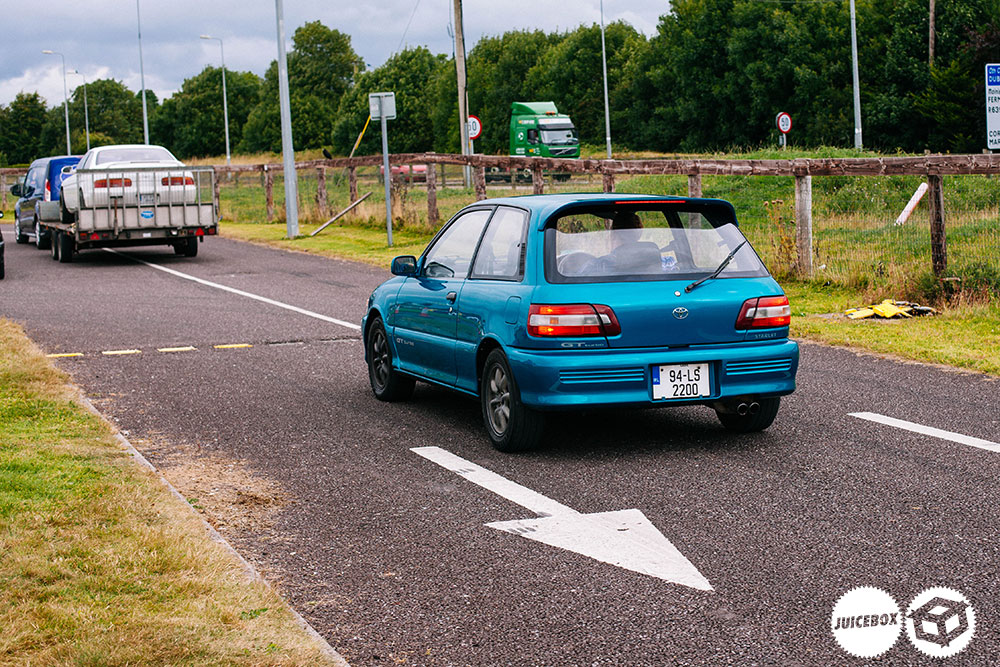 I almost missed this EP82, the colour and simple Watanabes were a great combination.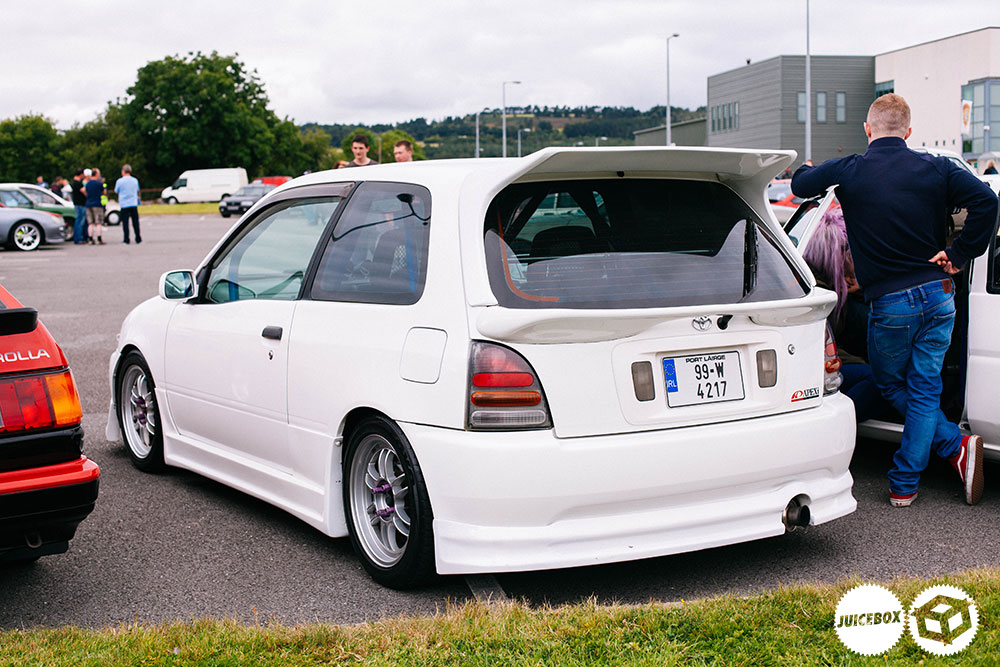 Again the level of starlets at the event was 10/10. Its nice to see some well preserved examples as we really wont see too many of these around anymore due to them being pushed to extinction. Everything about this little beast was hitting the spot.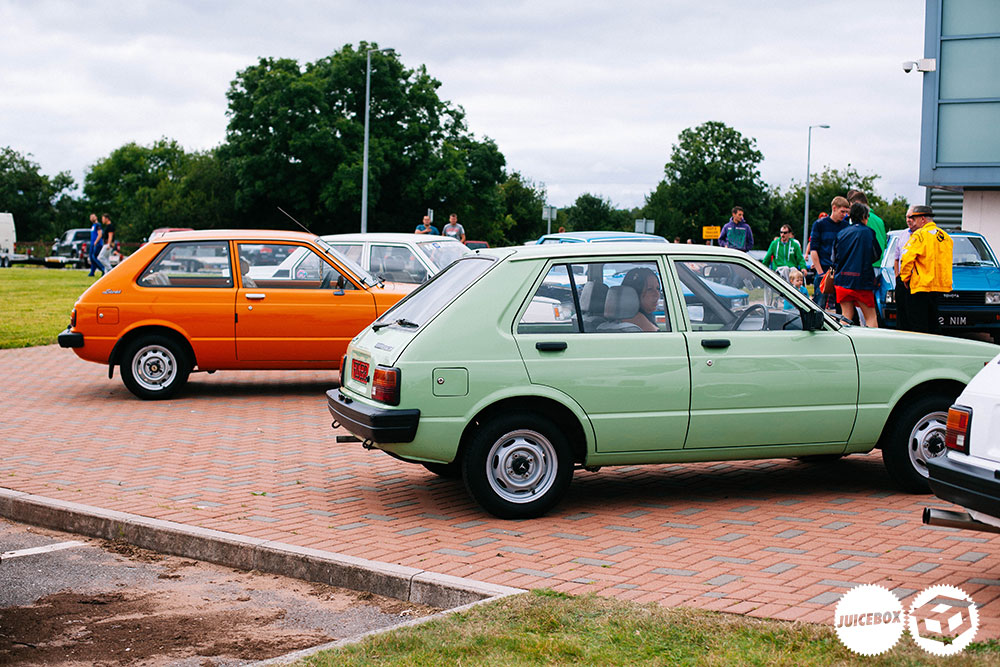 Where it all started!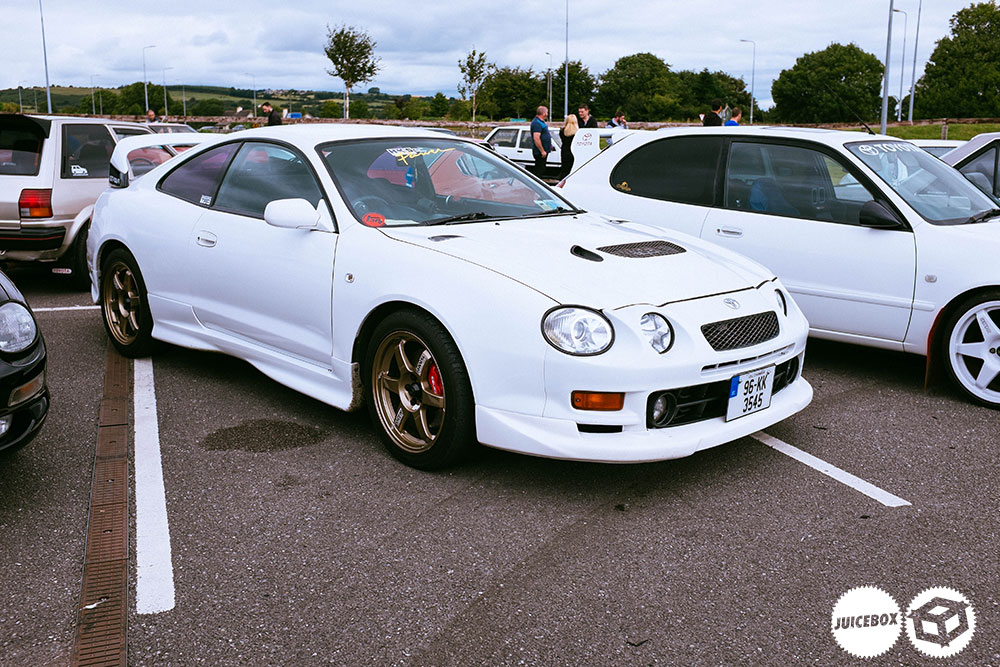 The ST205, I expected to see more of these at the event, always good to see a more Japanese looking model with TE37s and a big HKS sticker on the windshield.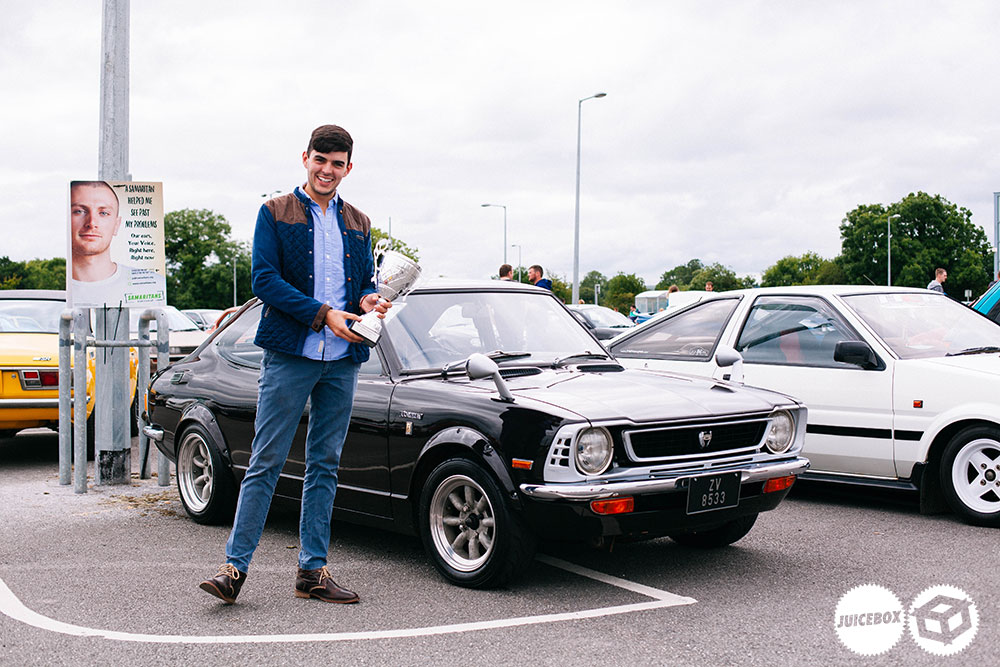 Stephen poses with the TE, excited about the only thing he has ever won in his life, even Johnny on the sign is proud.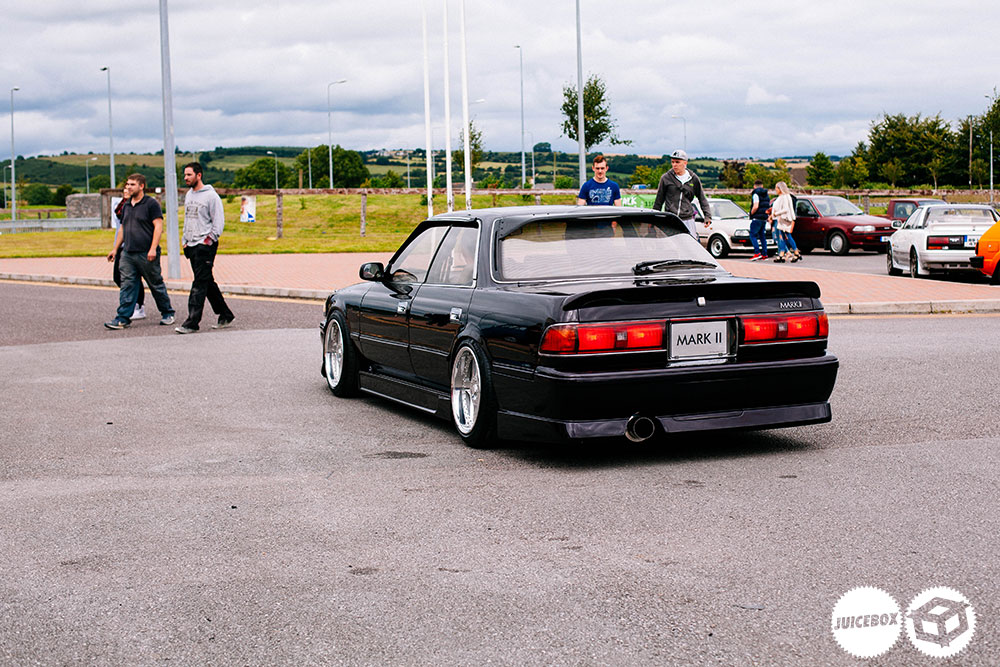 Damn we couldn't get enough of this MKII… you really do not know what this country has hidden away at the best of times.
And we are going to leave it at that….
It was hard to cut back on the images as this is truly one of our favourite events here in Ireland. For such a small place in the world its overwhelming when this much quality comes out of hiding and we feel its only fair to Spam the entire website with as much quality Toyota as possible, when possible. Hope you enjoyed this cruise through the2016 Toyota gathering which after all is a great cause as its for awareness for suicide in Ireland.
"They just dont make em like the used to"
Comments
comments
Powered by Facebook Comments