The Toyota Gathering PT1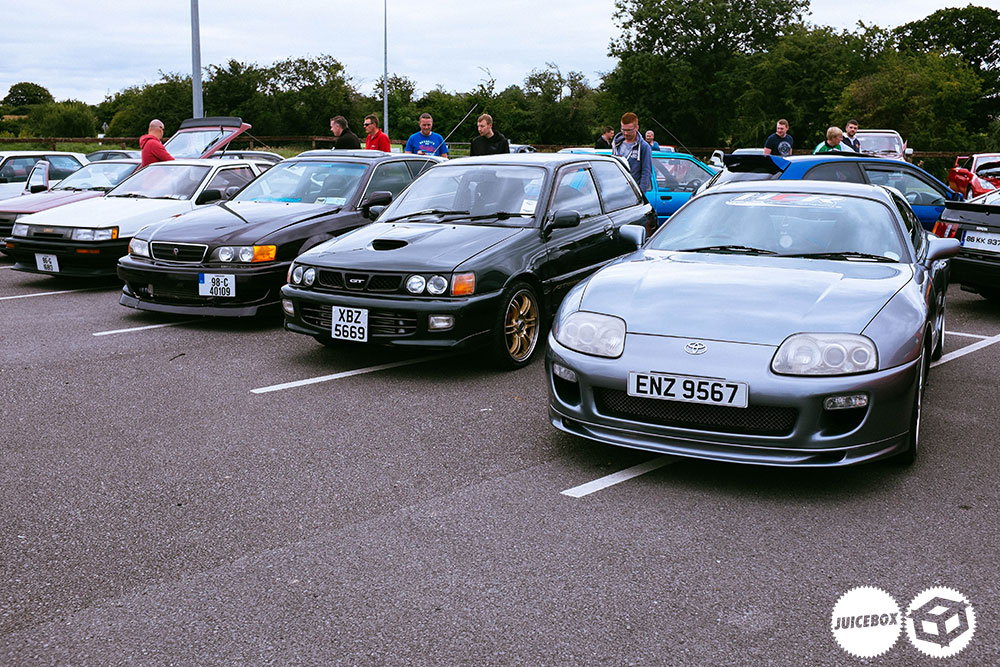 It absolutely astounds me just how much of a following there is for Toyota here in Ireland, go anywhere, literally anywhere, in a city or especially in the country side and smaller town and the Toyota has ruled the roads for over 30 years. What better way to greater awareness for Suicide in Ireland amongst car enthusiasts than with an event like this. Held this year in the Cork marts in Fermoy the show really dragged some gems out of the woodwork.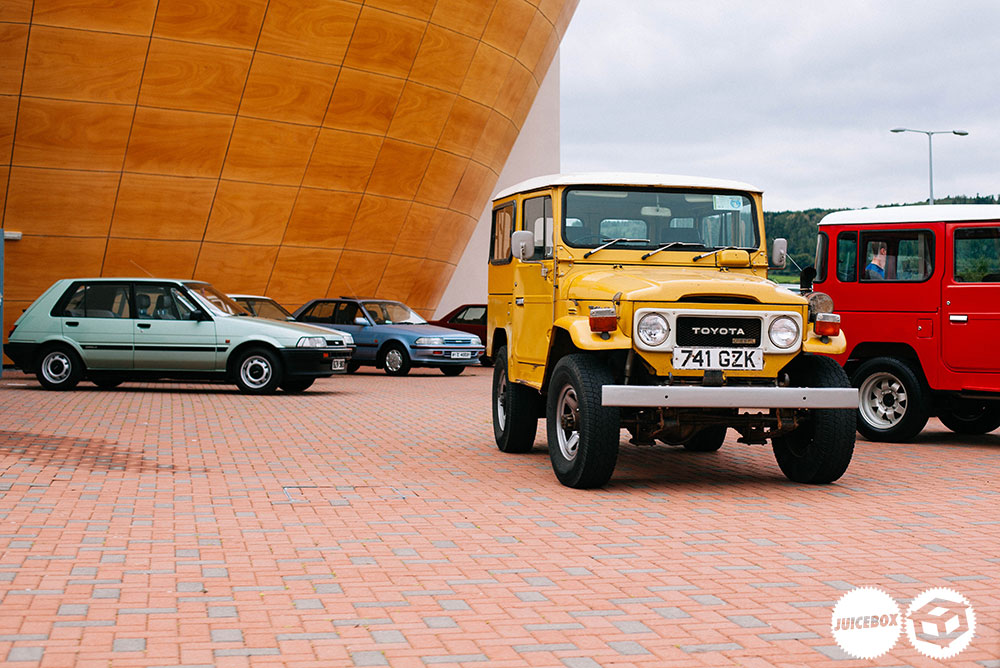 There was just so much quality reliable machinery pouring out of the factories from the late seventies right up until the late nineties. Time and time again they produced what many of us would call absolute classics.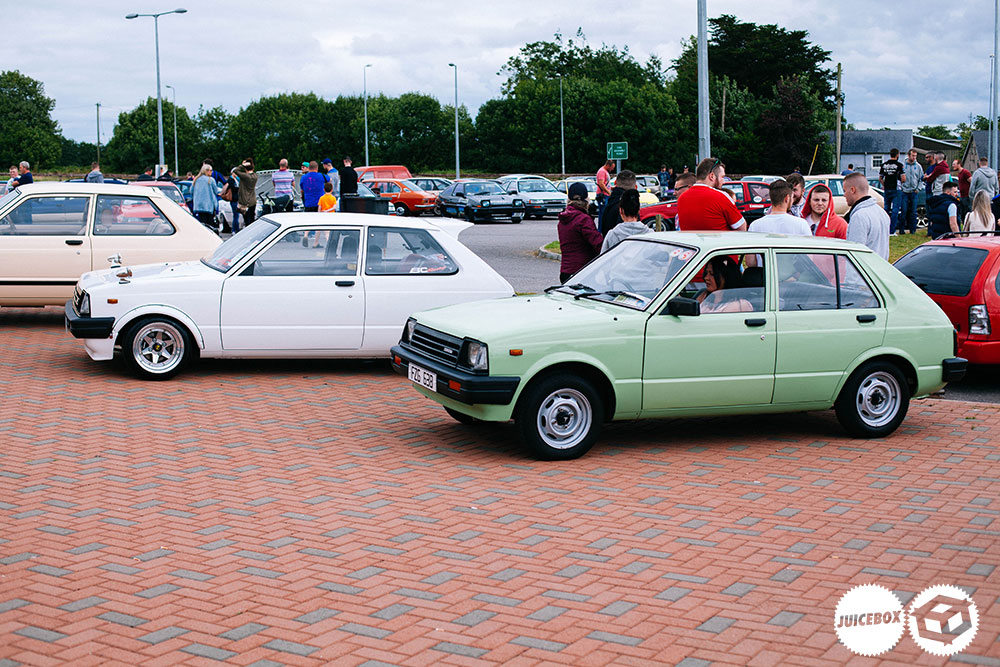 Its almost a little over whelming to think about, any other brand out there somehow doesn't seem to have churned out that much gold. I wonder if Toyota really knew it when they were crafting some of these humble machines for the road.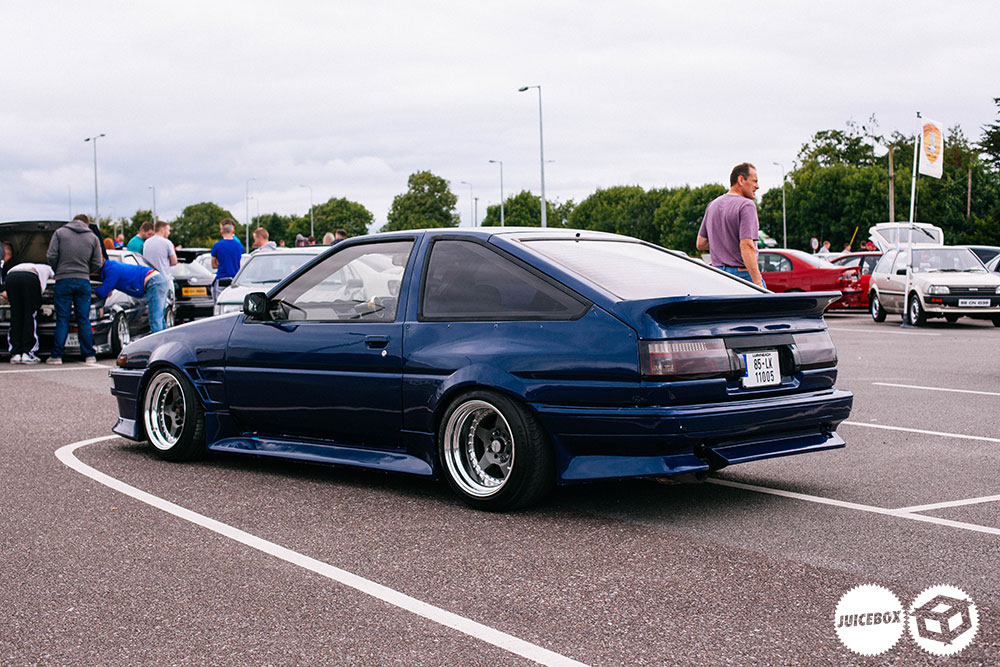 This post is going to be a big one because we are pretty big fans of the Toyota brand here on Juicebox, you would have to be a complete narrow minded fool to hate on the cars and engines the company has churned out over the last thirty years, accompanied by a solid racing heritage and incredibly gigantic fanbase worldwide.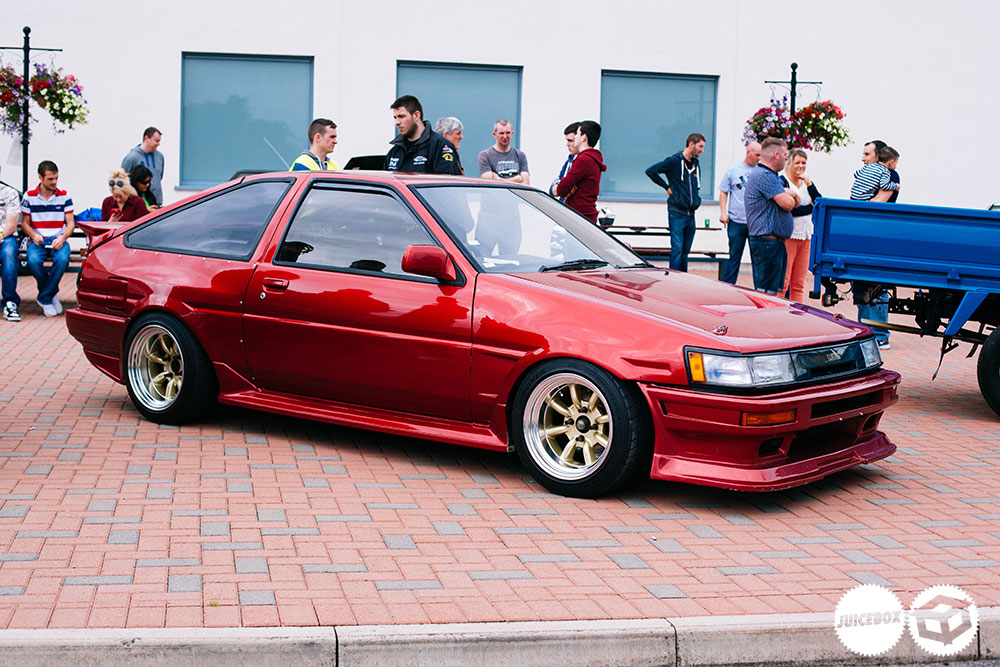 What I love about this meet is the stuff that comes out of the wood work, and stuff I haven't had the chance to see since I had been away the last few years. This Jblood kitted Levin is absolutely superb. Great to see the full genuine kit doing its thing.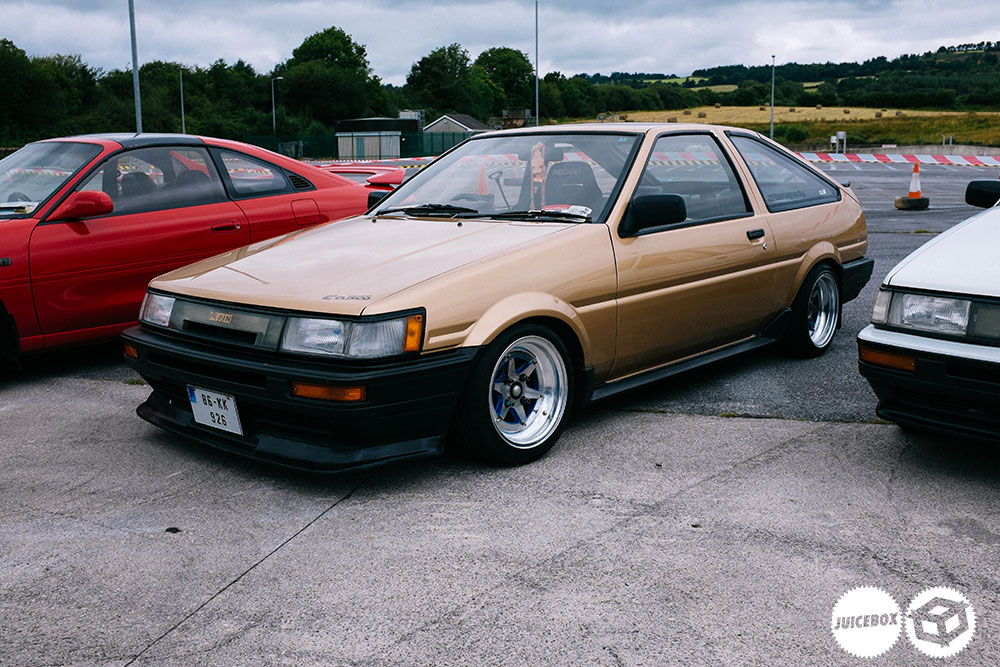 This post is going to be a little AE86 heavy also so get ready, one of our favourite cars we cant help but show case some of the beauties which are lurking on this Emerald Isle, some of the best in the world for sure.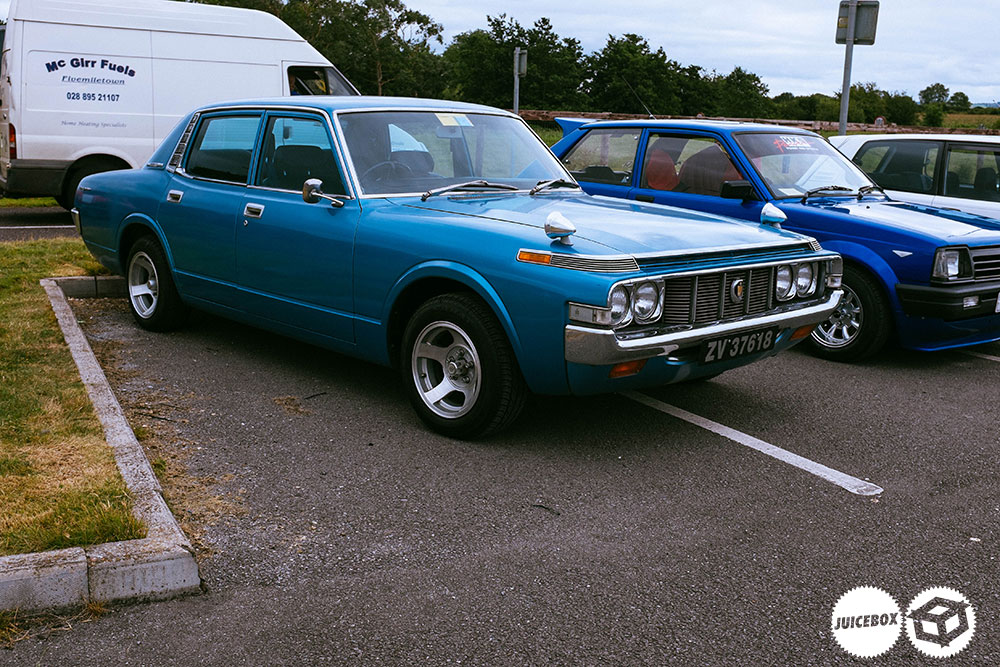 Some of the other machines are just as interesting. Id love to know when this was imported, and just how it survived all these years. The thing about old Toyotas, well many cars in general is they are econoboxes built for a certain time and they sort of start to die.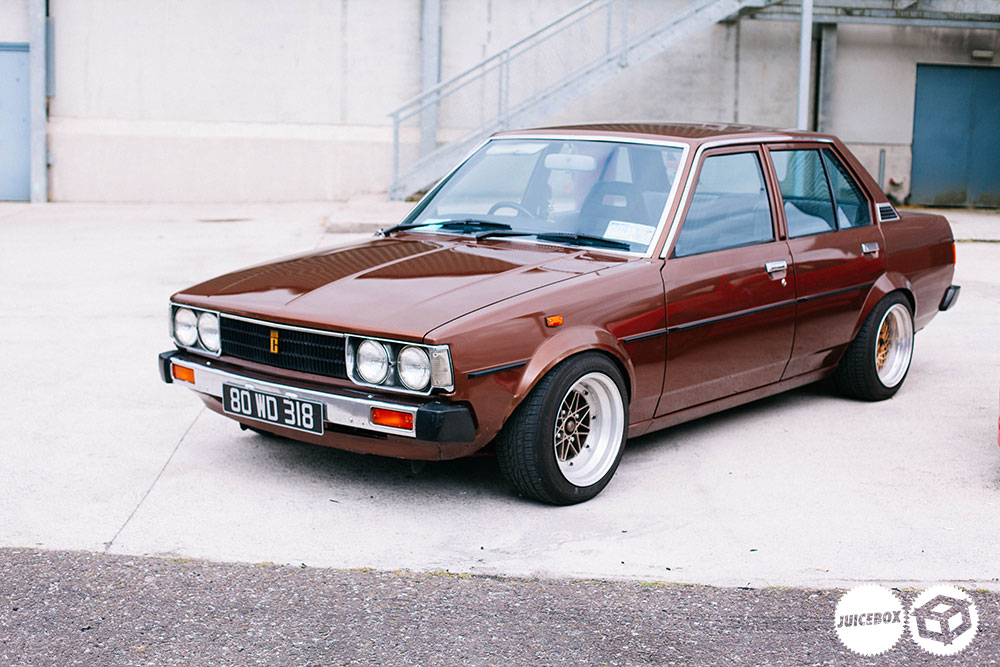 Its inevitable, Toyota probably didn't expect to be seeing all this machinery on the road this many years down the line.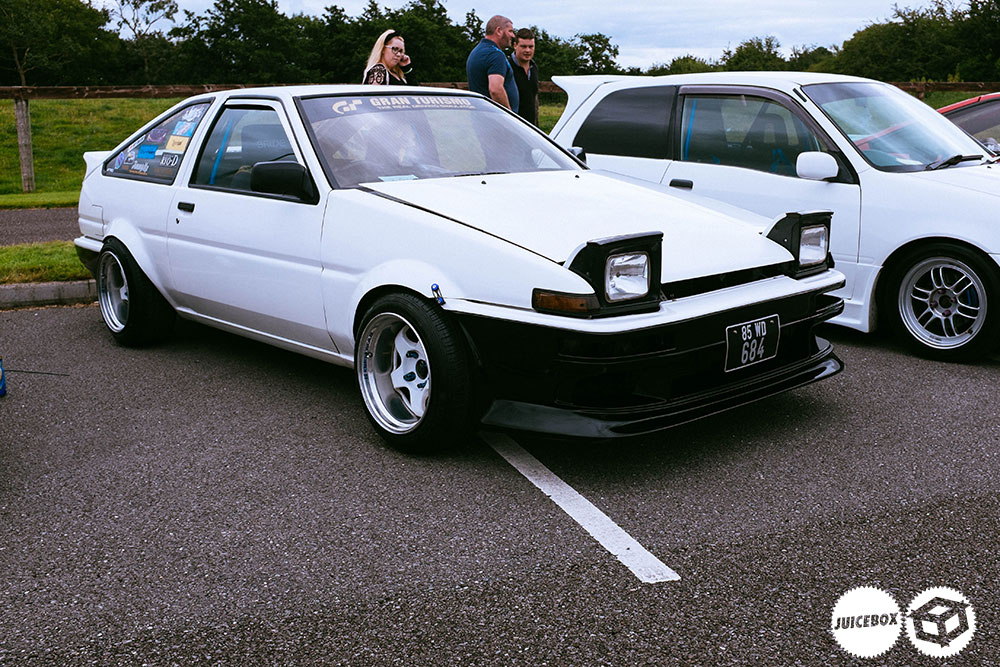 I genuinely do not think they sat around and expected to be seeing these cars still being driven daily today, there cant be many other cars on the road from 1985 that are still being modified and daily driven?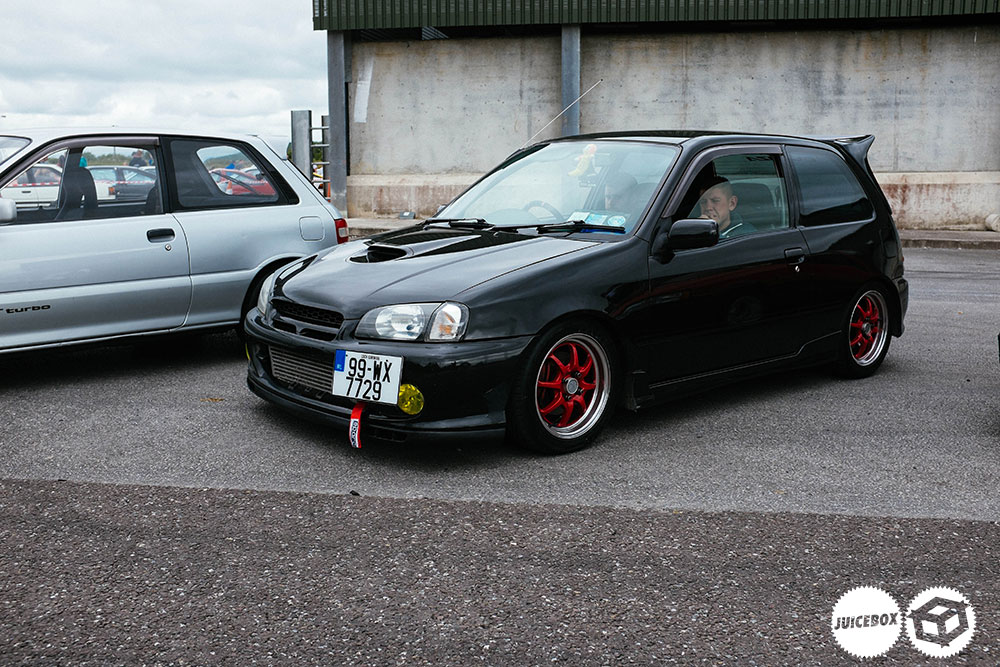 Always a treat to see a properly done EP91, the red and black is a win win.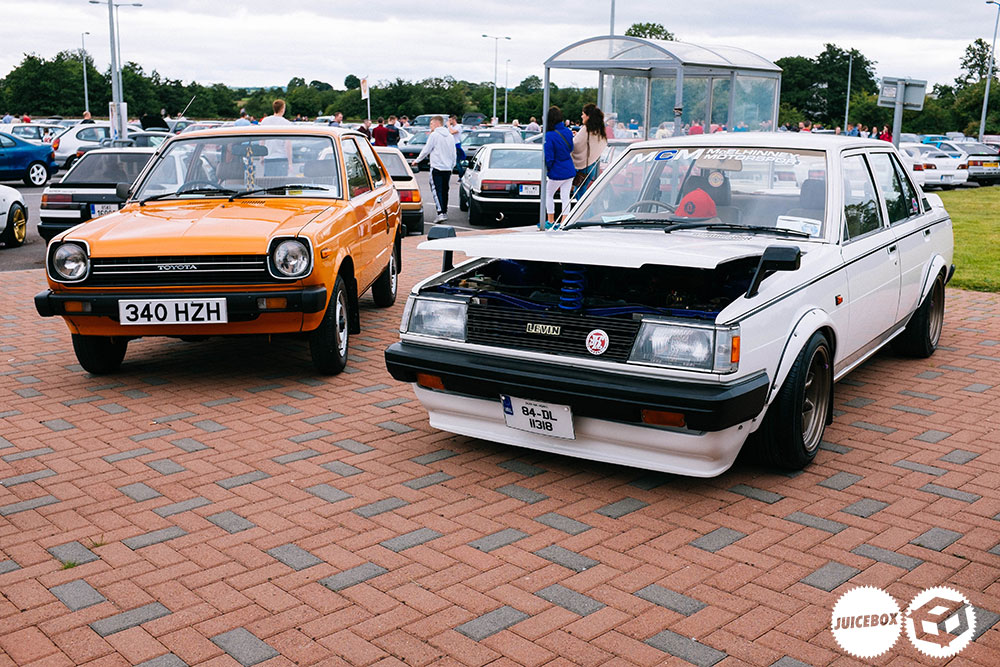 Its cool to see such a variety at the event, with many people making their way back from Australia, some other new unusual imports are creeping in from Down under like the Levin on the left.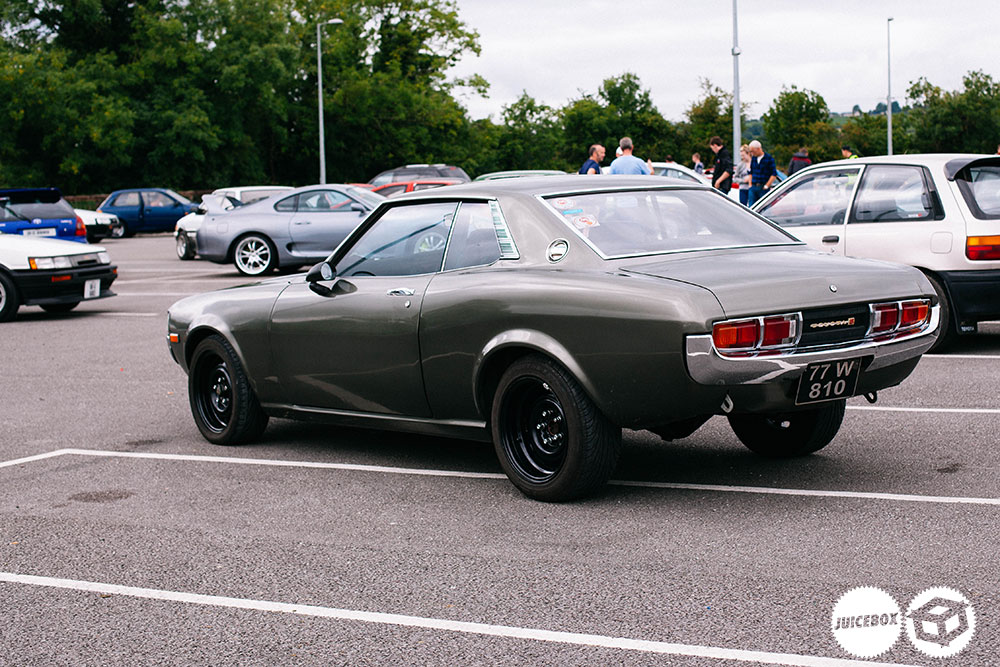 Ive always loved this celica, it used to be rolling around Waterford back in the day and has a sort of muscle like appearance to it now with the steels. The colour is fantastic.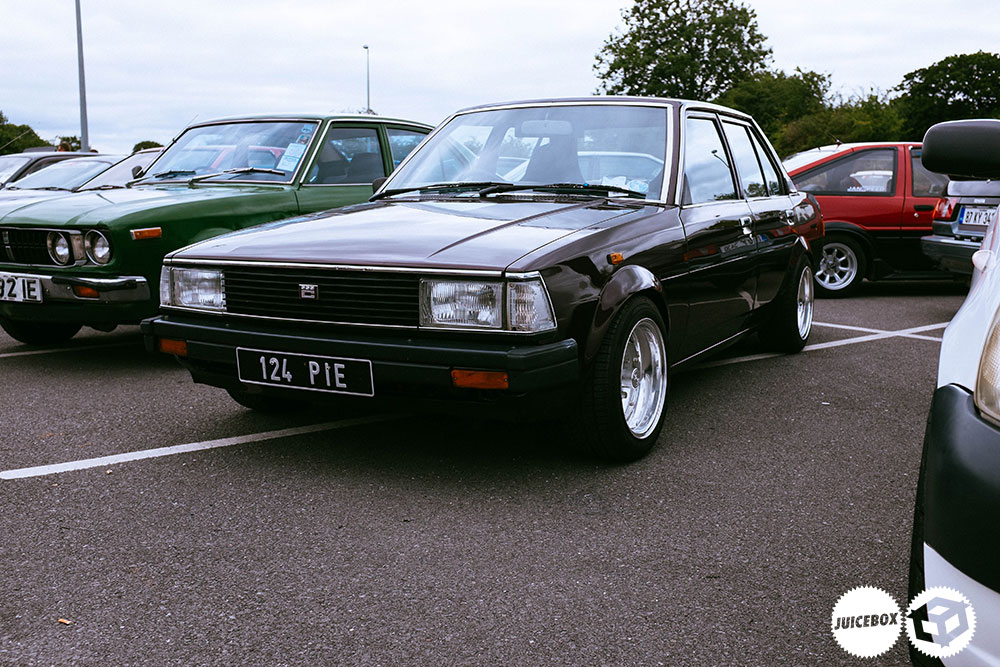 Jamies KE always brings the crowd, converted from a 1.5 diesel machine this thing is flawless. That license plate is even better.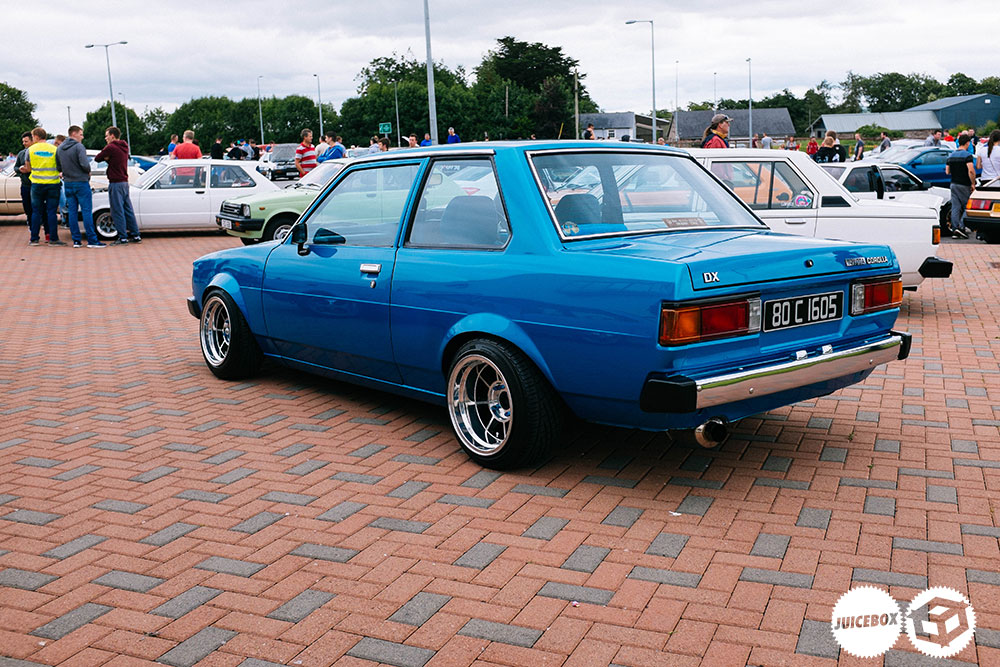 Speaking of KE's. Jasons machine which we featured on here a few years back is hands down one of the best examples in the world.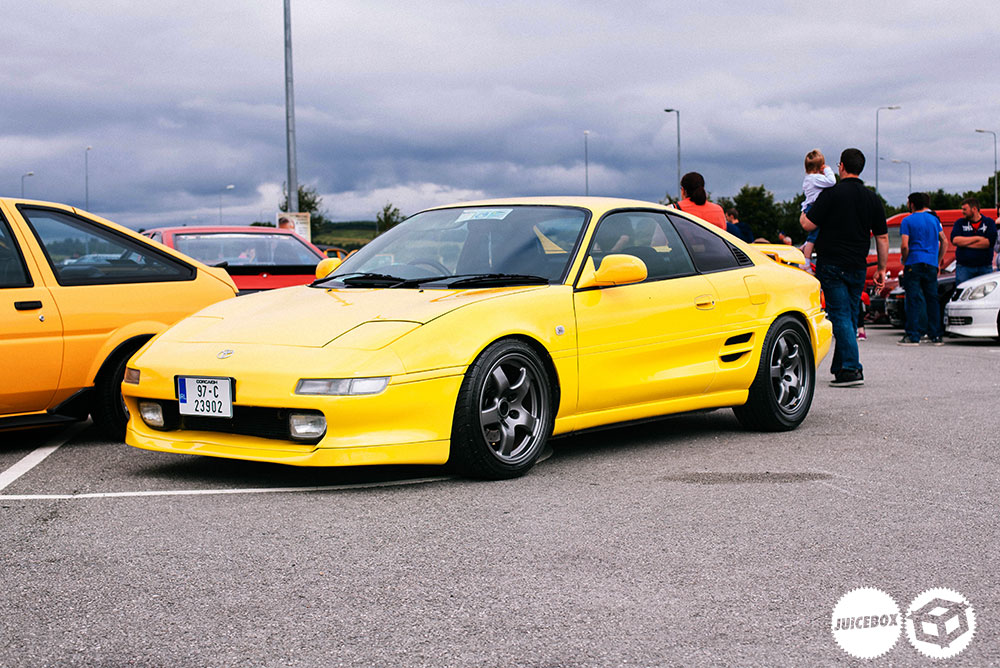 Im so glad someone did this. R32 GTR wheels on an SW20, the yellow against the gunmetal… This combo is absoloute perfection, who would have thought.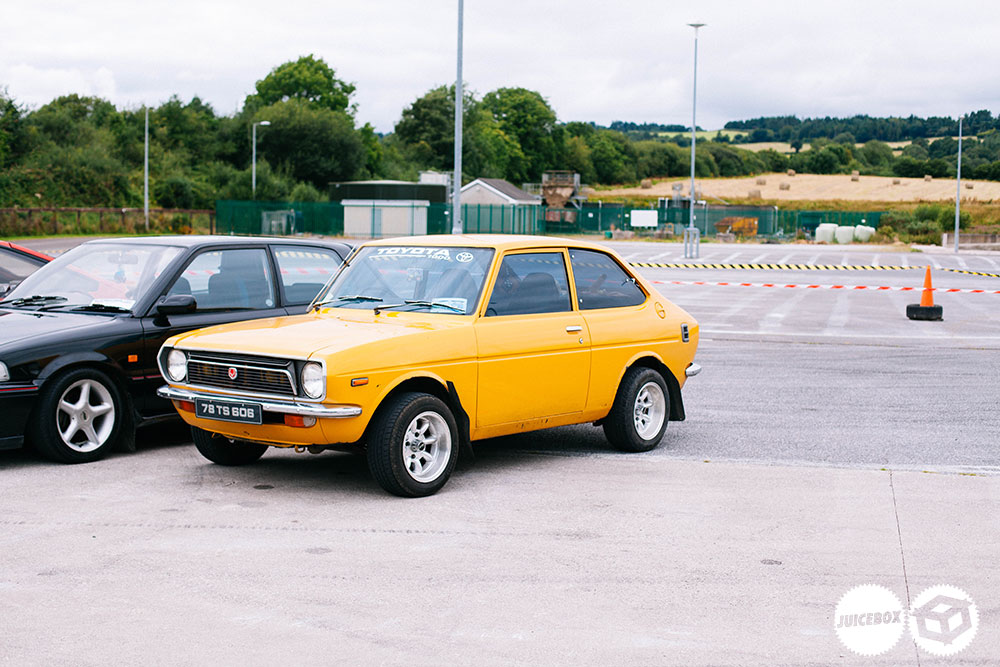 Before the internet, before anything really, this is what I expect the early car scene looked like in Ireland back in the day!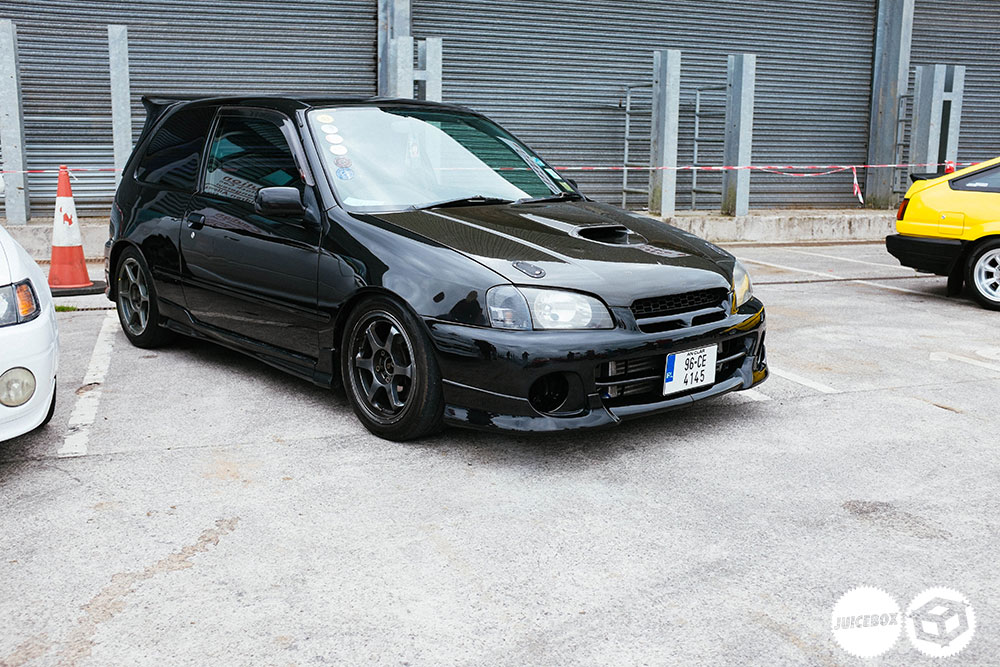 Another great looking Glanza, the mismatched action is a real treat. These are great little cars and its nice to have seen some of the best examples left in the country on display the weekend.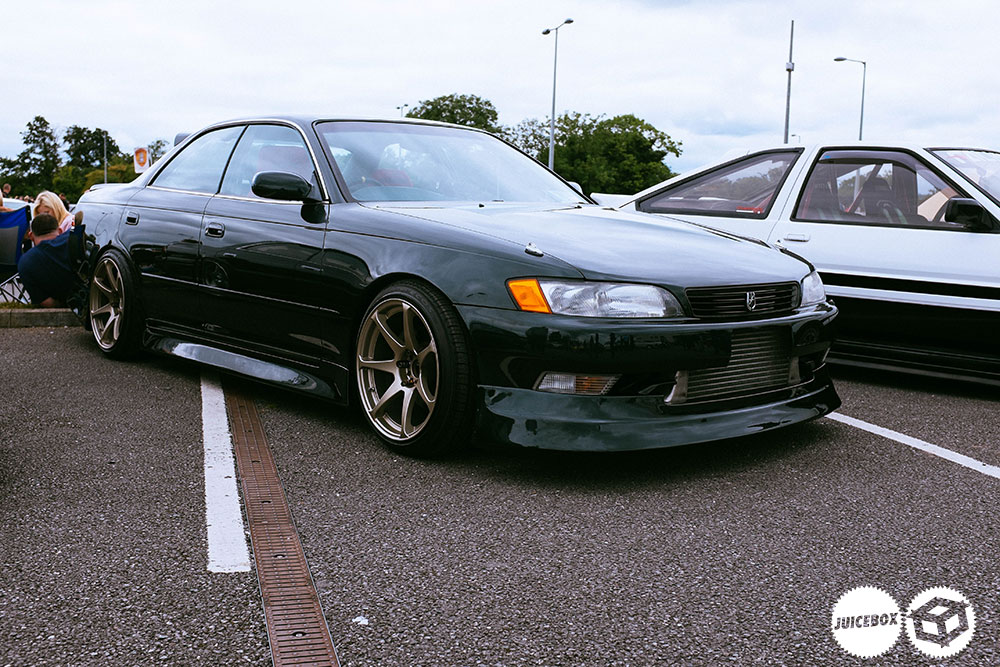 Hartleys JZX90, one of the best in the country for sure, stay tuned for much more on this thing very soon….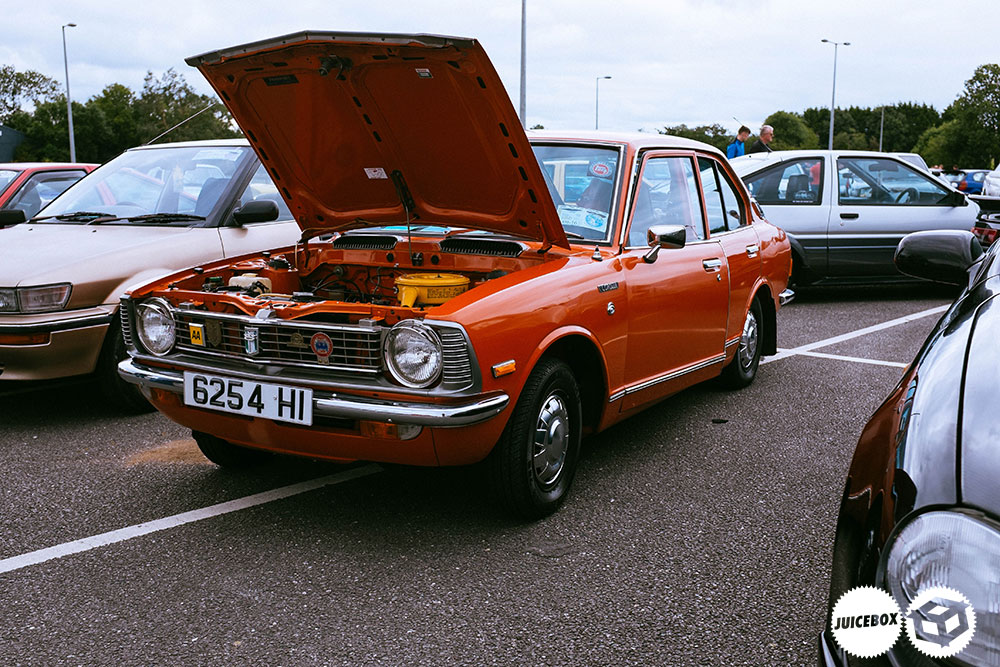 As much as I love seeing modified stuff, its always a real treat to see some proper old genuine Irish Toyotas which survived basically every scrappage scheme and gimmick only to be the ugly duckling turned swan in a sea of plastic and meh. This thing was in superb condition.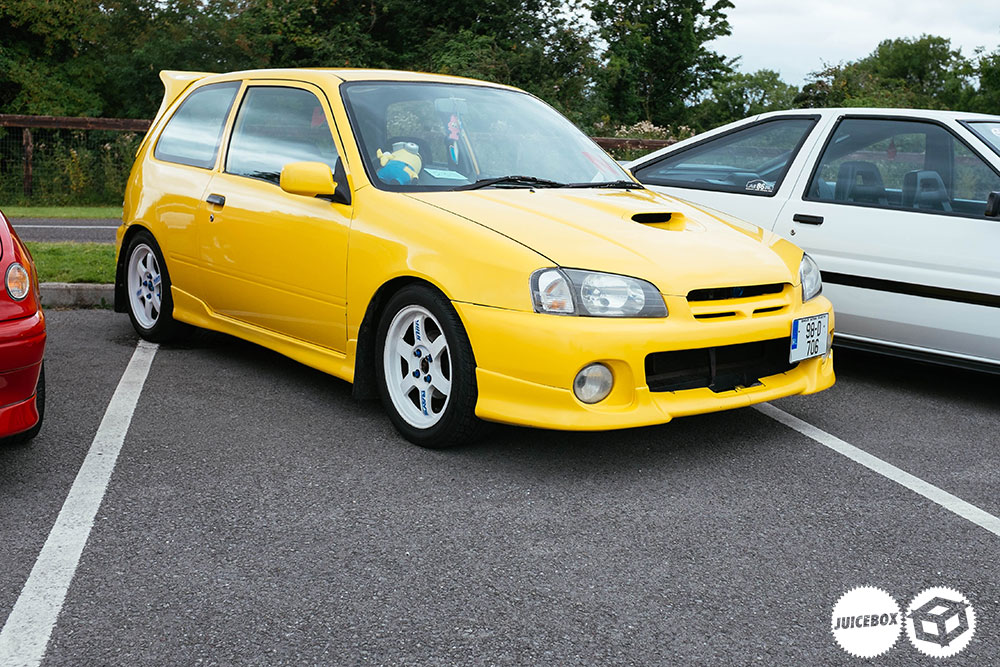 Another cool Glanza, you really don't see these cars around anymore which is a shame, such a pointless but amazing little car Toyota didn't have to make… This one wearing TE37's against the yellow was hitting the spot.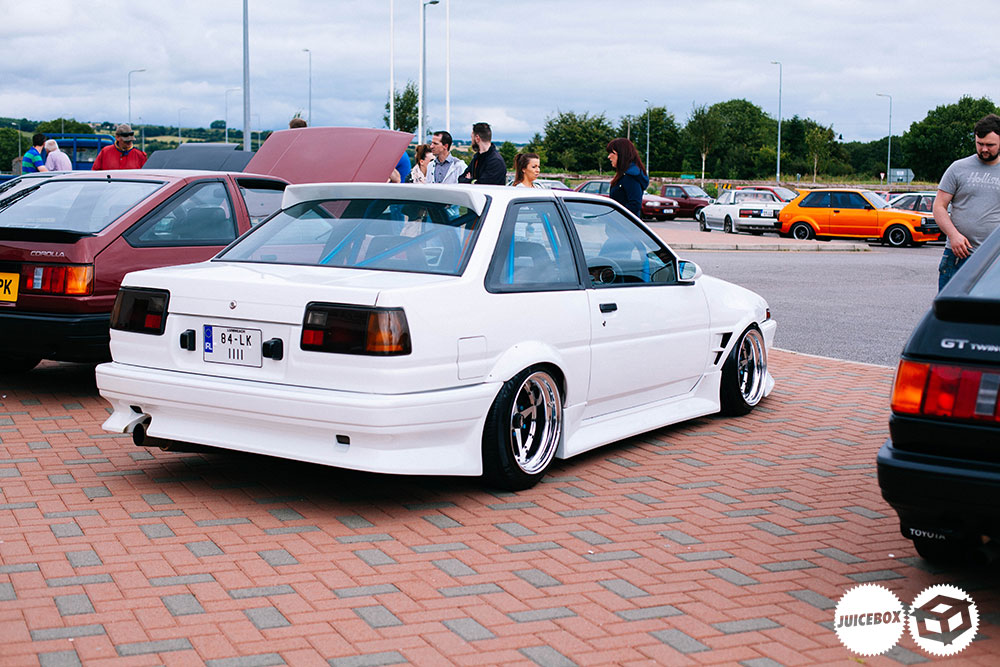 Jason has quite the collection these days, acquiring this car from John Gammell it has been brought back out of hiding and looks great. More on this thing very soon.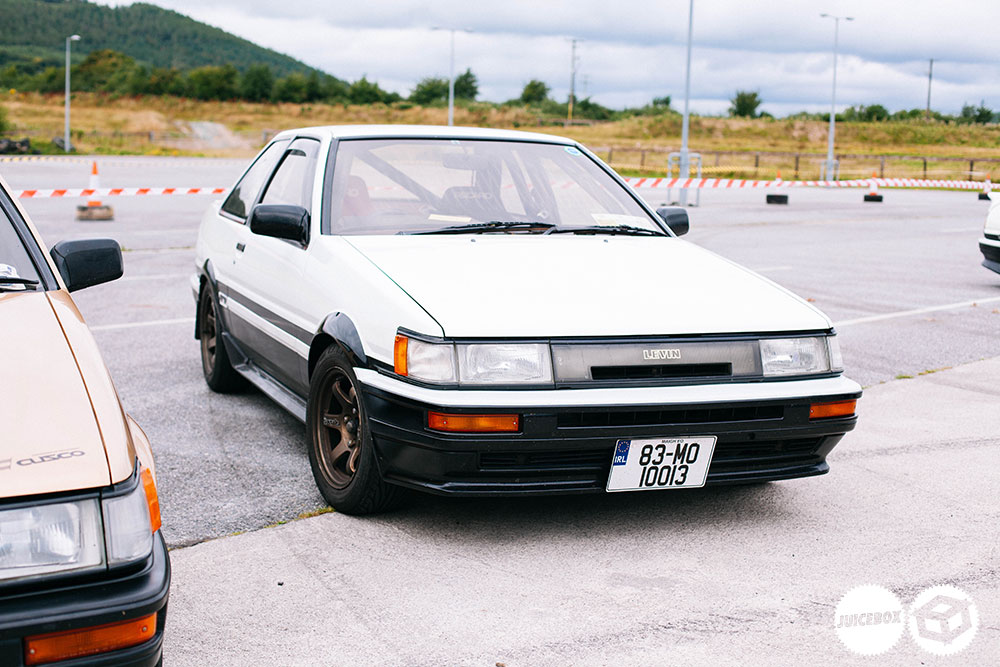 Its great to see some of the treasures hiding around the country, I have never seen this car before but its timeless, an 83 with a Kouki front end fitted along with some concave TE37's.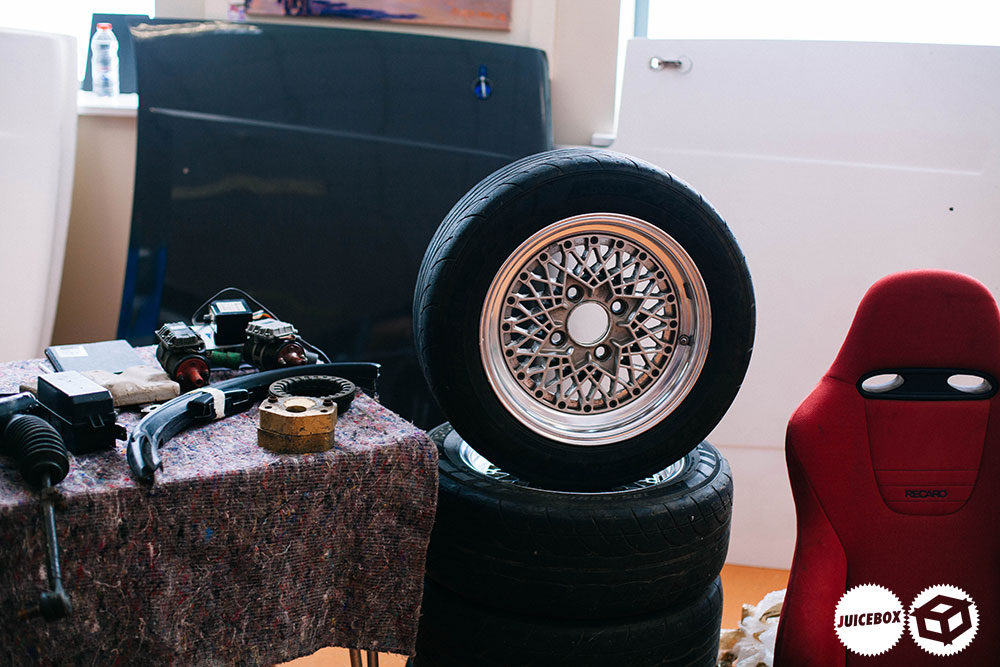 Inside the main hall there was loads for sale, some proper gems if you had cash on hand.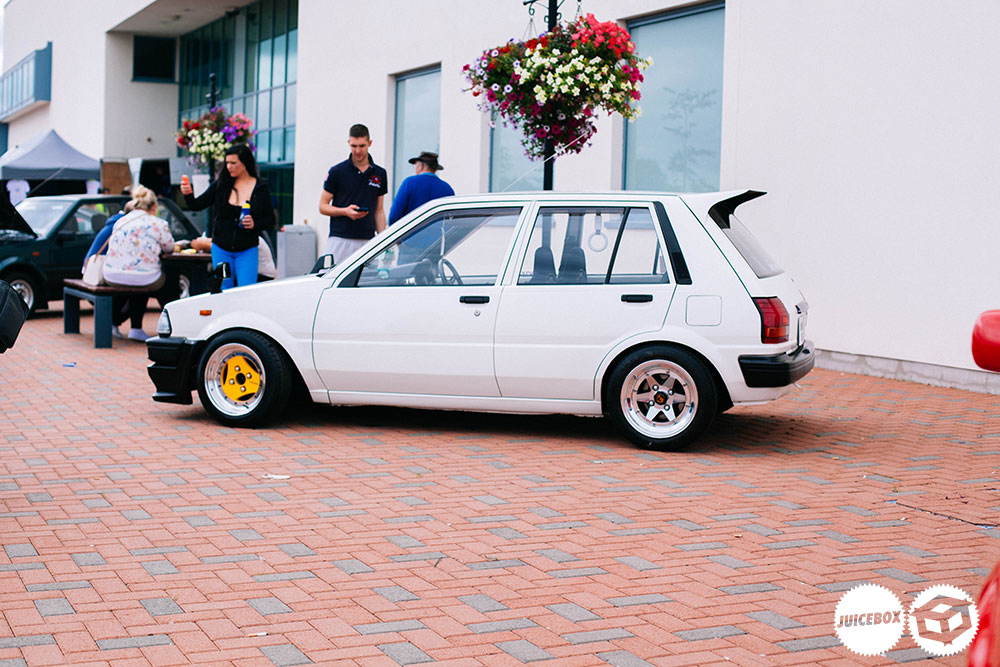 Evan has gone for a little bit of a switch up with the Starlet. Yellow A3A's up front look fantastic in yellow.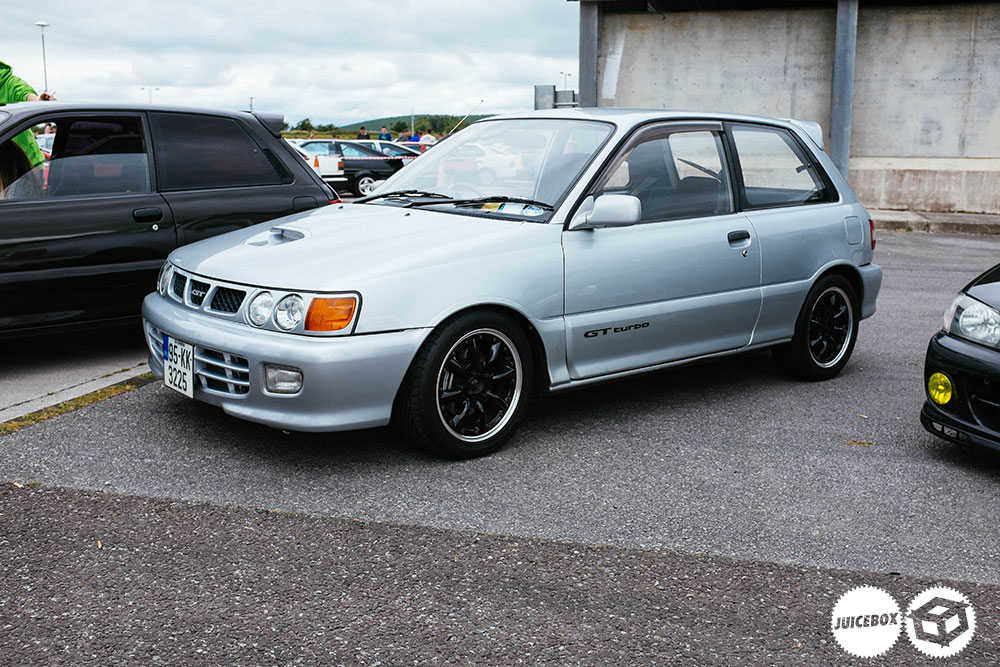 Another car, which has slowly disappeared is the EP82 starlet turbo, again there was some solid fine examples on display like this one wearing perfectly suited SSR RS8's.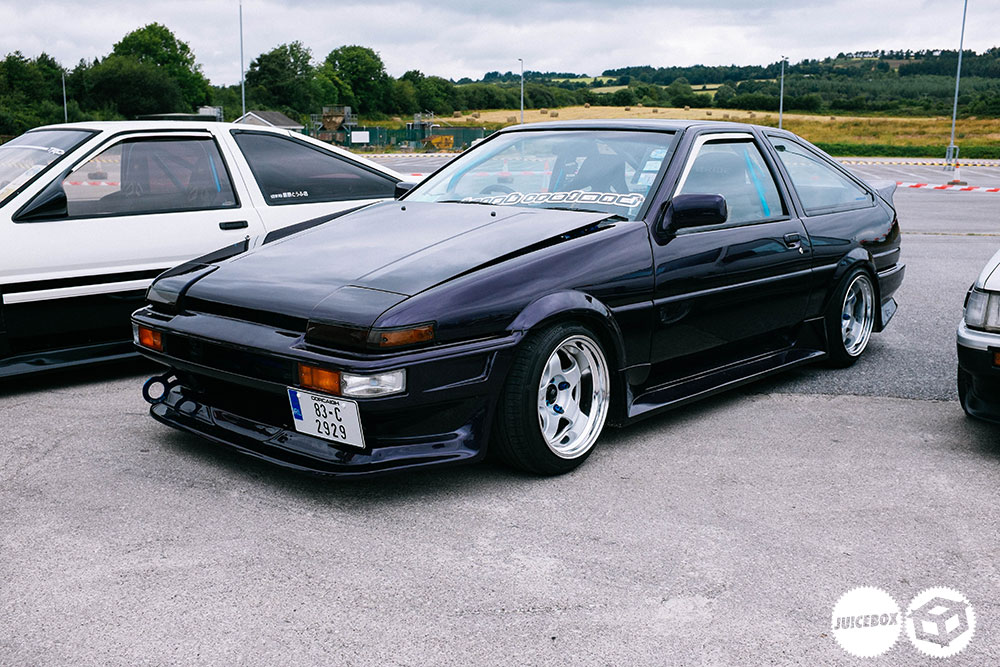 Ah Nickys old AE86. I have such a soft spot for this car. Looks like it has gone under the gun and has been painted a very dark purple.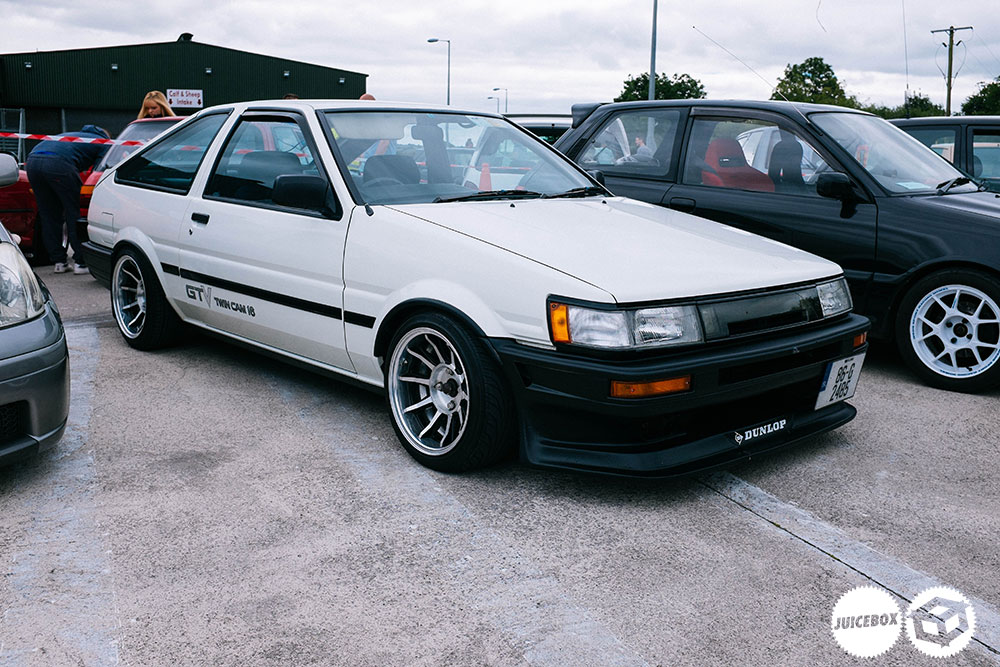 Everything about this! Such a great looking car.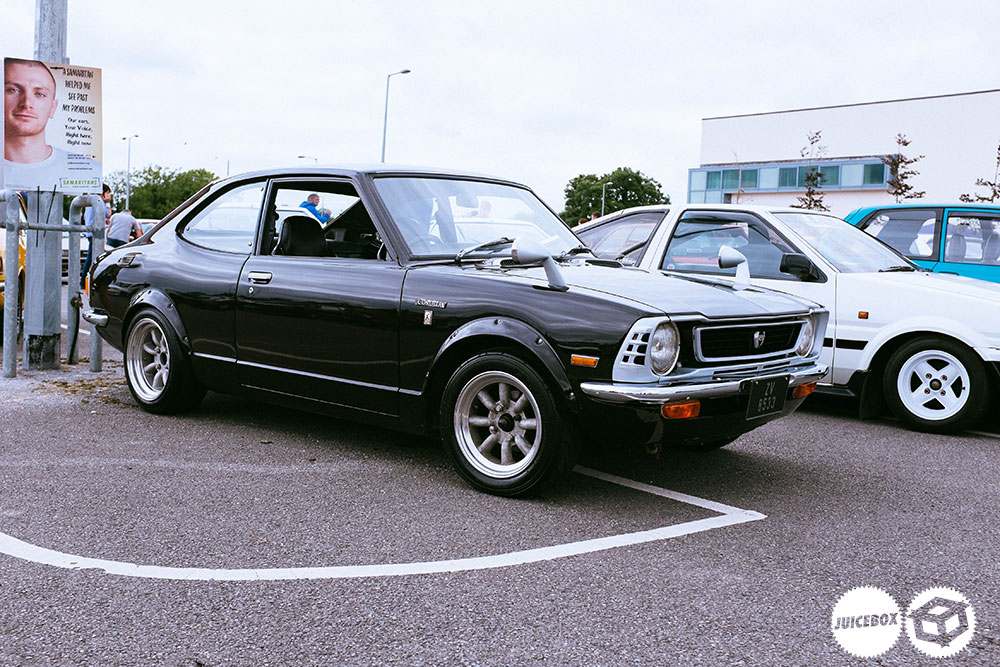 Stephen brought out his TE27. This car just ooses style, its perfect.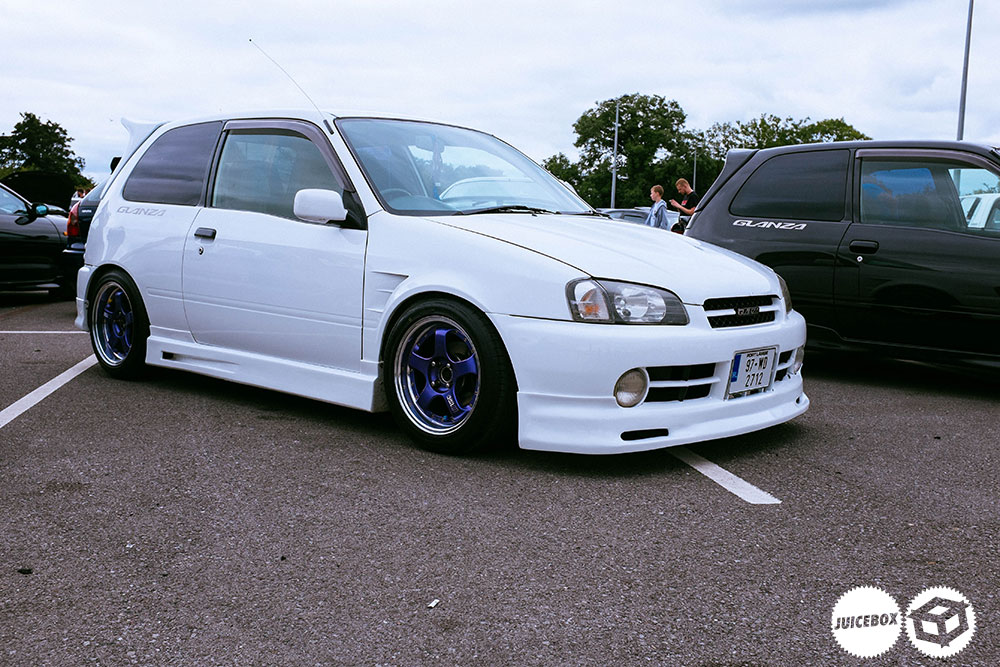 Another EP91, much more on this car soon, its going for a heart transplant with something very unusual, stay tuned.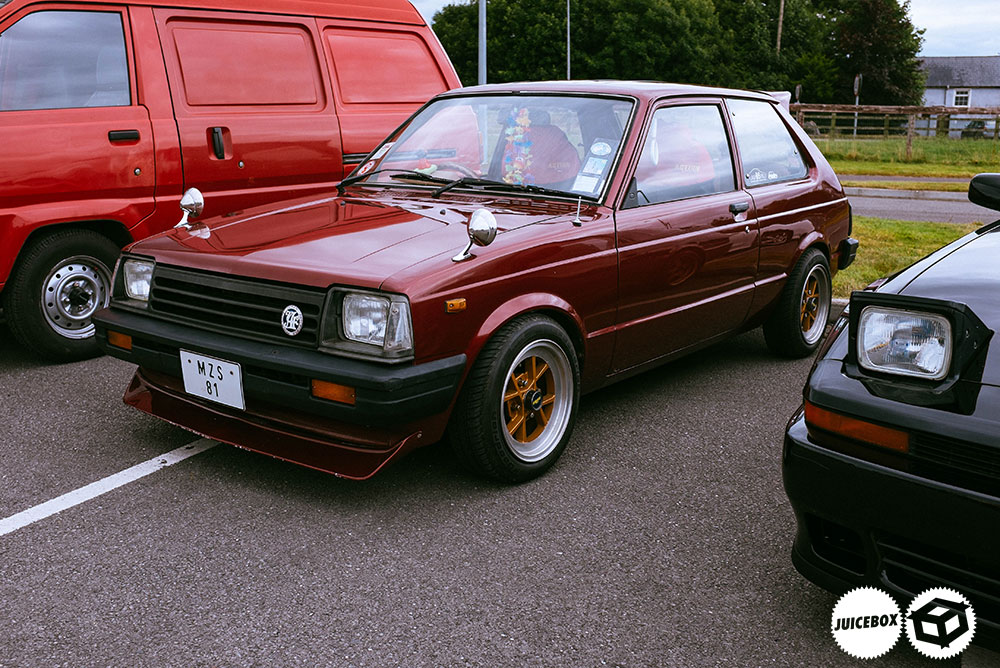 Its hard to be cold towards any KP starlet, they just have a lure to them. Great to see this chassis out in force on the weekend. God knows how many of these poor creatures were melted down into spoons.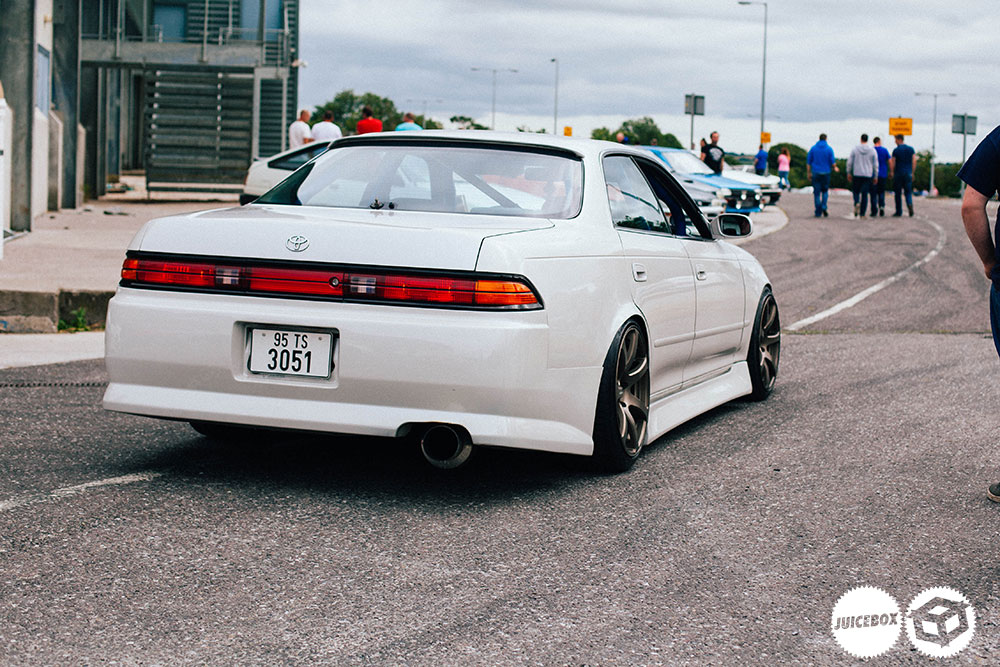 Jimmys JZX90 another one of the best this country has ever seen. I love these boats so much, there was a time when people hated on these but for me it would be hard to choose between the newer models and this shape. Always been a huge fan of their over engineering and Robocop rear tail lights.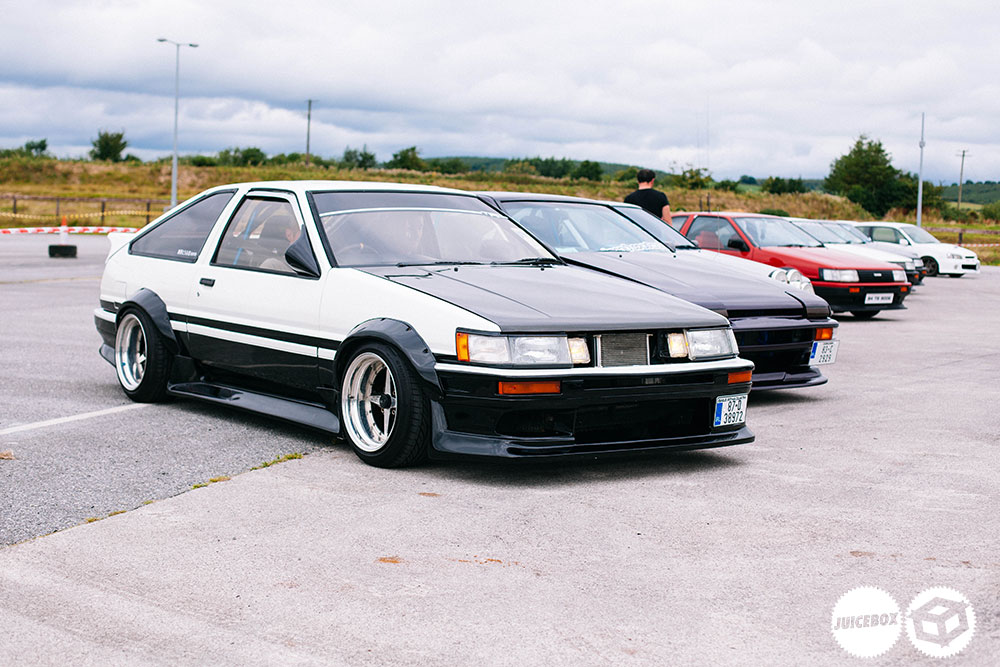 This car has been around for a long time and its always nice to see that it survived the massacres of the recession. CBY arches and Equip 01's will never go out of fashion.
A rear shot of this beauty, the whitelines work so well with the white paint, a simplistic machine rocking one of the most interesting wheels to come out of the eighties, the Winds Auto Barrels.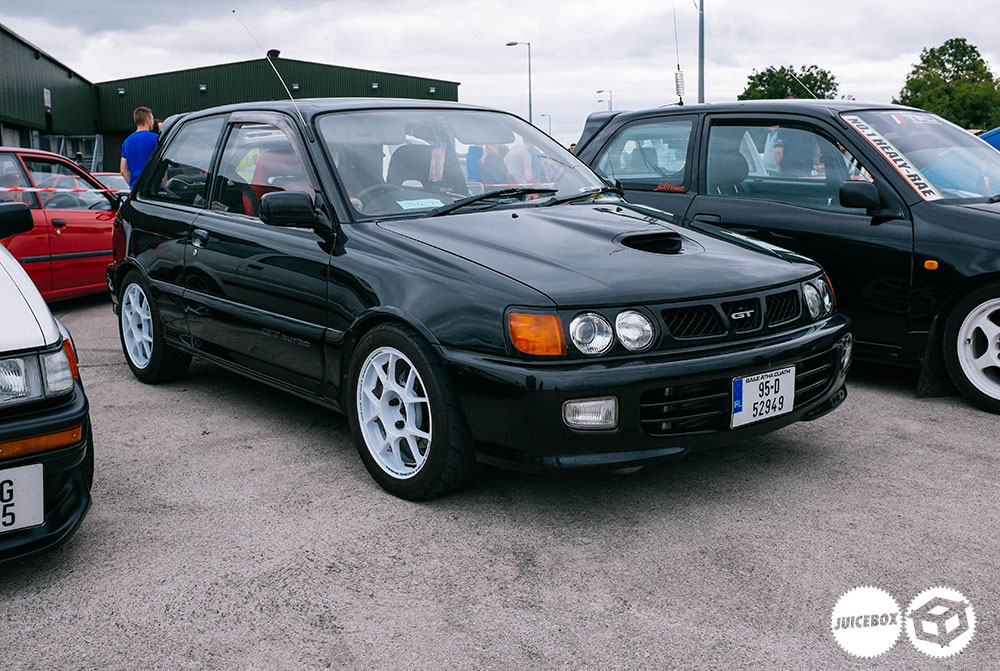 Damn was it exciting to see such a good selection of these cars, growing up the EP82 were some of the first imports to come on the scene in Ireland and il always have a soft spot for them. No nonsense here just a beautiful set of Wedsports.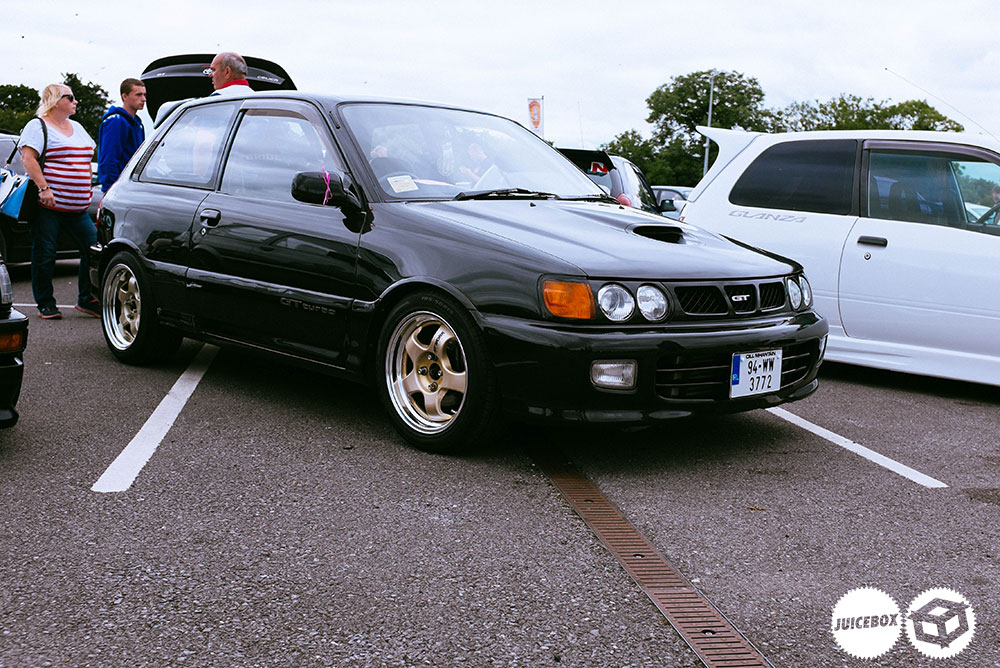 Same for this one, easily two of the nicest examples left in the country, a set of tasty offset Meisters and a nice clean body combined with the appropriate ride height is all you really need.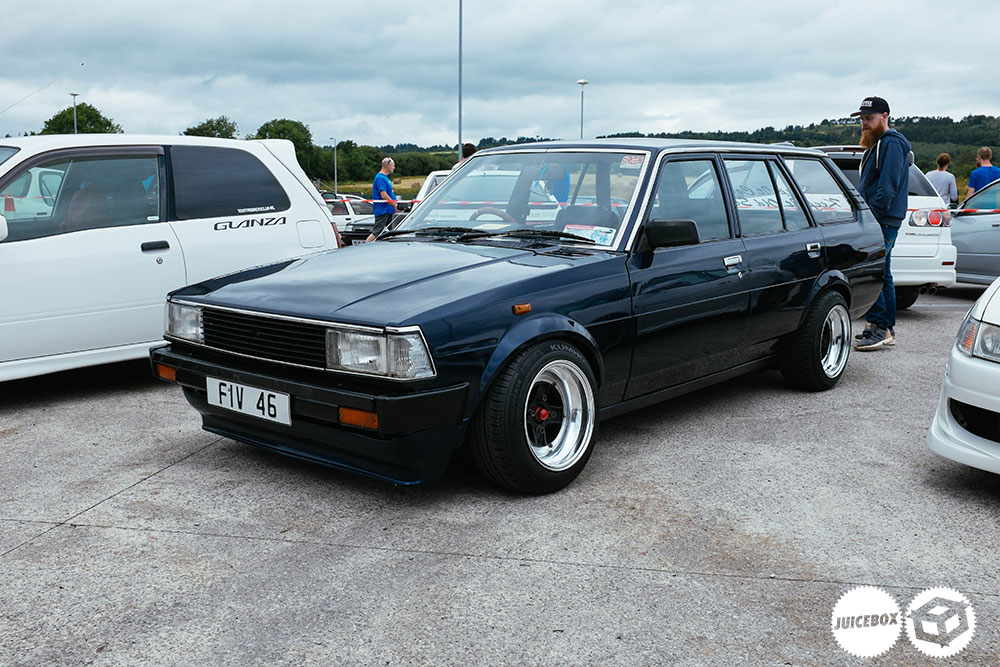 Much like the KP starlets of yesteryear, the KE wagons and sedans had a sad ending, many of them met their faith at the crusher while the rest slowly rotted away in scrap yards. It is always nice to see a few get that second chance and be gifted with some true Japanese flavour.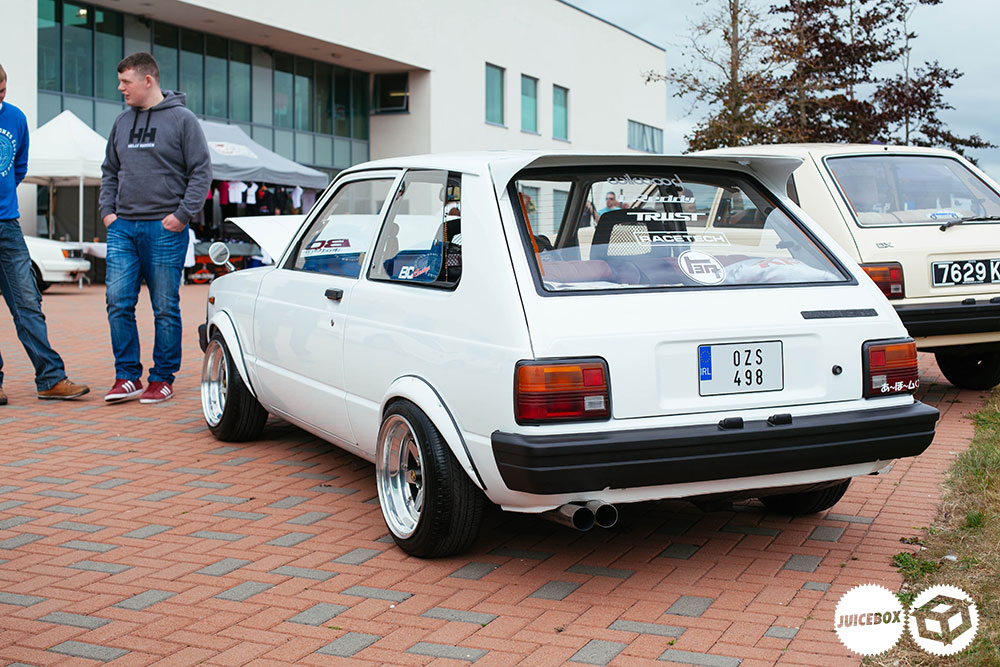 Same goes for this beauty. Once we figured out how to do them properly it was almost too late, but thankfully not for all of them.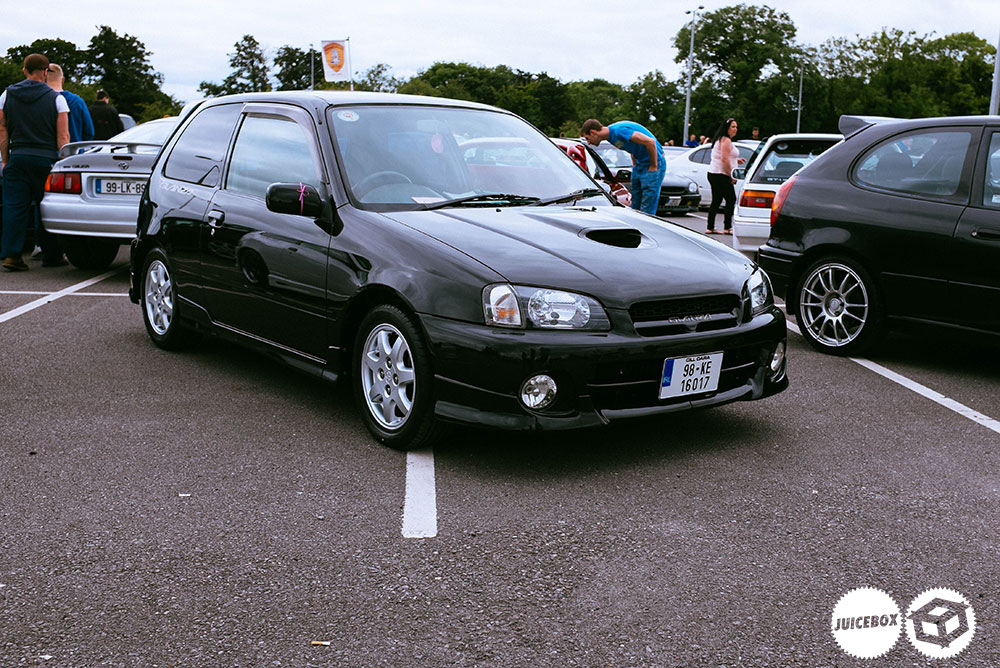 This is probably one of the more rarer sights, Ireland was obsessed with bringing in these cars for about ten years and we took a massive chunk of these out of Japan, I cant imagine there is too many left over there or here so seeing one look showroom is always impressive.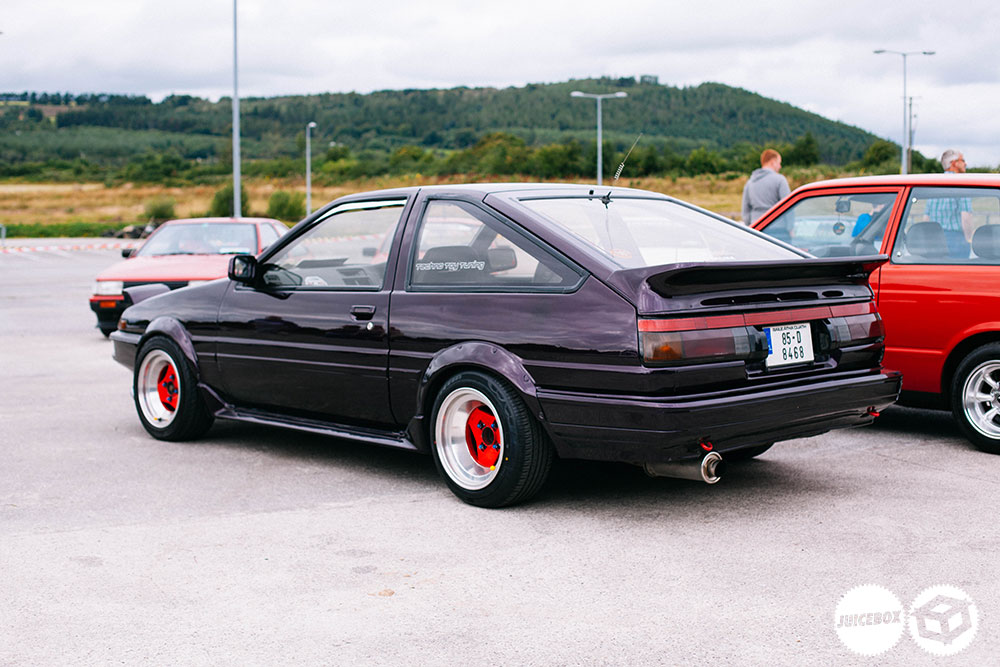 These Weds wheels were on a Panda and have now found their home under this beauty. It always astounds me just how many good looking Hachis this country is hoarding.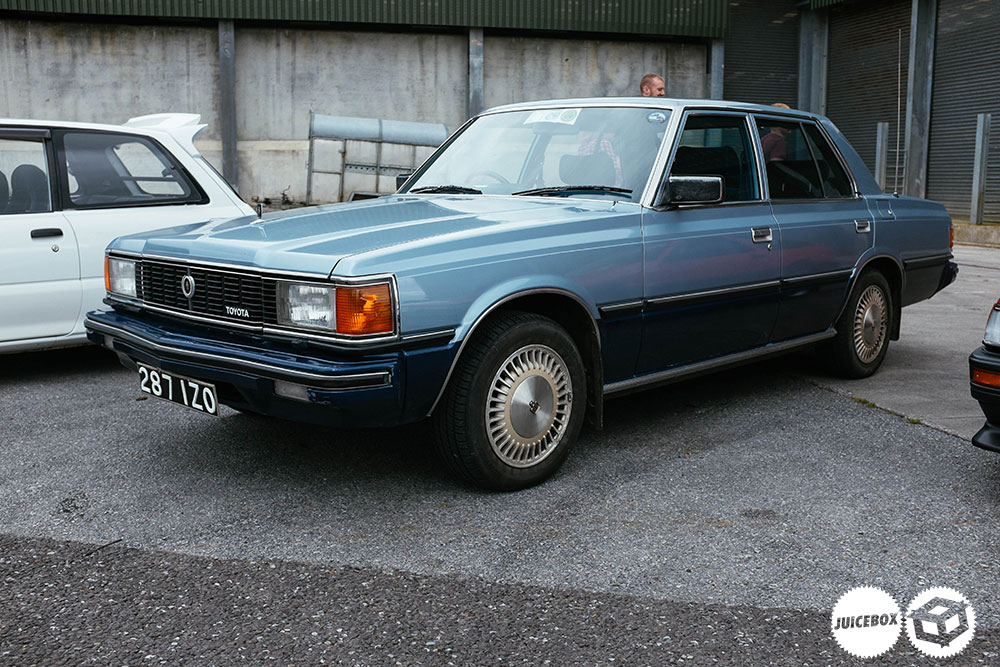 At the time im sure these cars looked fairly mundane but over the years their simplistic shape just gets more and more appealing. Its like Japan took everything America was trying to do and refined it to perfection.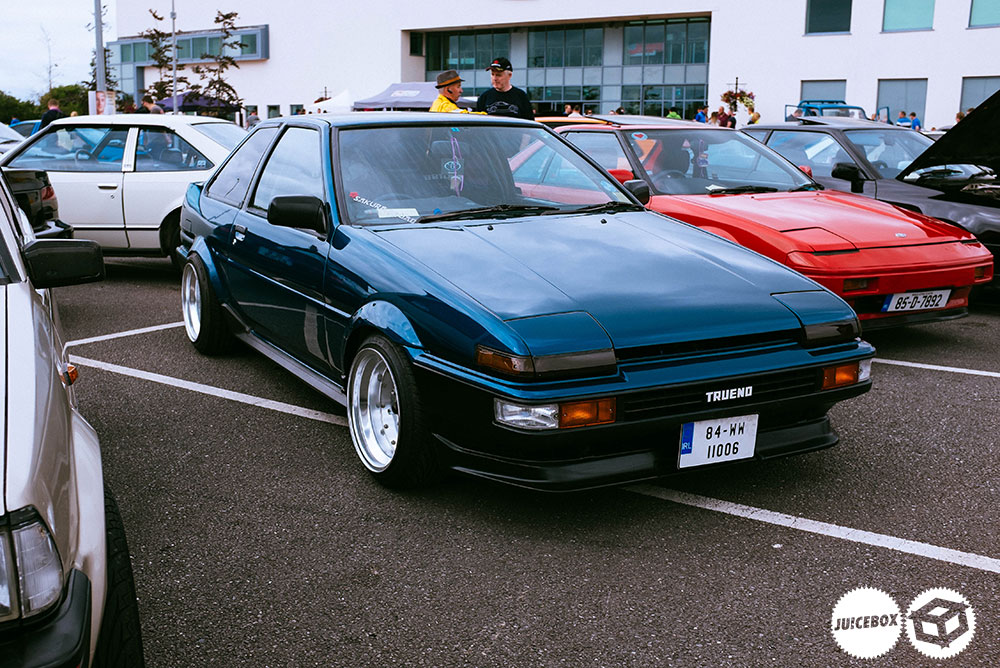 Im such a huge fan of this, the MK1's in a meaty size always make any old Toyota look tougher.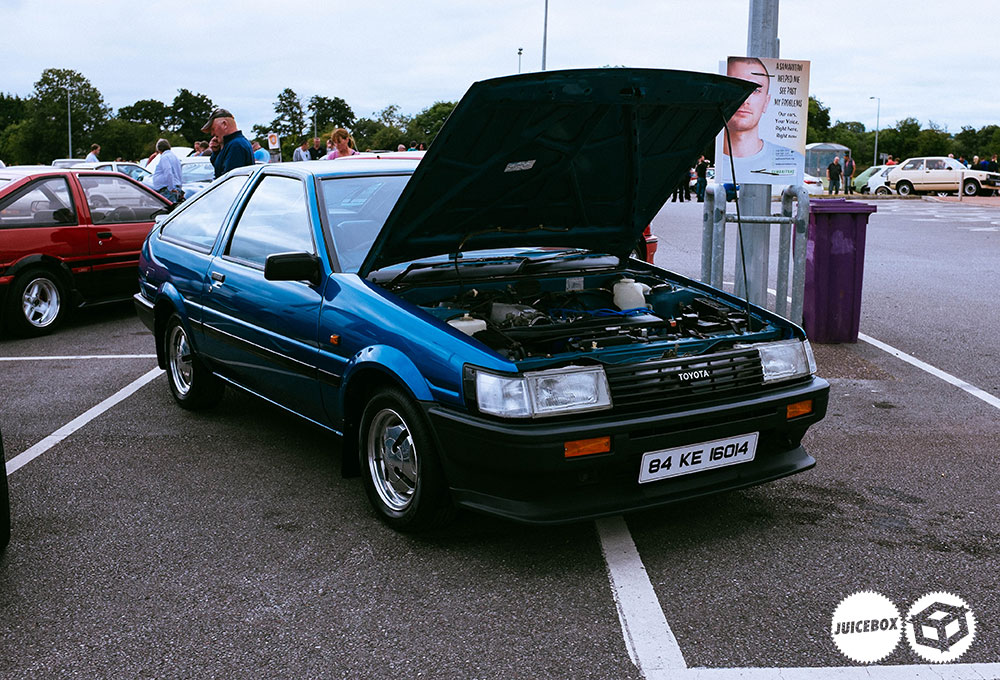 Like I said, Ireland is 86 crazy, from crazy spec builds to completely flawless restorations, its hiding out there somewhere. This 8A9 Blue Uk spec was flawless.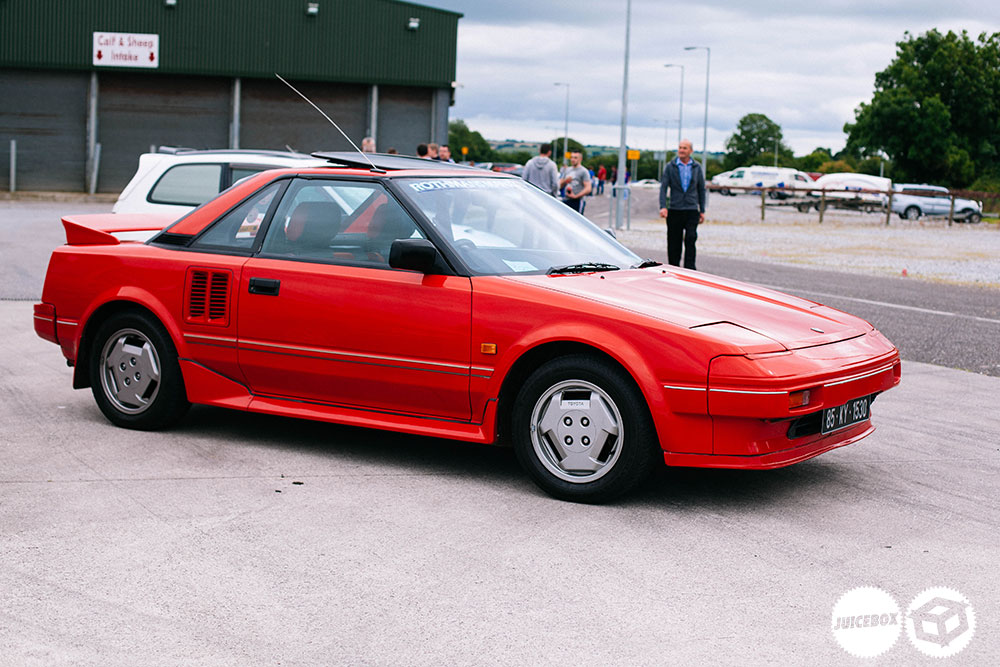 Another car Ive always wanted to own is the AW11, unfortunatyley they are notorious for rusting, but the dream is still there, maybe someday.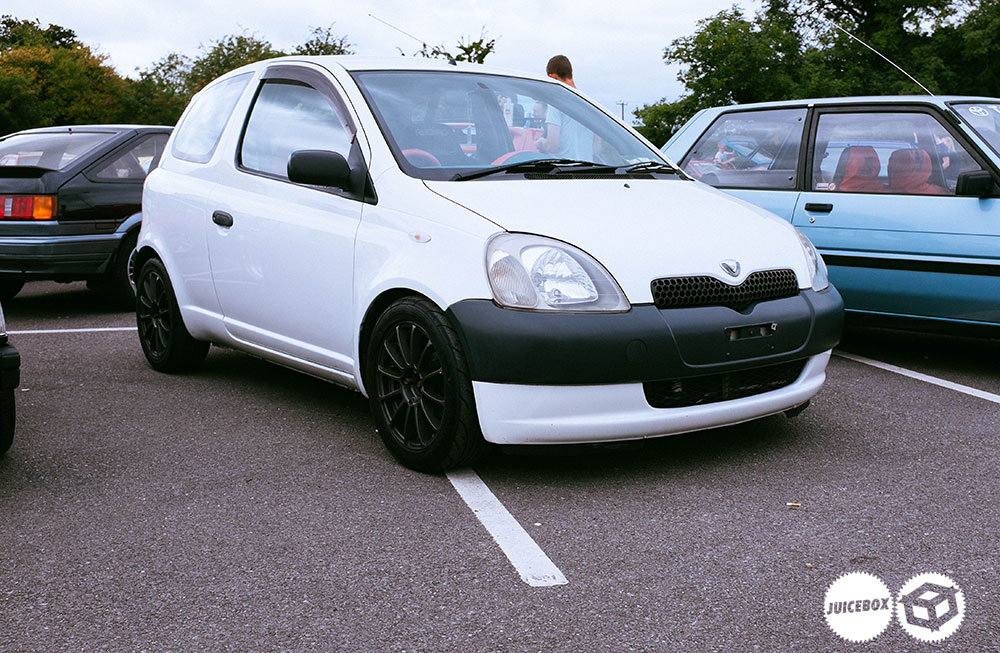 You might remember this Vitz TRD MSB we featured awhile back, now in the right hands I cant wait to see what happens next.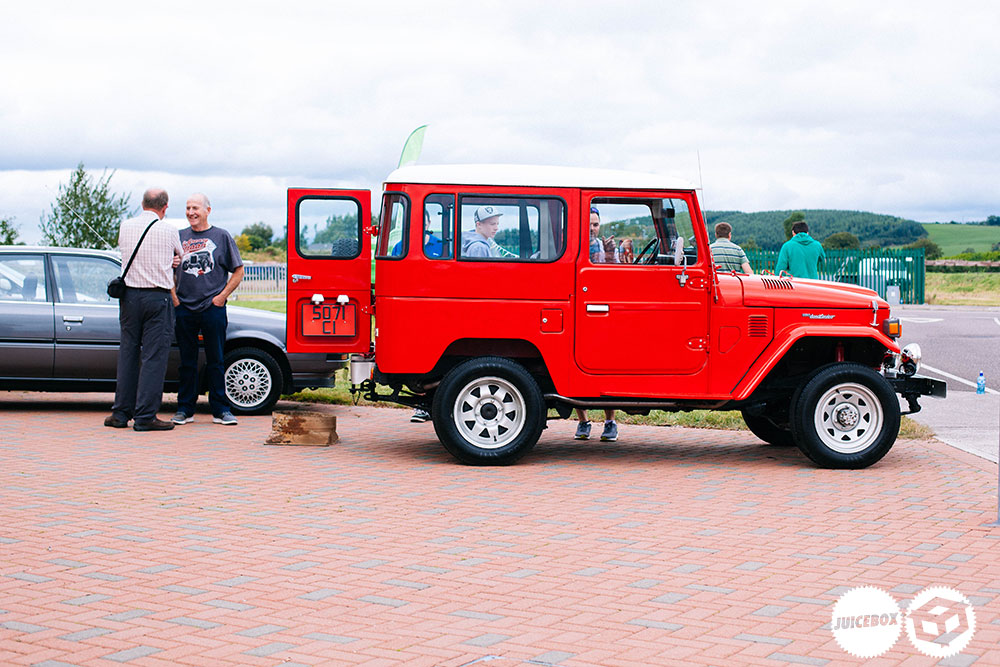 This FJ/BJ was nuts, fully restored it looked factory. Outside of the modified car scene, regardless the Toyota bug is caught by so many.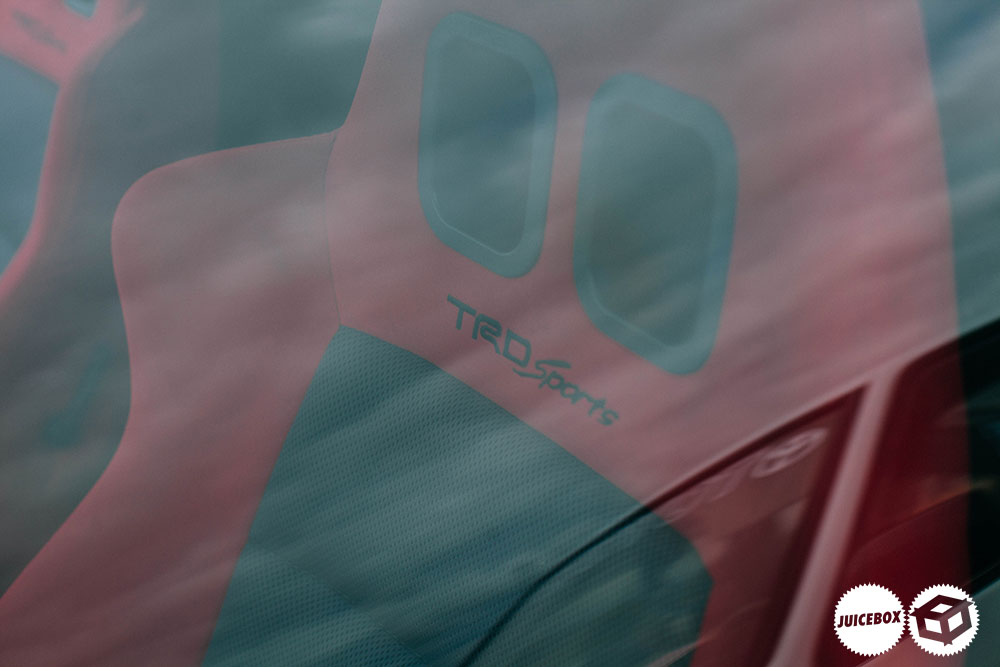 You go from seeing nothing for weeks to a complete over load of quality, hence why we are doing this in a 50 picture 2 part feature! There was too much to document and I'm still putting up over 100 images.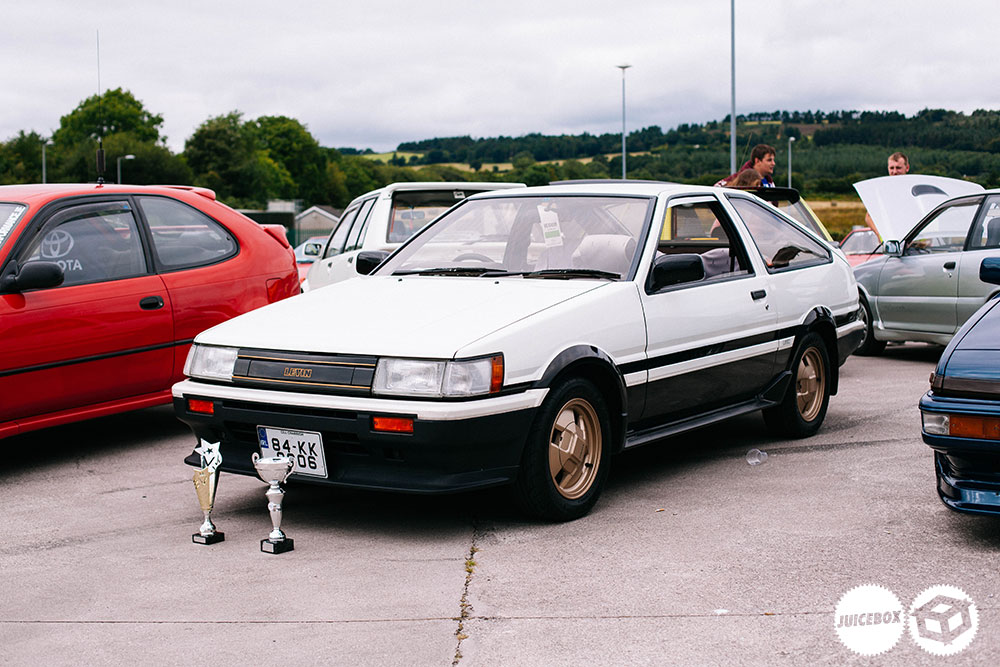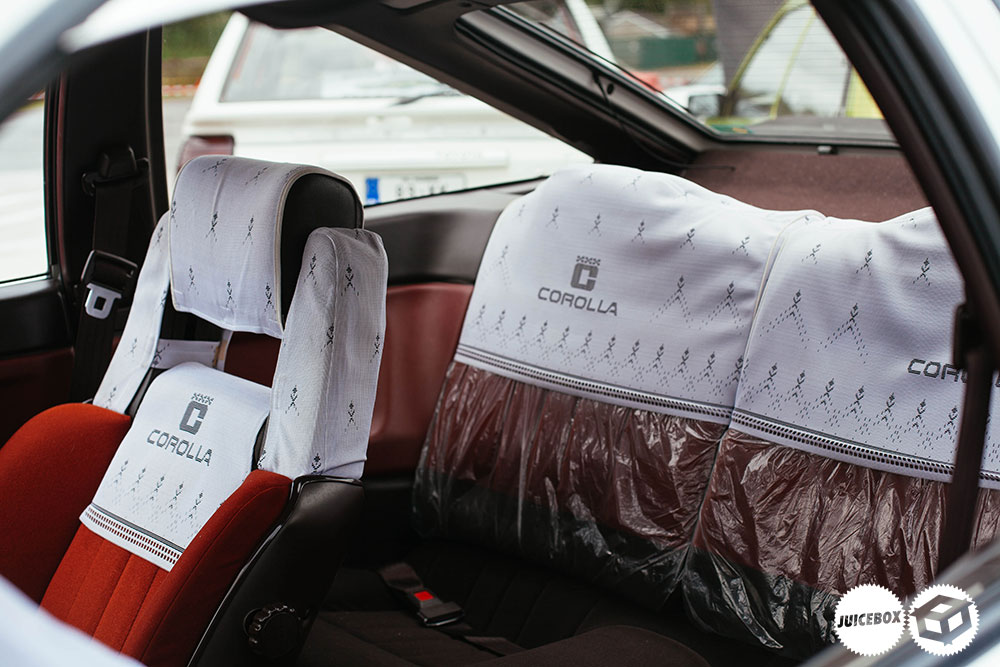 This Levin was completely original and completely insane! Check out those Toyota covers. It looked like an ad for an original brochure.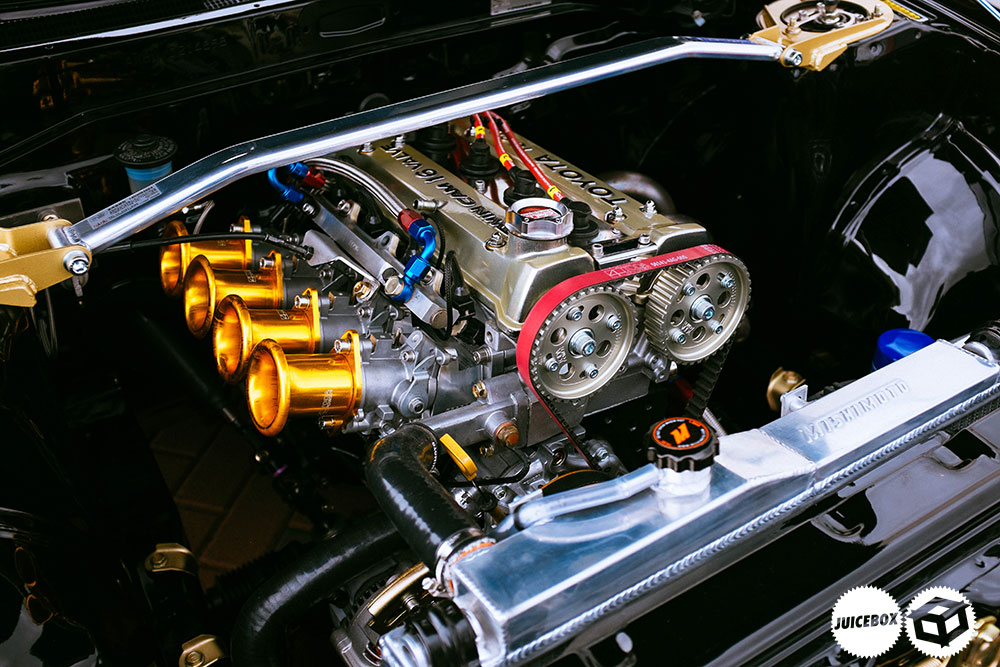 Engine bay of the day went to this black Trueno wearing Black limited decals. What a treat for the eyes.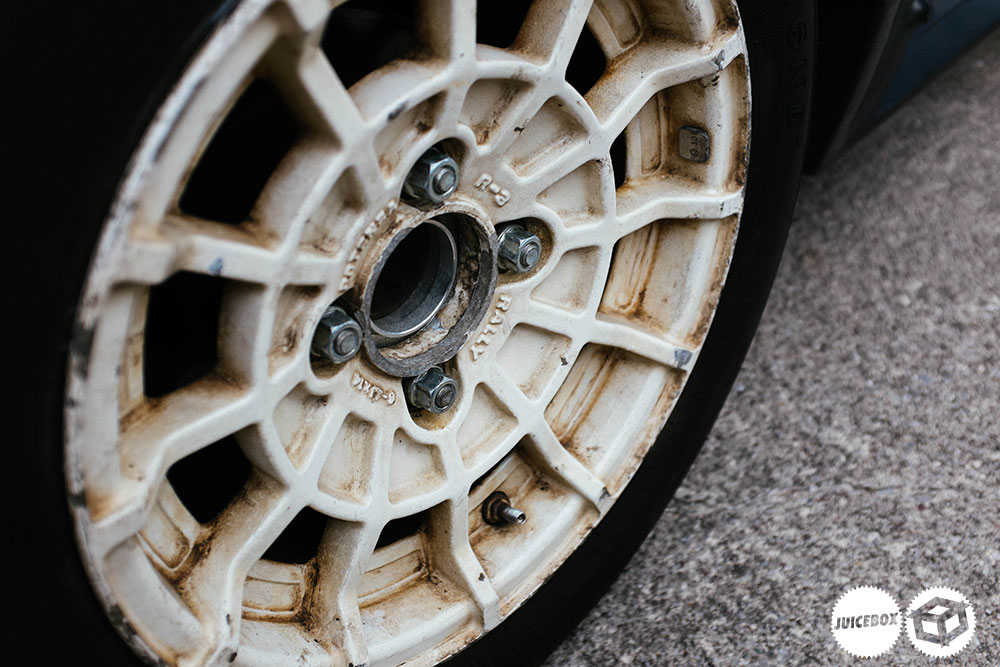 These Potenza rally wheels were unusual, something you do not come across but im sure quite a few have ended up here on different vehicles.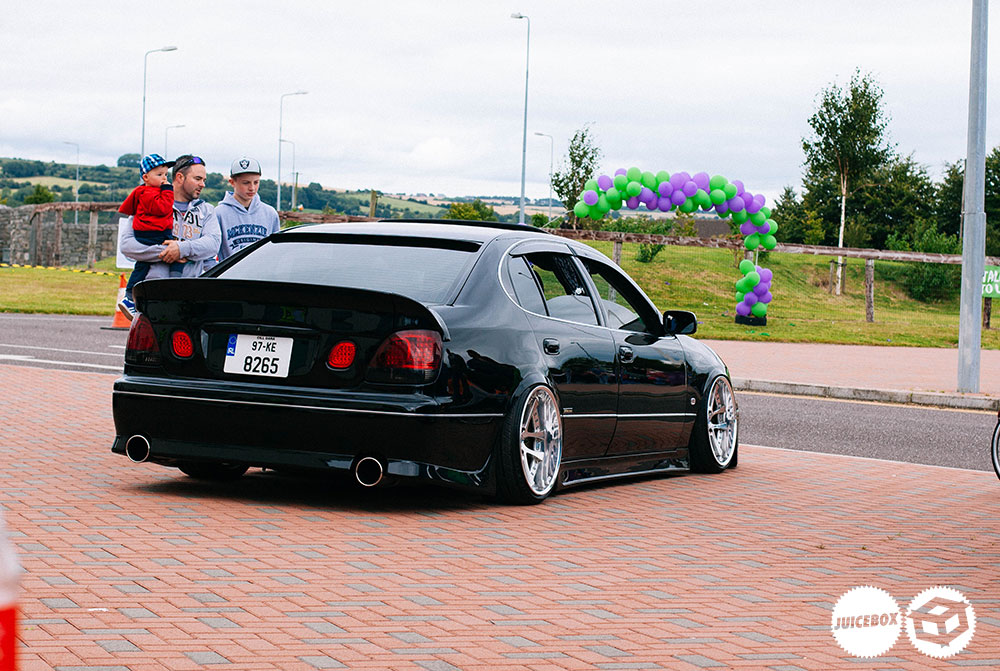 Paddy has done all sorts of good with this thing. It always bugs me that we featured it before it looked this good. Such a great car.
A fairly image heavy post, be sure to check back for part two coming tomorrow evening.
Comments
comments
Powered by Facebook Comments