Make Art – The RYO AE86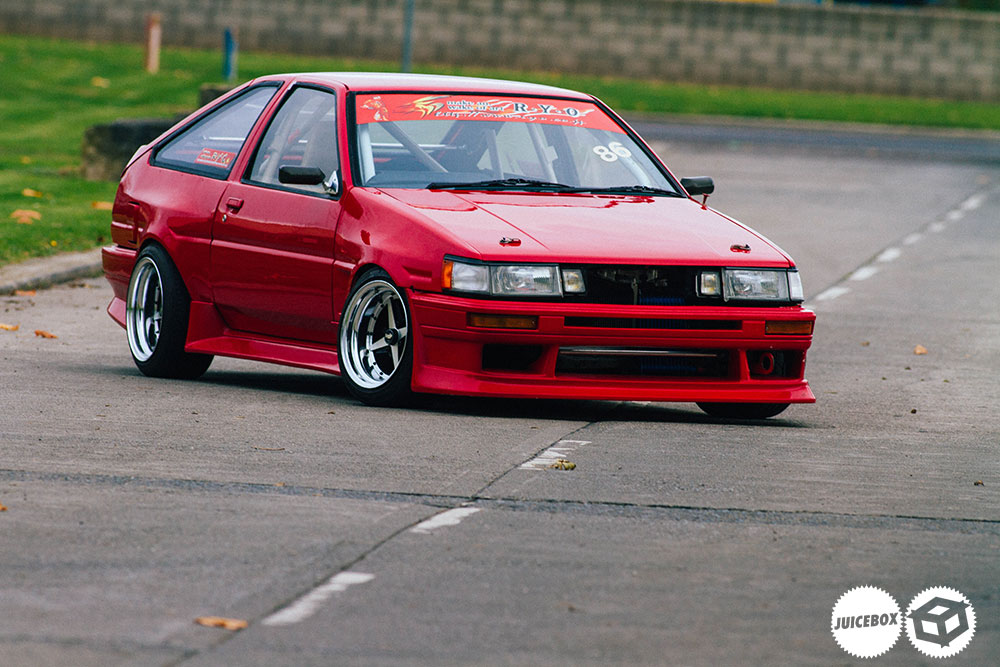 It's no secret that we here at Juicebox have a serious love affair with the AE86. There is just something about these cars, the spirit, the reward, and the simplicity, all embodied in a very genuine very simple, honest little chassis.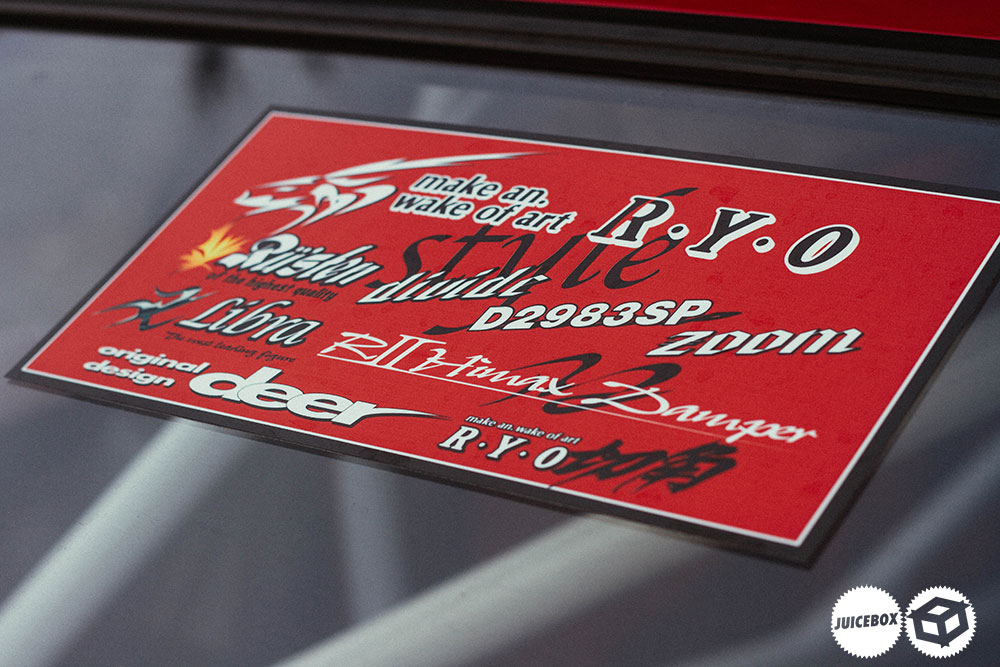 We sit here on a day which has been called "86" day to celebrate this chassis and decided to give you a real treat. This car has been a bit of a mystery over the years. Brought into Ireland during the import boom back around 2006, money was flowing in Ireland and the yen was weak against the Euro.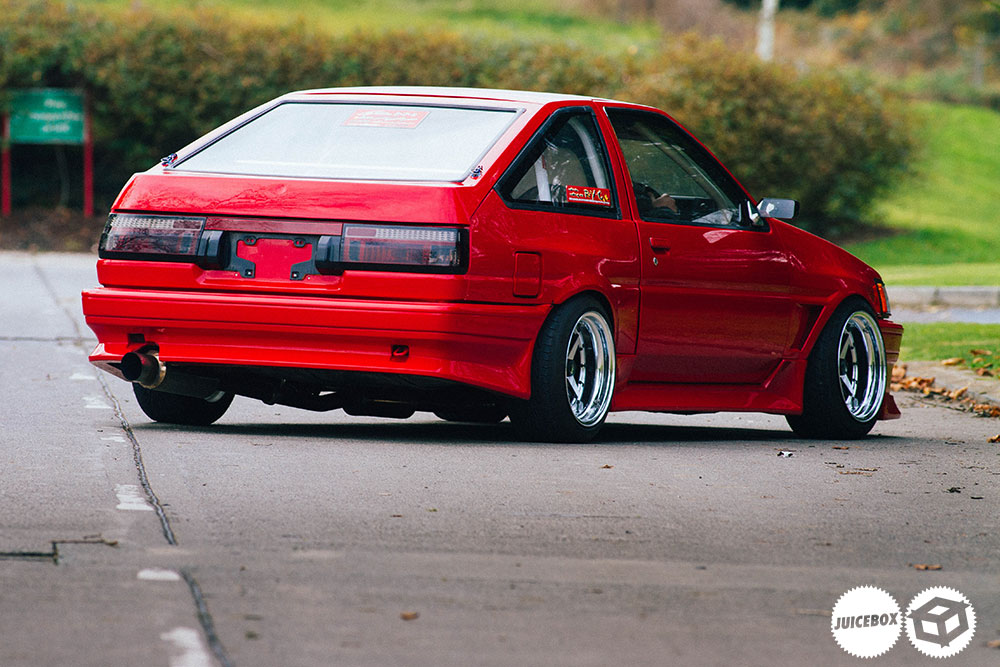 This enabled us to pick up some really fantastic machines, which was right at the tail end of the thriving Japanese car scene. This car was put together right at the tail end of everything, right as shops and companies were starting to wind down in Japan. Amazing cars like this were sort of common for sale back then, maybe not so much freshly built cars, assembled and basically shipped from Hiroshima to Ireland right after being finished.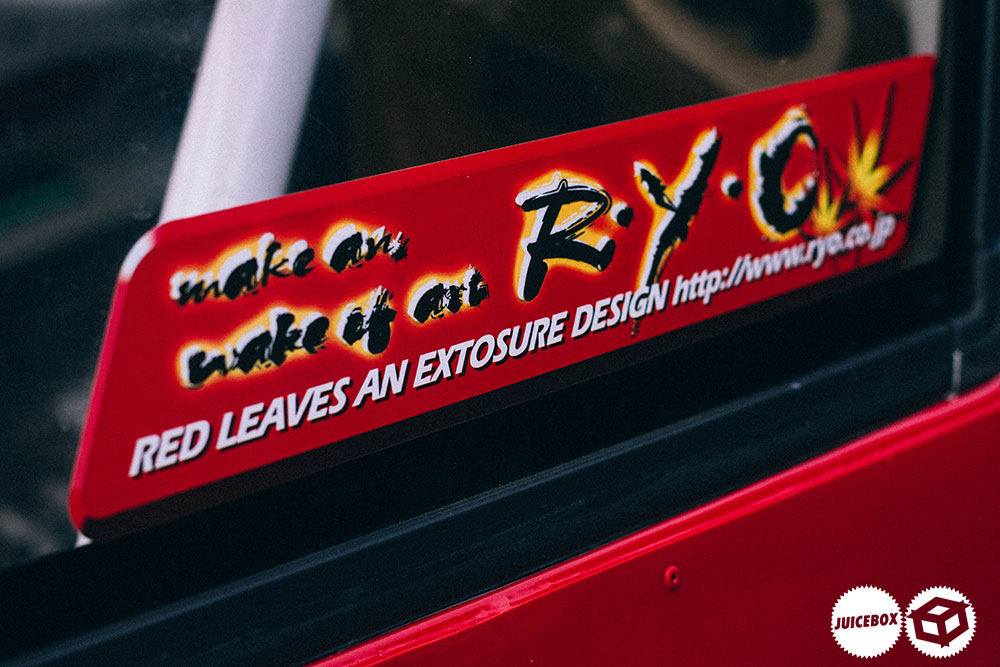 The car landed in Ireland and into the hands of a good friend who, which had already had a famous Corolla from Japan bagged himself a real gem. It was custom built as a track car and basically had every single lusted after AE86 part at the time thrown at it. As the ultimate fanboy of this chassis and Japanese car parts in general, I can safely say this is one of my all time favorite Corollas.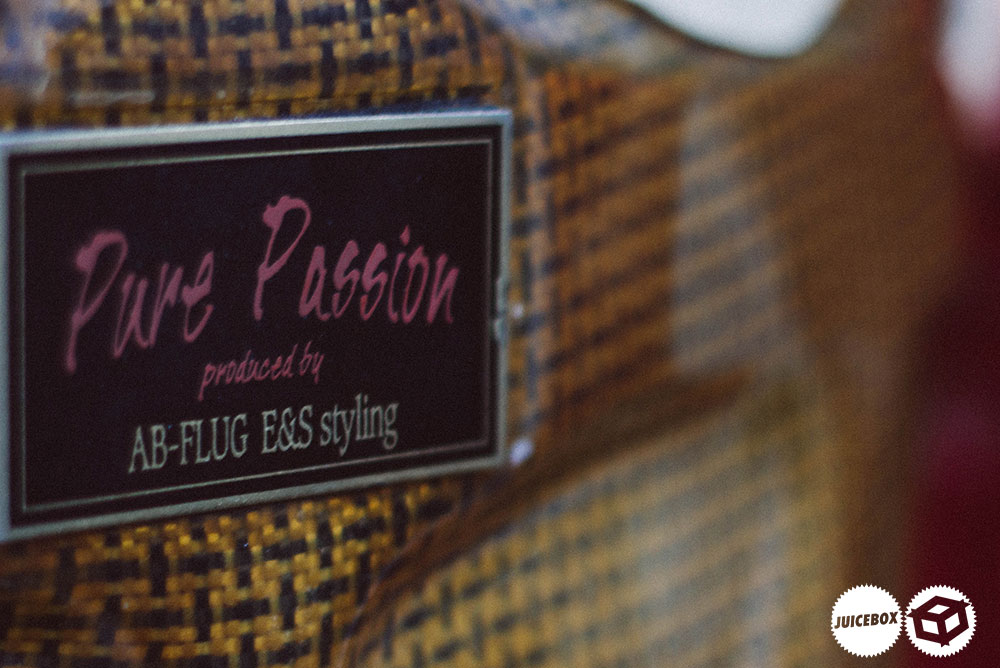 After owning the T50 Trueno this car was the next choice. This car was like a 10/10 high maintenance female, amazing to look at but a string of stressful bad luck and other nonsense kept this car hidden away from the public. This further added to the mystic of this work of art. It was frozen in time, never registered as a road car maintained and left in pristine condition, like a brand new machine that just rolled our of the imagination of Garage R. Y. O.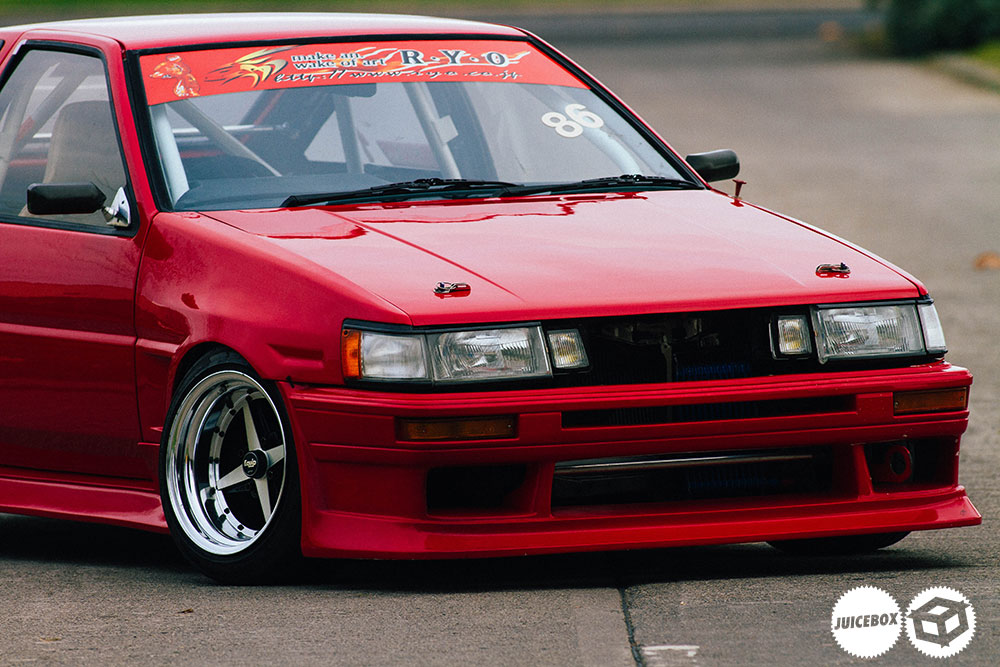 There is just something so in your face and daring about a bright red Levin. Especially one with big arches and deep wheels… Somehow the Japanese always knows the balance, the right amount of sticker, always in the right places aesthetics mastered like a fine art. I've always been a huge fan of leaving the front grille out with Kouki headlights; it just gives the Levin such an instant ignorant appearance.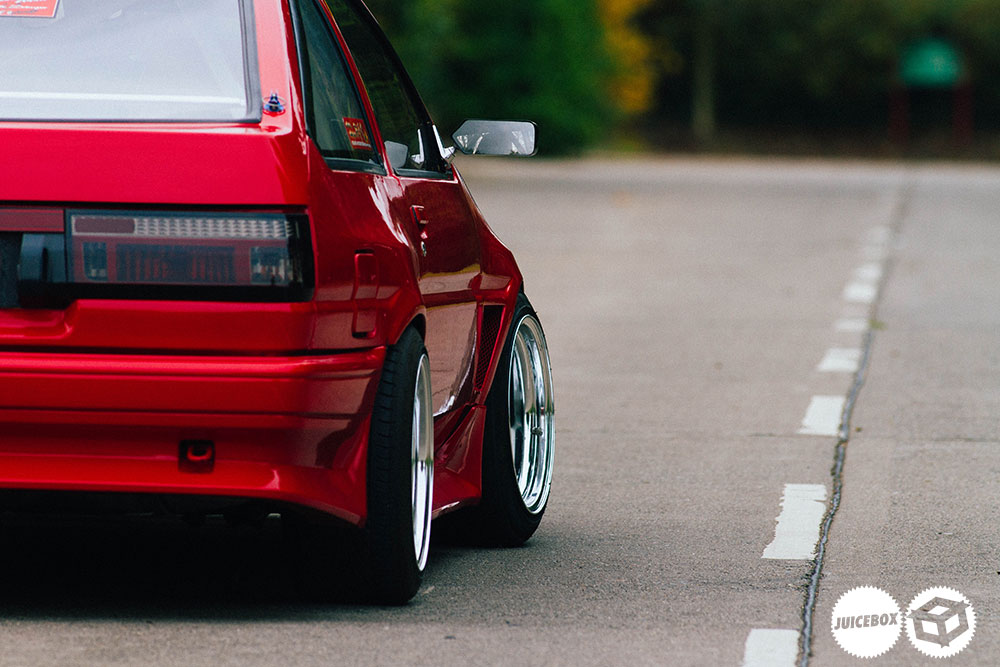 The car is the polar opposite of a standard steel arch look and to be honest I'm just as big this hyper stying as any. Genuine fiberglass parts can look so damn good, the T&E kit accompanies by some J-blood 30mm vented wings upfront, 40mm at the read, fiberglass J- blood doors and bonnet and rear boot lid.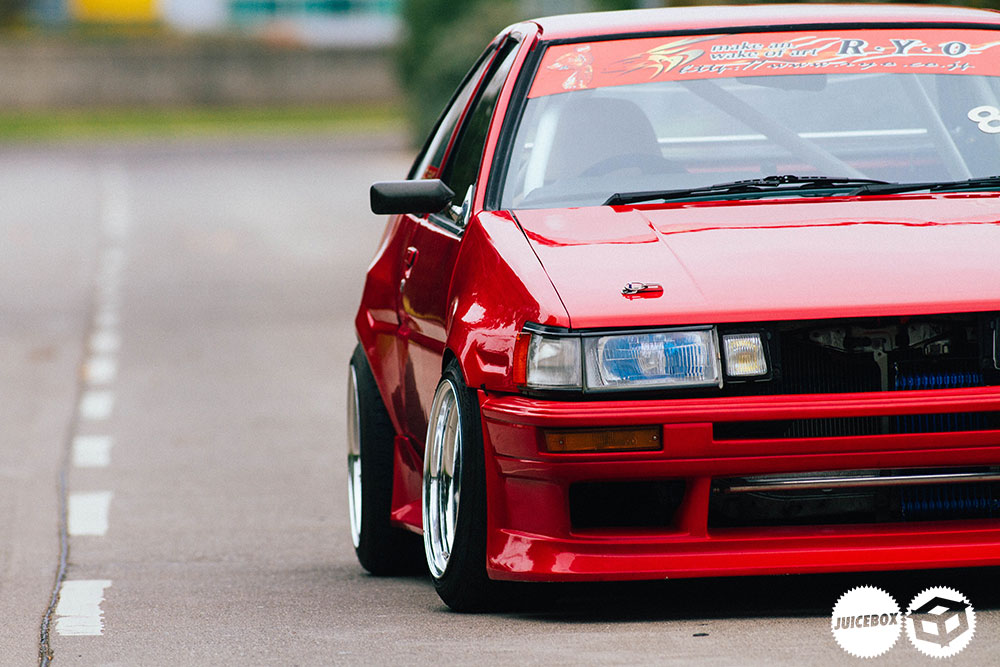 It doesn't matter how many times people have done this look, when executed correctly its hard to beat. How is it that people have been modifying these cars for over thirty years and we still don't get sick of seeing a proper example? The rear lights are a very nice touch.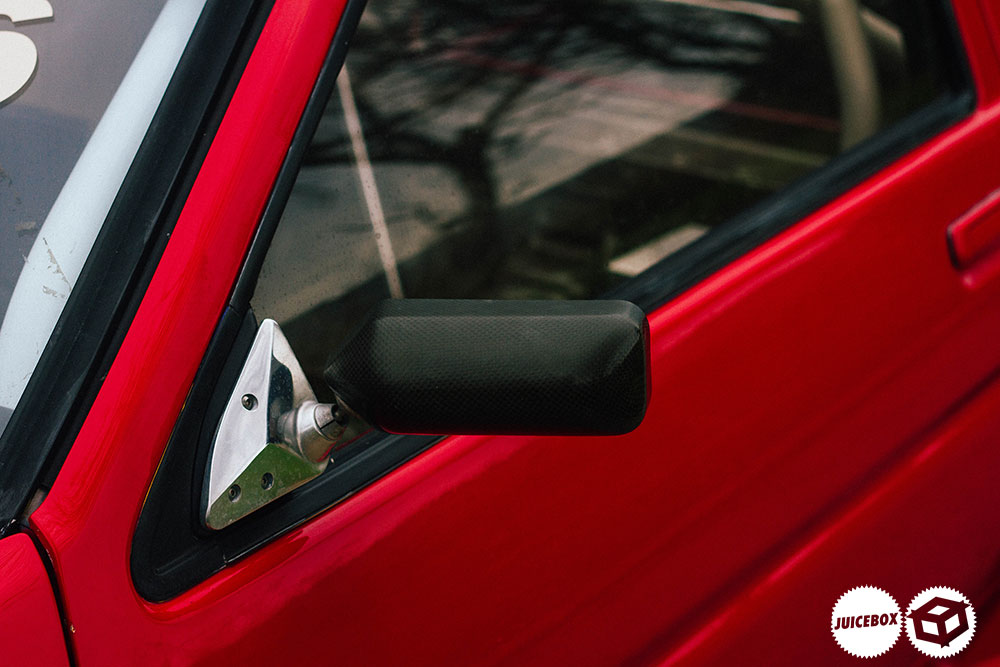 More than often we tent not to stray away from the OEM styling with the 86's here in Ireland, which is understandable as much of the factory stuff is almost a perfect from the get go. But to be honest its always good to see some properly styled after market stuff doing justice, the hood pins, the craft square mirrors.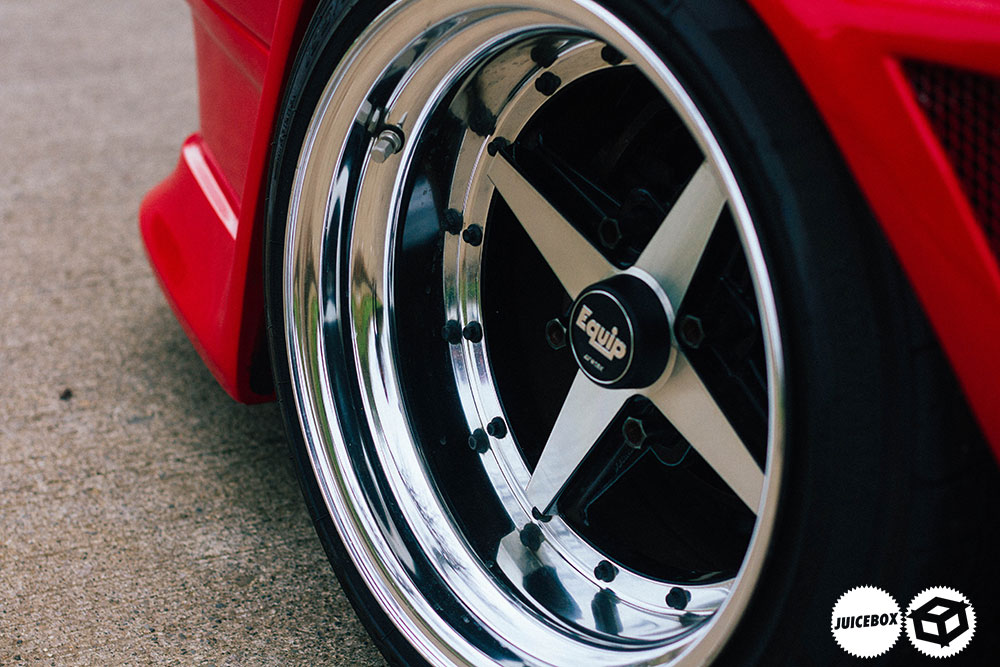 The Equip 01 wheels in perfect arch filling offsets… it would be hard for me to think of a wheel that would suit this car more. Funnily enough, these wheels have been long over done in Ireland and yet right here on this machine I wouldn't choose anything else against that red. Something so bold about that black backed four spoke red combo.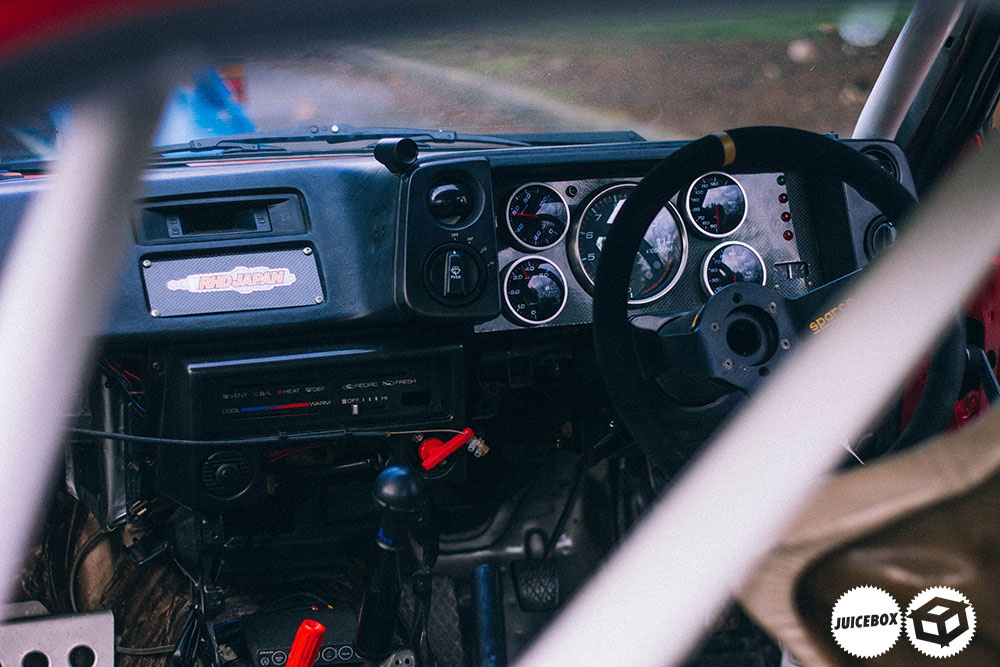 The interior has been fully stripped out, carpet door cards, everything. The bare essentials remain. R.Y.O. chose a very nice grey to compliment the rather loud exterior paint job. The white Dash cage is such a nice colour combination accompanied by some insanely cool white leather AB flug carbon Kevlar backed seats.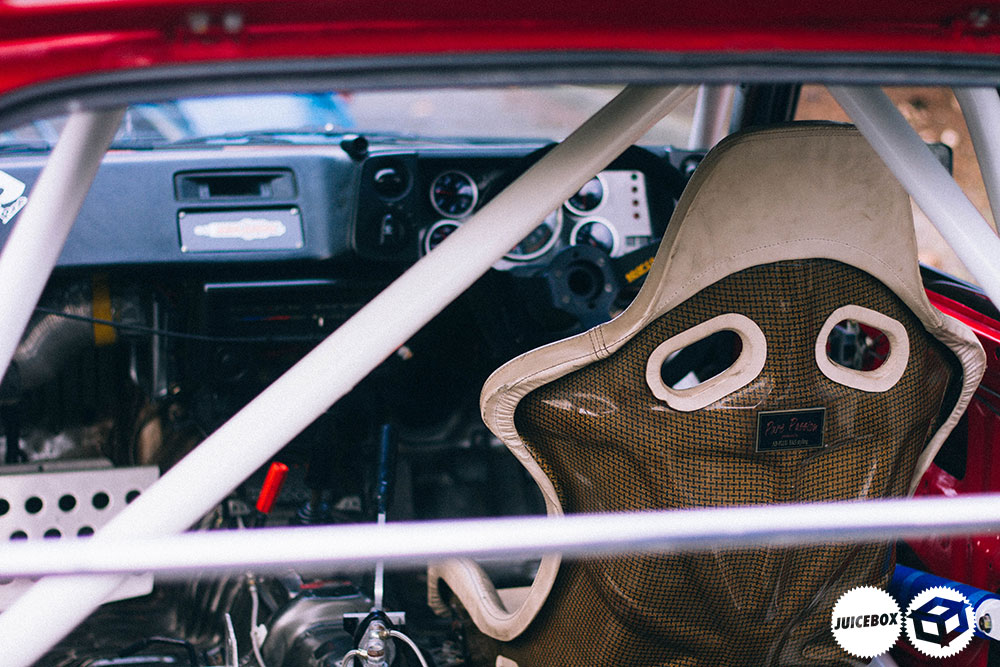 On paper this would sound horrific but in the flesh id probably choose nothing else. Martin actually fitted these seats from his old T50 car; just a coincidence modification that I cant gets enough of.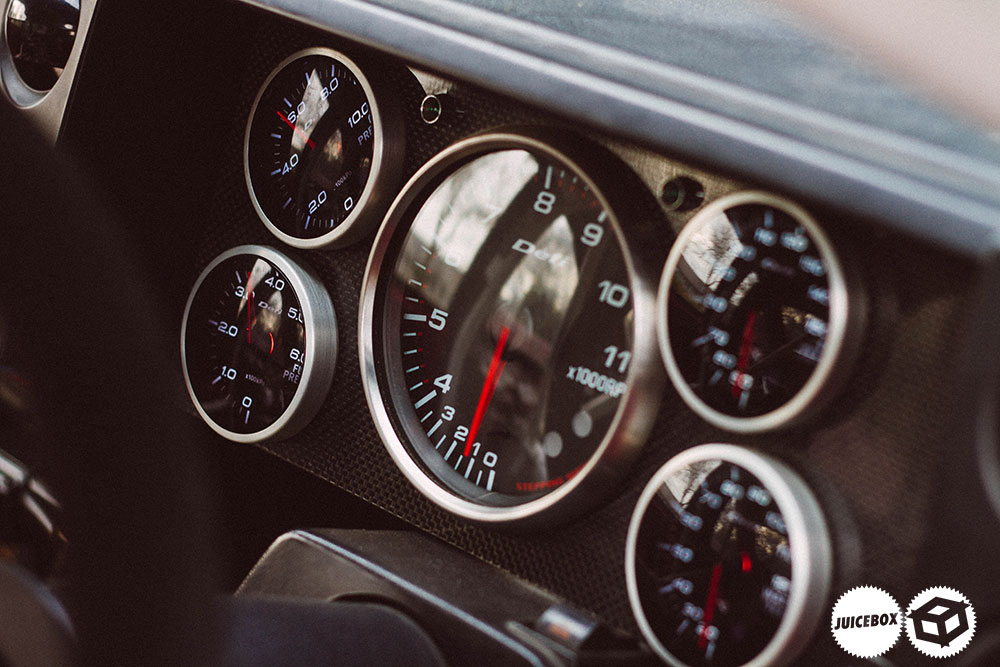 The original gauges have been swapped out for five Defi instruments with a carbon-backed plate, all matching and all looking right at home. Spot the shift led lights on the side. There is also a nice dash battery box and passenger footrest.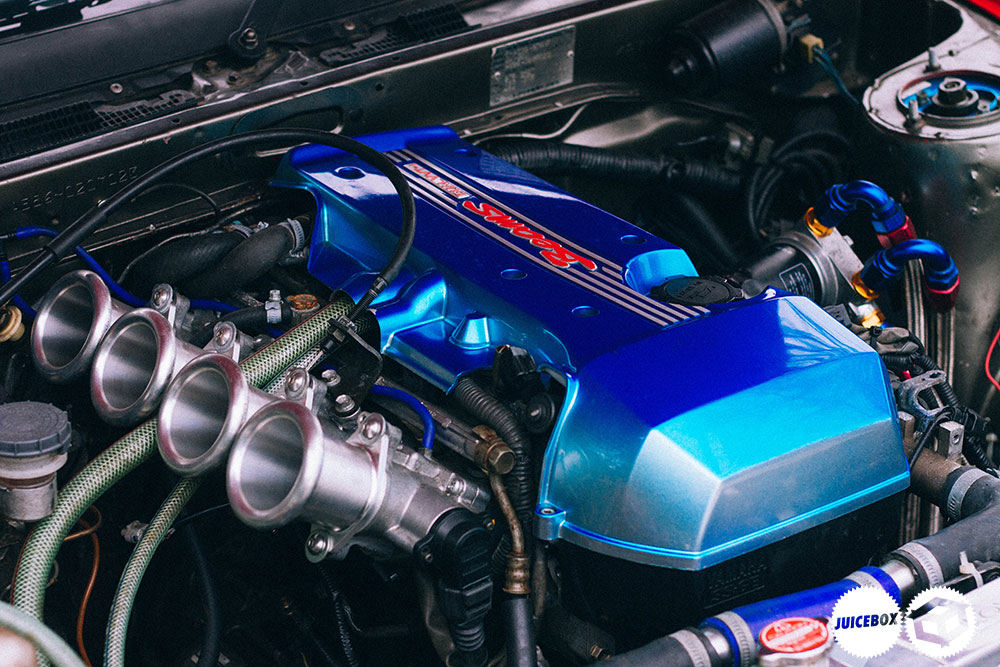 A great match for the Eight six, the blue covered 3S-GE engine is at home under the J-blood bonnet. Putting out around 245bhp and accompanied by the Altezza six-speed gearbox the engine really gets the credit it deserves in the 86 chassis. Some AE111 throttle bodies have been added along with TRD inlet and exhaust manifolds.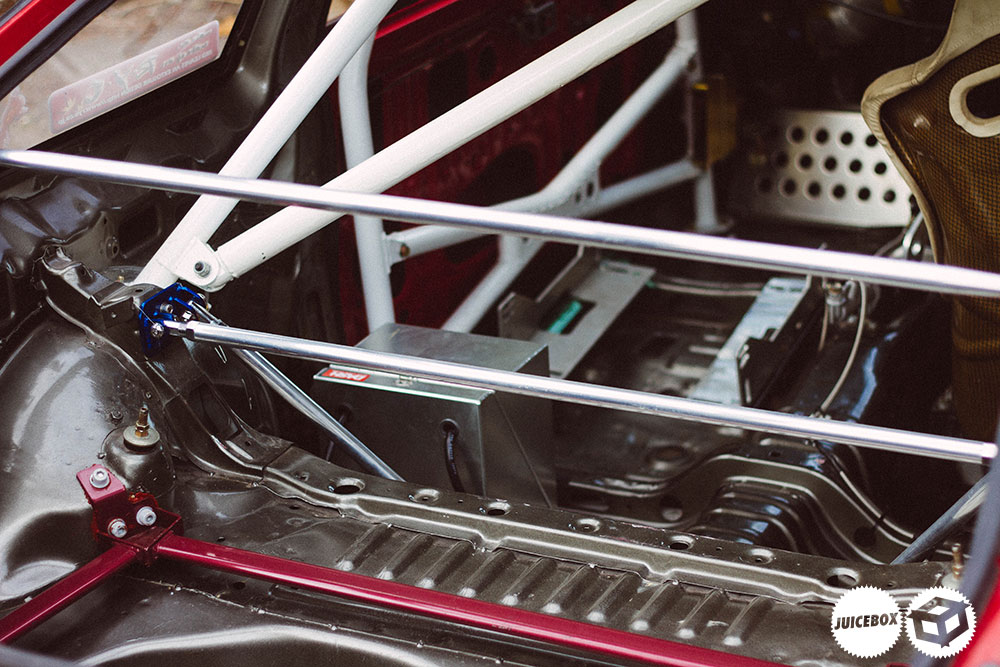 A spec list any nerdy 86 fan would lust after. Handling wise this car is loaded with a dream spec list of well-chosen goodies. Parts from revolver such as coilovers and pillow ball arms, Nagiza auto fender braces, Ueo inner and outer tie rods Ueo 4 point strut brace, a section panhard rod, and a bunch of really nice Garage Shapple bits. Some really nice parts from some of Japan's greatest.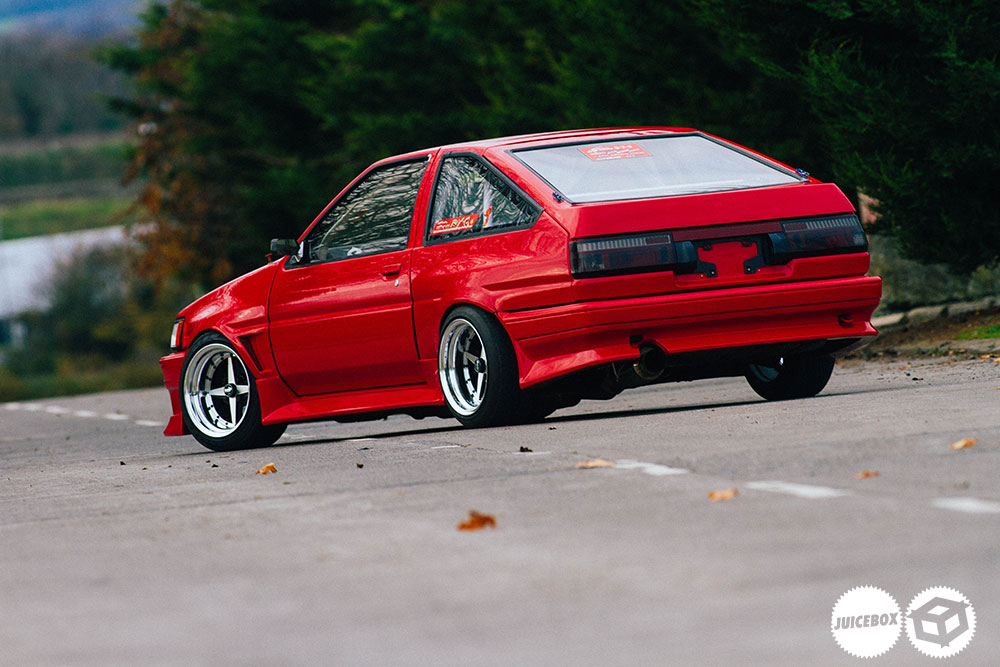 How is it that we just don't get sick of these cars? For over thirty years people have been skidding them, taking them apart, hacking them up, creating modifying and evolving this chassis world over. Possibly the most immensely tunable thing on wheels to ever come out of Japan, lets not forget the act of drifting itself was invented with the Corolla.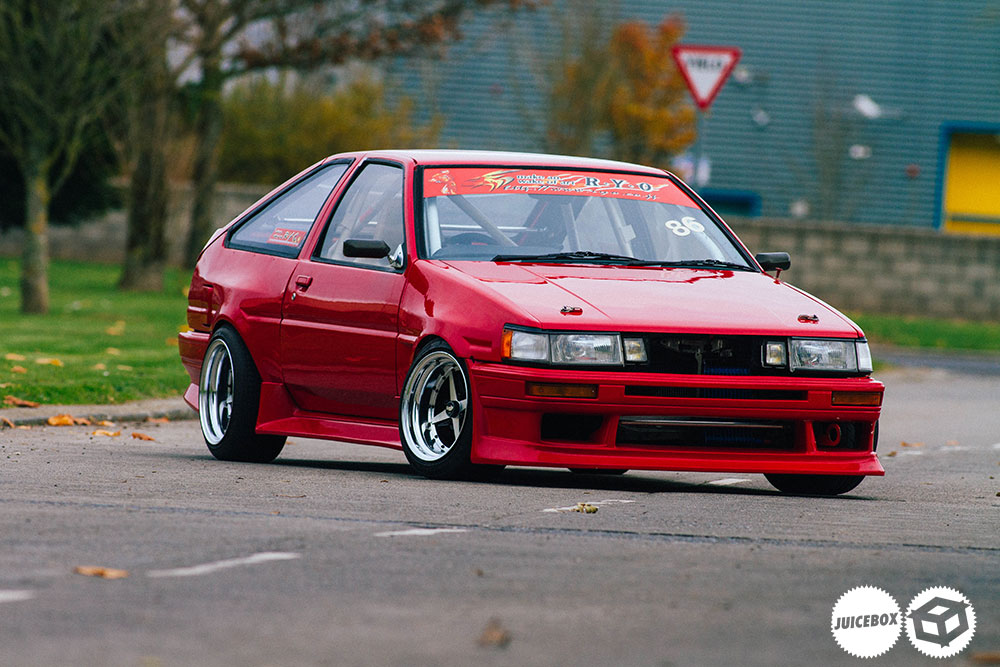 The Emerald Isle has the largest following for this chassis outside of Japan, we are obsessed, everyone is attracted to what this car embodies, drifting, rallying and hard driving, this car rewards the brave.
For someone who still doesn't get it where we are going, find a friend and eight six go for a spin. It's just something you have to experience. With its simple square little eighties edges, there is almost nothing like it. We love you AE86!
Thank you for existing, and thanks to Garage R.Y.O. Martin and Japan for producing such an amazing work of eight six art. We hope you enjoyed this car, as much as we do, I'm sure it's pretty damn obvious how much we do!
Happy Eight six day!
Engine
Altezza 3sge engine
Ae111 throttle bodies
TRD inlet manifold
TRD exhaust manifold
URAS exhaust
KOYO ae86 rad
ARC thermostat,
GREEDY oil catch tank,
TRUST 13 row oil cooler and relocator.
HKS V Con managment
Driveline

6 speed gear box transplant
Late spec rear axle with a 4.3 cwp
TRD 2way,
Suspension/Steering/Brakes
UEO tension rods
RELVOLVER pillow ball lower arms
REVOLVER coilovers
HTS TOCIKO inserts
CUSCO top mounts
NAGIZA AUTO fender braces
UEO inner and outer tie rods (crazy lock)
CUSCO poly bushed 4 link arms
HTS TOCIKO shocks
TRD blue springs,
SECTION pan hard rod
GARAGE SHAPPLE pan hard tower brace
GARAGE SHAPPLE panhard tower brace
UEO 4 point rear strut brace
GARAGE SHAPPLE c-pillar brace
GARAGE SHAPPLE 4 point interior brace
Fully seam welded shell
Wheels/Tires
Work equip 01's
Front : 15×9 -13
Rear : 15×9 -16
Exterior
Full T&E front and rear bumpers and side skirts
D-max rear lights
J-Blood +30mm front wings
J-Blood +40mm rear quarters
J-Blood fiber glass bonnet
J-blood fiber glass doors
J-Blood fiber glass boot door
Lexan rear windows
Interior
Striped out with
Dash 7 point roll cage
Dash battriey box
Dash passenger foot rest
5 Defi gauges,
Omp Deep dish wheel.
Ab flung carbon kevler seat
Comments
comments
Powered by Facebook Comments