The Boxy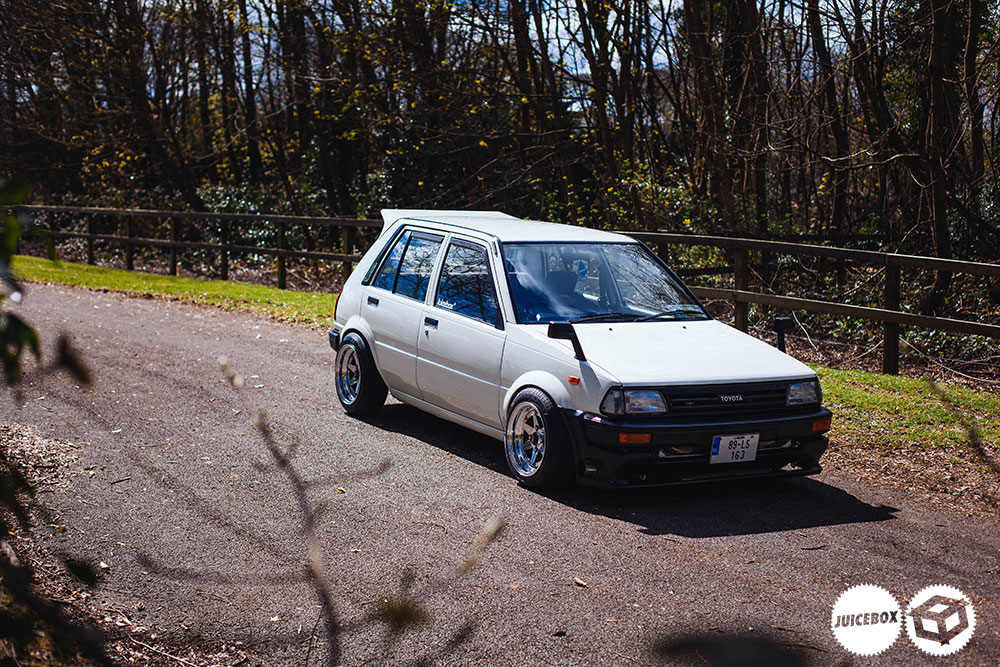 Intended for nothing more than commuting, the "boxy" starlet as its known here in Ireland was a cheap and cheerful run around from Toyota. Up until a few years ago, these were actually quite a common sight Irish roads, putting up a tough fight with newer cars until the scrappage scheme and insurance companies started to clamp down on the resilient old starlet.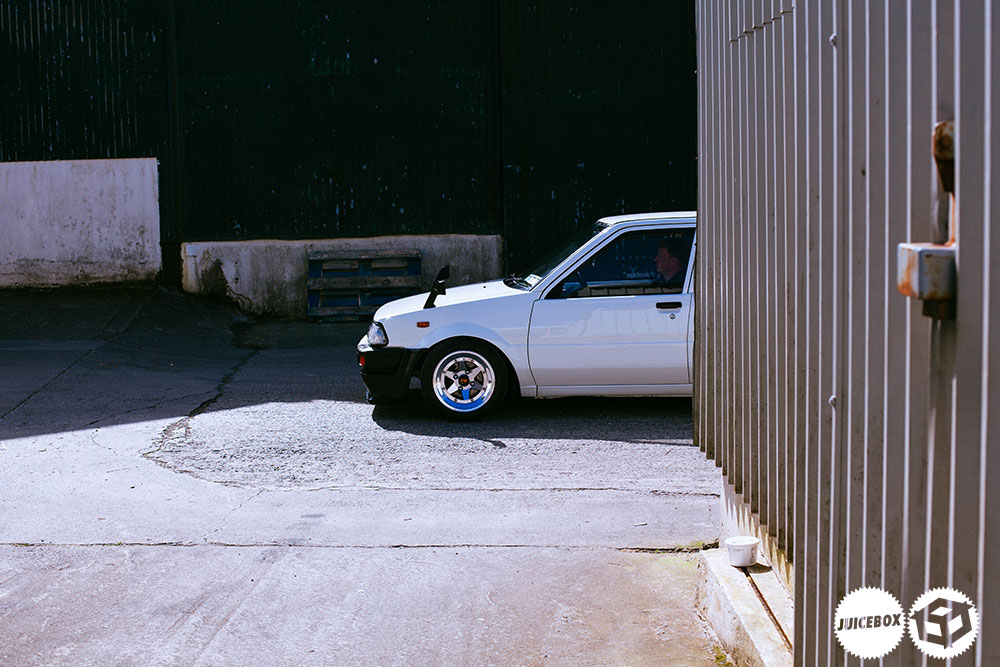 During the mid eighties Toyota was over engineering their cars regardless of the price. Id imagine that somewhere in the main head quarters someone got in trouble for over doing these cars along with much of the other Toyota fleet! Sean Maher and his friends drove one from Tipperary to Tokyo. That story itself is a testament as to the how rugged these little machines are. If you haven't seen it id suggest searching the site for it.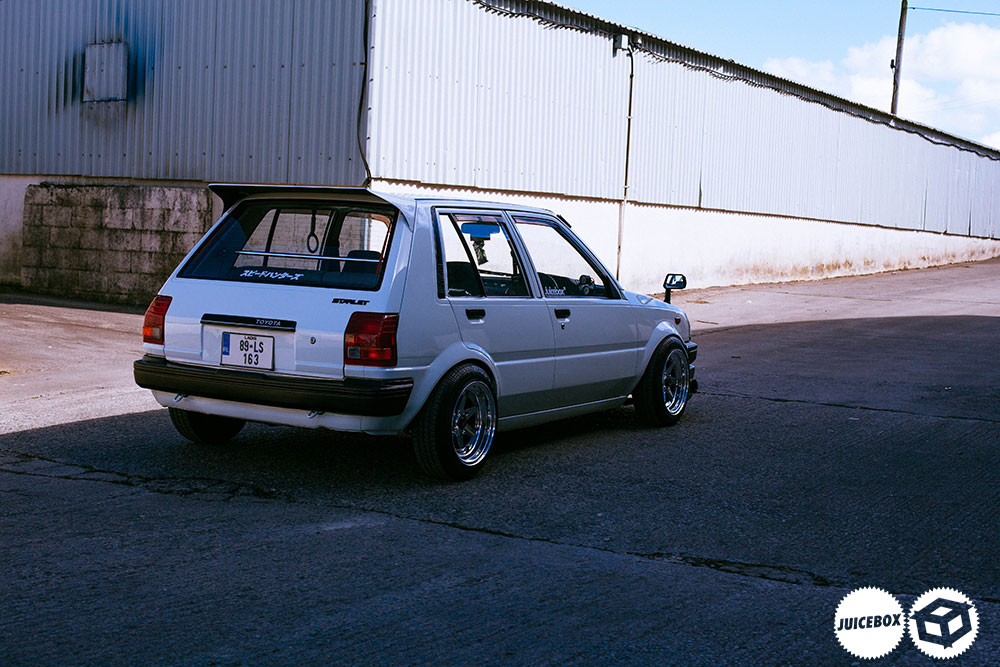 They were simple, honest, humble little vehicles. Vehicles, which probably spent most of their lives delivering people on the other side of fifty to and from the church and the local shop. There was a time when one could be got for 50 euros or less, many of them were smashed up, used on the oval or met their fate with the crusher, they started to disappear rapidly.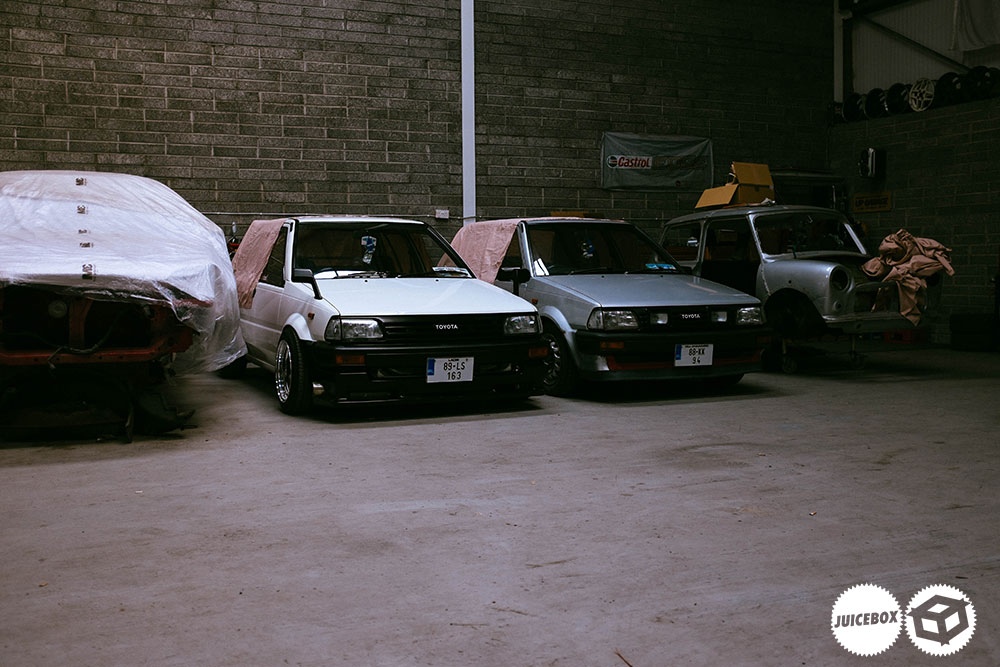 As the years went by, styling and technology had moved on. Slowly but surely we started to look at these little cars with a different set of eyes. Gone were the days of sharp edges and mega simplicity. Slowly but surely the almost invisible starlets started to stick out in a sea of swooping curved designs.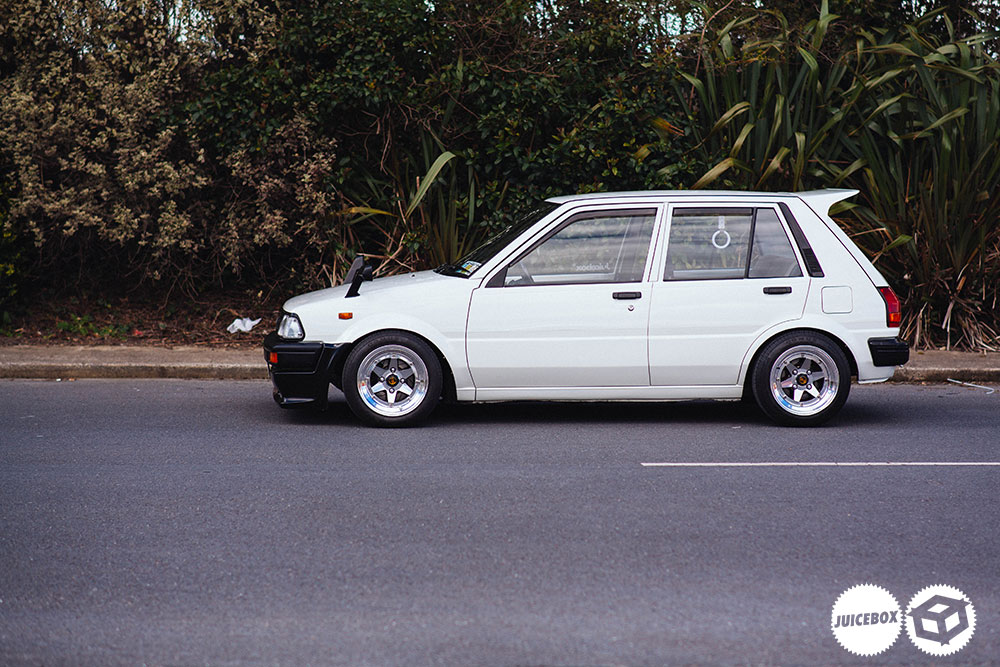 The starlet was a sort of a staple machine with the younger crowd, this is where Evan slotted in. After building an original Mini, he found himself lost in a world of EP70 starlets. Lured in by their reliability and simplicity, Evan started buying and selling and collecting starlets.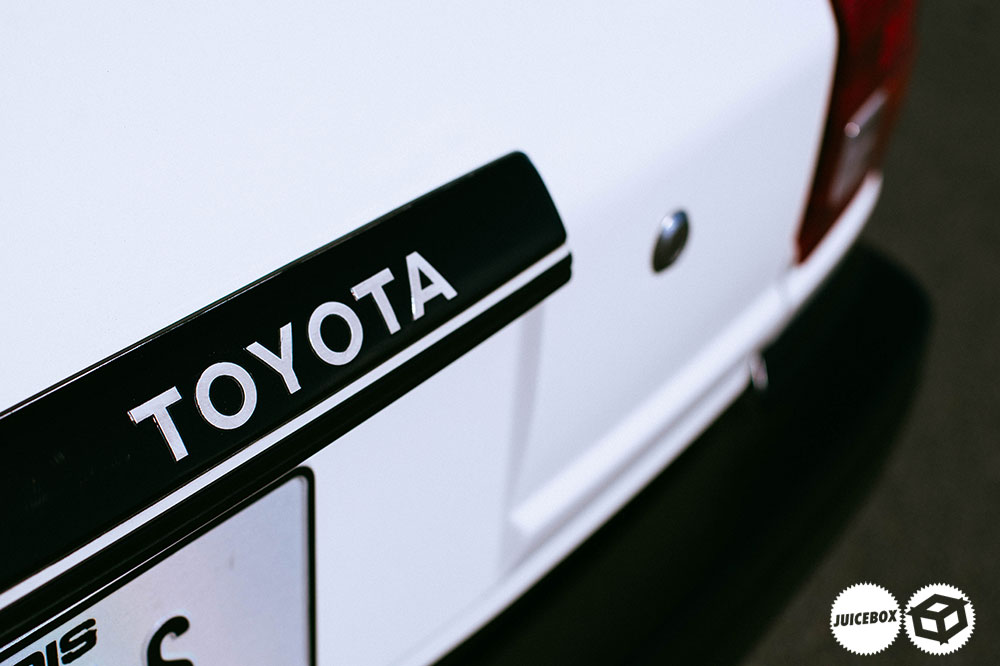 When these were super cheap, many people used them as run around while their main projects were in various states. Not too many ventured much further.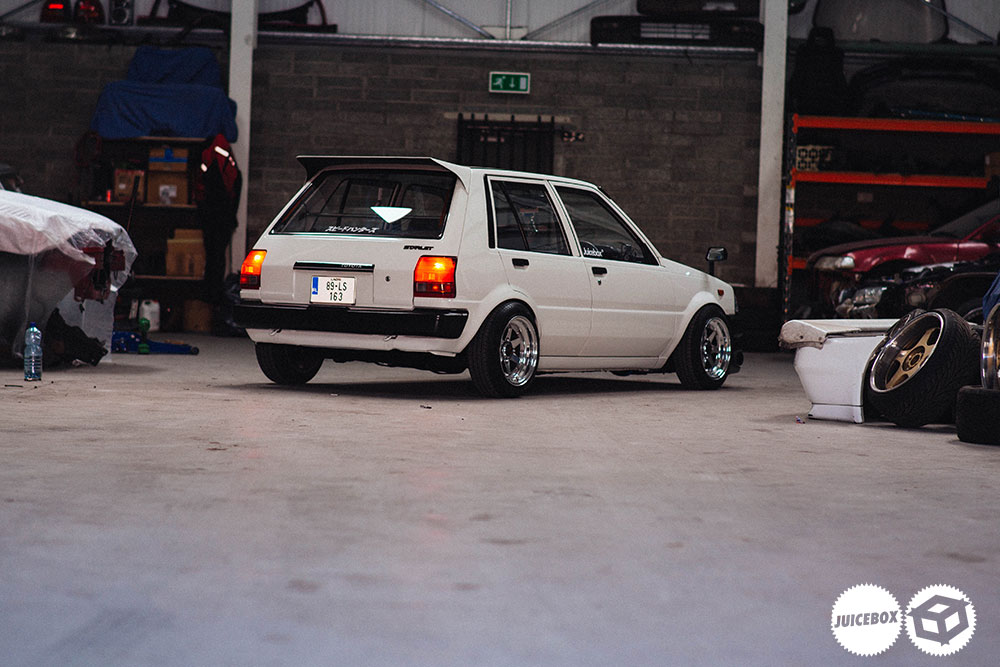 A lot of people thought Evan were somewhat crazy as he started to make plans to restore and build one of these from the ground up not really knowing where he would end up with the finished product.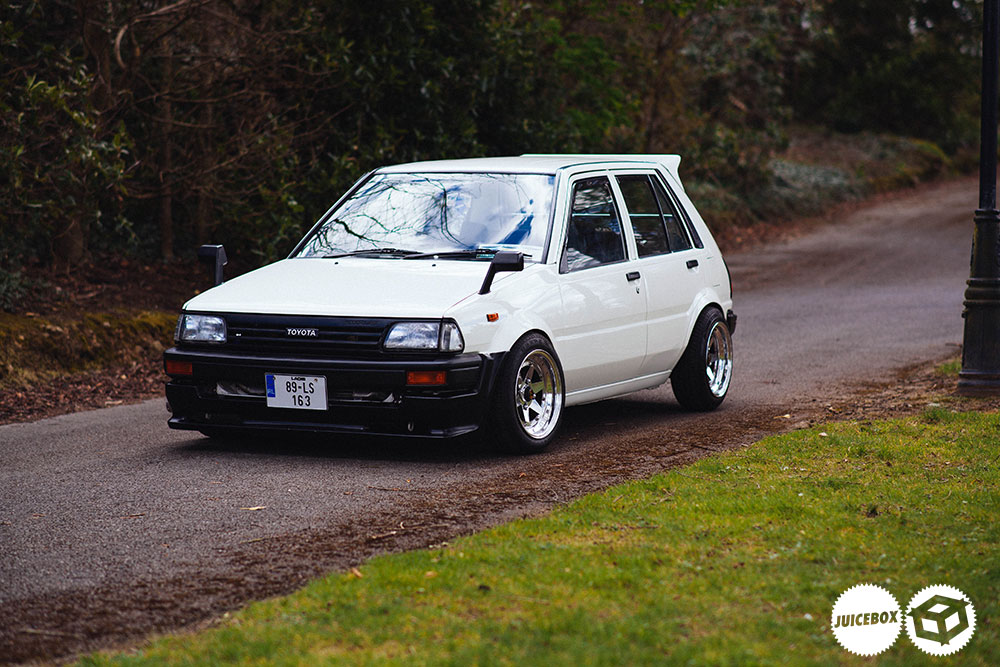 "A five door?" Really? Why don't you just build a three door? Why really bother at all? "Maybe its time to get something else" Constant questions that would get thrown around in conversation, often light hearted but I'm sure they would make an owner second-guess his intentions. What you are looking at here is solid persistence…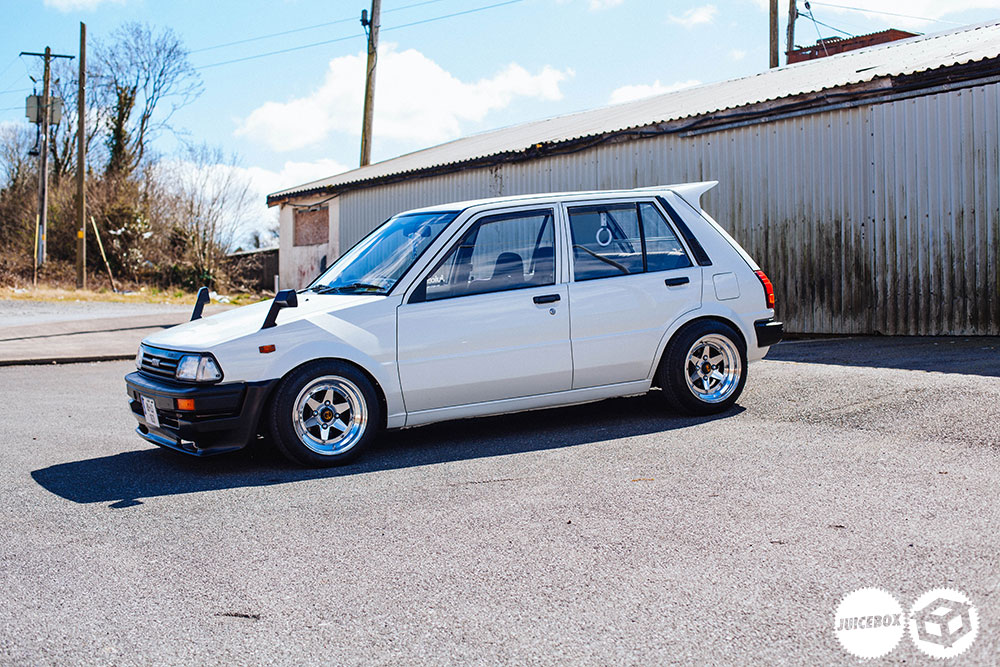 The project was slow with no real time frame, as Evan didn't have the cash on hand much of the time, things were done on this car when funds allowed. There was no hunt for Internet fame either; Evan would just work away at his own pace picking up little bits here or there. At times we would almost forget this was still an on going project as Evan plugged away at this build regardless of anyone paying attention or not.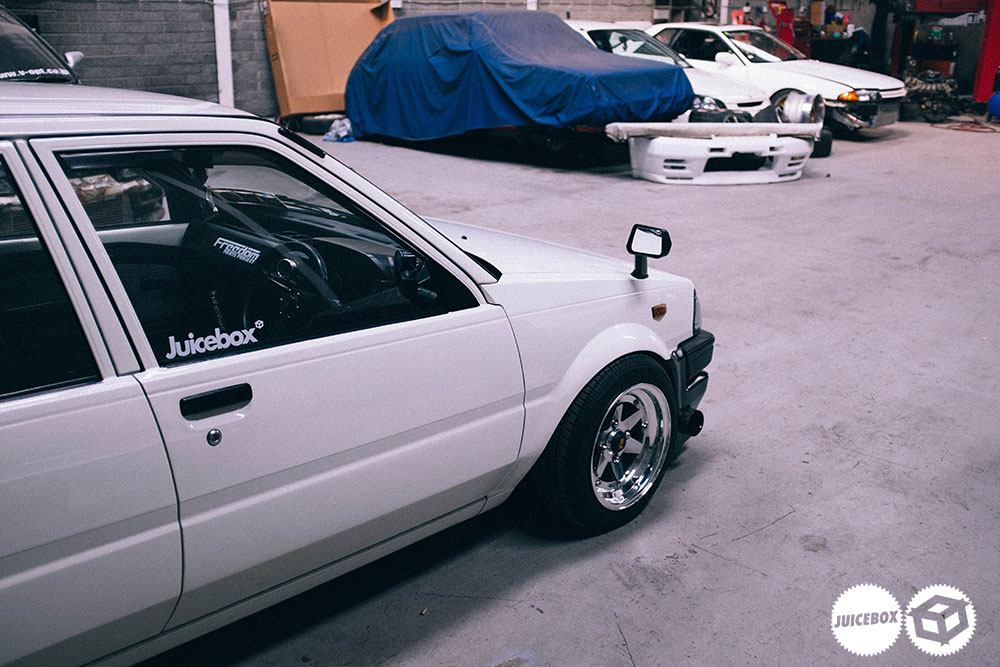 Hunting down rare or unusual parts in a somewhat limited market, things just sort of came together very nicely for him. The JDM wings have the indicators in a different position and were the wing mirror model, something most people may never notice, along with the different boot lid. Evan found these in a small breakers yard on a soon to murdered Import starlet, luck was on his side. The timing was perfect.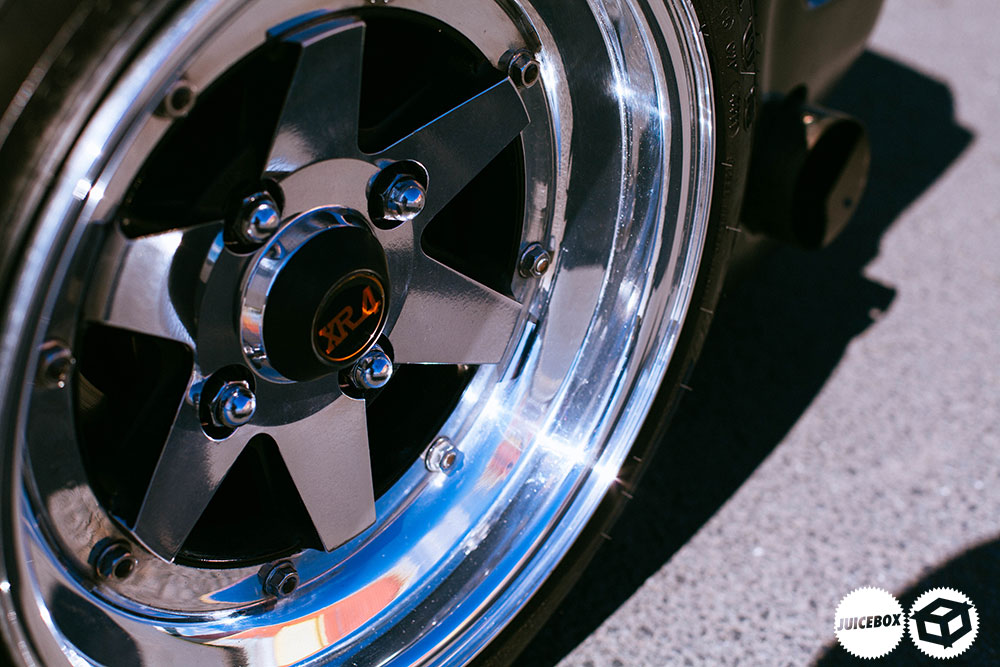 As friends slowly moved on to different platforms Evan pushed on. A set of not so great offset SSR Longchamps for an AE86 were the perfect match for this little EP70. Custom 4×114.3 adapters had to be made for the starlets 4×100 hubs. Evan managed to track down some smaller centre caps and got the wheels hand polished.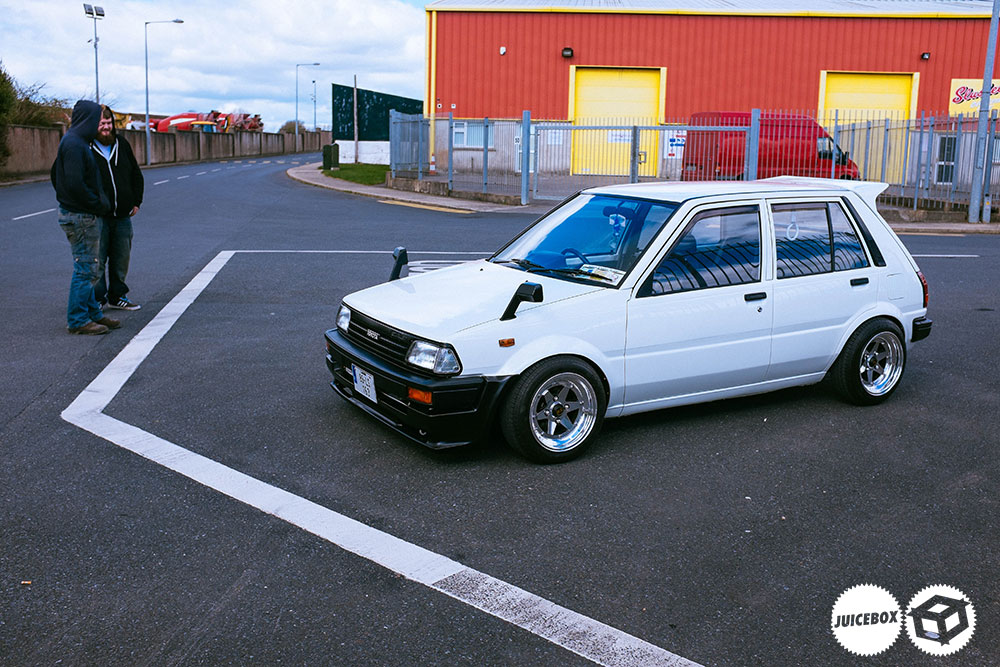 Because these cars were being produced side by side with the AE86 they almost look like a miniature version and much of that styling looks at home on this little white box. The front lip and no side skirt look accompanied by some flares arches works wonders on this car along with the rear spoiler.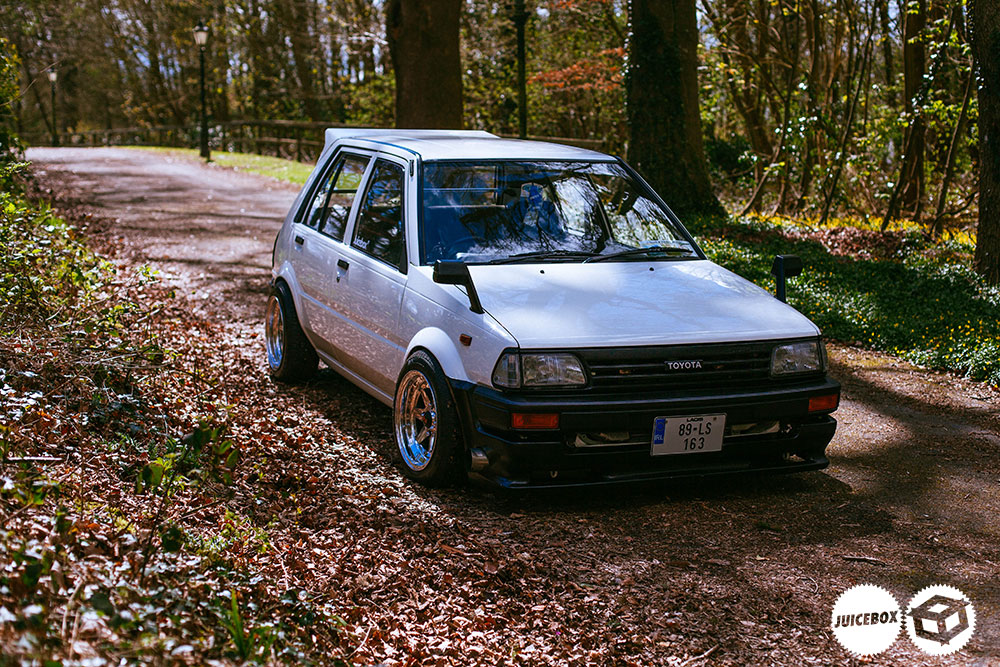 The front lip had been in the friend group for years, it magically appeared a few years back and since then everyone had duplicated it for each EP70 incarnation that came into the circle. It worked perfectly on Evans front end in black against the simple white. This really was the first build to give the phantom FOHA lip justice.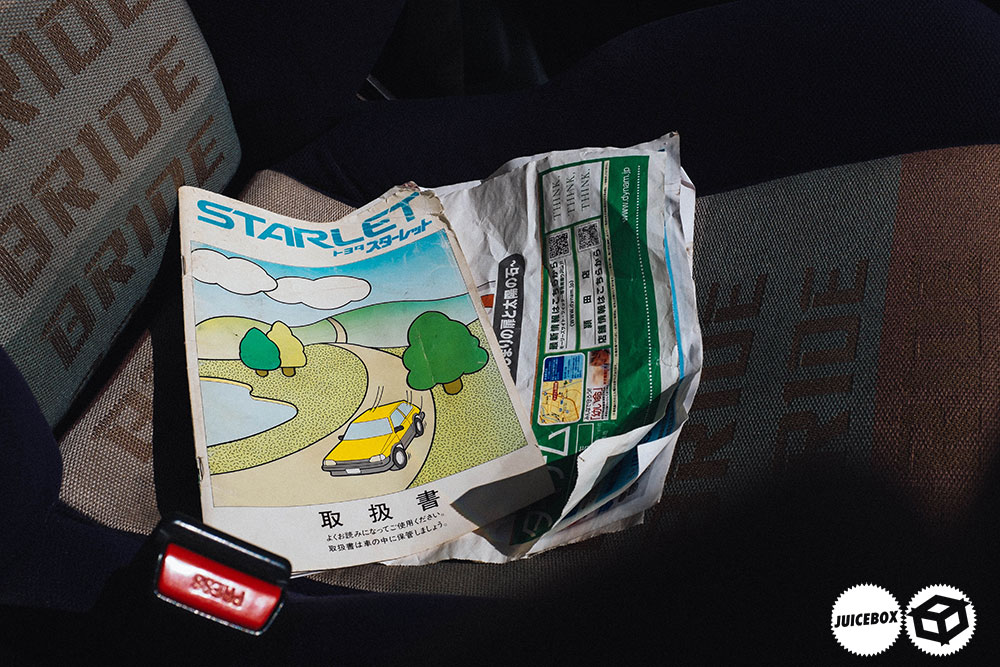 The cars theme is sort of based out of imagination, as images of 5 door EP70 starlets from Japan are slim to none. Evan has placed the car somewhere in early nineties Japan adding small touches like newspapers and catalogues, it's the little touches like this that give the build substance.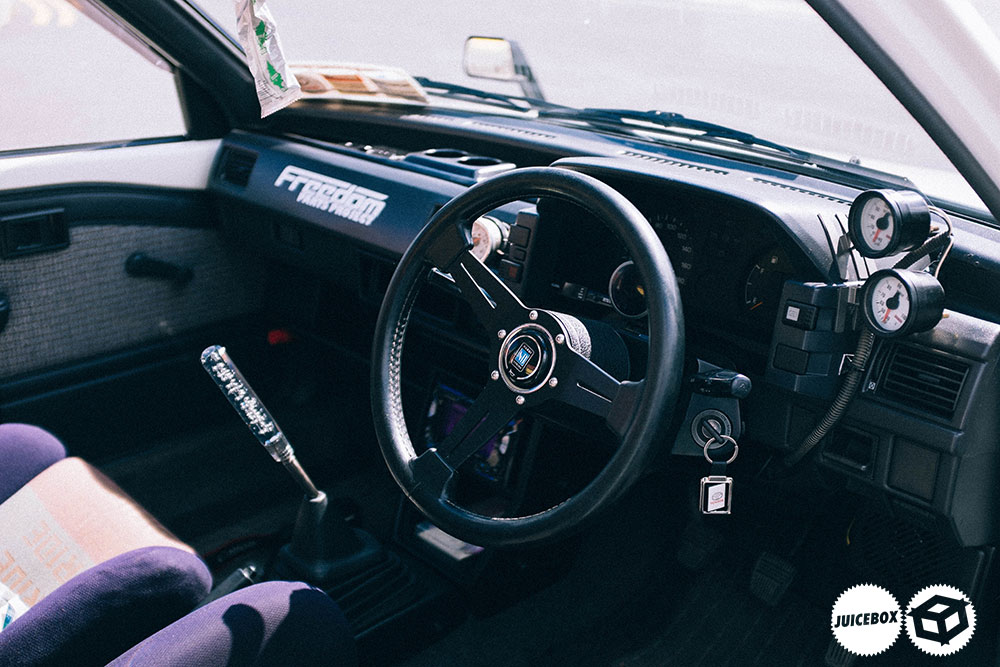 Following the attention to detail period correct gauges and seats were fitted. Hunting down optional extra coin holders, a period correct Nardi, even that amazing rear spoiler which happened to appear on Yahoo auctions one day, nothing was over planned, it all just sort of slotted into place.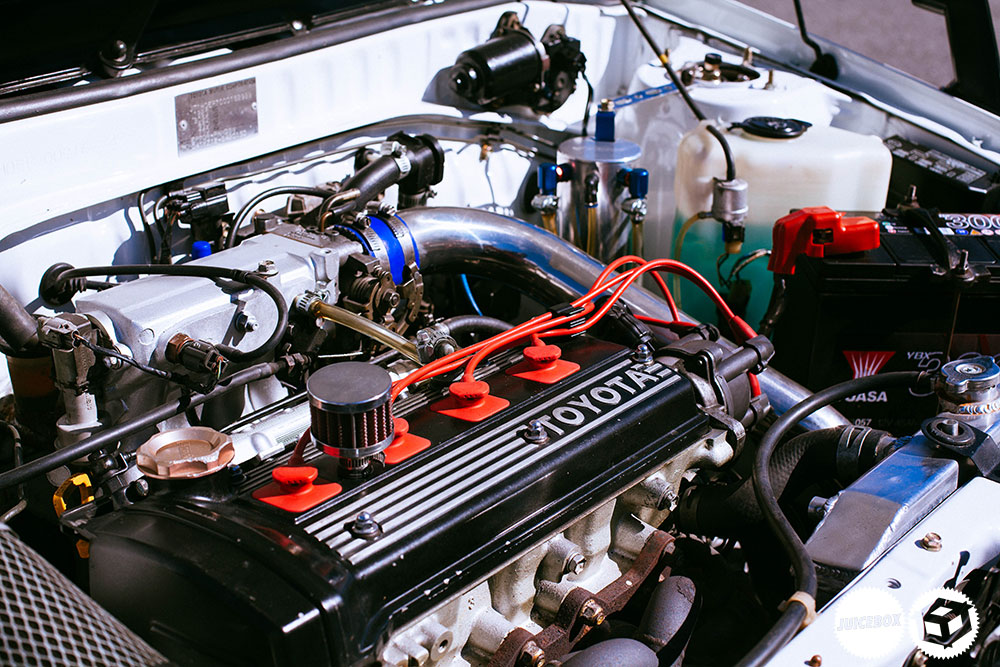 Under the bonnet Evan decided to go for a nice little transplant. Staying inside the starlet family the original engine was replaced with an 4EFTE EP91 Glanza engine accompanied by a front mount and an array of choice goodies.  It must be a very unexpected sound and sight to the average onlooker when this unusual box screams past.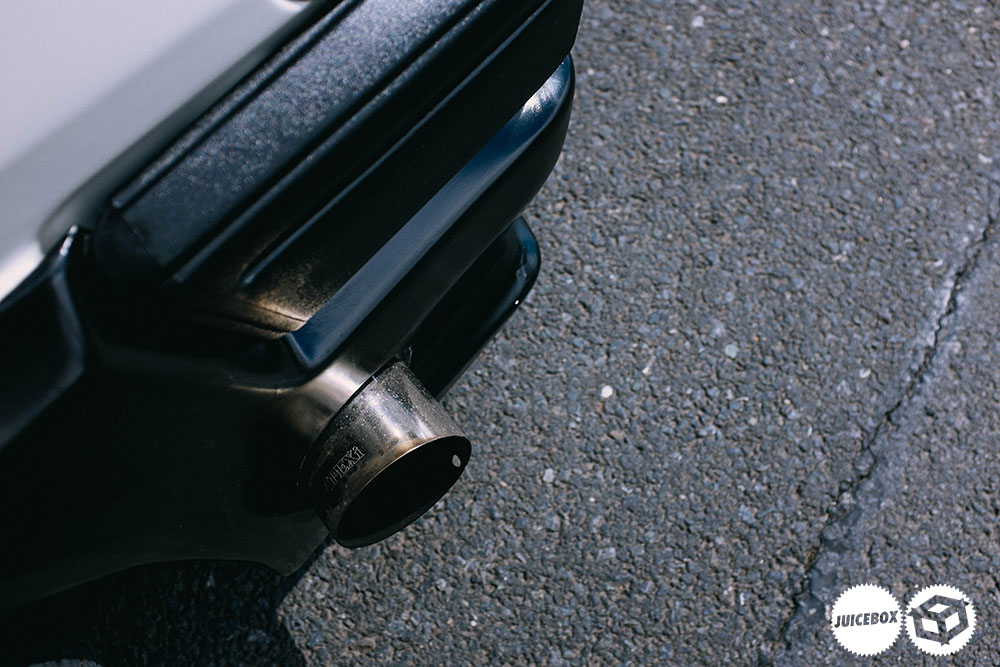 I really like the way this engine some how looks very eighties in here too with the red leads and that black cam cover with the machined design. A subtle side exit is a very nice touch, combining a slice of everything from the starlet world and arranging them in a very original manner. No corners cut have been cut, with no rush or time frame, when coin allowed Evan made sure everything was done to perfection.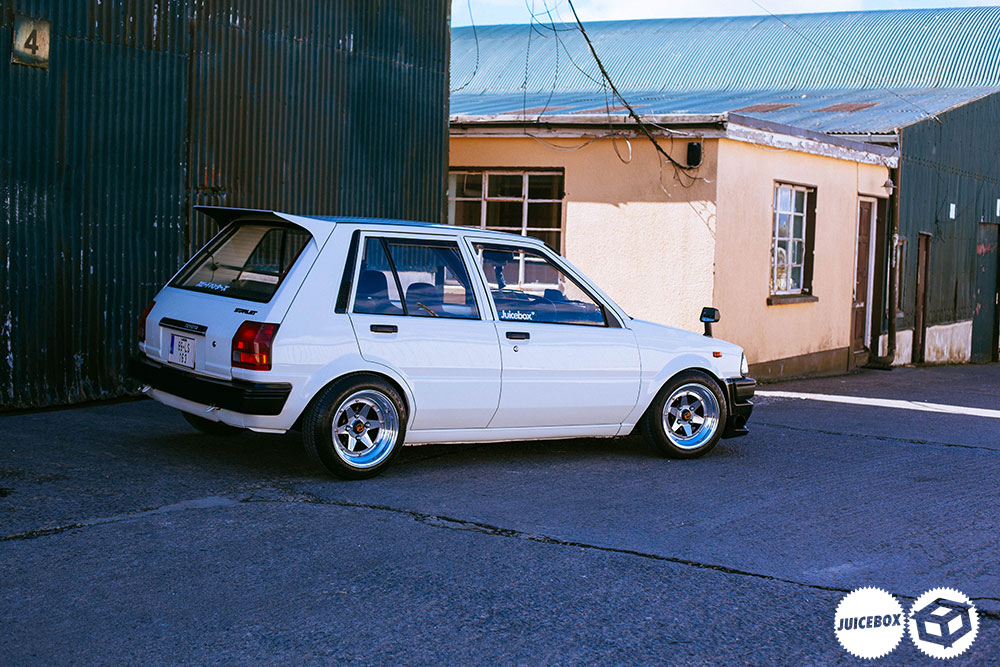 Sometimes situations can lead us down unexpected paths. I'm sure Evan didn't see himself building something like this a few years ago when he got a starlet. He was just another young car enthusiast like so many, buying a reliable starlet to get him around. This EP70 is the perfect example of creativity when given a particular set of circumstances and Evan absolutely made the most out of them.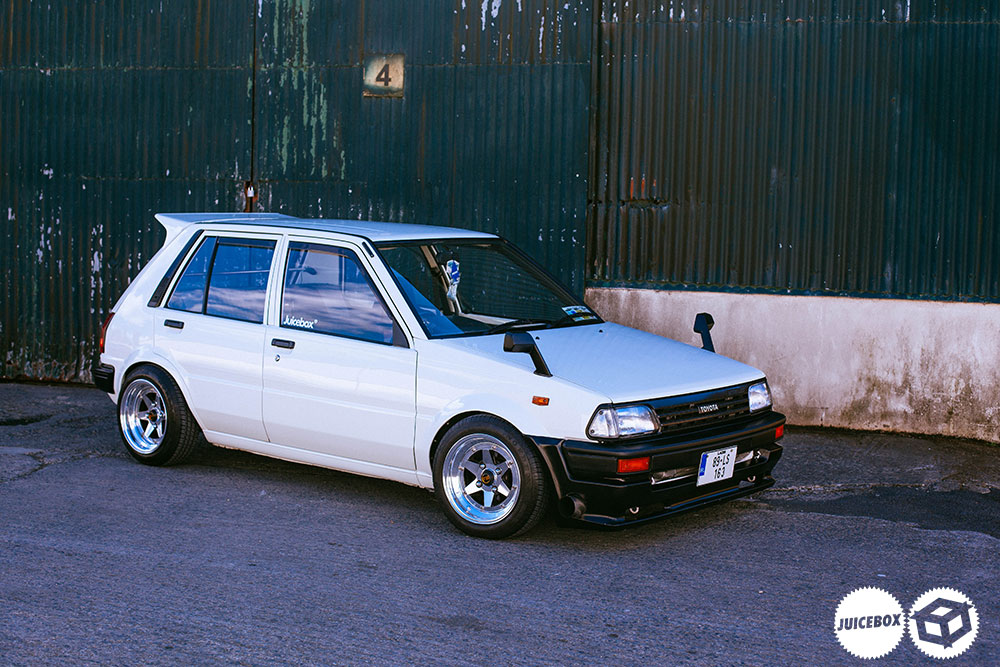 The spec list is endless, Im sure not even Toyota would have expected people would end up doing this to their EP70 model.  Creativity and persistence on full display, I genuinely have big respect for Evan following this build through to the end truly coming out with something very unique and refreshing.
It's hard not to crack a smile when you see this car, it really is a little masterpiece.
Hope you enjoyed it as much as we do.
Engine

Toyota Starlet Glanza EP91 turbo 4E-FTE engine,
1331cc, standard internals,
Standard intake manifold,
Custom short-routed front-mount intercooler,
Air intake routed directly to turbo,
WickedEP Racing four-branch exhaust manifold,
WS Racing de-cat exhaust with custom side-exit & A'PEXi silencer,
Mishimoto alloy dual-core radiator modified to suit Starlet engine and body,
CT9 turbo boosting 0.85 bar,
HKS adjustable actuator,
Cusco oil catch can,
TRD plug leads,
small pole battery
Driveline

EP82 GT Advance viscous LSD 5-speed gearbox,
Equal-length driveshafts,
TOM'S lightweight flywheel,
Exedy paddle clutch
Suspension/Steering/Brakes

BC BR coilovers,
Cusco rear adjustable panhard rod,
EP91 front anti-roll bar,
Powerflex polyurethane bushes,
EP91 front hubs & brake calipers,
EP70 rear axle converted to take EP91 discs & brake calipers,
EP82 brake servo,
Black Diamond grooved discs & Ferrodo pads
Wheels/Tires
Front: SSR Longchamp XR4 14×6.5-inch with 165/60R14;
Rear: SSR Longchamp XR4 14×7-inch ET-7 with 165/60R14,
custom 20mm PCD hub adapters from 4×100 to 4×114.3
Exterior

Full re-paint in Toyota 041,
Engine bay painted Toyota 040,
Foha front splitter,
Rolled & flared arches,
Brand new front bumper & indicator lenses,
All plastics painted satin black,
Japanese front wings with relocated indicators and mirrors,
Japanese boot-lid with full-width emblem,
No rear wiper & different number plate recess,
Japanese rear lights,
Door bump strips removed,
Genuine Toyota wind deflectors,
TRD fibreglass spoiler
Interior

Bride Brix seats, 300mm Nardi steering wheel,
A'PEXi turbo timer,
Auto Gauge tachometer,
Blitz boost gauge, Omori oil & water temperature gauges,
Japanese dash instruments,
Digital dash clock,
Optional extra dash tray,
Japanese centre consoles,
Kenwood double-DIN radio,
JDM gear knob,
Standard rear seats & door cards,
Cusco c-pillar brace,
JDM floor mats
Comments
comments
Powered by Facebook Comments