In The Shadows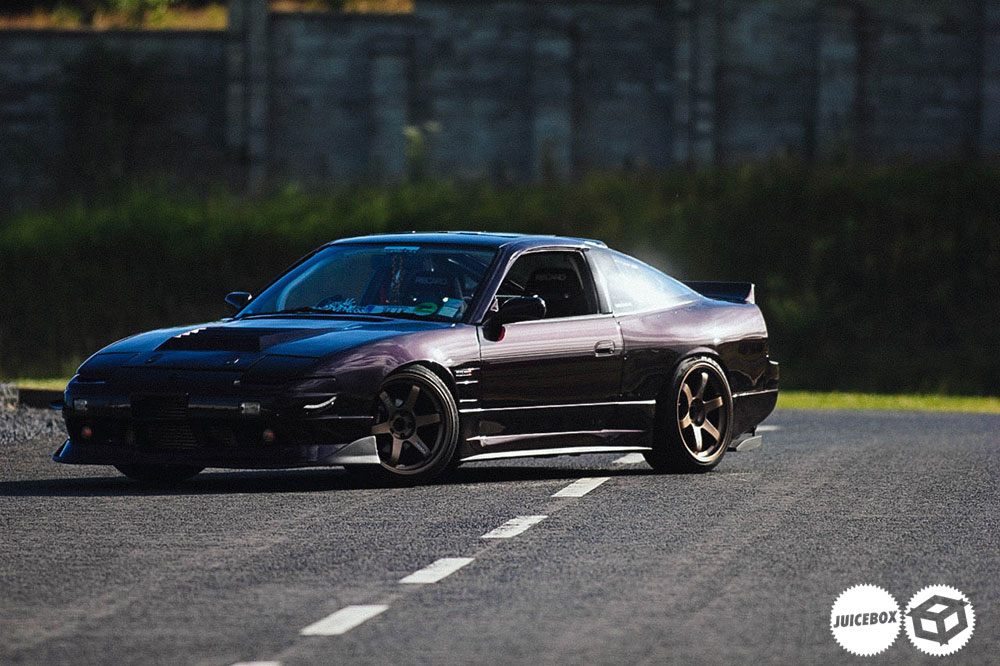 What makes a great RPs13? The 180sx has been around for over a quarter of a century, a car that is loved by so many it is essentially a mascot of the drifting world and we still just cant get enough of these things.
For a car that was released in the late eighties, the RPs13 is just as relevant today in the drifting world today as it was twenty years ago. People are still pushing the boundaries with these cars, companies are still putting out new Parts, new aero, we are continuously seeing new builds new ways of approaching this chassis.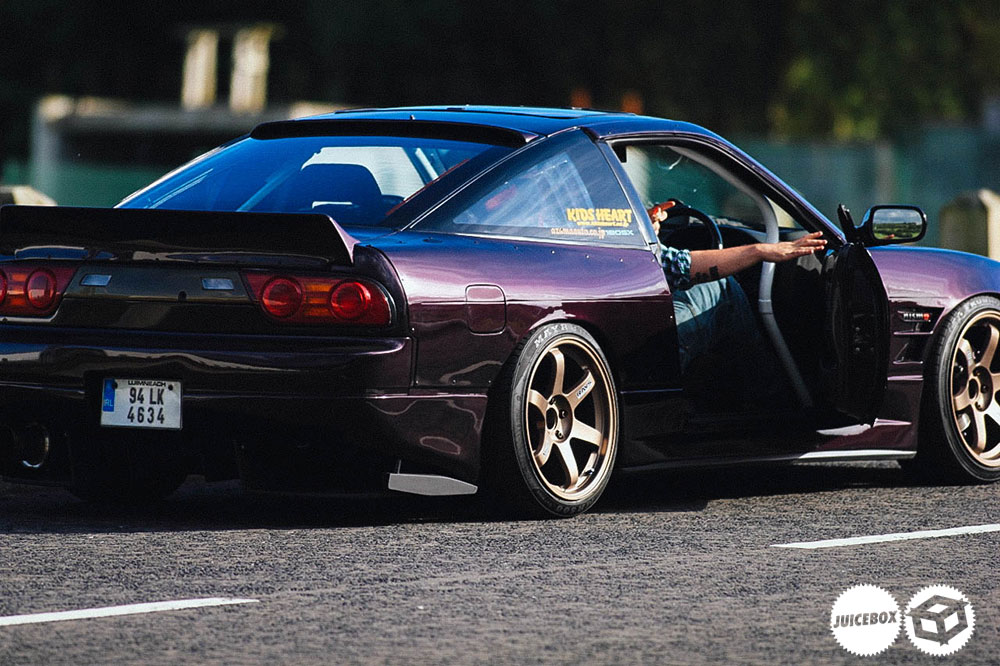 Ireland saw a massive influx of these over the years in all shapes and sizes with all sorts of goodies, which left a serious impression on the Irish. We have a serious love affection for these. It was only a matter of time before we started taking these imports and creating our own examples.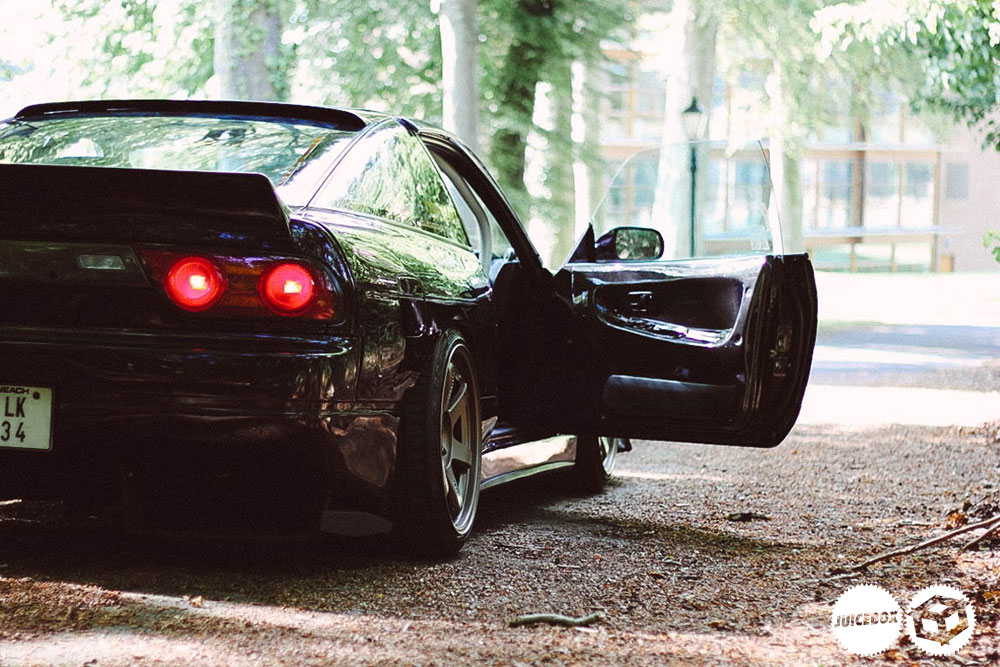 The car has almost transcended time. You would not think this car is twenty-two years old. The build is a little slice of everything; with carefully selected choice bits accompanied facelift OEM goodness Nissan surgically performed on the chassis in 94. Those Kouki tails with that centre garnish is timeless.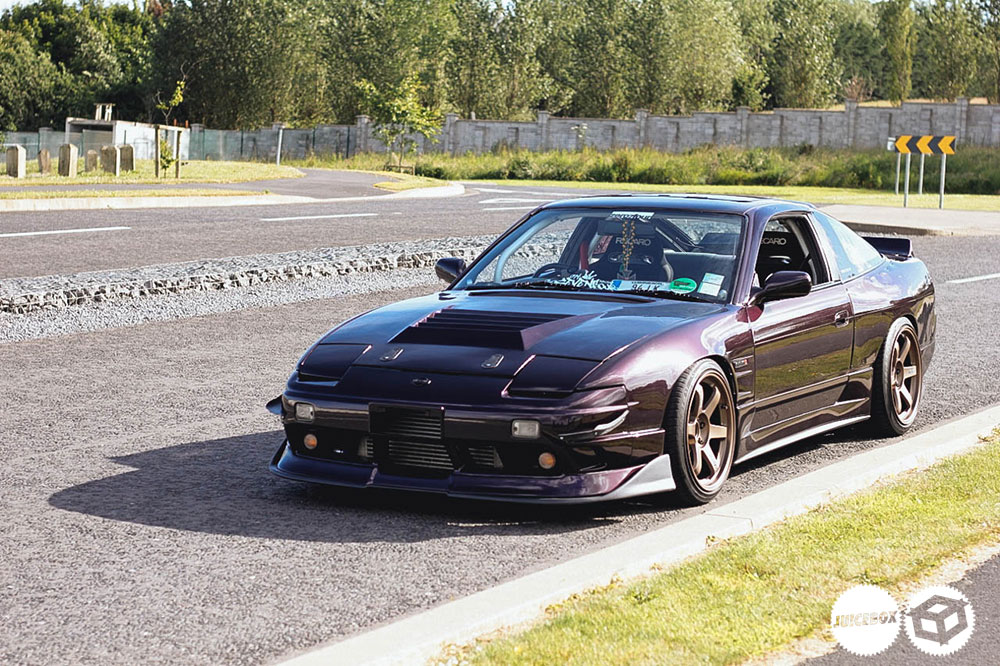 The front end was fitted with possibly the best bumper ever made for this chassis and a bumper that came right out of Nissan, the Kouki Type X with the plate mount cut out. The chasiss has been around long enough to be at the forefront of every single trend in the car world, you name it and it has probably been done to these things. The owner has sort of plucked the best of everything with this car.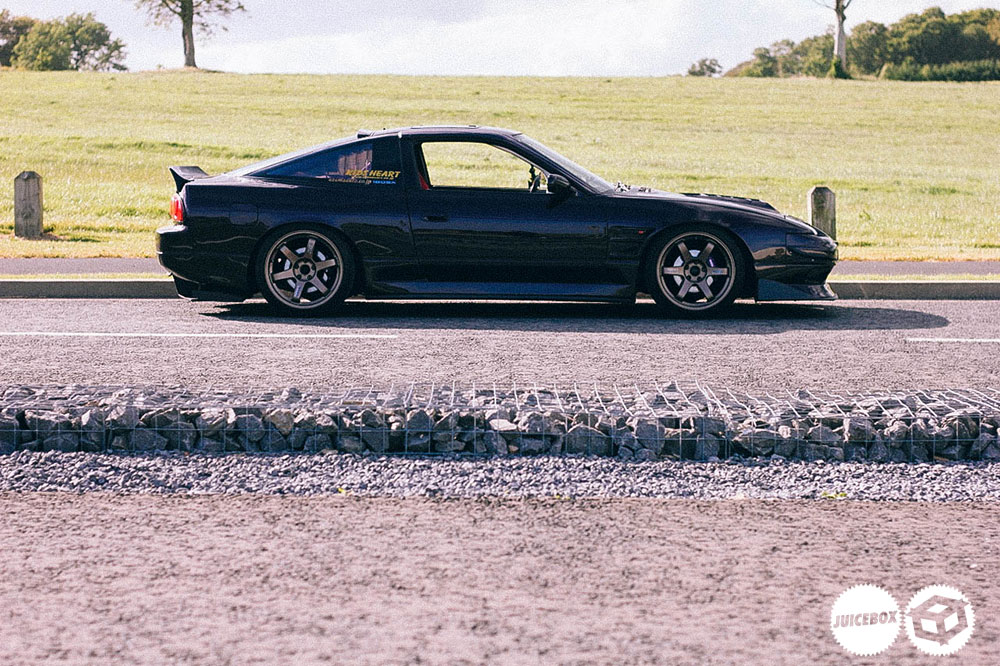 Some subtle origin Over fenders give the stock body that subtle little puff to cater for the 18 x 9.5 TE37 wheels. With these cars, what I love most is the fact you can pluck different pieces from a variety of companies and build a cocktail of epic proportions.
These cars have had such an incredible aftermarket-tuning base for almost as long as they have existed. In the shadows you can see that Rocket bunny wing, some RYO rear valences and a Pro Fits rear diffuser and together it all just works.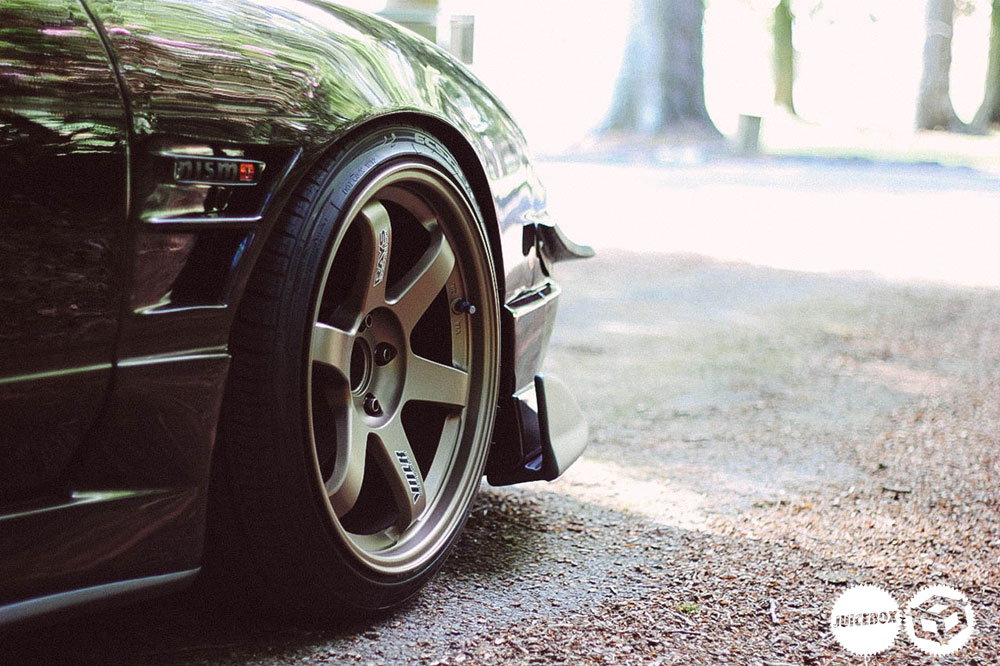 Honestly, I think it's hard to ever grow tired of TE37s against that purple, its like salt and vinegar on your chips. The added canards give it just the right amount of aggression without being too in your face.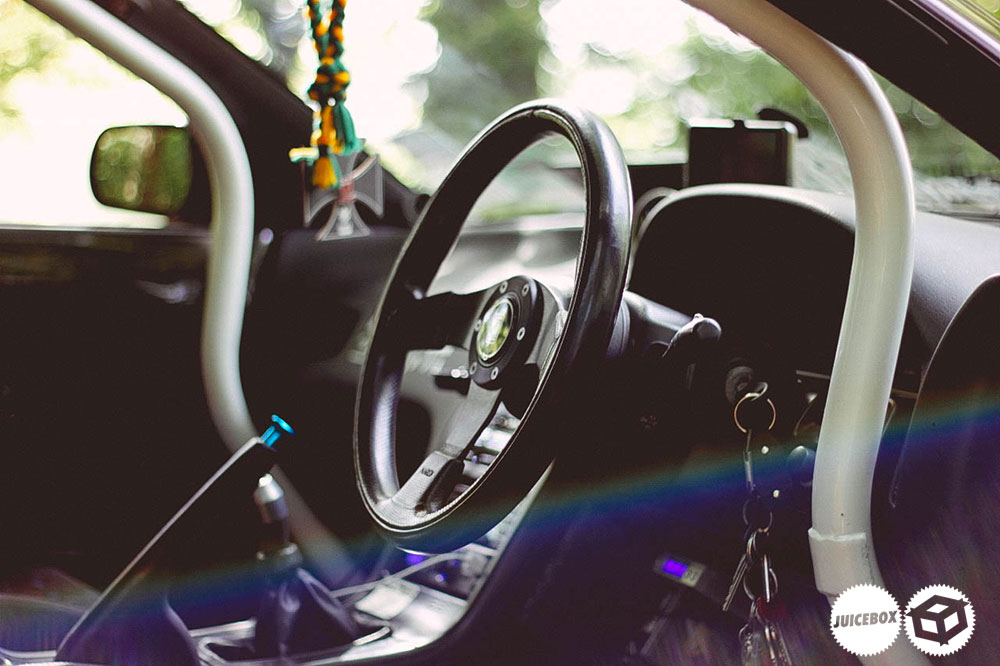 It's nice to see attention to detail in choosing colours for the cockpit. The owner has retained most of the interior and just worked around it. The car has a very complete feel to it but still feels like a drift car.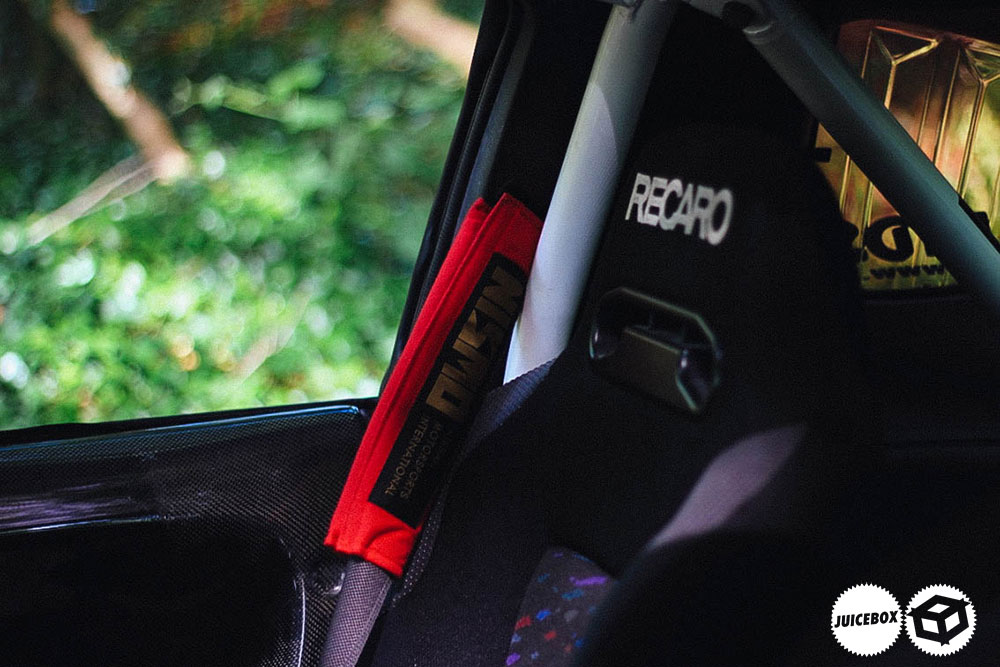 The collection of interior parts is something of a must have list, Kazama gear knob, Cusco cage, Recaro confetti's, OEM digital heads up display and Origin carbon door cards. The owner has retained much of the original interior, which is rare to see in these cars.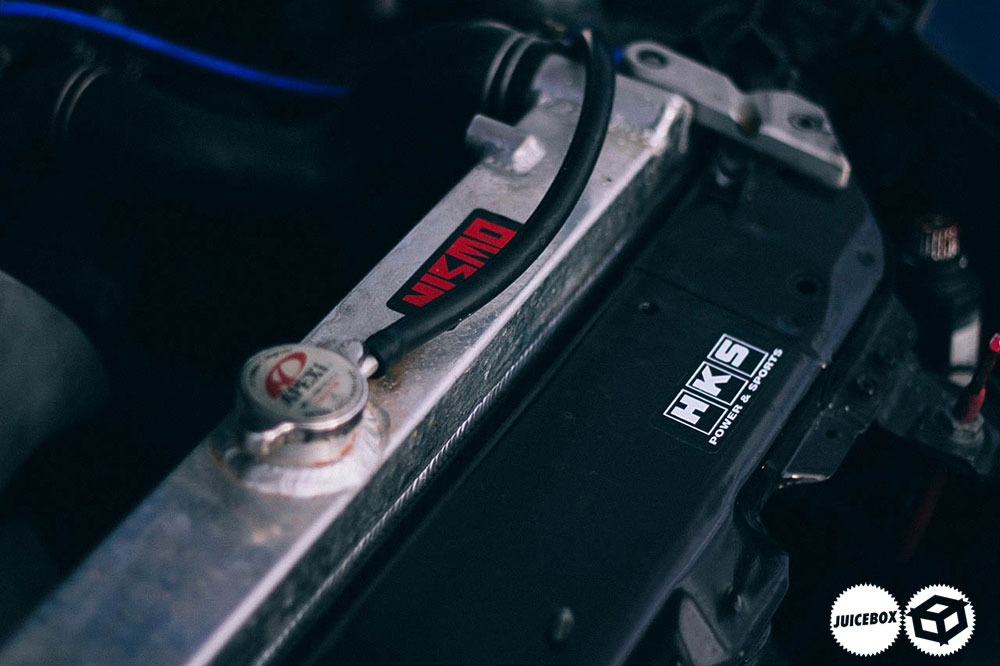 Under the bonnet lurks an ever so capable Non VVT SR20 with a host of reliable goodies to give the engine good reliable power. A look around will result in finding the usual's, a z32 air flow meter, a splitfire coilpack, a t25g turbo, a Greddy front mount intercooler, the list goes on. The car has the perfect balance of reliable power well suited to a road car of this nature.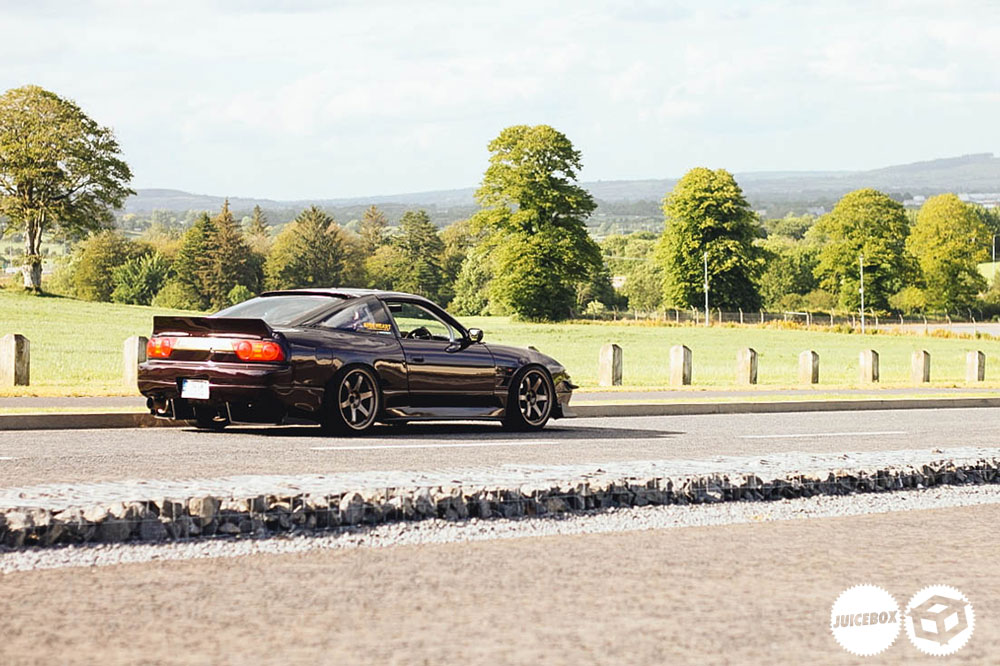 The standard diff was swapped for a Cusco 2 way and wrapped in an R32 Gts-T casing accompanied with shafts and a 5-stud hub conversion. The front was fitted with s15 front hubs discs and brakes and fitted with EBC pads. The entire shell was stripped back and resealed and treated.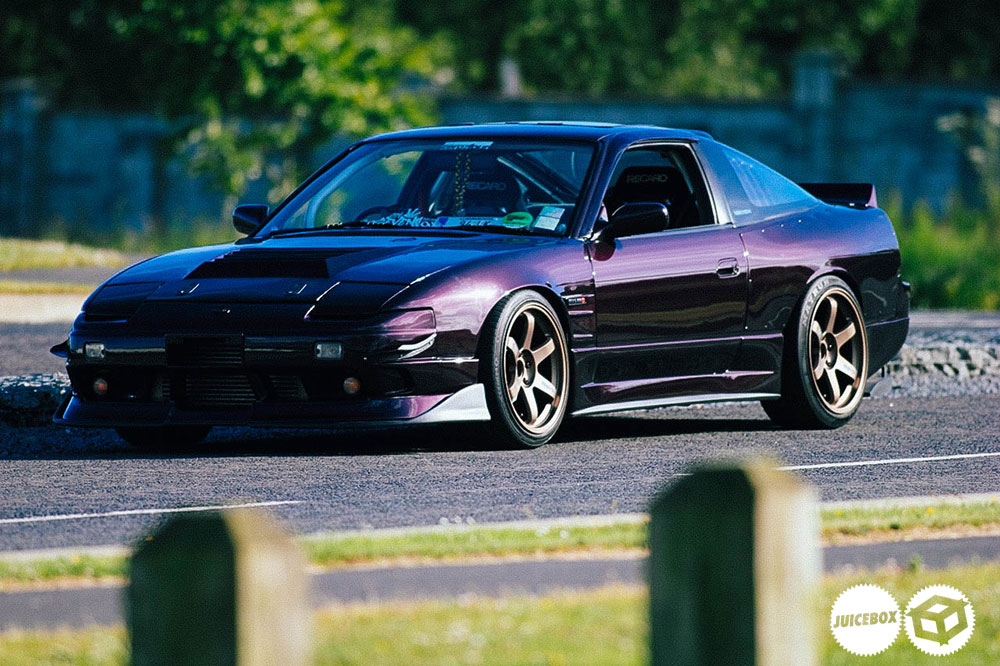 I like the way the rear wheels do not sit fully into the arches, the car has an almost circuit like vibe to it.Classic Midnight Purple, its hard to find a better colour for a Nissan. Something tells me we will be seeing a lot more builds like this as these cars start to get more valuable in the coming years, people hunting down interiors like what is happening with the AE86 world now.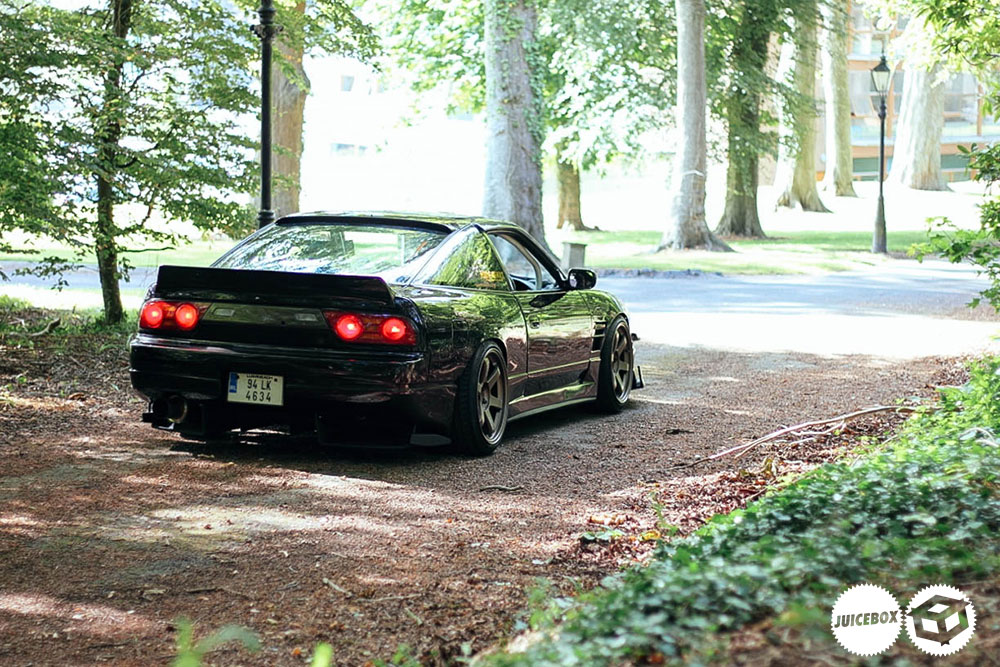 From every angle this thing looks great, a perfect ambassador showcasing to others why these cars are still very relevant and very much so loved by the car community. You can not fault how this car has been put together, its flawless, a perfect example of the 180sx capturing everything that makes these cars so damn good, one of Irelands finest…
Built by Team Zero7Four – Matthew Quinn
With great thanks to Martin Coyle, Paul Green, Rory McDaid and Conor Peoples
Exterior
Shell fully Stripped and repainted inside outside and underneath in Nissan Midnight Purple LP2
Oe Nissan Kouki Front bumper with splitter
Pro-fit kits Custom Front Under Splitter
Pro-fit Kits Custom front Canards
Oe Nissan Chuki sideskirts
Pro-fit Kits Custom Sideskirt add-ons
Pro-fit Kits Custom Rear Difuser
RYO aftermarket Rear Valance
Origin +25mm vented Front wings
Pro-fit Kits Custom Inserts on the wings with Genuine Nismo Badges inserted
DMAX Vented Bonet
Aerocatches
Raybrig Headlights
Origin Roofspoiler
Tra-Kyoto 666 Rocket Bunny Rear Spoiler
Origin +30mm Rear Quarterpanels
Kouki Rear Lights with OE Carbon Optional Centre Garnish
Rear Tints Removed
Nismoshop Wind Deflectors
Rear Wiper and Ariel removed
Wheels Brakes Suspension
Rays Volk TE-37 18 x 9.5 +12 all round
Rays valve caps and Rays Duranuts
Kumho Ecsta 225 40s
HSD Monopro Coilovers with camber adjustment topmounts
Kazama Tension Rods
S14 LCA's
HEL braided brake lines
R32 GTs-t Discs/calipers and rear hub setup with S15 5 stud hubs
EBC Yellow stuff pads
Cusco brake cylinder stopper
Cusco Flyoff handbrake
20mil bolt on spacers on the rear
Engine – Trans – Fueling – Management
SR20DET – Non vvt
T25g
Greddy FMIC
z32 AFM
Splitfire Coilpacks
Nissan 480cc injectors
Nissan GTR fuel pump
Z32 Fuel Filter
Tomei FPR
Apexi Power FC
Unknown Aftermarket Downpipe
Unknown Aftermarket Alloy Rad
Kakimoto Regu 96-R Catback
Decat
Apexi Air Filter
Blitz SBC boost controller
Apexi Rad Cap
Cusco Front Strut Brace
SR20 5 speed box
R32 Gts-t Diff casing w/shafts
Cusco 2-way diff
Interior
Recaro Confettis
Bride Rails
Oe Nissan Kouki Rear seats
Uncut Parcel Shelf
Origin Carbon Doorcards
cusco Dashdodger Cage painted Pearl White
OE Nissan Digital Cluster with Heads up Display
Defi Guages – Boost, Oil Temp, Water Temp, Oil Pressure
Defi Link Controller
Greddy Turbo Timer
Blitz SBC
Oe Nissan Optional Extra Window Louvres
Oe Nissan Optional Extra Sunroof Delete
Alpine Double Din
Unprated FLI speakers and tweeters front and back
Nardi 350mm Steering wheel w Nardi Boss
Kazama Gearknob
Headliner Painted black
Cusco Rear Strut Brace
Black/White Checkered Fitted mats front and back
Broadway Mirror
Comments
comments
Powered by Facebook Comments