Feature: The Red Cocktail
We love a good back-story to a car. I had the privilege of bumping into Adrian and his UKITR a few months ago and it was such a treat to hear about this DC2 and the story behind it.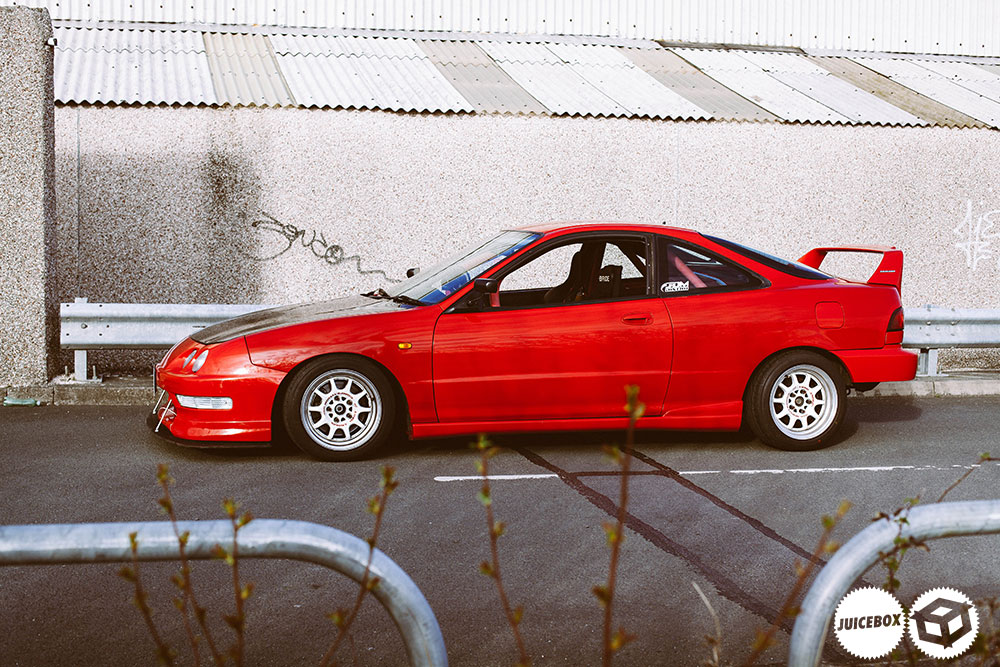 Adrian bought this car as nothing more than a shell. Back when things were being stripped left right and centre, not too many people would really think about bringing a bug eye Integra back from the dead especially when not so long ago it seemed  any car was broken in Ireland, its life pretty much ended there.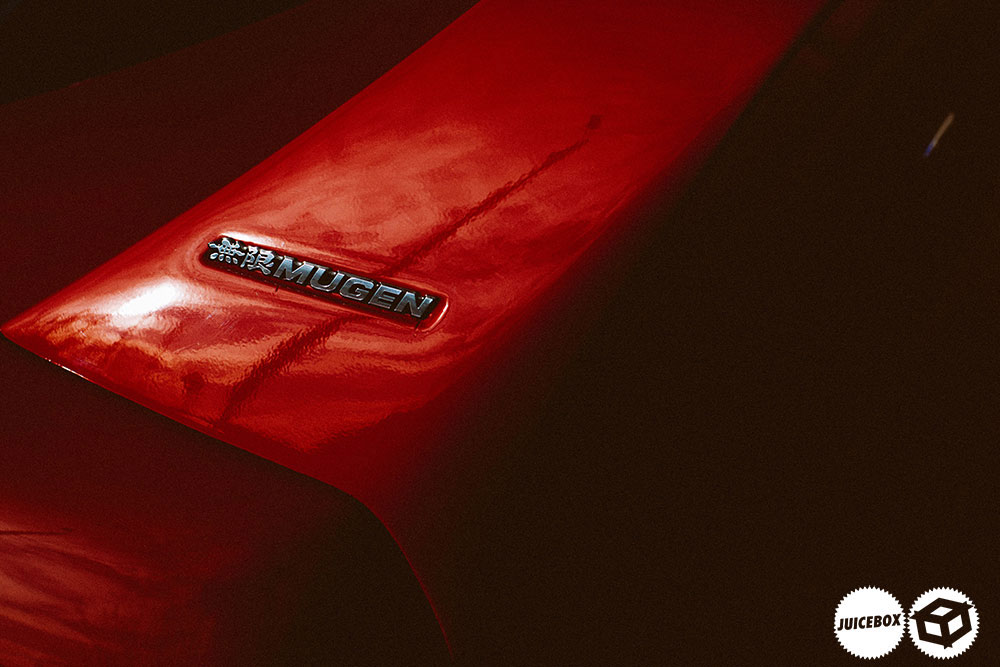 In a Honda world where the Facelift long glass lamp front is highly favorable, the bug eye Integra always gets pushed to the kerb. Its pretty evident the designers at Honda who ended up giving the JDM Integra a face lift for the type R models at the end of 1995 didn't seem to keen on its design either, but being honest I've always loved this front end.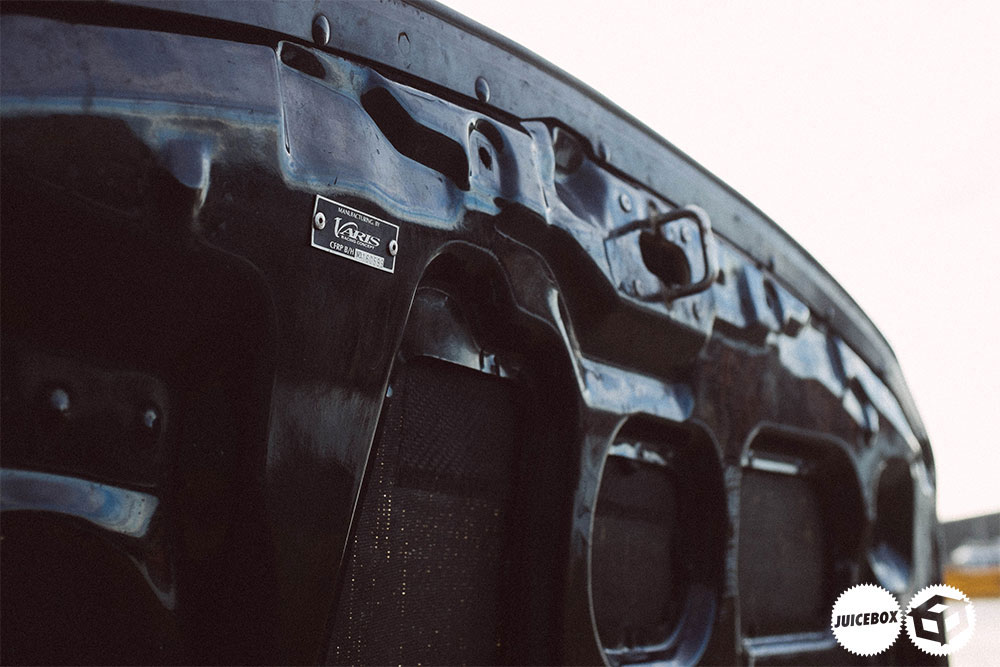 The most notable thing about this car is the raw look. The paint isn't show spec; the wheels are always a little dirty. This car is well used and driven pretty hard.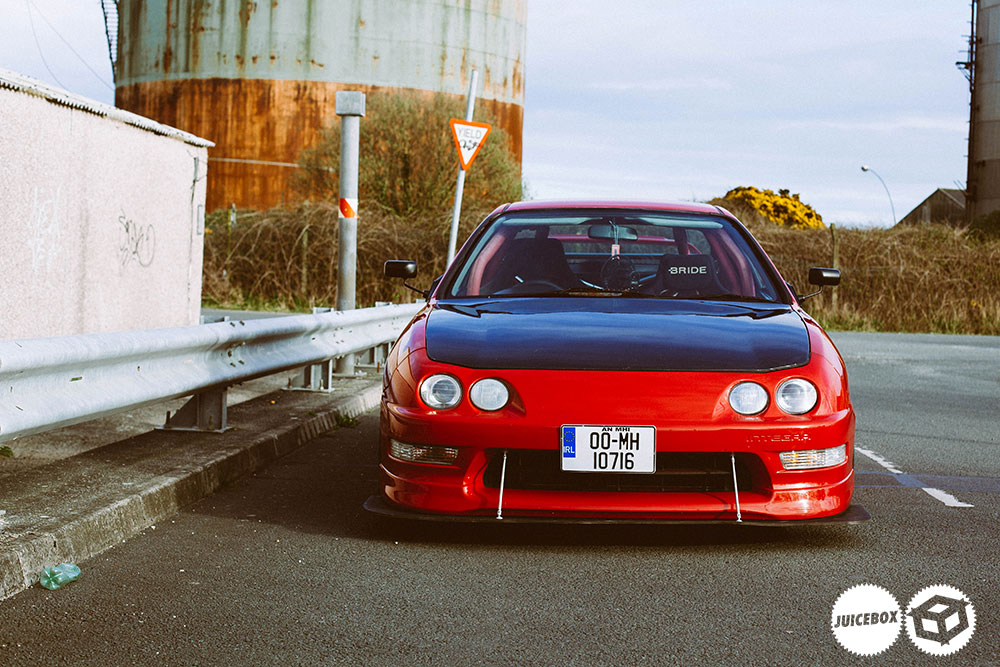 Adrian's car is a mix match of everything and that's what we love about it. He started out with a EUDM UK Integra type R shell and slowly found the right bits to complete this little red cocktail.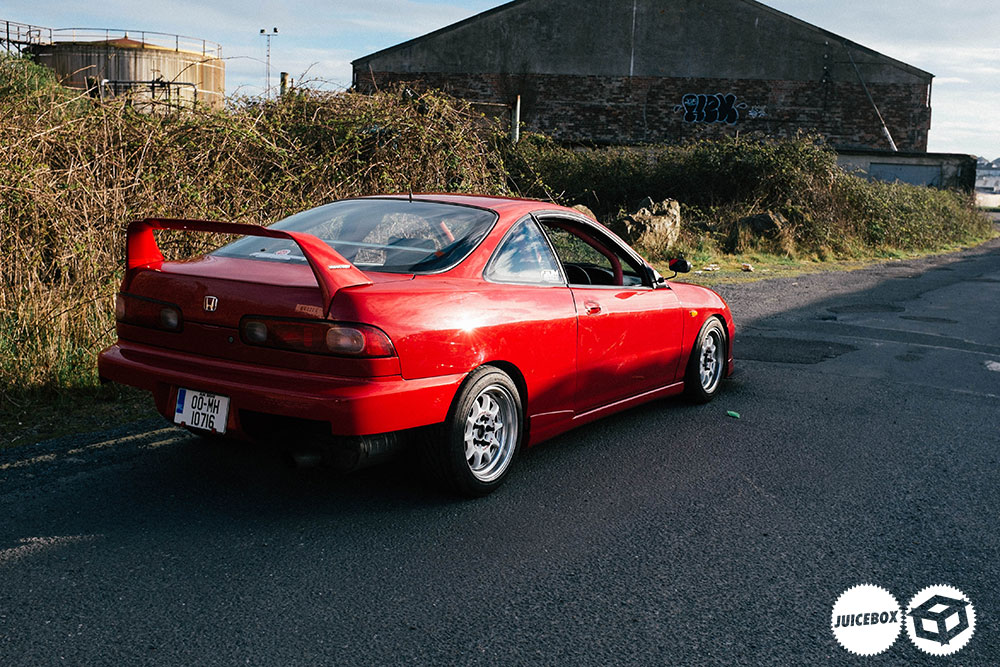 At the front end Adrian kept the standard front bumper but fabricated his own custom under lip. Heavily inspired by the time attack cars that frequent Tsukuba or race around Osaka, Adrian added a 96 spec rear bumper and hacked it into the desired look.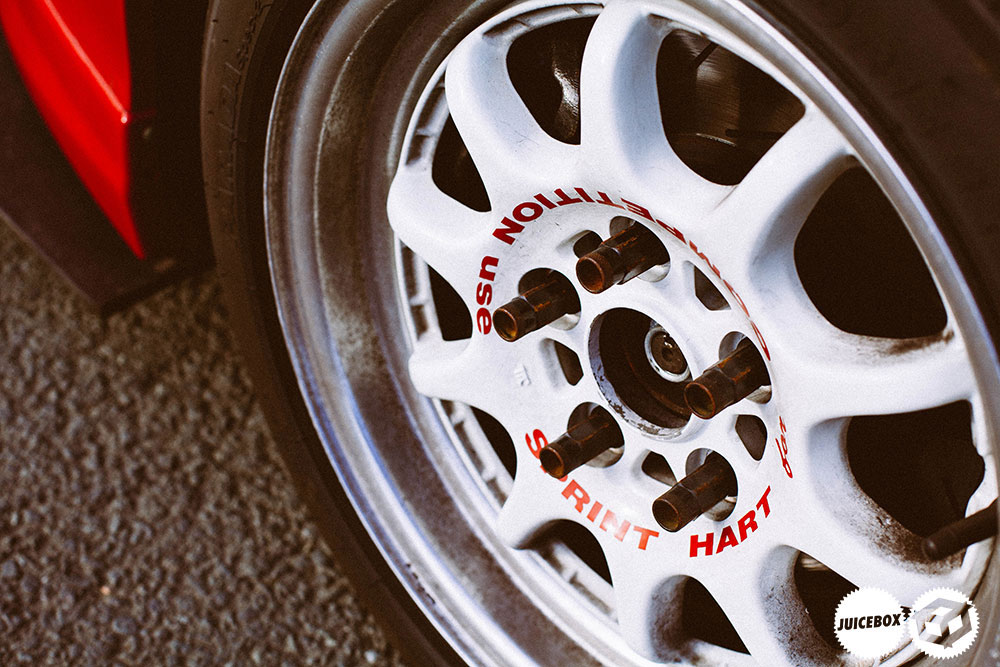 A Mugen gen one completes the rear while a set of F1 style mirrors are added up front along with a Varis carbon bonnet. The wheel choice is a set of Sprint hart Competitions wrapped in sticky Yokohama Prada spec II tyres and they compliment this look perfectly.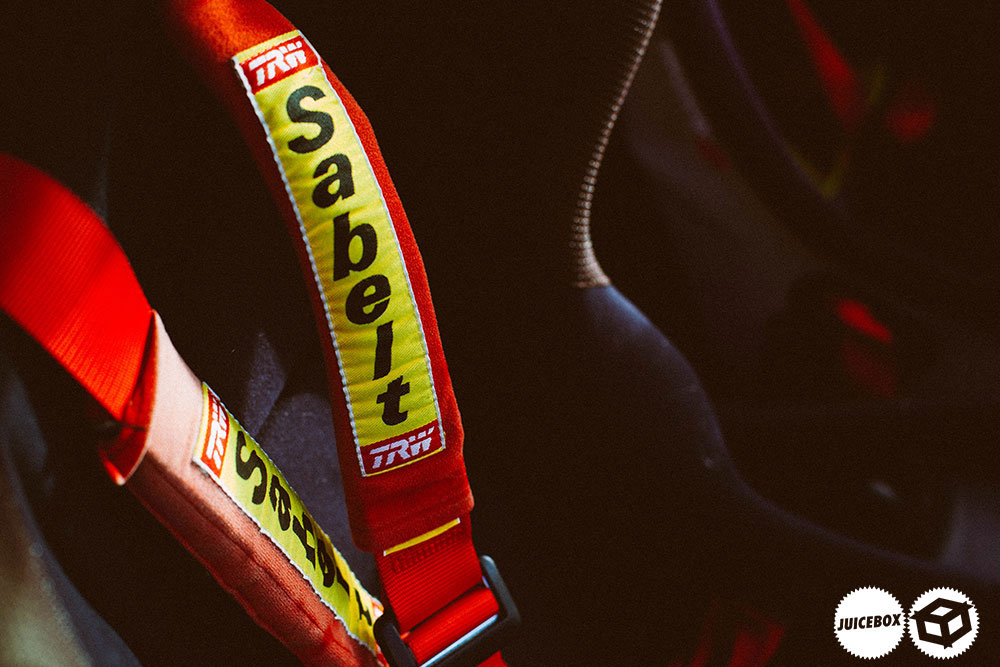 There are no creature comforts anywhere. You really start to see it as you take a look inside. The car has been thought out for driving. Adrian selected some really cool bits to personalize the build and didn't have to feel to bad about hacking up an already empty Integra.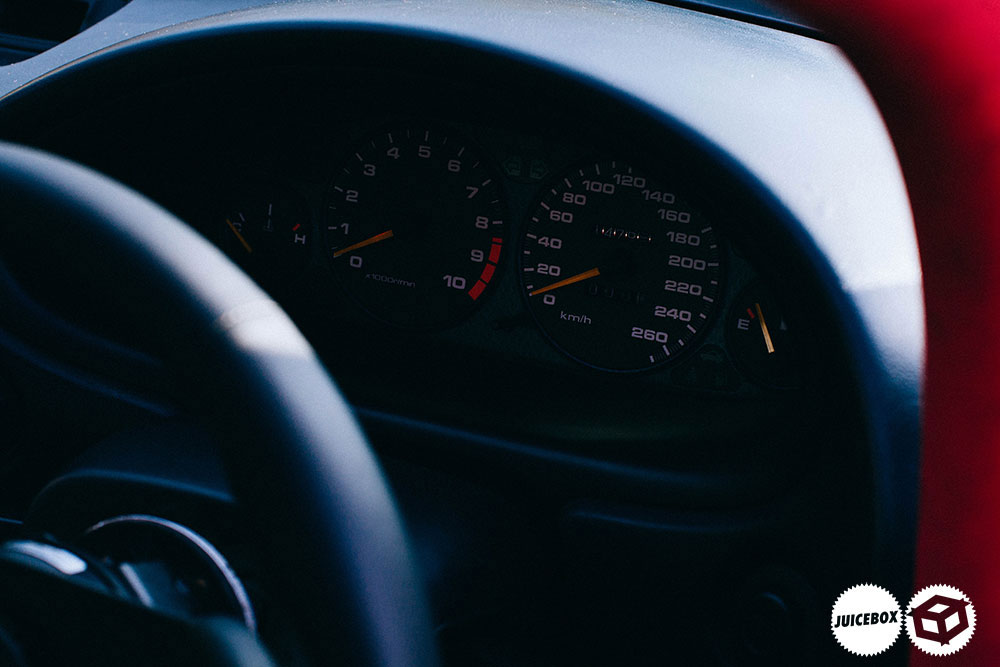 A Jap dash was added along with some Canadian 260k clocks. A Feast Auto carbon Kevlar fixed back with Sabelt harness secures the driver while the passenger is gifted to a Bride Zeta fixed, a Personal wheel helps with steering.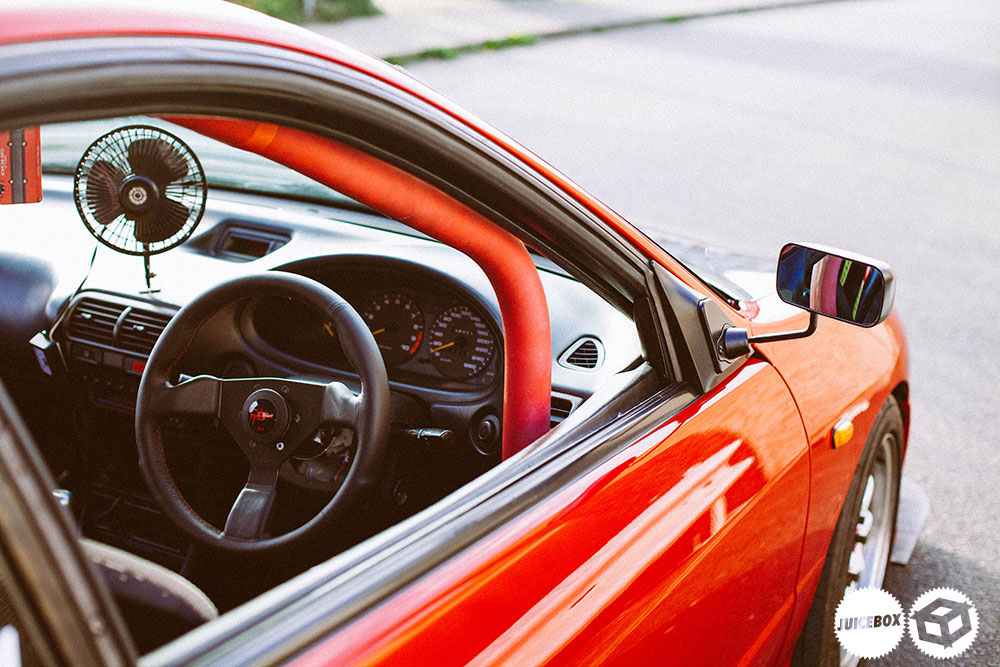 There is no carpet, no mats, no radio, nothing, both driver and passenger are inside a red caged chunk of function with a screaming B-series for a soundtrack.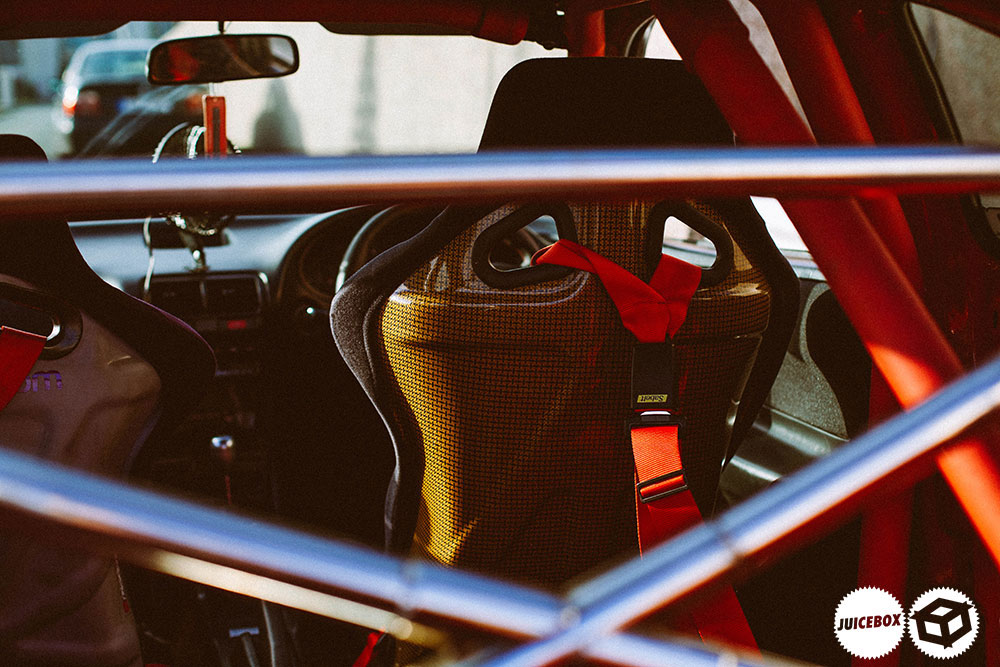 Handling is what makes these cars so damn good. Adrian added a set of BC coilovers, Skunk 2 Lcas, Skunk pro series front and rear camber arms and a full braided brake line kit.
Under the bonnet is a more or less standard, a lightweight Fidanza flywheel and a standard s4c gearbox keep things lively. Adrian gave the bay a bit of a wire tuck and relocated the battery to the boot. He wanted to keep the car very drivable and fun and the stock B18 engine was more than enough for now.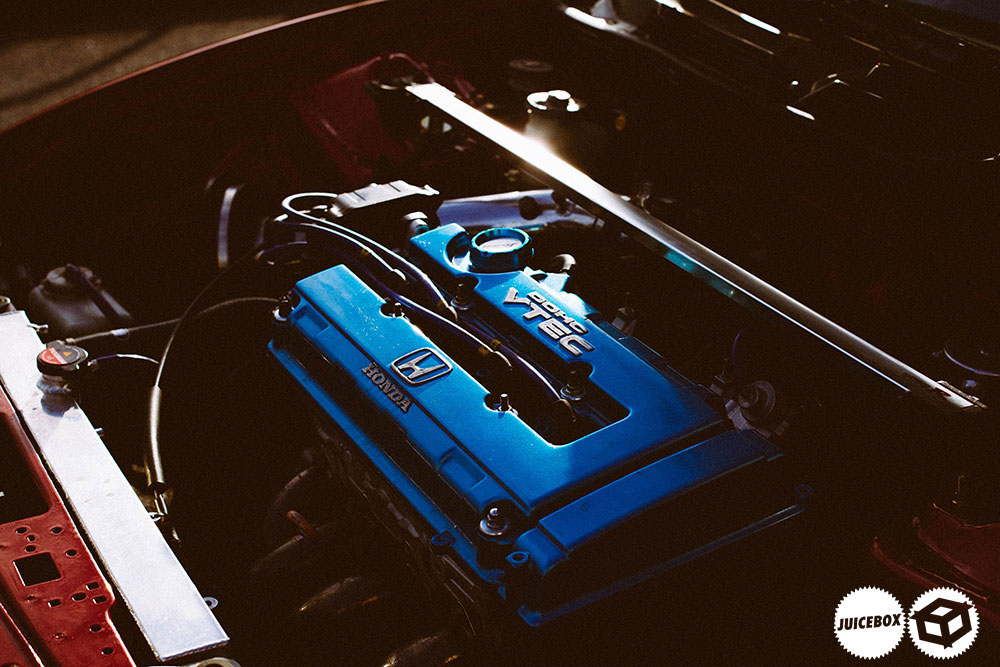 Blood, sweat, tears and many long hours working three jobs at times, this process to piece a shell back together when funds allowed was no easy feat. It's a story I'm sure many of you can relate to.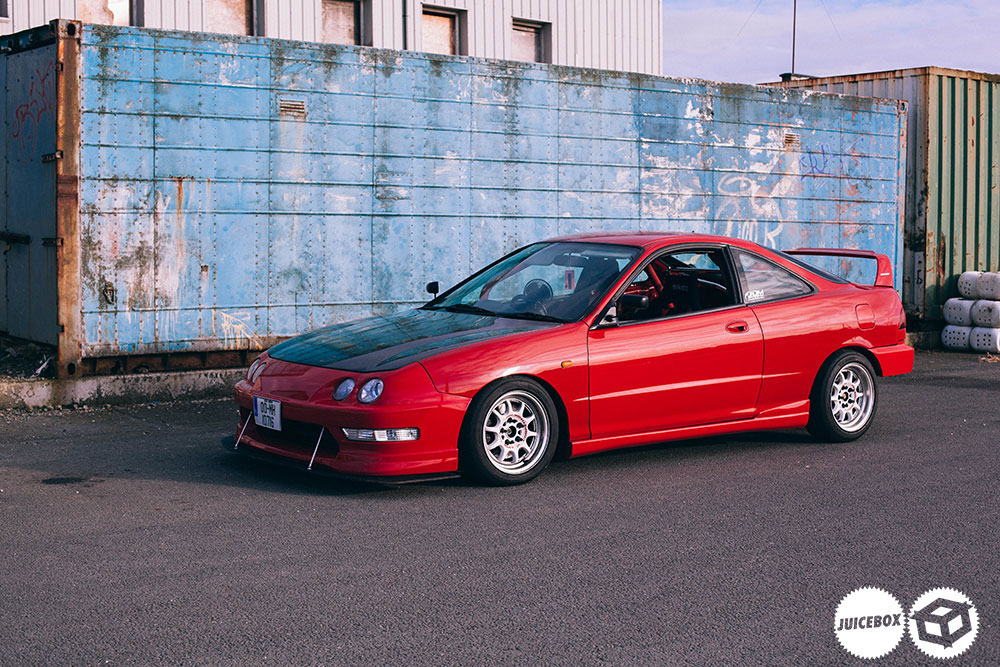 This ITR really embodies everything that's right about building Honda. Built for Screaming down an Irish back road this Integra would not look out of place at a Japanese track day.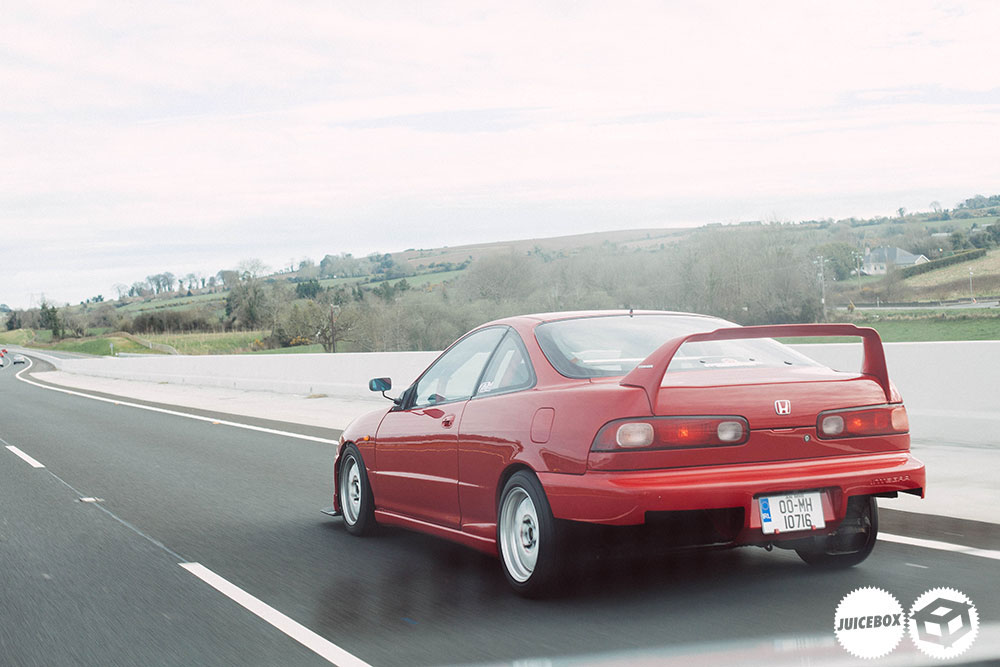 I love the fact that Adrian's love for this Integra has never faded, after the countless hours and money spent falling deeper down the rabbit hole Adrian told us he would have no problem doing it all over again. Awesome!
Wheels/Tires/Suspension/Handling/Transmission
BC Coilovers
Skunk 2 Lcas
Skunk 2 Pro series camber arms front
Skunk 2 Pro series camber arms rear
98 spec brakes with slotted discs
Full braided brake lines
15″ Sprint Hart CP wheels
Yokohama Prada Spec II tyres
Exterior
Mugen Gen 1 Spoiler
96 spec back bumper cut
Standard front UK bumper with custom lip
F1 Style Mirrors
Varis carbon bonnet
Interior
Japanese Dash
Canadian 260km clocks
Personal wheel
Feast Auto Carbon Kevlar drivers seat
Bride Zeta Fixed back Passenger seat
Sabelt Harnesses
Xbrace
Magical Fan
Engine
Fidanza Flywheel
Wire tuck with battery relocate
S4c gearbox
Tegiwa radiator
Stage 2 RPC clutch
Comments
comments
Powered by Facebook Comments