Irish Drift Championship, Round 2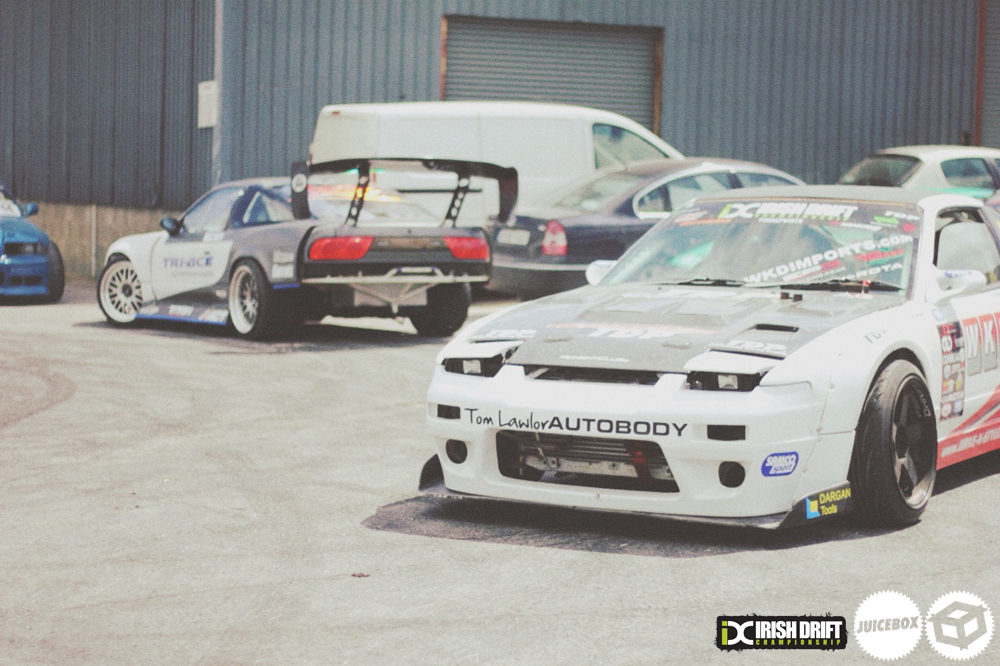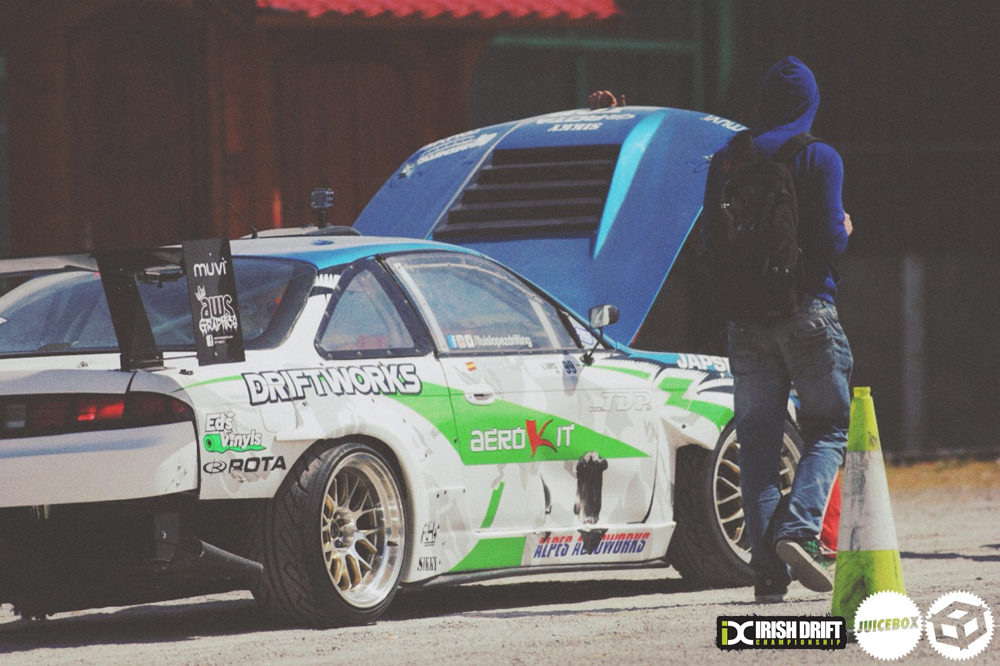 Ok, so I have to be honest, it's been quite a while since we have covered an IDC event. Now don't get me wrong we have always followed what has been going on in the Irish Drift Championship but something rather special lured us in this time. When we got word that the IDC were going to run an event indoors well how could we possibly say no.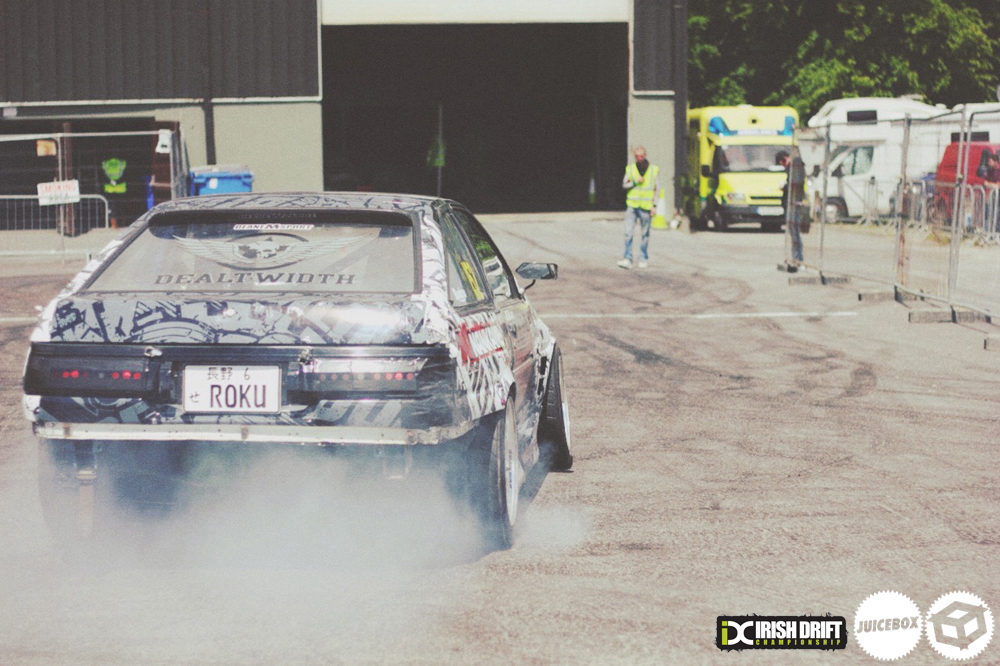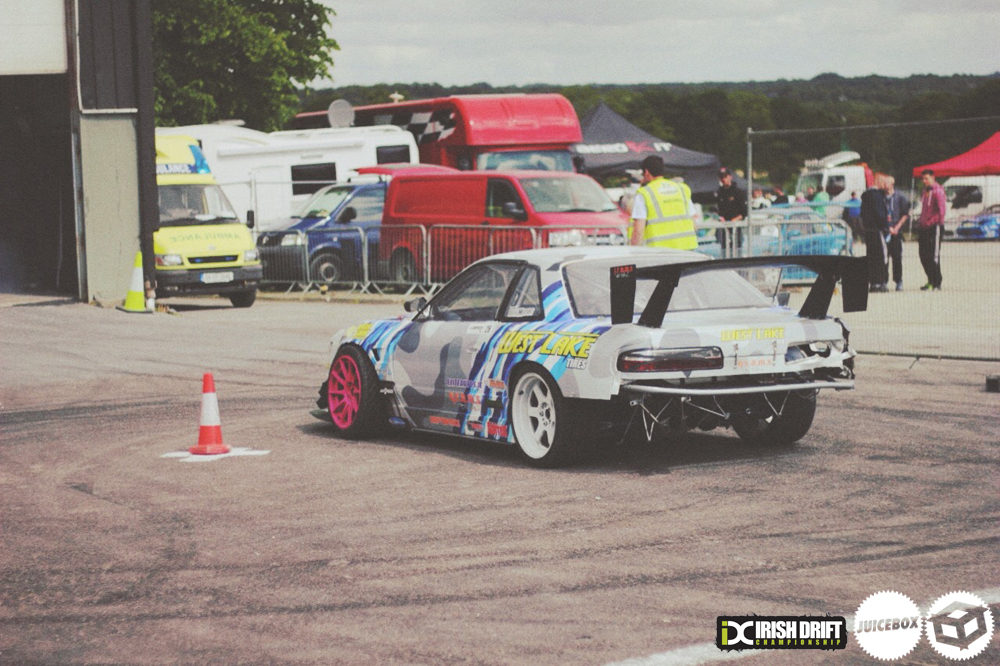 I have often thought about how nice it would be to have an event indoors, not having to be checking my weather app four days prior to every round and praying not to see dark clouds. Let's face it, this is Ireland and we get three types of weather in one day no matter what time of year it is. The only thing that got me thinking was where would you be able to showcase a full on drift event under a roof in this country? The Green Glens arena in county Cork was the chosen location and it was more than up to the task of fulfilling the needs of the IDC.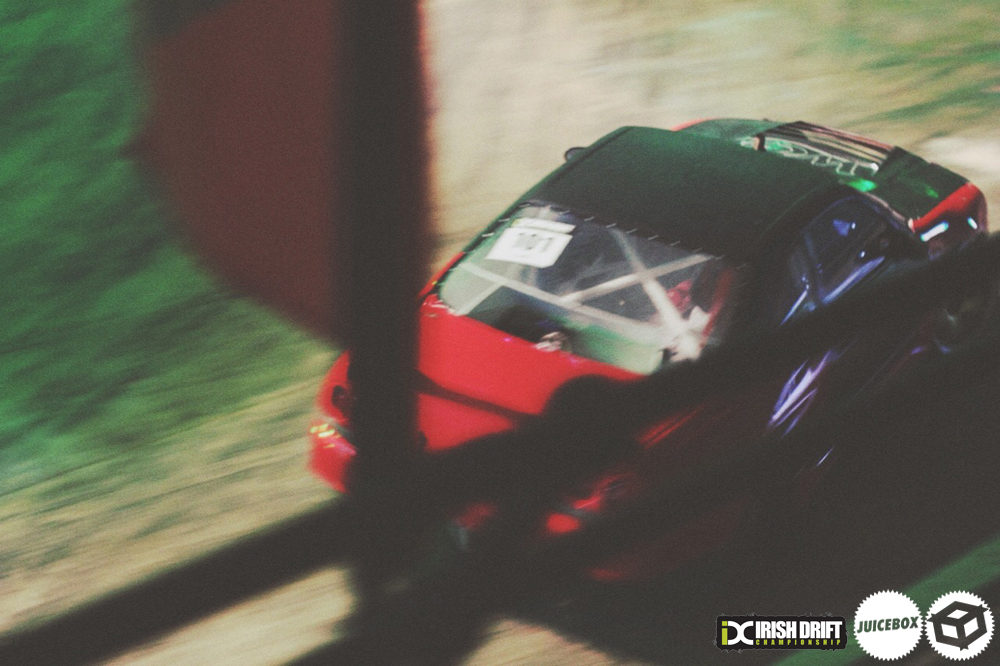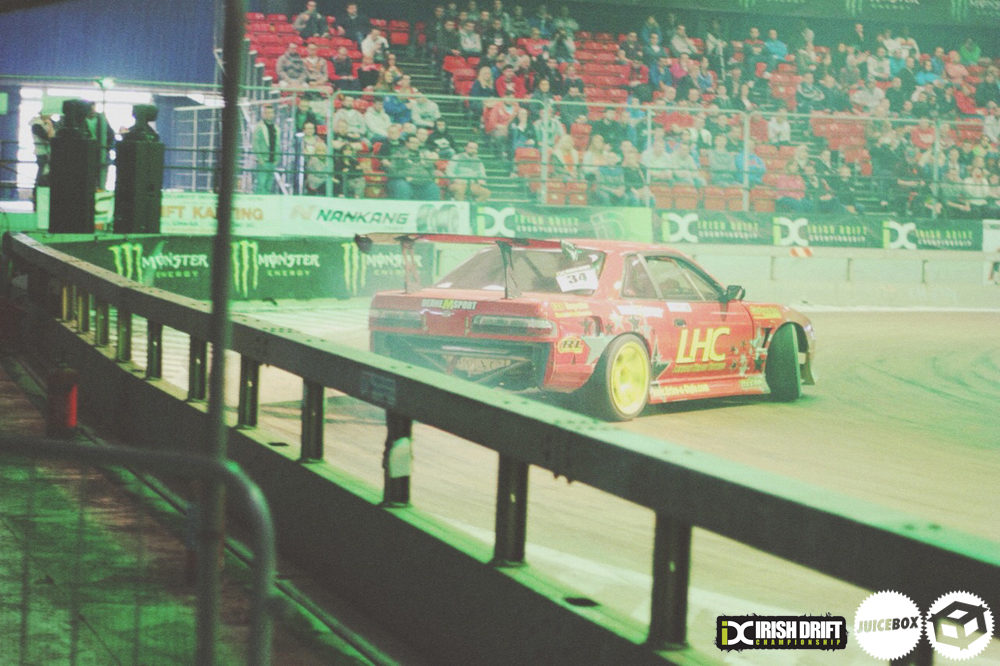 I don't think the town of Millstreet was quite ready for what was about to be bestowed upon it, even down to the lines of cars on trailers lining the street as drivers and crew poured in for the good breakfast roll on the first morning. It was an early start as usual but I didn't mind as I was fairly eager to see the arena. There had been an exceptional build up to this event with teaser after teaser video giving only enough away but getting you hooked in the meantime. Rolling up to an unfamiliar paddock, the faces there to greet me were still as nervous as ever. All the Drivers getting settled in for the weekend as I catch for the first time the resonating sound coming from inside.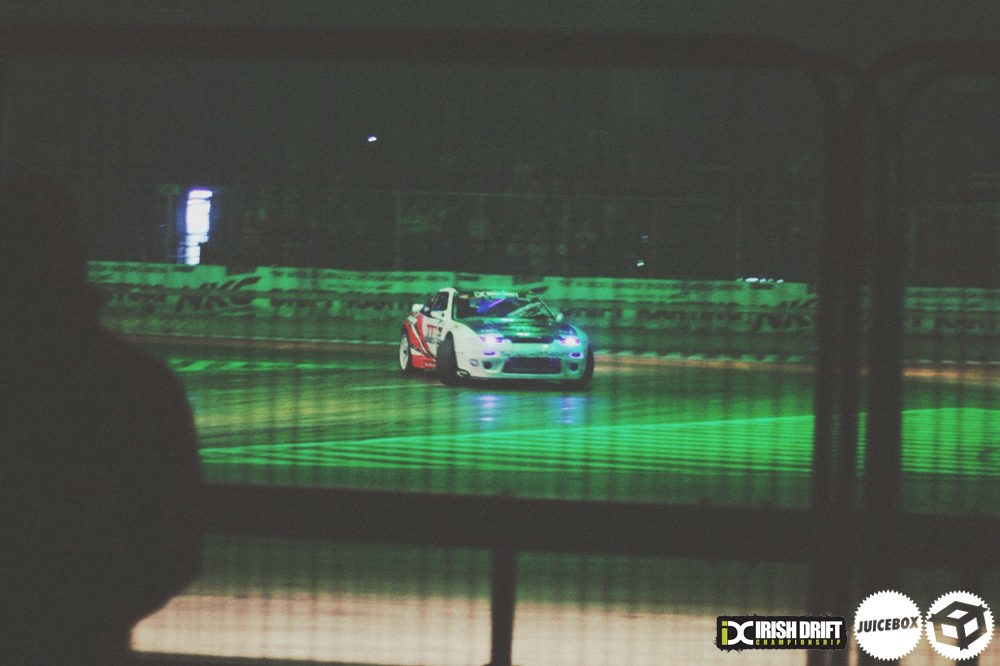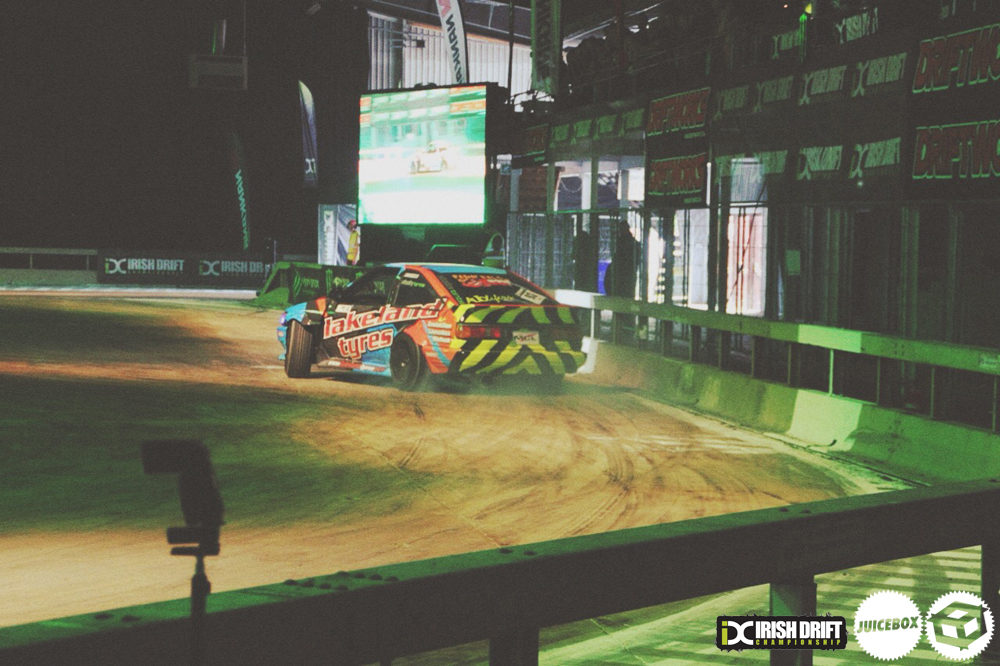 The noise was intense, one car sounding like four every time it entered for practice. Attending the media briefing we all had to adapt to hand signals rather quick as the noise was traveling through several layers of the building without being softened hardly. I would just like to take this opportunity to thank whoever it was who decided to give out free ear plugs on the gate. Briefing over and new certificate for sign language in the bag, it was time to see the track.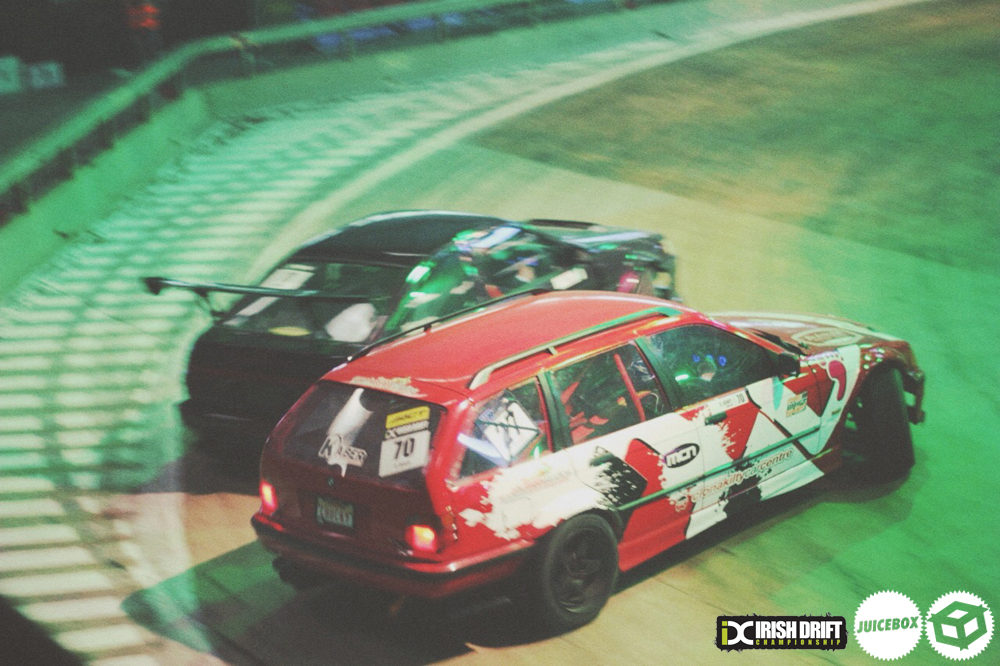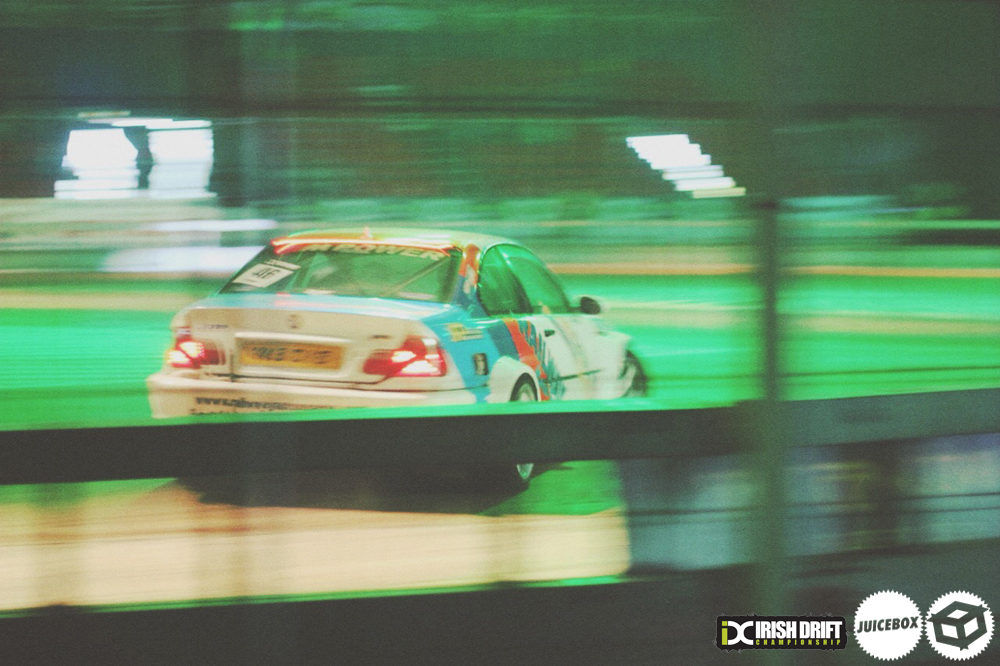 First look at the course was mesmerizing, like getting a brand new scalextric on Christmas morning and not being able to take your eyes off it. Was always curious to how much room there was going to be but the layout provided more than enough space for all levels of drivers. There was however more than enough barrier clipping points as well. Practice saw  numerous cars damaged as the drivers adjusted to this new track, some finding the surface more challenging than anticipated, the smooth concrete being a drastic change from the grippy tarmac of Mondello in round one.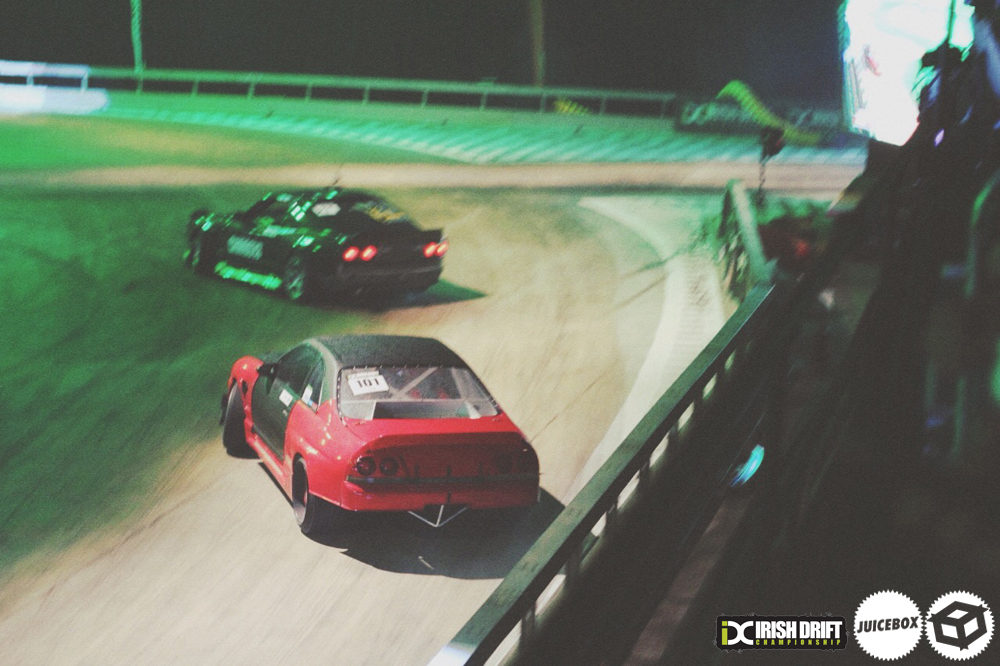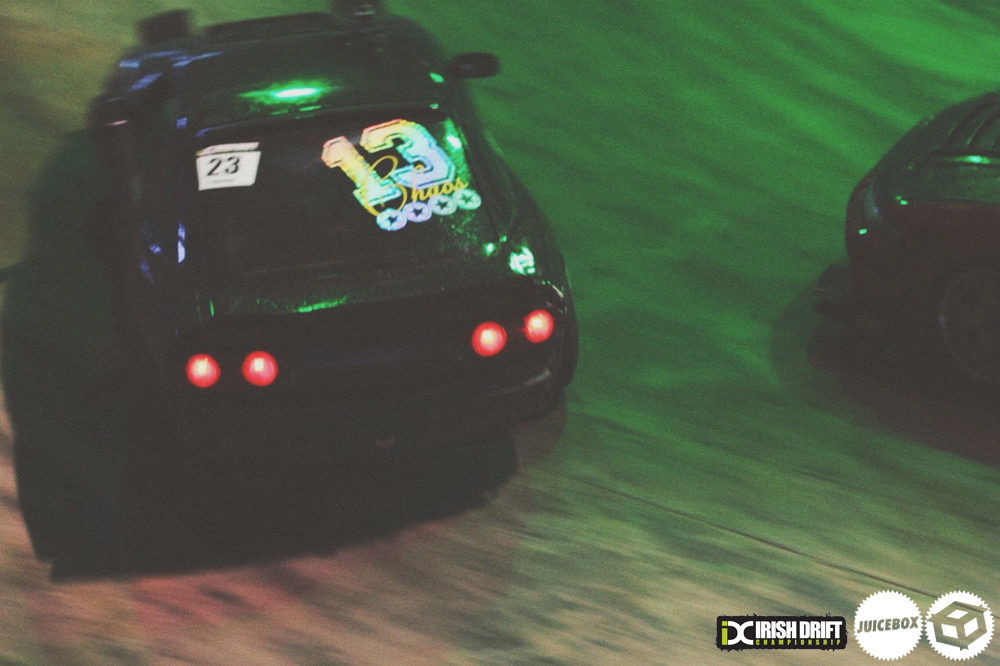 With the main attraction of the Saturday being the semi pro drivers some pretty interesting results were produced. Many would be favourites seemed a little rattled by this intimidating new course allowing the rookies to flex a little and potentially make their mark. When it comes to a brand new track everyone that takes part more or less has the same experience so it's anybody's game. The pilots of these machines seemed hungrier than ever wanting to be crowned king of a brand new event in the Irish Drift Championship. After many hard battles and extremely close calls this title in semi pro went to Kevin Kindregan, top performance from this guy and a well-deserved victory after all these years. Billy Shine took second and Chaos driver Shane Macken placed third.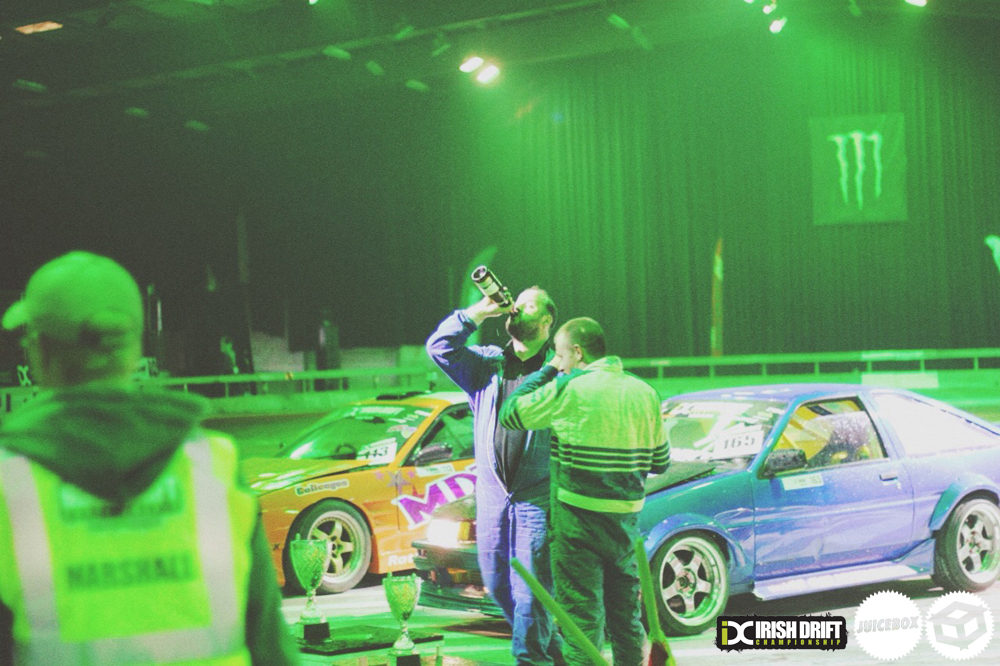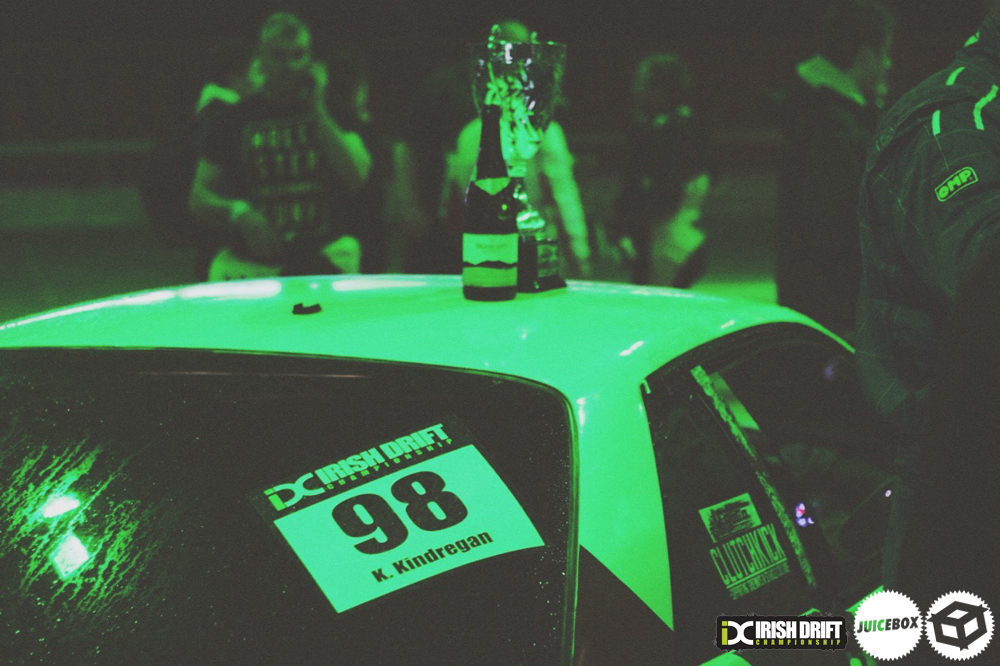 Onto to Sunday and early on the crowds were surging into Millstreet. The hype had led to a capacity crowd and they wanted entertainment. They were certainly not disappointed. The morning's antics witnessed some big crashes which saw Spanish contender Lluis Lopez having an early bath as his S14 met the barrier at clip one. The pro drivers were holding nothing back and were using every ounce of track. A great deal of aero from the cars coming into contact with the arenas pinned down barriers, spectators holding their breath as these guys got faster with every lap, constantly pushing. Real edge of the seat stuff watching every battle, even the man in charge David Egan looked on with paused breath as Adrian Walsh who that weekend had stepped in to pilot the Dealth-Width AE86 gave the barrier a little kiss. Super impressive stuff leading into the top sixteen.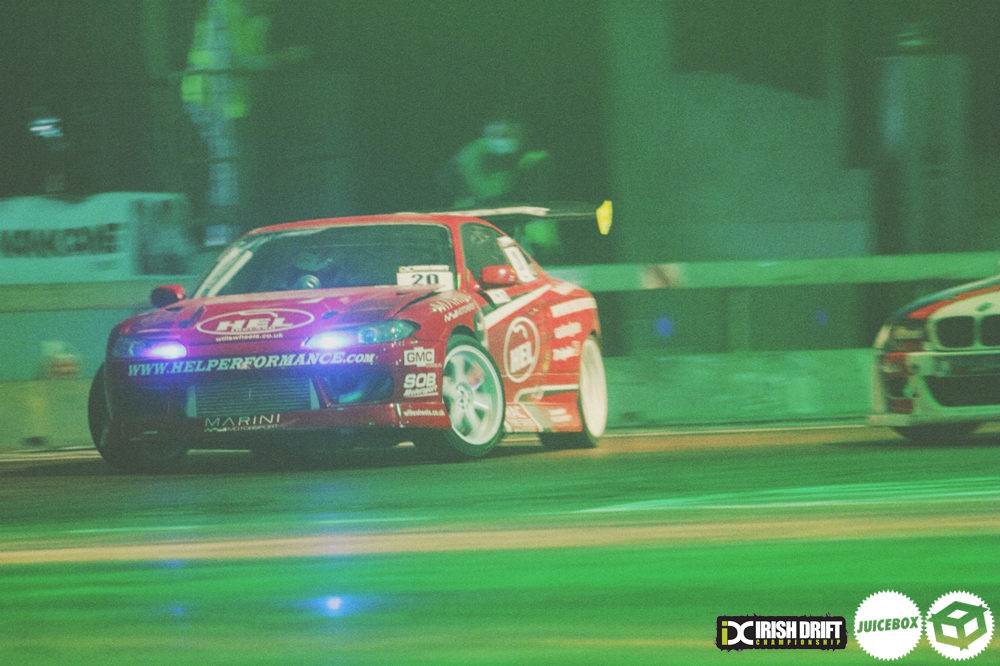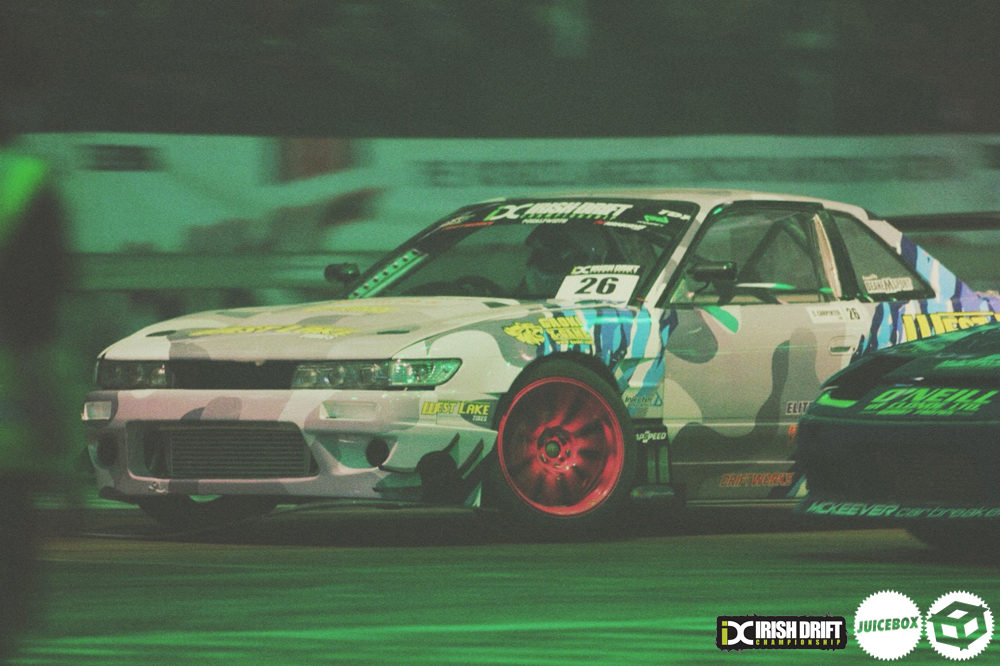 We had always anticipated this to be a great show and what a show it was. The top sixteen parade had the crowd pumped and ready with light displays, music, fire breathers and of course some of the nicest drift machines in Europe. The level of driving from this round was something serious. Because of the lower than normal speeds of this indoor course it meant that the cars were incredibly close throughout, barely a battle went by without someone trading paint. Some incredible fights were had but only one driver could be given the title at this first ever indoor event. Jack Shanahan and James Deane were the two competitors to dual it out in the final. Both drivers were on point all day, James was as flawless as ever behind the wheel and with young Jack scoring one hundred point qualifying lap earlier on it was well deserved.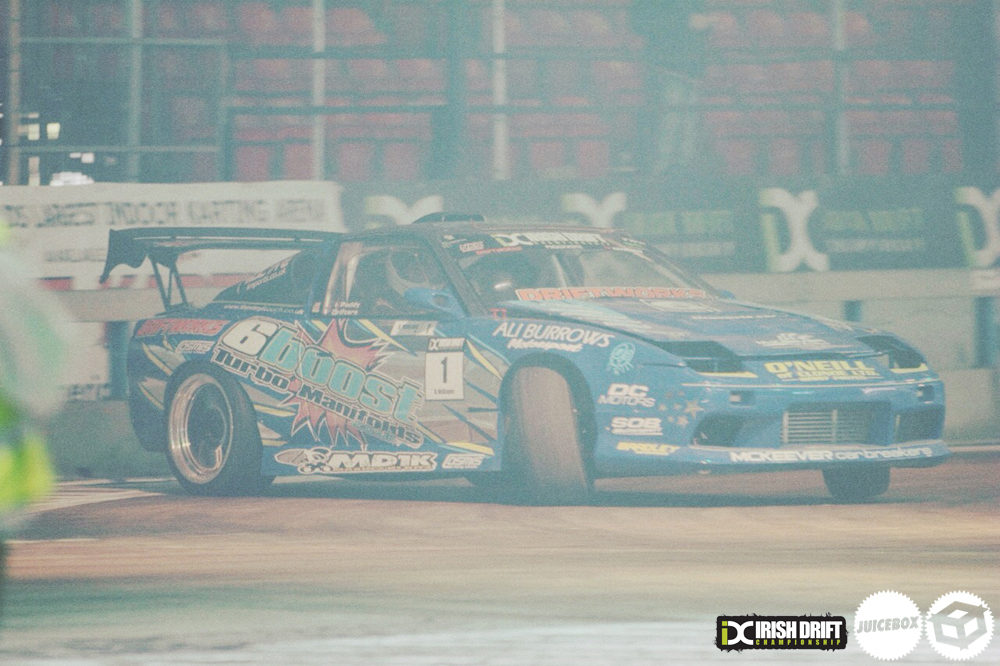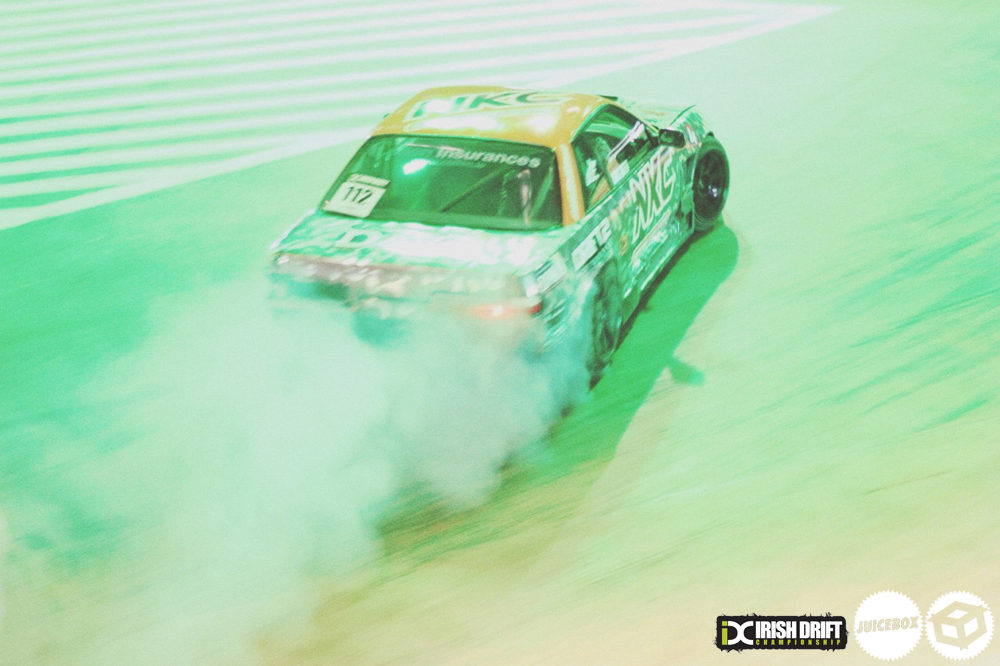 Value for money was certainly had with a double dose of one more times in the final leaving James Deane the first pro winner of round two Millstreet. An incredible display of driving bringing the entire place to its feet, a remarkable sight to witness a standing ovation at a drift event. Unfortunately for Duane McKeever, his car had to be retired due to mechanical issues before his third place battle with John Paul McCarthy could even start meaning McCarthy would join Deane and Shanahan to enjoy the champagne on that IDC podium.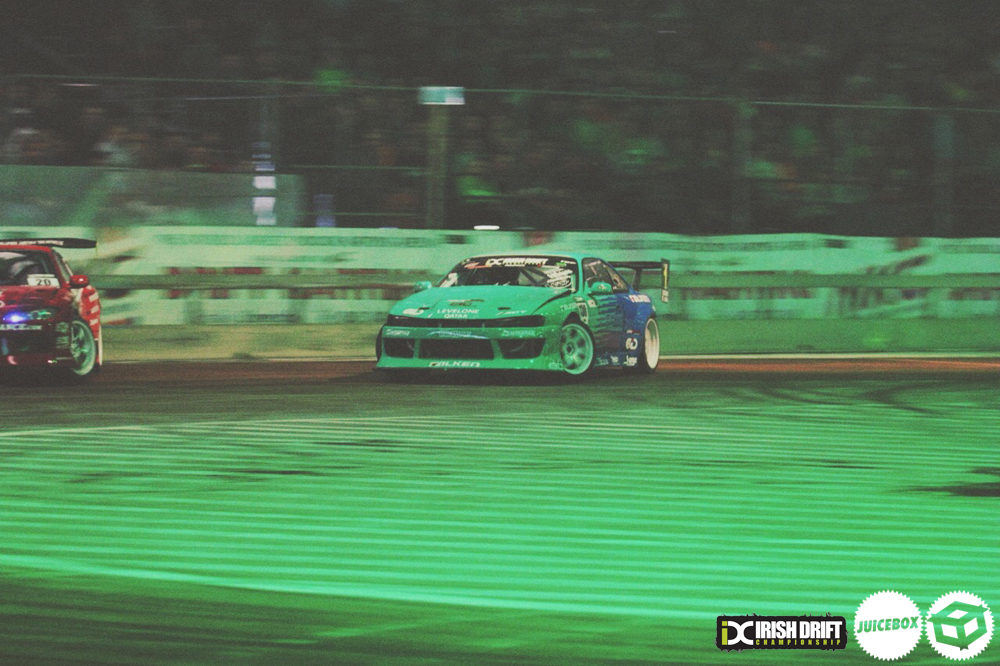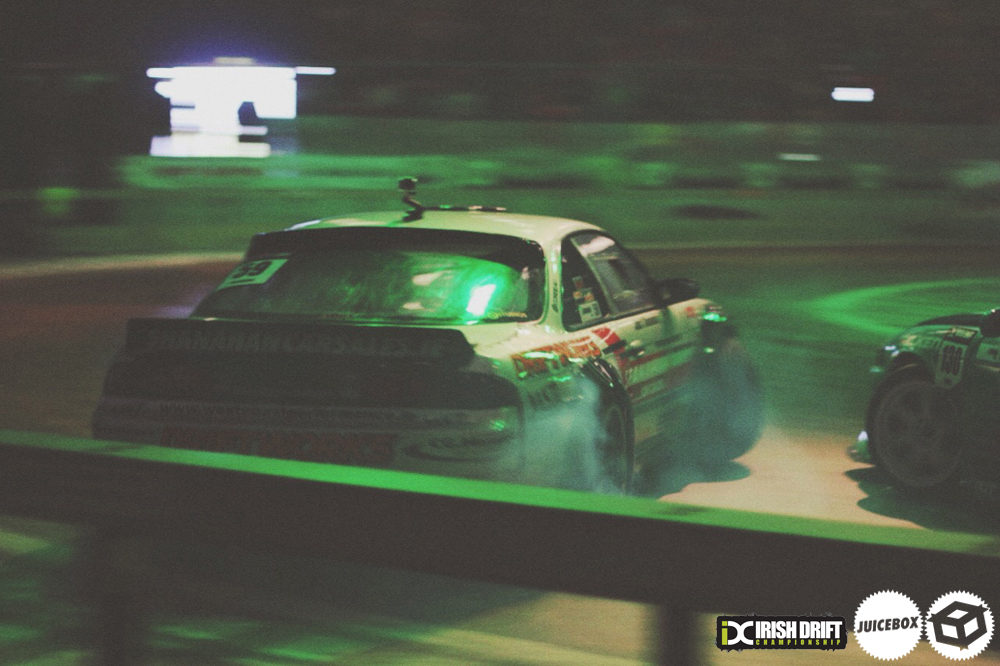 So now with Global warfare looming and some very impressive names announced to compete this year, round two has unquestionably ignited a fire in the stomachs of these Irish drivers. A big congratulations to everyone involved in the Irish Drift Championship for putting on an insane round of drifting, really putting the Irish drifting community on the map. If this event is anything to go by the IDC will continue to flourish and the Irish will be expectantly able to hold on to their undefeated title on home soil, or will they? See you all at Global Warfare.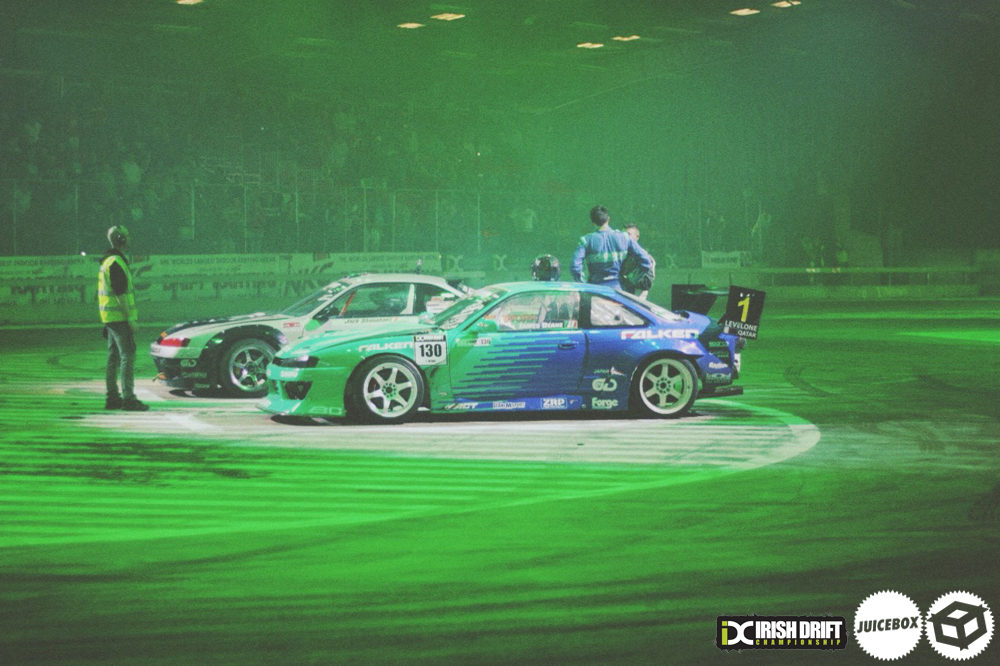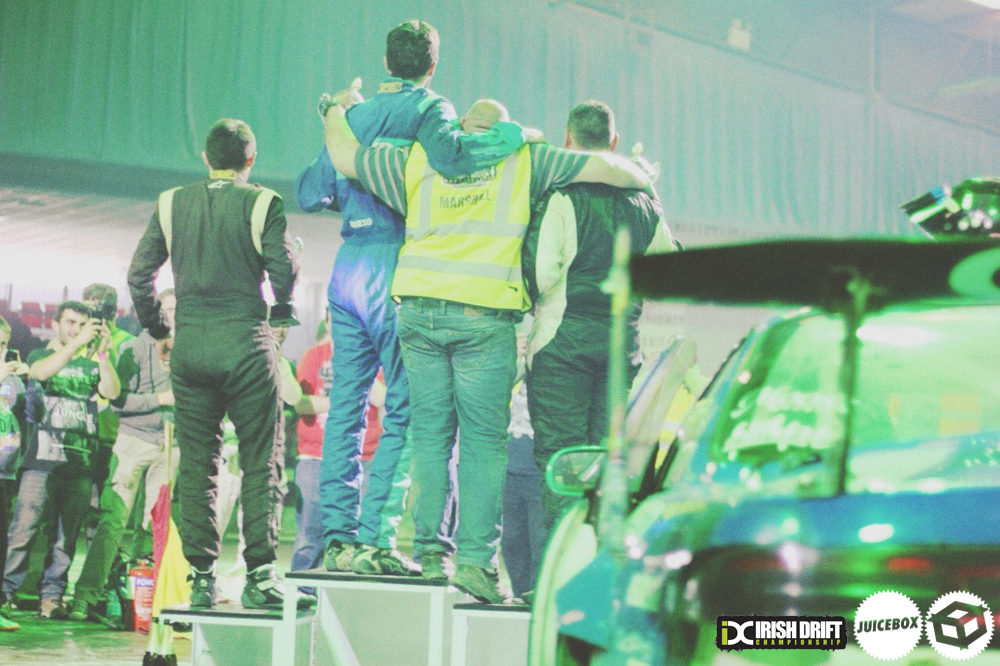 BONUS IMAGES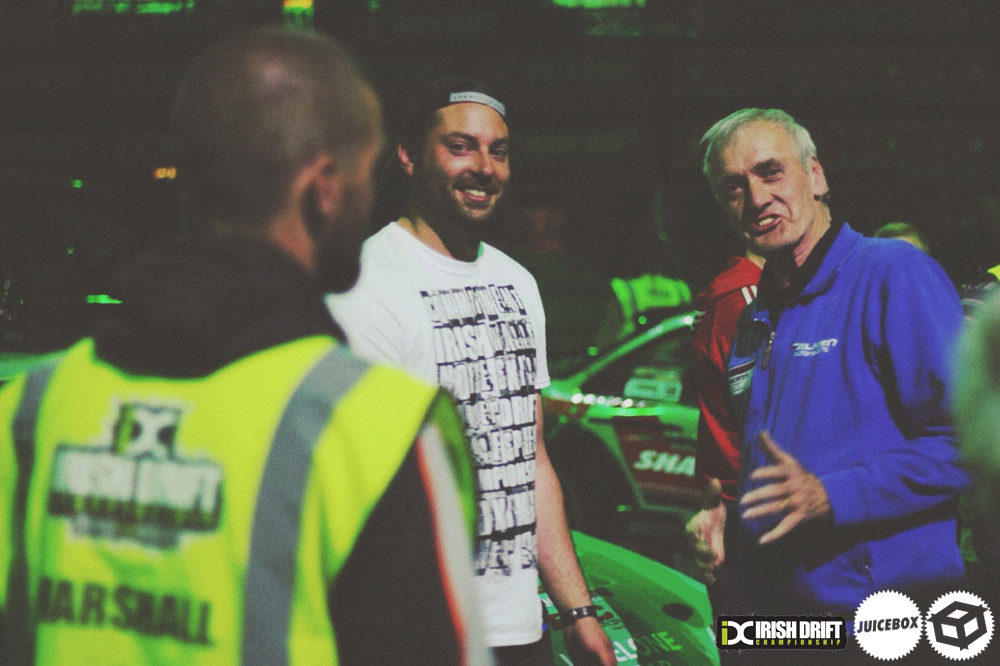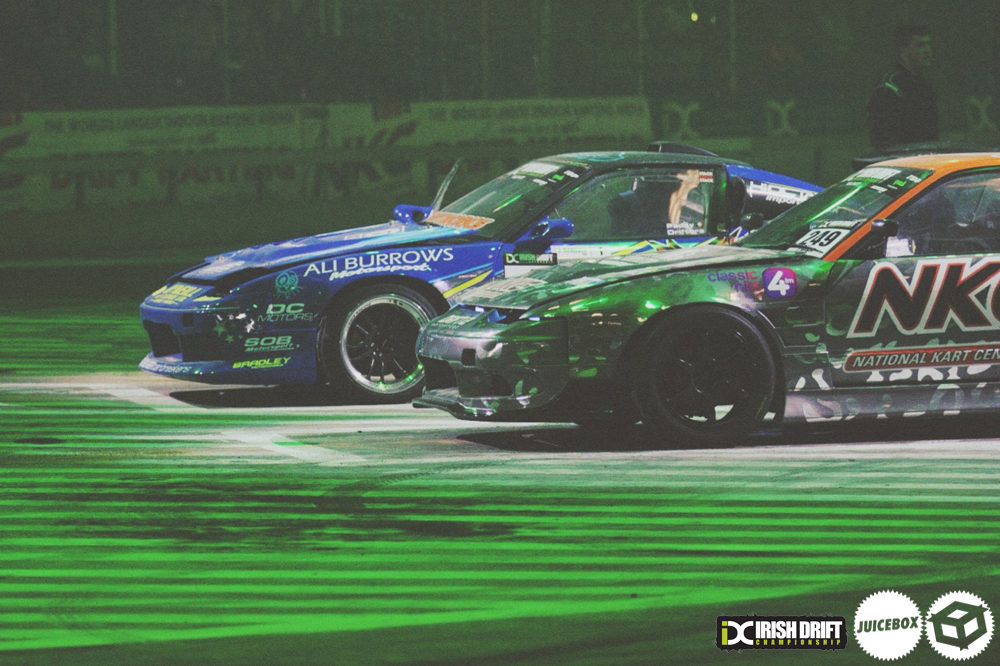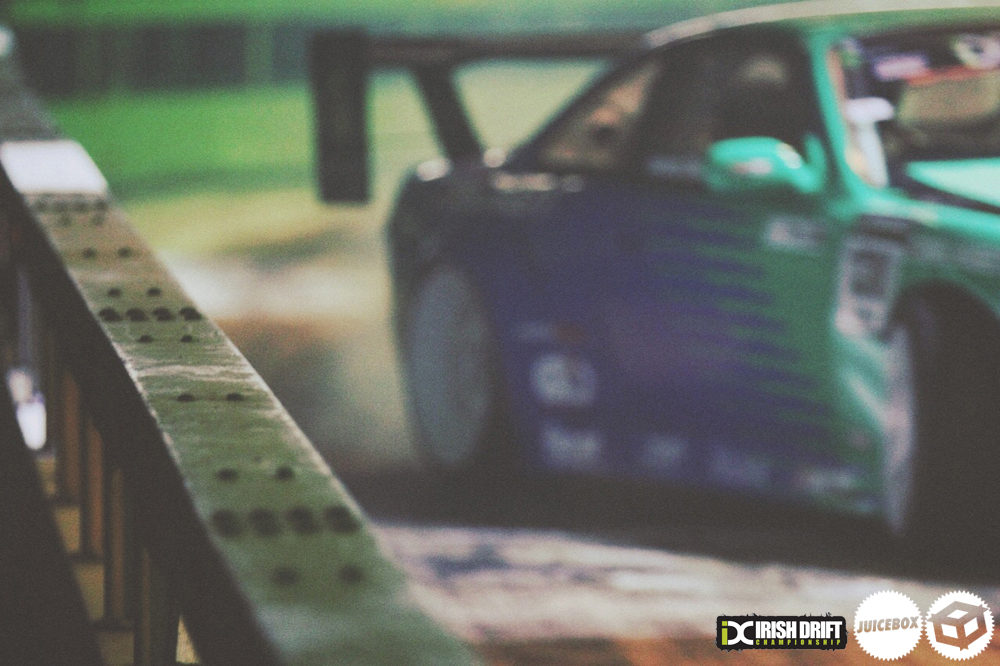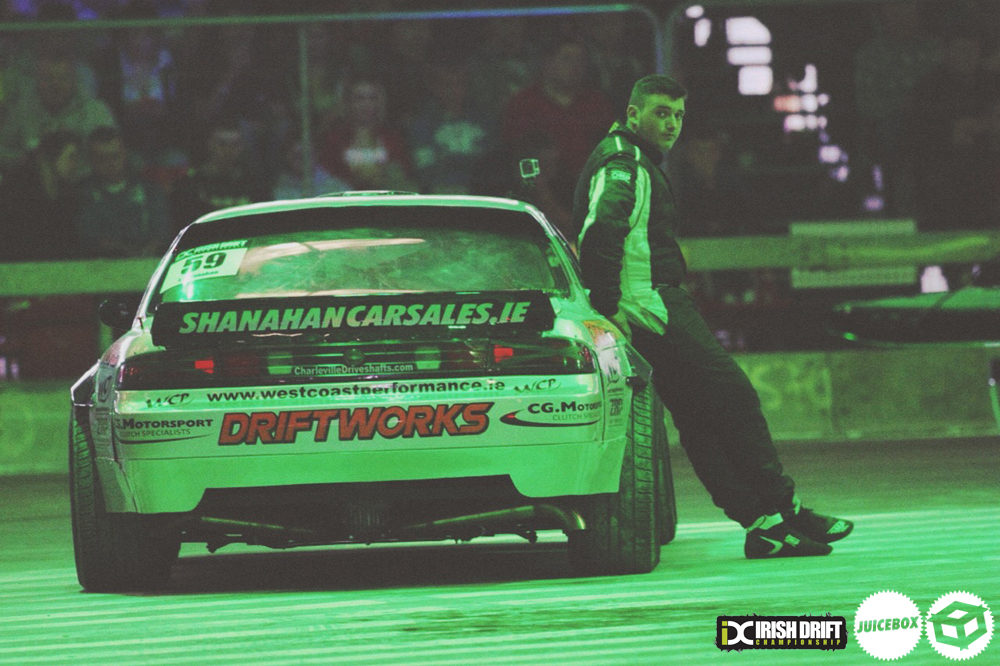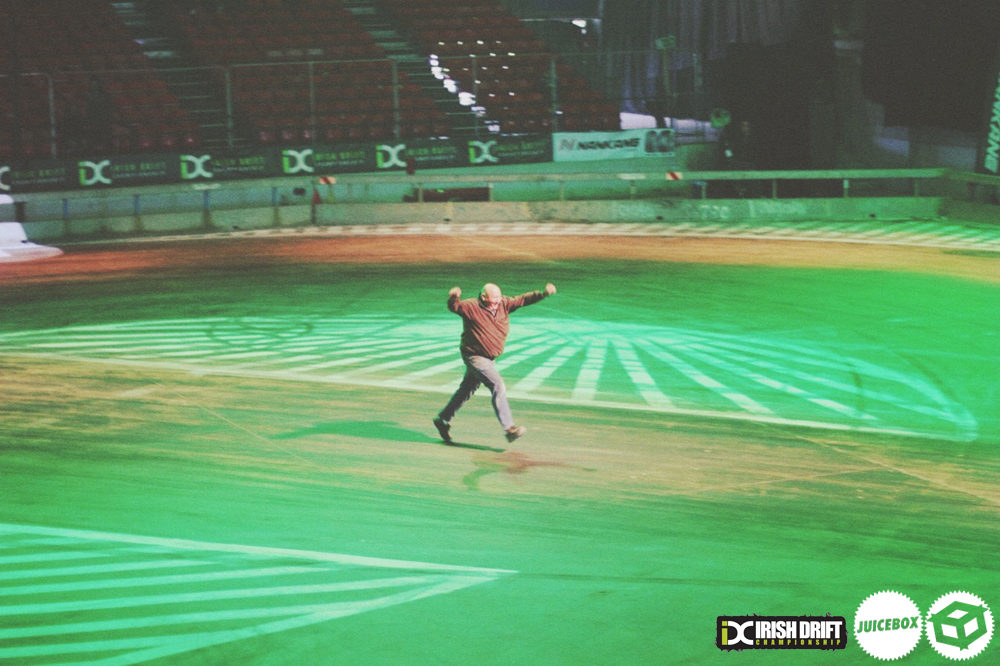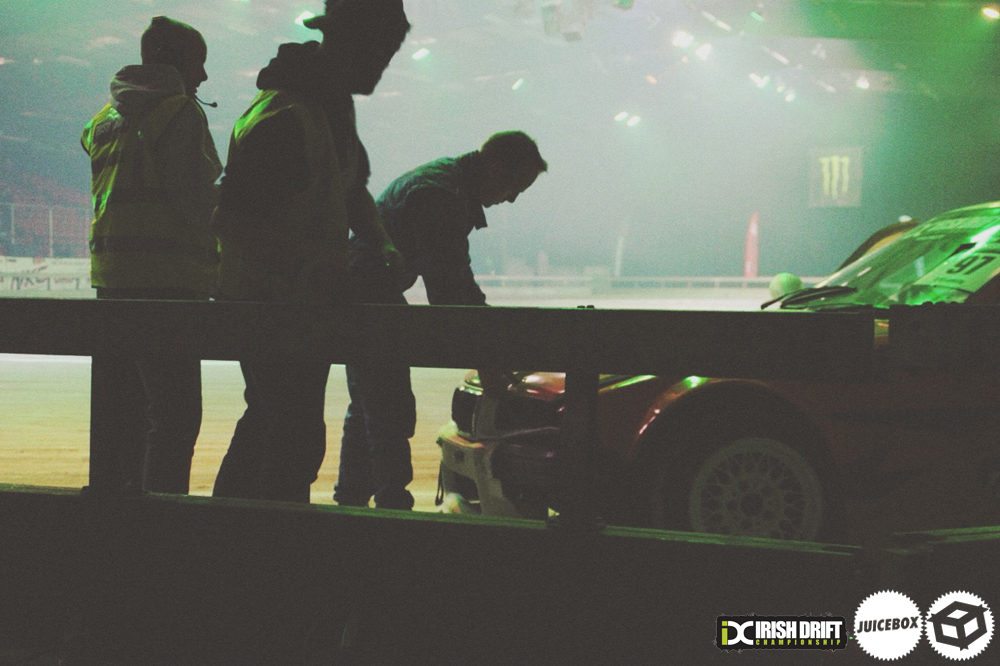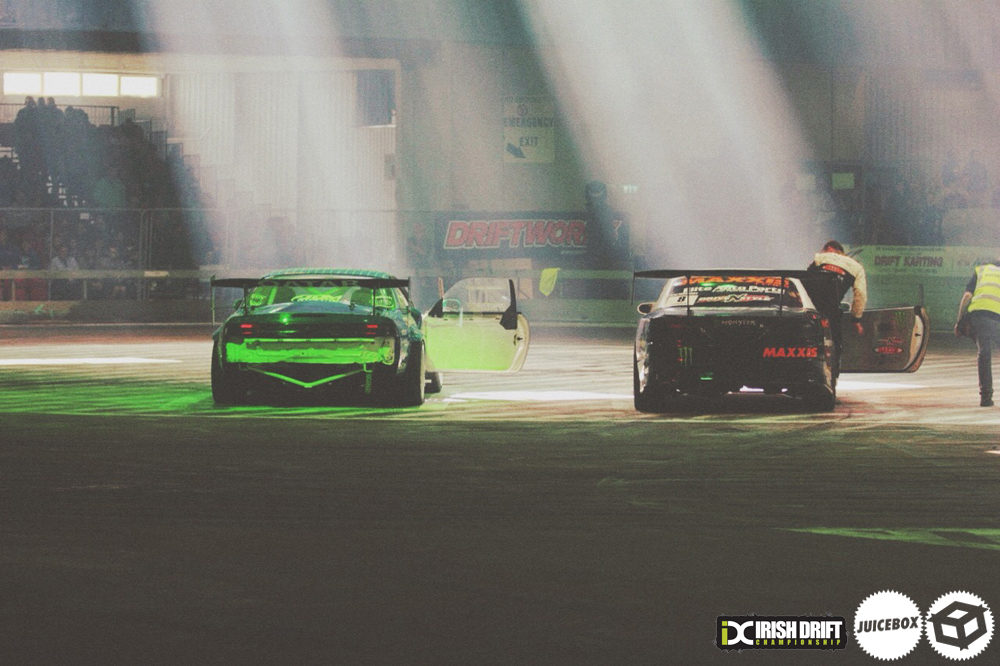 Comments
comments
Powered by Facebook Comments