Global Warfare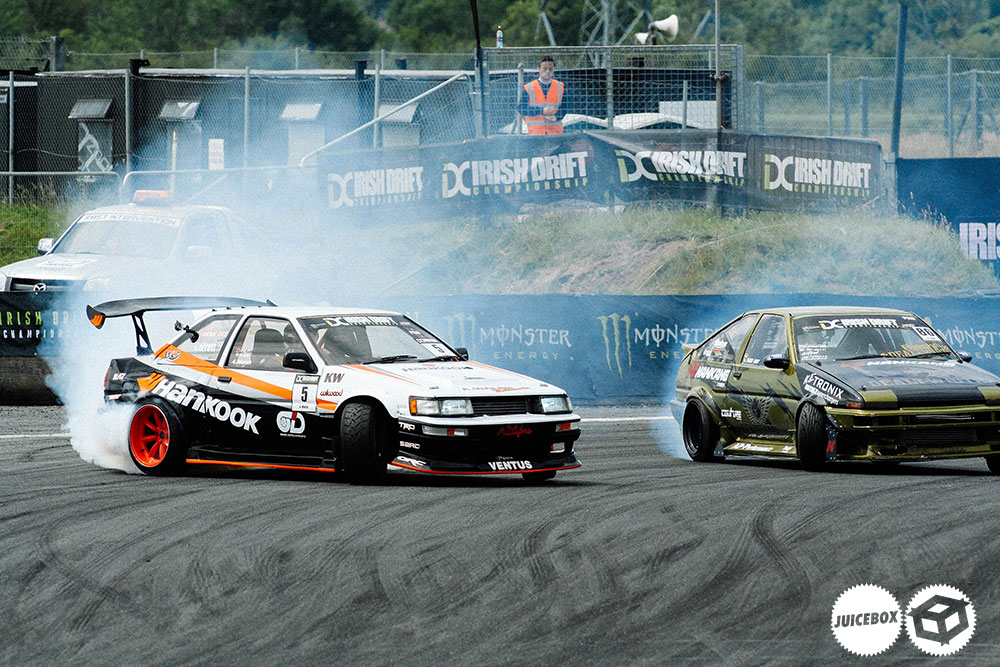 Man where do we start… IDC Round three, titled 'Global Warfare'… Many names from all over the world came over to showcase their capabilities as a driver and battle the IDC regulars on our own soil. Drivers such as Daigo Saito, Robbie Nishida and Matt Powers to name a few…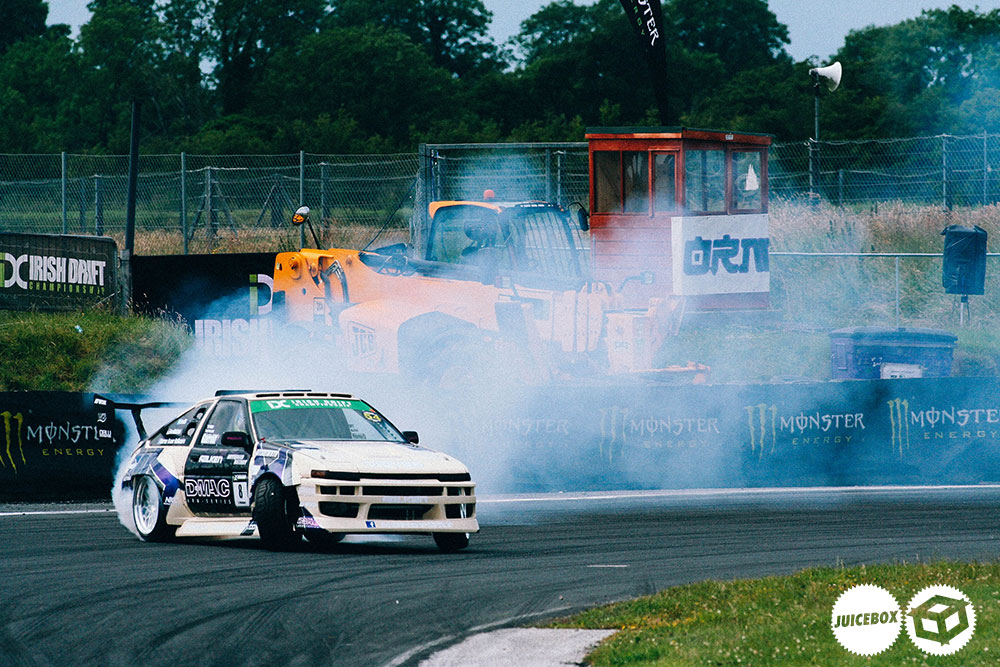 It was an event surrounded by a lot of hype, and one of those rare occasions that it lived up to it… Aside from the impressive driver list there was a lot of talk about the track layout… Some people were skeptical whilst the vast majority were excited to see how it would fair out in use for battles…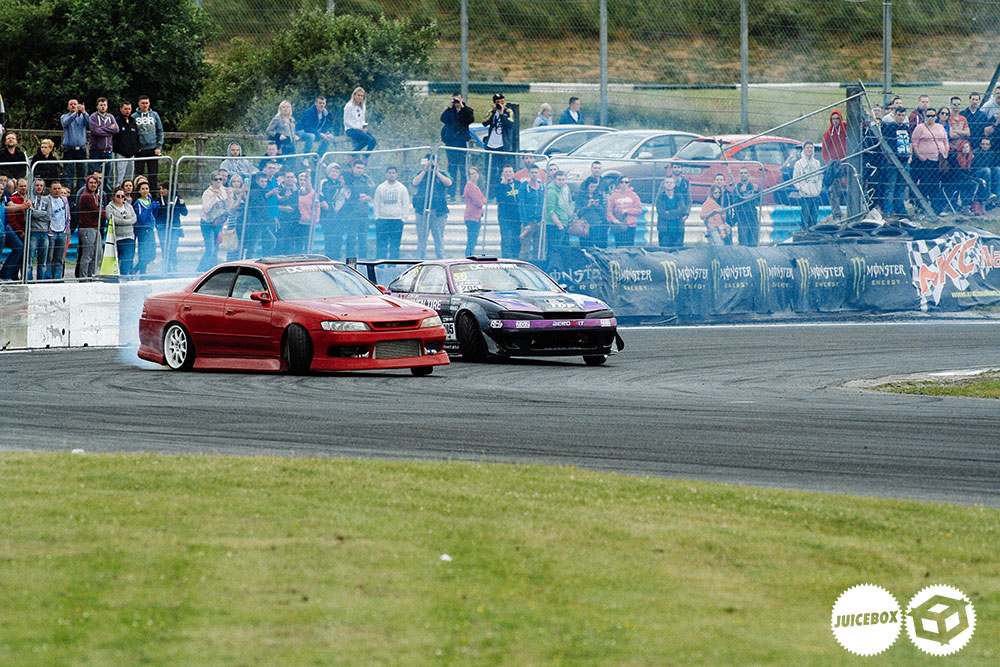 The addition of a concrete wall added to the excitement but of course claimed a lot of cars in the process; it was surprising to see how many people were getting within inches of the wall, considering entry speeds and how aggressive the corner was, it's something the Irish drivers wouldn't be used too…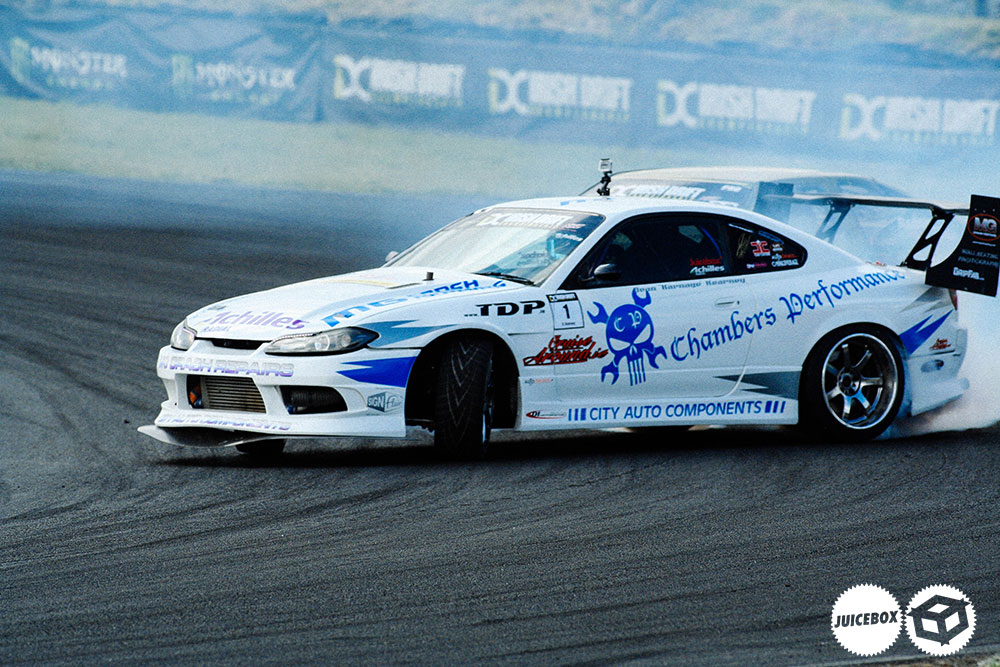 Regardless of that, the majority of the drivers out there proved they were capable of not only driving but being competitive on pretty much any track layout thrown at them…
It put a lot of things into perspective, and something we've been thinking for a while, from a spectator's point of view, the old layout was boring; it was never anything spectacular to watch. The only race track on the IDC calendar used and it was always a shame that it wasn't used to its full potential. Global Warfare without a doubt changed that.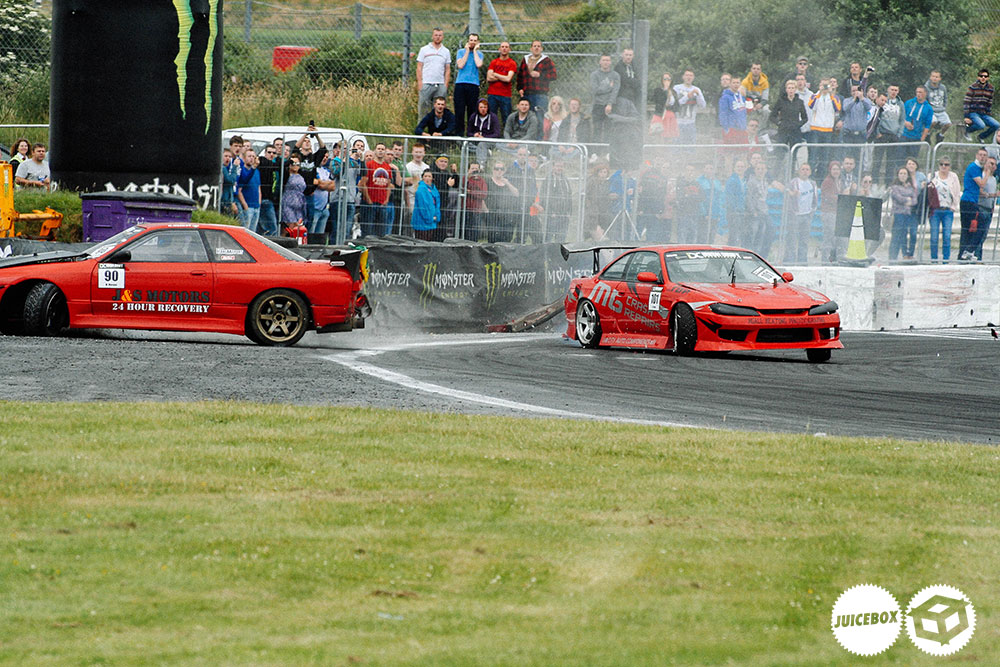 The SXE10 of MG Crash Repairs that Daigo Saito was supposed to drive ran into some issues that couldn't seem to be resolved but thankfully Richy O'Neill was glad to lend Daigo his car for the rest of the weekend.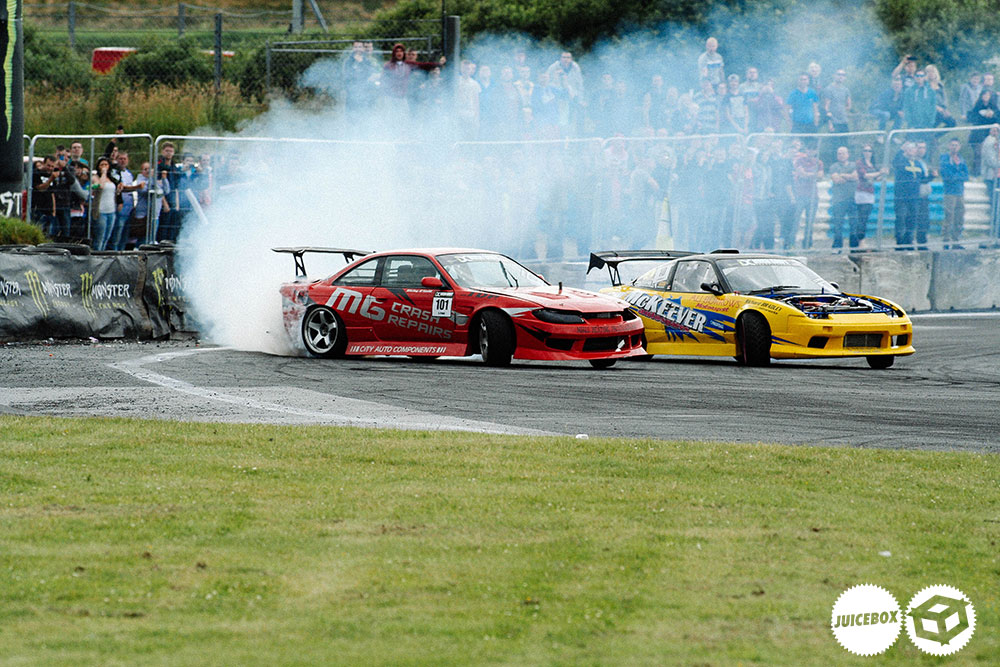 Daigo stepped into a car he never drove before; in a chassis he has little experience in and showed just how capable he really is regardless of the car at hand… a showcase of true driver skill.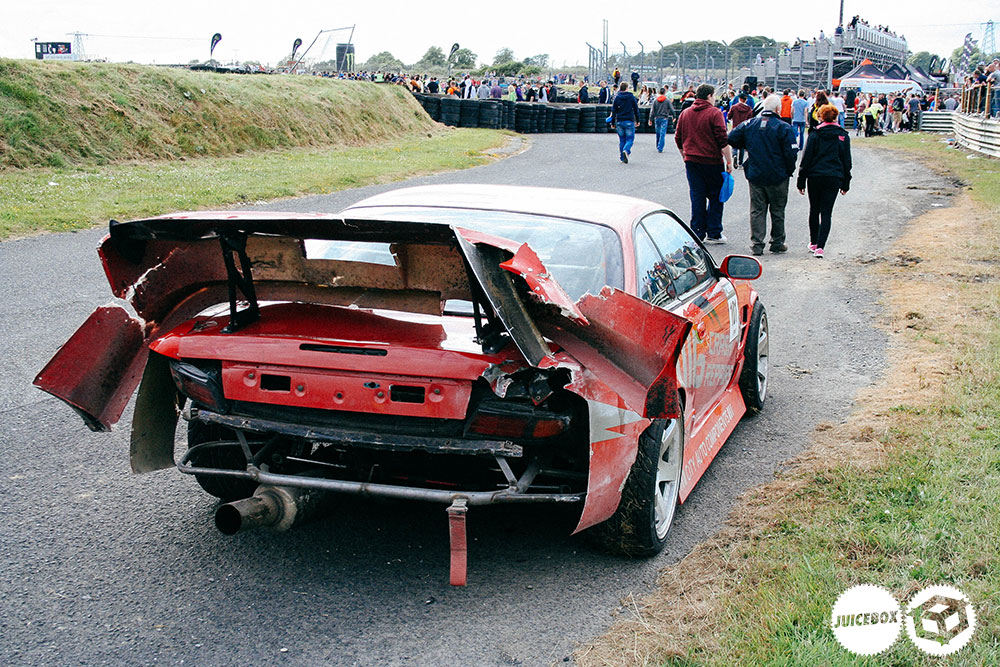 Battle scars! Daigo certainly left his mark, in a lot of cases a car owner, in this situation being Richy, would be in fear of seeing his car getting damaged by anyone else but himself behind the wheel, but in this case, you have to stop and think, how likely will the opportunity to have a D1 Japan champion and Formula D USA champion drive your car on home soil? It's an honor, to have someone like Daigo Saito compete in your car… then of course it does give you a pretty cool story to tell, too.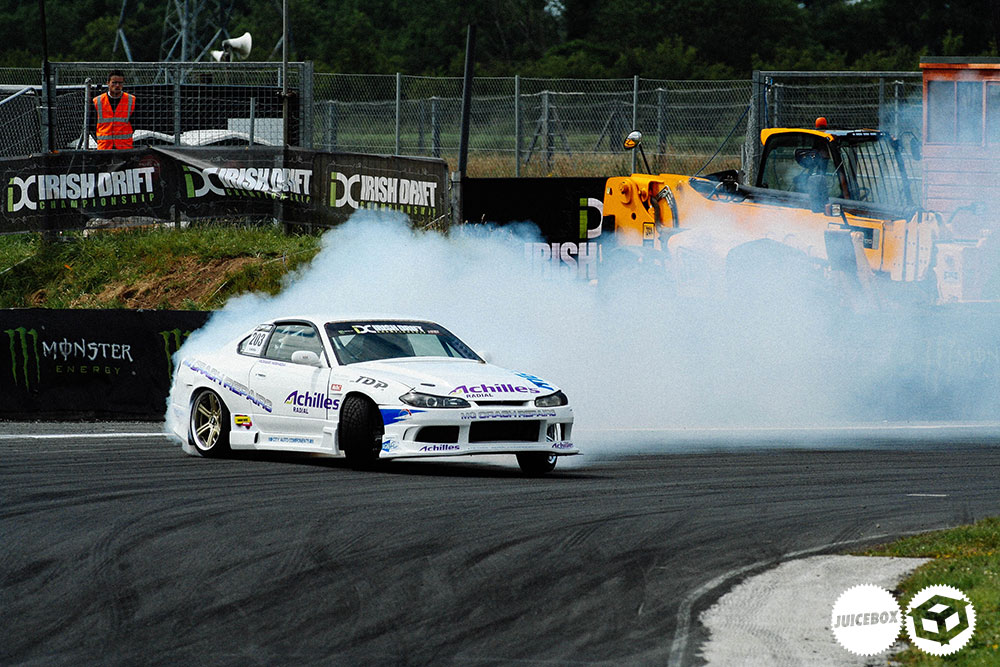 Seeing Robbie Nishida team HEY MAN! OG drive the MG Crash Repairs RB26 S15 was pretty spectacular. His Superlap run, easily one of the most enjoyable runs of the weekend, yet scored stupidly low…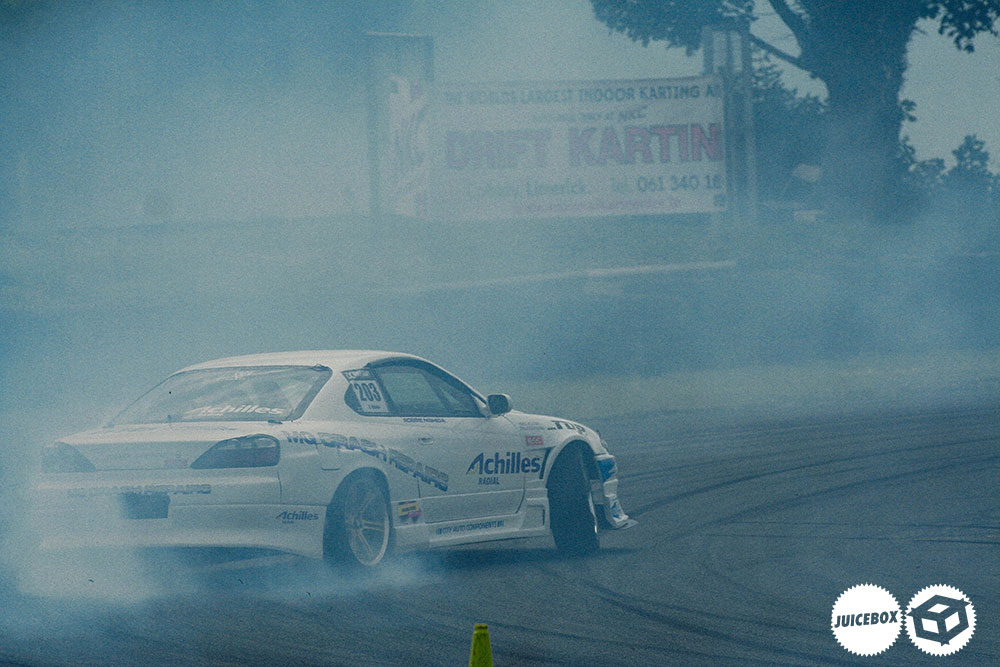 However we are aware that the judges have their own criteria to meet and unfortunately as cool as Robbie's run looked from our point of view it wasn't exactly what the judges were looking for.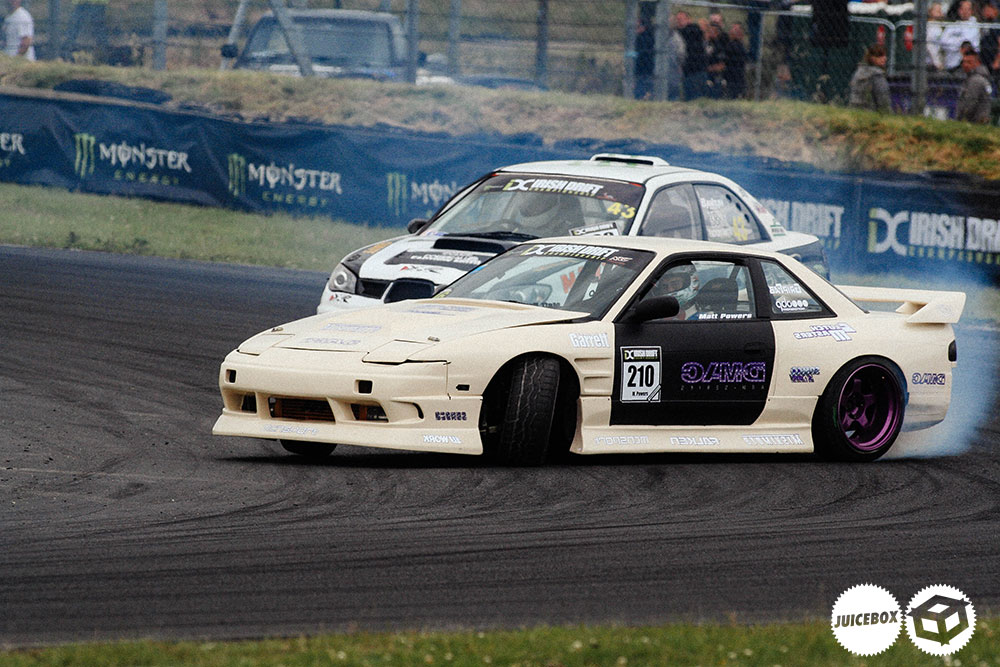 Matt Powers is one of the coolest American's ever, seriously. Everyone remembers the era of the low style green 240SX that "took Formula Drift by storm".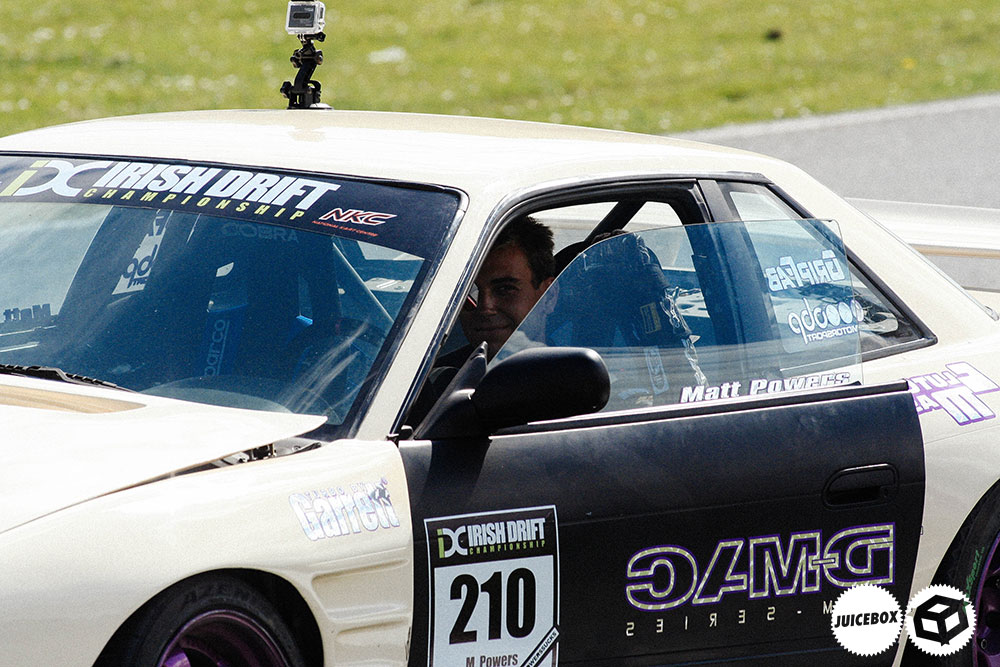 Unfortunately in drifting it appears more and more often the lack of character and style in one's self, and of course the car they drive. You should always see a connection in a car and the person that owns it.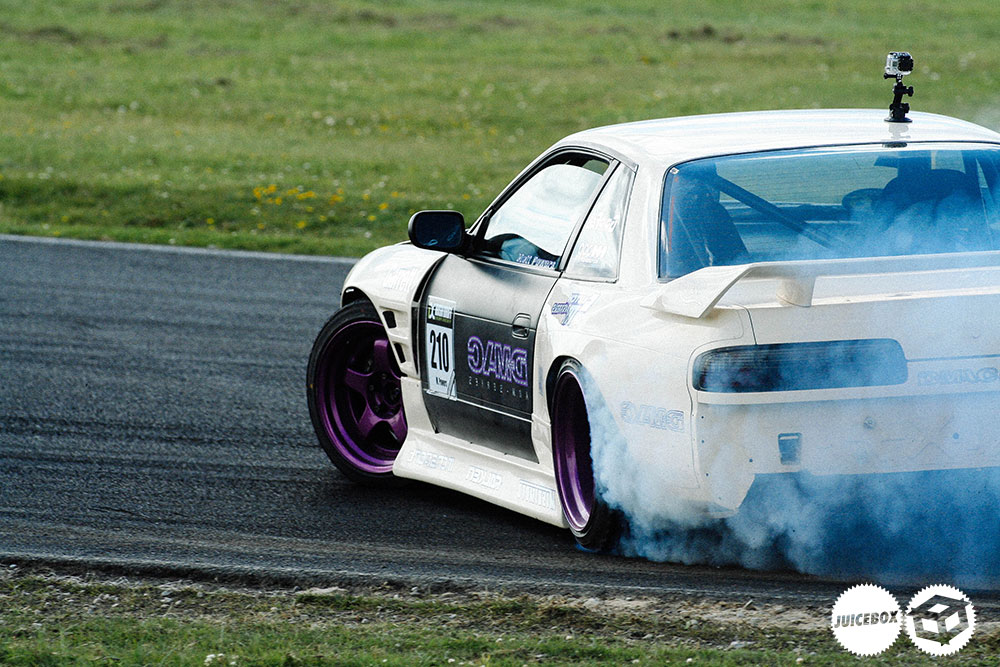 Drifting has always been about showcasing style and character. Cars in general are the perfect way for those into them to express themselves. Matt has always maintained that character that made people look-up to him and respect him as a driver back in those early days of his drifting career.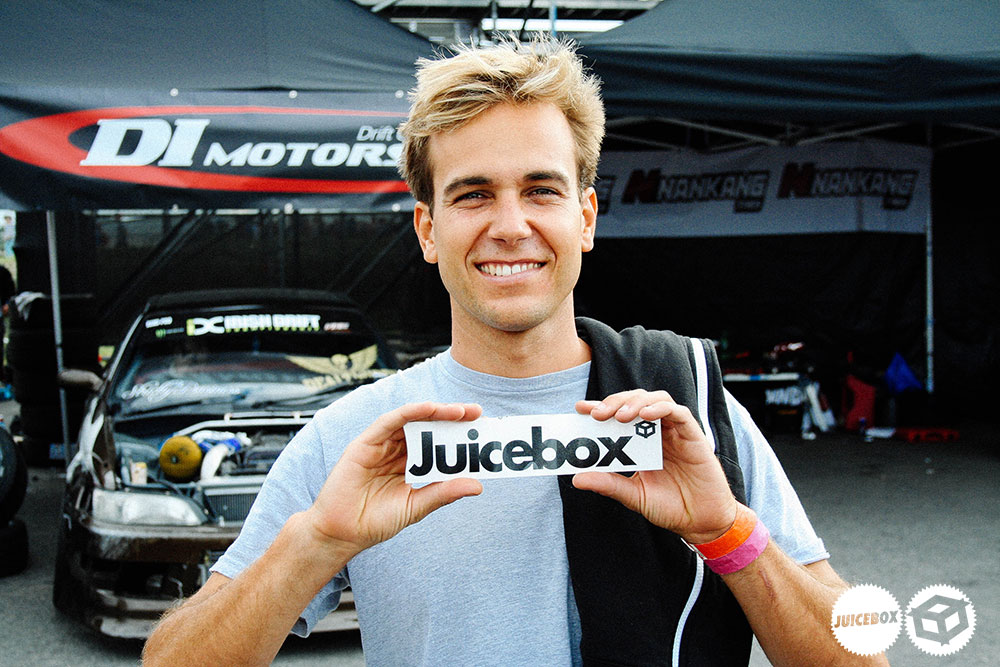 It was awesome to have Matt here and get to watch him drive without looking at a screen. Oh, and I guess all the nerds that complained when he went V8 and wasn't driving a super-low car in Formula Drift can relax now since D-Mac's 240SX is reasonably low and has a 1JZ?! Haha…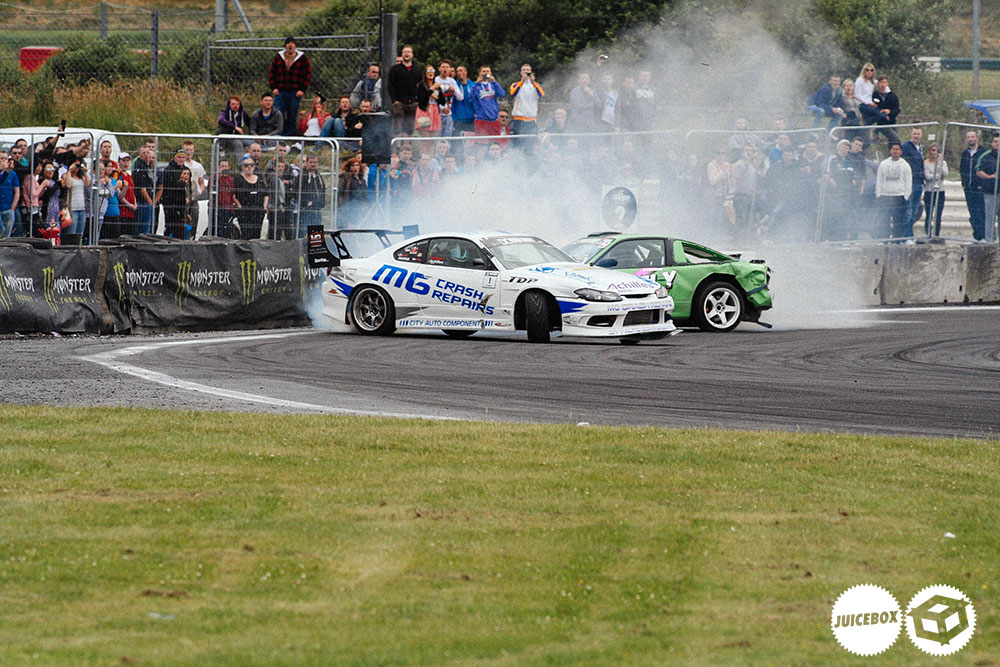 The reaction from the crowd said it all when Jack Shanahan met the wall in his battle against Dean… It's odd, you hear of people going to motorsport events just to see crashes and complete 'Karnage', but it's different when it comes to drifting…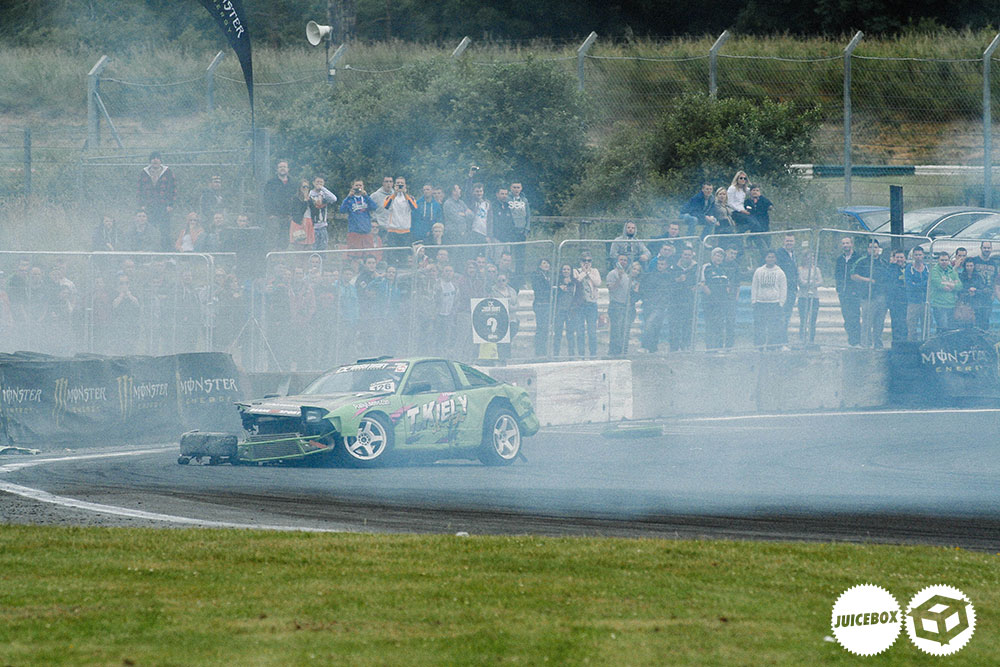 Yeah, there's always that few that think it's 'class' when someone crashes and totally destroys their car, but in a lot of cases, the vast majority don't want to see a guy total his car during battle. Drifting is a very approachable form of motorsport, anyone can do it, and because of that, you have a lot of people that aren't as financially well off as another person, you have people from all backgrounds, and there's a lot of people that put every penny they have into their car, people that sacrifice everything else in their lives to actually go out and compete in completions.
I think a lot of people are aware of the commitment that is sometimes needed, and in turn they understand it. It's never a nice thing to see, but like any motorsport accident, the most important thing is that the driver is safe and well. On a positive note, at least there is two less Rota's in the world. (I mean, we had to get a little humor in to lighten things up right?!)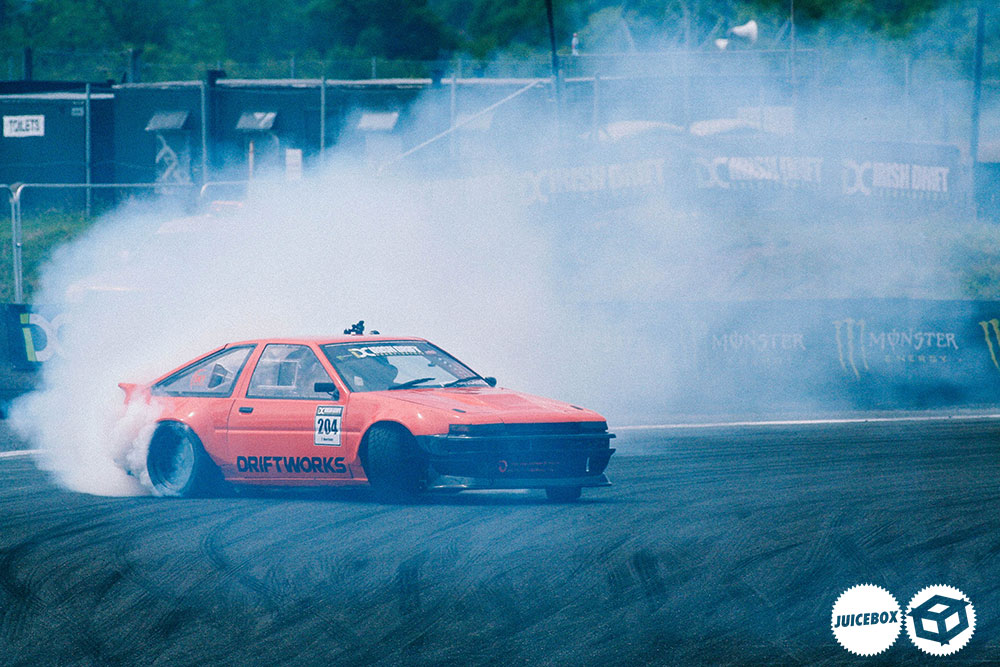 The DRIFTWORKS 86 has been a constant trending topic on social media since the build started, a lot said, both good and bad, the V8 swap is frowned upon with a lot of people now-a-days, and there's nothing wrong with that everyone is entitled to think what they think but it does appear that a lot of the time it comes down to people being close minded, the people that just hop on the V8's suck brigade…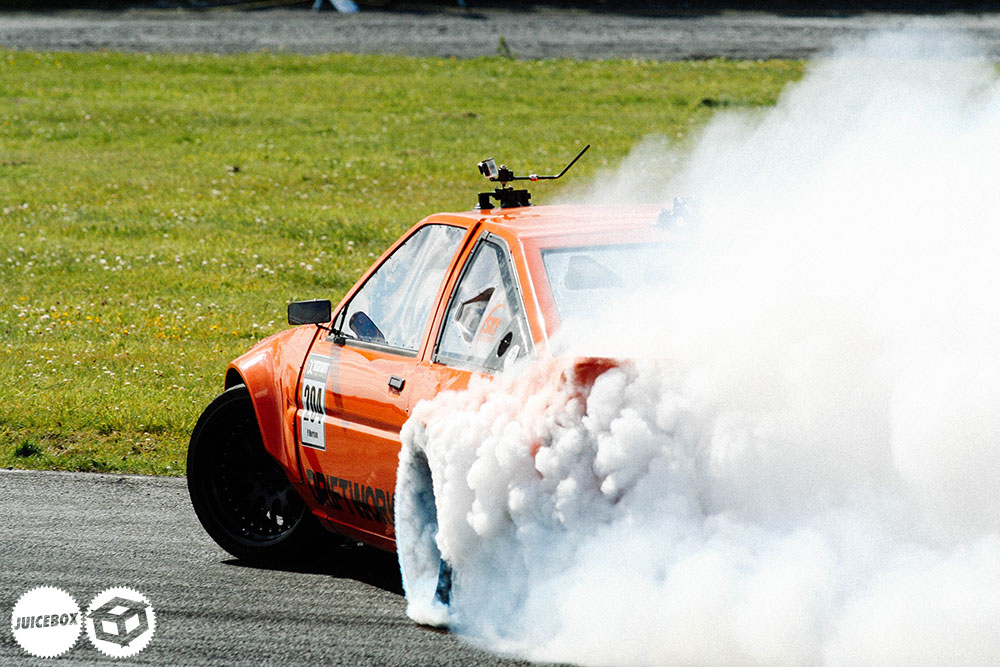 Even being honest ourselves, it's a car that never really grabbed our attention, it's not that we had something against it, it was as simple as we just didn't care for it. However, seeing the car in person really did change our view totally…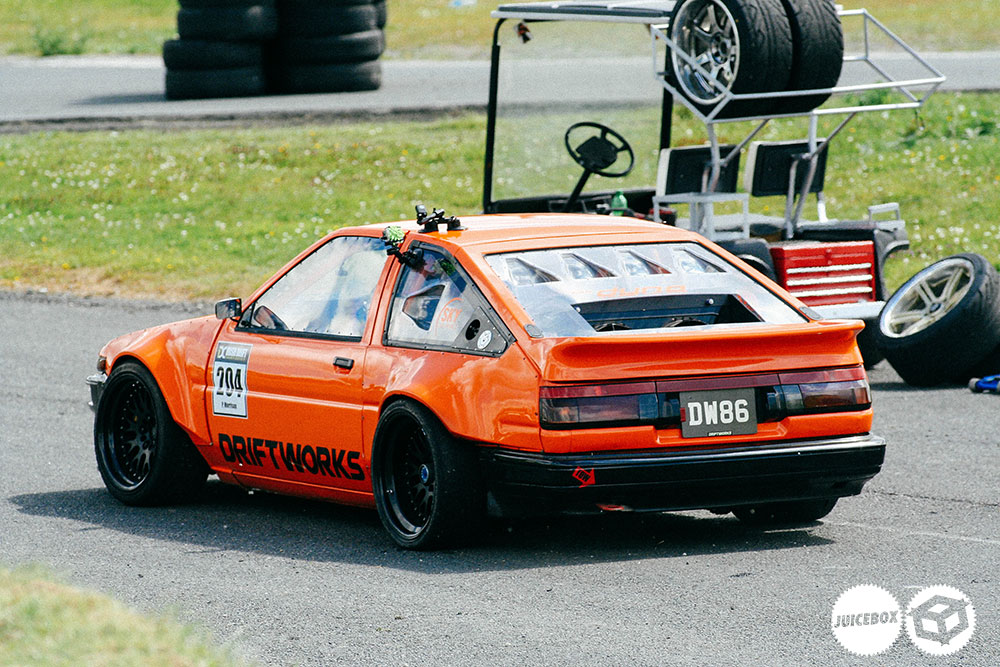 If you can look at this car and say it doesn't impress you you're an idiot. The engineering a lone is crazy. It's such a well put together car, to say this is just another car with a V8 swap is an insult. Credit where credit is due, the guys at DW outdid themselves with this car.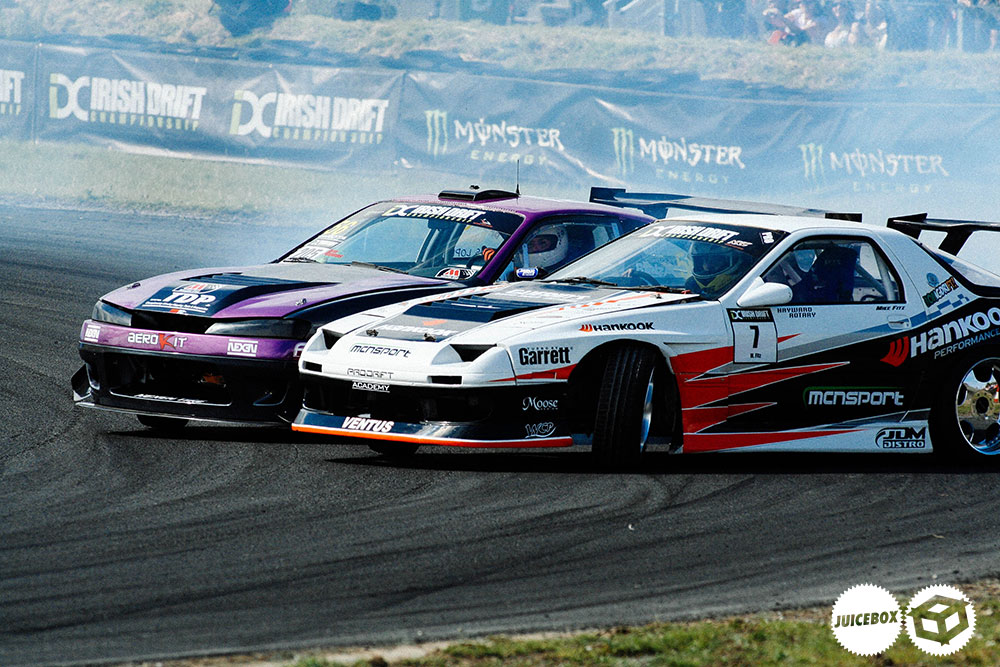 Mike Fitz is a driver that has progressed a lot in recent times. Looking real good in battle and constantly showing he is capable of being at the top.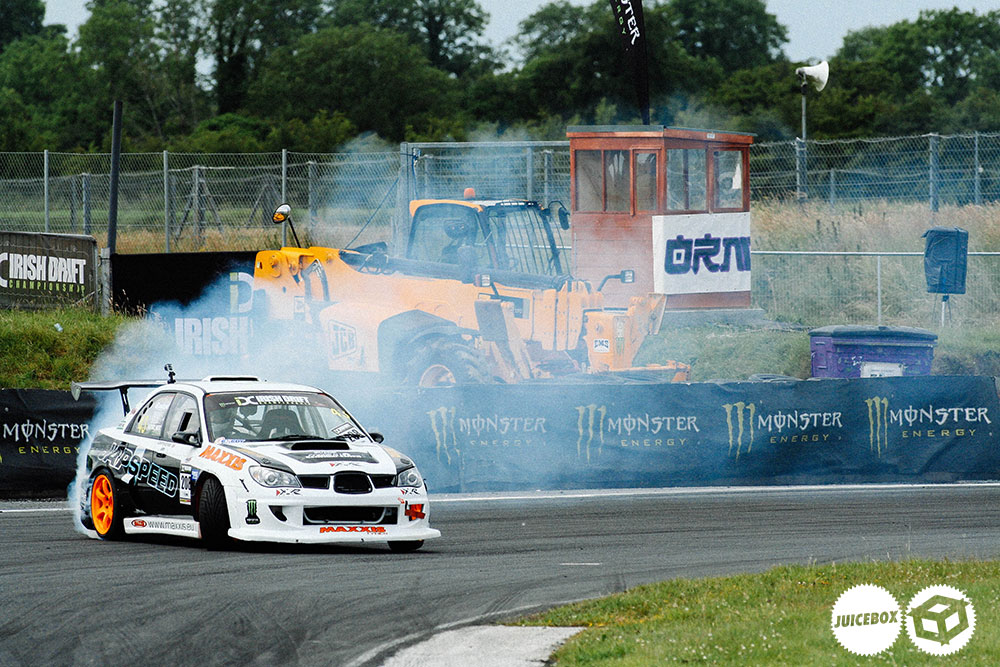 Danny Eyles, a driver who actually took a few years away from the sport made his return this year with team Japspeed to drive their 1JZ Subaru Impreza.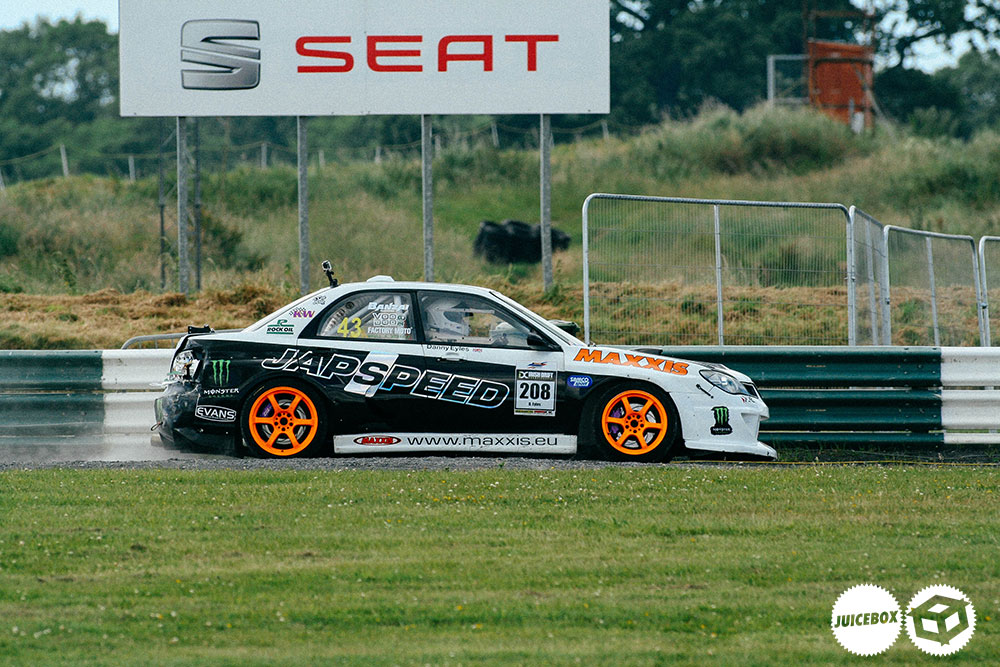 This car has been around quite a while now, and we hope it stays that way. One car we will never get tired of seeing… or hearing for that matter.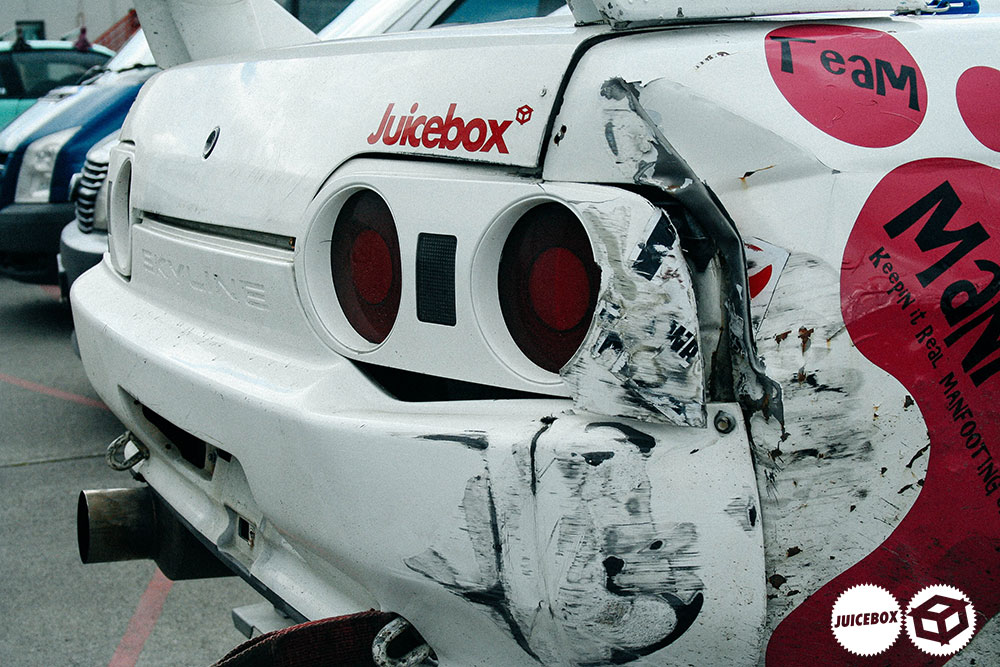 Nicky Hallahan driving this R32 Skyline, which he actually borrowed from his wife for the event was showing some battle scars courtesy of the wall on entry. If you missed Saturday's action you missed out on some of the best entries of the weekend. Nicky was not afraid to put the car right on the wall and stay deep throughout the first corner, a joy to watch, and all with pretty much standard HCR32.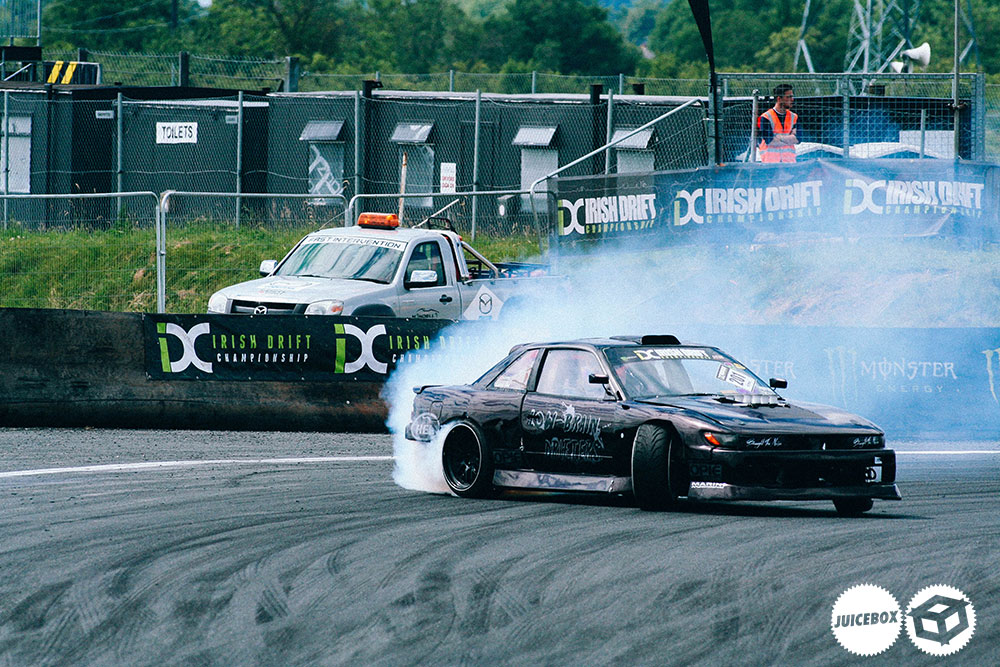 The Low Brain Drifters V8 PS13 driven by Martin Ffrench is such an intimidating looking car…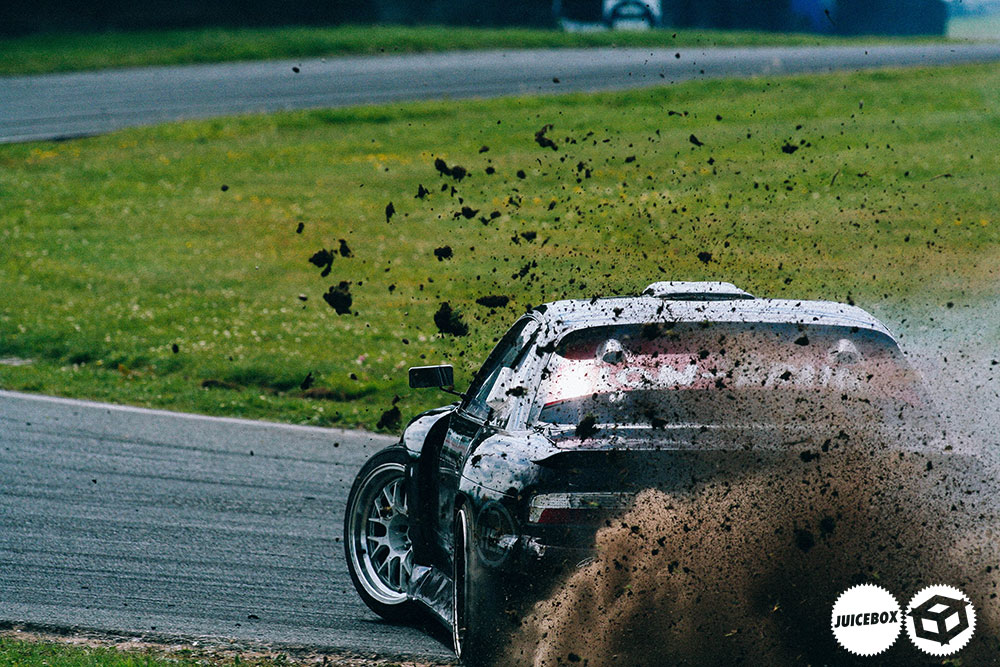 Martin was sadly knocked out early in the event but still put on an entertaining show for the crowd.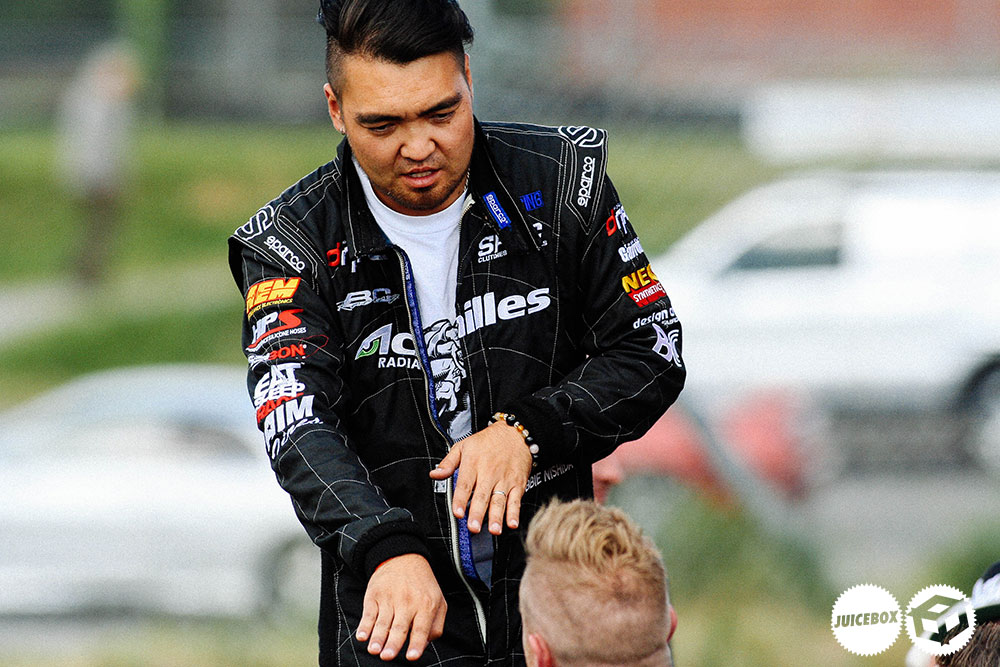 Robbie Nishida having a conversation with Macklemore, apparently…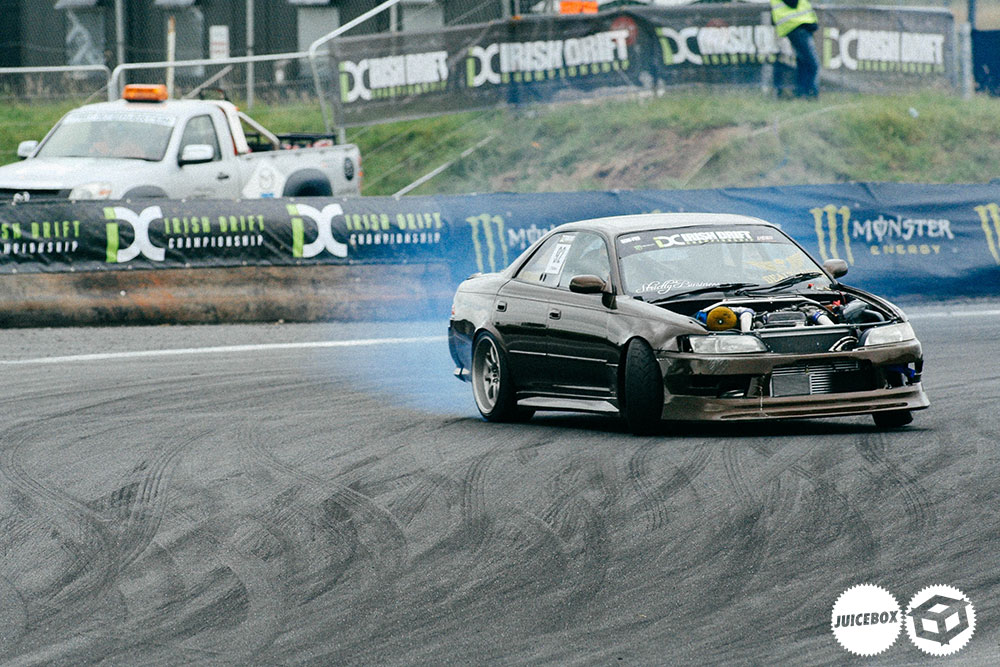 Eoin's JZX90 Mark II, a favourite of ours. One of two x90's on track that weekend.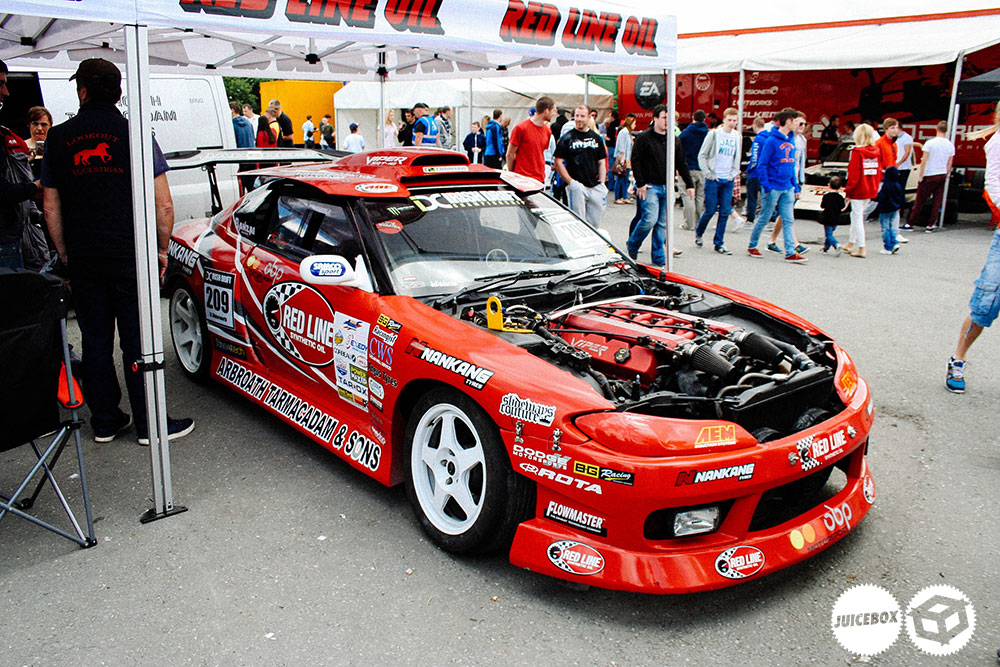 This was pretty intense…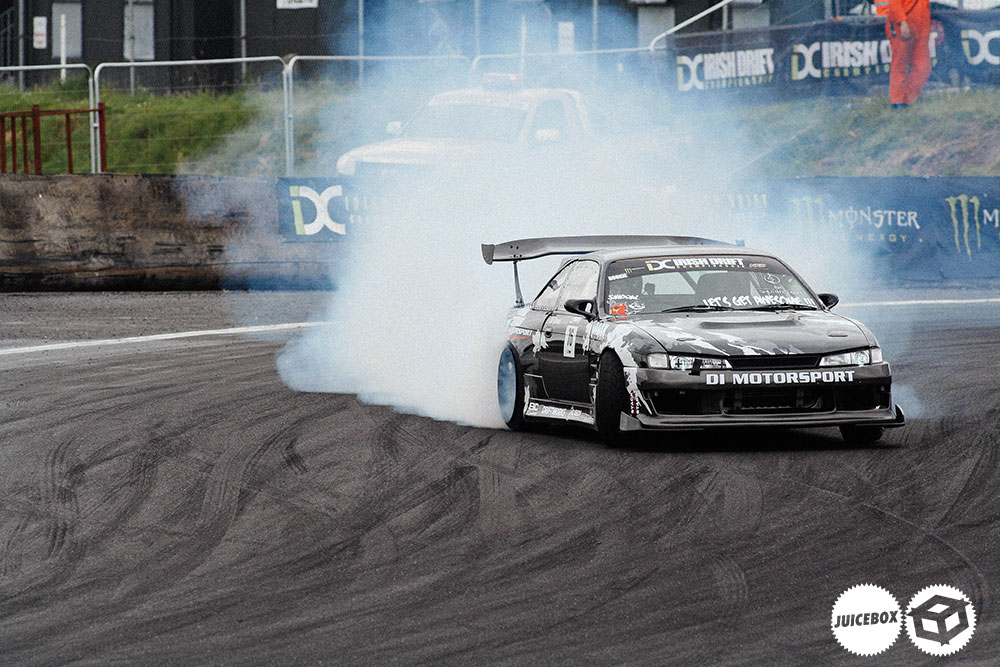 Ali Power was on form Saturday putting in some killer entries on the wall! Certainly an impressive show from the rookie competitor.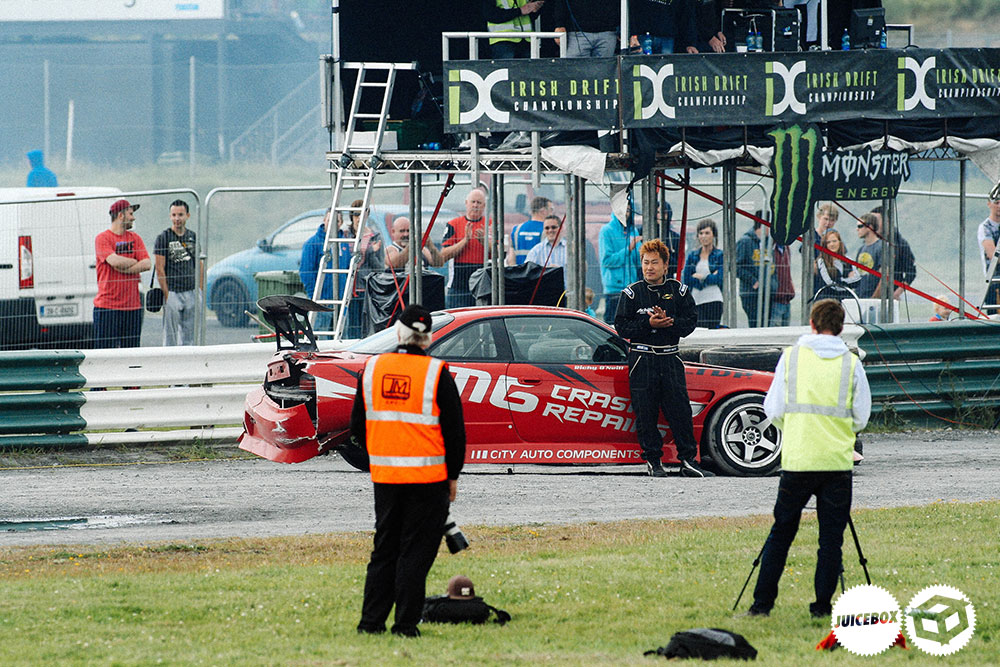 Superlap applause…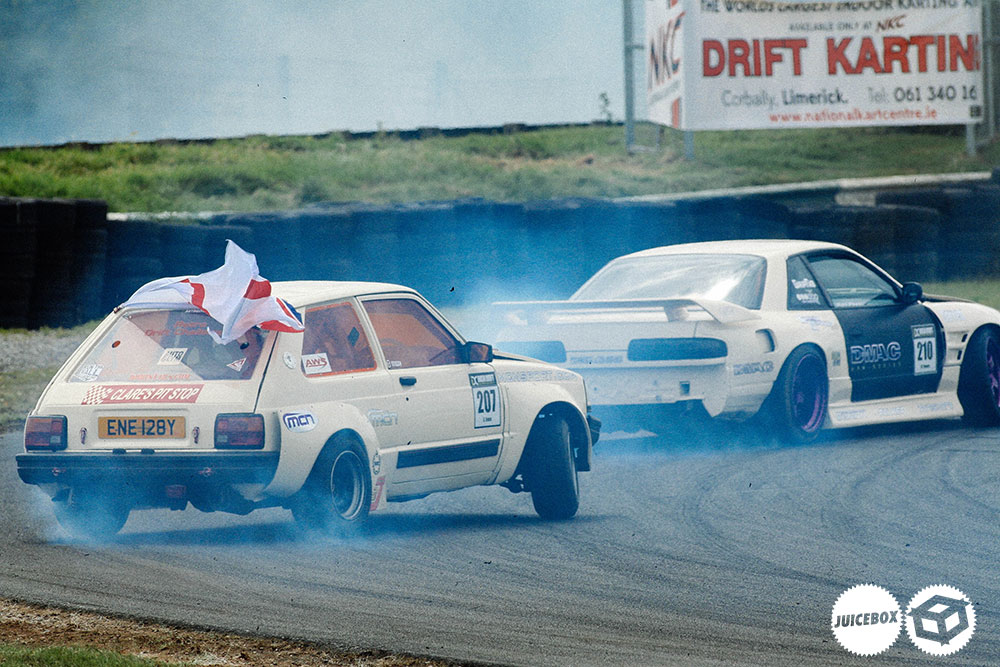 Who doesn't appreciate a KP61 Starlet?! Steve 'Stiggy' Evans 2.4 Pinto-powered Starlet is always enjoyable to see in action.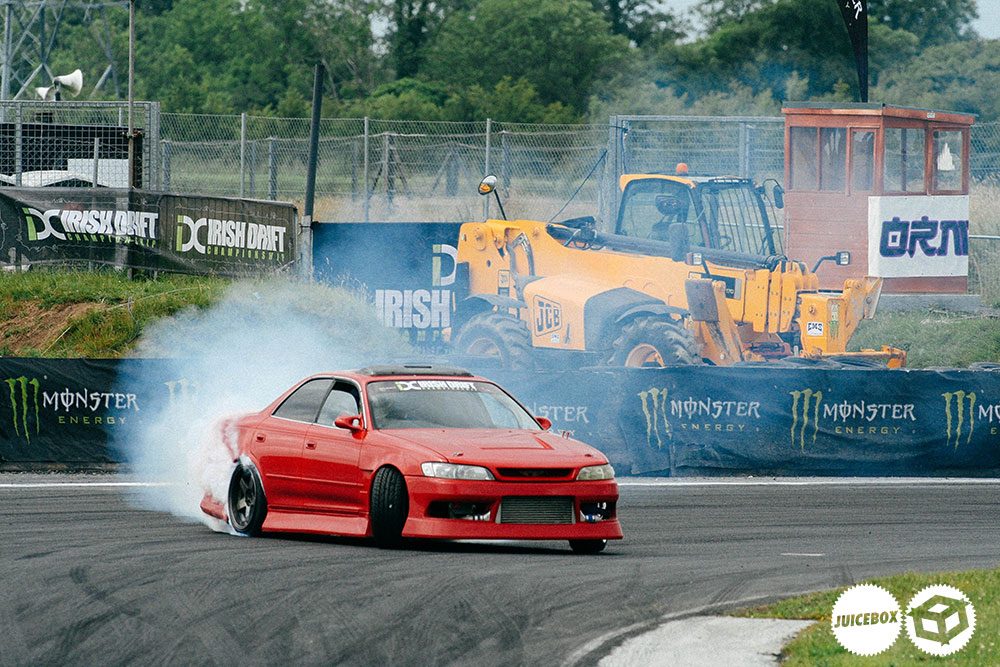 This is everything a JZX90 Mark II should be… this car is too good! We're hoping it becomes a regular in IDC as it's simply so enjoyable to watch. This could easily pass as just a cool street car.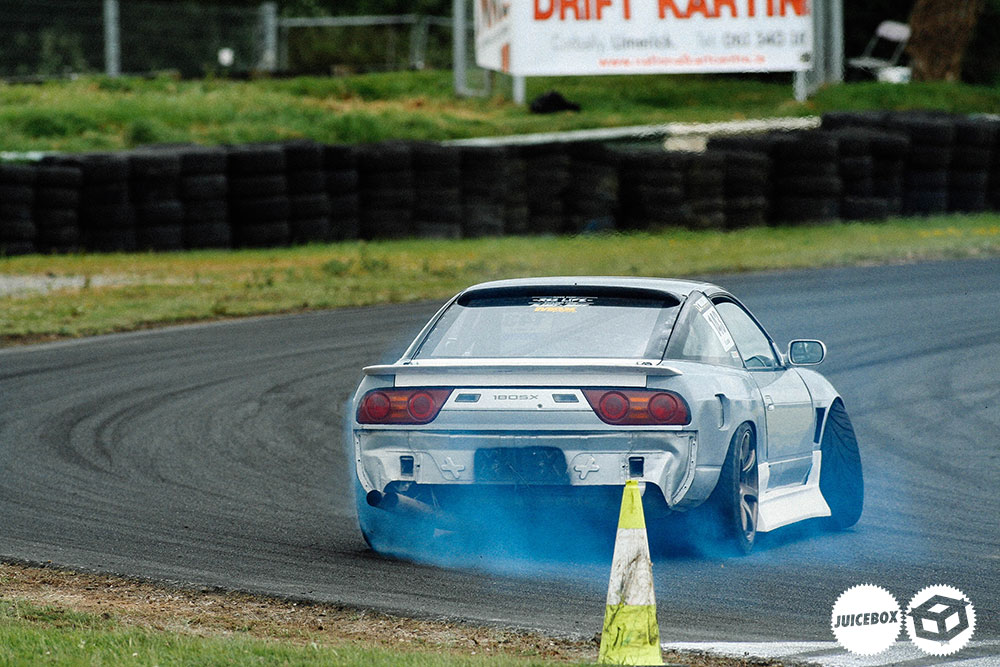 Marty's car, even though it's currently unpainted, is the best looking 180SX in Irish competition right now. (needs Ganador's or East Bear's haha)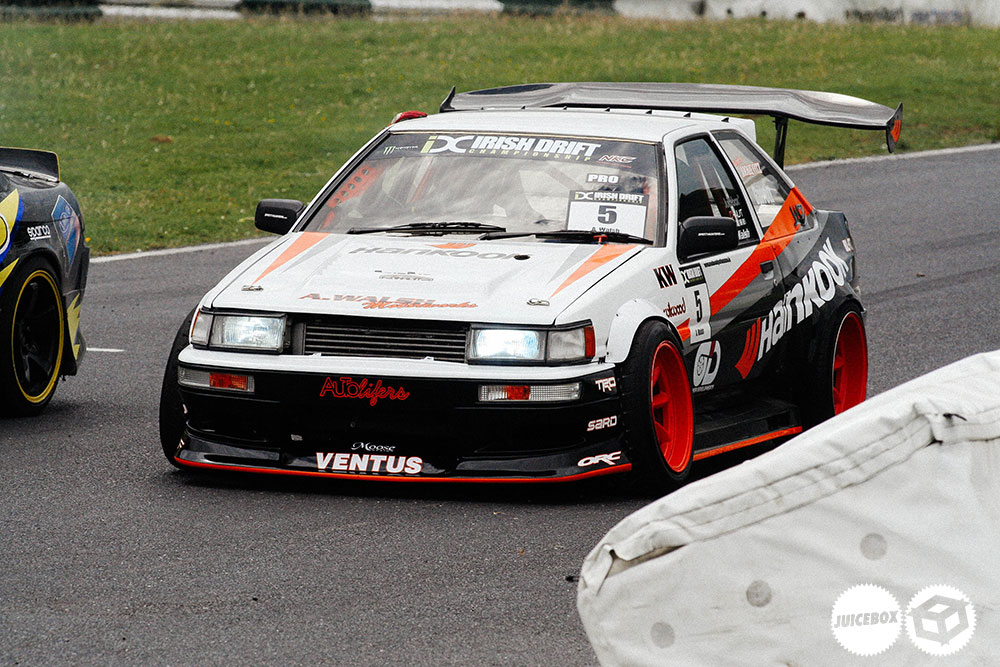 Adrian Walsh is similar to Mike Fitz in that he's progressed a lot as a driver over time developing his AE86. We were excited to see Adrian make it to the finals and battle against Duane McKeever for first place.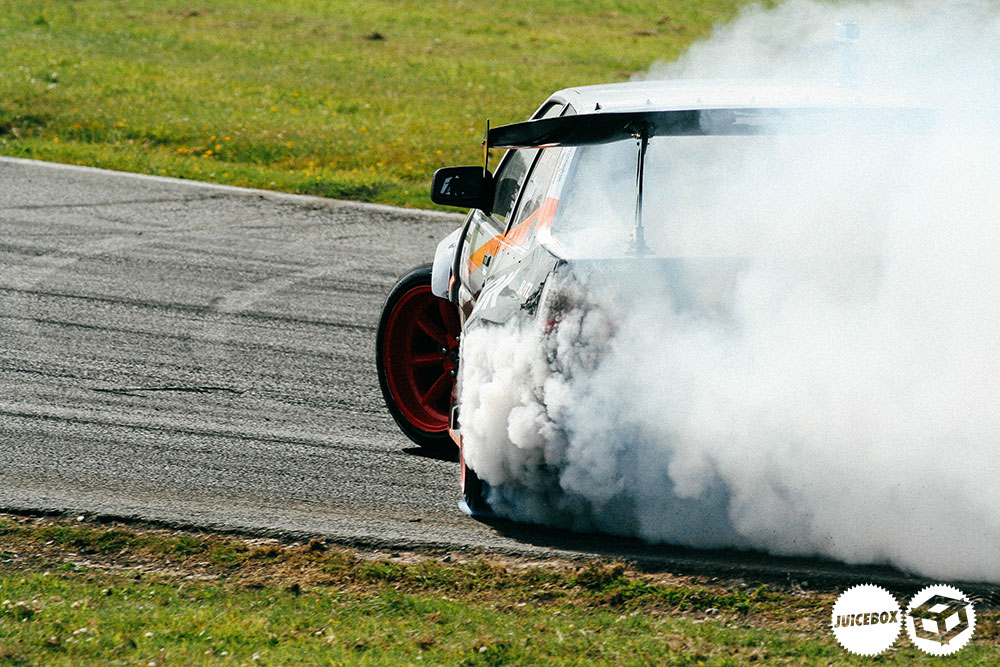 It was so close between to the two that the final battle ended up going One More Time. Duane managed to take first place with an incredible display but such an achievement for Adrian, and of course Mike Fitz to make it on the podium.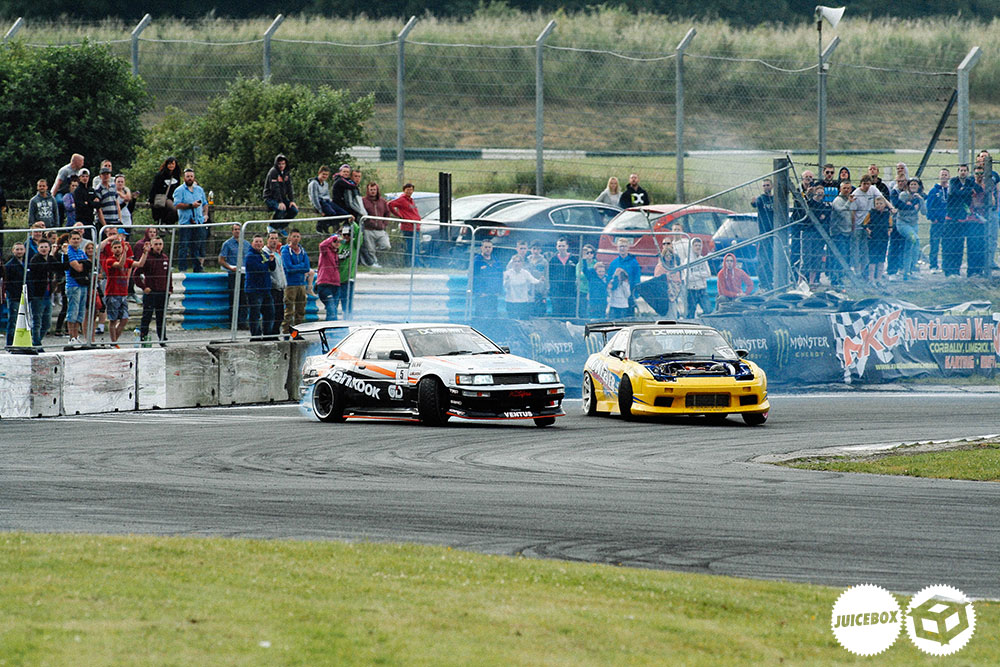 Out all of the drivers from all across the world it ended up being an all Irish podium. Proud moment for everyone involved in the Irish Drift Championship, and Irish drifting in general.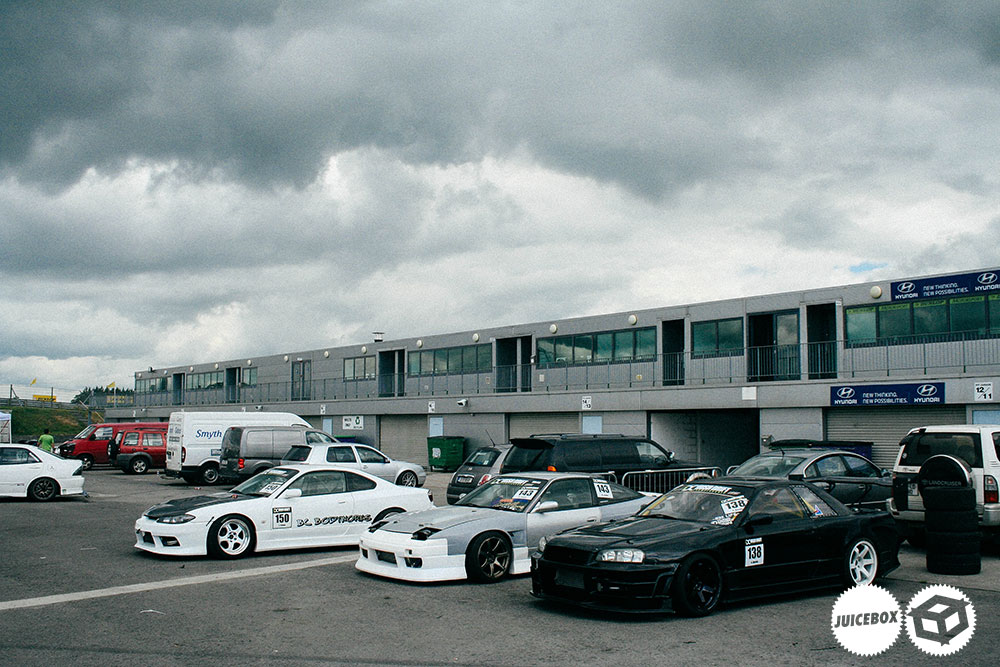 Normally we would do 'two-part' coverage on an event like this, however this time we're keeping it all the one…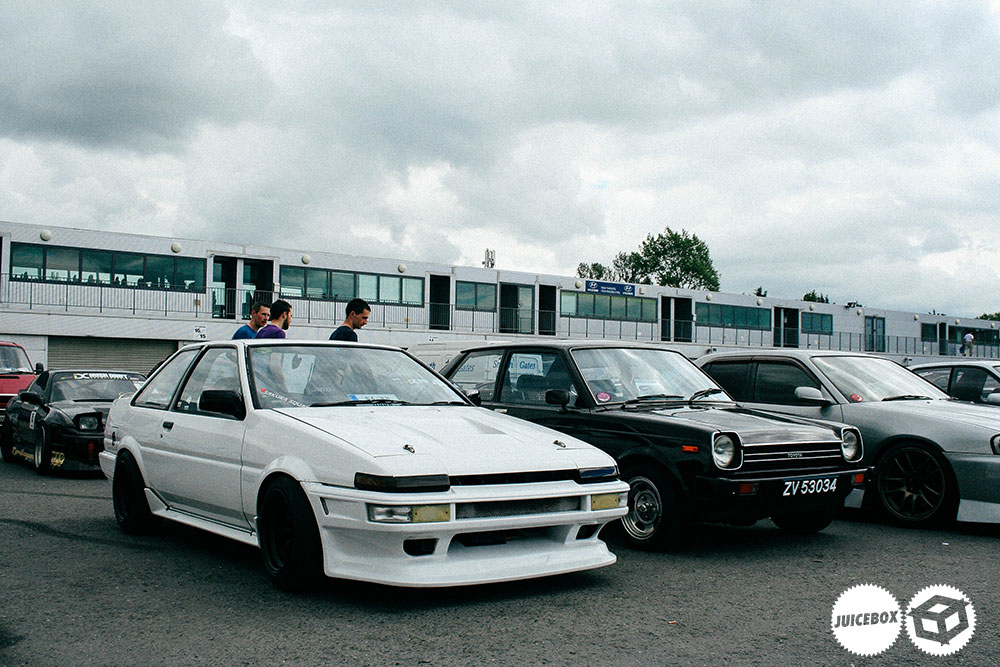 Even though there technically wasn't a car show at this event the standard of cars floating around the paddock was far higher than most 'car shows'…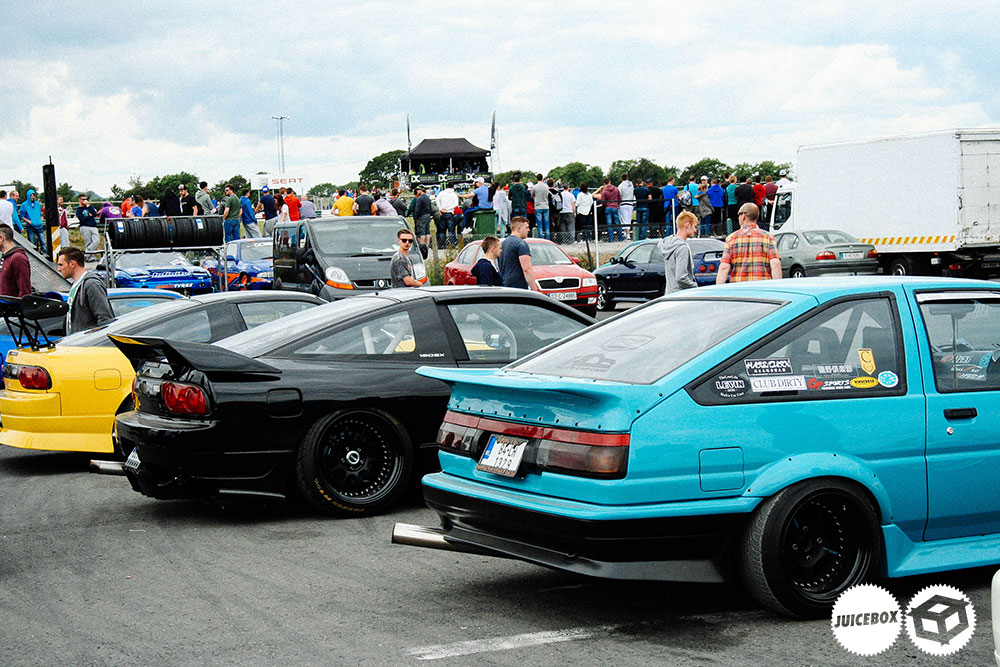 …Quality over quantity comes to mind.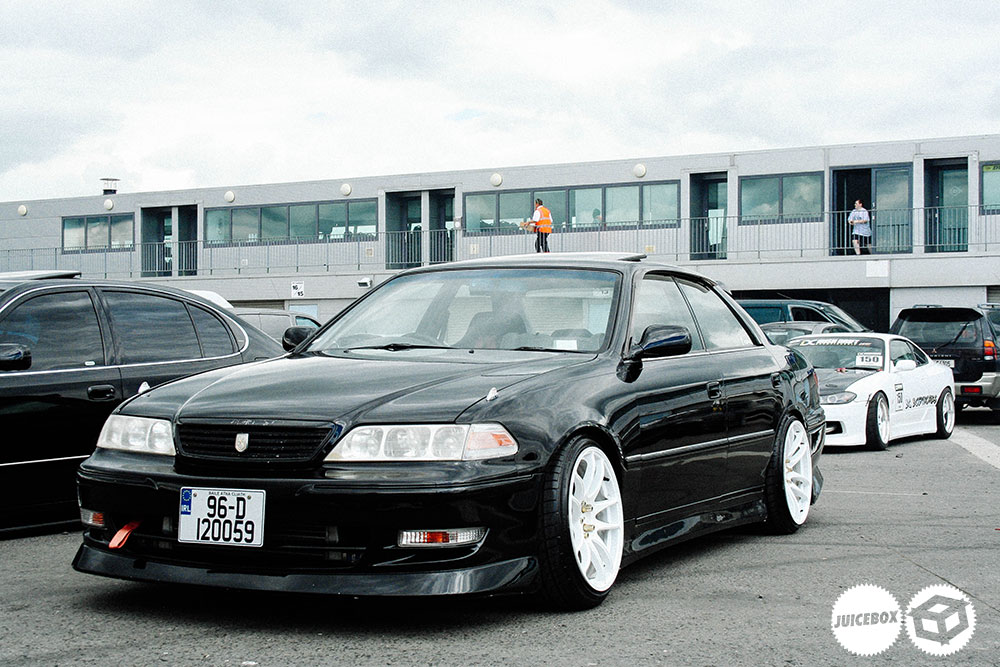 Shane's freshly imported JZX100 Mark II made an appearance… wearing Vertex aero and those incredible WORK Emotion CR Kai's, this car is already one that stands out in the large addition of Toyota X Chassis' that are floating around the country.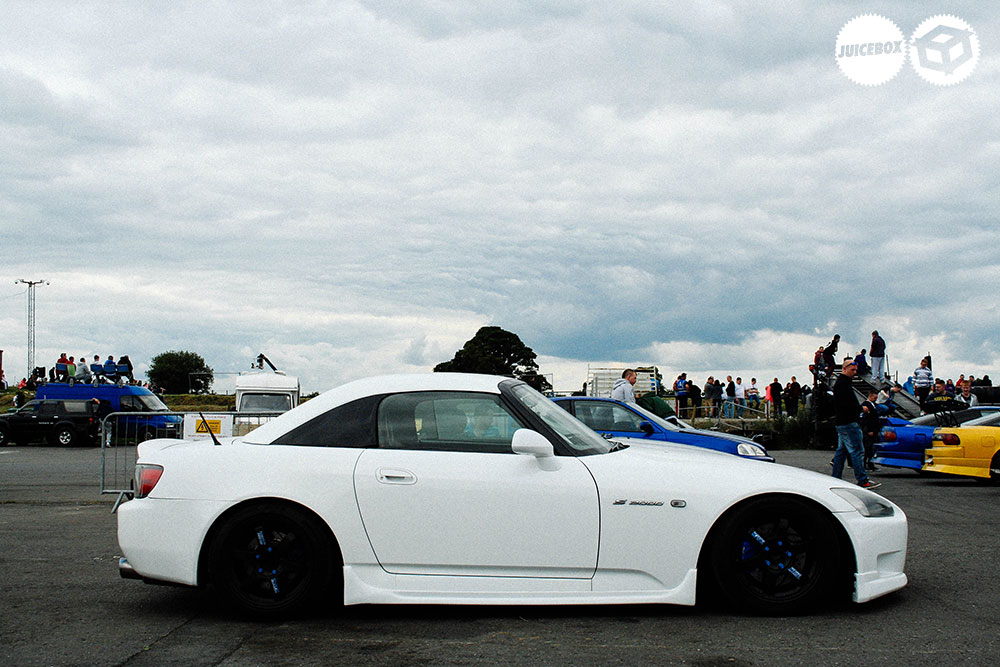 It's always a treat to see a clean S2000 with some nice goodies such as the Comptech side skirts and Mugen hardtop. All coming together with a set of 16" TE37's.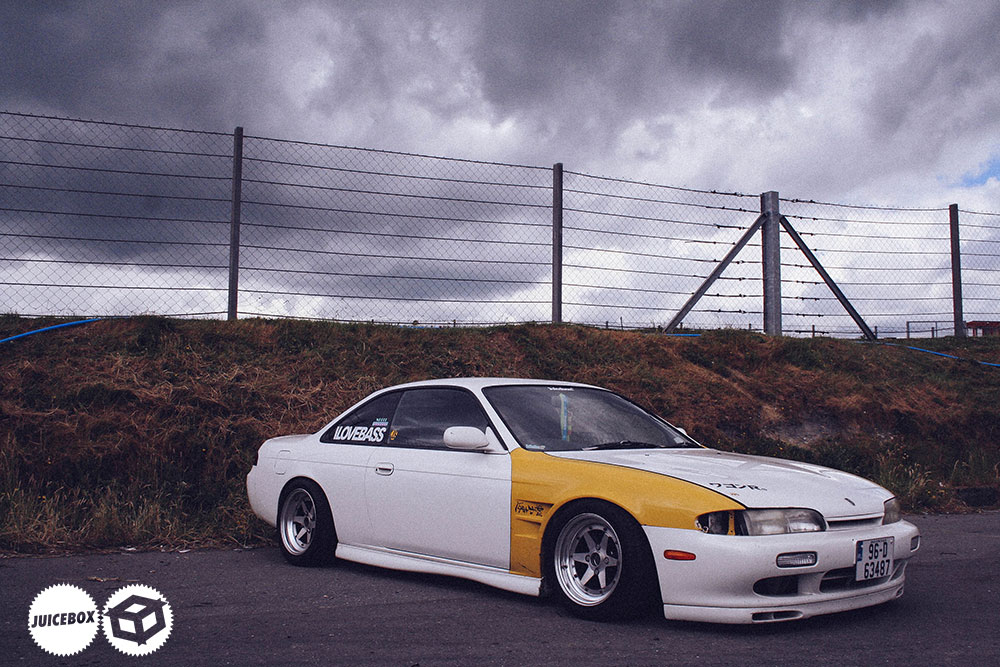 Sitting at the correct height on XR4 Long Champs. The potential here is crazy. Good attempt at the 1990's Japan approach.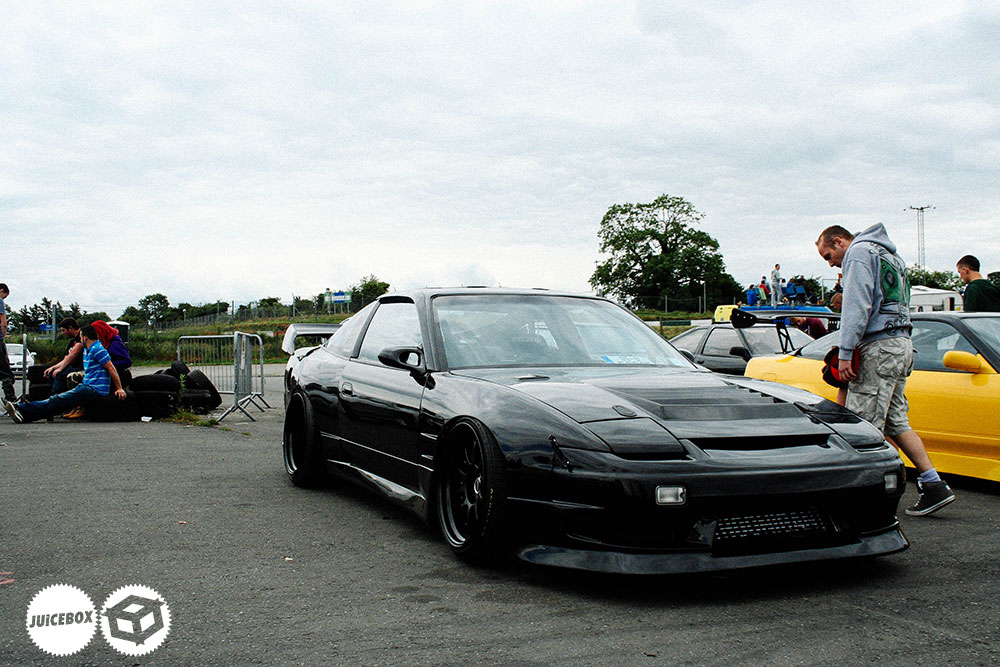 This 180SX has been getting a lot of attention online recently, and rightly so. The attention to detail is amazing. No short cuts. It's truly a well thought out and well executed car.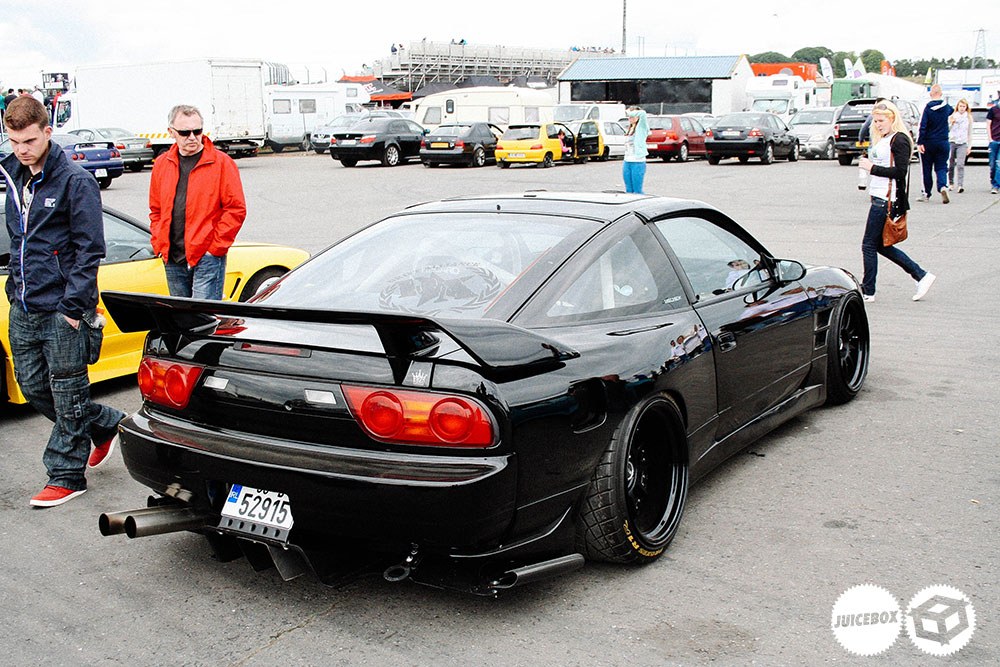 A car has seen many changes over the years. The owner choosing to always one up on it's previous form. For those unaware, we actually featured this car on the site back in 2012, for those who want to have to look, you can do so HERE. Certainly sets the bar in a way for Irish street cars of this style.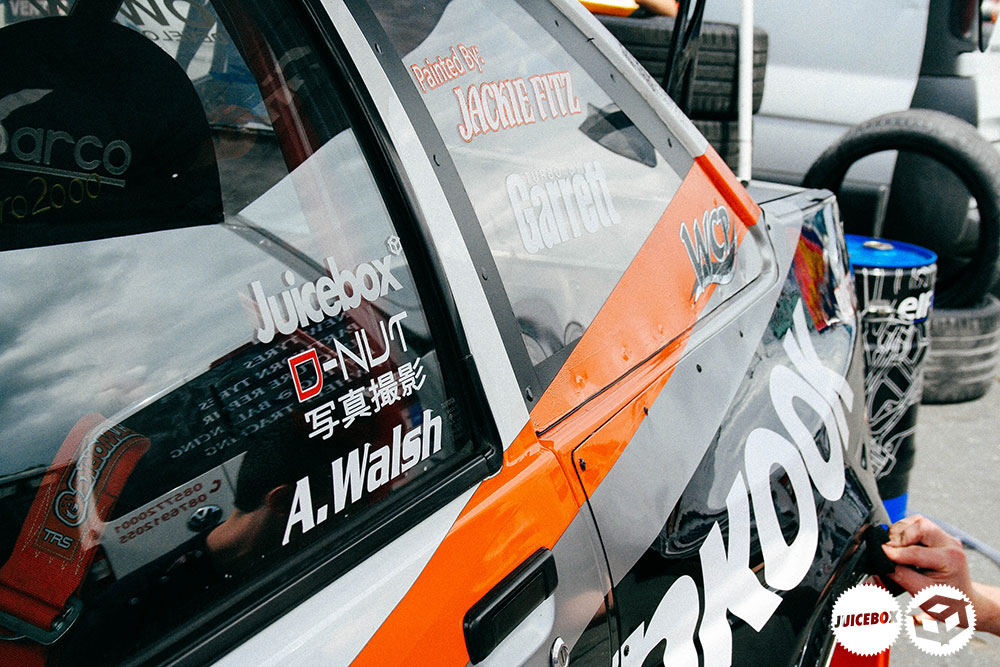 Reppin'!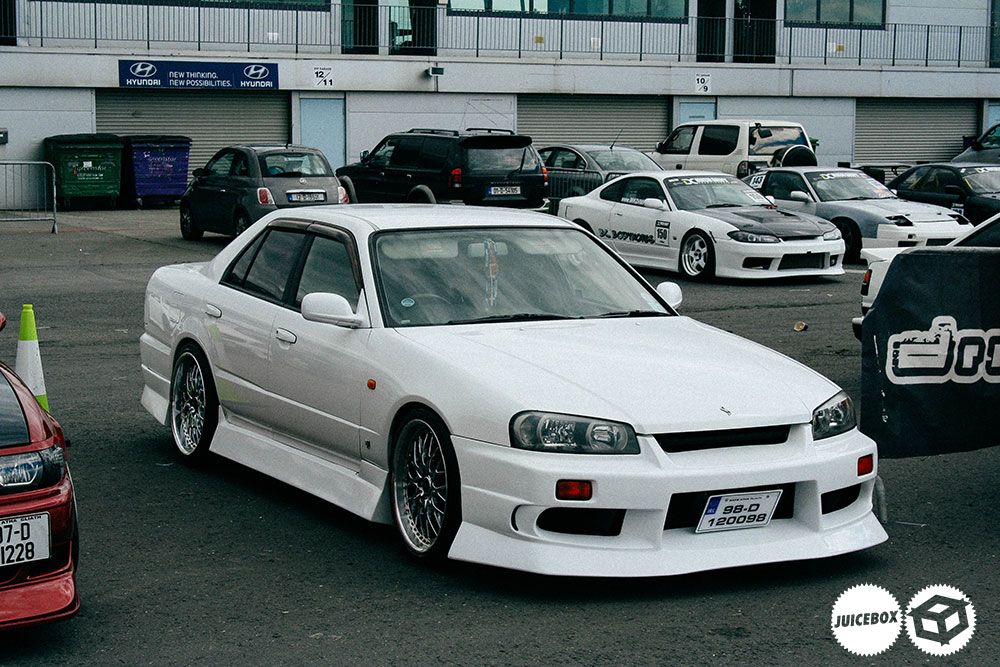 Pretty appealing R34 wearing the ORIGIN Labo Stream Line aero… change of wheels and ride height adjustment to compliment the aero would do a lot for this car.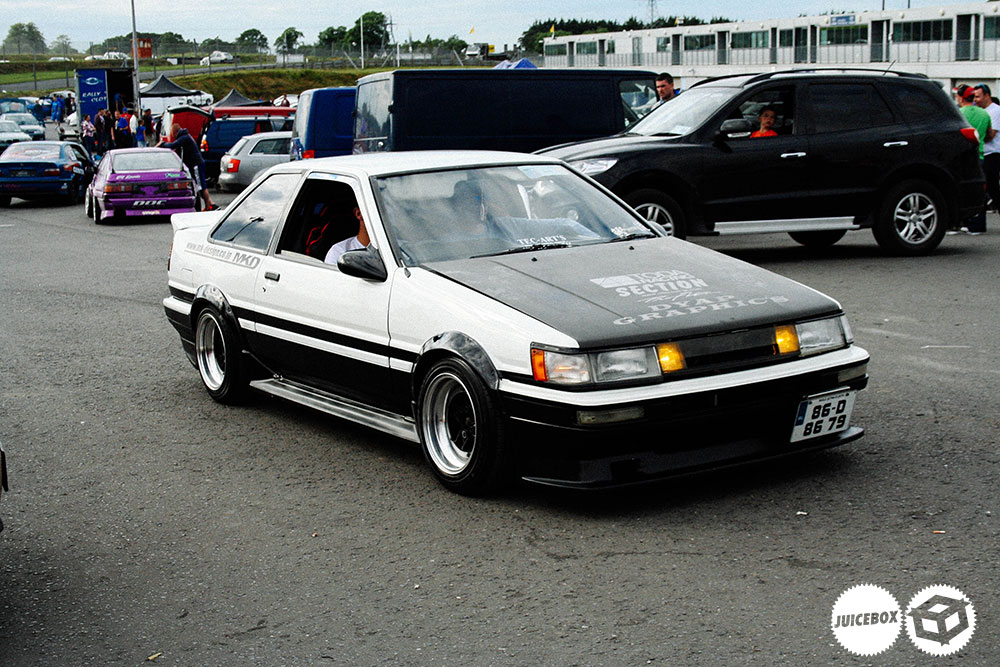 We have always enjoyed this car. Glad to see it hasn't been stripped of the vinyl that came on the car from Japan, in a lot of cases it's the first thing to be removed, which is always a shame because it removes the past identity of the car, in the sense that the vinyl, be it tomodachi stickers or tuning shop/aftermarket part companies, holds a certain level of character.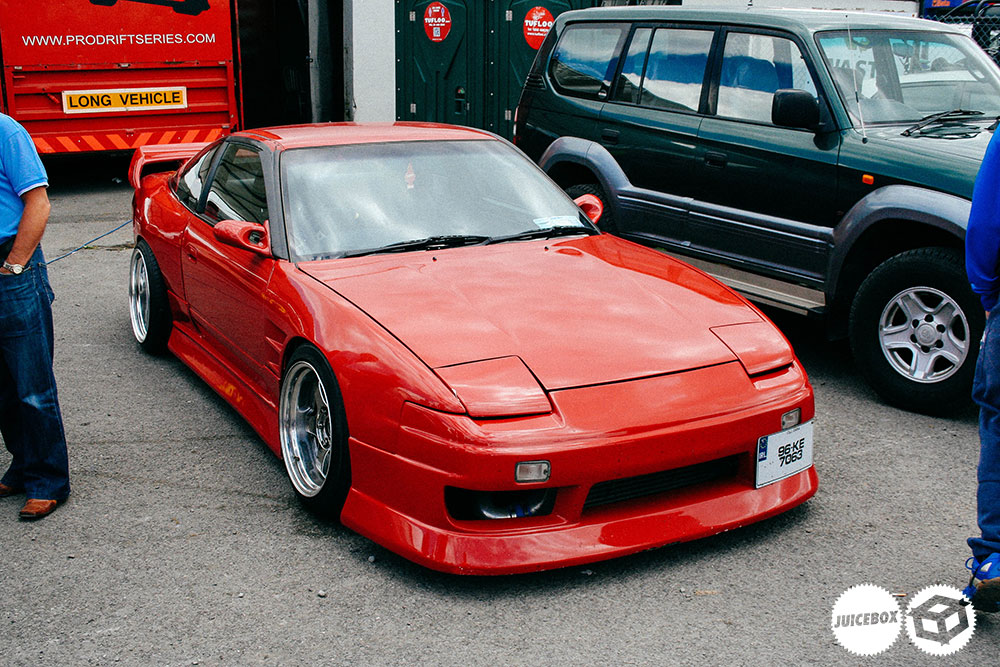 Another previously featured 180SX. As cool as SSR Professors are, there are very few cars with them that are well executed (same goes for WORK Meisters), this car is a perfect example of how to execute them well. Tied in with the BN Sports type III aero, ORIGIN Labo fenders and Mitsuru Power Manriki wing.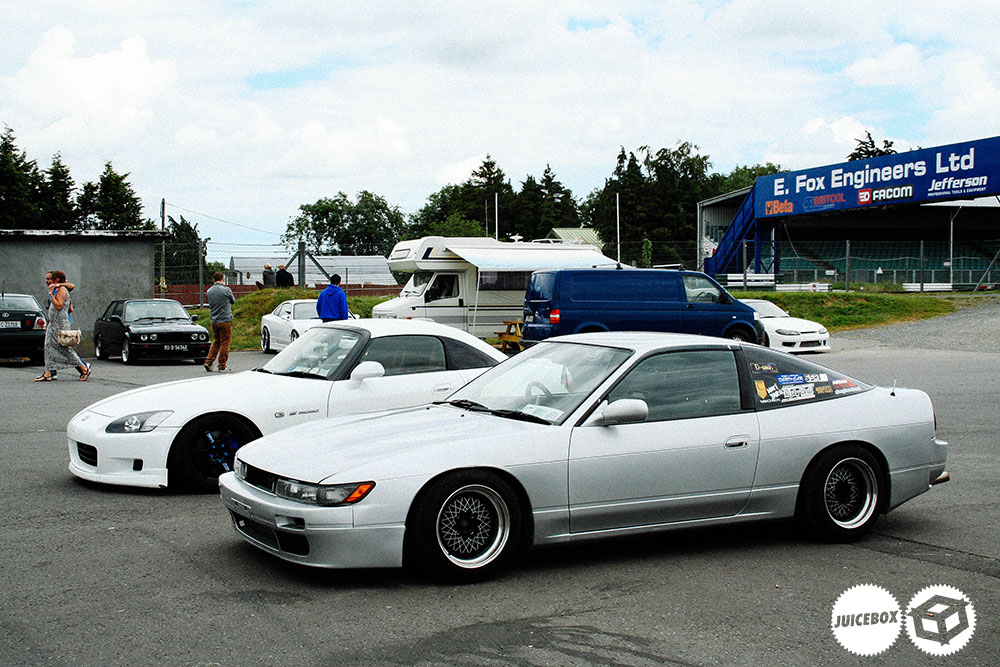 Cool Sileighty's are a very rare breed. This one is heading in the right direction, wearing the optional extra PS13 front bumper and 180SX rear spats, sitting on 15×9 Mesh wheels. Again another attempt at that 1990's Japan approach.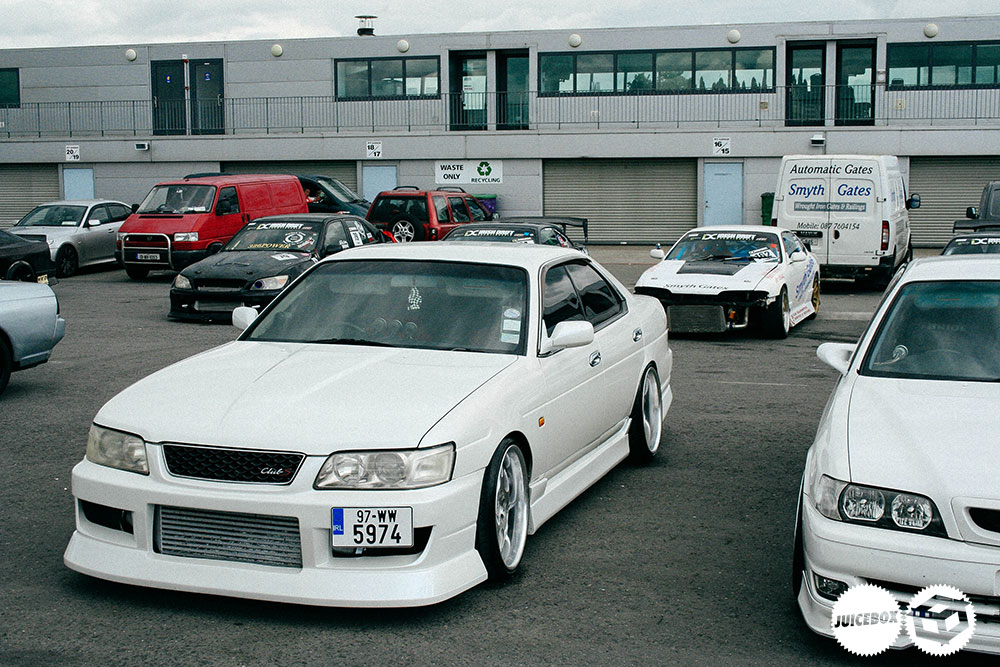 Wesley's C35 Laurel is always enjoyable… Expect to see more on this car in the future.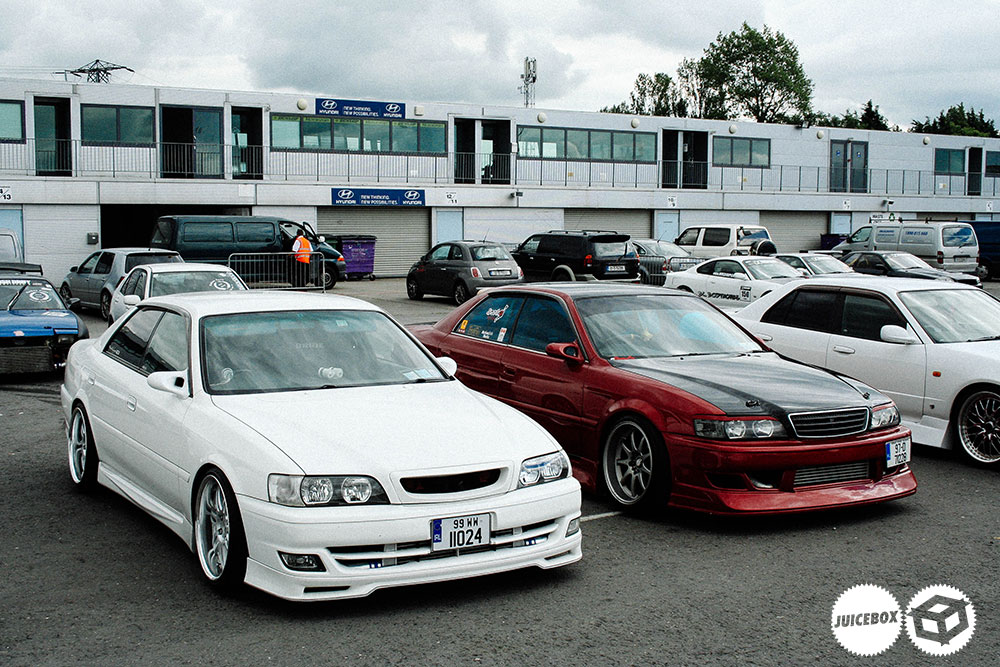 It's always nice to see a good JZX100 Chaser. This one was very appealing. Subtle, nothing over the top, pleasing. Also Greg's recently painted Chaser, now sporting a set of WORK XD9's, good move.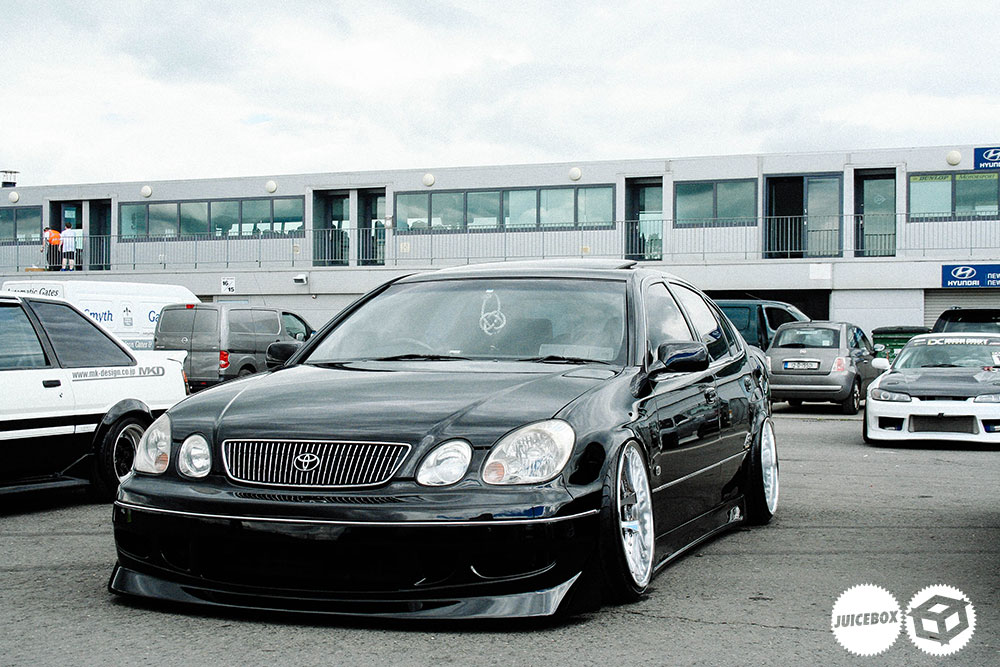 You may also remember this car from a feature last year. Attempts have been made, but very few have done the Japanese Bippu approach justice here. This car is a good example, and sets the bar, much like the 180SX above.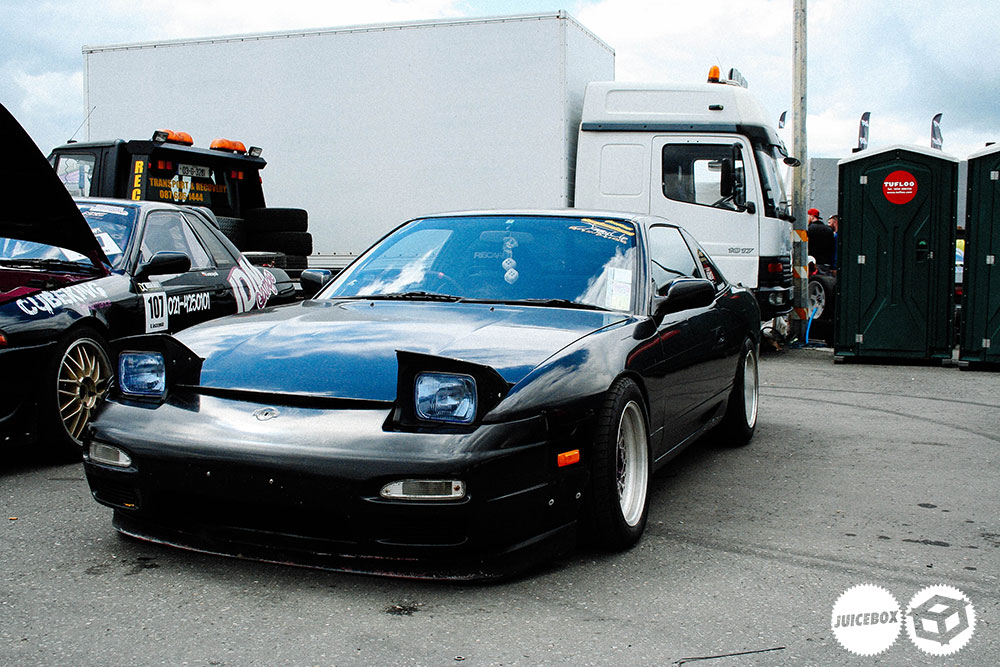 We see a pattern. The 1990's Japan trend is rising in popularity. This is a good thing. Homage to the guys that started it all.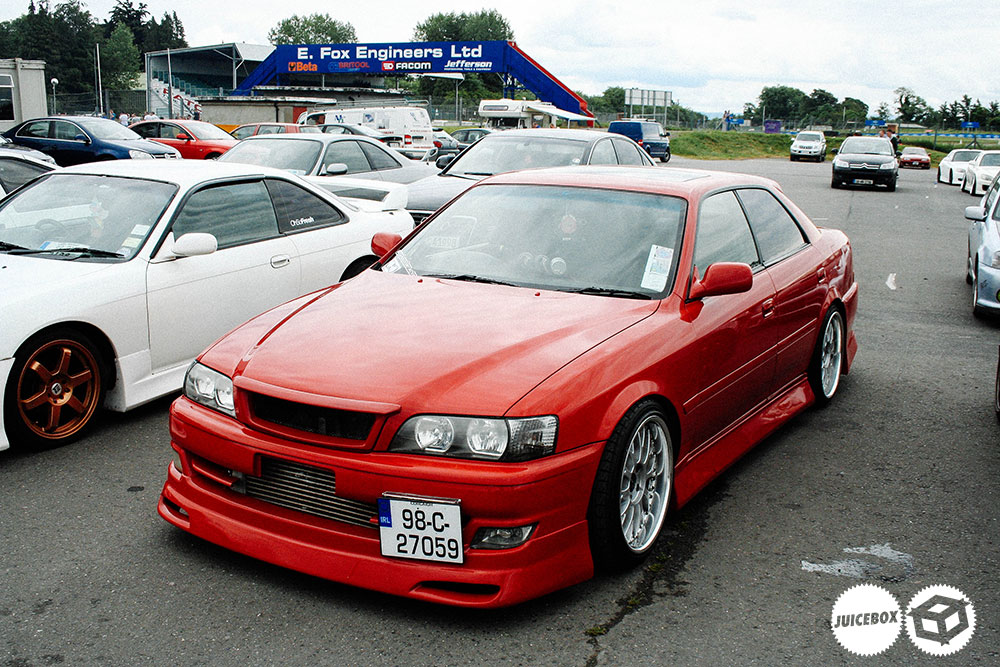 "Heavy Flow"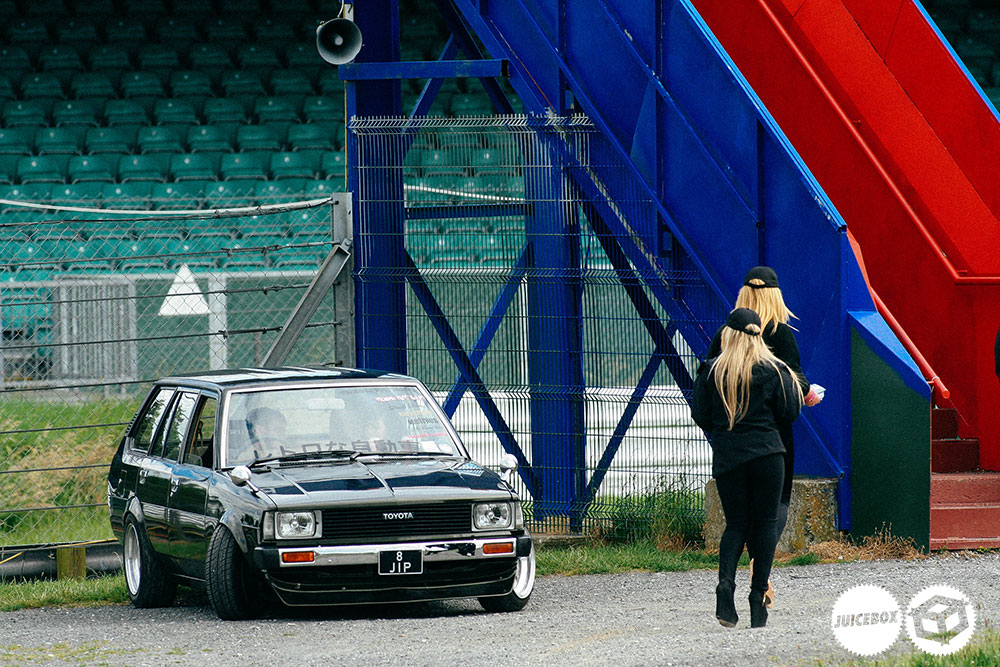 The guys at Retro Autos have been doing some pretty impressive work for the last while, keeping with that period correct Japanese goodness as showcased here with this KE70 wagon.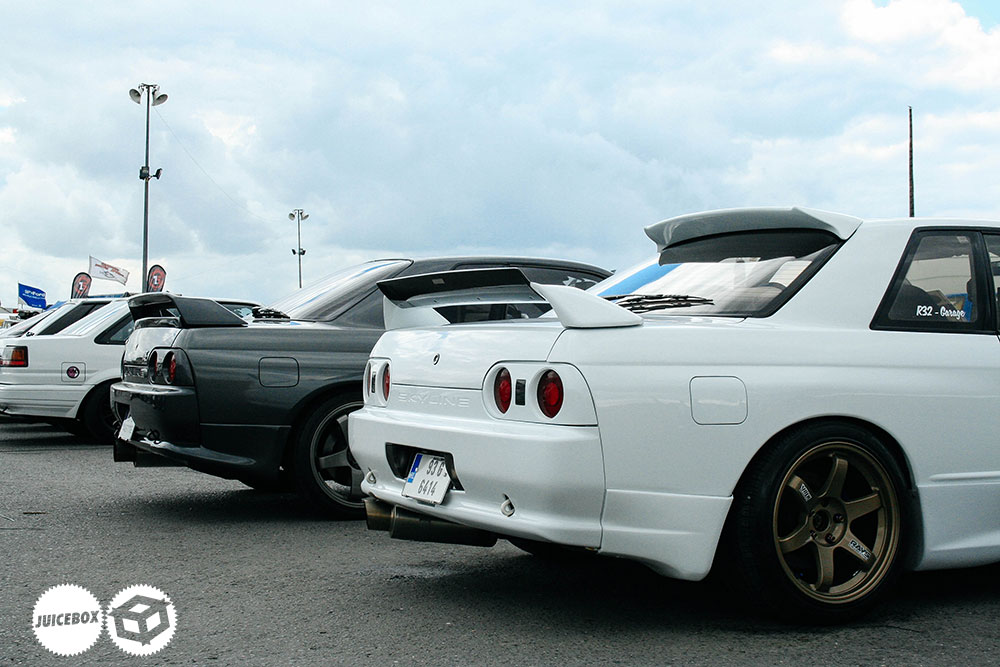 お尻ゲーム 強すぎる "BOOTY GAME TOO STRONG"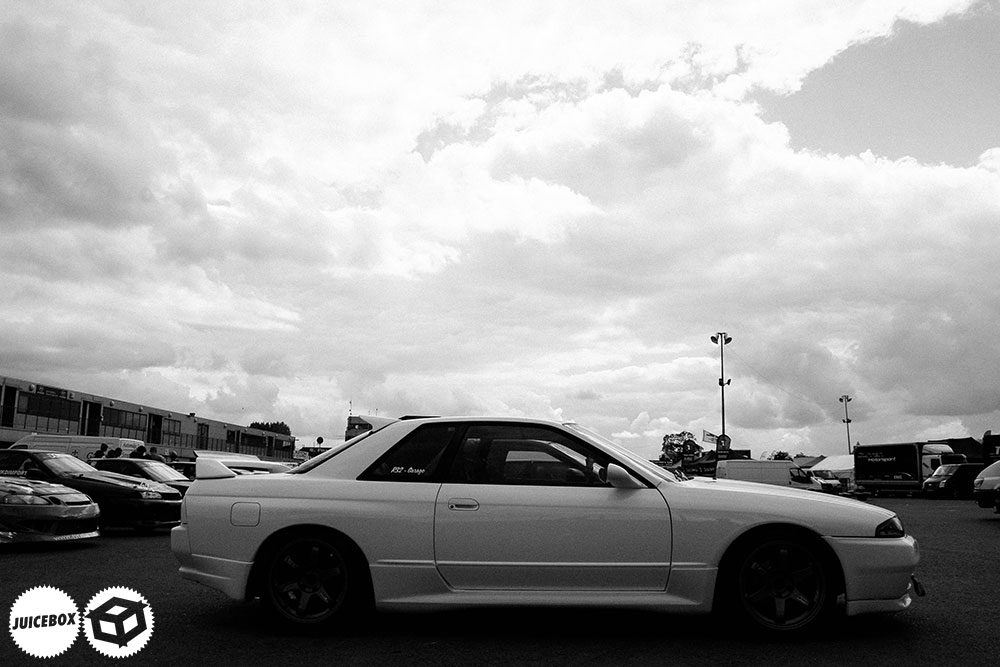 The owner of this R32 underwent an incredible transformation with this car. We remember it's previous form from a while back, and it's safe to say now credit where it's due, this car is very good. Well done.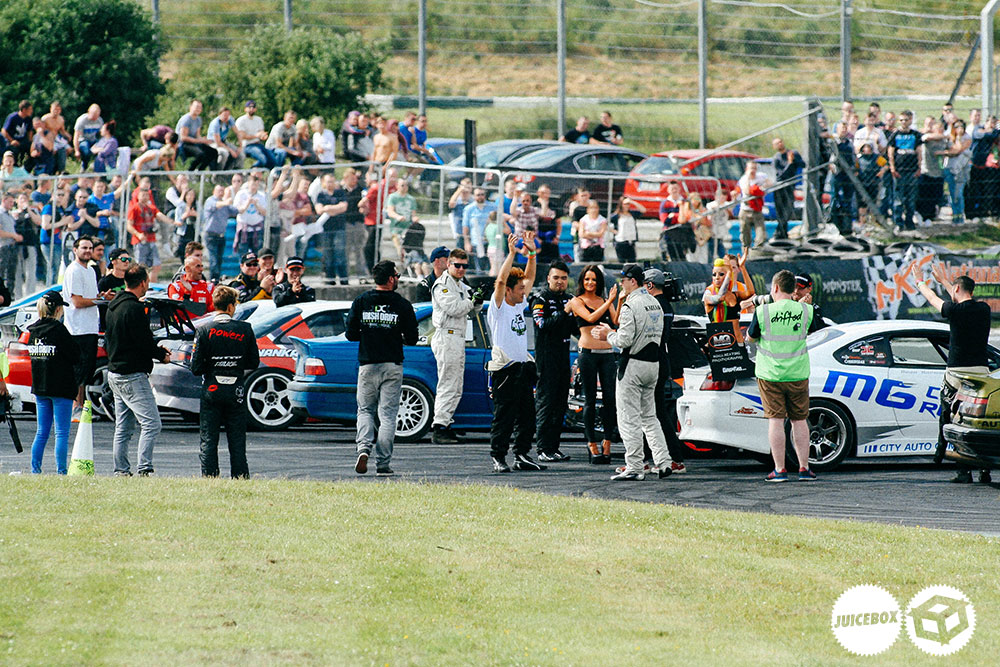 They came, they fought, and they were defeated. The standard of Irish driving is at an all time high, and this was shown all across the world and the Irish still remain unbeaten on home soil… Global Warfare will go down in history, the biggest thing in Irish drifting since the D1 Showcase at Autofest '05. We would hope that after seeing the success of this event that it will encourage other drivers from various series all over the world to take on the challenge of beating the Irish. It can only get better from here, we're sure the guys at IDC are already planning some surprises for the final round which ties in with Japfest in September. We're excited to see what comes next…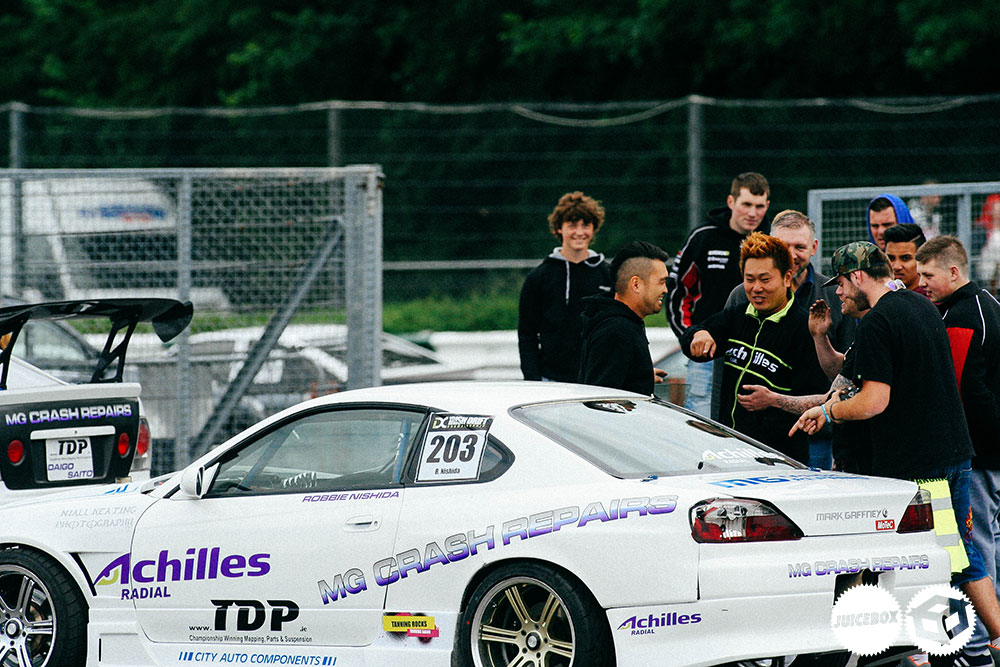 That pretty much wraps it up with our coverage for this time… we hope you enjoyed it and stay tuned for more goodness coming soon!
Comments
comments
Powered by Facebook Comments