Modified Live
Recently we attended the first round of the 2014 Irish Drift Championship and the first 'official' show of the year, Modified Live. Modified Live is in its second year and we weren't disappointed in what it had to offer, however there were some little things that we will touch on further down.
We have realized that Mondello Park is one of those places where it's both raining and fucking cold or the sun is shining and you go home with a sun roasted face. It's always one or the other, it's just so Irish, and you can't not love it.
We were very happy to see some of the fresh Japanese imports that have been arriving recently. There is a huge rise is the number of imports coming again, something I don't think we expected to see happening anytime soon. However we knew it was going to happen eventually, the number of cars that were being sold to overseas buyers and of course the number of cars being broke for silly reasons was at an all time high. We just hope that this time round people will actually appreciate what they have, we have seen a lot of stupid shit over the years, but maybe Ireland can get it right this time.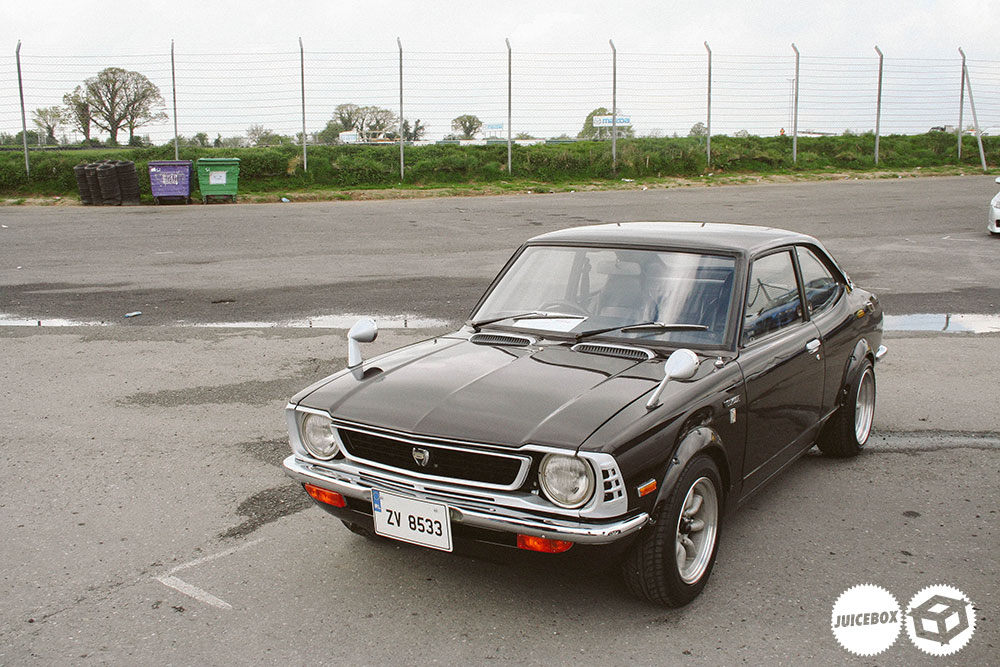 One of the cool things about Ireland is you never really know what you're going to see at an event. Cars just appear out of nowhere and it's exciting.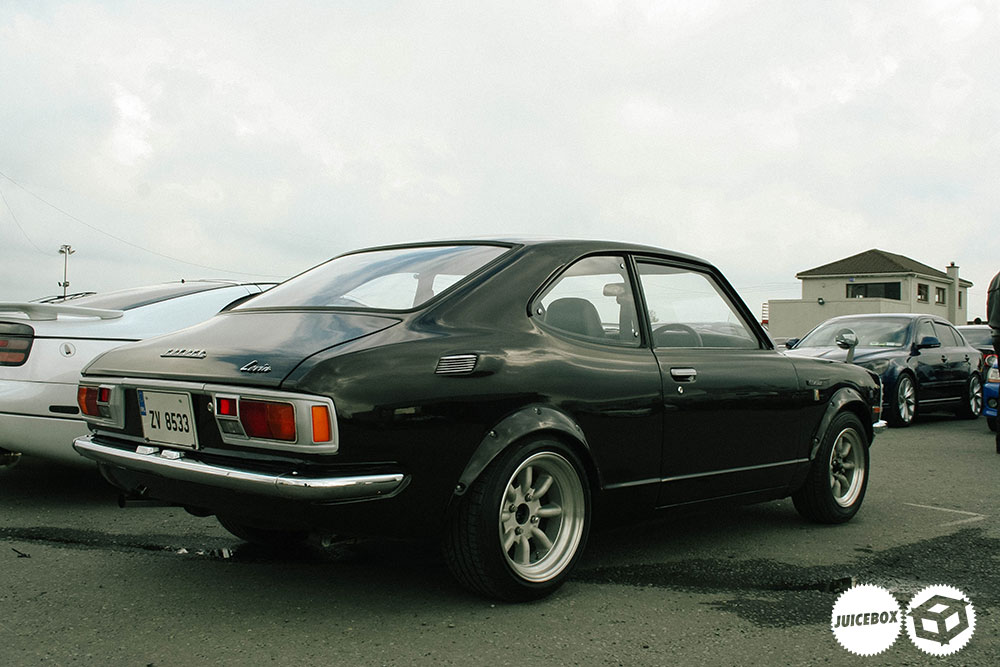 As you can imagine we were pretty excited to see this 1978 TE27 Levin on RS-Watanabe's just sitting there. Nostalgic Japanese perfection.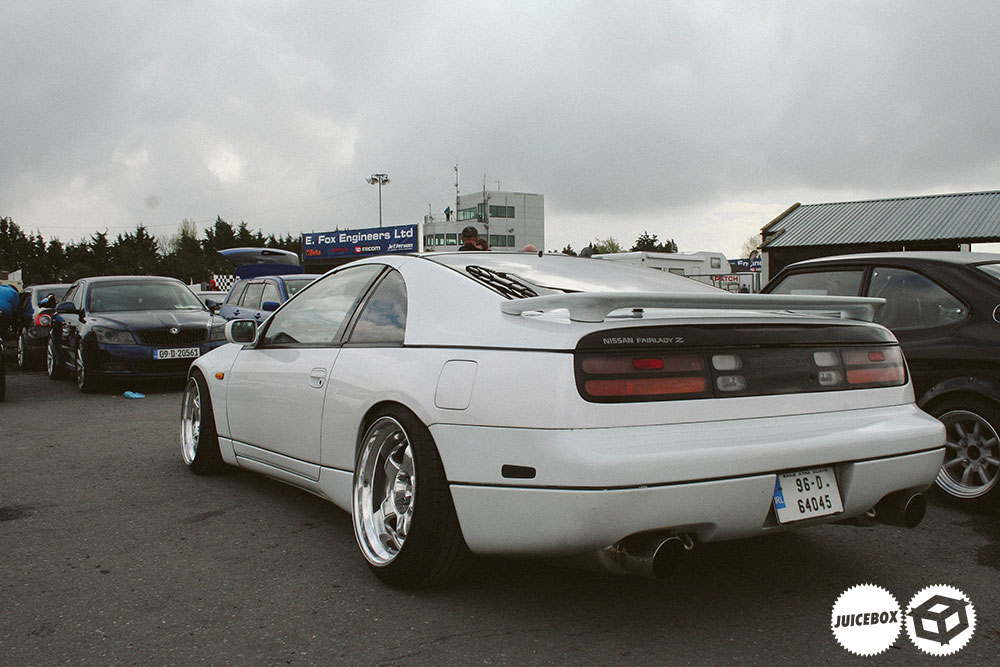 The Nissan Z32's were never given the attention they deserve. However it does appear that this is beginning to change, and on a worldwide scale not just in Ireland. More people are realizing the potential they have, and that's cool.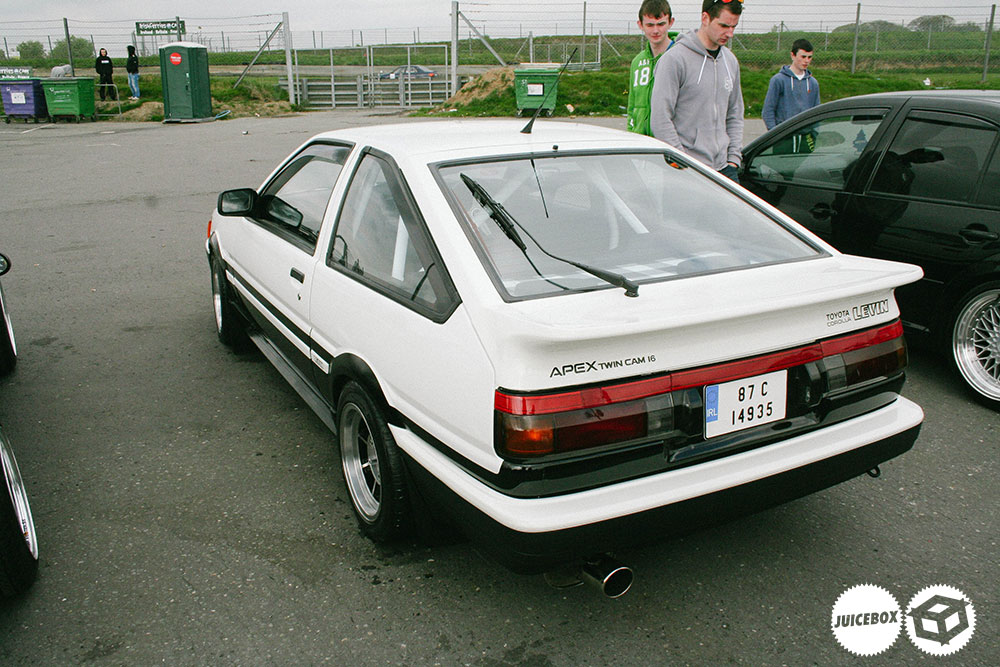 This white over black Corolla on Hayashi Street's looked incredibly fresh. A timeless look for the AE86.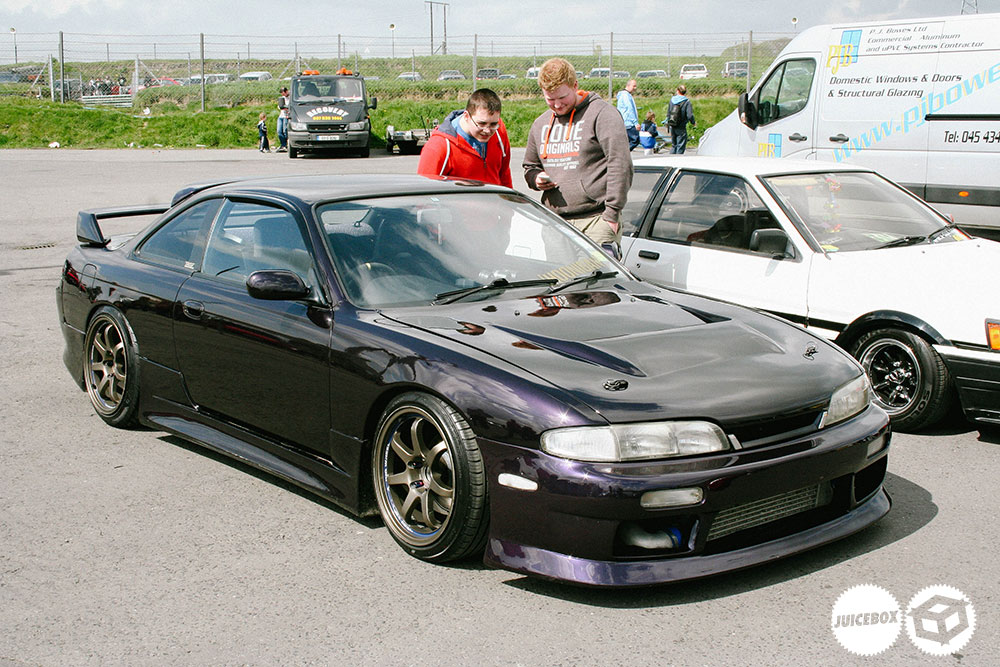 This car has been around a very long time, it's one of the few that hasn't changed a lot of the years, and that's a good thing, the Weds Sport SA90 wheels in bronze work so good against the midnight purple paint. Also take note of the Kouki wing, always looks so good with OEM fenders.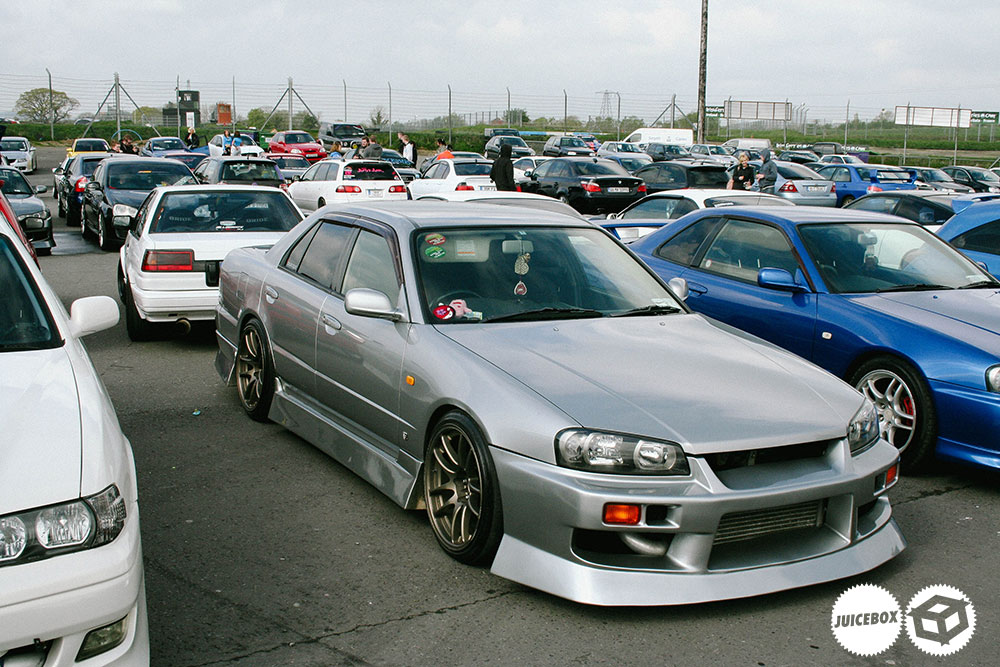 Johanna's R34 wearing that famous URAS D1 Spec type II aero.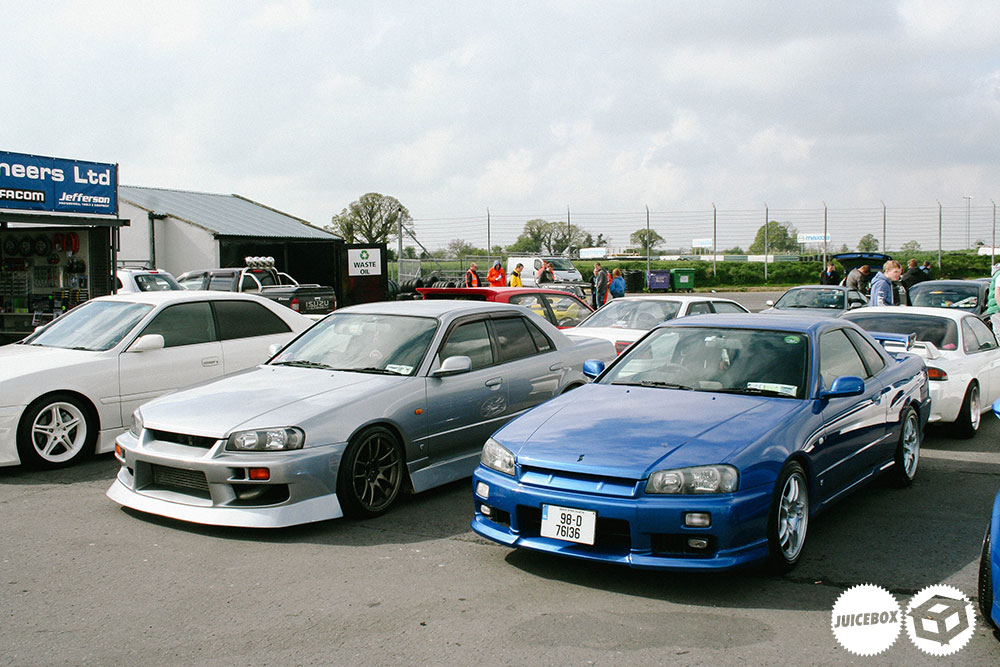 Battle stage: Two door versus four door! Take note of the BCNR33 wheels, THE best OEM wheel in existence.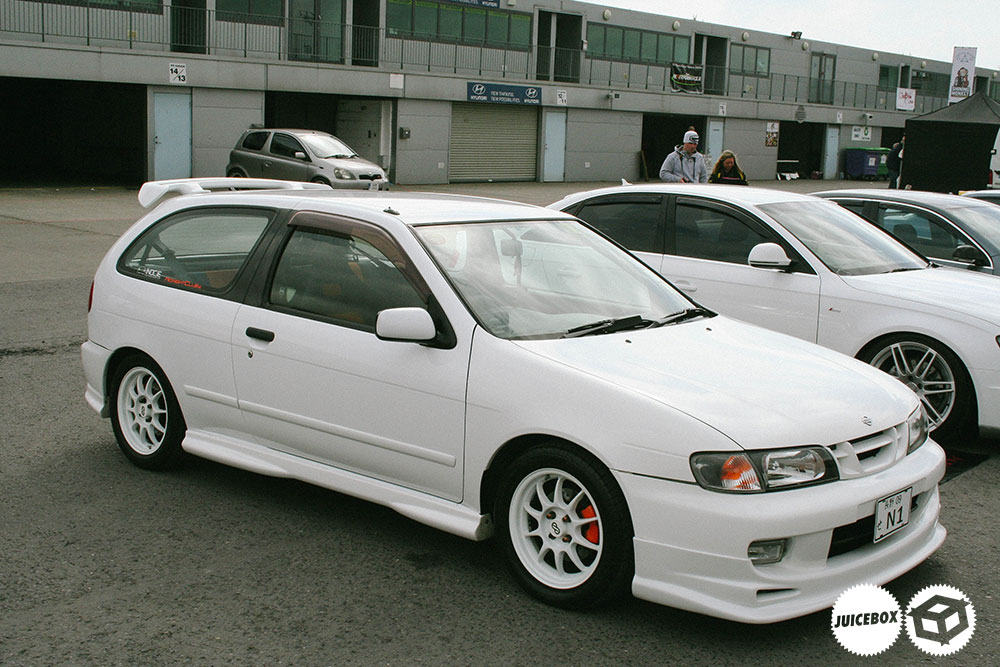 Something we don't see as much of these days. This Vz-R is actually an N1 Version II. Autech claimed there would be 300 of these set to go into production however it is known on record that only 36 of them were made. You have to wonder, with so little of them made how one managed to make its way to Ireland and actually end up in the hands of someone that has clearly kept it in good condition.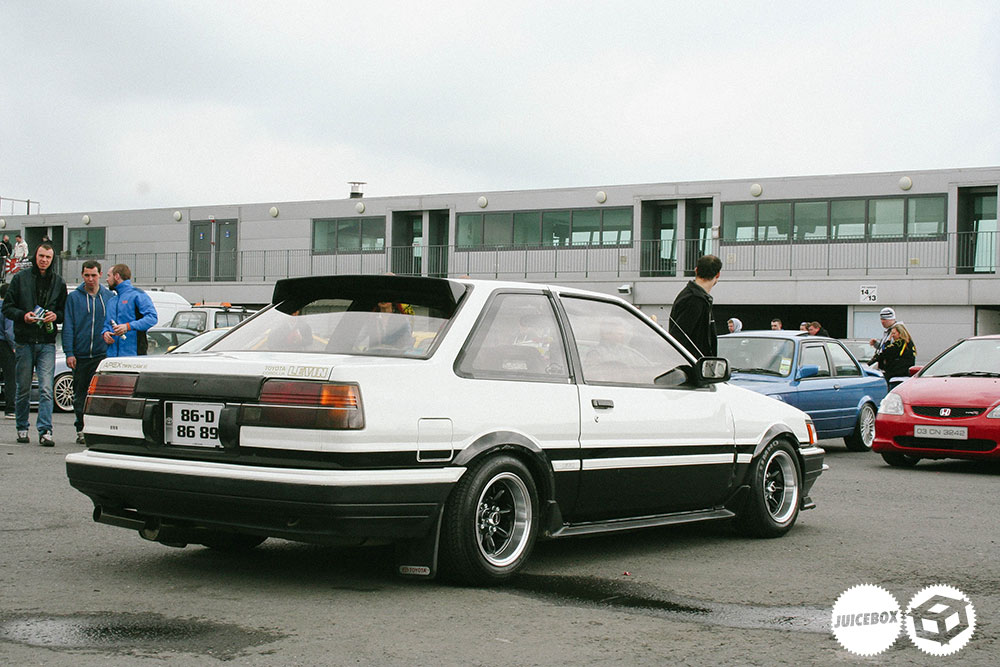 The 'I'm Japanese but I'm also UK' confused look going on. Regardless, the potential is there.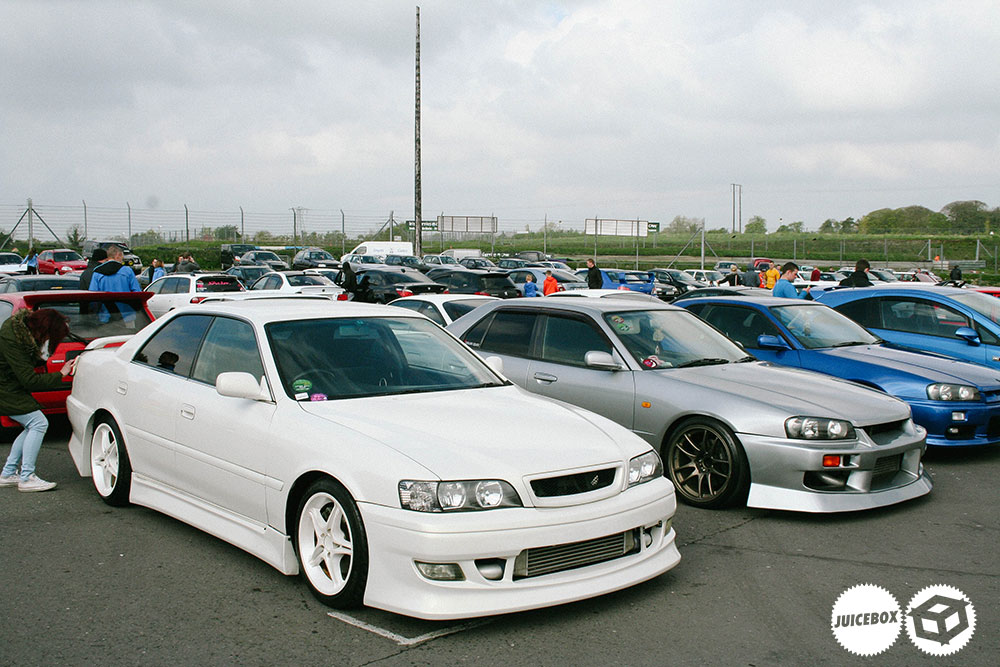 This JZX100 Chaser on AVS VS5's was enjoyable. Not the best sizes for an X chassis Toyota but these wheels go into the 'cool wheels are cool wheels regardless of the specs' category.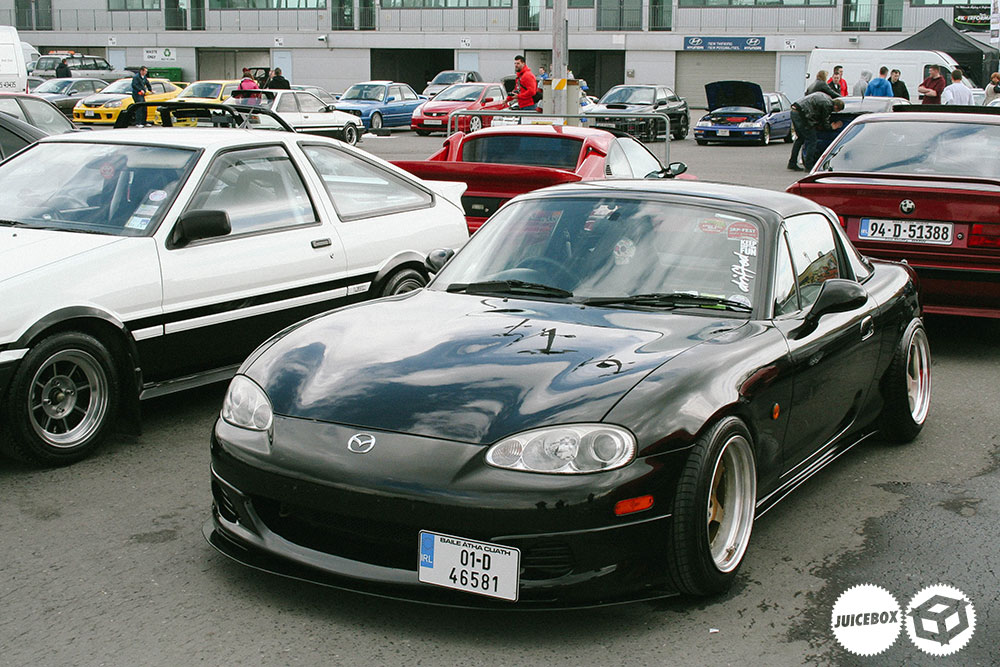 The MX5 has gotten incredibly popular over the years. The addition of a MazdaSpeed front bumper and a pair of CR01's at the front and a set of Meister's at the rear makes this one stand out quite a bit.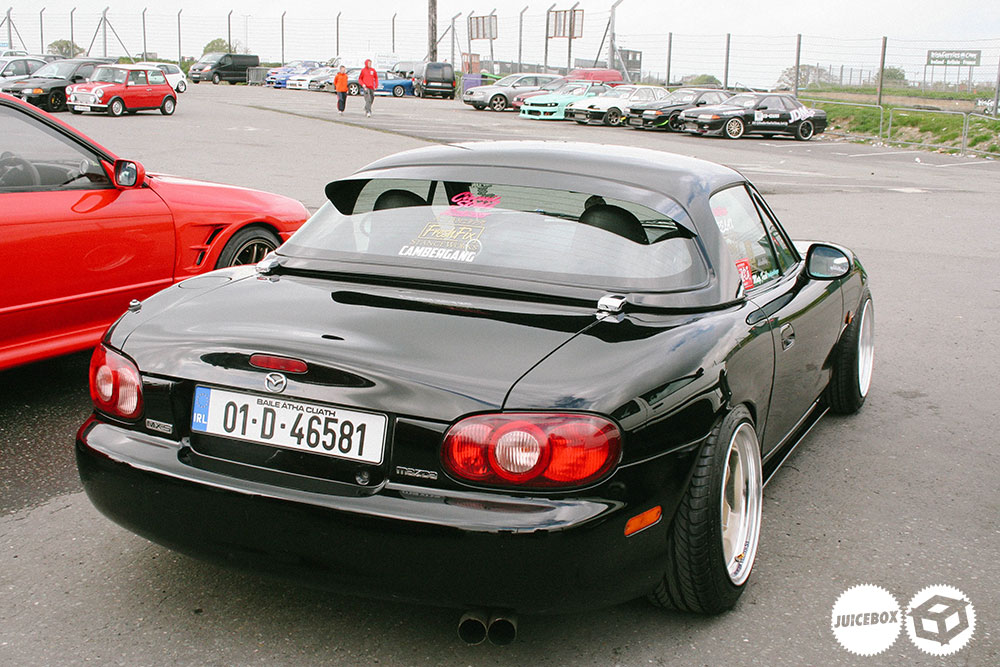 One of those rare occasions where the Irish registration plate doesn't take too much away from the overall rear of the car.
The forgotten one. Spot the KAKIMOTO stamp!
Obviously we had to grab a shot of this beast. You're probably expecting us to make fun of it because it's not trendy to build cars like this anymore, well we're afraid you thought wrong. This car had more thought and effort than a lot of the cars on display, yeah we said it. Do we like it? No, it isn't to our taste at all, but credit where credit is due. Instead of following whatever is trendy in the car world this guy is just doing his own thing, and that's something we have respect for, because every day it becomes more obvious that there is a lot of people doing things for the wrong reasons in today's car world.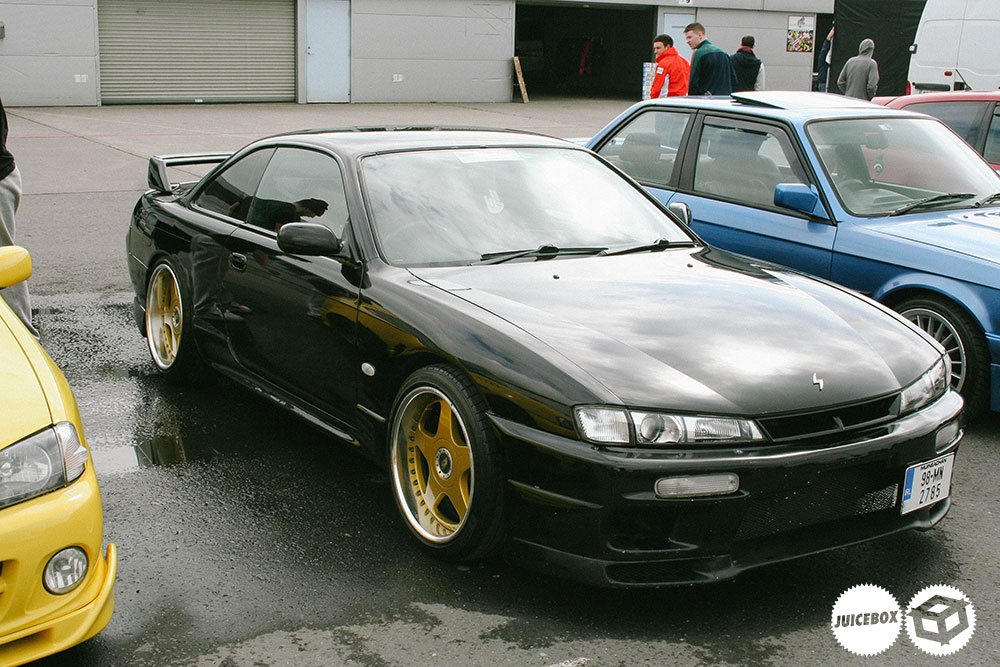 This could get interesting. Koenig WRV/HP's made by Speed Star Racing.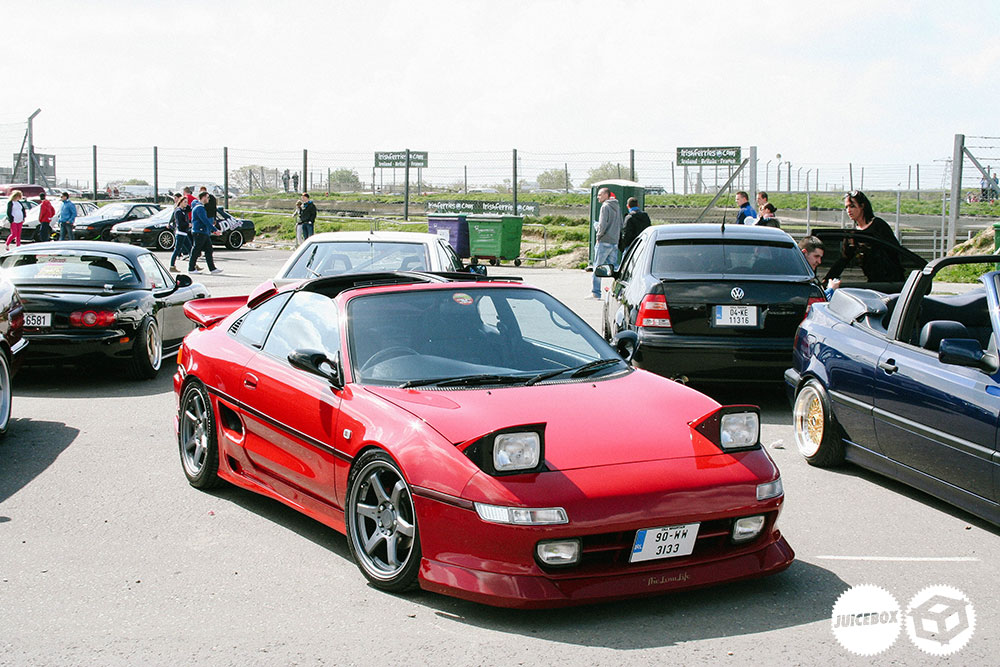 SW20 MR2's are pretty much non-existent these days. Another one of those under-rated cars that have the potential to look very appealing as this one is proving. Props to the owner, this is a very good example of 'how to MR2'.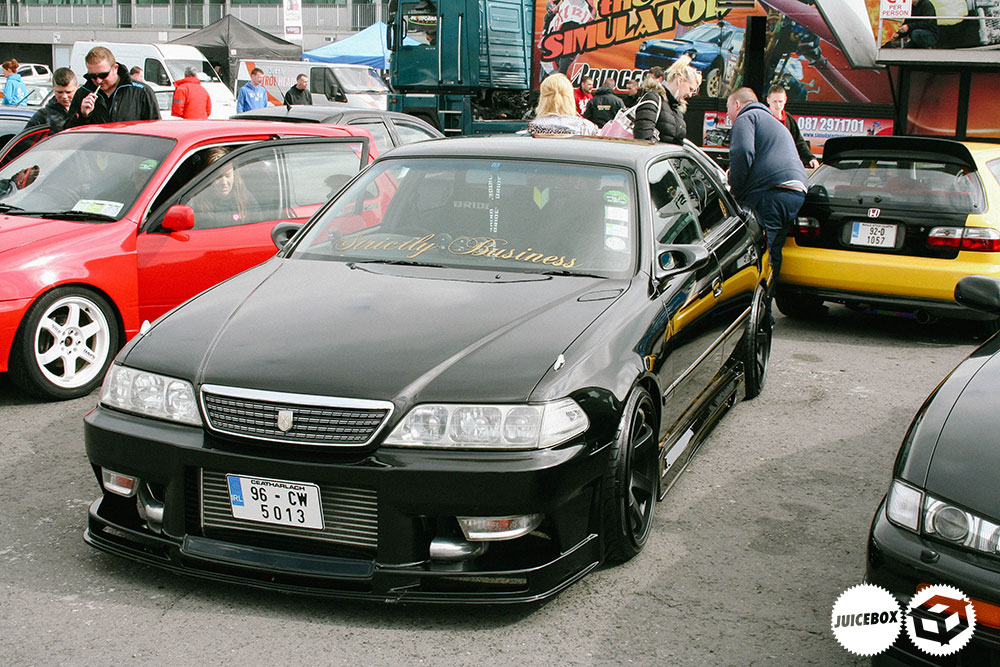 The X chassis Toyota's seem to be the car of choice to import these days, we are not complaining, it's good to see more of these coming onto our shores. This JZX100 Mark II wearing the KAZAMA Promode aero look's so good in black. Some nice wheels would make a huge difference to this car, the Rota's just don't do it the justice that it deserves.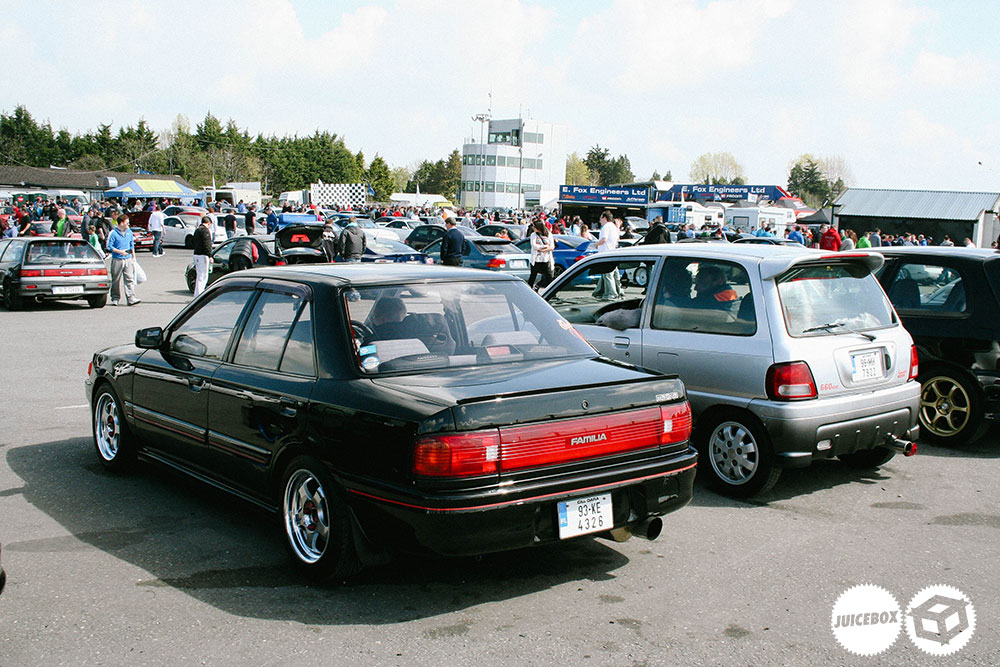 If we were in Japan seeing these cars together in a circuit paddock wouldn't be unusual but seeing them here in Ireland is a different story! Again, Ireland can surprise you with what could turn up at an event.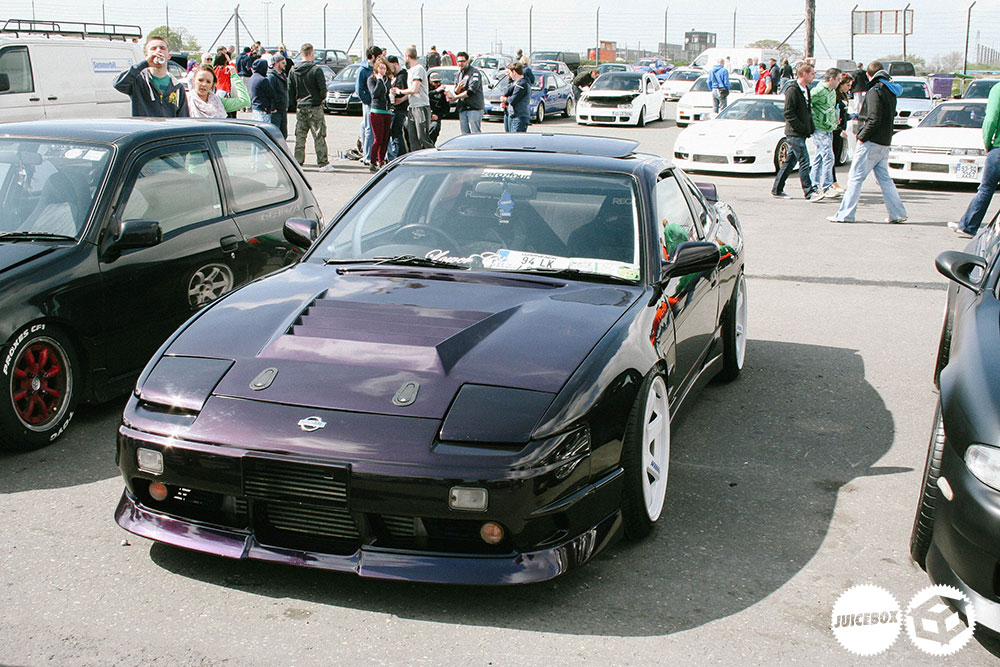 Matt's 180SX is a car that seems to be evolving each time we see it, he's someone that pays close attention to detail when selecting parts for his car, this works in his favor as there really isn't another in the country like it.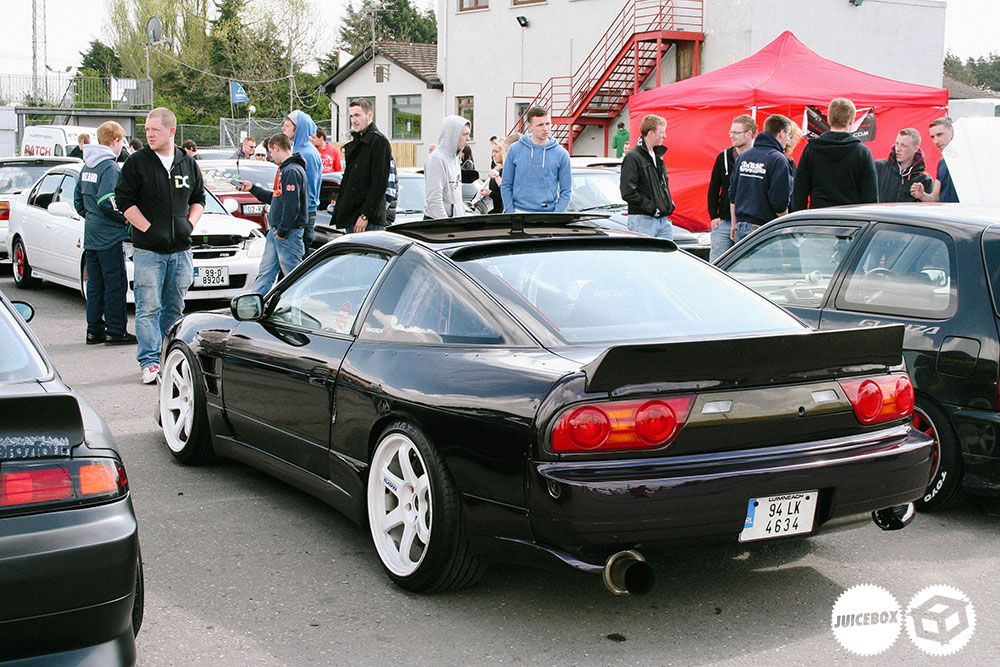 Noticeable differences spotted since we have seen the car last being the VOLK RACING TE37's in white flowing so good with that midnight purple paint. The addition of an OEM rear bumper with Kouki spats. And although you can't see them Matt has added the 180SX OEM factory option quarter window louvers, a rare item worthy of a mention. We're looking forward to seeing what is next for this, it appears Matt certainly has an end goal he is reaching for with this car.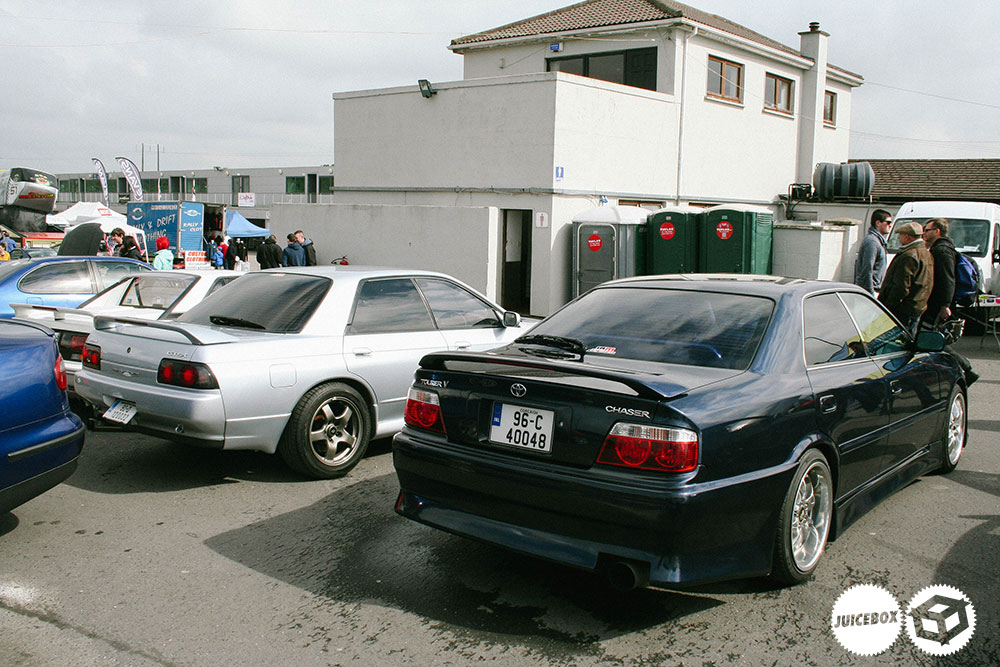 Fresh meat!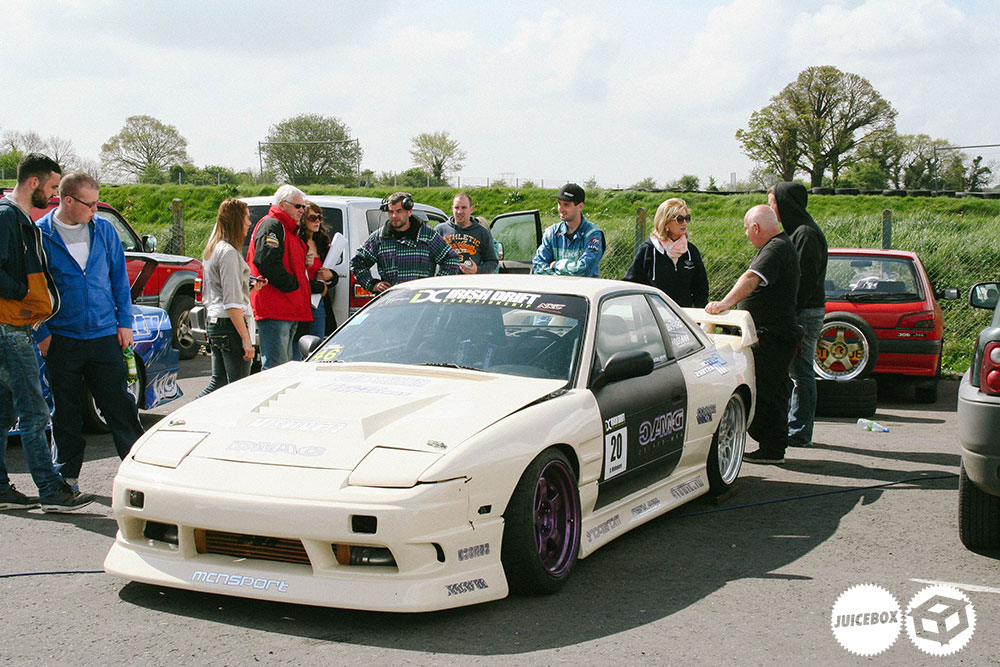 Darren McNamara brought out his newly built 240SX for IDC. Check out that rear wheel gap, so awesome…. hahaha but seriously this car is cool. The BN Sports Type II aero and Mitsuru Power Manriki wing is a good look, however it's missing that key ingredient in this combination – Ganador mirrors! The cream paint and the purple WORK Meister's go surprisingly well together.
We have been seeing a lot of this car lately. The addition of WORK CR01's being a huge improvement over the Compomotive wheels it previously had.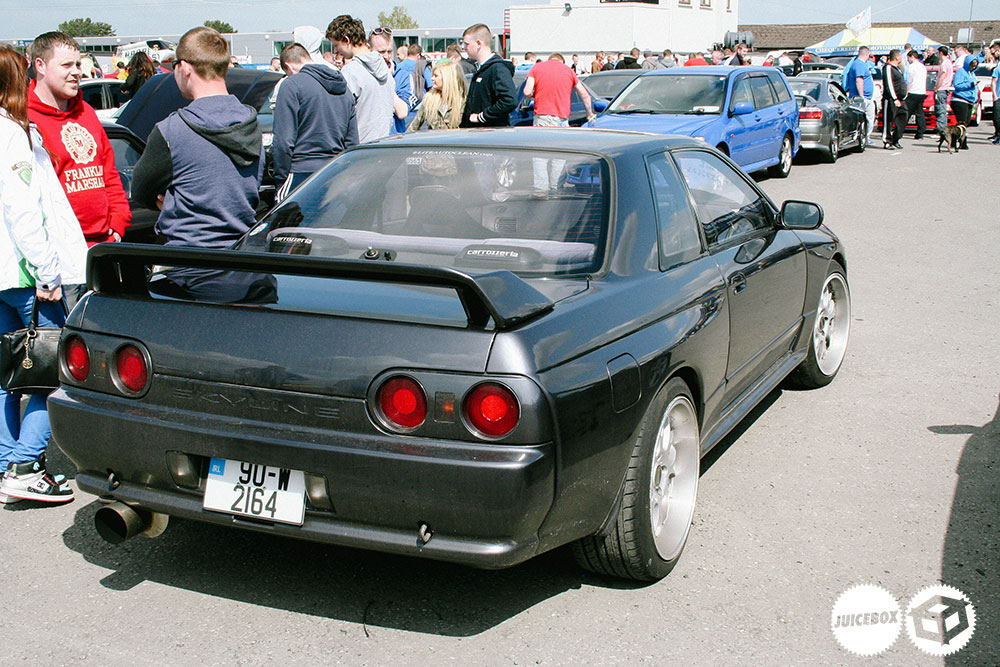 Always a treat to see a BNR32…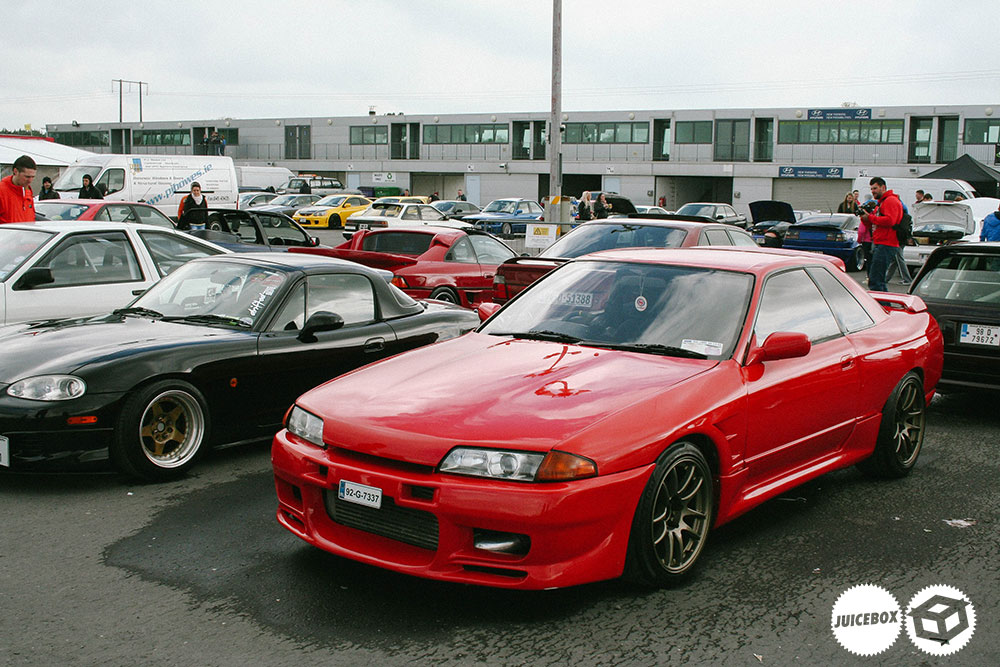 And of course a little love for the HCR32.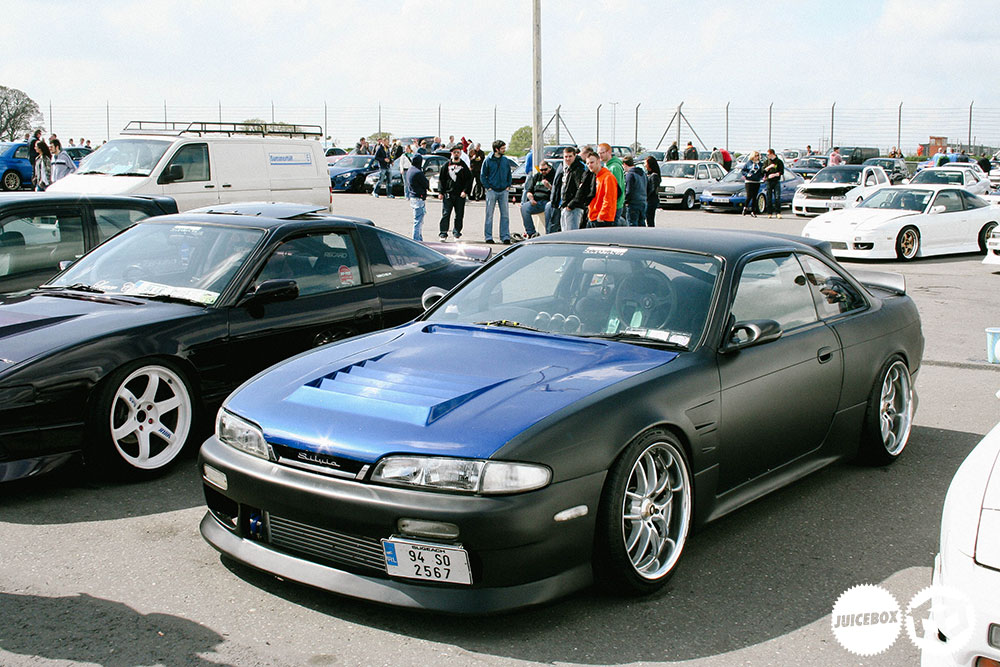 Rory's Zenki S14 is one of the very few cars that has pulled off the matte paint in a way that it works. It doesn't look 'cheap'. The WORK Meister S2R's being the perfect choice of wheel here. Those wheels don't get enough love.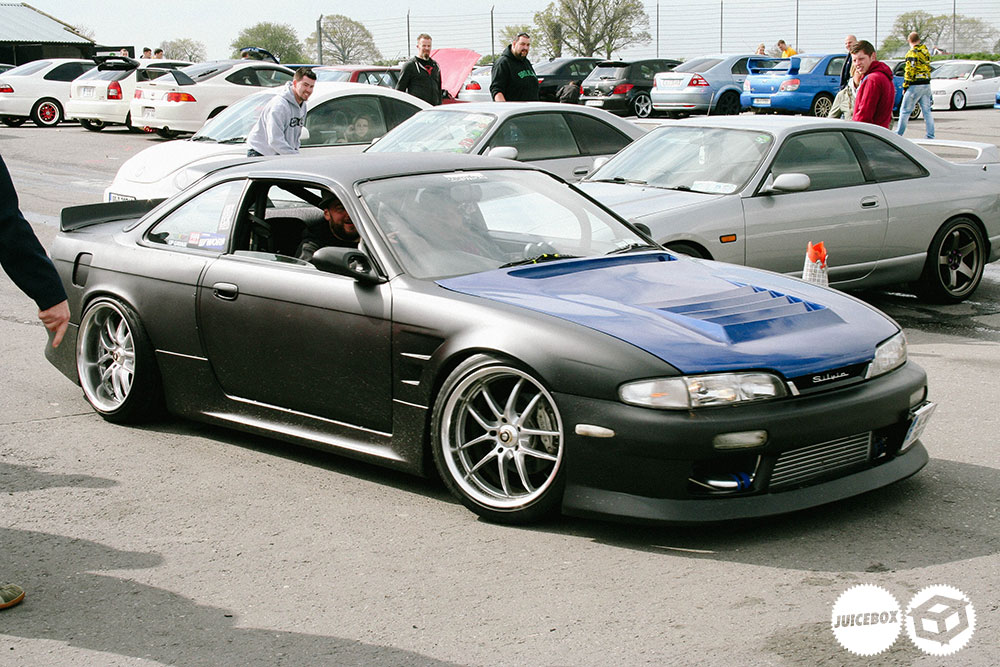 Shout out to that guys arm.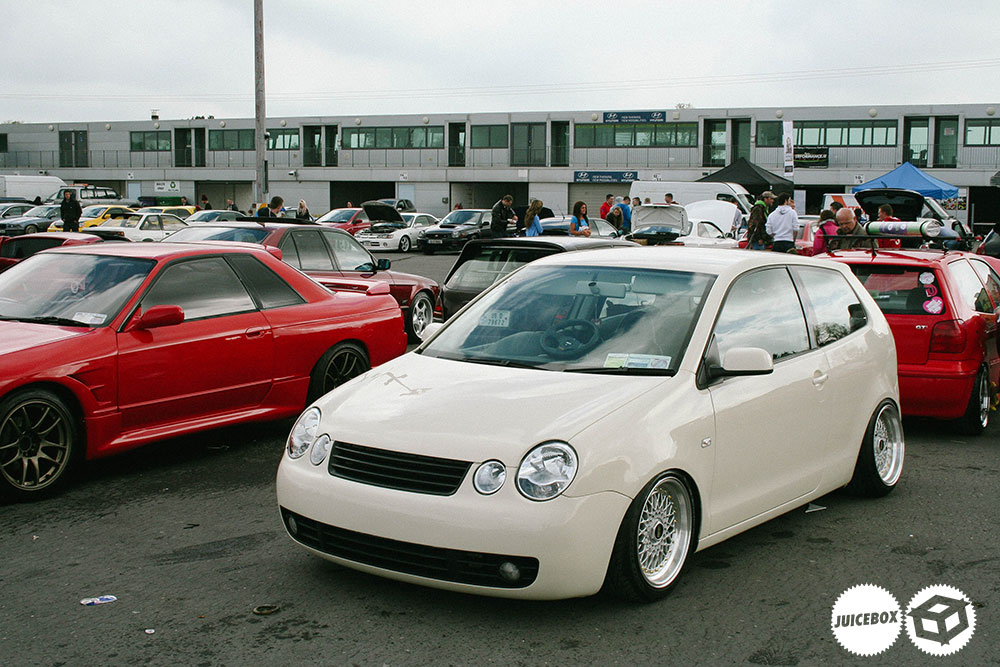 Always good to have a little variation with this Polo sitting amongst the Japanese metal. Bagged on a set of BBS RS wheels with some extensive bodywork it was good to see a European car with some genuine effort put in, nothing half assed.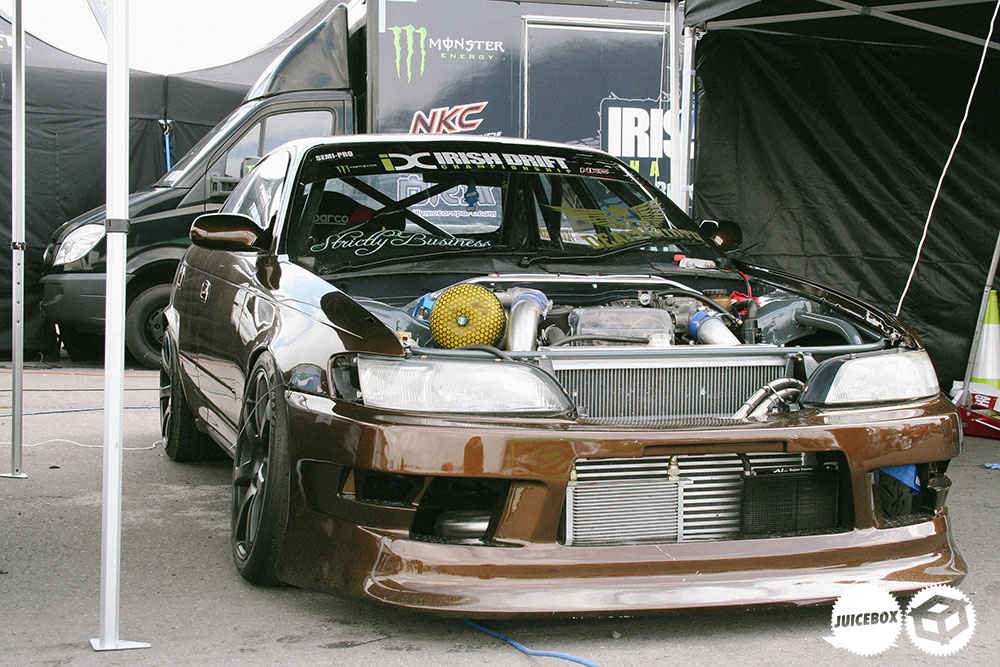 Eoin O'Sullivan's JZX90 Mark II. BN Sports aero and WORK XT7's is always a good combination.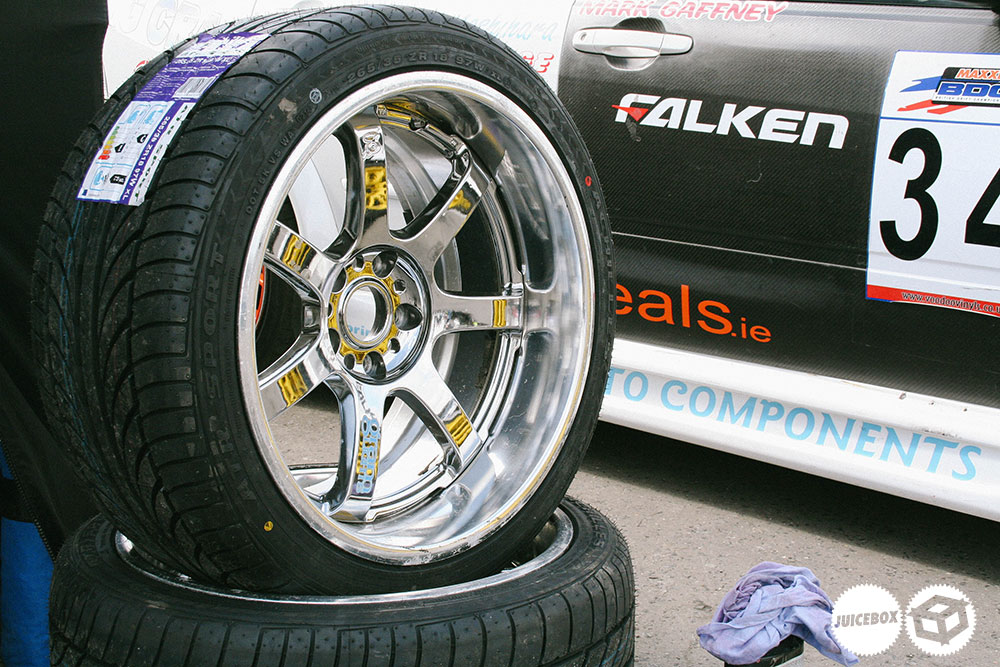 RAYS Gram Lights 57S-PRO goodness !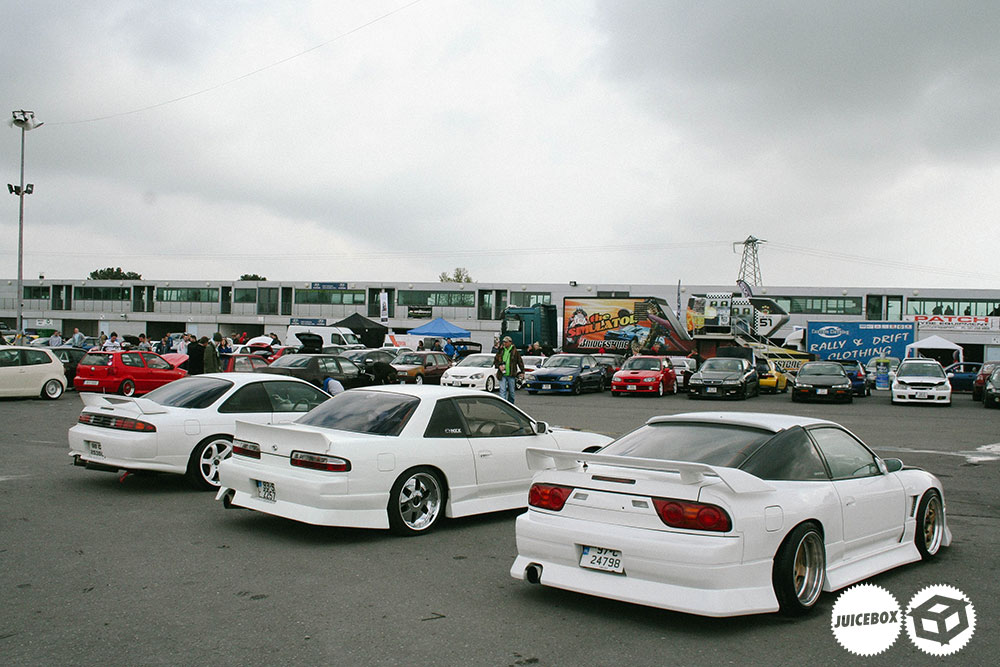 White on white on white!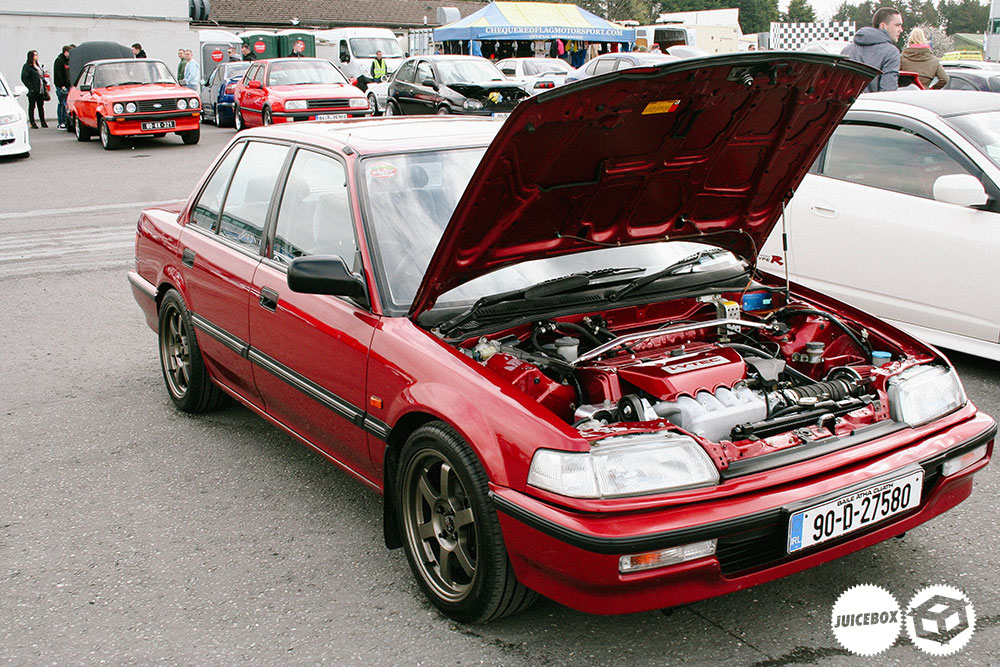 Sleeper status! Not exactly what you expect to see under the hood of an Irish EF sedan..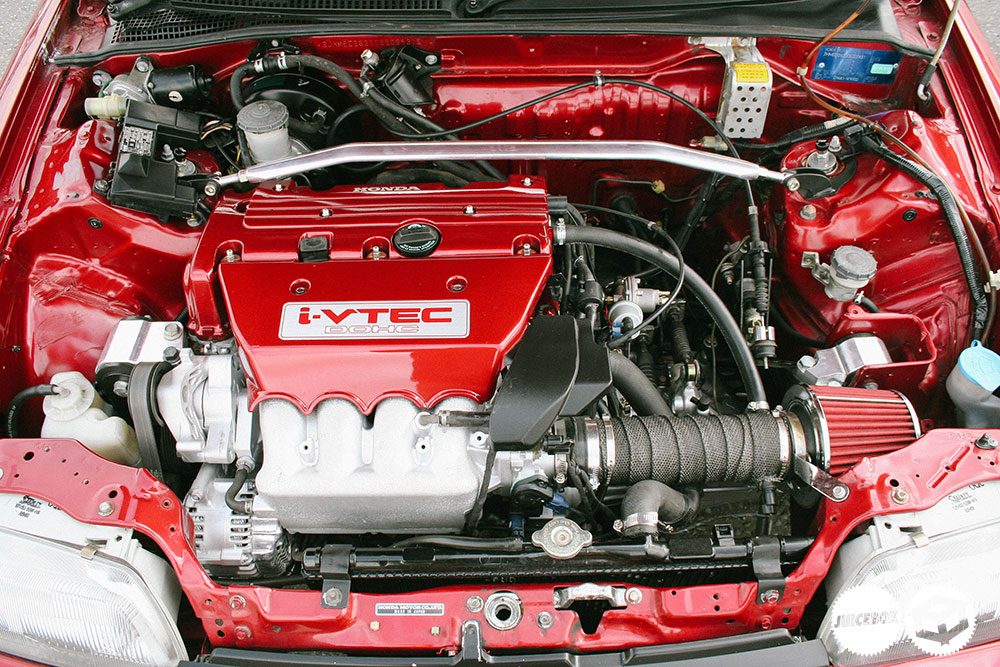 Colour matched valve cover is a nice touch!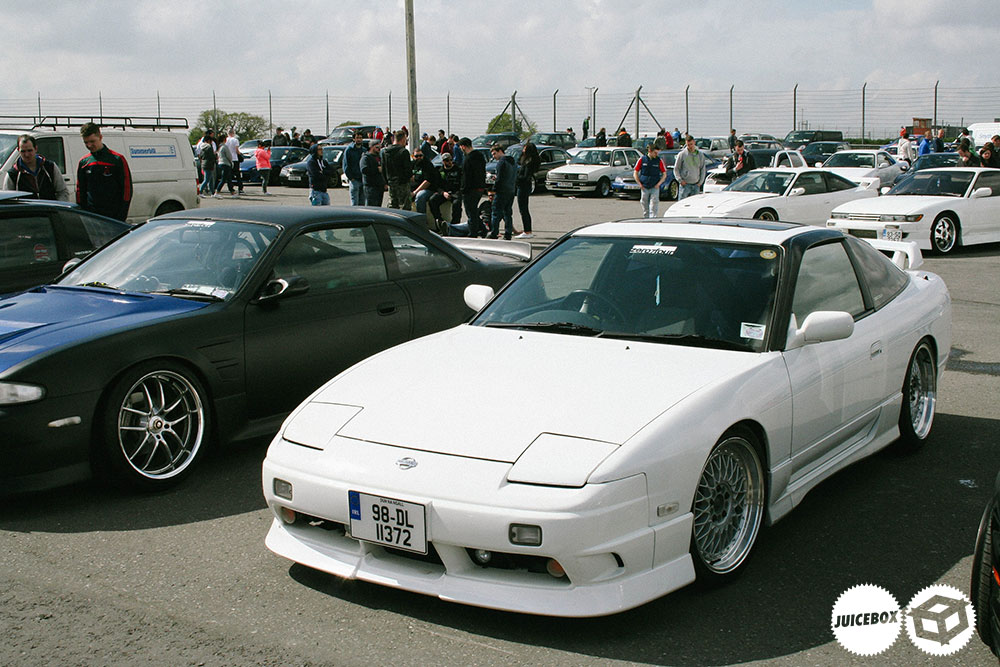 We will never get tired of seeing clean original Kouki Type X RPS13's. This is timeless..
Factory perfect.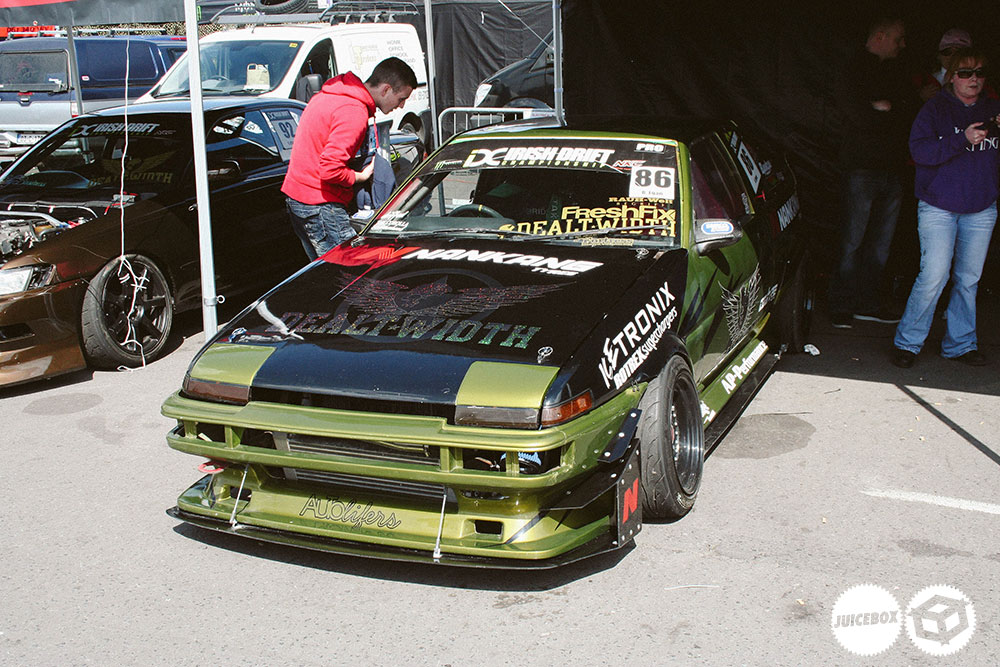 Brian Egan was competing in IDC with his now Rotrex supercharged F20c Corolla. Brian has a very cool and enjoyable driving style. Fast and fluent with minimal handbrake usage, how it should be.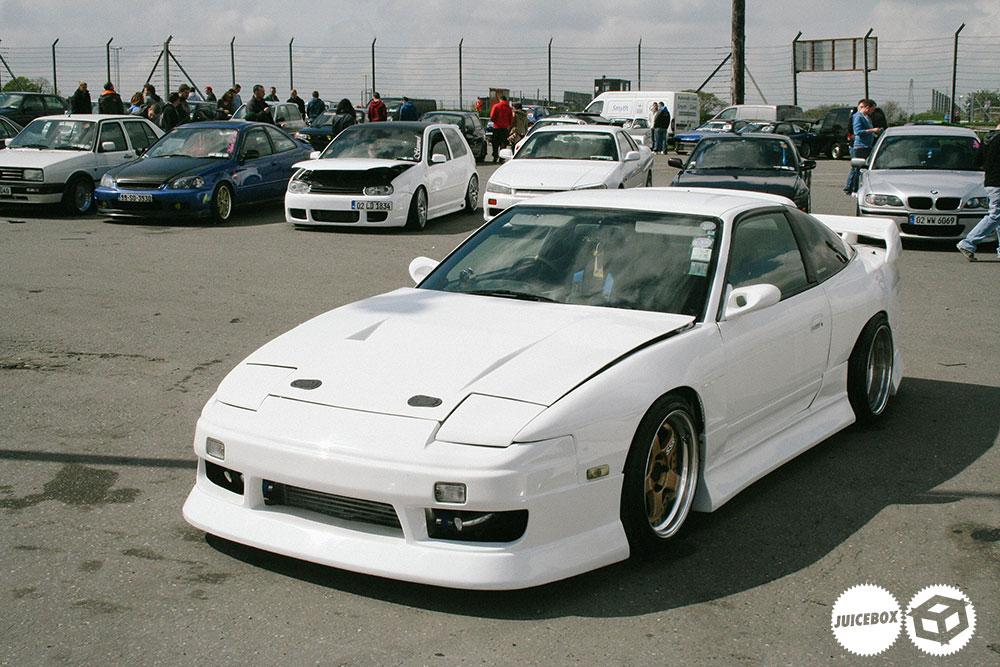 We have encountered this car more than once, and every time it gets better. As mentioned with Darren McNamara's car above, this is the combination, Gandor's, Manriki, BN Sports however opting for the Type III version rather than the Type II on Darren's car. It's a formula that works, and it always looks good.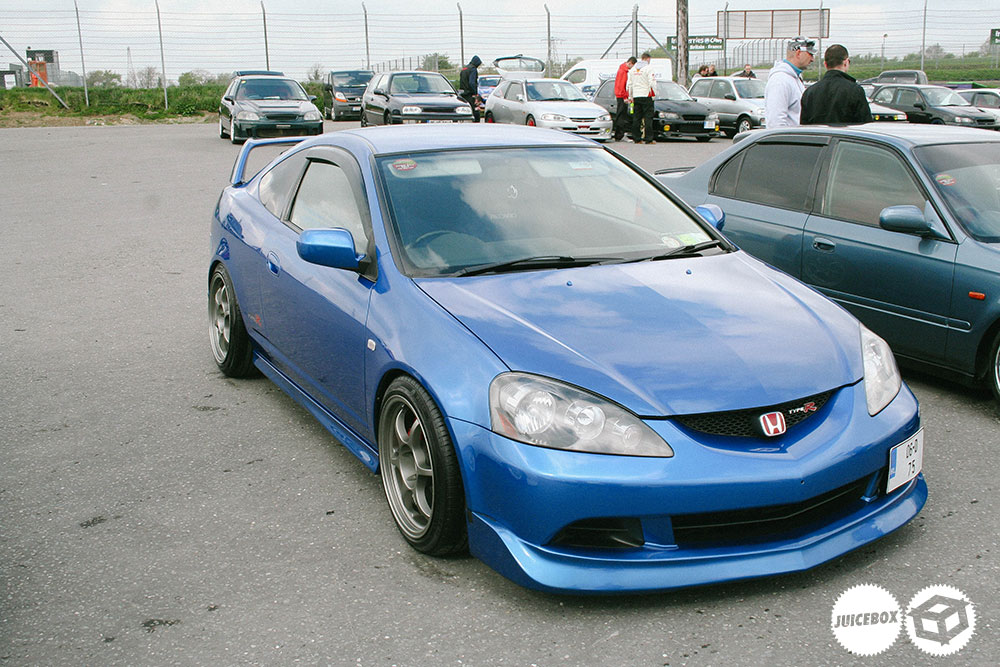 This facelift DC5 Integra was another car we had never seen before. Note the MUGEN front lip, a nice addition to the facelift bumper. It certainly is a stand out car. A lot of the DC5's in Ireland tend to be kept somewhat close to OEM when it comes to the exterior, which is understandable as they are a great looking car from factory, however it's always good to see someone make some changes.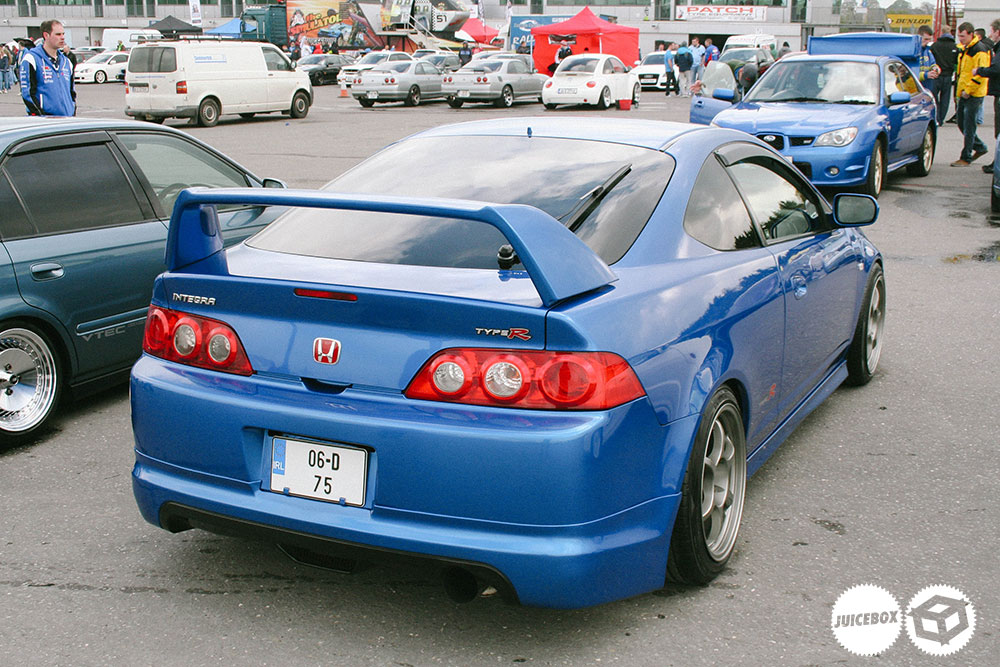 MUGEN goodness continued at the rear! Such a good lip-kit.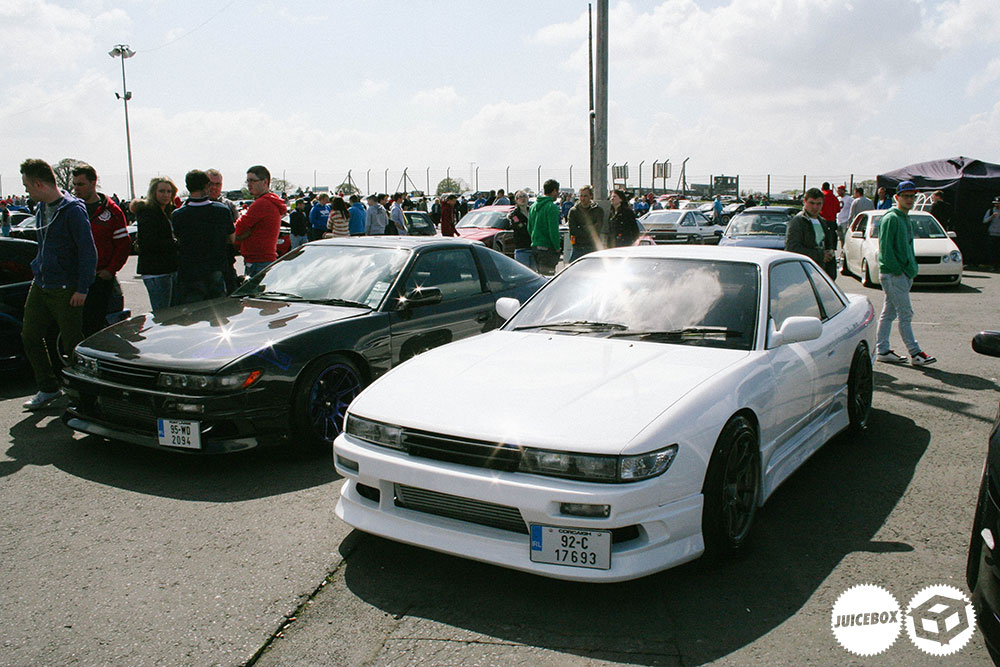 Nice to see a few S13's present. Origin Streamline with that white on bronze combo…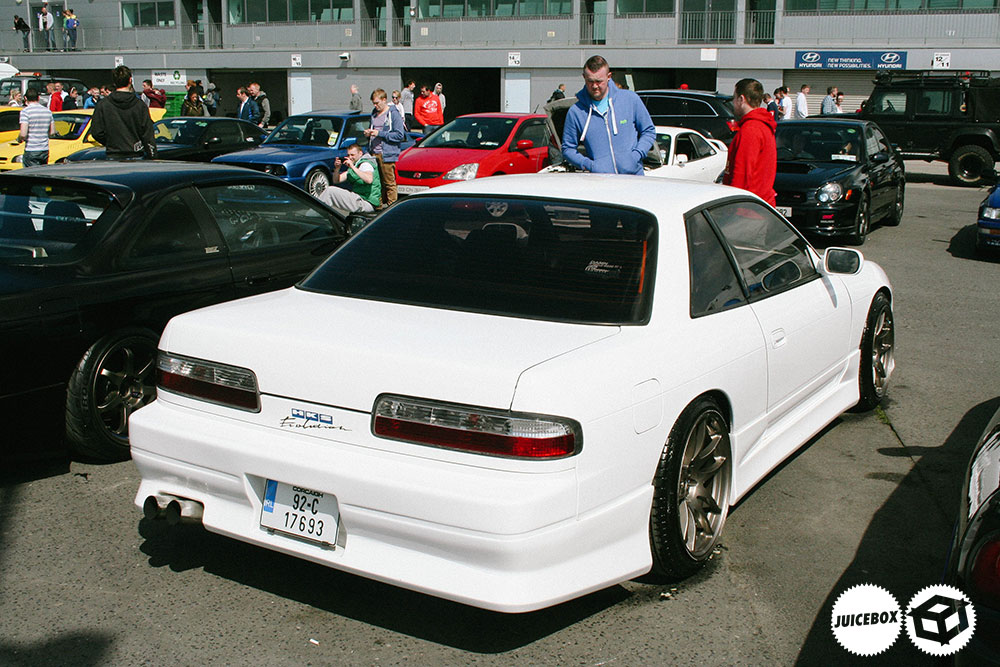 Always enjoyable.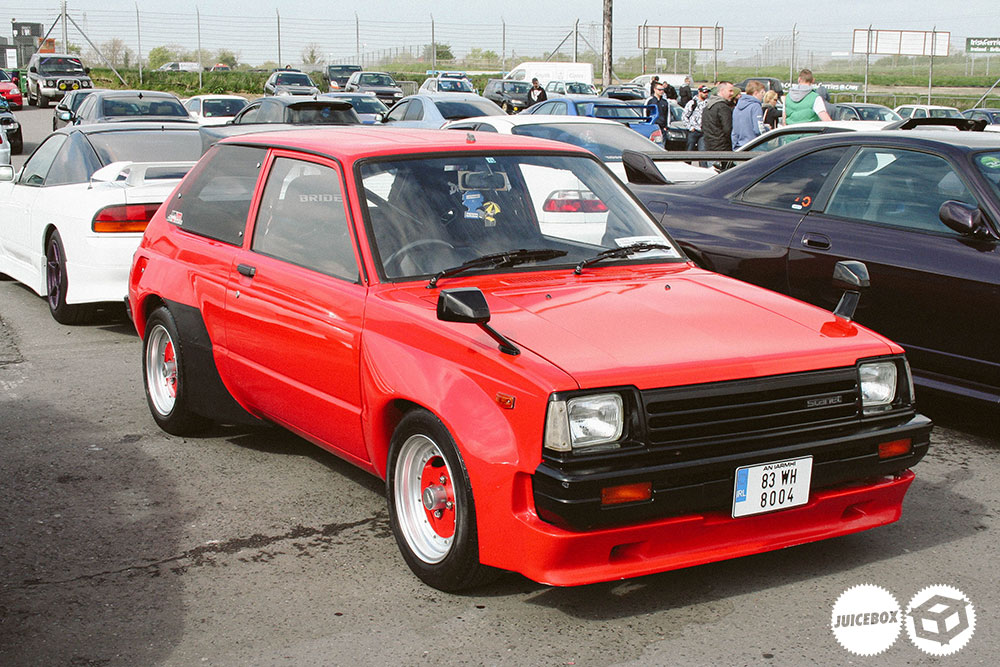 Another car on the list of cars we hadn't seen before was this KP Starlet with TRD N2 aero sitting on those classic ADVAN A3A's. We can go on record and say that this is one of the best KP's we have seen to date.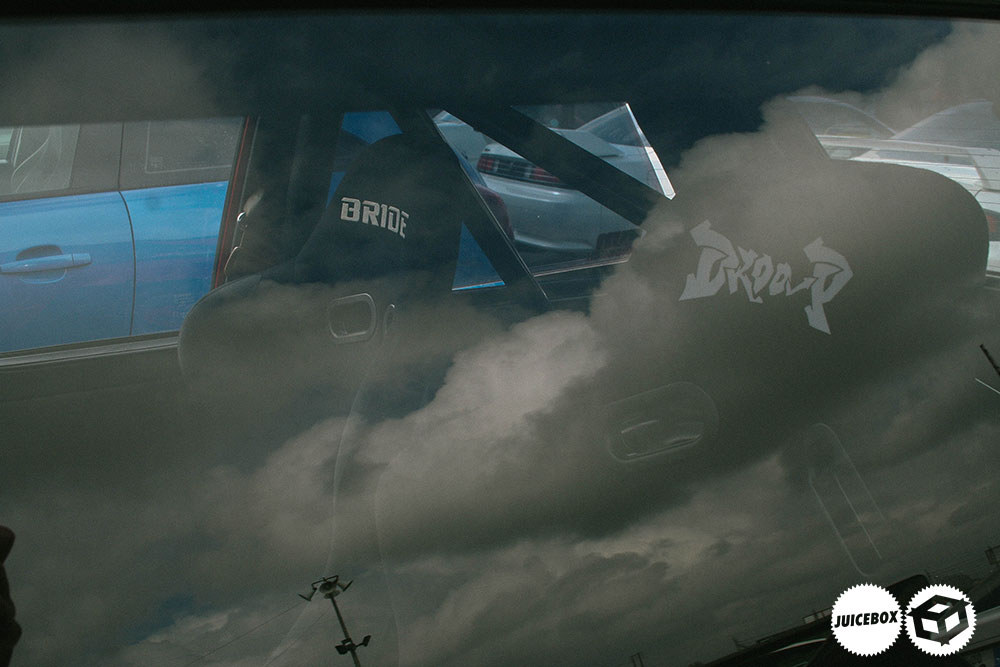 Matsuoka! DRoo-P passenger seat. So cool!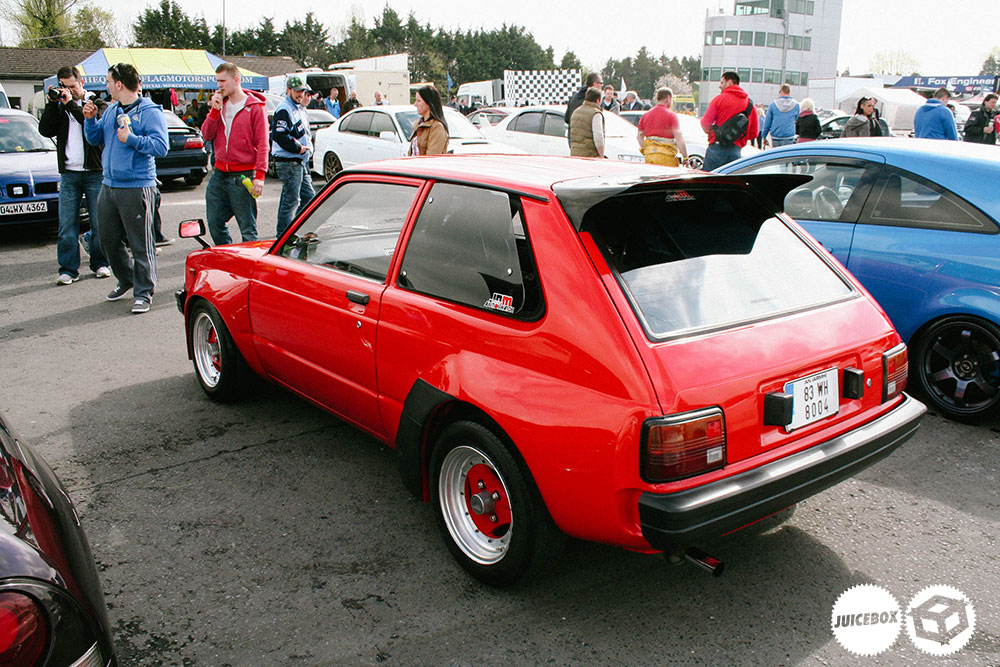 This car was definitely one of the highlights of the day for us.
As we mentioned at the beginning there are some things we would like to briefly talk about based on our experience that day.
For a show to be successful, and show what Ireland really has to offer, there needs to be a submission process, to explain; owners that wish to have their car on display in the show submit a minimum of three photos and a basic spec sheet that is then reviewed for entry. Those who make the cut are in the show, those who don't take it as motivation to improve their car and try again the following year. This is not to single anyone out, this is just to set a certain standard so that these shows genuinely showcase the best of what Ireland has to offer.
Another issue is presentation, there is no structure. The cars are practically piled in on top of each other. In other words, a photographers nightmare, and of course this also effects the show-goers that want to have a close look around a car and take in everything about it. Cars parked side-by-side at three foot apart is fine for your average car-park meet, but that is not the case at a car show. Limit the number of cars so that space isn't an issue (even though at modified live there was certainly no shortage of space however cars were still piled onto of each other for the most part). Spread the cars apart, give them room. Structure is key, and as mentioned above that is something that doesn't exist right now.
That pretty much brings our coverage of Modified Live to an end. We hope you had a fun time…
Comments
comments
Powered by Facebook Comments